Is there anything more satisfying than cooking from scratch in the great outdoors?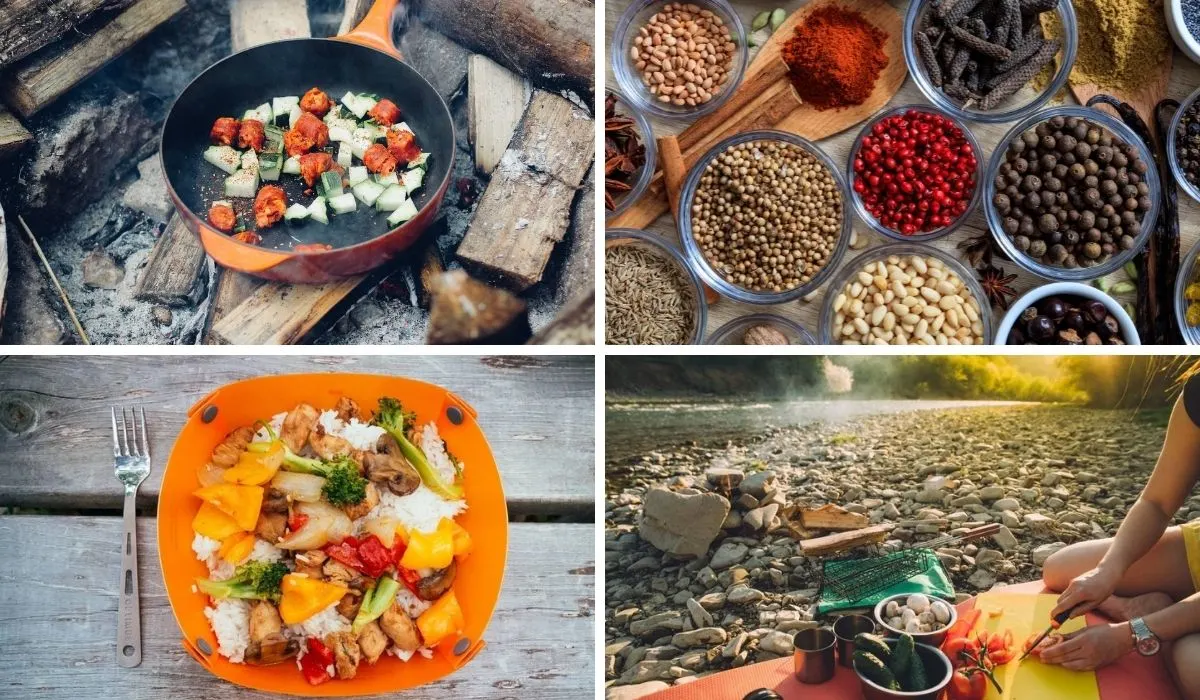 Cooking while camping can be a lot of fun, but it still takes practice and planning to take your meals from okay to awesome.
One easy trick to creating mouth-watering camping meals is using a DIY camping spice kit so that you can kick any meal up a notch before serving.
It's no secret that car camping is our favorite way to travel and explore the outdoors. We love everything about it — setting up camp, chilling around the campfire, sleeping under the stars, and yes, planning and cooking our car camping meals.
We owe a good deal of our camp cooking success to our trusty camping spices!
Whether we're whipping up ramen noodles, frying eggs, or throwing some veggie-filled foil packets onto the campfire, our camping spice kit helps turn even the most hum-drum meals into something special.
In fact, you can rescue just about any otherwise boring car camping meal with a well-put-together camping spice kit.
Once you create your camping spice kit, you can keep it handy all summer so you can take off on unplanned adventures whenever the mood strikes you.
You can even keep it in your car next to your DIY first aid kit so you never leave home without it.
Here's what you need to create the best car camping spice kit so that you're always ready for an overnight adventure!
Creating a Homemade Camping Spice Kit for Great Outdoor Meals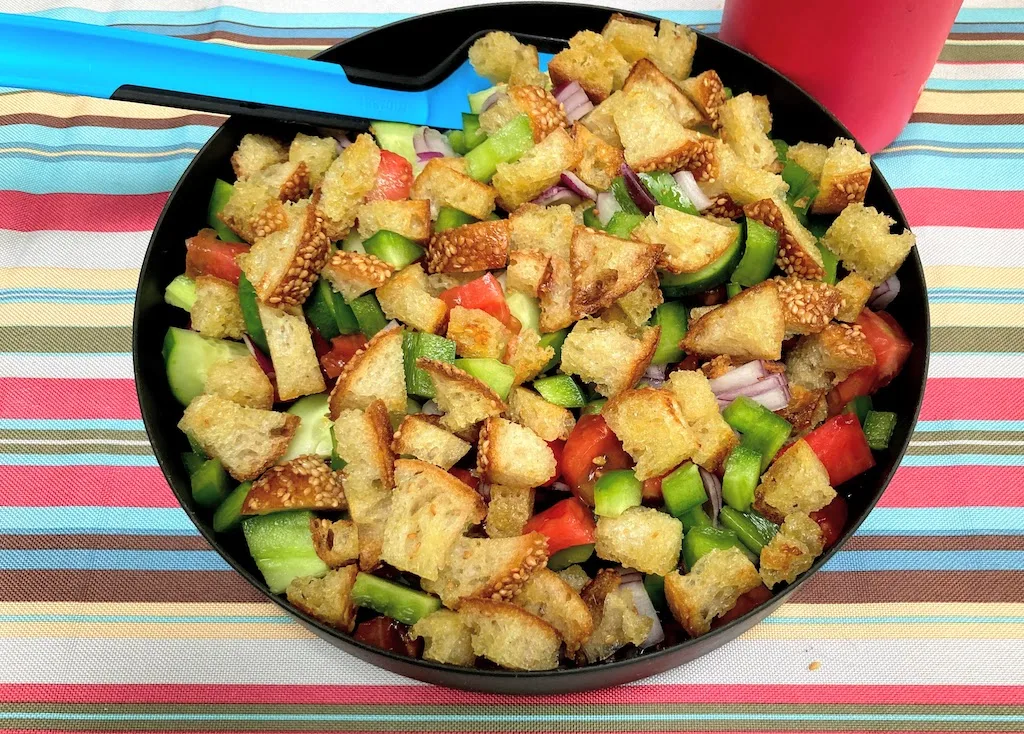 Before you begin to gather your ingredients together, you need to find some plastic containers to store your spices and sauces.
We have used all kinds of containers for this purpose, but to make things really easy, we use Nalgene food-grade plastic travel bottles.
These Nalgene bottles have caps that screw on tightly and they are guaranteed not to leak. They are also BPA-free and made in the USA.
We generally buy one travel kit a year and add it to our collection. We now have 30+ containers that we use for our camping spice kit, as well as travel necessities like shampoo, dish soap, and lotion. It's a work in-progress.
If you don't want to invest in the Nalgene bottles, you can save plastic spice jars from your kitchen to reuse. I would just caution against using them for liquids as most aren't leak-proof.
Once you've gathered your empty jars and bottles, you just need something to keep them in. Any rugged toiletry bag will work well for this purpose.
We use this REI Travel Kit, which keeps all of our spices and condiments close at hand. We've had ours for six years now, and it seems to be wearing well.
What to Pack in Your Camping Spice Kit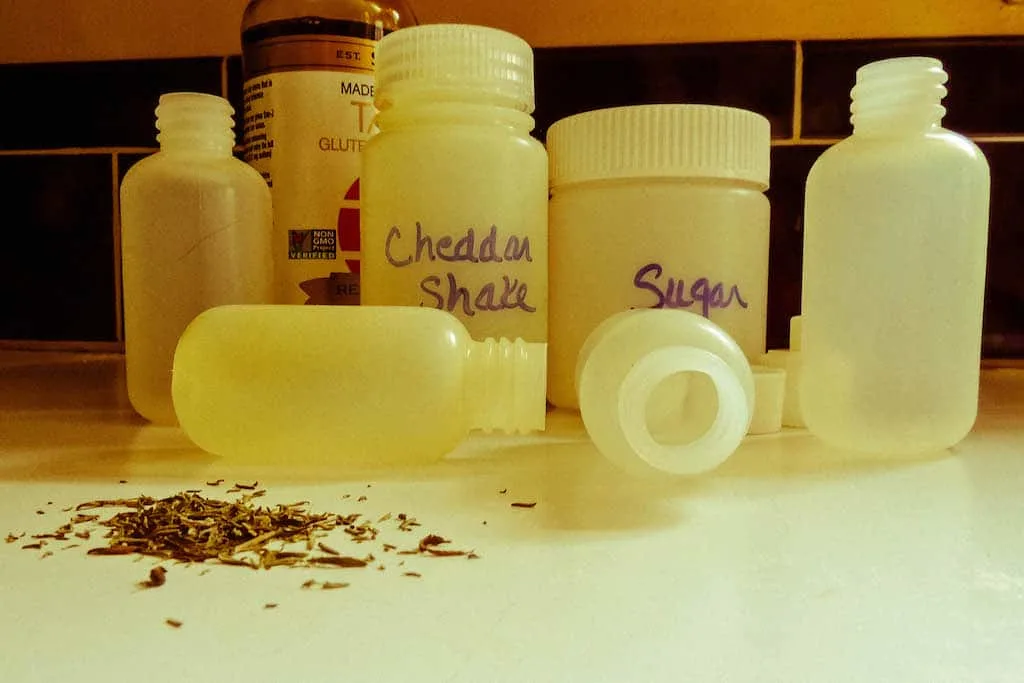 So now that you have your jars and bottles ready, what should you fill them with?
In part, this will depend on your family's personal tastes and preferences, but we tend to use the same camping spices over and over to jazz up our meals.
Here are the camping spices we always have in our kit, listed in order from our can't live without ingredients, down to our "pack if we have room" items.
---
---
Dry Ingredients for Your Camping Spice Kit
Salt – The most obvious ingredient in any spice kit, salt can save many a meal. Beware though, because oversalting can make your camp food totally unpalatable, and many prepackaged foods and sauces are already salty. We keep an ounce or so of salt in our spice kit for most camping trips.
Pepper – ½ oz. of pepper is probably all you'll need to enhance your meals – breakfast, lunch, and dinner.
Cheddar Cheese Powder – Better Cheddar Cheese Powder is made by King Arthur Baking Company, so it's easy for us to get here in Vermont. I know it's not available everywhere, but if you can get it, it's worth packing in your kit. It's basically shelf-stable, powdered cheddar cheese. It's great on pasta, soup, eggs, and veggies, not to mention popcorn! We usually pack our cheddar powder in a 2 oz. plastic jar. We seriously love the stuff. Vegan? Nutritional yeast is awesome too!
Sugar – Sugar isn't exactly a spice, but it lives in our spice kit because that's the first thing I grab when I'm boiling water for morning drinks. If we are just using it to sweeten drinks, we pack it in a 2 oz. jar. If we are baking with it, we bag extra and pack it with our food ingredients.
Granulated garlic – This is a popular seasoning in our family – good on campfire pizza, spaghetti, and soups, and a must in salad dressings and sauces.
Curry powder – Curry powder is good in certain soups, stir-fries, and other Middle Eastern dishes. We like to add it to vegetables, coconut milk, and rice for quick one-pot meals.
Cinnamon – Cinnamon is delicious in baked goods, sprinkled on hot cocoa, and mixed in with oatmeal. Cinnamon is a must for all your hot camping drinks and many desserts. You can also use pumpkin pie spice, which will add nutmeg, cloves, and ginger to the mix. You can't go wrong with this mix!
Cumin – You have to have ground cumin for refried beans, and we always have at least one bean-centric meal when we're camping.
Thyme – Thyme is my favorite dried herb for camping meals. I use it in most dinners, but I especially love it in soups, on potatoes, and with mushrooms.
Sage – My favorite herb for scrambled eggs!
Oregano – Oregano is yummy on pasta, pizza, rice, and quinoa.
Fennel – We started carrying fennel when we began making white bean and tomato soup. The recipe calls for a fresh fennel bulb, but we use a teaspoon of the spice instead. Chewing on a fennel seed after a meal is also good for your digestion.
---
---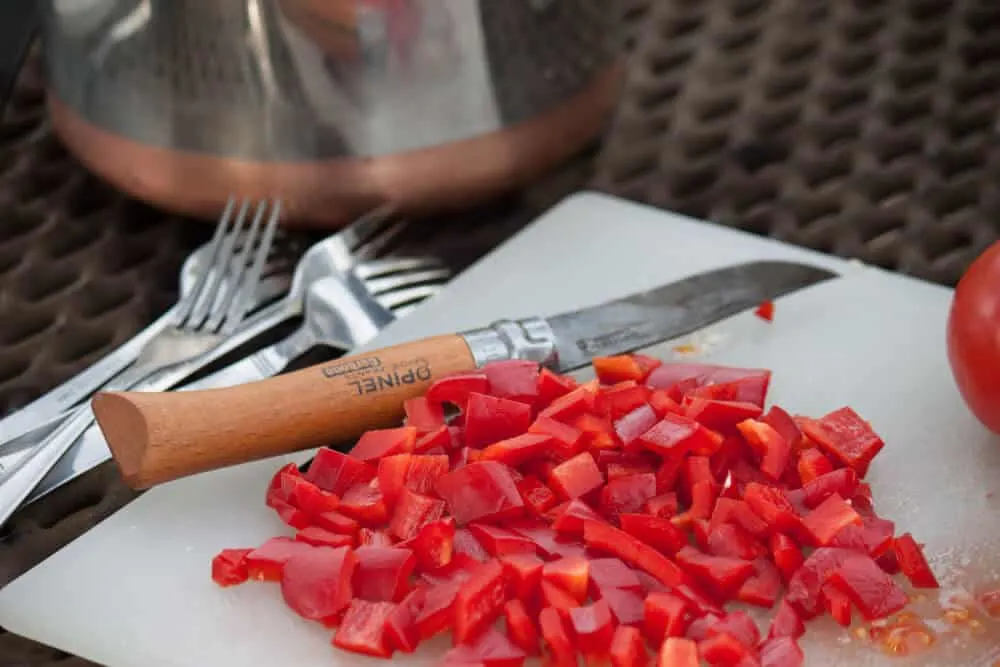 Liquid Ingredients for Your Camping Spice Kit
As I mentioned earlier, the Nalgene travel bottles have never leaked on us, but I still keep bottles with liquids in an additional plastic bag just in case. Here are the liquid seasonings we keep in our camping spice kit.
Olive Oil – Olive oil is a must for just about every car camping meal. We use it when sauteing veggies, cooking eggs, frying pancakes, popping popcorn, and making salad dressing. If we are going on a weekend camping trip, I will pack an 8 oz. bottle of olive oil in our spice kit. If we are on an extended trip, I buy a larger bottle and store it in our food box instead of with our spices.
Tamari or Soy Sauce – Tamari is a great salty seasoning for rice and grain dishes, vegetables, and meats. A little goes a long way. We pack tamari in a 1 oz. bottle for most weekend camping trips.
Vinegar – Great for salad dressing and other sauces. Sometimes we pack balsamic, sometimes white wine vinegar, depending on what we're cooking (and what we have in the cabinet at home). 2 oz. is usually plenty.
Vanilla – Vanilla is awesome mixed into hot drinks and morning cereals. 1 oz. is more than enough.
---
---
A Few Tips for Creating Great Meals with Your Camping Spices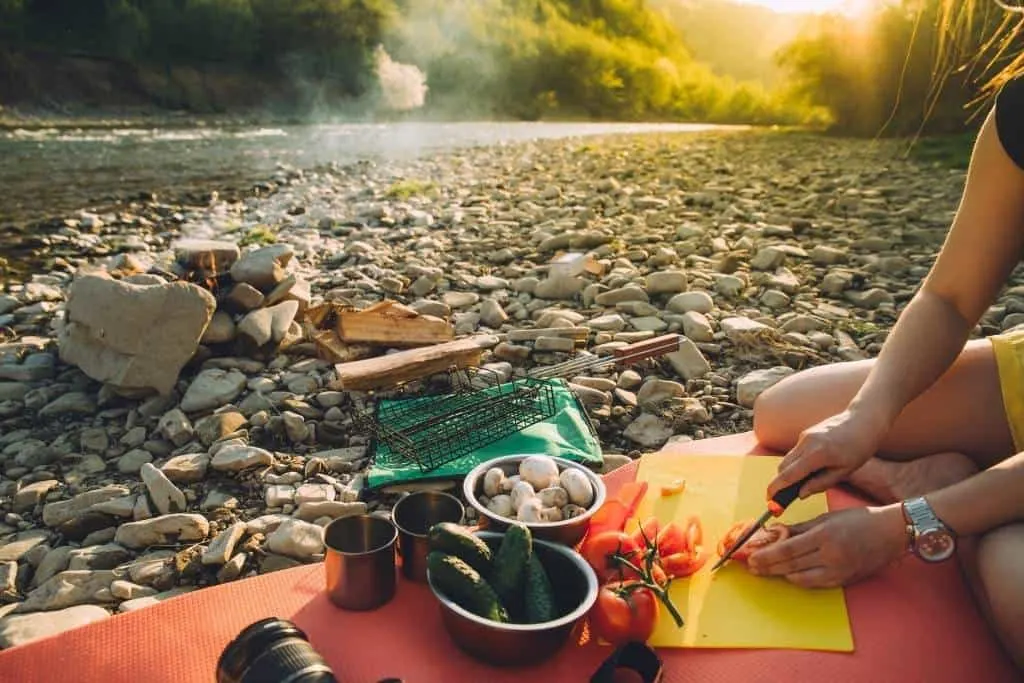 Your DIY camping spice kit will serve you well if you use it wisely. It can save many a meal, but it can just as easily ruin your food if you accidentally use too much vanilla, or add curry powder to your pancakes.
Here are a few tips for making the best use of camping spices:
Mark every single bottle and jar with the name of the spice in permanent ink. If you are the designated camp cook, you may not mistake vanilla for soy sauce, but your kids definitely will!
Pour into your hand first! As you're seasoning your camp food, pour each spice into your hand and then sprinkle it over your food. If you go overboard, your meal won't be ruined.
Don't overseason. As food cooks, the flavors intensify, so food that tastes just right in the pot may be too spicy or salty when served. You can under season while you're cooking, and then pass spices around at the table while you're eating. This is especially helpful if you're serving food to kids.
Ready to add some YUM to your camping food?
Take twenty minutes to prepare your camping spice kit, and take it with you whenever you're sleeping away from home. When it comes to camp food, a spice kit is a total life changer!
---
Want to read more about making awesome camping meals for your next outdoor adventure? We've got lots of recipes and tips for cooking while camping!
---
Follow us on social media for more camping ideas!
Pin for Later?