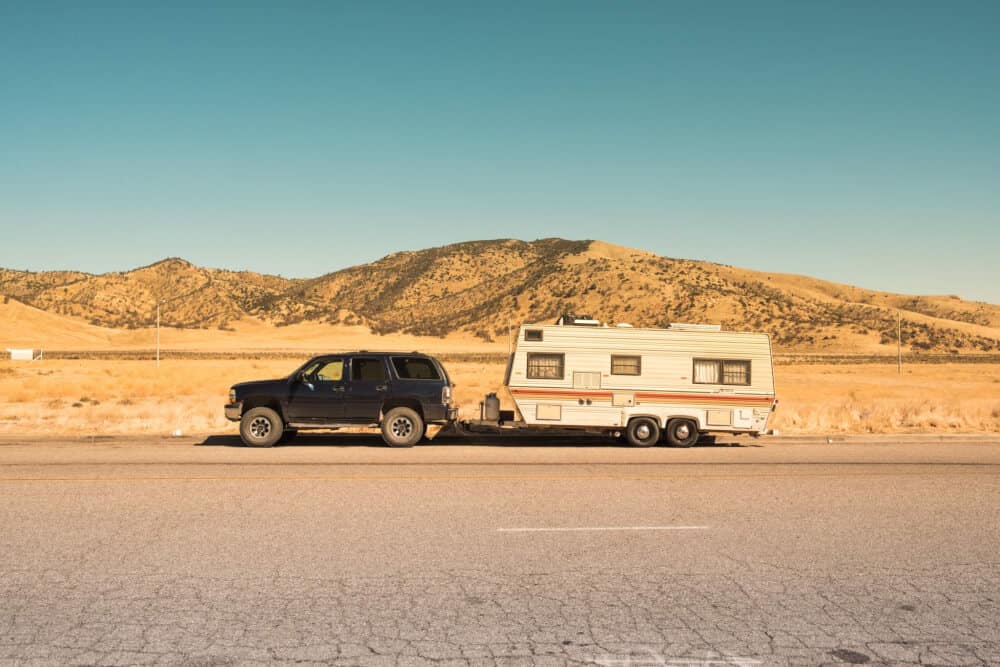 Please don't travel until it's safe to do so, and be sure to check with each state/destination for its current COVID-19 guidelines before planning a visit. Also, please note that this post may contain links from which we earn a small commission.
We don't have any boy scouts in our family, but we try and travel with as much preparedness as we can stand. This travel first aid kit was created on our very first cross-country trip, and now it lives in our car permanently. Of course, we don't want to use at all, but I put a lot of thought into what we might need in the way of remedies and emergency care. While we never manage to think of everything, we have used our DIY car first aid kit on numerous occasions, and it's been so helpful for those minor emergencies.
Creating a DIY travel first aid kit makes more sense than buying one for many reasons. Firstly, the kits sold on Amazon, often include the cheapest materials available, along with things you'll never use. While, it's initially more expensive to make your own, you can ensure that you've included essentials that your family is likely to use. Our DIY car first aid kit is heavy on moleskin, waterproof bandages, and herbal remedies. Yours may include many things I've never even thought of.
Your DIY Car First Aid Kit
When you buy a ready-to-go travel first aid kit from Amazon or another online retailer, you will quickly realize how small it is. Those 299 pieces that are advertised in the product description? They're mostly plastic bandages. To create a decent DIY car first aid kit, you first need to find the right container.
Ours was secured at a local discount store for a few bucks, and at 14″x 8″x 6″, it is much bigger than a standard first aid kit. That's because we keep all of our first aid stuff for traveling inside – not just emergency stuff, but also antacid tablets, vitamins, and bug spray. Everyone in the family knows where the first aid kit lives in the car, and it gets accessed almost every day. Here's an overview of all of our DIY car first aid kit supplies, in case you're interested in making your own.
Car First Aid Kit Essentials for Wound Care
Wounds are probably our most common injury while traveling, and for the most part, we're dealing with cuts, scrapes, blisters, splinters, and bug bites. Here's what we keep for wound care in our car first aid kit:

Bandages of all shapes and sizes. Our favorite brand is Nextcare waterproof bandages because they are super durable and don't come off until you take them off.
Butterfly closures – waterproof. These are great for those times when you may need stitches, but you're not quite sure.
Sterile gauze pads – different sizes
Alcohol wipes
First aid tape – waterproof.
Pure, carded wool – Wool is used to prevent blisters while hiking – just apply a generous amount around your heal or any areas that are prone to blisters. Hold in place, while you pull on your sock and you're ready to go. Wūru Wool makes sells pure New Zealand wool exactly for this purpose.
2nd Skin blister pads – If you already have a blister or hot spot, I recommend 2nd Skin to prevent added damage to the area.
Antibiotic cream
Tweezers, needles, and magnifying glass for splinters/tick removal.
Caladryl lotion for bug bites
Cortizone for bug bites and poison ivy, etc.
Skin Shield Liquid Bandage
Vaseline – I don't know, but I'm sure it's good for something.
First Aid Kit Essentials for Sprains and Strains, Aches and Pains
We do a lot of hiking, and use the following items a lot. When heading out on hikes, we pack a ziplock baggie with essentials from our main car first aid kit.
Arnica cream – for bruises and muscle pain. Our new favorite is Joshua Tree After Sport Recovery Lotion, which we use after big hikes.
Well Patch pain relieving pads for aching muscles
Instant cold pack for sprains or inflammation
Ace bandages
Splinting material
Medications for Your Road Trip First Aid Kit
Colds, upset stomachs, allergies, and menstrual cramps all happen on the road. Here's how we prepare:

Naproxen Sodium -Aleve or similar for headaches
Ibuprofen – for aches and pains
Pepto Bismal tablets – To counteract the effects of camp food
Antihistamine – for allergies
Prescription strength burn cream – sunburns or other burns
Tums
Cold and Flu medication (over the counter)
Cough Drops
Herbal Remedies for Your Car First Aid Kit
We use a few herbal remedies when traveling, mostly for minor ailments and general wellbeing.

Garlic/mullein ear oil – one of us is prone to ear infections and this has been a lifesaver in the past.
Chaga tincture – homemade- I can't say enough good things about Chaga. It is a fungus that grows in the north woods on birch trees. It is anti-inflammatory, anti-oxidant, and anti-hyperglycemic., and good for general health and vitality. Read more about Chaga in this article from Mother Earth News.
Dandelion tincture -homemade- for indigestion.
Crystallized ginger – for motion sickness.
Aloe vera – for sunburn.
Lemon essential oil – for general mental fatigue.
Lavender essential oil – for insomnia and headaches.
Witch hazel – as an antiseptic.
Bach rescue remedy – anxiety, insomnia, and tension – for humans and dogs.
Multivitamins for everyone
DIY Car First Aid Kit Extras
Because you never know when this stuff will come in handy:

Sawyer extraction kit – for bee stings and snake bites
small scissors
digital thermometer
lip balm with SPF
Emergency firestarter kit – because you never know when you might need it
cotton balls, cotton swabs, and cotton cloths
plastic sealable bags
sanitizing lotion
small first aid guide
needle/thread
Our DIY road trip first aid kit gets replenished once a month or so, and stays in the car even when we aren't traveling. If you have any suggestions or additions for our road trip first aid kit, we'd love to hear about them in the comments.
And of course, we'd really appreciate it if you would share this post on Pinterest: