Did you know that the Bay of Fundy is one of the seven wonders of North America? The area is home to the highest tides in the world, rare geological discoveries, and a diverse marine ecosystem.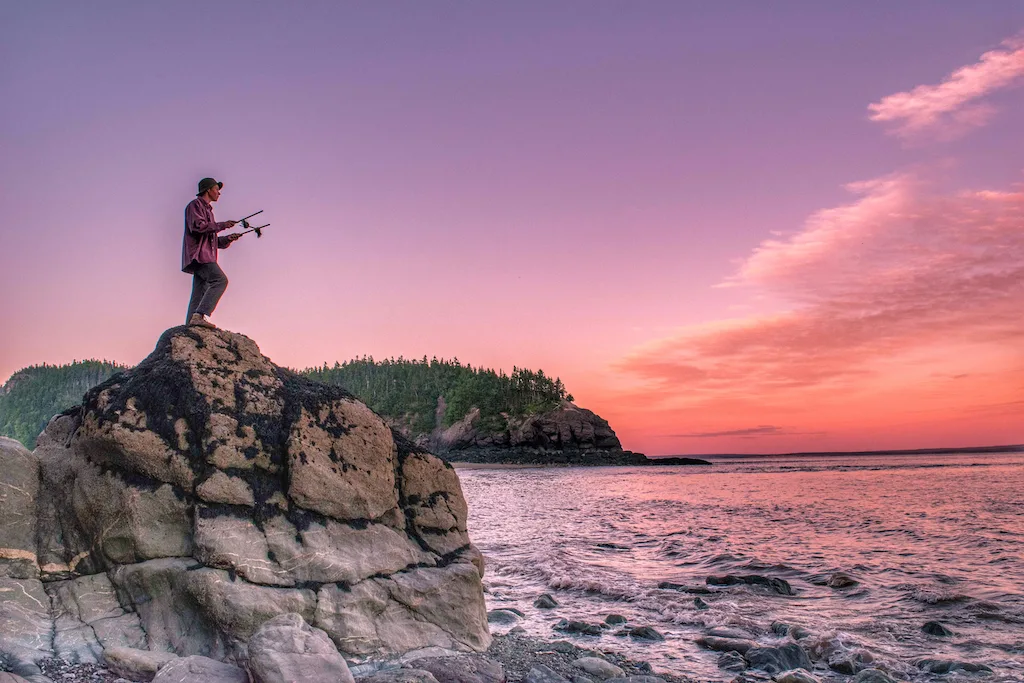 Fundy National Park encompasses 80 square miles (206 km) of rugged coastline and Acadian forest in New Brunswick, Canada, where you'll find more than 60 miles (100 km) of hiking trails, cascading waterfalls, freshwater lakes, and even a heated saltwater swimming pool.
The best way to explore more of this incredible area is with a Fundy National Park camping trip.
Our family spent part of last summer discovering this beautiful spot, and we truly think that camping is the perfect way to enjoy the Bay of Fundy.
Keep reading to find out more about our all-time favorite campground in Fundy National Park, the best Bay of Fundy campground for kids, and even an overview of the best hikes leading from each campground.
Where is the Bay of Fundy and Fundy National Park?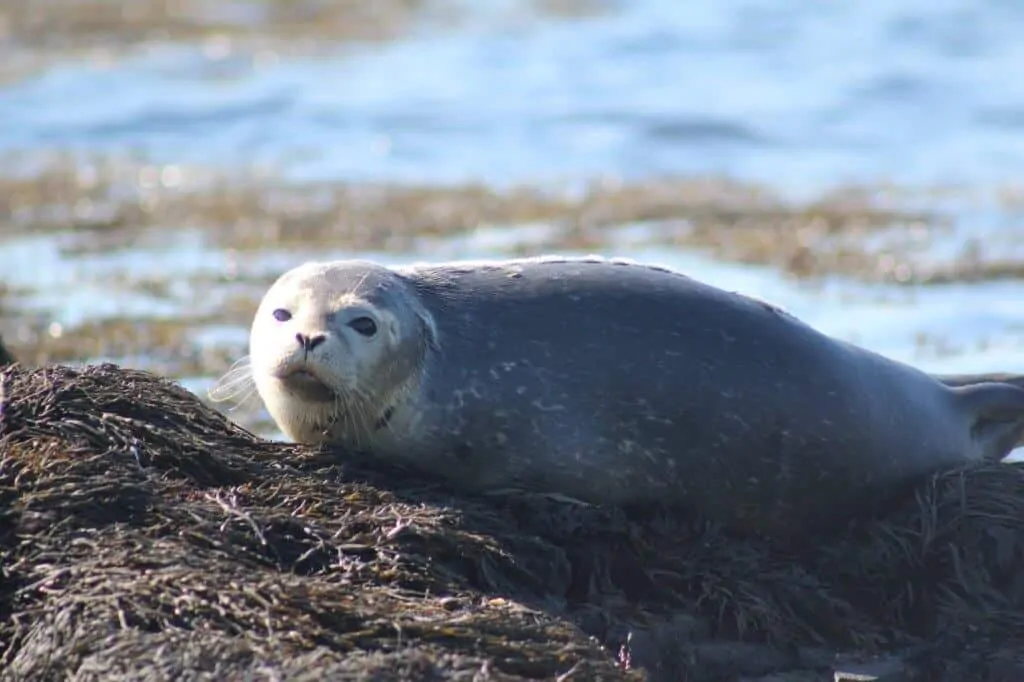 The Bay of Fundy is located between the Canadian provinces of New Brunswick and Nova Scotia on the east coast of North America.
It is more than 200 miles (320 km) long, with numerous natural areas, provincial parks, and geological wonders to explore. Our favorite spot on our Bay of Fundy road trip was Fundy National Park, which is situated near the small coastal community of Alma, New Brunswick.
If you are planning your own Bay of Fundy road trip, definitely add the following destinations to your itinerary, or make Fundy National Park your home base, and visit these spots on day trips.
Some of the most popular natural attractions along the Bay of Fundy in both New Brunswick and Nova Scotia include:
---
---
A Quick Overview of the Bay of Fundy Tides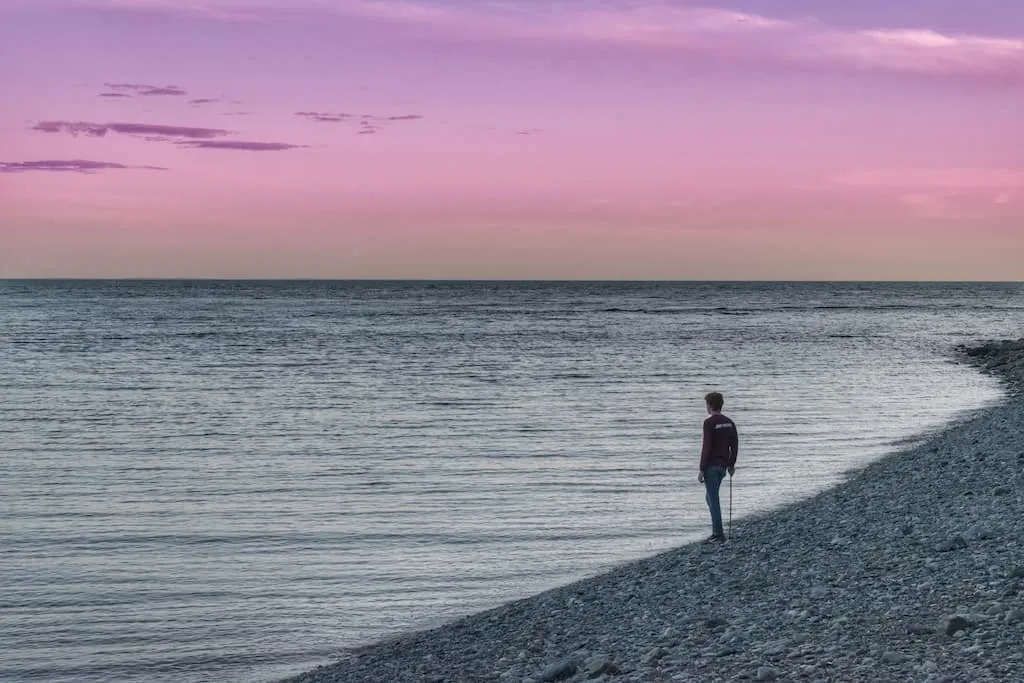 The ocean waters reliably rise and fall along the shores of the world's coastal areas.
Tides are actually long-period waves that move throughout our oceans in response to the gravitational pull of the sun and the moon on the earth. The difference in height between the low tide and high tide is called the tidal range.
Because of the shape and resonance of the Bay of Fundy, the tidal range can be anywhere between 29 and 52 feet (9 and 16 meters), and in some places the Bay of Fundy tides recede more than 3 miles (5 km) from shore, allowing you to walk along and explore the ocean floor.
The period between high tide and low tide is about 6 hours, and the best way to experience the tides is to visit the same place during high and low tide. Here's a brief overview of the world's highest tides, including great places to view the tides, tips for experiencing them, and tidal charts.
Checking out the Bay of Fundy tides, along with the amazing sunsets, was a highlight of our trip to Fundy National Park, and one of the benefits of camping. The coast is pretty much right there so you can experience high tide and low tide without having to travel very far.
When is the Best Time to go Camping in Fundy National Park?
Fundy National Park is open year-round, but facilities are generally open from mid-May until mid-October each year.
Summer is a beautiful time to go camping in Fundy National Park, but it can be busy, so be sure to reserve your campsite ahead of time.
While September and October are cooler than the summer, you will have far fewer crowds to deal with, and finding a campsite will be easier.
We have only camped in Fundy National Park during the summer, but we are in the process of planning a fall trip, so we'll keep you posted.
Fundy National Park Camping: Which Campground is right for you?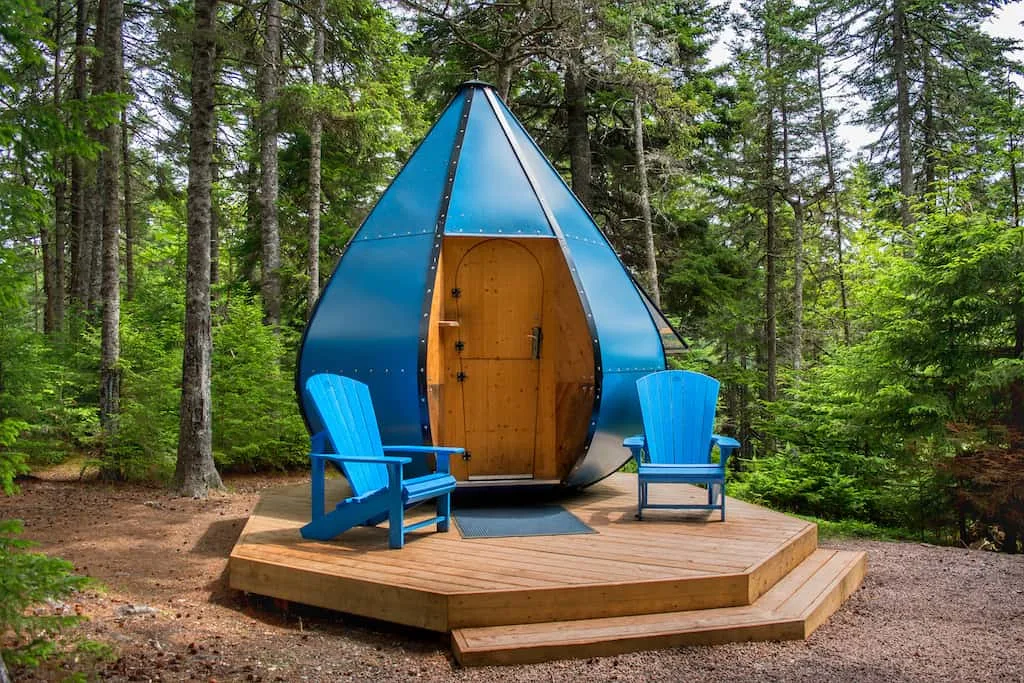 Fundy National Park is a fabulous destination for families, and the best way to explore it is by setting up camp at one of five unique campgrounds. We explored three of them last summer, and we found each one to have its own special character.
There are benefits and drawbacks to each campground, depending on your camping style and what type of adventures you're looking for. Hopefully, this Fundy National Park campground guide will help you find the perfect campsite — there are more than 550 to choose from!
All of the Fundy National Park campgrounds have washrooms, hot showers, electric and water hookups, kitchen shelters, and picnic tables. Most, but not all have fire pits. They also have large dishwashing sinks with warm water (this was a first for us). There are also campsites with unique accommodations that we'll talk more about in the next section
Types of Camping in Fundy National Park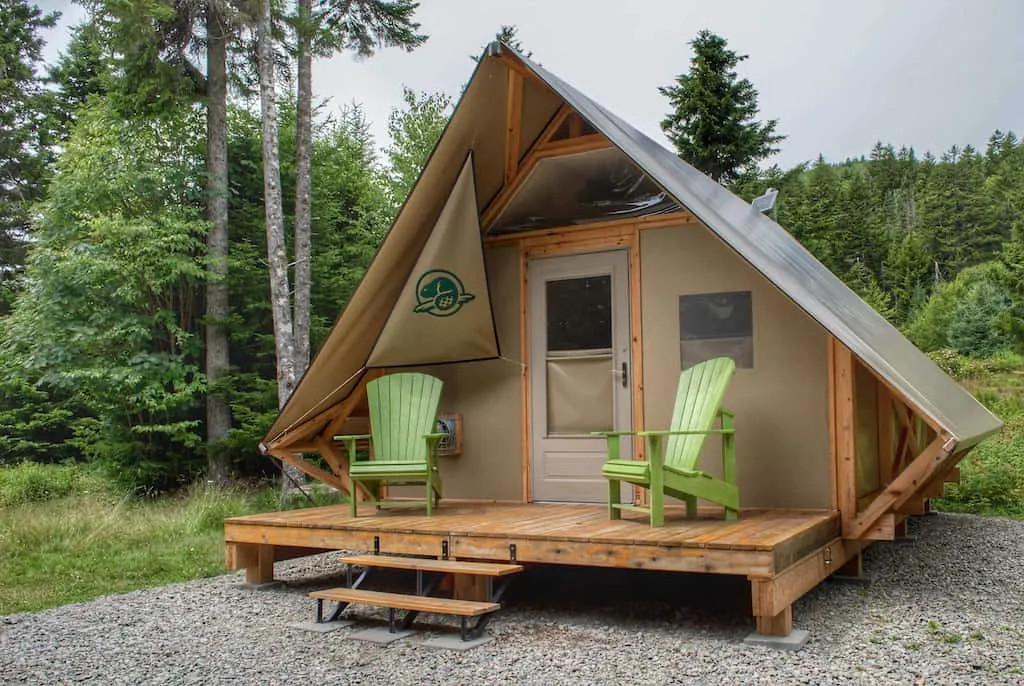 In addition to the tent and RV sites, there are a few unique Fundy National Park camping options that I want to mention.
We didn't try any of these options out because they were all booked during our stay, but we talked to lots of families taking advantage of these options, and all of them were super happy with their accommodations.
oTENTiks – These are cabin/tent hybrids that are great for families. Inside each canvas camping tent, you will find bunks for sleeping (you still need sleeping bags), a table and chairs, solar-powered lights, and heat. There's a picnic table outside, and either a fire pit or a barbecue grill. There are 30 oTENTiks in Fundy National Park, perfect for those times when you want to camp, but don't want to pitch your own tent.
The Ôasis- There's just one of these cool sleeping structures in Point Wolfe Campground. This wooden structure looks like a spaceship, but it's really a cozy spot to turn in for the night. There's a sleeping hammock and a platform bed with a mattress, so it's perfect for housing small families. Outside is a small deck, two chairs, a picnic table, and a fire pit.
Cabins – There are three rustic cabins in Fundy National Park. They are uninsulated, walk-in sites, both sleeping four people. The cabins in Fundy National Park include bunks, a table and benches, and a wood stove for heat and cooking.
Yurts – Yurts are available to rent in Headquarters campground. They sleep 4-5 people and include solar-powered lights, a table with chairs, a propane heating stove, and a personal barbecue grill.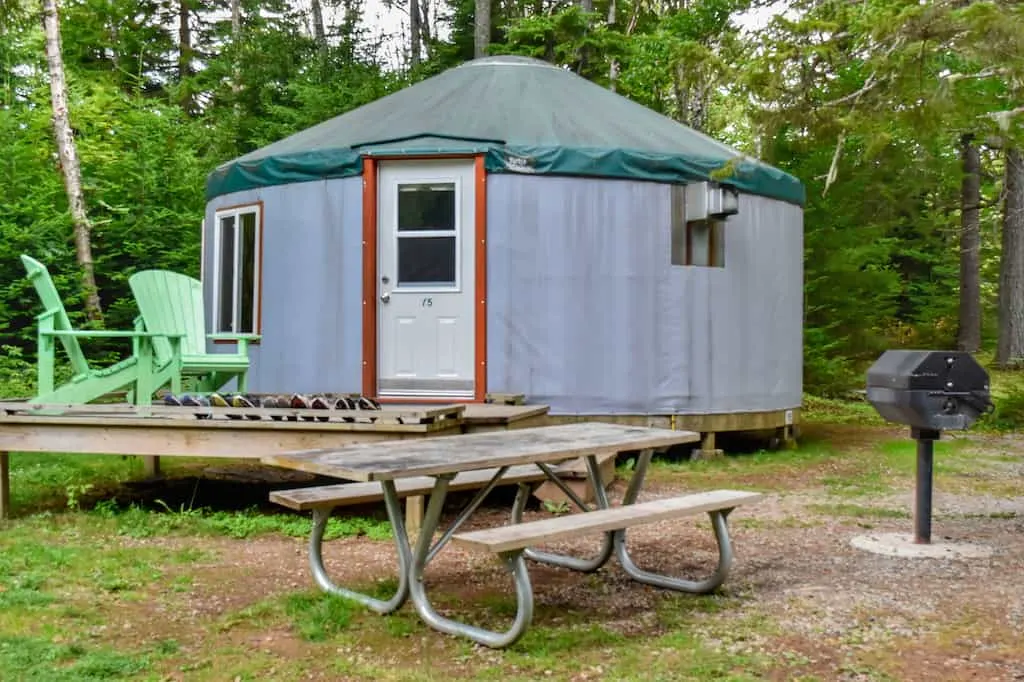 Point Wolfe Campground: Our Favorite Bay of Fundy Camping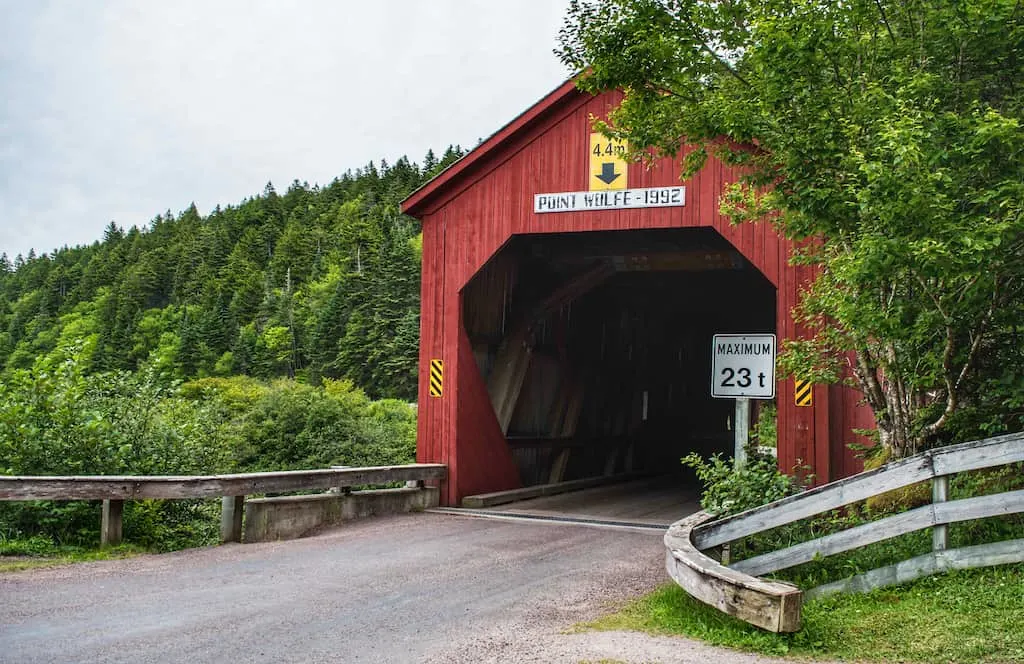 Number of sites: 154
oTENTiks: 10
Sites with electricity and water: 24
Unserviced sites: 120
Of all the front-country campgrounds in Fundy National Park, Point Wolfe Campground is probably the most rustic and secluded. It has all the amenities you would expect, but it is the farthest out. Campers have to drive through a covered bridge to get to the campground, which makes it unsuitable for large RVs.
We loved Point Wolfe Campground because of the proximity to great hiking trails, the newer washrooms, and the nice wooded sites. Even though the campground was full, everyone was very respectful and the campground was almost entirely dark and silent by the time quiet time came around at 11 pm.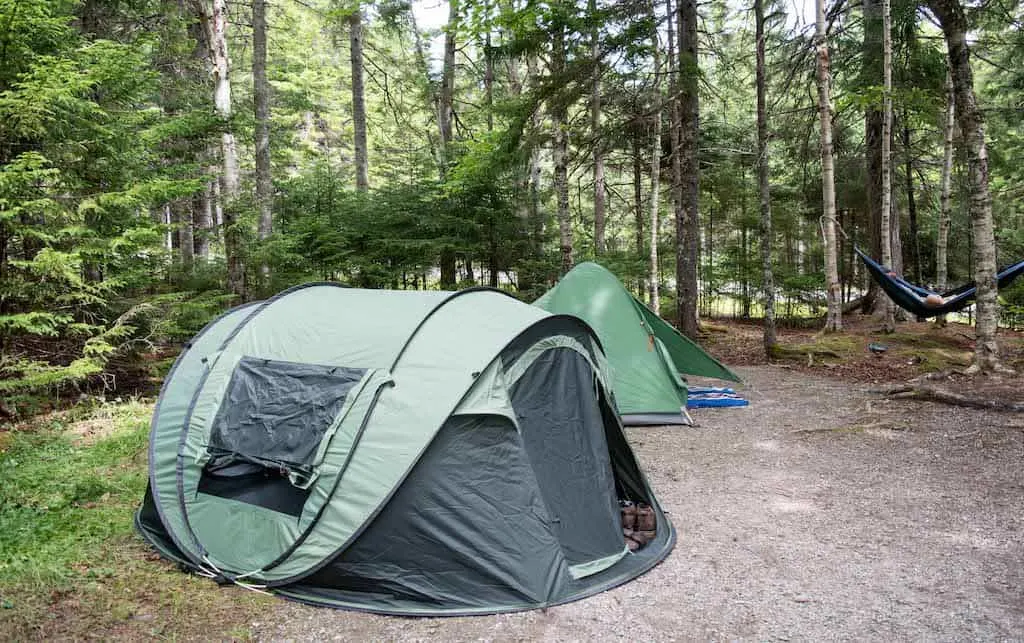 What we loved about Point Wolfe Campground: It was very quiet and you could walk from the campground to several trails and Point Wolfe Beach, which had some of the best sunsets of our trip!

Something to consider: Some sites are quite close together, but almost all of them are in the woods. You have to cross a covered bridge to get into the campground, so this isn't a great choice for RVs over 24 feet.
Trails near Point Wolfe Campground in Fundy National Park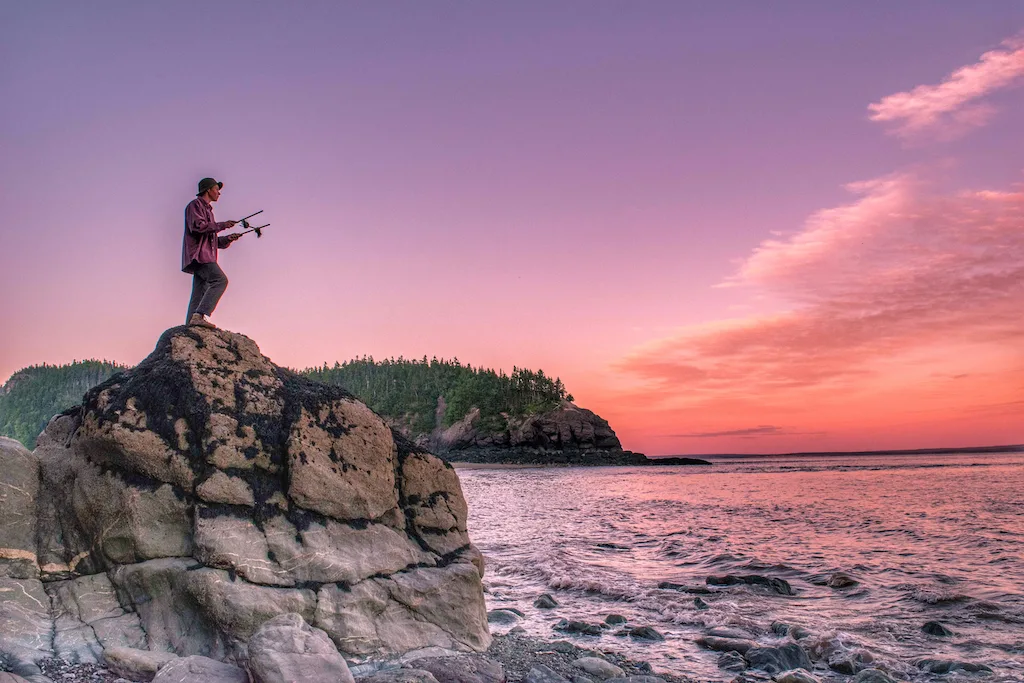 Point Wolfe Beach – An easy .75-mile trail from the campground leads to Point Wolfe Beach where you can get some great views of the rising and falling tides. We spent lots of time exploring here.
Shiphaven Trail – A leisurely walk (less than a mile round trip) through the forest and along a boardwalk from the campground to the covered bridge. Great views of the estuary and Point Wolfe River.
Matthew's Head – This loop trail is 2.8 miles, but we hiked the Coastal Trail from the campground to Matthew's Head for a hike that was a bit longer (maybe 6 miles total). It started in a lovely spruce forest, then opened to a meadow on a flat, grassy trail. Once we got to the coast, we were rewarded with lovely views for several miles.
Herring Cove Beach – Another quick trail (.75 miles) down to the beach. Great spot for a picnic during low tide.
Headquarters Campground: Walk to the Town of Alma, New Brunswick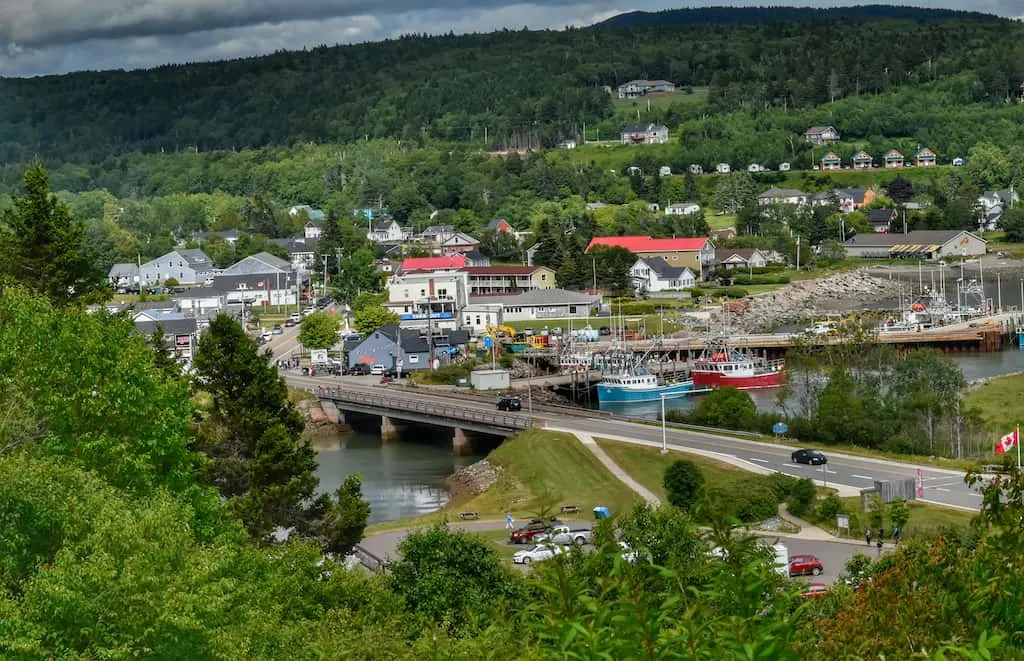 Number of sites: 154
Yurts: 5
oTENTiks: 10
Sites with electric, water, and sewer: 30
Sites with electricity and water: 25
Unserviced sites: 47
Headquarters Campground is the closest Fundy National Park camping to the main visitor center and to the town of Alma, so it's great if you want to be able to walk into town, go out to dinner, or embark on day trips around the area. We spent a lot of time in Alma, which has a great beach for exploring during low tide, and also a couple of grocery stores, a gas station, some gift shops, and a few bars and restaurants.
There's a good combination of wooded and open sites at Headwaters Campground, but if you have an RV and need hookups, you'll be directed to a row of sites that are very close together with no privacy.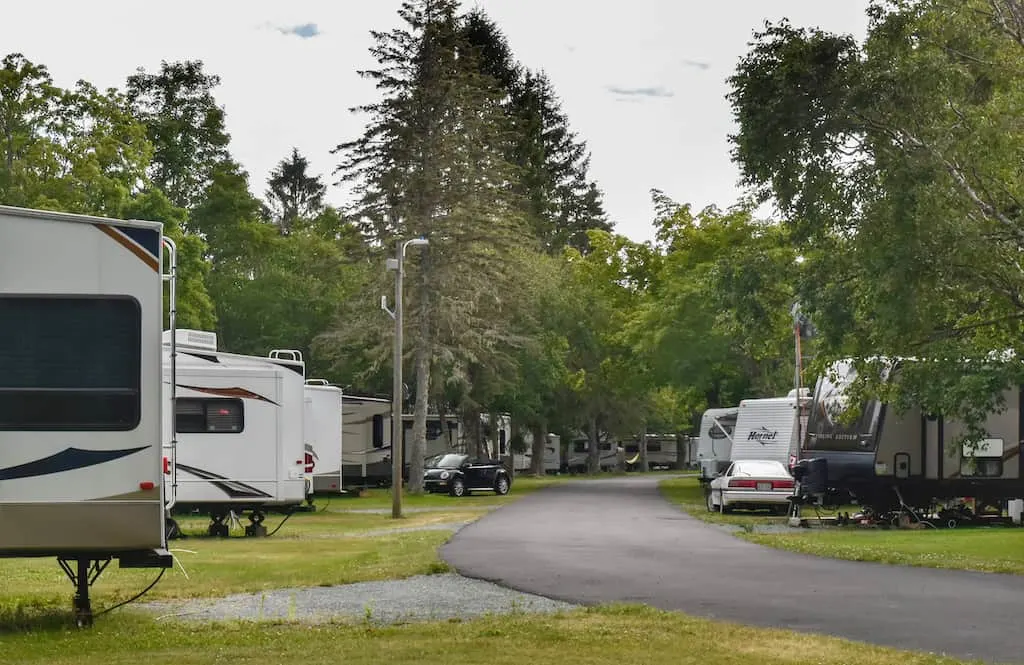 Headquarters Campground is also very close to expansive fields, a golf course, a saltwater swimming pool, and an amphitheater with regular programming for families.
There are no fire pits in Headquarters Campground, but you will find WiFi in some areas. There is one trailhead that begins near Headwaters Campground — the Upper Salmon River Trail. This is an out-and-back trail about 5 miles long. If you look closely, you'll see salmon pools in the river!
What we loved about Headquarters Campground: Our teens loved the freedom of walking to town or to the visitor center to get Wi-Fi.

Something to consider: This is a bustling campground with more RVs and fewer tents, but it's great if you want to participate in ranger-led activities or take day trips outside of the park.
Chignecto Campground: The Best Bay of Fundy Camping for Families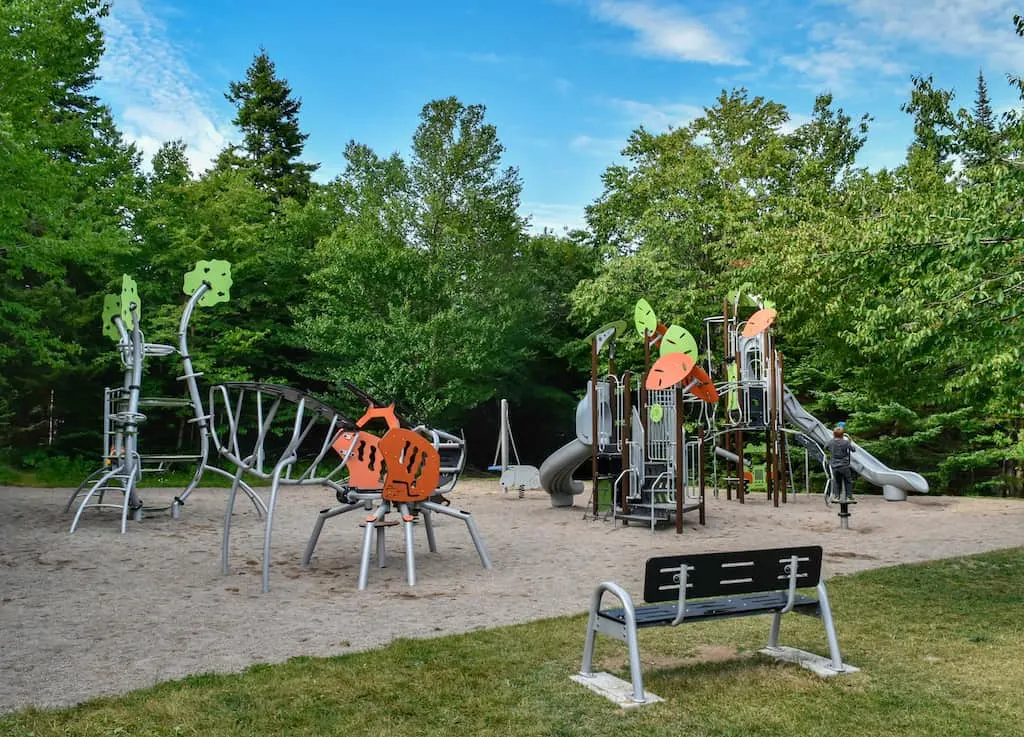 Number of sites: 261
oTENTik:10
Sites with electricity, water, and sewer: 10
Sites with electricity and water: 171
Unserviced sites: 70
Fundy National Park's largest campground is also the most family-friendly. Here you will find large playgrounds, access to a few easy hiking trails, and an awesome bike trail. RVs that don't need sewer hook-ups will find large, shady sites with lots of privacy, and there's WiFi available throughout most of the campground.
This is the only campground that is located in the interior of the park, so you won't have those expansive coastal views, but Chignecto would be my first choice if I was traveling with little kids.
What we loved about Chignecto Campground: Large, private sites. Great for bikes. This was our favorite Fundy National Park camping for families with kids.
Trails near Chignecto Campground in Fundy National Park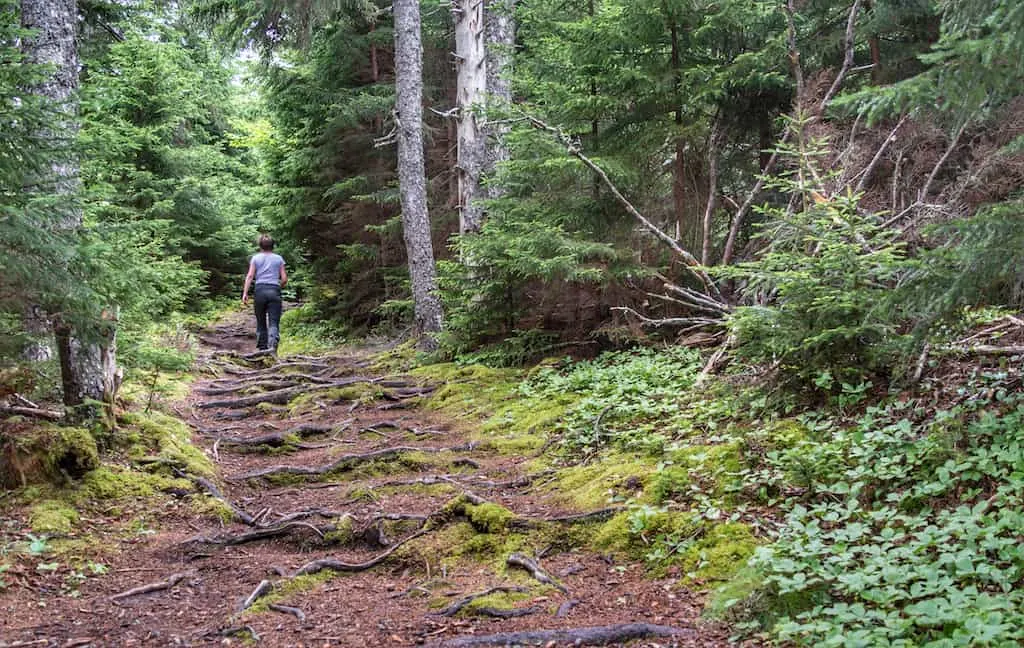 Kinnie Brook Trail – Short but steep, this trail is 1.7 miles (2.8 km) round trip and features a stream that disappears and reappears along the path. The whole trail winds through a steep-walled valley in the Acadian forest. It's really beautiful.
Black Horse Trail – A 2.7-mile (4.4 km) loop, the Black Horse trail does provide some bay views. There are some cool old house foundations along the trail. Bikes are allowed.
Maple Grove Trail – This trail is 2.5 miles (4 km) one way. It meanders through a lovely hardwood forest. When combined with Hastings Road, which sees very little traffic, it makes a great loop for family biking.
Most of Fundy National Park campgrounds are open from May to October, with the exception of Point Wolfe, which opens in late June.
Fundy National Park makes a great home base for exploring the rest of the Bay of Fundy.
All of the campgrounds are fairly modern and clean, and we would stay in any one of them again if we had the opportunity. We did not stay in the park's newest campground, Cannontown Campground, which has just 30 sites, but I'm sure that it's just as lovely as the others.
If you are planning on camping in Fundy National Park, I would suggest making reservations as early as possible. Sites definitely fill up quickly during the summer.
Resources for Exploring the Bay of Fundy
After spending time on the Bay of Fundy, we headed north to Cape Breton Island. Read about camping and hiking in Cape Breton Highlands National Park next!
---
Follow us on social media for more road trip inspiration!
Pin for Later?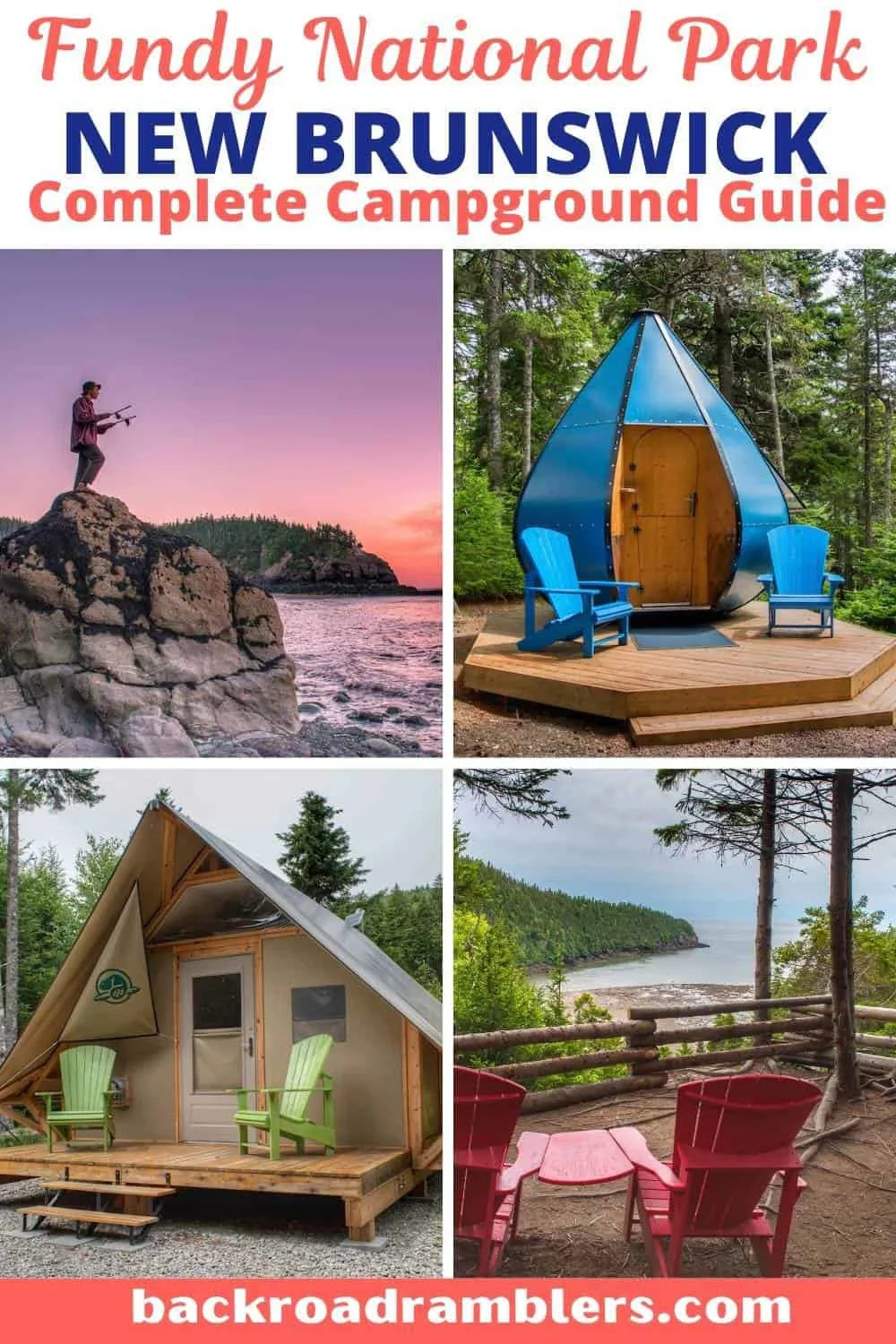 Watch the Fundy National Park web story.