With its craggy, rugged coastline, sweeping views, and thick forests, Cape Breton Highlands National Park in Nova Scotia is an outdoor lover's paradise.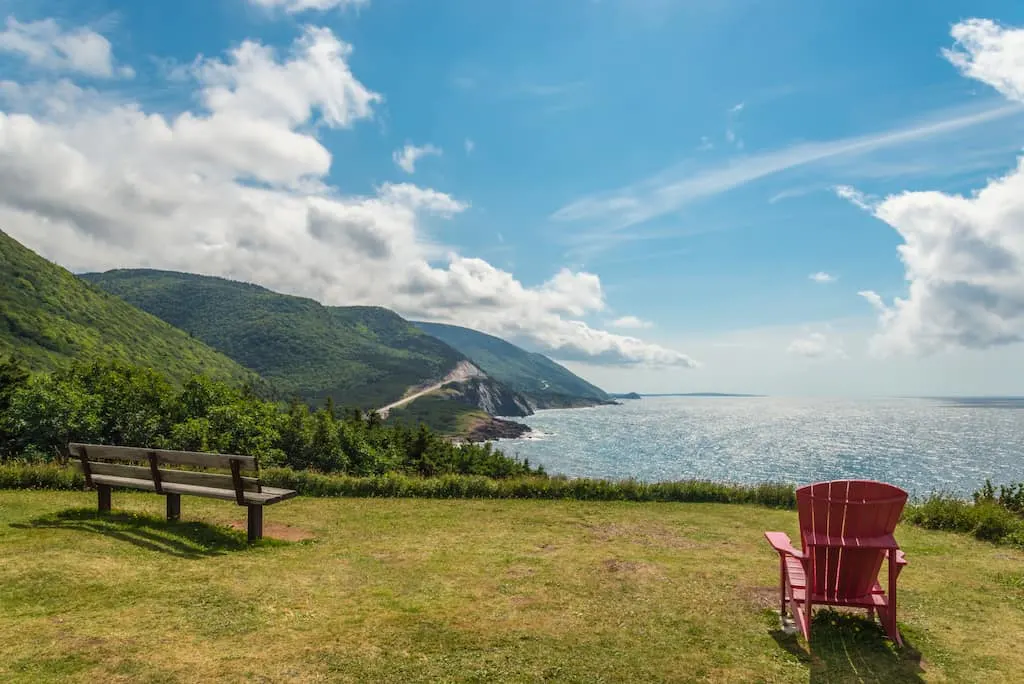 A visit to this maritime island is unlike any beach vacation you've had before, complete with secluded sandy beaches, cascading waterfalls, and mountainous hiking trails, all embraced in an ethereal mist that drifts across the land from the Atlantic Ocean.
You can explore more of this dramatic landscape with a Cape Breton camping trip.
Moose and bear are plentiful within the forests of Cape Breton, and whales and eagles are often spotted from the coast. Cape Breton Highlands was the first national park created in the Atlantic Provinces, and although it receives more than 300,000 visitors every year, there is plenty of room to spread out across more than 366 square miles (948 km²).
Camping in Cape Breton Highlands is one of the best ways to explore the park's varied terrain, and it's the perfect way to road trip on the world-famous Cabot Trail, which runs around the perimeter of Cape Breton Island. The Cabot Trail is a 185-mile road that connects all of the Cape Breton campgrounds within the National Park, as well as several beautiful coastal communities.
Did you know that the Cabot Trail is known far and wide as one of the world's most spectacularly scenic roads? The best way to enjoy this magnificent road trip is by pitching your tent at the spacious campgrounds along the way.
Here's our complete camping guide for Cape Breton Highlands National Park, with a complete overview of the best Cape Breton camping based on our experiences on our recent summer road trip through the Maritimes.
Cape Breton Highlands National Park Camping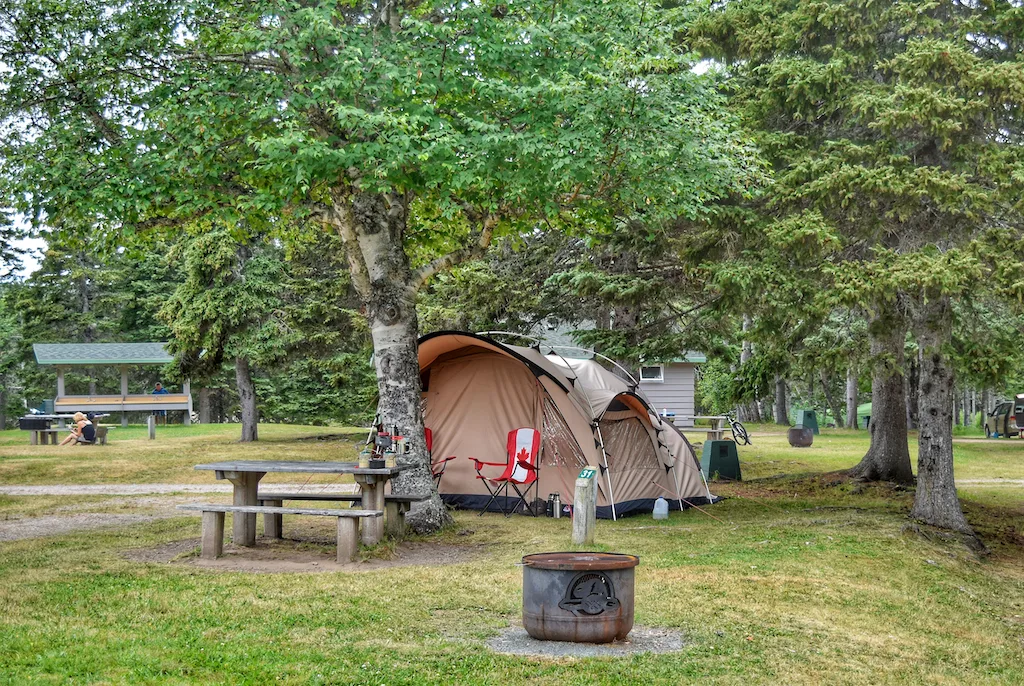 During our recent Cape Breton camping trip, we stayed almost entirely within Cape Breton Highlands National Park. For help planning other aspects of your Cape Breton getaway, please check out the official travel website for Cape Breton Island.
If you want to explore more of Nova Scotia, check out about 30+ things to do in Nova Scotia over at 2TravelDads.
There is so much to do and see in Cape Breton Highlands National Park. It's is a fabulous destination for families who love the outdoors, and the best way to explore the park is by setting up camp at one of six unique campgrounds.
Sites at three of the campgrounds are reservable, and three smaller campgrounds are first-come, first-served.
---
Read Next: Fundy National Park Camping Guide
---
Cape Breton Highlands National Park Camping: Which Campground is right for you?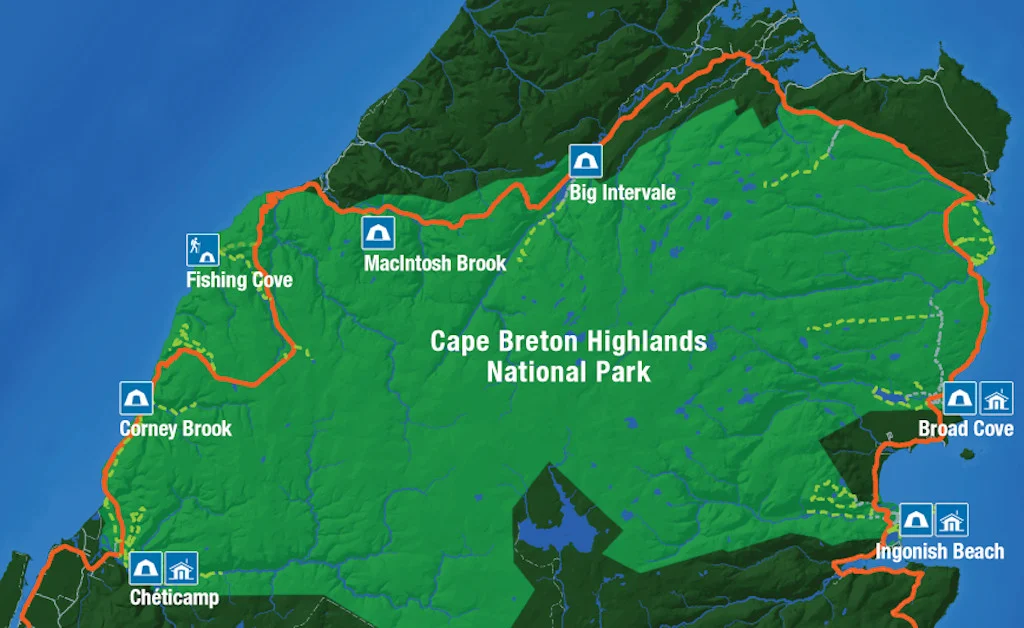 Over the summer, our family had the pleasure of camping in Broad Cove, Ingonish, and Chéticamp campgrounds in Cape Breton Highlands, as well as Meat Cove, which is outside of the park.
Check out the above map of the campgrounds available within the park. We started our journey driving counter-clockwise on the Cabot Trail and spent two nights in each of the three reservable campgrounds.
While all the Cape Breton camping spots provide great amenities and access to a variety of hiking trails, we have a definite favorite.
There are distinct benefits and drawbacks to each campground, depending on your camping style and what type of adventures you're looking for. Hopefully, this Cape Breton campground guide will help you find the perfect spot for your unique adventure.
The three reservable Cape Breton Highlands National Park Campgrounds have washrooms, hot showers, kitchen shelters, and picnic tables.
Cheticamp and Broad Cove Campgrounds both have sites with electric, water, and sewer hook-ups. Ingonish Campground sites are all unserviced. Most campsites, but not all have fire pits. They also have large dish-washing sinks with hot water for washing up.
Types of Camping in Cape Breton Highlands National Park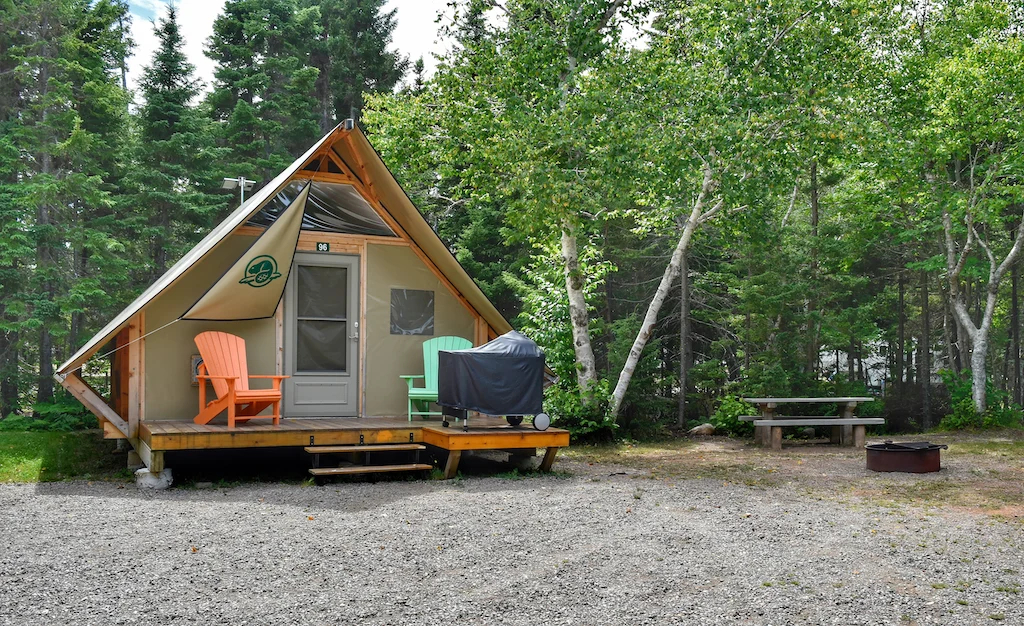 In addition to basic tent and RV sites that you are likely familiar with, Parks Canada provides a few unique Cape Breton camping options that I want to mention.
We didn't try any of them out because they were all booked when we tried to reserve them, but we talked to lots of families taking advantage of the o'TENTiks and equipped campsites, and all of them were super happy with their accommodations.
oTENTiks – These are cabin/tent hybrids that are great for families. Inside you will find bunks for sleeping (you still need sleeping bags), a table and chairs, solar-powered lights, and heat. There's a picnic table outside, and either a fire pit or a barbecue grill. There are 20 oTENTik campsites in Cape Breton Highlands National Park.
Equipped camping –Now you can plan a camping trip without bringing all the gear. Equipped campsites provide you with a tent that sleeps six people, sleeping pads, camp chairs, a camp stove, cooking gear, and a wash bin. All you need to bring is your sleeping bag, pillows, and a sense of adventure. There are 10 equipped campsites in Cape Breton Highlands National Park.
Ingonish Beach Campground: Great Beach for Kids!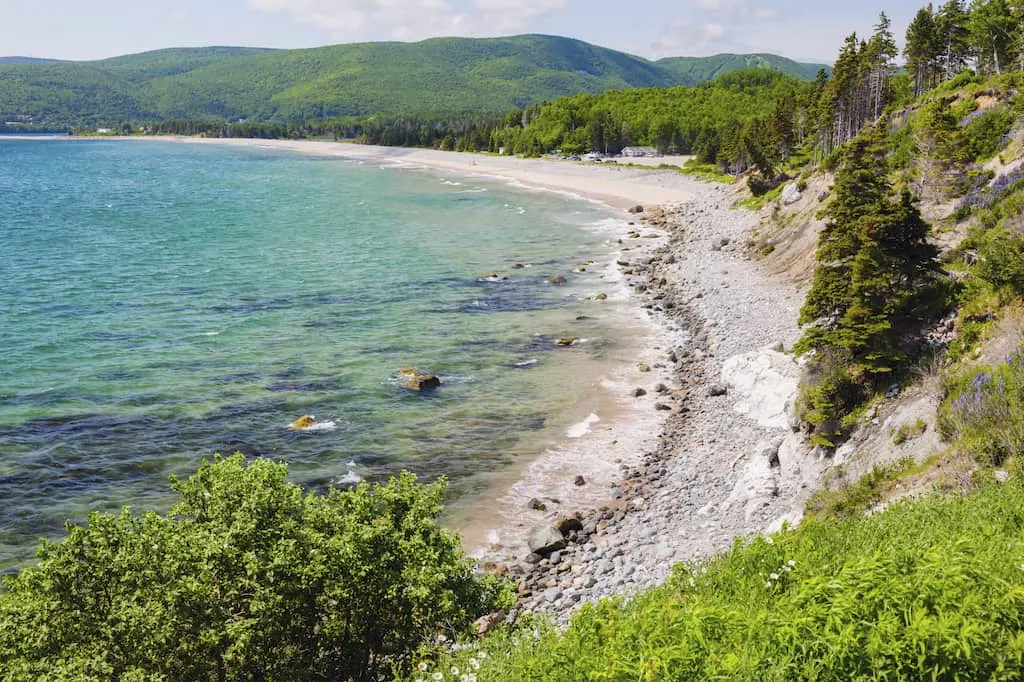 Number of sites: 60
oTENTiks: 4
Equipped camping: 5
Sites with electric, water, and sewer: 0
Sites with electricity and water: 0
Unserviced sites: 51
Ingonish Beach Campground is located near the entrance to Cape Breton Highlands National Park on the east side of Cape Breton Island. It is very close to the Ingonish Visitor Center, a local bakery, and a small market. The beautiful Ingonish Beach is a ten-minute walk from the campground.
This is probably the most popular beach in Cape Breton Highlands, and it's a great beach for kids because there are always lifeguards on duty in the summer. Visitors can choose to swim in the ocean or the freshwater lake, which is much, much warmer.
There is a small nature center in the Ingonish Beach Campground, and interpretive programs are offered daily throughout the summer months. Although this Cape Breton campground is small, most of the sites are in the open, with very little privacy.
What we loved about Ingonish Beach Campground: We enjoyed spending time at Ingonish Beach. The ocean was pretty cold for swimming, but the lake was perfect.
Something to consider: There are no hook-ups, so you are generally camping with tenters or small RVs and vans.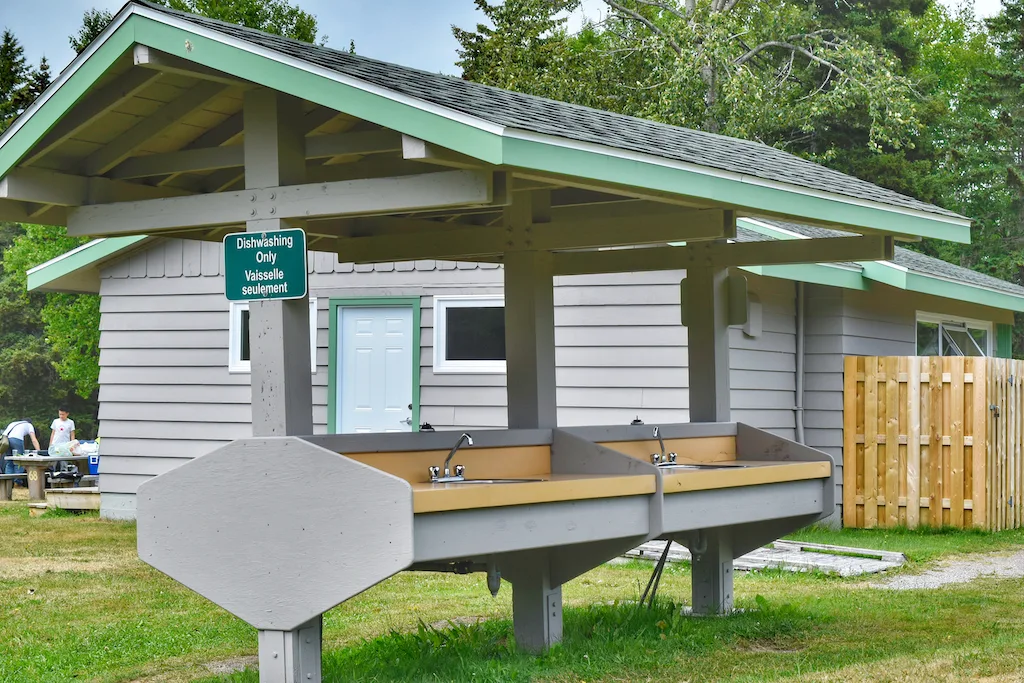 Hiking Trails Near Ingonish Beach Campground
Freshwater Lake – This easy loop can be reached from the campground. It's entirely level and travels along the coast, past beaver ponds, and a freshwater lake that was once a saltwater bay. The 1.1-mile (1.7km) is suitable for young children. After your hike, take a dip in the ocean or the lake before heading back to camp.
Freshwater Lake Look-Off – If you're short on time, but still want a fantastic view, take the short, steep hike up to the Freshwater Lake Look-Off. The trail is just .2 miles (.3km) round trip, and leads to incredible views of the ocean, Freshwater Lake, and Middle Head.
Middle Head – This moderate, 2.4-mile (3.8km) loop meanders along a narrow peninsula on the headland. It is mostly level, with a few rocky sections. It's suitable for older kids. There are opportunities for spotting wildlife from the headlands, including eagles, whales, and seabirds. This is a fantastic trail to hike on a sunny day, especially if you have a picnic.
---
---
Broad Cove Campground: Spoiler – Our Favorite Cape Breton Camping!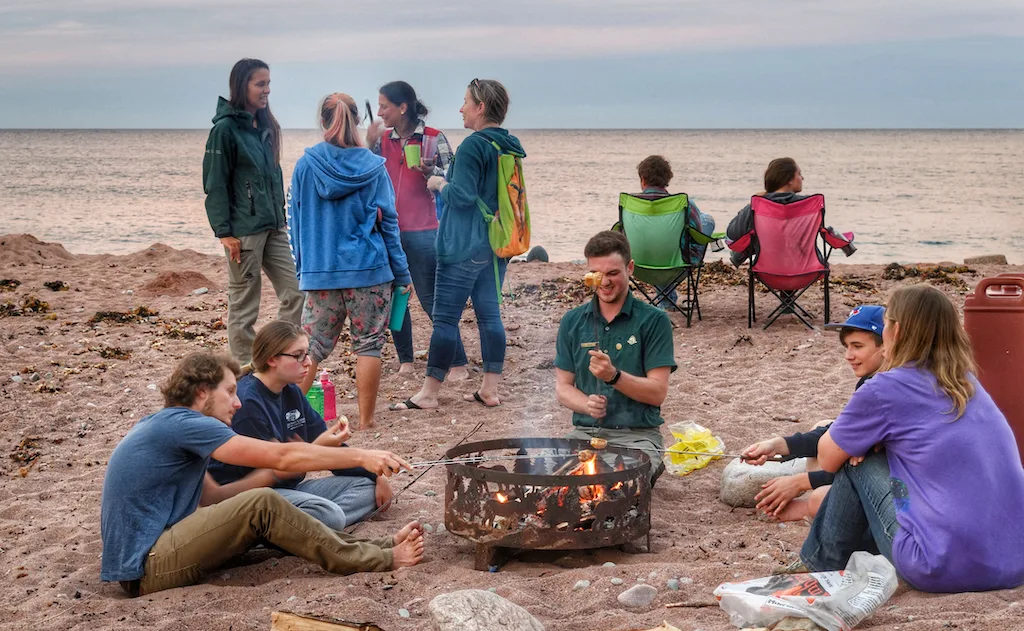 Number of sites: 202
oTENTiks: 6
Sites with electric, sewer, and water: 81
Unserviced sites: 113
Note: Not all of these sites have fire pits. See individual site descriptions before booking.
Broad Cove Campground is the largest campground in the park, but you wouldn't know it. There are many loops to choose from — some open, others wooded and more private. You will have a lot more choices if you don't need hookups.
The RV sites are in one section, and for the most part, are quite crowded together. We loved our stay at Broad Cove campground and in my humble opinion, it is the best Cape Breton camping available.
Without seeing the campground beforehand, we booked site 160 online. This turned out to be one of our favorite sites of our whole trip. The section was very quiet and open, and we had a private trail down to the most spectacular beach with red sand and crashing waves.
The Broad Brook empties into the sea here, so you can choose to swim in the ocean or the river at Broad Cove Beach (swim at your own risk). There were never more than a handful of people on the beach, and both sunset and sunrise were spectacular!
Broad Cove Campground was a great spot to just relax. It's not close to stores, so stock up! There are several hiking trails that you can hike without getting in your car.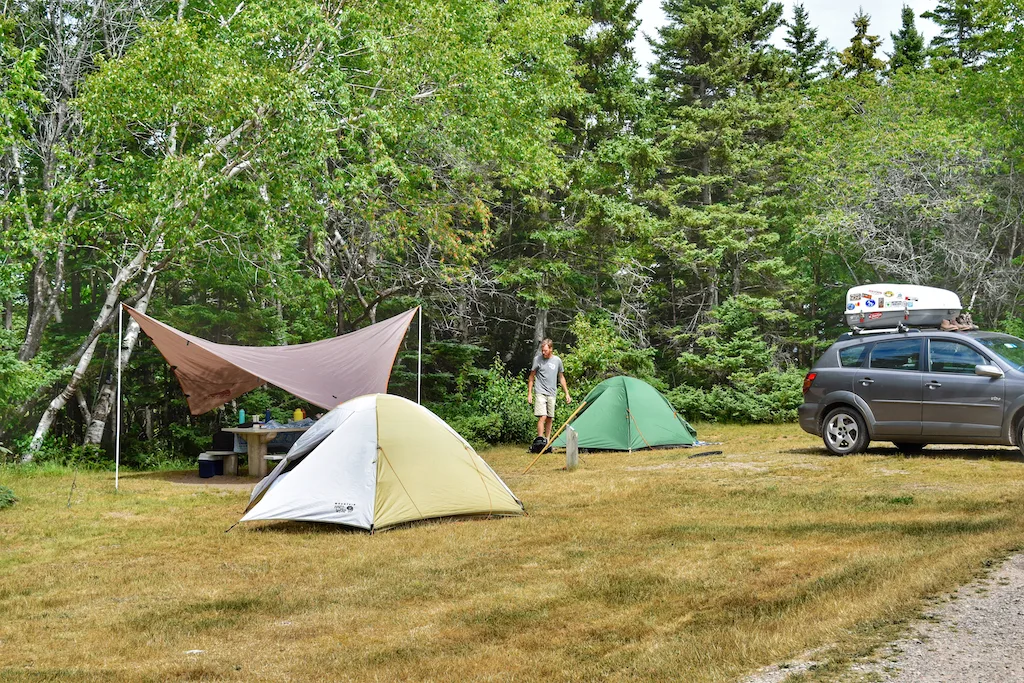 What we loved about Broad Cove Campground: It was very quiet and you could walk from the campground to several trails. The beach was awesome. The rangers hosted a campfire on the beach one evening and provided music, s'mores, and hot chocolate. Cell service was good too.
Something to consider: If you choose the loop near the main bathhouse, you will find it fairly crowded, and possibly noisy. The smaller campground loops are very quiet.
Trails near Broad Cove Campground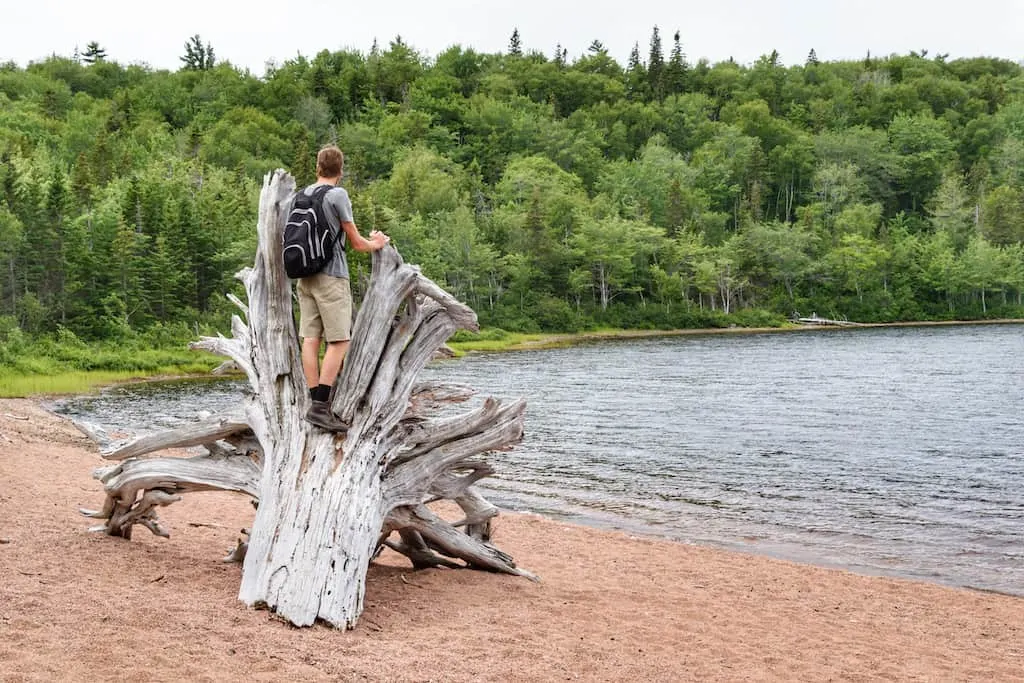 Broad Cove Beach – This isn't listed as an official hiking trail, but it's a nice walk through the woods from the campground to the beach. Depending on where you're camping, it's a 5-15 minute walk.
Warren Lake – We saw so many signs of moose on the Warren Lake Trail, and we thought for sure that we would see one. We talked to a ranger later who said they are often spotted there. You can hop on the trail across the street from Broad Cove Campground, or save some time by driving to the parking lot near the lake. The trail is a level, 2.9-mile (4.7km) loop. There's a sandy beach, parking area, and toilets near the parking area.
Broad Cove Mountain – The trailhead to Broad Cove Mountain is located on the road to Warren Lake. It's a 1.4-mile (2.3km) out-and-back hike. It is quite steep, but the view is definitely worth the work. There's a bench at the top so you can catch your breath and take in the views of the ocean.
Franey Trail – We didn't hike the Franey trail, but I'm including it here because so many people told us afterward that we missed one of the best hikes in the park. It's a 4.6-mile (7.4km) loop that takes you through the forest, up mountains, and along cliffs. It's rated as difficult.
Chéticamp Campground: The Busiest Cape Breton Campground in the Park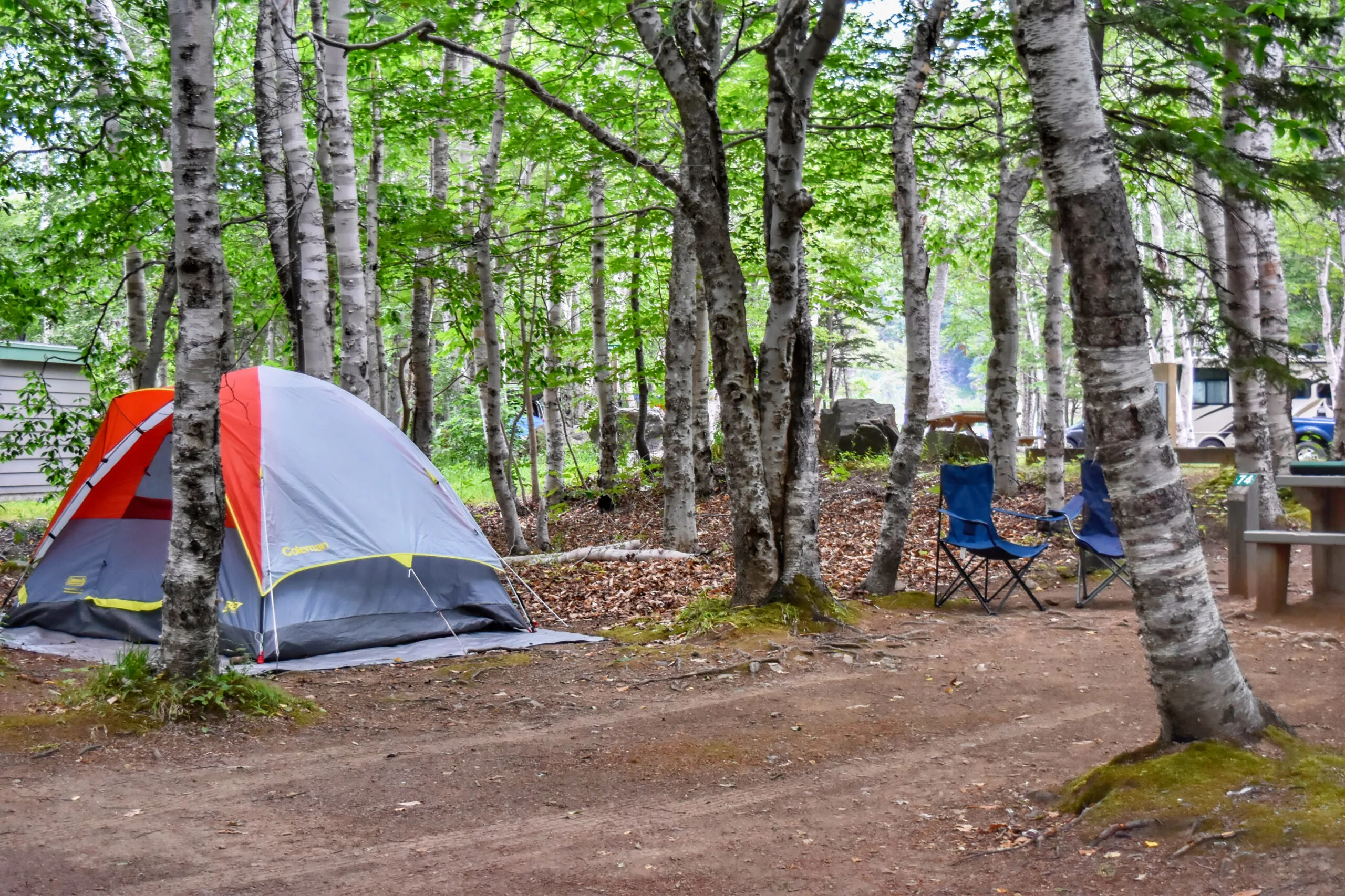 Number of sites: 122
oTENTik:10
Equipped sites: 5
Sites with electricity, water, and sewer: 24
Sites with electricity: 14
Unserviced sites: 71
Chéticamp Campground is located on the west side of the park, about 1.5 hours driving distance from Broad Cove.
If you are planning a road trip, it makes sense to divide your time between the two sides of the island so you don't spend all of your time in the car. Chéticamp Campground is the closest campground to the famous Skyline Trail, which is a must-do for everyone.
The campground is also close to the bustling town of Chéticamp, which is the biggest town on the Cabot Trail. The community has 4,000 residents, most of whom are Acadian and speak French as their native language.
Cheticamp Campground is within walking distance to the Chéticamp Visitor Center, where you'll find a small gift/book shop, coffee, and free Wi-Fi. The campground consists of open and wooded campsites. The open area offers little privacy, but there's a nice family feel to it, and the sites surround a great playground and an outdoor theater.
What we loved about Chéticamp Campground: Its proximity to the town of Cheticamp, where we found awesome food, Acadian music, and a sandy beach. This is a very convenient Cape Breton camping spot if you want to do exploring outside of the park.
Something to consider: Chéticamp Campground seemed like the busiest of all the campgrounds we stayed at. Our site was not at all secluded, and we wouldn't have been happy if we had to spend a lot of time there. We mainly just slept at the campground and used it as a jumping-off point for day trips.
Hiking Trails Near Chéticamp Campground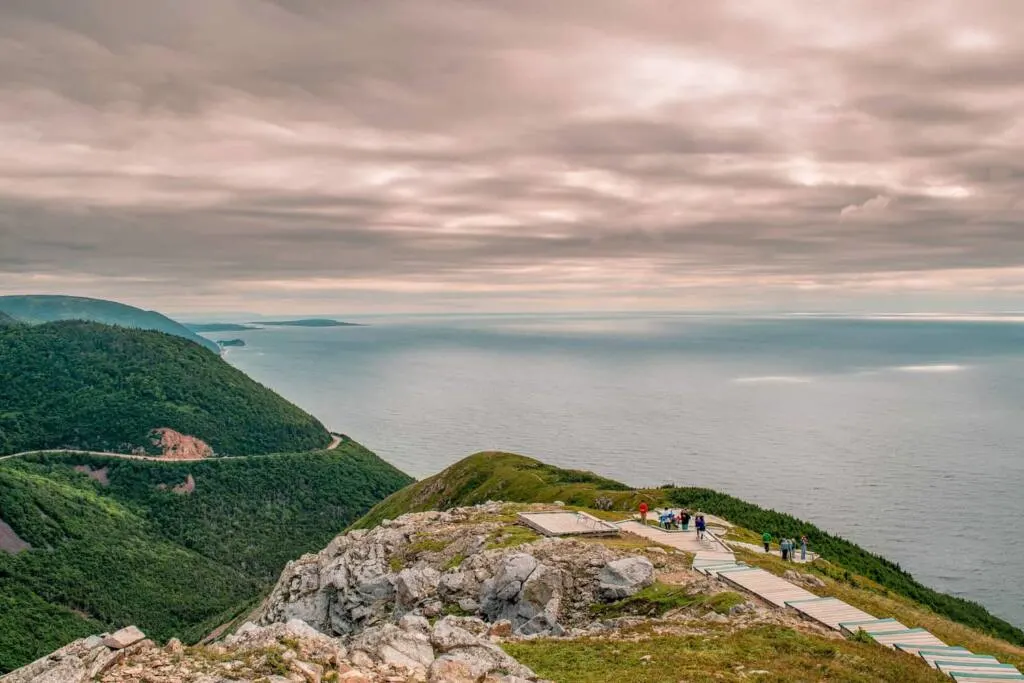 Salmon Pools – This is the only trail you can walk to from the campground. It features a lovely walk along the Chéticamp River, where you can watch salmon spawning in the deeper pools. Total distance is 4.8 miles (7.8km), but it's an out-and-back trail, so you can simply turn around whenever you're ready. There are a few steep sections, but for the most part, it's an easy trail.
Skyline Trail – As I mentioned above, the Skyline Trail is one of those must-hike trails. It will likely be crowded, no matter when you visit, but the vistas are beyond incredible. You chance seeing all kinds of wildlife — moose, bear, eagles, whales, and coyotes, plus you'll have a great view of the Cabot Trail below. The hike is rated as easy. You can go out and back in 4 miles (6.5km) or do a loop in 5.1 miles (8.2km). Unless you are looking for a longer hike, we found the out-and-back route easier, with better views.
Acadian Trail – This 5.2-mile (8.4km) loop is a steady climb through forest and fields, with some excellent views of the river valley, town, and highlands. Moose and bear frequent the area.
Corney Brook Campground: Oceanfront camping in Cape Breton
Unserviced sites: 22
Corney Brook Campground is a small Cape Breton campground right on the ocean. There is no potable water, but there is plenty of solitude and gorgeous views. We considered staying here, but in the end, the wind was blowing too fiercely.
I can tell you that on a Saturday night in July, only four of the campsites were occupied when we drove through. Corney Brook is very close to the Skyline Trail, and unfortunately, you can't make reservations.
MacIntosh Brook Campground: Small and secluded
Unserviced sites: 10
Located in the Grande Anse Valley near Pleasant Bay, MacIntosh Brook Campground is a small, open area nestled at the base of the mountains. There is a waterfall within walking distance, a kitchen shelter, a playground, and flush toilets.
When we drove through this Cape Breton camping area on our trip, all but three sites were occupied. It's first-come, first-served.
Big Intervale Campground: The Smallest Cape Breton Campground
Unserviced sites: 5
This tiny campground has just five unserviced sites. There is a picnic area along the river, a privy, and fire pits at each campsite. This Cape Breton camping spot is located at the base of North Mountain. NeaRBY Aspy Trail starts at Beulach Ban Falls and follows the valley to a pretty lookout.
Meat Cove Campground: Amazing Views!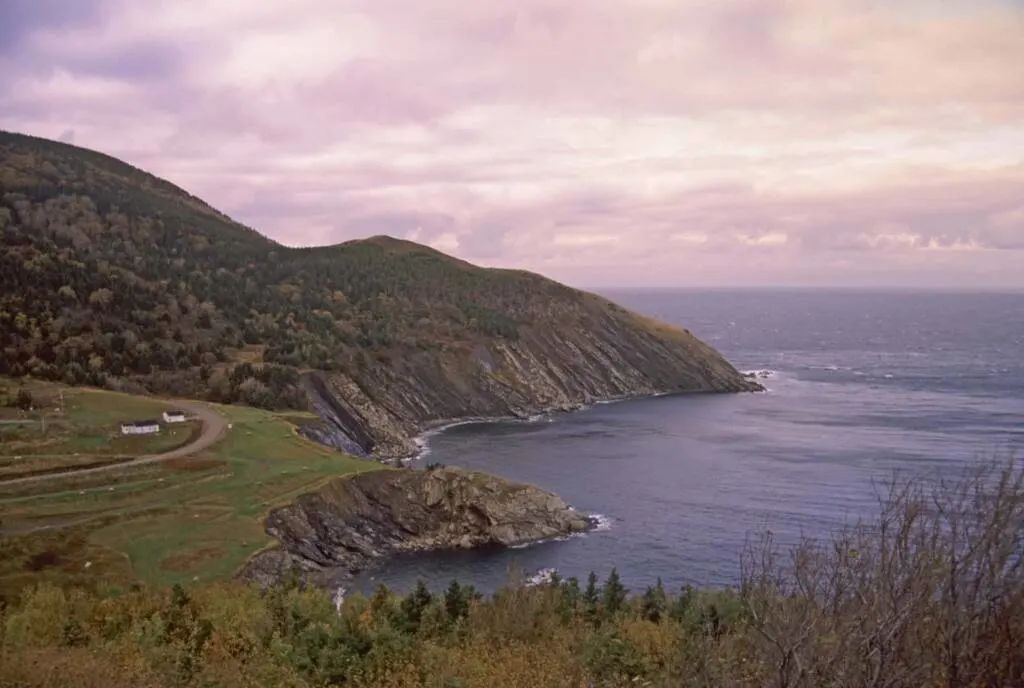 Meat Cove Campground is not located in Cape Breton Highlands National Park, but I did want to include it so you know your options. Located in Meat Cove, on the northern tip of Cape Breton Island, the whole camping area is pretty much perched on a cliff overlooking the ocean.
This is a fantastic Cape Breton camping spot if you aren't afraid of heights and the wind isn't blowing too hard!
During our visit, we went whale watching along Meat Cove and could see our campsite way up on the bluff from the water.
Meat Cove Campground provides campers with free Wi-Fi, hot showers, and kayak rentals, and they have camping cabins as well! The onsite Chowder Hut Restaurant is a definite bonus and is what made this special Cape Breton camping experience tie for our first place recommendation.
Cape Breton Highlands National Park Campgrounds are open from mid-May to late October. Most sites can be reserved, but there are several that are first-come, first-served.
If you are hoping to rent an equipped camping site or an o'TENTik, I recommend reserving your site in the winter before your trip. All of the campgrounds are fairly modern and clean, but our two favorites were Broad Cove Campground and Meat Cove Campground.
---
Cape Breton Camping FAQs
Where is Cape Breton Highlands National Park?
Cape Breton Highlands National Park is located on northern Cape Breton Island in Nova Scotia, Canada. The best way to explore Cape Breton Island is by embarking on a multi-day road trip. The nearest international airport is the Halifax Stanfield International Airport. From Halifax, it's a 4.5-hour drive to the park entrance.
From the airport, it's easy to rent a car for your Cape Breton road trip. We use Kayak to find flight and car rental deals during the planning stage of our trips.
When is the best time to go camping on Cape Breton?
Cape Breton Highlands National Park Campgrounds are open from mid-May to late October, with full services in July and August, which is the most pleasant time to camp on the island.
Can you drive an RV on the Cabot Trail?
Yes. The Cabot Trail is a curvy two-lane road, so driving an RV will depend entirely on your comfort level and how big your rig is. We drove the Cabot Trail in a small car, but we saw a lot of RVs making the journey. As for the Cape Breton campgrounds, most can accommodate large RVs, but be sure to check the details of each campsite before reserving.
Are there amenities like gas and groceries near Cape Breton Highlands?
The Cabot Trail circles around Cape Breton Highlands National Park with numerous small towns and villages along the way. Because this is a tourist destination, you'll find gas, groceries, and motels in most communities. There are a few long stretches of beautiful wilderness between towns, but nothing to worry about if you don't let the gas tank get too low before filling up.
What animals will we see in Cape Breton Highlands National Park?
Cape Breton Highlands National Park includes many different ecosystems, from interior forests and mountains to coastal areas rich in marine life. Common land mammals include eastern coyote, moose, Canada lynx, snowshoe hare, American marten, red fox, bobcat, and black bear. Off the coast, you have a good chance to see several marine mammals, including pilot whales, minke whales, white-sided dolphins, and harbor seals.
Do we need to make camping reservations in Cape Breton Highlands National Park?
The campgrounds at Cape Breton Highlands National Park have a good mix of reservable and non-reservable sites, but if you are traveling from a distance, I always find it safer to reserve sites ahead of time, especially if you are visiting in July and August.
Where can I find a Cape Breton trail guide?
Glad you asked. Cape Breton camping and hiking go hand-in-hand. Grab a copy of Hiking Trails of Cape Breton (second edition) by Michael Haynes before your trip.
Have you ever camped in Cape Breton Highlands National Park? I'd love to hear about your experience in the comments below. Here are a few more resources for exploring Cape Breton Highlands National Park.
---
Keep in touch – follow us on social media!
Pin for Later?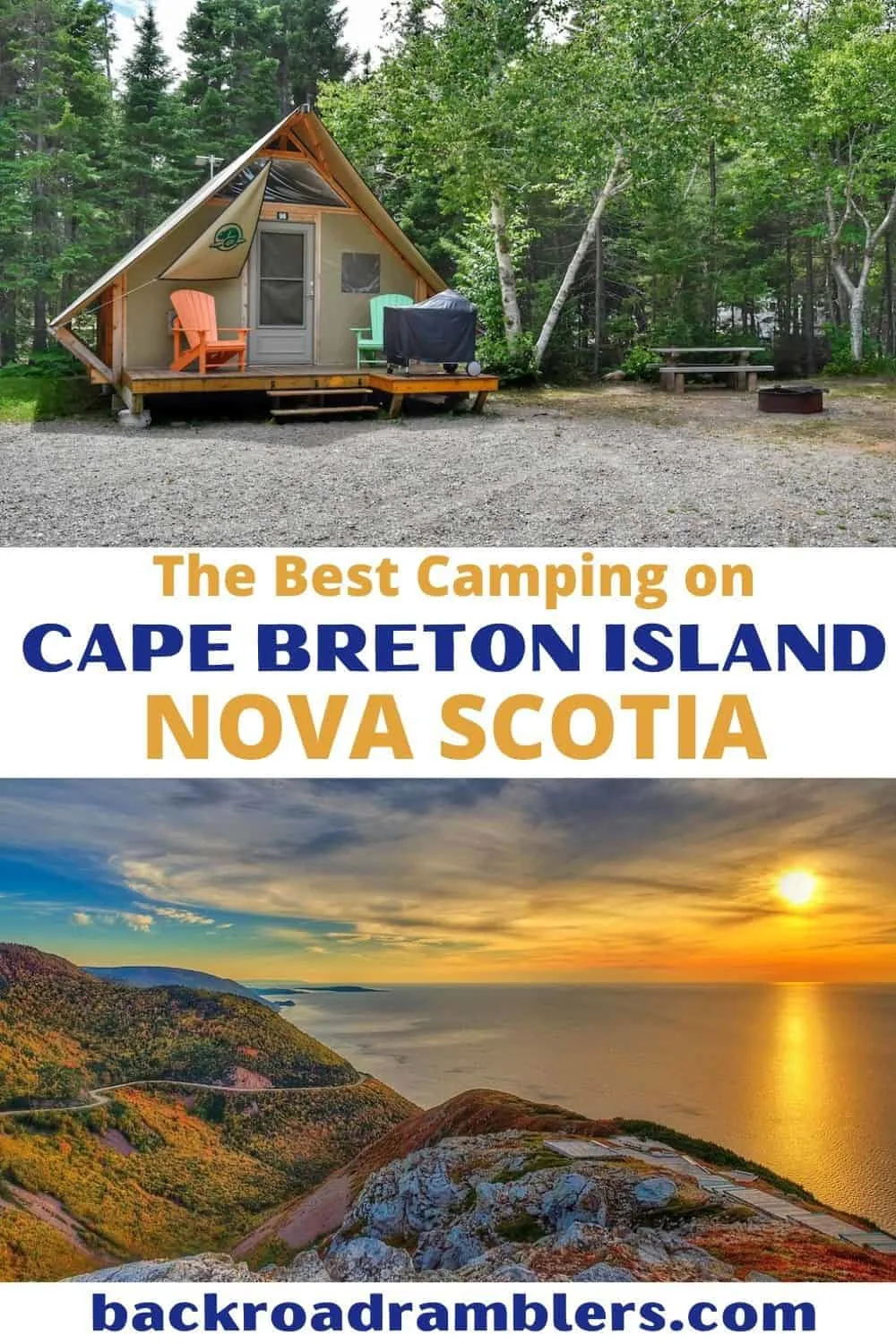 Check out our Cape Breton camping web story next!
Our Favorite Resources for Road Trips and Outdoor Adventures

These are the resources we use to plan road trips, save money while traveling, and shop for outdoor gear.

Car Rentals: While we use our own car most often for road trips, we also enjoy flying into major airports and then renting a car for more regional road trips. We use Kayak to compare prices and find deals from dozens of car rental agencies at once.

Flights: We use Kayak to search out flight deals.
Money-saving tip: If you find yourself using the same airline repeatedly (we are huge Southwest fans), consider joining their loyalty program and getting an airline credit card. With our Southwest Rewards Visa, we earn a few free flights each year.

Hotels: When it comes to lodging, we seek out small boutique hotels or quirky roadside motels. First, we search for hotels on TripAdvisor so we can read reviews from other travelers. Then, we use Booking.com to make reservations (they have the best prices, plus a flexible cancelation policy).

Camping: Camping is one of our favorite things to do on long road trips. It allows us to explore the outdoors, cook our own food, and save money. We use They Dyrt Pro to find campsites and read reviews before booking on Recreation.gov or state park websites.

Glamping and Vacation Rentals: For weekend getaways and shorter vacations, we love glamping (check out our glamping resource guide). We book glamping properties through Tentrr, Hipcamp, and Airbnb. For cabins and vacation rentals, we like to use VRBO (they have fewer fees and a better cancelation policy than Airbnb).

Guides and Maps: If we are visiting a new region, we usually invest in a Moon Travel Guide for the area. We pass them on to friends and family after our trip. If we are planning on hiking, we also purchase a Falcon guide in the Best Easy Day Hikes series.

Outdoor Gear: We are REI Co-Op members. It cost us $20 for a lifetime membership, but we get a yearly dividend based on our purchases, plus great deals and coupons throughout the year. REI also has a great return policy.

Check out our complete guide for planning a road trip on a budget