A getaway to Cape Breton Island in Nova Scotia is unlike any adventure on earth. Discover endless ancient forests, an imposing craggy coastline, and a local music scene that can't be recreated elsewhere.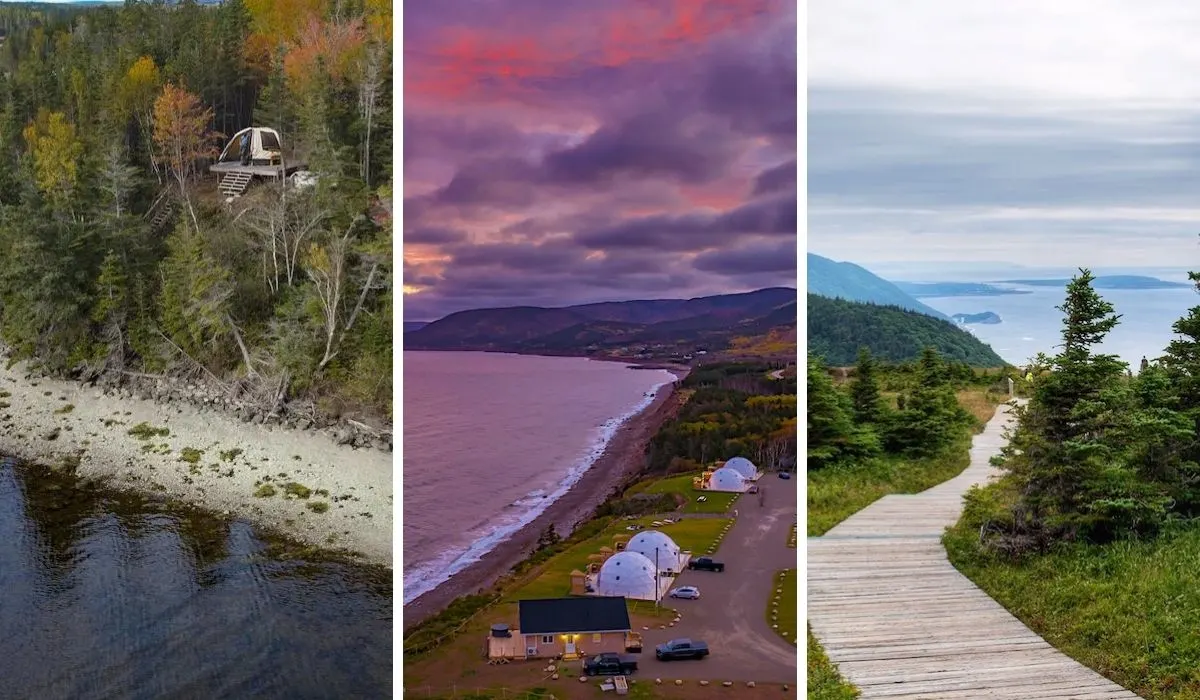 Whether you're planning a road trip on the famous Cabot Trail, hoping to explore the forests and hiking trails in Cape Breton Highlands National Park, or looking for a spot to simply relax for a few days, a Cape Breton glamping getaway will enable you to immerse yourself in the landscape without sacrificing comfort.
Glamping in Cape Breton is about having an immersive outdoor experience on the island without having to sleep on the ground. There are some exceptional glamping destinations on Cape Breton Island, and booking a glamping vacation will make your vacation memorable for all the right reasons.
Getting to Cape Breton Island
First, a few logistics to make planning your Cape Breton getaway as simple as possible. Unless you live in the Maritimes, the easiest way to get to Cape Breton is to fly into Sydney (JA Douglas McCurdy Sydney Airport) and rent a car for your Cape Breton adventure. This is a small, regional airport with connecting flights from Toronto, Montreal, and Halifax.
Halifax Stanfield International Airport is a major international hub that will give you more flight options and better prices, but you will have to drive about three hours to get to Cape Breton Island.
We recommend seeking out flight and car rental deals on Kayak before deciding on your lodging.
What is Glamping and How do I Find Great Glamping in Cape Breton?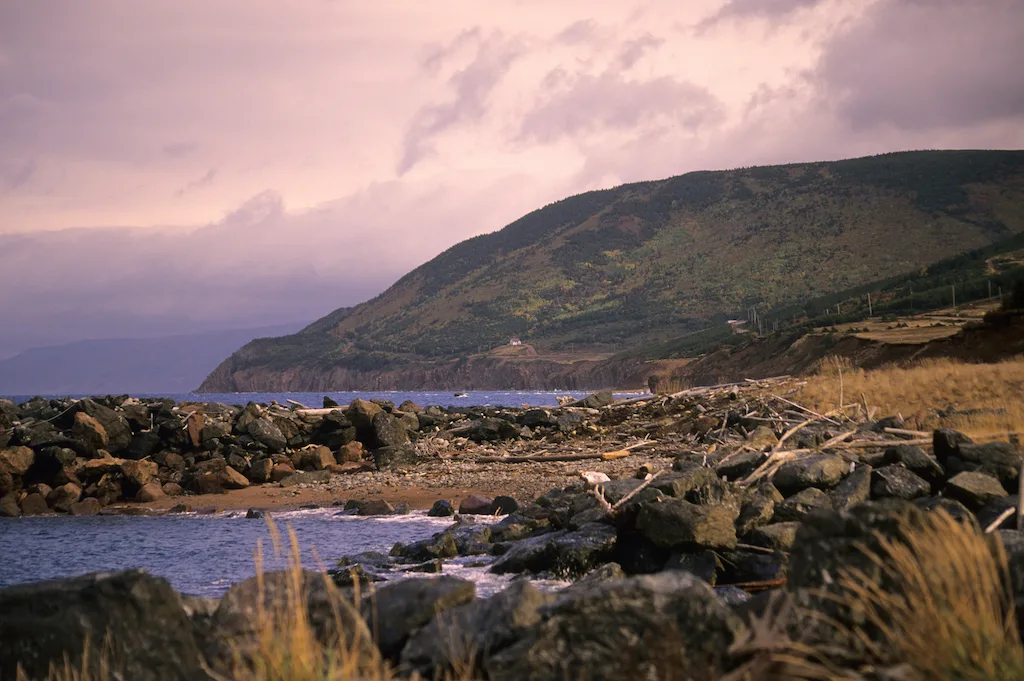 Glamping is the trendiest and most awesome way to spend time outdoors without having to rough it. The cool thing about glamping is that it embraces everything you love about camping — campfires, starry skies, and expansive wilderness, without the things you'd rather do without — leaky tents, noisy campground neighbors, and sleeping on the ground.
When you choose to go glamping, you almost always get a real bed, a toilet, and some sort of kitchen. Depending on the destination, you may also be treated to luxuries like indoor plumbing, wi-fi, and a woodstove.
Glamping provides a level of solitude that camping in campgrounds just can't match, but you will likely have to pay extra for the privilege. It might not be something you choose to do all the time, but it's absolutely worth splurging on once in a while!
When we travel, we still choose to pitch our tent 90% of the time, but glamping is a nice way to add some comfort to long road trips, celebrate something special, or just make our vacation more memorable.
To find your own fabulous glamping in Cape Breton, you can spend hours scouring the black hole of the internet on sites like VRBO, or you can scroll down to find some incredible sites with nary a lift of the finger.
The glamping destinations listed below include both individual vacation rentals and glamping resorts so you can choose total seclusion or more of a glamping-with-friends vibe.
When to go Glamping on Cape Breton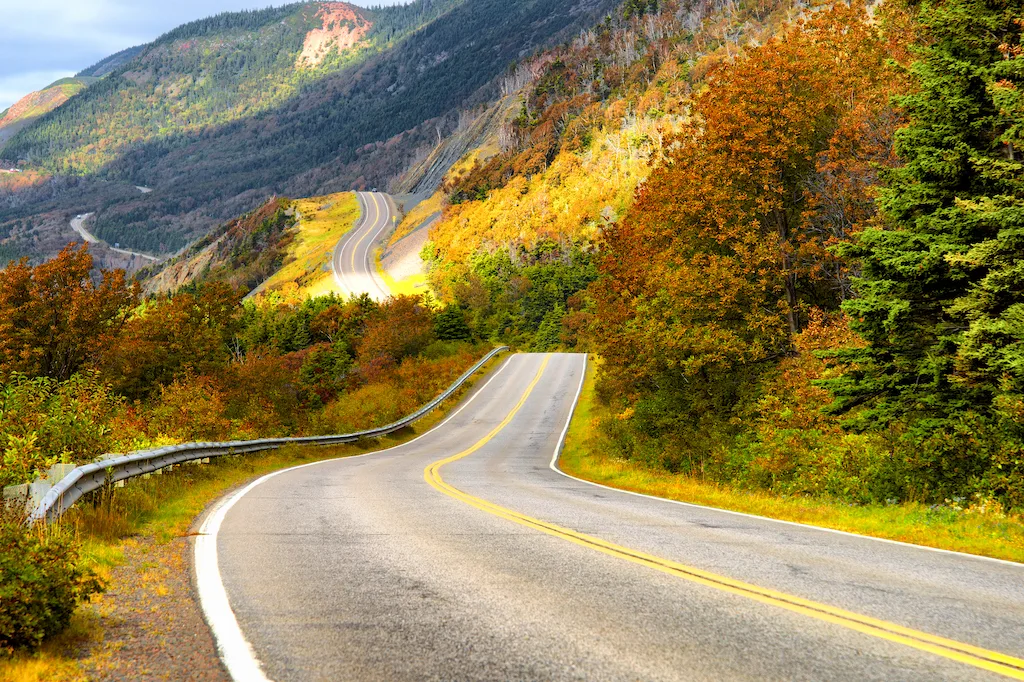 The long, warm days and abundance of natural areas make summer an ideal time for a Cape Breton glamping trip. Summer is an ideal time to hike the trails of Cape Breton Highlands National Park, swim in one of the many lakes that dot the landscape, and relax around a campfire as the fireflies light up the night.
For a very different, but still incredible experience, consider planning a fall glamping adventure. Not only will you be treated to beautiful fall foliage, but you also won't have to deal with as many noisy mosquitoes or tourist traffic jams.
The weather may be a little more unpredictable in the fall, but most of the glamping retreats we're listing here will have protection from the elements and a source of heat for chilly nights.
The Best Glamping in Cape Breton, Nova Scotia
Ready to plan your Cape Breton glamping getaway? Here are some incredible spots that will make your vacation memorable for all the right reasons.
Oceanside Dome Yurt in Walkerville, Cape Breton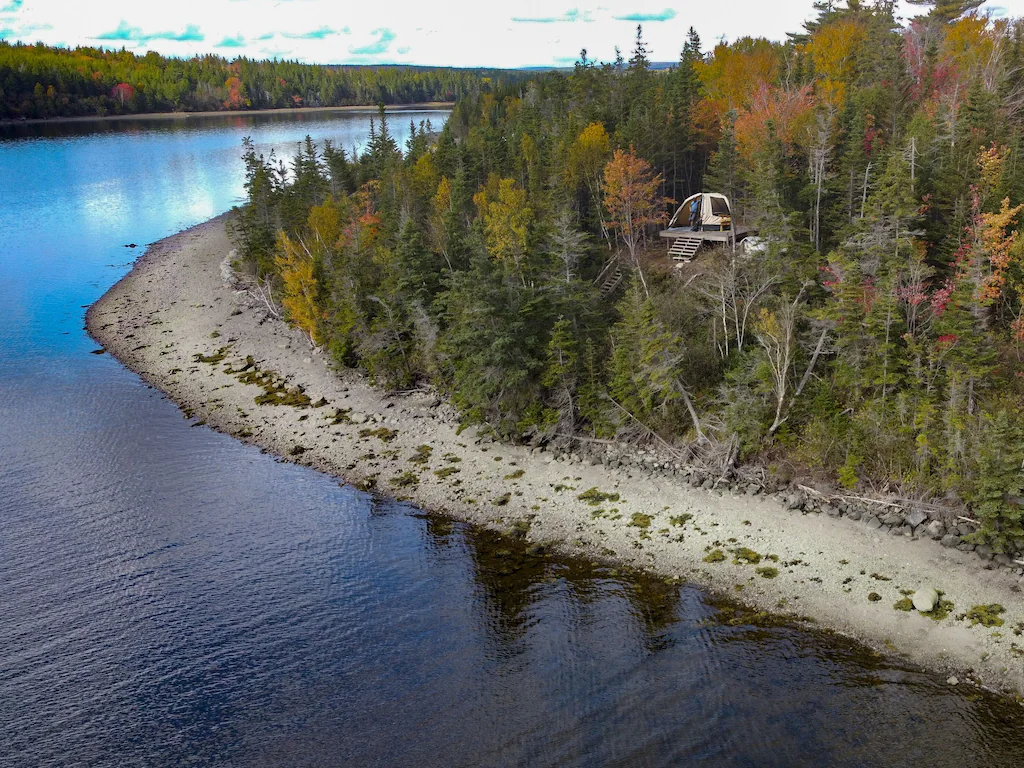 Escape the bustle of everyday life with a retreat to this secluded dome yurt in Walkerville in the River Inhabitants Basin. Providing breathtaking ocean views, and access to kayaking, hiking, biking, and swimming, this is a great glamping spot for adventurous couples.
Inside the yurt, you'll find a comfortable king-size mattress and a sitting area that is perfect after a day of exploring. A small kitchenette includes everything you need to cook basic meals, and there is a separate hot tub and bathroom area next to the tent.
Outdoors, you'll find a beachside firepit, and if you rent the dome yurt for at least five days, you'll be provided with a sea kayak to use on the water. Paddling will allow you to explore the many islands in the area, but you're also close to the Richmond County Rail Trail for great two-wheel adventures.
---
True North Destinations – Glamping Domes in Pleasant Bay, Nova Scotia
True North Destinations is located on the world-famous Cabot Trail in Pleasant Bay. This beautiful glamping resort is Nova Scotia's only five-star housekeeping, eco-conscious, luxury geodesic dome experience. Choose from one of 10 glamping domes, all with beautiful views and private outdoor spaces.
Each luxury dome features a queen-size bed, a fully-equipped kitchen, a full bathroom, a wrap-around deck with outdoor furniture and a BBQ grill, and your own personal hot tub. An enormous bay window allows you to catch every ocean sunset.
Whether you want to relax on your private deck overlooking Pleasant Bay, engage with a community of travelers at the campfire or other common areas, or participate in one of the many special events that are offered throughout the season, this Cape Breton glamping experience allows you as much privacy or togetherness as you'd like.
True North Destinations is located near incredible hiking trails within Cape Breton Highlands National Park, including the famous Skyline Trail, which should be on every visitor's hiking bucket list.
---
Mayfly Tiny House in West Lake Ainslie, Cape Breton Island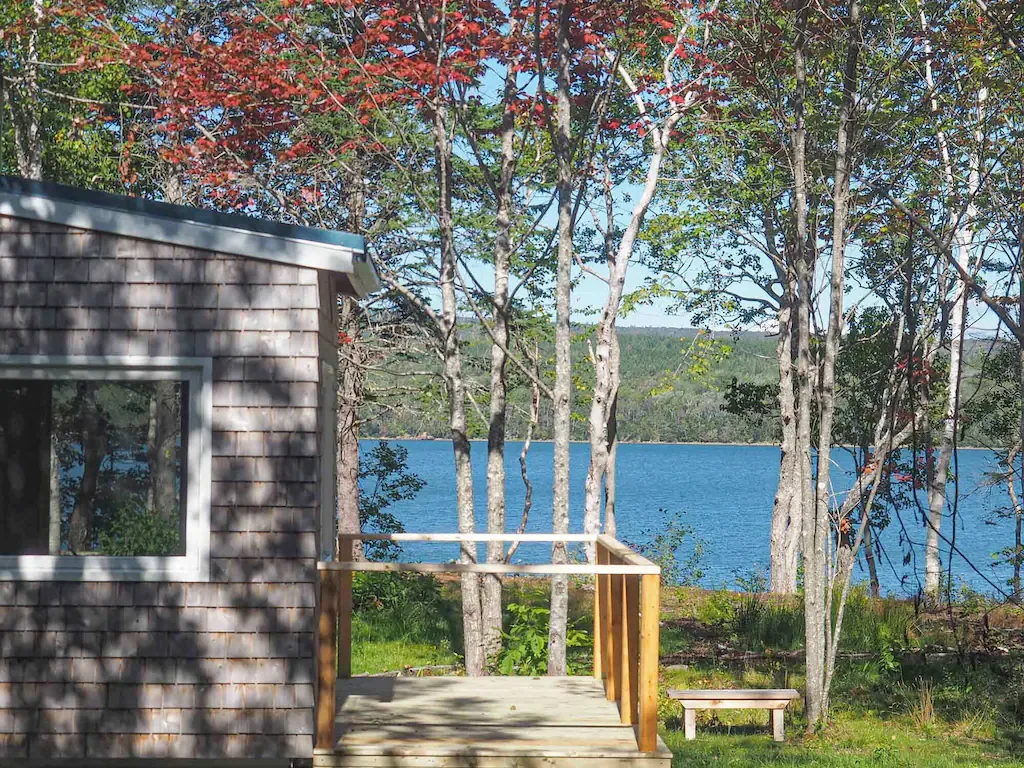 This beautiful and secluded tiny house is located on Lake Ainslie for freshwater swimming and paddling and is just a 12-minute drive from Inverness Beach for ocean adventures.
Tiny Mayfly is a beautiful wooded glamping spot nestled in the trees. The space includes a loft bedroom with a queen-size bed, a pull-out futon for an additional guest, a small kitchenette, a full bathroom, and a wood stove for heat.
Outside you will find a deck with views of the water, a fire pit, and a picnic table. Lake Ainslie is the largest natural freshwater lake on Cape Breton, and one of the best spots to paddle in the area. It's not uncommon to see nesting bald eagles and the occasional moose near the shore.
Pets are not permitted at this glamping destination.
While in the area, be sure to visit the famous Red Shoe Pub in Mabou, about 30 minutes away. This cozy eatery provides live music and great food seven days a week!
---
Archer's Edge Luxury Glamping in Judique, Nova Scotia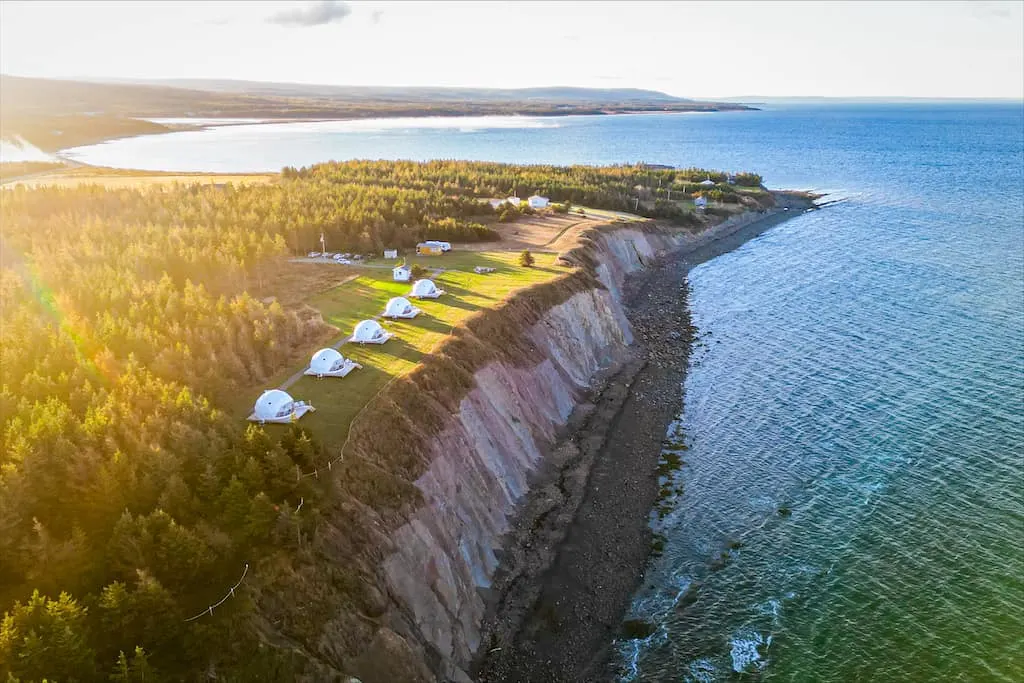 Located high on a cliff overlooking the expansive Gulf of St. Lawrence, the glamping domes at Archer's Edge in Judique, Nova Scotia are the ideal way to combine luxury and adventure for your next vacation.
Not only do these beautiful domes come with one of the world's best views, but they are fully insulated, 100% waterproof, and come with a queen-size bed, a full bathroom with a shower, and a small kitchenette.
In order to cultivate a wonderful unplugged vacation, you won't have access to a TV or Wi-Fi in the domes. Instead, you'll be treated to one of the best sunset views and a night full of stars.
A Cape Breton glamping trip at Archer's Edge makes a fantastic romantic getaway! Before booking, you might want to read this great review of Archer's Edge by Will Save for Travel.
---
Puffin Pod in Englishtown, Nova Scotia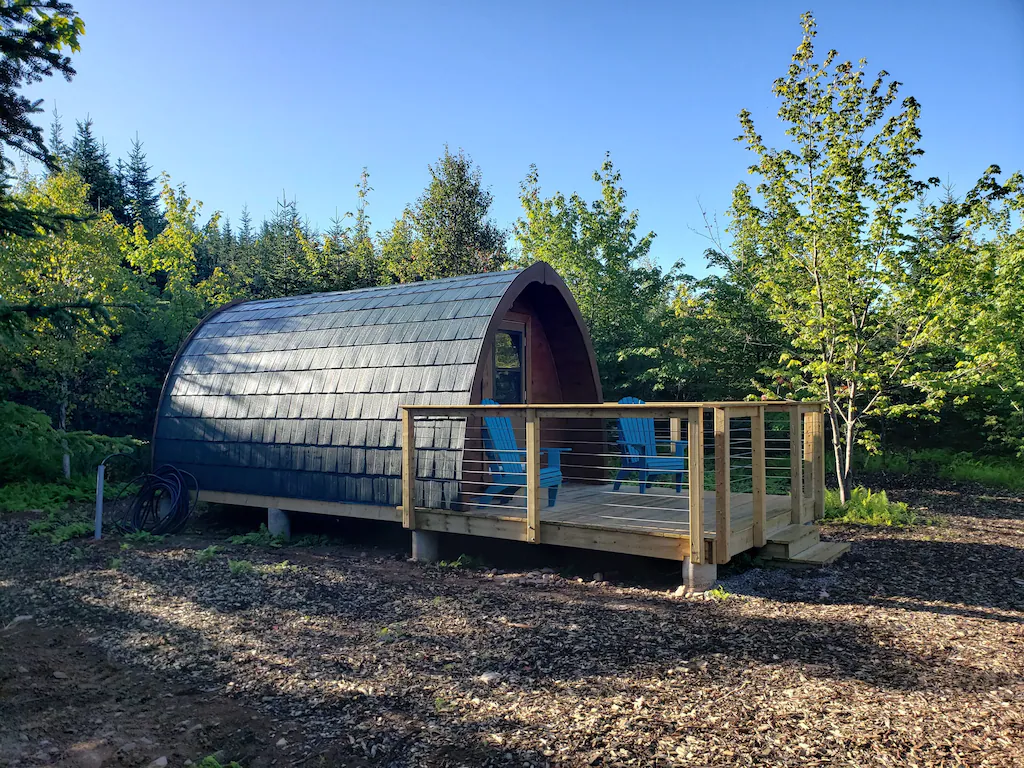 Puffin Pod is just one of the unique Cape Breton glamping spots at Sally's Brook Wilderness Cabins in Englishtown, Nova Scotia. Puffin Pod features a full-size bed, a sofa, and a small kitchenette. There is a deck outside with views of St. Ann's Bay.
A private bathroom with hot showers is separate from the main living quarters for each visitor. There is also an outdoor sauna for guests to use.
A stay at Sally's Brook pods or cabins requires a five-minute minute walk up the hill from the parking area. Your hosts are happy to help cart your gear to your pod upon arrival. Pets are not permitted in Puffin Pod, but they are permitted in some of the other cabins.
During your adventure glamping in Cape Breton, we recommend hopping aboard one of Donelda's Puffin Boat Tours, which will bring you to the nesting ground of the Atlantic puffin.
---
Blue Bayou Resort in Dingwall, Nova Scotia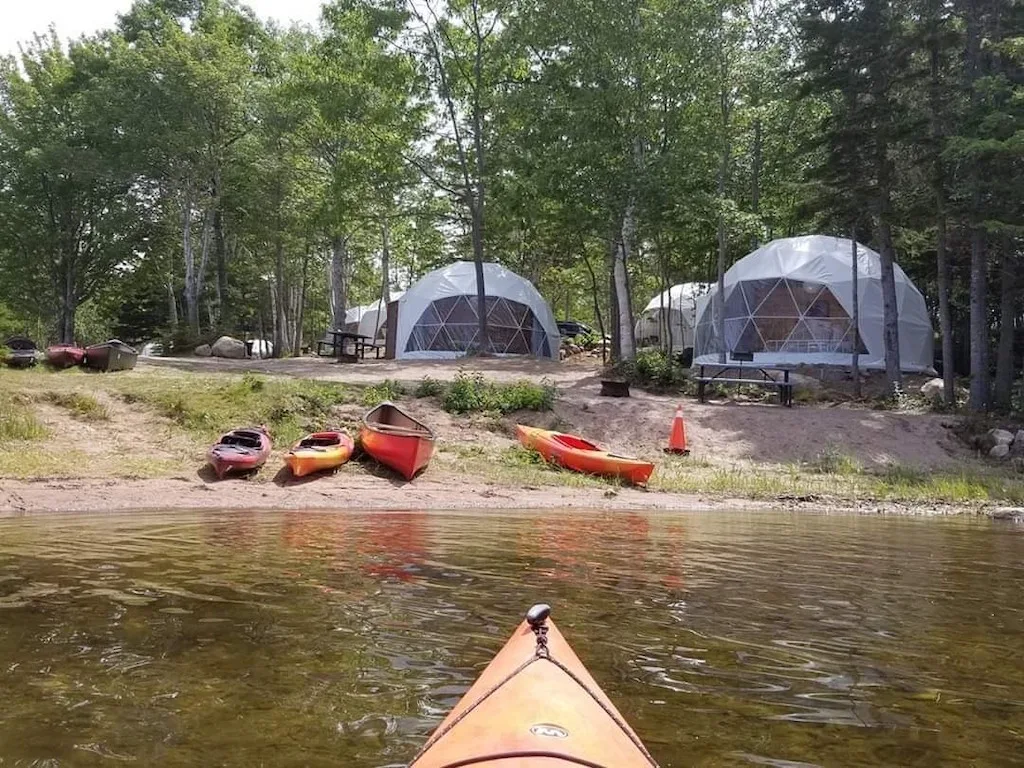 Located on South Harbor just a stone's throw away from Cape Breton Highlands National Park is a gorgeously rustic glamping resort where you can spend your days kayaking and hiking, and your nights tucked away in your private woodland retreat.
This was one of our favorite areas when we explored Cape Breton, so close to incredible scenery, beautiful villages, and wonderful hiking trails. Blue Bayou Resort makes a fantastic home base for so many adventures!
Choose from 22 glamping domes, two-bedroom cottages, or adorable tiny homes at Blue Bayou. Each glamping dome includes a queen or king-size bed, and a full bathroom with hot water, and electricity. Outdoors, you've got access to a picnic table, a fire pit, and a charcoal BBQ.
This is a dog-friendly glamping resort, and the protected South Harbor is ideal for all kinds of water sports.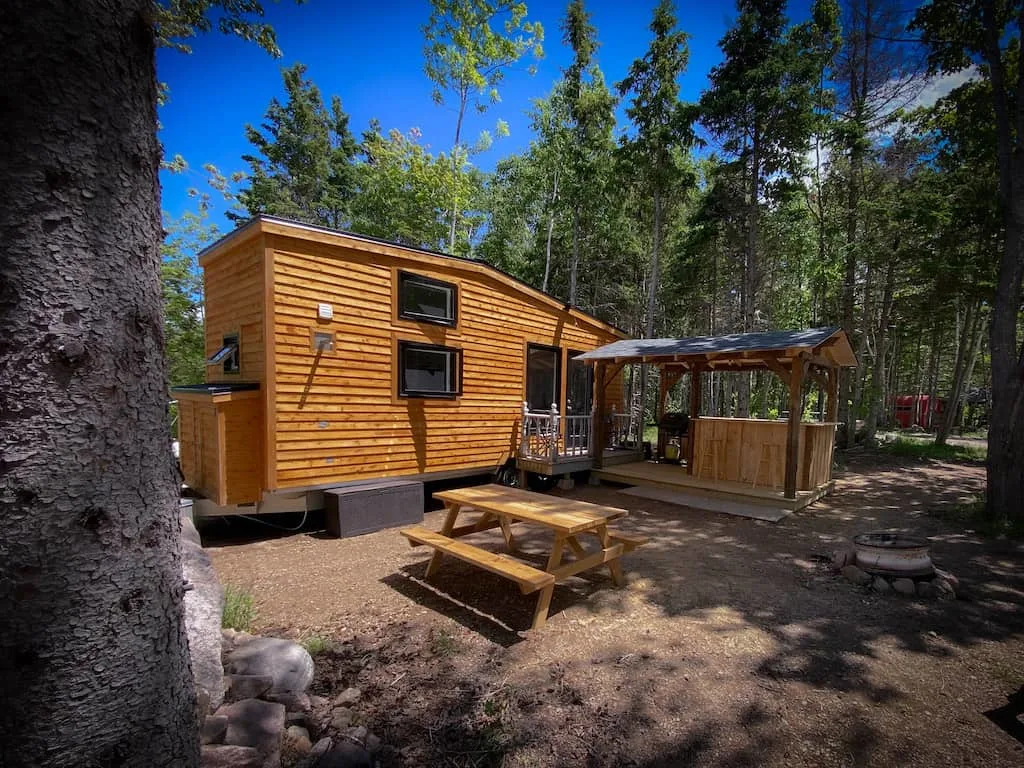 ---
Big Sky Blue Yurt at Cabot Shores Wilderness Resort in Indian Brook, Nova Scotia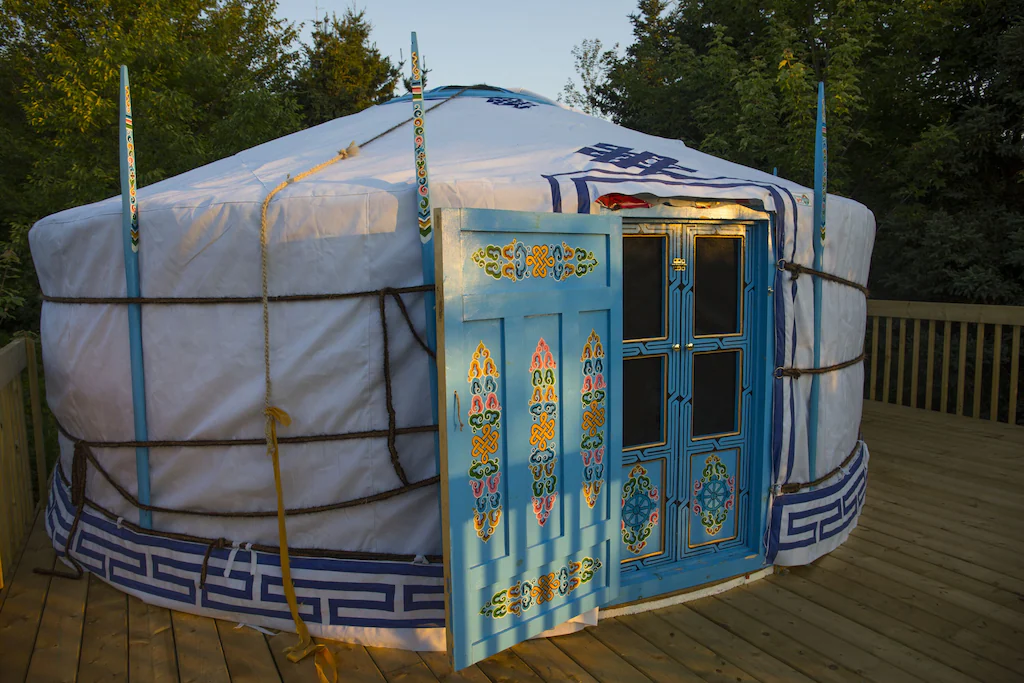 Cabot Shores Wilderness Resort and Retreat Centre makes a fabulous glamping home base for all of your Cape Breton adventures. The resort provides several unique accommodation options for travelers – cabins, yurts, domes, campsites, and rooms in the lodge. They also offer a breakfast buffet each morning and bistro dining for breakfast and dinner.
Hand-painted from ceiling to floor, the beautiful Mongolian yurts are 16.5-19 feet in diameter with a private deck.
The cozy, insulated interior features a double bed and a twin bed, one electrical outlet, and a skylight. Bathrooms with a shower are available a short distance away. A woodstove provides heat on chilly nights and dogs are permitted for a small fee.
Cabot Shores provides a range of onsite activities for guests, including guided hikes, kayak and canoe rentals, outdoor cookouts, live music, and more.
---
oTENTik Glamping in Cape Breton Highlands National Park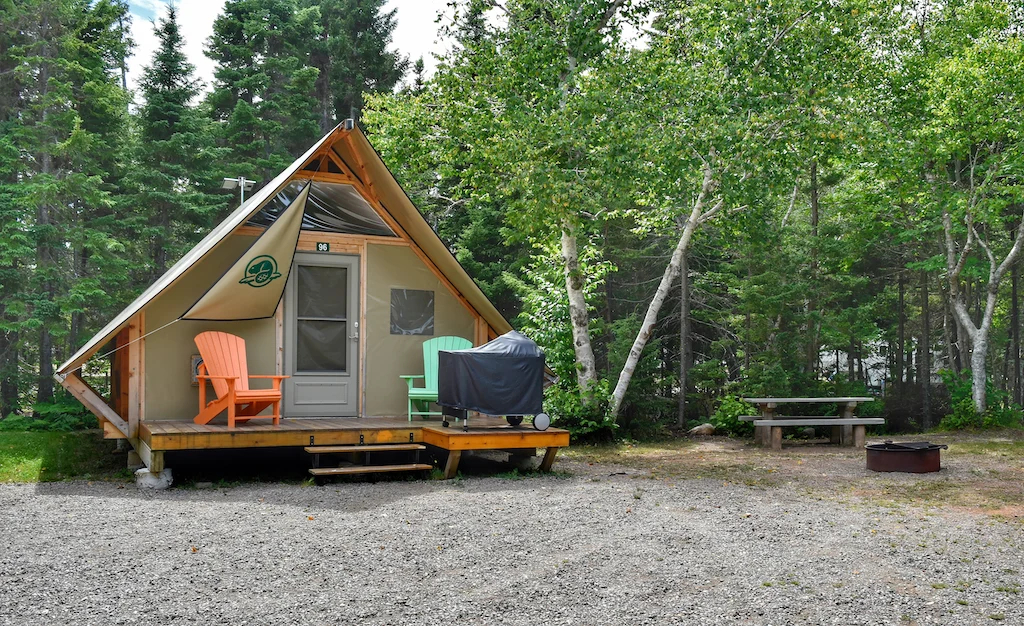 Cape Breton Highlands National Park is one of the highlights of a Nova Scotia getaway and one of Canada's most enchanting places. Steep cliffs and deep river canyons carve into a forested plateau bordering the Atlantic Ocean, where the mountains meet the sea.
There are several campgrounds in Cape Breton Highlands National Park, but you can also find a few lovely glamping sites. Cape Breton oTENTiks are a mash-up of tent and A-frame cabin, complete with raised floors, cozy beds and furniture, electricity, heat, and a deck with a barbecue grill.
There are more than 400 oTENTik units in national parks throughout Canada, and 20 within Cape Breton Highlands National Park. Reserve your oTENTik in one of three campgrounds – Broad Cove, Ingonish, or Chéticamp.
This is the perfect way to give glamping in Cape Breton a try. You will get to experience the adventures of camping (you still have to cook outdoors and use the public washrooms), while still getting to sleep in a comfy bed each night. oTENTik fees start at $106.50 per night. Pets are not permitted in oTENTik units.
If you do decide to book an oTENTik for your glamping getaway, we suggest Broad Cove Campground, which was our favorite spot during our recent summer road trip through Cape Breton.
---
---
Have you ever been glamping in Cape Breton? Leave us a comment! We'd love to hear about your experiences!
Follow us on social media for more road trip ideas and easy outdoor adventures!
Pin for Later?