Looking for a New England destination that is culturally rich and overflowing with pastoral beauty? That impresses visitors with farm-to-table extravagance while maintaining a small-town New England vibe? A region with too many hiking trails, waterfalls, and mountain vistas to count?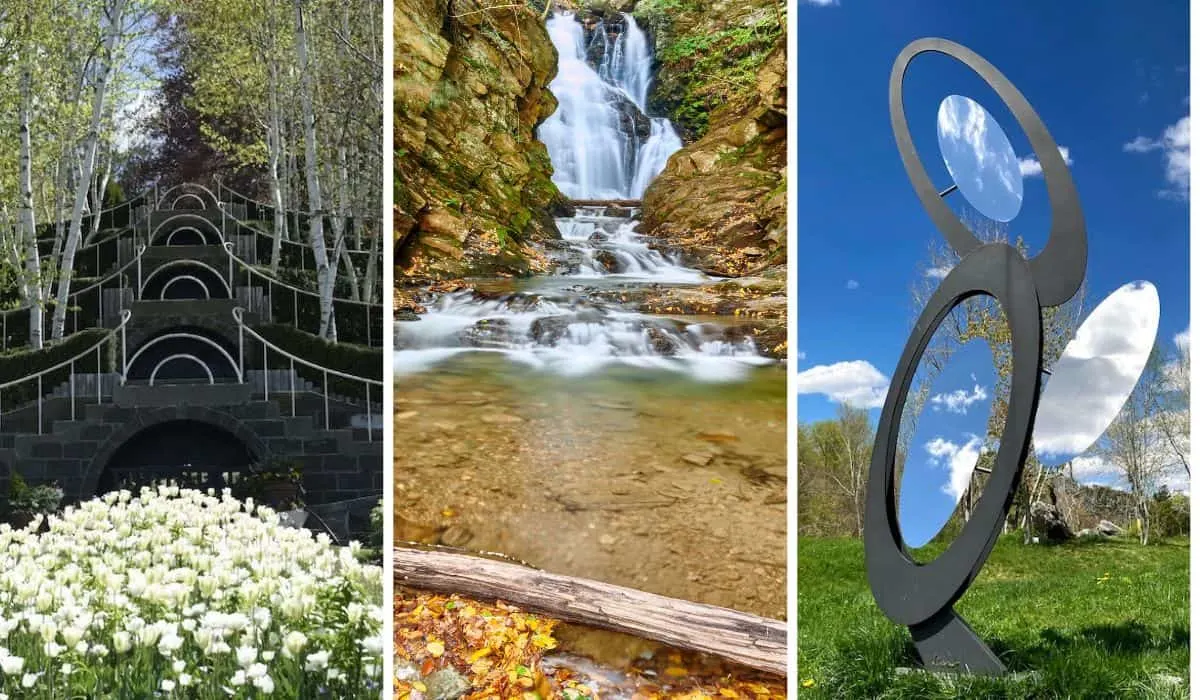 I'm not going to tell you that the Berkshires are a hidden gem because visitors have been succumbing to this region's charms for several hundred years, and more than 2.5 million travelers pass through the region annually.
Instead, I'd like to make a case for why this popular New England region is 100% worthy of all the accolades it receives.
Here are 26 fabulous things to do in the Berkshires of Massachusetts for your next New England adventure!
---
Looking for more New England getaways? We've got lots of ideas! Browse them all or check out these posts!
---
Visiting the Berkshires FAQs
Where are the Berkshires?
The Berkshires are located in western Massachusetts — a geographic region bordering New York, Connecticut, and Vermont. The Berkshire Mountains are the southern continuation of the Green Mountains of Vermont and are the defining geological feature of the region.
The 31 towns and 2 cities in the Berkshires are less than three hours from New York City and Boston, making it an ideal escape from city life.
Do I need a car to get around in the Berkshires?
The rural landscape makes the Berkshires an ideal road trip destination. A car, while not entirely necessary, definitely makes exploring the region easier.
Amtrak's Berkshire Flyer runs from New York City to Pittsfield, which makes a great home base for exploring via rental car, rideshare, or public transportation.
What's the weather like in the Berkshires, and when is the best time to visit?
The Berkshires experience a four-season climate typical of New England. Winters are cold and wet, with frequent snowstorms. Summers are mild, with some hot days that are perfect for relaxing by a mountain lake.
In my humble opinion, the best time to visit the Berkshires is between May and October, when you can spend lots of time outside hiking, swimming, paddling, and enjoying outdoor patios.
If you are a fan of live music, theater, and dance, the summer festival season is not to be missed, and you could likely go out to a special event every single night if that's your thing.
Where to stay in the Berkshires?
There are a gazillion choices for lodging in the Berkshires, but we'd be lying if we said we didn't have favorites. Here's what we'd recommend:
If you're on a budget, stay at the Briarcliff in Great Barrington. This dog-friendly motel has gotten a facelift in recent years. The rooms are really cute and not at all corporate, there's a fire pit out front, and you can walk to Monument Mountain for your morning hike. It's really an awesome spot!
Want to walk to restaurants and shopping? We've got two fantastic choices. Hotel on North in Pittsfield is in the heart of downtown. The rooms are all uniquely decorated, it's dog-friendly, and there's a fabulous onsite restaurant. The Porches Inn at MASS MoCA in North Adams has an outdoor pool, and it's close to all of the fun things to do in North Adams, including Mount Greylock.
Visit a World-Class Berkshires Museum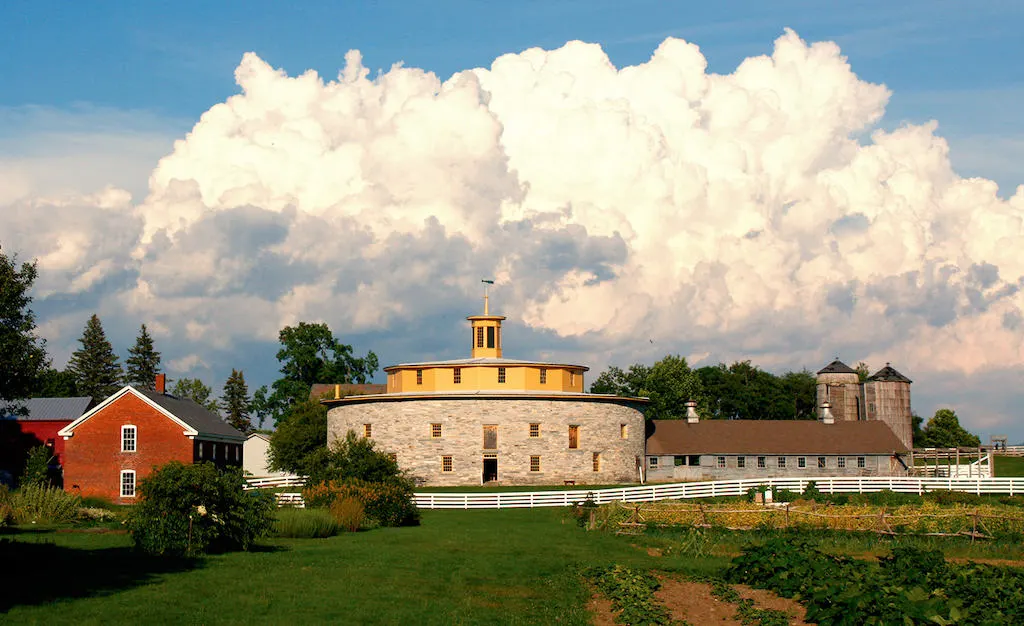 For such a small region, the Berkshire region has quite a reputation for world-class art and culture. It may be tempting to wait for a rainy day to explore one of these gems, but there are enough exhibits to keep you busy throughout the year, rain or shine.
Here are a couple of our absolute favorite museums in the Berkshires. Find even more in our must-visit Berkshires museum post.
Hancock Shaker Village: This living history museum tells the story of the Shaker movement, which began in the late 1780s. The Hancock Shakers enjoyed a simple, peaceful, and hard-working life until 1959. Today, Hancock Shaker Village maintains 20 authentic buildings, a working farm, and significant collections of Shaker furniture and artifacts.

Massachusetts Museum of Contemporary Art (MASS MoCA): This sprawling museum complex is one of the largest modern art centers in the whole United States. While the exhibitions at MASS MoCA are thoroughly contemporary, they're housed in an ancient, converted factory complex.

The juxtaposition of old and new is so startling and beautiful. MASS MoCA is also huge – boasting more than 110,000 square feet of gallery space.

Berkshire Museum: The Berkshire Museum in Pittsfield focuses primarily on natural history and ancient civilizations with an excellent display of rocks and minerals, animal specimens from the region, and 35 aquarium tanks.

Kids will love the Curiosity Incubator, where they can immerse themselves in exhibits using innovative and interactive displays that combine history and art with rich cultural experiences.
Check out Live Music, Theater, and Dance in the Berkshires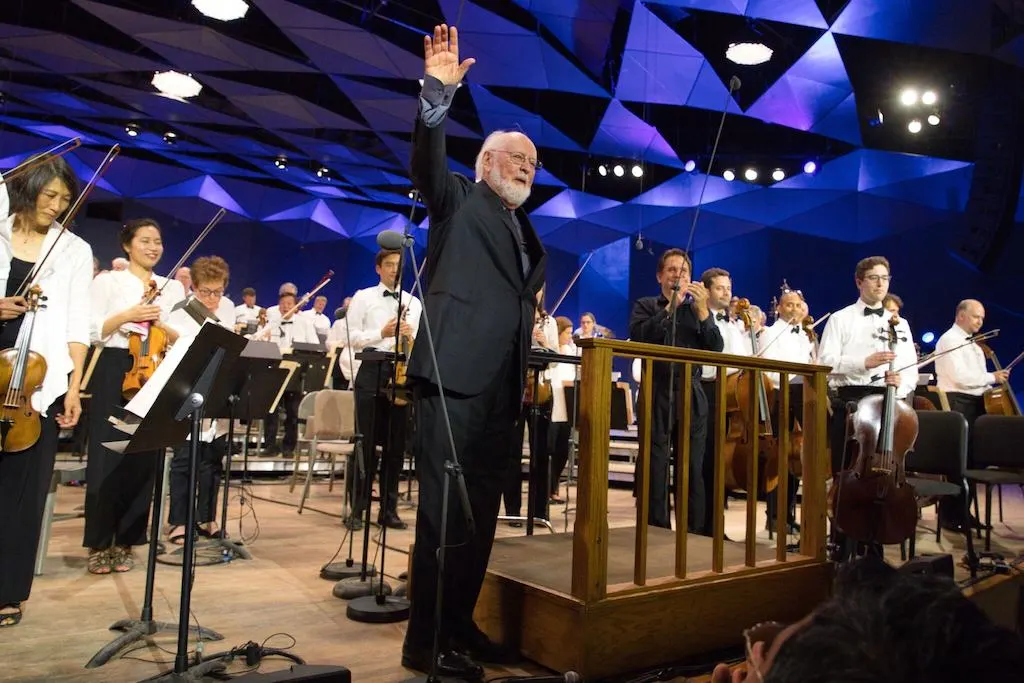 World-class museums are just the beginning. There is always something going on in the Berkshires, and if you appreciate live music and stagecraft, you'll feel right at home in these mountains.
Plan your next trip to the Berkshires around a must-see show or festival, and then fill in the gaps with all the other fantastic things to do in the Berkshires. Not sure where to begin? Here are some ideas for great music, dance, and theater in the Berkshires.
Jacob's Pillow: Jacob's Pillow in Becket is known for its summer dance festival, which features nine weeks of performances in a variety of dance styles. Check out dance performances at Ted Shawn Theatre and on the outdoor Henry J. Leir Stage. Give yourself time to explore the grounds, have a picnic, or dine at the onsite restaurant.

Jacob's Pillow Dance Festival 2023 will take place from June 28-August 27.

Williamstown Theatre Festival: The Tony Award-recognized Williamstown Theatre Festival has been enthralling audiences for the past seven decades. It's a summer right of passage for theater lovers, featuring world premiere plays and musicals, bold new revivals, and a rich array of accompanying cultural events.

The 2023 season of the Williamstown Theatre Festival begins on July 13 and runs through August 6.
Summer music at Tanglewood: Welcome to the summer home of the Boston Symphony Orchestra at Tanglewood. Summer concerts at Tanglewood feature both the Boston Pops and the Boston Symphony Orchestra, as well as a diverse selection of performances by classical musicians, pop stars, and folk singers. We try to get to Tanglewood at least once every summer, and it's always fun to bring a fancy picnic to enjoy on the lawn during the show.
Shakespeare & Company: Located in Lenox, Massachusetts, Shakespeare & Company is a professional live theatre company in the heart of the Berkshires, presenting a vibrant summer performance season featuring the works of Shakespeare in repertory with classic and contemporary plays across four stages.
Go for a Hike in the Berkshires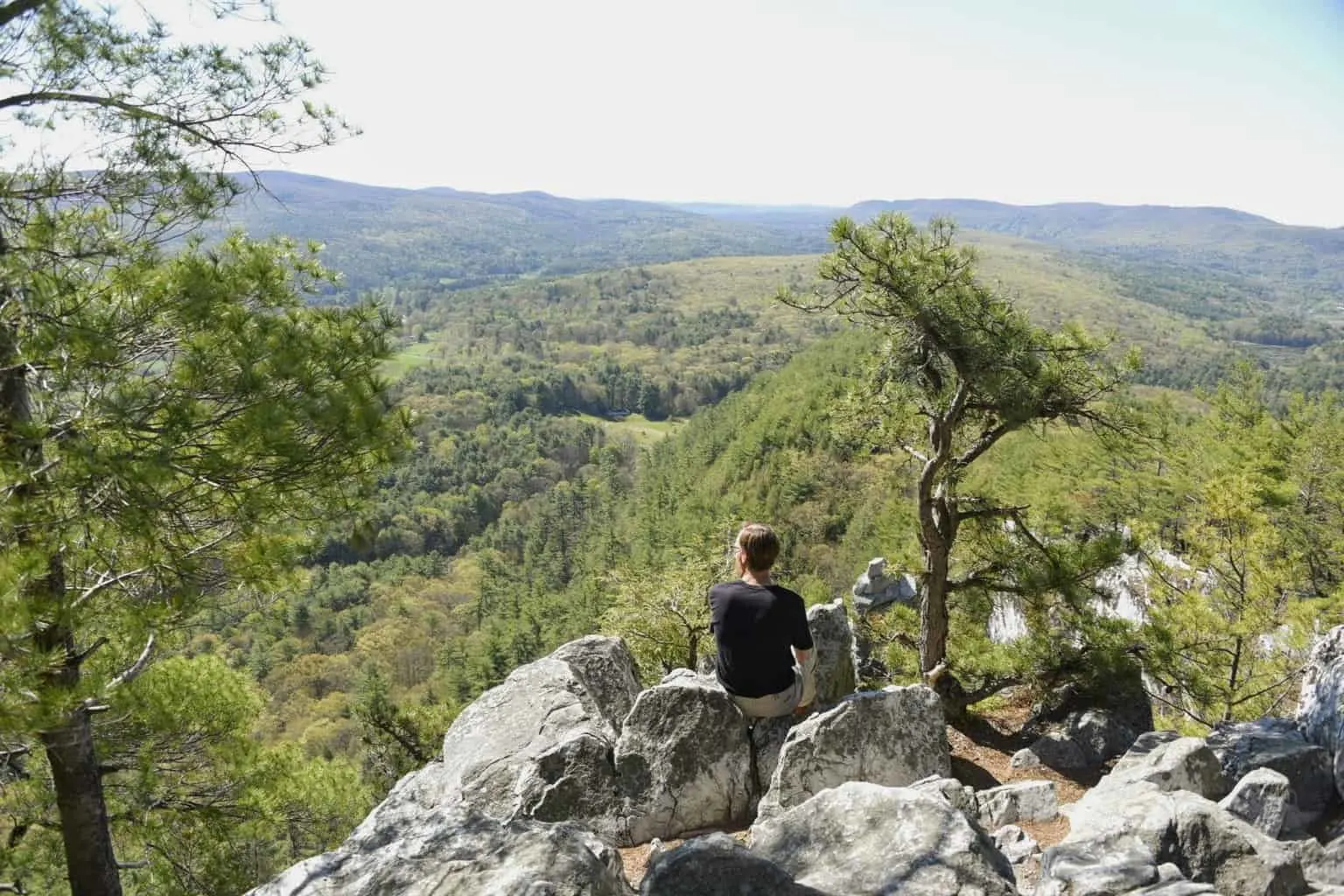 There's not much that can compare to a day in the woods, and there are hundreds of miles of trails in the Berkshires for every type of hiker.
Once you discover the incredible hiking in the Berkshires, you'll be a fan for life. We've got a separate post featuring the best hiking trails in the Berkshires, but here are a few of our all-time favorites.
Visit a Historic Berkshires Home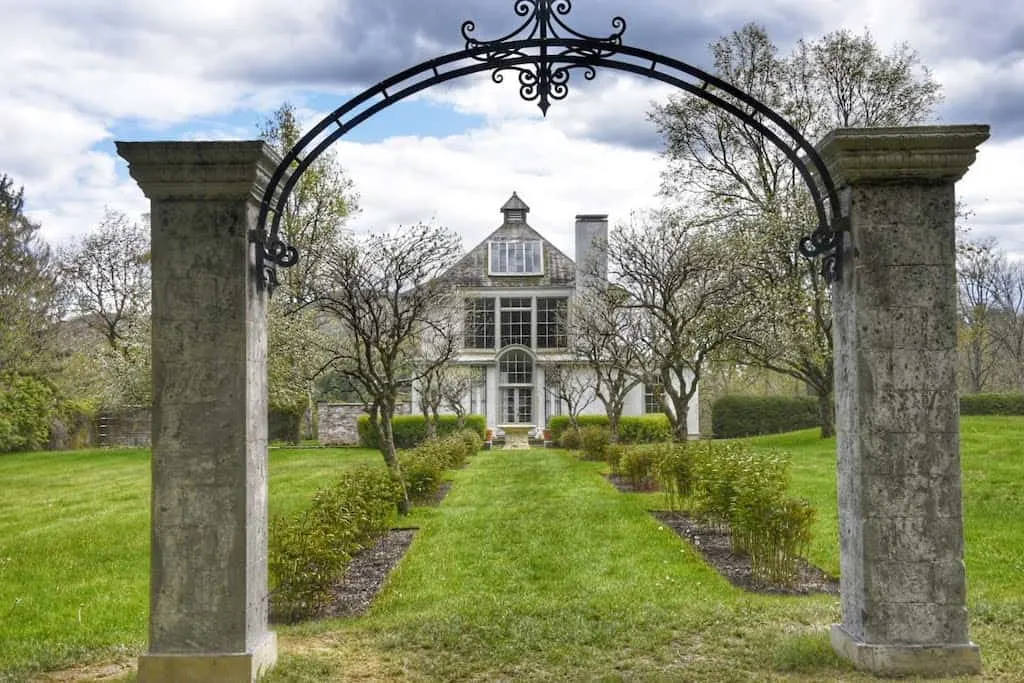 Discover gilded age mansions, sprawling estates, and homes of the formerly rich, famous, and talented. The beauty of the Berkshires is no secret today and wasn't a secret two centuries ago.
Not only was this beautiful region a playground for the rich and famous, but there must have been something in the water because the area also attracted a myriad of writers and artists who came here to create some of their best and most famous works.
Here are some historic homes that you will want to check out in the Berkshires:
---
Read Next: Spring in the Berkshires: The Best Things to Do in Stockbridge MA

---
Stroll Through Beautiful Gardens and Sculpture Parks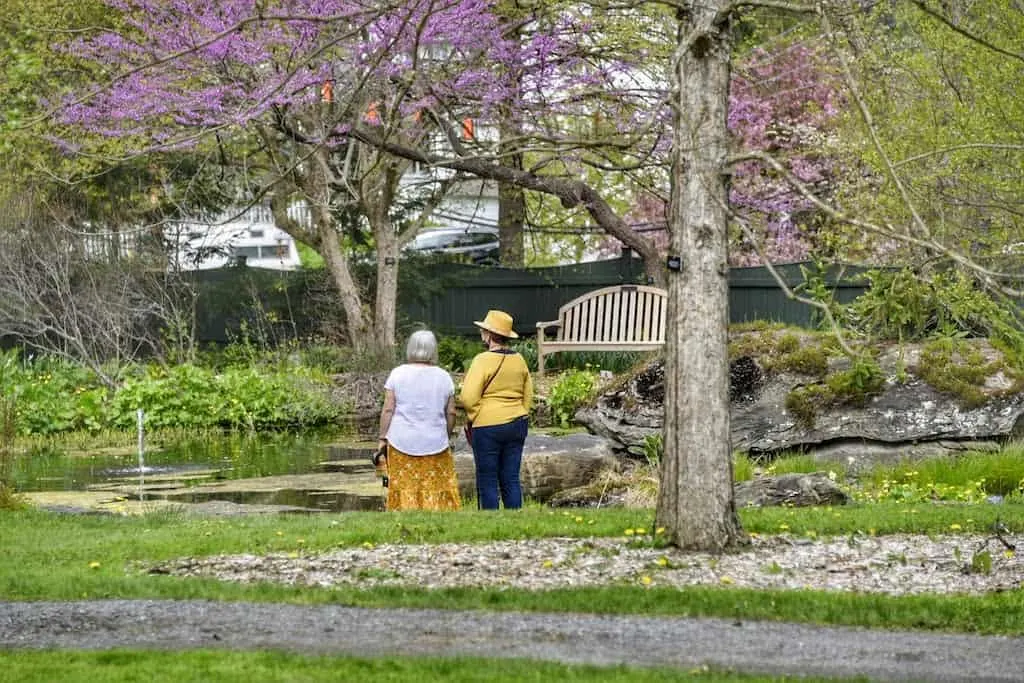 The gorgeous gardens of Chesterwood and Naumkeag are just the beginning. The Berkshires are full of beautiful outdoor spaces with public art and lush gardens.
Start your journey at Berkshire Botanical Garden in Stockbridge, one of the oldest public display gardens in the Northeast. It was established in 1934 and features dozens of display areas with an emphasis on plants that thrive in the Northeast.
In addition to 24 acres of gardens, be sure to check out the indoor galleries, and plan an outdoor picnic. You can also download an audio tour on your phone to help you navigate and explore.
The display gardens and visitor center are open from April 29 through October 31 for $18 a person.
Next, head to West Stockbridge to wander around TurnPark, which features 16 acres of outdoor art installations and exhibitions surrounding an old marble quarry. Paths meander through the woods, along the edge of the quarry, and across a small meadow with art everywhere you look.
TurnPark is open Wednesday through Monday from 10 am to 5 pm. There is a $10 entrance fee.
Finally, visit Ashintully Gardens in Tyringham, where you'll find formal and informal gardens surrounding the ruins of a once beautiful Georgian-style mansion. The gardens are open daily, 10 am to 5 pm, from April to November, and are free to visit.
Visit Historic Downtowns and Cities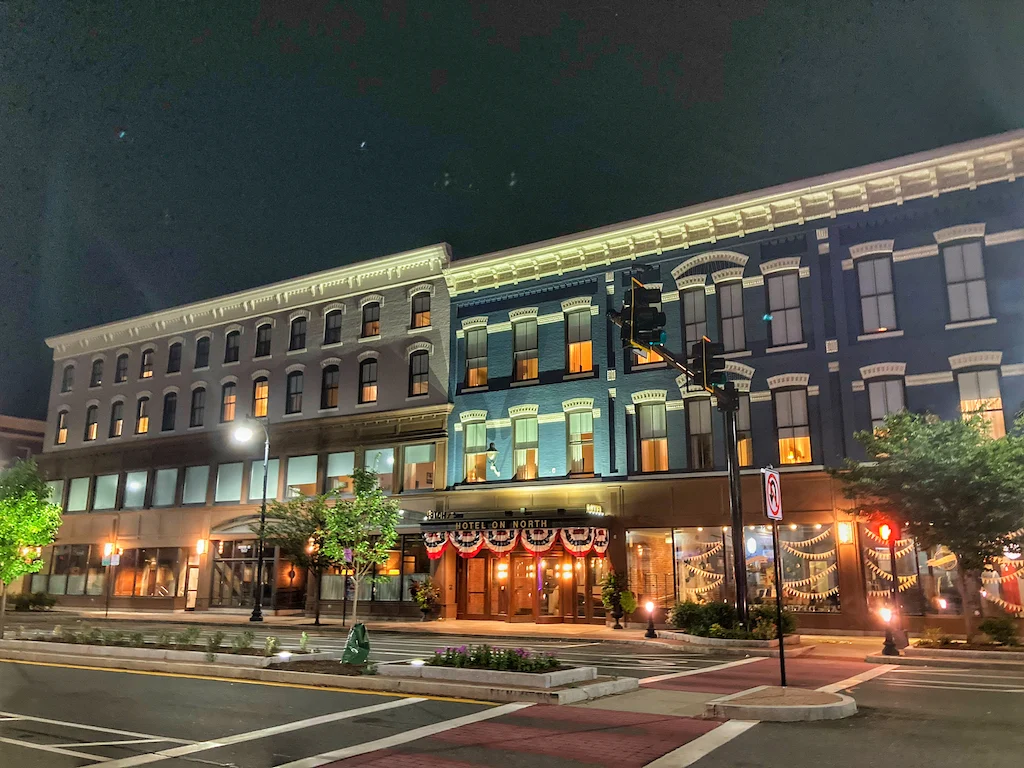 You'll find plenty of Norman Rockwell-esque towns in the Berkshires (the author made Stockbridge his home from 1953 until his death in 1978), but don't assume that it's all church steeples and general stores (as much as I love a good general store).
North Adams, is an artsy, revitalized ex-mill town that has risen phoenix-like from decay to reinvent itself. Discover colorful murals, trendy coffee shops, and restaurants, and of course MASS MoCA before heading to the top of Mount Greylock for far-reaching views of the valley (more on that below).
With just under 44,000 residents, Pittsfield is the largest city in the Berkshires, and another city that is experiencing an inspiring renaissance thanks to a renewed focus on art, culture, and economic stability. With fantastic turn-of-the-century architecture, burgeoning nightlife, great restaurants, and walkable downtown, Pittsfield makes a great home base for exploring all of the best things to do in the Berkshires.
Oh, and did I mention that Pittsfield is one of the most dog-friendly towns in the Berkshires? We brought Flynn and Malinda for a weekend and were so impressed with the dog-friendly restaurants, trails, and patios.
As far as small towns go, you really can't get more New England than Stockbridge, with its meticulous Main Street, beautifully maintained homes and gardens, and upscale stores and restaurants surrounded by weather-worn mountains and bucolic farms. Even if quintessential New England isn't your thing, it's worth checking out — if only to understand the appeal of such a lovely visual cliché.
Head north to Williamstown on the Vermont border to experience one of America's first college towns (1791). Full of imposing architecture, friendly residents, and streets teeming with young people, at least while school is in session, Williamstown has enough bustle to enthrall visitors for an afternoon. Spring Street is the commercial center, with a fun collection of boutiques and restaurants, catering to the urban elite as well as the casual country folk.
Drive to the top of Mount Greylock: The Highest Peak in Massachusetts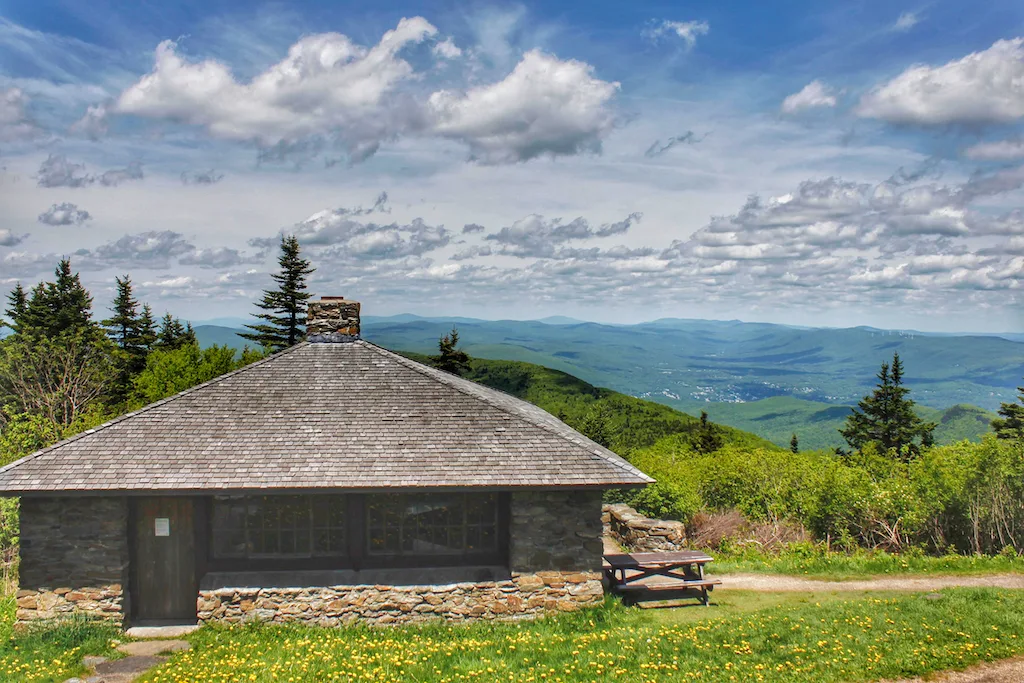 At 3,491 feet, Mount Greylock is the tallest peak in Massachusetts, but it's not an imposing mountain. You can drive to the top, have lunch, and spend the night if you feel the urge, or you can hike one of several trails to the top, only to discover a pile of tourists who paid to park and take in the views.
I've got nothing against hiking this beautiful mountain, but I'd just as soon drive to the top for the views before exploring one of the lesser-hiked trails on its flanks.
The roads up to the top of Mount Greylock are open between May and October, and you can reach the summit from either Lanesborough or North Adams. Better yet, make a loop of it, for a spectacular 2-hour drive with endless opportunities for exploring this tiny slice of the Berkshires.
From the top of Mount Greylock, you can see for 90+ miles on a clear day, and if you're lucky, you can even watch hang gliders taking off from the peak.
Ski the Berkshires
Winter in the Berkshires is something special, even if it's not my favorite season. Add a sprinkling of snow to those weather-worn mountains and you've got a recipe for adventure.
Throw in a handful of foodie restaurants and breweries, uncrowded museums, and postcard-worthy Main Streets, and you may entirely succumb to winter's captivating charms.
There are several wonderful ski resorts in the Berkshires, smaller than their more northerly cousins, but also easier to navigate and more affordable. Here are a few of our top choices.
Jiminy Peak in Hancock: We live in southern Vermont, and love Jiminy Peak for its night skiing and affordable prices (purchase online for the best deals). This is the largest ski mountain in southern New England, and it uses wind power from its own mountaintop turbine to provide up to half of its electricity needs.

Berkshire East in Berkshire: Nestled between the Berkshires and the Pioneer Valley, this family-friendly mountain is great for learning to ski or ride, and it's the only ski area in the world to produce 100% of its energy from onsite renewable energy. With 45 trails that are never overcrowded, 18 trails that are open at night, snow tubing, rentals, and lessons, this is a great mountain for your low-key winter vacation.

Bousquet Ski Area in Pittsfield: Bousquet's close proximity to downtown Pittsfield makes for a great day trip while exploring more of the Berkshires. This small mountain is best for beginners, and weekday tickets are incredibly affordable. Bousquet is one of the best spots to learn to ski in New England!
If barreling down a mountain at full speed isn't your speed, check out some of these great spots for cross-country skiing and snowshoeing in the Berkshires.
---
What delightful things to do in the Berkshires are you most excited to try? Let us know in the comments below!
Planning your Massachusetts getaway? Here are some binge-worthy posts to inspire you!
Follow us on social media for more New England inspiration!
Pin for Later?