Jagged cliffs disappearing into an abyss of crashing waves. Miles of sandy coastline dotted with vacation homes, abandoned castles, and squealing kiddos. Magical salty sunrises shared with seagulls and other early risers.
These are typical scenes of a classic New England beach vacation — a highly anticipated treat after months of snow, wind, and frigid temperatures.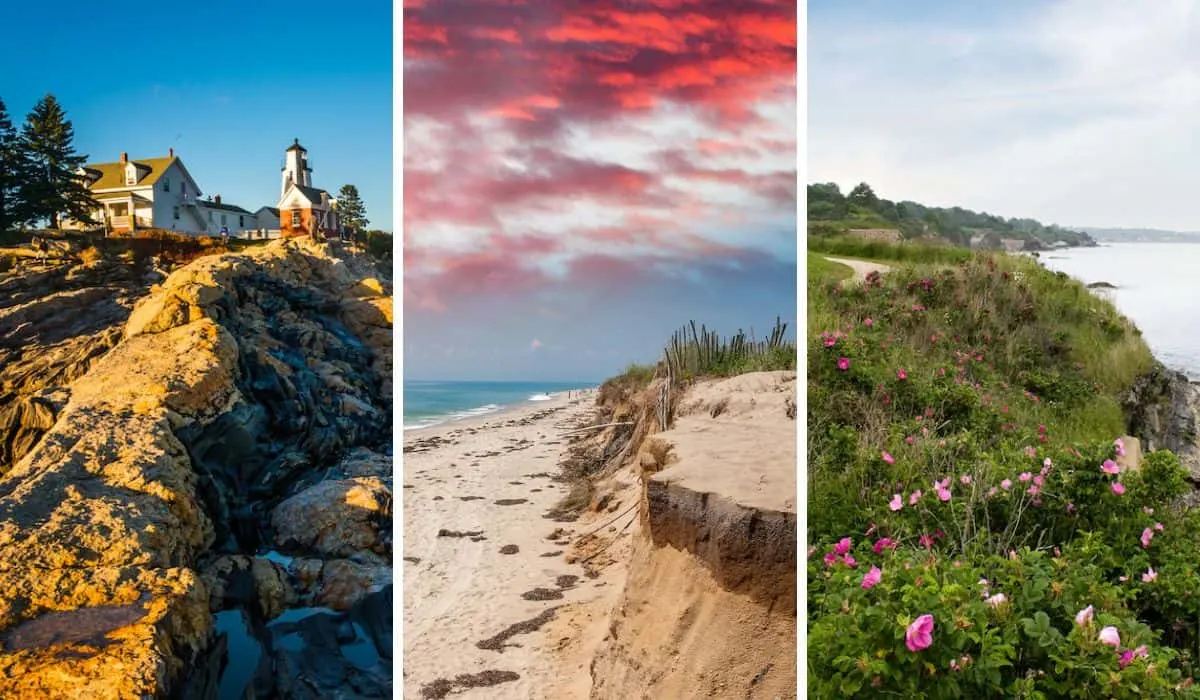 If you are local to New England, it's likely that you've got your own favorite patch of sand and surf that beckons to you each summer.
If you've yet to find that special spot, we've got a few suggestions.
The following New England beach vacations offer up more than just sea breezes and sunshine.
Get ready for the ultimate coastal experience as you tour lighthouses, indulge in lobster rolls, and stroll tiny beach communities in Maine, New Hampshire, Massachusetts, Connecticut, and Rhode Island.
Pemaquid Peninsula, Maine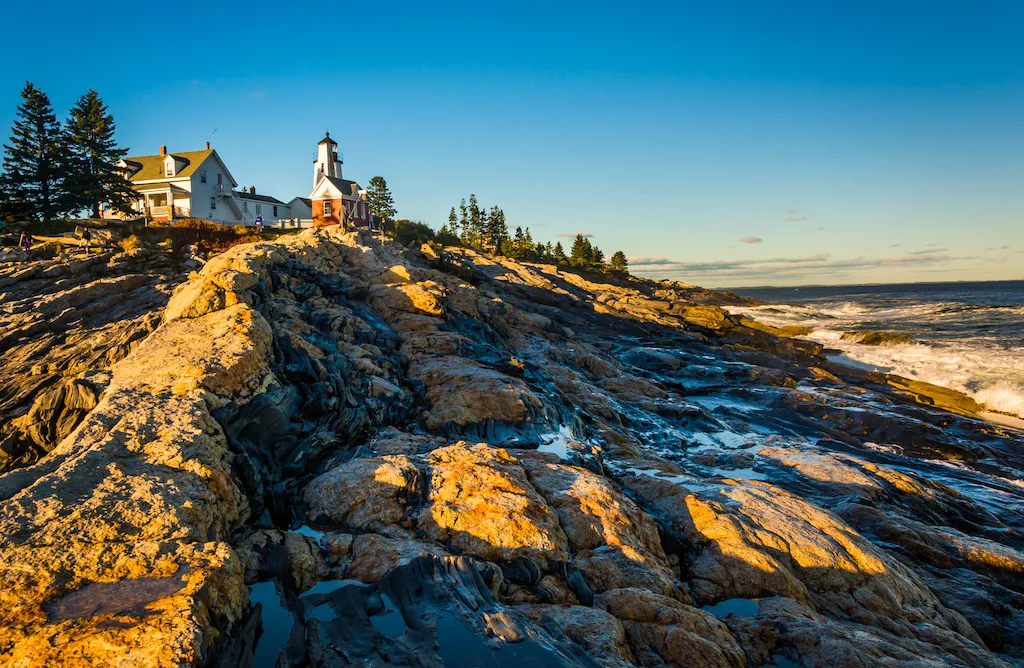 Did you know that there is more coastline in Maine than in California?
No matter what type of beach you're dreaming of — rustic and wild, soft and sandy — you'll find it in Maine.
The southern part of the state is best for wide swaths of sand, but head north a few hours, and you'll find plenty of out-of-the-way spots for a relaxing getaway.
Bristol is a small town on the beautiful Pemaquid Peninsula, about 60 miles north of Portland. Our oldest son was born in nearby Damariscotta, and Pemaquid Beach was our favorite spot while we lived nearby.
Pemaquid Beach is a small, sandy beach that I'd argue is one of the most beautiful in Midcoast Maine. Because of its small size, Pemaquid Beach isn't a destination in its own right, but it certainly adds to the appeal of this out-of-the-way spot. A snack bar serves up organic goodies (it's definitely a step above traditional snack-bar fare), and there's usually ample parking.
Spend your mornigs exploring the villages of Bristol Mills, Round Pond, Chamberlain, New Harbor and Pemaquid, and your afternoons at the beach!
Where to stay: Hotel Pemaquid is a gorgeous nostalgic hotel with affordable rates and several different room configurations based on your needs. It's within walking distance of Pemaquid Point Lighthouse and the ocean. If you're looking for something more unique, you can stay in the keeper's house at Pemaquid Point Lighthouse. It's a small apartment (suitable for four people), but you can't beat the location!
What to do: Climb the tower at Pemaquid Point Lighthouse and visit the onsite Fishermen's Museum. Tour Fort William Henry, which was once the largest fort in all of New England. It was originally built in 1692 and reconstructed in 1908. Spend a day on Monhegan Island with Hardy Boat Cruises (sailing from New Harbor).
---
Bass Harbor and Acadia National Park, Maine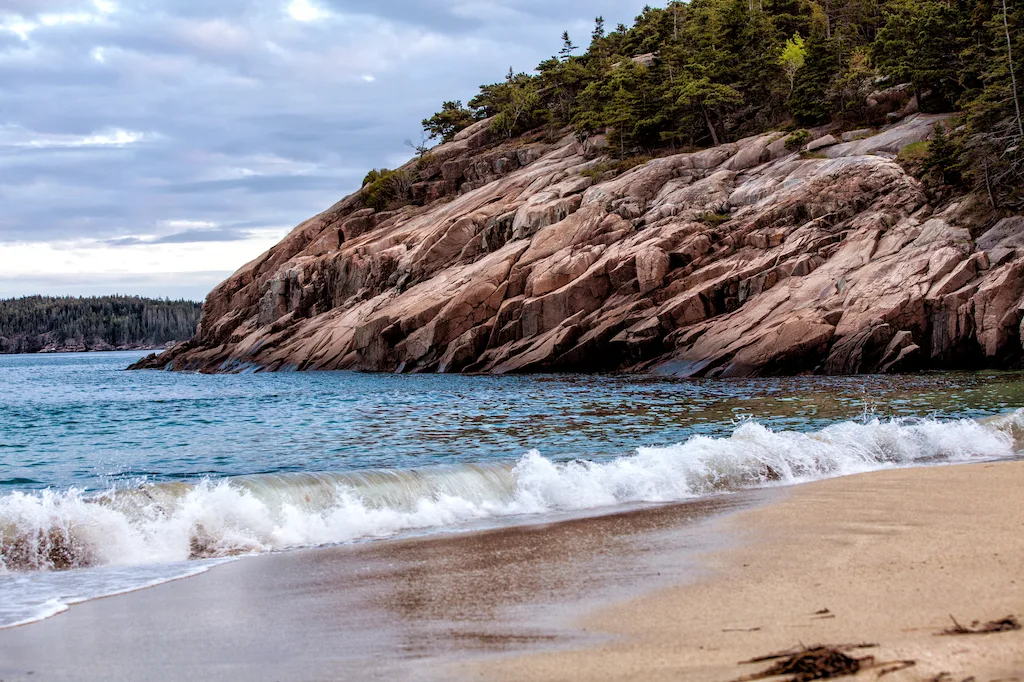 Acadia National Park is one of those special places that everyone should experience at least once in their lifetime.
In the summer, the park becomes fairly congested, and if you plan to drive the loop road through Acadia, you may find yourself sitting in traffic more than exploring the natural attractions.
To alleviate some of that stress, I suggest making Bass Harbor your home base and discovering the quieter side of Mount Desert Island. This small fishing village is incredibly scenic, and it's just five miles from Echo Lake Beach on Echo Lake in Acadia National Park.
Where to stay: If you don't mind roughing it, stay at Seawall Campground in Acadia National Park. For more space, consider this oceanfront chalet with room for four people.
What to do: Tour the Bass Harbor Head Light Station (public parking is limited, especially at sunset). Hike Flying Mountain (short hike with fantastic views). To get out on the water, take the passenger ferry to Swan's Island. Bring your bike and ride the coastal roads around the island, relax on a sandy beach, or tour the Lobster & Marine Museum.
---
Ogunquit, Maine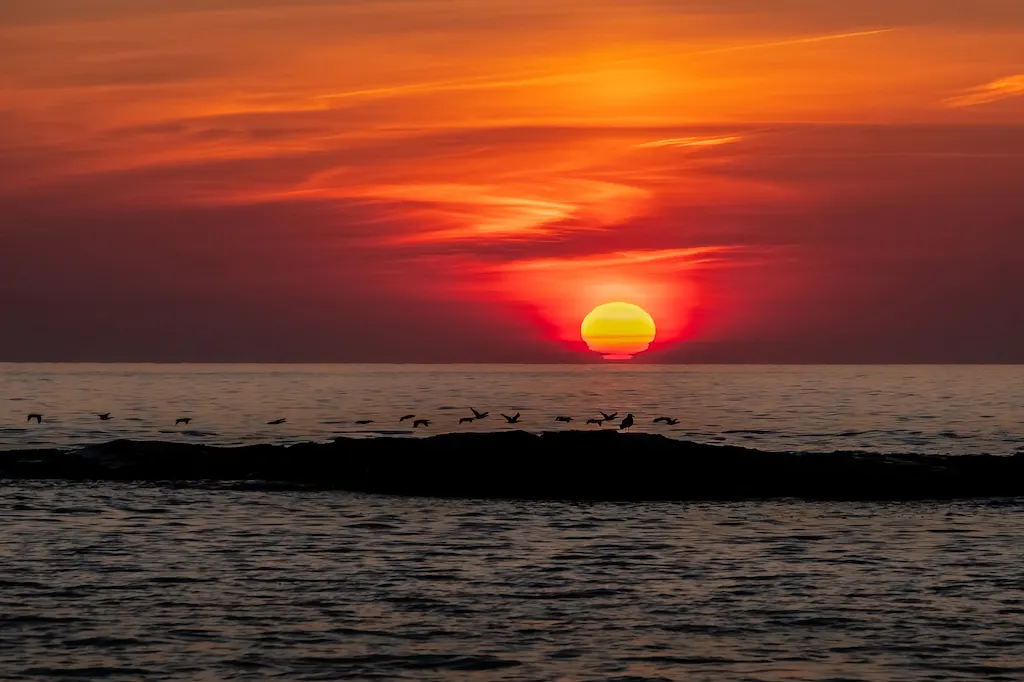 To continue my love affair with the Maine Coast, let's head south to the town of Ogunquit, which has evolved from a small fishing village to a renowned spot for a New England beach vacation.
Ogunquit is an Algonquin word meaning "Beautiful Place by The Sea." Beautiful sandy beaches are ideal for strolling barefoot, relaxing with a novel, or frolicking in the surf.
Ogunquit is also one of the most walkable beach towns in Maine. Be sure to stoll the Marginal Way, a shorefront pedestrian walkway that connects Ogunquit village to Perkins Cove with numerous beautiful stops along the way. Grab an obligatory lobster roll at Lobster Shack in Perkins Cove while you're there.
Where to stay: The unassuming Grashopper Inn features gorgeous rooms with kitchenettes and is within walking distance to shopping, beaches, and dining. Families and larger parties may want to splurge on this beachfront cottage in Perkins Cove.
What to do: Enjoy the Ogunquit Museum of American Art, visit Lobster Point Lighthouse, and walk the Marginal Way.
---
Hampton Beach, New Hampshire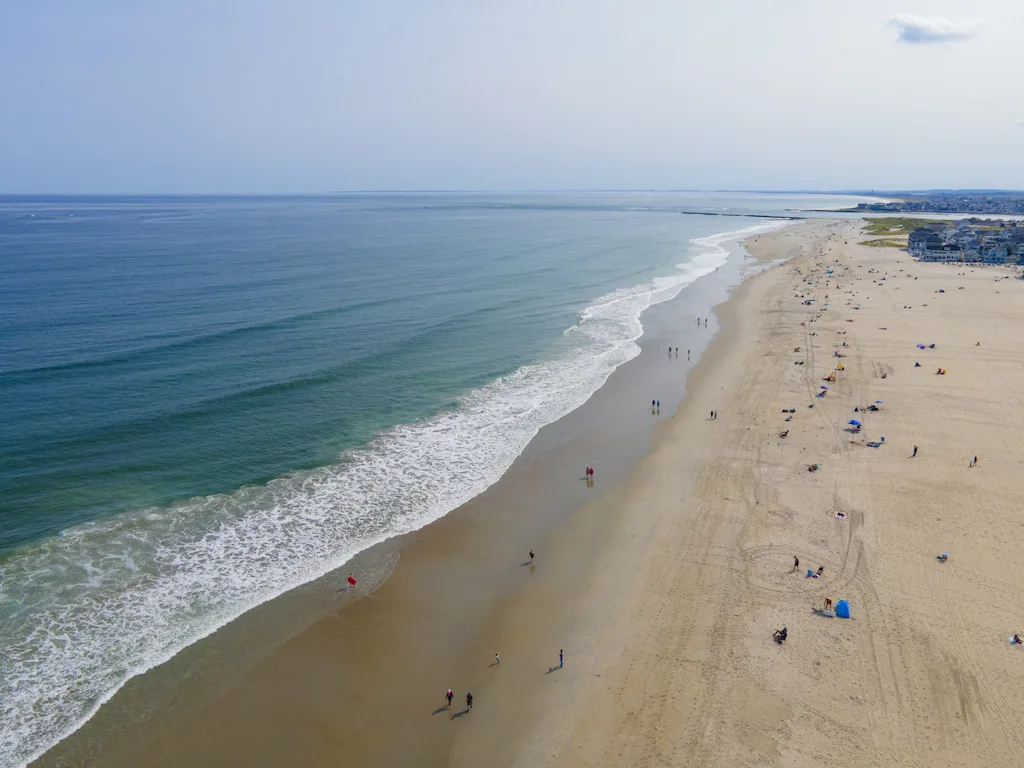 With just 19 miles of coastline, you may be tempted to overlook New Hampshire as a New England beach destination, but if you're looking for lively entertainment and great seafood, Hampton Beach may fit the bill perfectly.
Hampton Beach is not a hidden gem, but there are so many reasons why it is adored by New Englanders.
With its quintessential boardwalk (think arcades, souvenir shops, and ice cream parlors), major aquarium and casino, and proximity to Boston and Logan International Airport, this is an ideal beach destination for those who want to be in the thick of it all.
Where to stay: Atlantic Breeze Suites is a no-frills hotel on Ocean Boulevard with ocean views and decent prices. If you need a bit more space, this adorable cottage is two blocks from the beach and has openings this summer!
What to do: Head into nearby Portsmouth and tour the historic homes and museums before indulging at one of the area's best restaurants. Take a hike at Odiorne Point State Park and visit the Seacoast Science Center. Try your luck at Hampton Beach Casino and be sure to check out the many special events.
---
Revere Beach, Massachusetts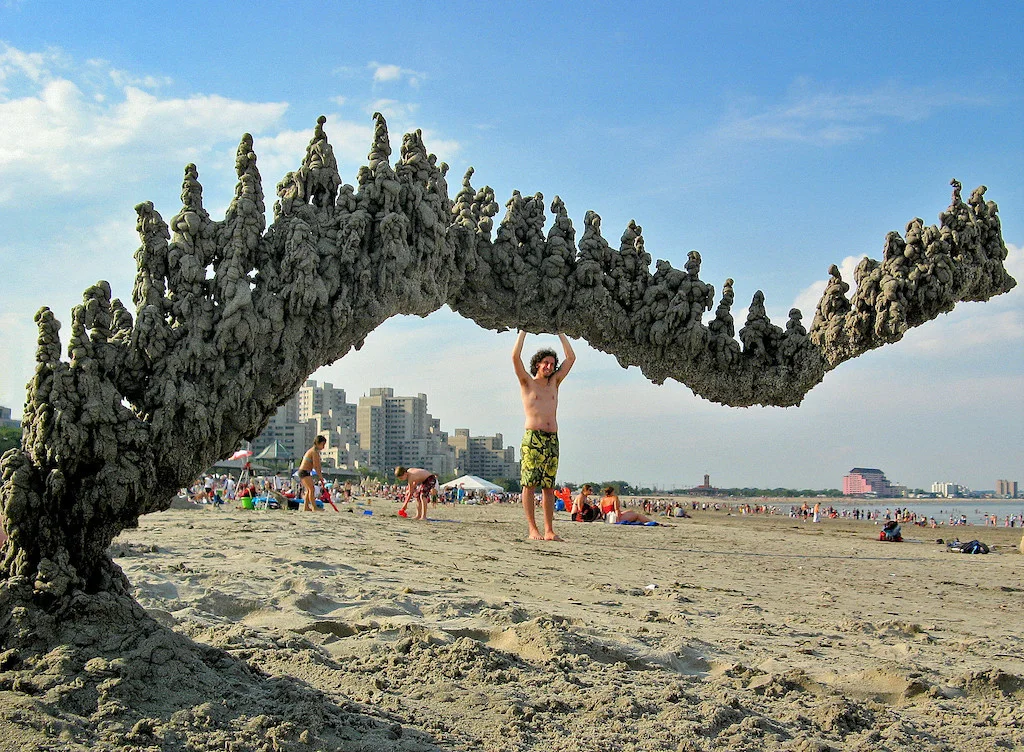 There are significant benefits to an urban beach vacation. From Boston, you can take the Blue Line five miles to Revere Beach for $3 and you won't have to worry about the summer traffic ruining your holiday.
Beach vacationers have been flocking to Revere Beach since 1871 before Revere was even a town — this beautiful stretch of sand is widely considered to be the first public beach in the United States.
Where to stay: Surprisingly, there are very few hotels on Revere Beach. Most people head north from Boston on a day trip. Buck that trend and book a night or two at SpringHill Suites Marriott with its modern decor and gorgeous ocean views.
What to do: Aside from building the perfect sand castle and catching up on a sultry beach read? Head to the iconic Kelly's Roast Beef, the self-proclaimed inventor of the roast beef sandwich. Revere Beach's proximity to the Blue Line, means you can easily head into Boston to explore. Choose the 14-stop Hop-On, Hop-Off trolley tour to explore the most popular Boston sites at your leisure.
---
Nantucket, Massachusetts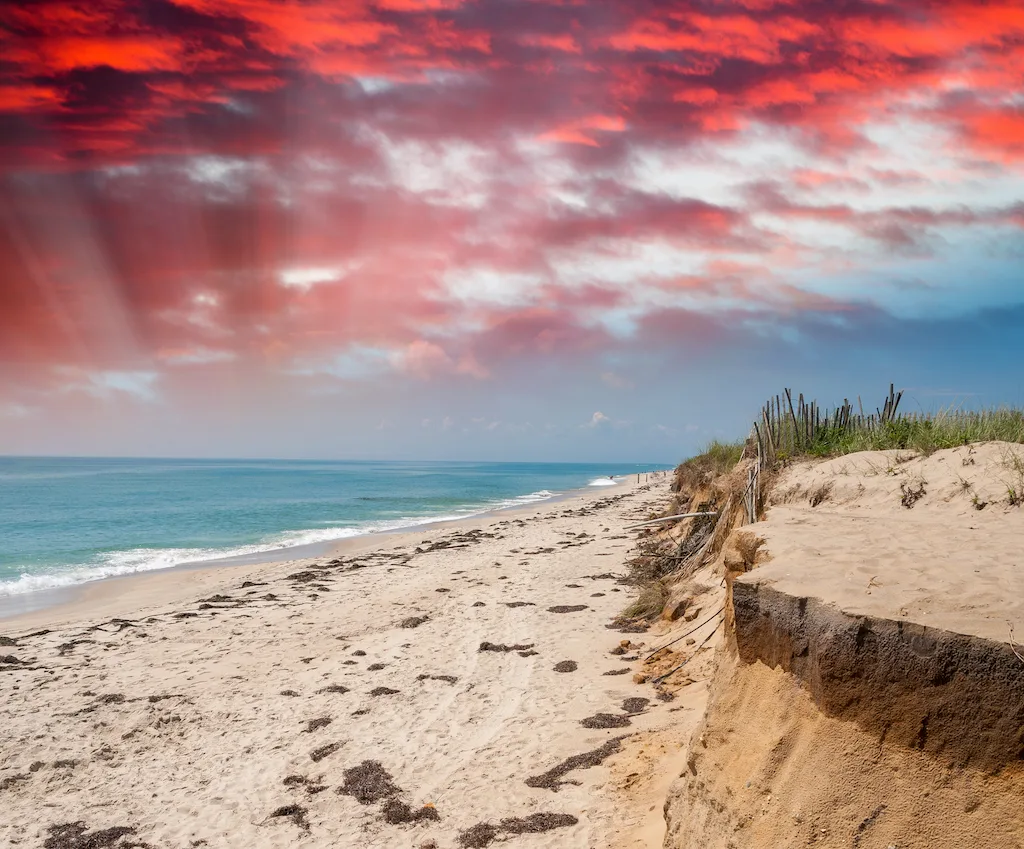 30 miles off the coast of Cape Cod is remote island that is both swanky and scenic, with long stretches of white sandy beaches, goregeous historic homes, and chic restaurants. The downtown area is thoroughly walkable, with more hotels and bed & breakfasts than you can count.
As soon as you make your way outside of downtown, either by car or by bicycle, you'll discover breathtaking scenery and gorgeous beaches around every bend in the road. There are more than 800 homes on Nantucket that were built before the Civil War, and they've all been lovingly cared for and bejeweled with colorful cottage gardens.
Where to Stay: The good news is that just there are ample opportunities for fantastic lodging on Nantucket Island. The not-so-good news is that you'll pay a pretty penny for the privilege. Summer prices average between $400 and $900 a night. One of the most affordable, Nantucket Inn, is located three miles from the center of town with indoor and outdoor pools and a hot tub.
What to do: There are so many beautiful beaches on Nantucket, that you'll be tempted to try them all. Check out Madaket for the best sunset, Miacomet for surfing, and Steps Beach to escape the crowds. You could easily spend a whole day exploring the downtown shops, and the Whaling Museum has nine galleries with more than 9,000 works of art and artifacts, including a 46-foot sperm whale skeleton.
---
Newport, Rhode Island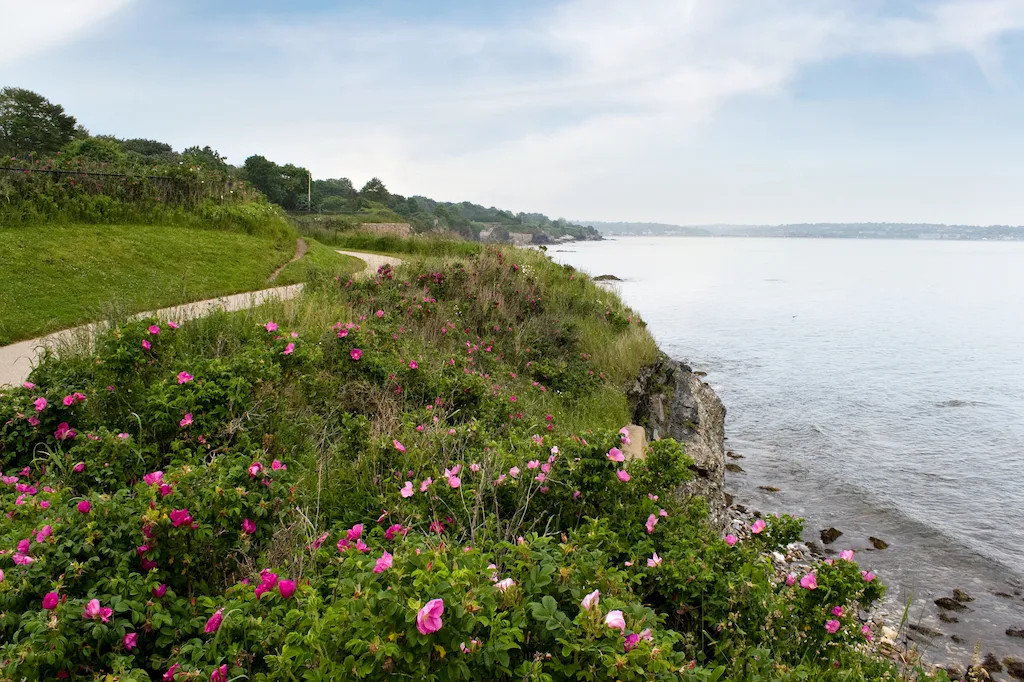 When you think of Newport, do you picture stately summer mansions and million-dollar sailing vessels frolicking offshore? Your vision isn't necessarily wrong but you've barely scratched the surface! In Newport, you can tour those fancy-pants mansions, visit countless breweries and wineries, listen to live music just about every night, or take it easy on one of at least a dozen beaches.
The famous 3.5-mile Cliff Walk might be Newport's most popular attraction. With gorgeous ocean views on one side and Gilded Age Mansions on the other, this one-of-a-kind promenade epitomizes the essence of Newport.
As for beaches, you've got choices. Go traditional with sand and surf at Gooseberry Beach or head to the quieter Third Beach and hang with the locals.
Where to stay: Truth be told, Newport is not known for budget vacations. We actually found a two-bedroom suite for $9,950 a night, but our ship hasn't come in yet, so we gave it a pass. We found a happy medium at the adorable Sea Whale Motel on Easton's Pond. This locally owned motel features a delightful staff and basic, comfy rooms. And it's just a seven-minute walk from Easton's Beach.
What to do: Get your bearings by starting your New England beach vacation in Newport with a guided trolley tour of the city. The 90-minute tour includes Ocean Drive and the legendary mansions. Once you see the mansions from the outside, you'll want to tour at least one. The Breakers is the most popular and opulent of the mansions, but I think my favorite is Chateau-sur-Mer for its beautiful woodwork and furnishings.
---
Madison, Connecticut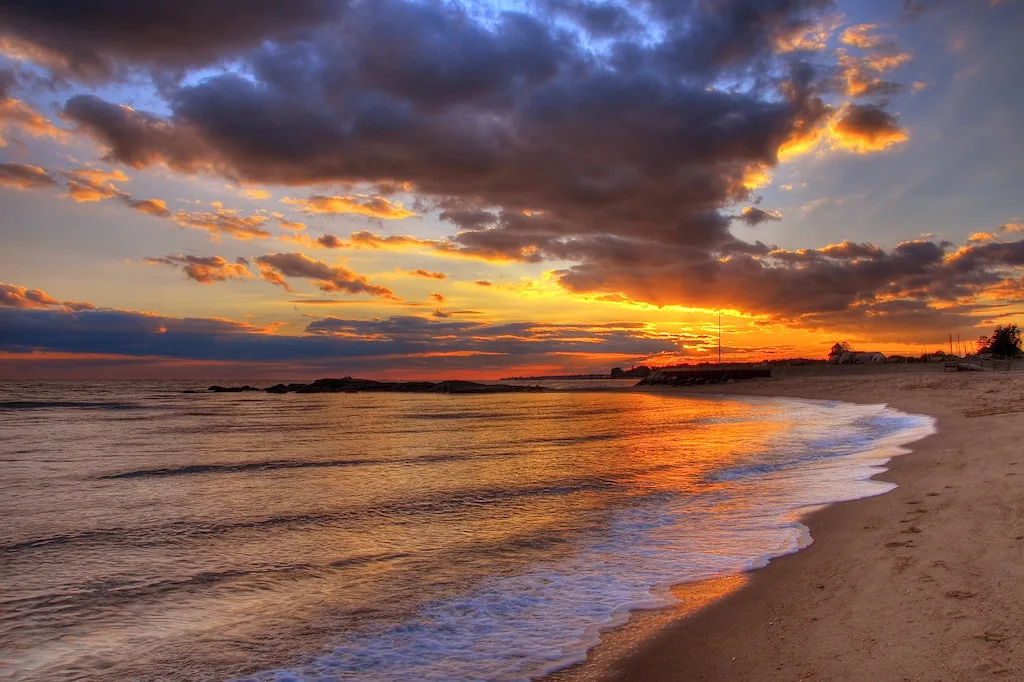 We first discovered Madison a few years ago while researching a story about oceanfront camping in New England.
We had heard lots of great things about Hammonasset Beach State Park and were eager to check it out. Located on the Long Island Sound, Hammonasset Beach is a gorgeous spot but extremely crowded in the summer. Fortunately, the beach is a full two miles long and there's plenty of room to spread out.
With more than 550 campsites just steps from the beach, a trip to Hammonasset is an affordable, family-friendly New England beach vacation, as long as you don't mind sharing your sand and surf with other vacationers.
Yes, Madison is known for having the best beach in Connecticut, but it's also got a nice, walkable downtown, beautiful historic homes, hiking trails, and great restaurants.
Where to stay: If you don't want to pitch a tent or park an RV at Hammonasset Beach State Park, consider Scranton Seahorse Inn, a centrally located bed and breakfast with an amazing morning spread and free bicycle rentals. This charming cottage sleeps six and is less than a mile from Hammonasset Beach.
What to do: The Sculpture Shore is a collection of outdoor art installations in Ivoryton, Madison, Clinton, New London, and Stonington. Tour the Deacon John Grave House, which was built in 1685 and tells the story of the seven generations that called it home. Finally, if you're a fan of independent bookstores, you will love R.J. Julia Booksellers with its cozy nooks and onsite coffee shop.
---
Here are a few more beautiful spots to visit in New England:
---
Follow us on social media!
Pin for Later?