Meandering wild burros, wild west shootouts, and abandoned mines leading into the desert hills. This dusty village is on a desolate stretch of America's favorite highway, and it's not to be missed!
Welcome to Oatman, Arizona – a fun and quirky stop along Route 66 in northwestern Arizona.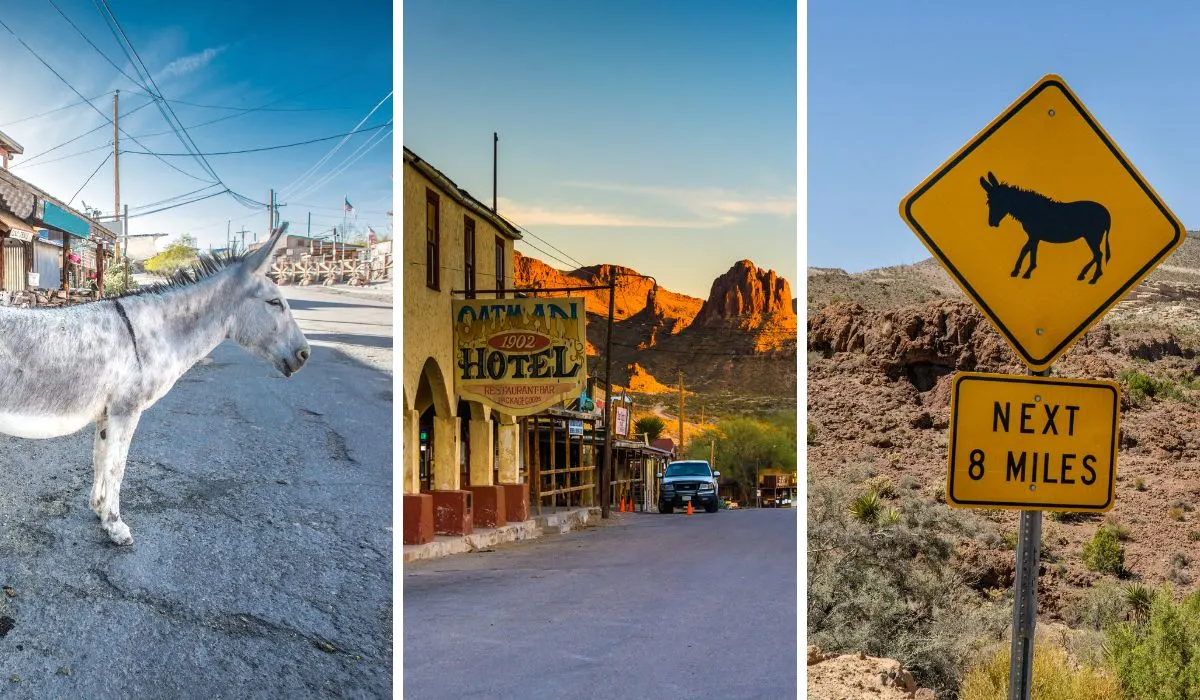 Not only is Oatman one of the most unique stops on a southwestern road trip, but it's also a playground for dozens of wild burros who roam the streets like scruffy vagabonds begging for food.
These endearing creatures are just one reason to visit the tiny town of Oatman, AZ. Believe it or not, we've got more!
Oatman was one of our favorite discoveries on our Route 66 road trip through Arizona last year.
My dad, who lived in Arizona at the time, had been mentioning Oatman for years, and the only thing that stuck in my head was the troupe of feral burros that live there.
Are the scrappy burros worth a trip to the iconic ghost town of Oatman? Only one way to find out!
Where is Oatman, AZ?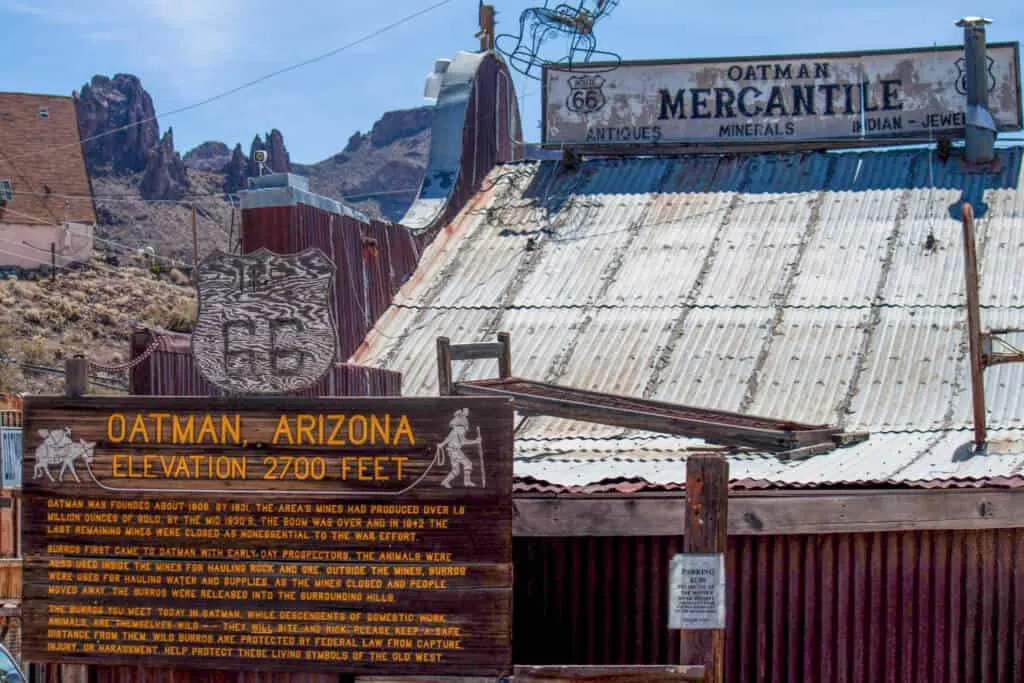 I don't think the answer you're looking for is in the middle of nowhere, but that about sums it up!
Oatman is located in northwestern Arizona, about two hours southeast of Las Vegas. Nearby cities include Bullhead City, AZ (28 miles away), Kingman, AZ (29 miles away), Needles, CA (22 miles away), and Lake Havasu City, AZ (54.2 miles away).
Oatman, AZ is located right on Historic Route 66, on the section between Kingman and Topock, Arizona. This stretch of road has been designated a National Back Country Byway. It's a beautiful part of Route 66, covering about 45 miles.
The road is narrow and winding in places and suitable for vehicles under 40 feet long. The town of Oatman, AZ is nestled in the Black Mountains at an elevation of 2,700 feet in elevation.
How to Get to Oatman, AZ
The easiest way to get to Oatman is to rent a car and drive yourself. When we visit, we always stay in Lake Havasu City because we have family there and we fly to Las Vegas because the plane tickets are almost always affordable. Car rentals are also inexpensive at McCarron International Airport. I think we paid $250 a week for a subcompact car on our last trip.
Want to try something a little different? Rent an Escape Campervan in Las Vegas and use it as your tricked-out adventure mobile!
HOT DEAL! Use the code BACKROADRAMBLERS10 for 10% off your 2023 trip with Escape Campervans from any location with no blackout dates. Book your trip before 4/31/2023 to get your discount.
Another option for getting to Oatman is to reserve a shuttle from McCarron International Airport to Lake Havasu City for about $50, and then book a tour from Lake Havasu to Oatman. This Oatman tour shuttle will pick you up at your Lake Havasu hotel in an airconditioned bus and take you on a quirky afternoon journey to this fun ghost town in the desert!
A Brief History of Oatman, AZ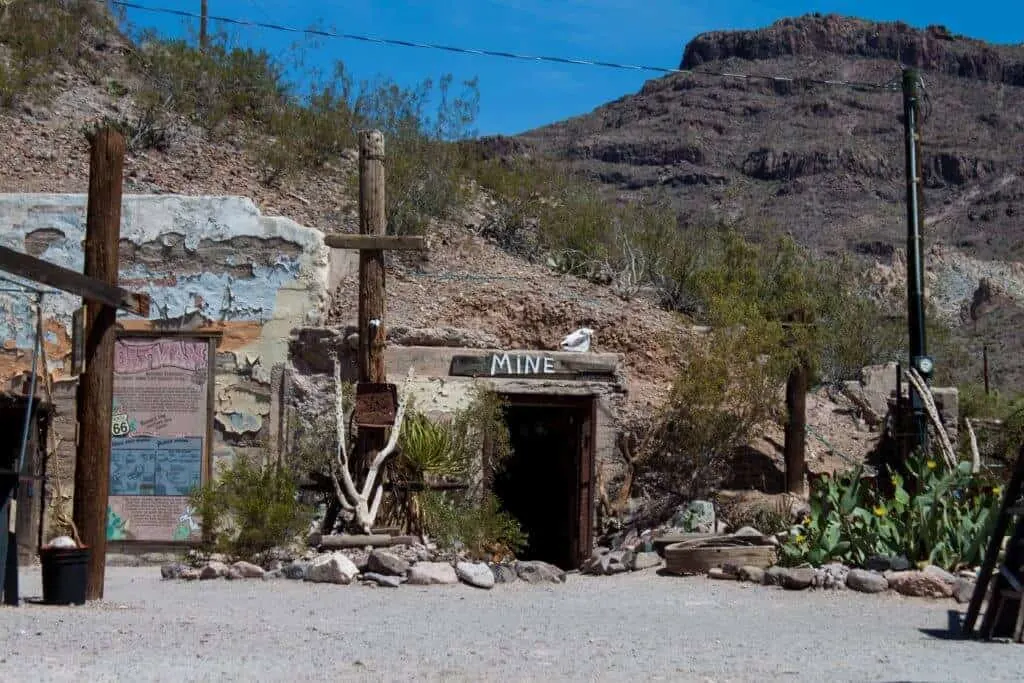 Oatman, Arizona was sparsely settled starting in 1863 when a small bit of gold was discovered in the surrounding Black Mountains. Not much came of the discovery until two lucky prospectors struck it rich in 1915, with a 10 million dollar claim.
Oatman grew rapidly after that, and in the course of a single year, the tiny tent village became a bustling town of 3,500 people. In the 1920s and 30s, the population grew to around 10,000.
In 1921, a fire swept through the town destroying most of Oatman's buildings. From that point, things started to go downhill for Oatman. The decade-long gold rush started to dry up, and then so did everything else. Oatman's biggest mine closed in 1924, and by 1941, the government ordered the closing of Oatman's remaining mining operations as part of the country's war efforts.
Because of its location on Route 66, local commerce eventually shifted toward accommodating motorists traveling between Kingman, Arizona and Needles, California. From 1926 to 1952, the Mother Road coursed through the heart of Oatman, sustaining a healthy tourism business.
The tourism boom didn't last long in Oatman, thanks to the interstate highway system. Interstate 40 bypassed Oatman in the early 1950s, and by the early 1960s, the whole area was all but abandoned.
A revitalized interest in historic route 66 saved Oatman from demise, and while it may not be thriving, Oatman has a lot to offer visitors looking for that kitschy slice of Americana.
Oatman. AZ is often described as a ghost town, but that isn't quite accurate. The current human population of Oatman, Arizona is 128. The burro population is close to 2,000!
The Best Things to do in Oatman, AZ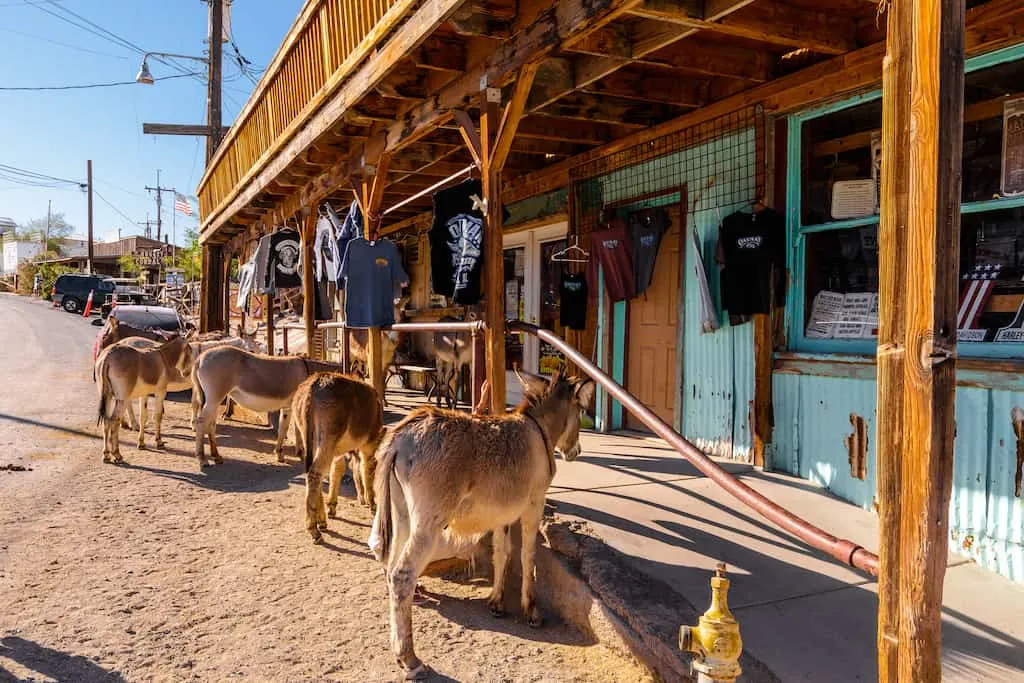 Tourists have fallen in love with this Arizona ghost town, which sees more than 500,000 visitors annually.
Main Street through Oatman, AZ is tiny, with just a handful of souvenir stores, restaurants, and gift shops that are entirely dependent on tourist dollars.
An afternoon is all you'll need to explore thoroughly, but if you have time, I recommend meandering along the back roads, which will give you a glimpse of the hardscrabble life that existed here in years past, not to mention the gorgeous scenery!
But first, park your car on the street, and take a tour of an iconic Arizona ghost town that refuses to die.
Here's the plan for a perfect day in Oatman, Arizona, one of our favorite small-town vacation spots for families with kids.
Visit with the Adorable Oatman Burros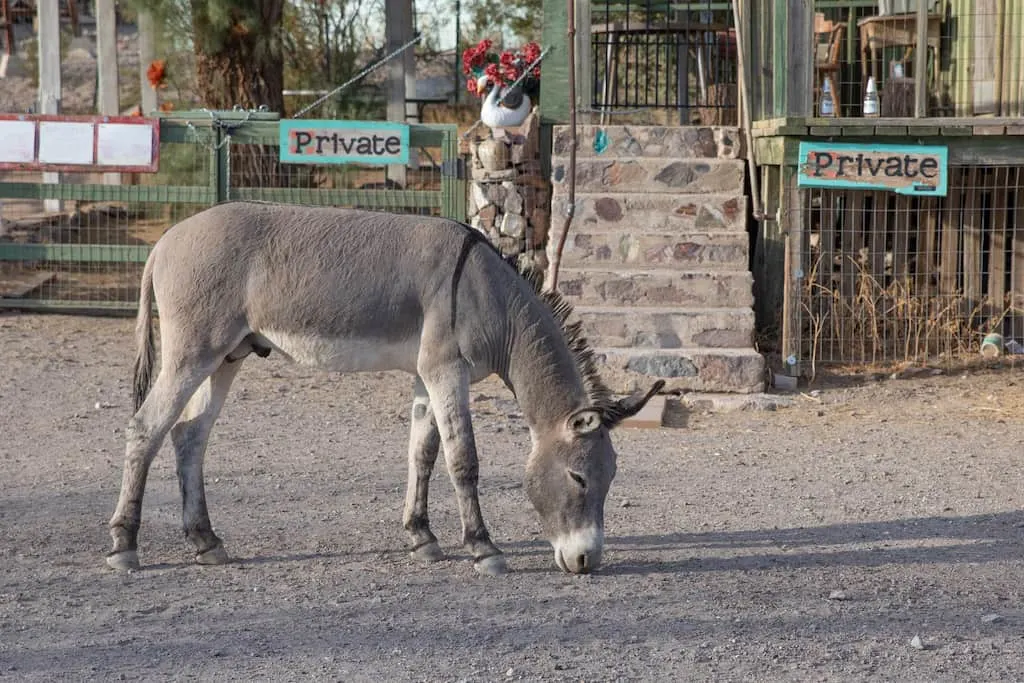 The Oatman burros are direct descendants of the beasts of burden used by the gold miners in the late 1800s.
When the mines went under, deflated prospectors turned the animals loose to fend for themselves. Today, these wild burros roam the streets during the day and head into the Black Mountains at night to graze.
After years of receiving handouts from tourists, the burros are extremely friendly and probably the main reason so many tourists still come to town. If you want my opinion, the Oatman burros are a little too friendly. During our last visit, one got pushy trying to steal my ice cream cone, which definitely wasn't appreciated!
For years, tourists have fed the burros carrots and special "burro chow" that they could buy in just about every shop. In recent years, the Bureau of Land Management has started discouraging feeding the Oatman burros.
Allowing them to graze in the hills is healthier and safer for both the burros and tourists. It's yet to be seen if a lack of handouts will keep the Oatman burros out of town for good.
Eat and Drink at The Oatman Hotel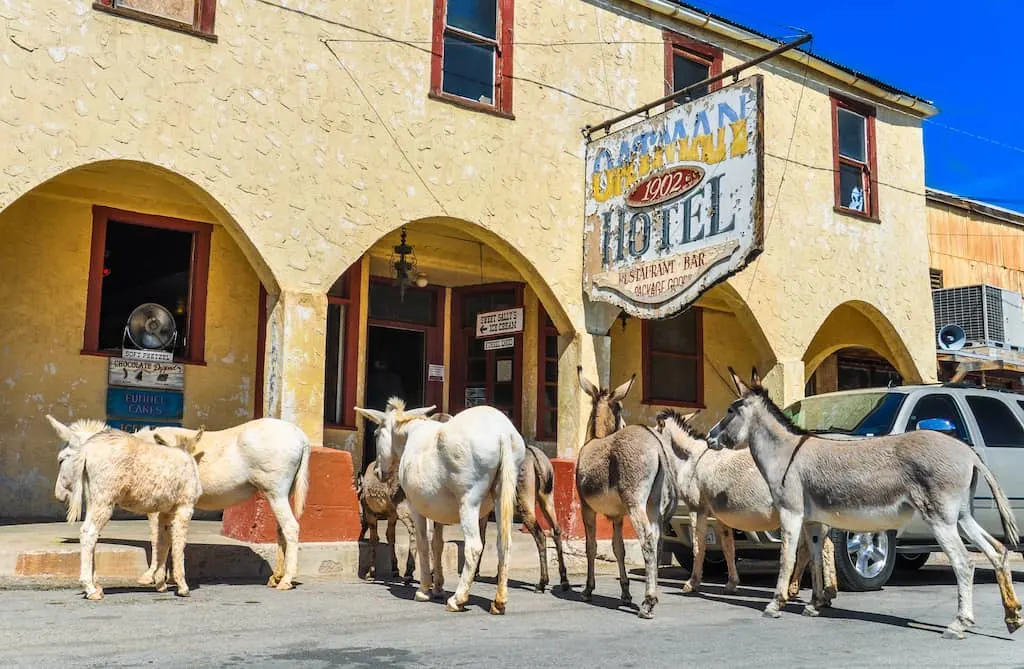 Originally named after its builder John Durlin, the Durlin Hotel is the only historic two-story adobe building in Mohave County. From its famous guests to its otherworldly inhabitants, the Durlin, today known as the Oatman Hotel, is a must-visit attraction in Oatman, AZ.
The Durlin Hotel was originally built in 1902 and then rebuilt in 1924 after the fire. The eight-room hotel did a booming business with local miners, who began the practice of covering the hotel's walls and ceiling with signed and dated one-dollar bills.
Clark Gable and Carole Lombard honeymooned at the Durlin Hotel after their wedding in Kingman, Arizona in 1939. The honeymoon suite is still one of the Oatman Hotel's main attractions, and the owners report that Gable and Lombard loved the hotel so much that they are still haunting it.
Many locals claim that ghosts occupy the Oatman Hotel and are often heard whispering and laughing in empty rooms. One friendly poltergeist known as Oatie is believed to be the ghost of William Ray Flour, an Irish miner who died behind the hotel. In the late 1960s, the Durlin Hotel's name was changed to the Oatman Hotel.
Unfortunately, you can no longer spend the night in the Oatman Hotel, but you can visit the bar, restaurant, and museum during the day. The Oatman Hotel was listed on the National Register of Historic Places in 1983.
Indulge in Ice Cream at the Olive Oatman Ice Cream Parlor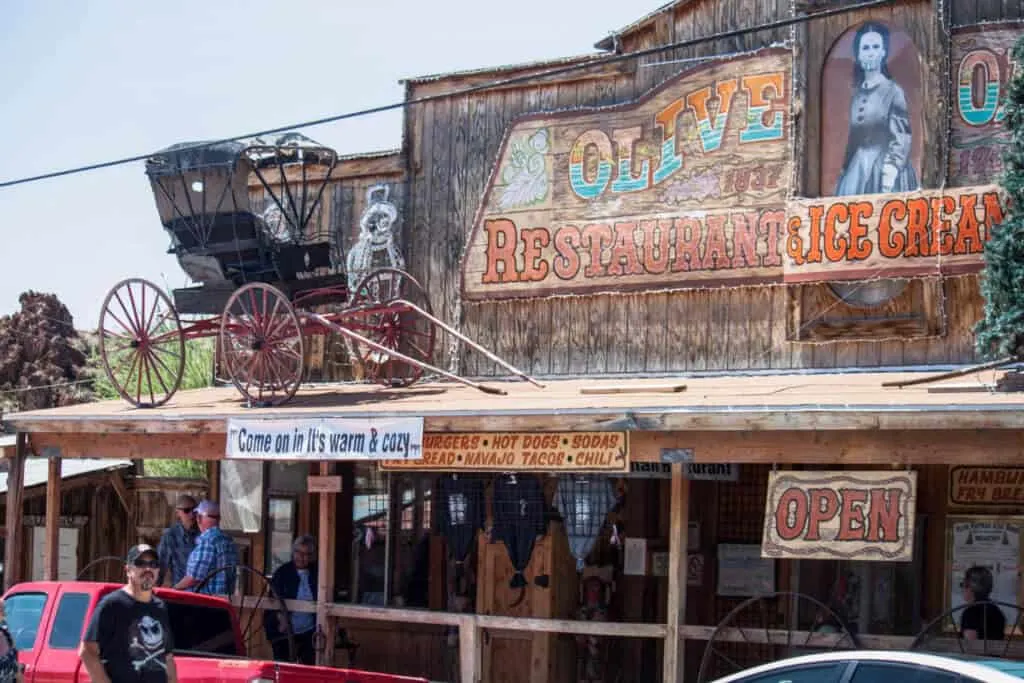 Olive Oatman's is a small restaurant that serves breakfasts, sandwiches, and ice cream.
The decor is reminiscent of an old western saloon with lots of wild-west memorabilia. Ice cream is the claim to fame at Olives, probably because every day in Oatman is a perfect day for ice cream to keep you cool in the desert heat.
Olive Oatman's is the best place to eat for miles and miles. Just make sure you keep your cones away from the four-legged scavengers. Seriously, those burros will steal your ice cream cone in a heartbeat, especially if you're under 4 feet tall!
Watch the Gunslingers on Main Street in Oatman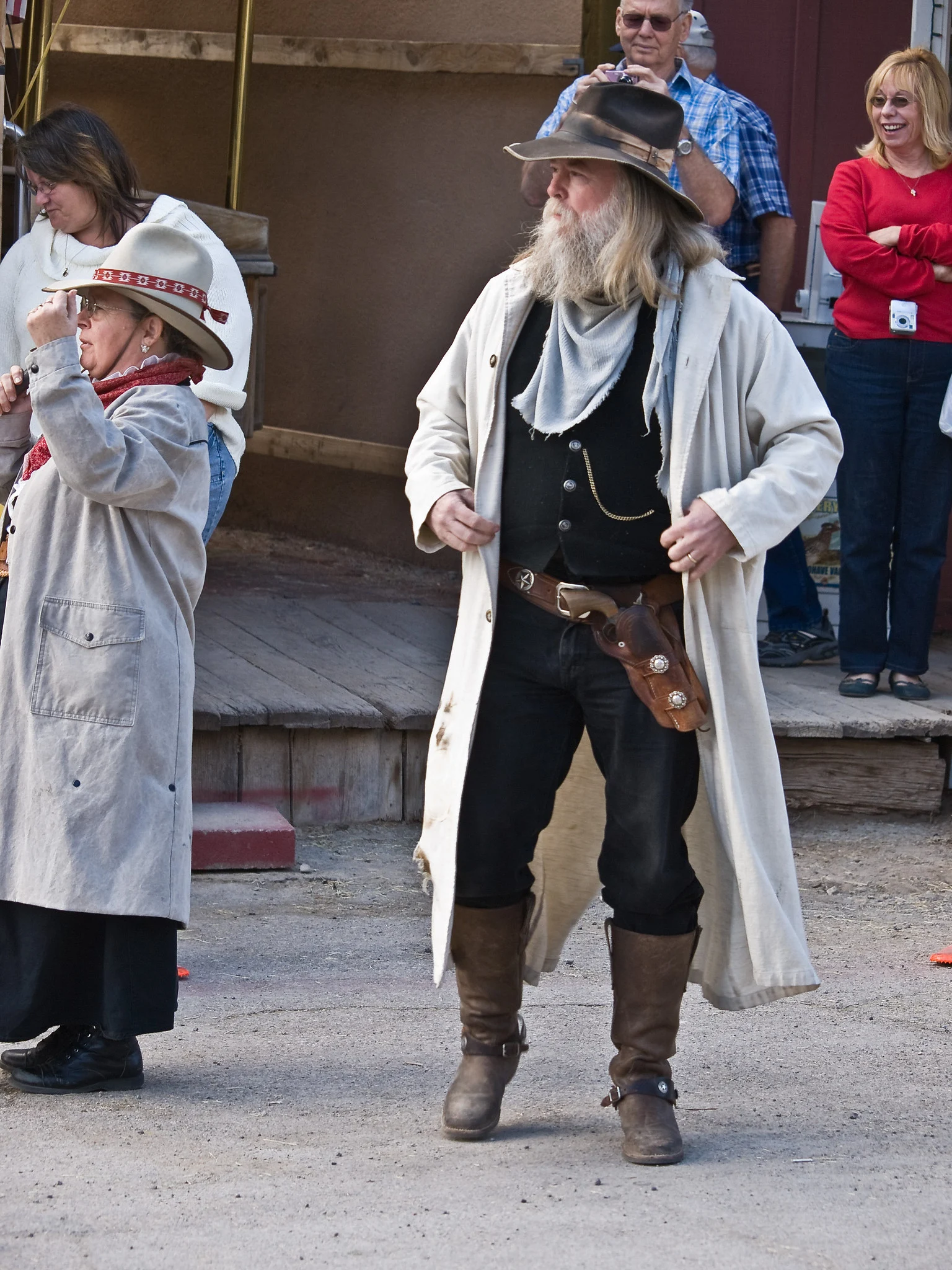 Ready to step back in time? Every day at 1:30 and 3:30 pm, traffic stops in Oatman, Arizona for a wild-west shootout, just like in the movies.
The Oatman Ghost Rider Gunfighters are the oldest gunfighter group in Arizona, and they're not to be missed. After the burros, the Ghost Riders draw the most tourists, who widely report that the shoot-out is the best thing to do in Oatman, AZ.
If crowds aren't your thing, consider visiting Oatman earlier in the day, and plan on leaving before the actors draw their weapons.
This is a quick show, lasting maybe a half-hour, and a great combination of history, theater, and comedy that your kids will love.
Buy Some Prickly Pear Gummy Candy at the Gold Rush Candy Shoppe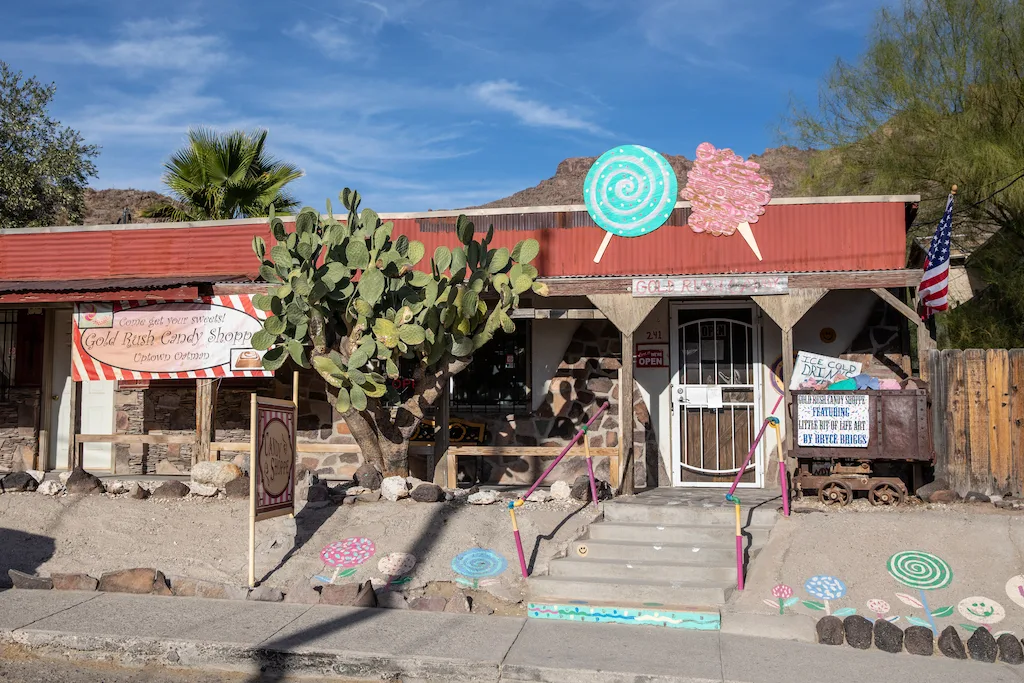 This little candy shop was one of the highlights of our trip to Oatman. It's an old-fashioned, wild-west candy shop like you've never seen before.
There's a nice selection of chocolates and penny candies that you can get just about anywhere, plus an array of homemade goodies.
The prickly pear candy was unique and we haven't seen it since. Pick some up for gifts and tell the owners we said hello. I don't recommend buying chocolate unless you want to eat it ASAP. Ours was a melted mess by the time we got back to our car.
Read more about the Gold Rush Candy Shoppe in Oatman on their Facebook page.
Fry Eggs on the Sidewalk
They say that Oatman, Arizona gets so hot that you can fry eggs on the sidewalk. Want to give it a go?
Head to Oatman for the annual Oatman Sidewalk Egg Fry, which happens at high noon every Fourth of July. Contestants at the Oatman Egg Fry are given 15 minutes to fry their eggs using solar power only. Prizes are awarded to the winners and everyone is invited to fry.
We haven't actually visited Oatman in July and because we are cold-weather creatures, I can't imagine that we ever will. So, if you do make it to Oatman for the annual egg fry, please reach out and let us know how it was!
Where to Stay in Oatman, Arizona
You probably wouldn't be surprised if I told you that there weren't any hotels in Oatman. There aren't. Your best bet is to spend the night in Kingman or Needles and make a day trip to Oatman. The Best Western in Kingman is very family-friendly, with an outdoor pool and free breakfast.
More Fun on Historic Route 66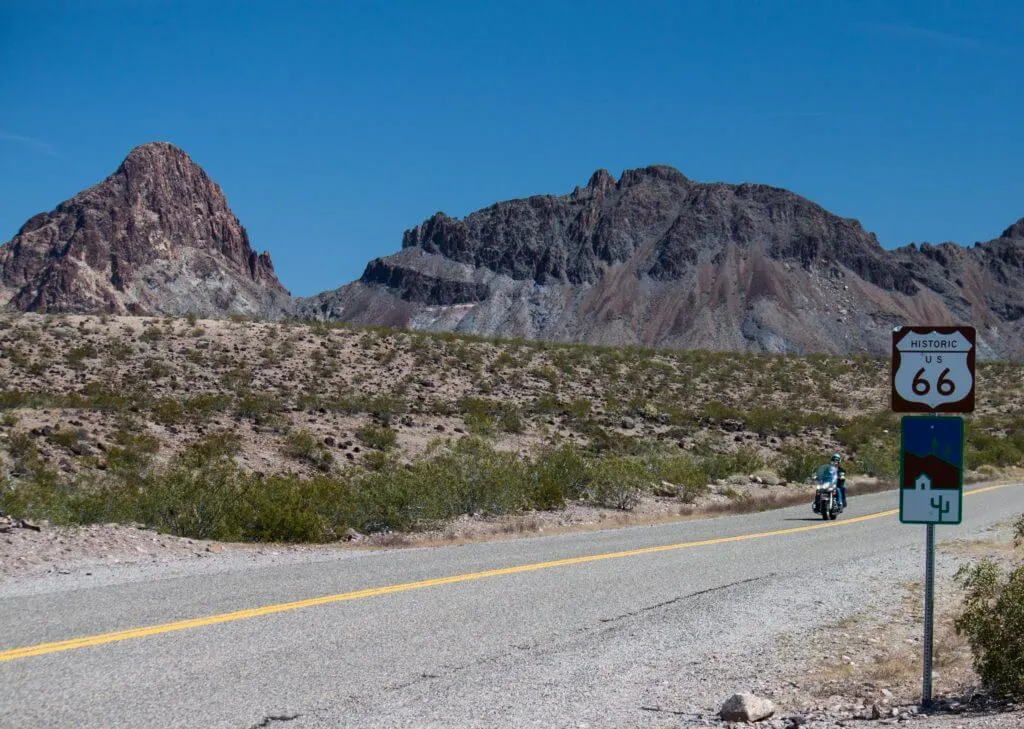 Oatman is just one of the fun places to explore on historic route 66 in Arizona. If you just can't stop back-road adventuring, here are some more places to check out near Oatman Arizona.
---
The Route 66 Museum in Kingman, Arizona – Learn about the fascinating history of the "Mother Road" at this cool museum. Open daily from 9-5.
Flagstaff, Arizona –

Flagstaff is an awesome college town with a lot going on — good restaurants, shopping, and lodging. We explored Flagstaff on a day trip and can't wait to go back.

Rock Art Ranch –

Located in Joseph City, this is a privately owned canyon and ranch with one of the most extensive petroglyph collections in the whole world.
---
Oatman is definitely one of our favorite backroad adventures and one of our favorite small towns to visit in the United States. Here are a few more ideas for your Arizona vacation:
---
Follow us on social media for more small-town adventures!
Pin for Later?