Not far from the sunny metropolis of Phoenix, Arizona is a rugged expanse of the Sonoran Desert overshadowed by the towering Superstition Mountains.
It's home to giant saguaro cactuses, a plethora of songbirds, and a beautiful carpet of wildflowers — if you're lucky enough to visit in early spring after a rainy winter.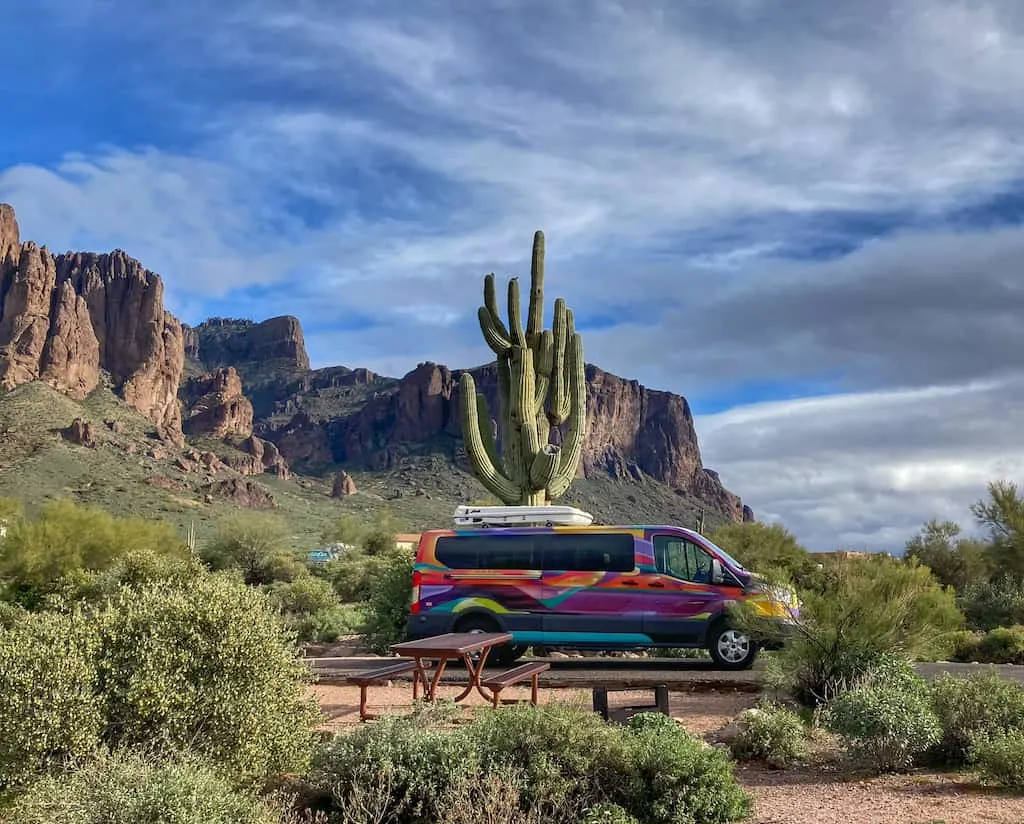 Welcome to Lost Dutchman State Park, where you can pitch your tent or park your camper under the canopy of a billion stars, hike for miles into the mountains, and look for a mythical gold mine.
Arguably one of the most beautiful state parks in Arizona, Lost Dutchman State Park is open year-round for camping and day use and is adored by hikers, stargazers, and birdwatchers, as well as locals who want to escape the concrete jungle of Phoenix without driving too far out of town (it's less than an hour east of Phoenix).
With 135 campsites and five cabins, this beautiful state park provides a fantastic desert camping experience, whether you're pitching a tent or parking a big rig.
Quick Facts: Lost Dutchman State Park Camping
Location: Apache Junction, AZ
Camping: 135 sites (68 with electric/water) and cabins can be reserved year-round through Arizona State Parks.
Fees: $25-$35 per campsite. $89+ per night for cabins. A day-use entrance is $10 per vehicle.
Activities: Hiking, birdwatching, and stargazing
Dogs: Yes
Showers: Yes
Lost Dutchman State Park Website
Lost Dutchman Campground Map
I love exploring Arizona and am fortunate to have experienced the magic of its beautiful landscape numerous times over the years.
Every time we visit Arizona, we discover new trails, campgrounds, and towns that we want to keep coming back to!
This past February, we went van camping for the first time with Escape Campervans, and Lost Dutchman State Park was the first stop on our incredible Arizona road trip.
If you are planning a visit to Arizona's Sun Valley, and want to be close, but not too close, to Phoenix, consider Lost Dutchman State Park in Apache Junction.
And if you want a memorable camping experience, consider renting a van from Escape Campervans.
First, Check Out Escape Campervans in Phoenix, AZ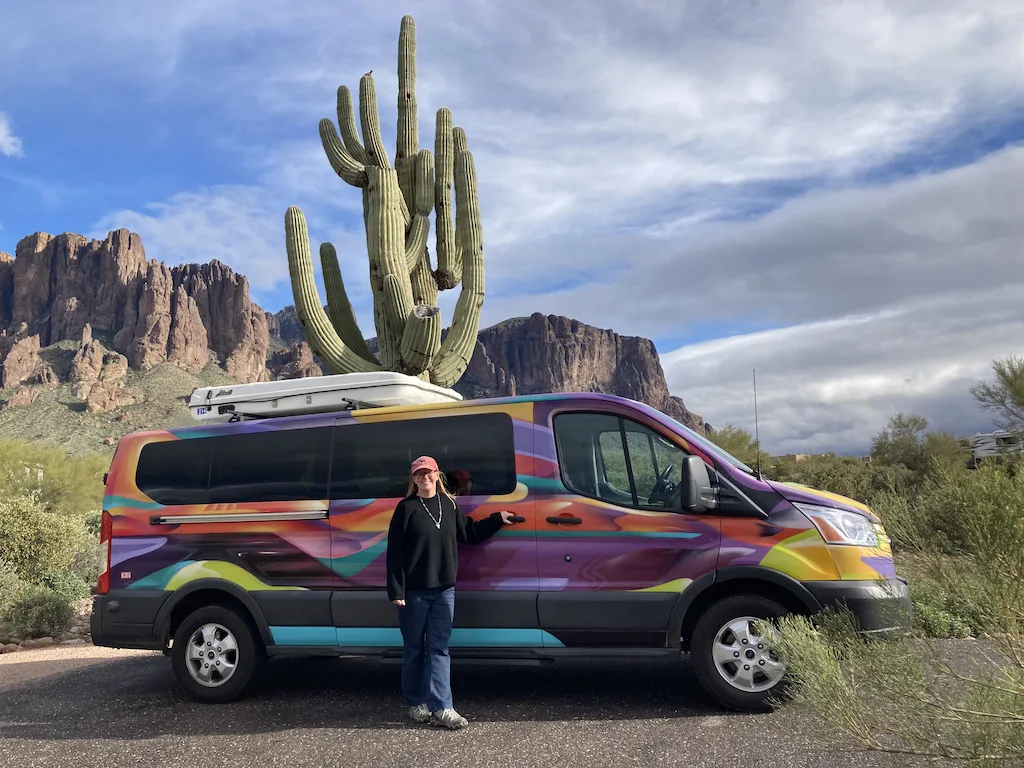 Have you seen those groovy campervans meandering around America's back roads and parks? They're Escape Campervans and you can rent one for all of your Arizona explorations.
There's an Escape Campervan rental center in Phoenix, which is where we picked up ours for our recent Arizona road trip. It's about 45 minutes from Escape Campervans to Lost Dutchman State Park.
These iconic vans include everything you need (and a kitchen sink) for your van camping adventure. Talk about a memorable experience!
---
Explore more of Arizona! Read these posts next!
---
Pros and Cons: Lost Dutchman State Park Camping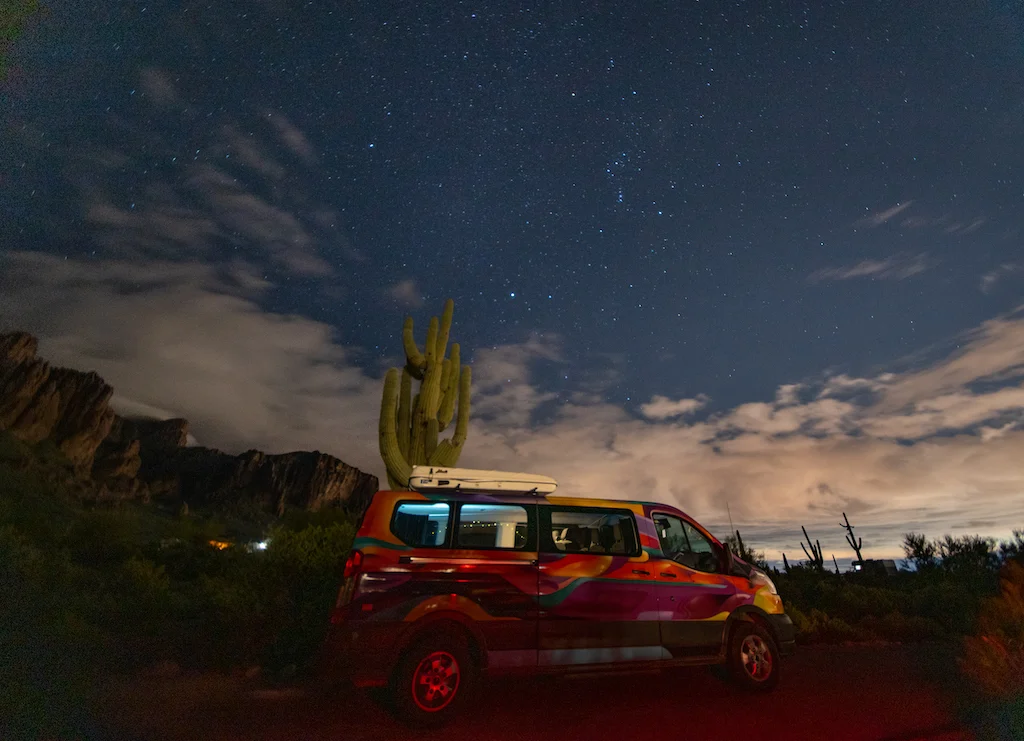 We don't want to leave you in suspense, so let's start with the most important bit. Here's a quick overview of what we loved and didn't love about our stay at Lost Dutchman State Park Campground to help you decide whether it's right for you.
Pros:
Incredible views from just about every site. The Superstition Mountains rise up from just beyond Lost Dutchman State Park in Tonto National Forest and the Superstition Wilderness.
Lots of amenities and very clean. 68 sites have electricity and water hookups and the bathrooms have free hot showers and a dishwashing station for easy clean-up.
Affordable. $25 a night isn't bad for rustic camping.
Trails that lead from the campground. We love finding local trails that we can tackle from our campsite, and Lost Dutchman has a nice selection of trails, from easy strolls to difficult treks.
Great location. Lost Dutchman State Park is less than an hour from Phoenix and just a short drive from grocery stores and restaurants in Apache Junction.
Great birdwatching, stargazing, and wildflowers. We visited Lost Dutchman in February and there were so many different birds flitting about. We saw lots of warblers, hawks, hummingbirds, and quail. Wildflowers were just coming out and the night sky was beyond incredible.
Cons:
Not much privacy from camping neighbors. The setting is lovely, but the Sonoran Desert landscape is made up of cactuses and small shrubs so you don't have a lot of privacy.
Long walk to the restrooms. Obviously, this depends on what site you end up with, but our walk from site 106 was at least 10 minutes.
Not all sites are tent-friendly. When choosing your site through Arizona State Parks, you can click on each site on the map and scroll down to 'Remarks'. This is where you will see how big the tent area is. Some sites don't have a spot for a tent as the ground is covered with prickly things!
Lost Dutchman State Park Campground Overview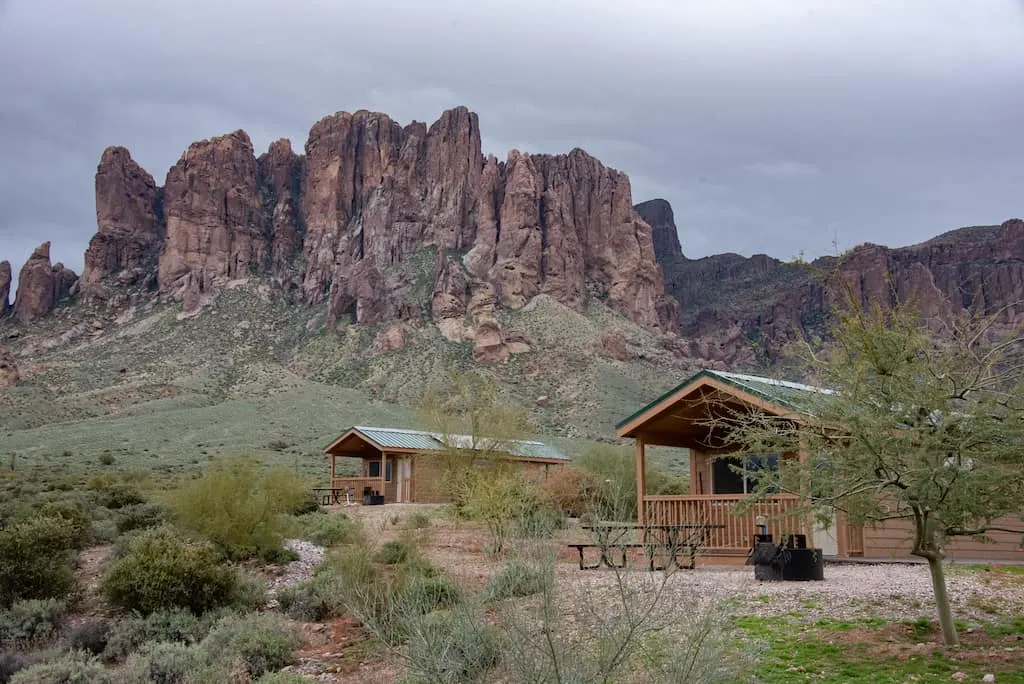 Lost Dutchman State Park encompasses 320 acres bordering the massive Tonto National Forest and Superstition Wilderness. It's a great home base for hikers who want to venture deeper into the mountains, or perhaps search for the fabled Lost Dutcman's Gold Mine.
Located at 3,000 feet in elevation, the campground offers three campground loops with no limit on RV size. During our February visit, we only encountered RVs and campervans, and I suspect that tent camping is far less popular due to the large paved pads and prickly plants covering much of the ground.
Each campsite has a fire pit and a picnic table, and half of the sites have water and electricity hookups. Just about every site features fantastic views of the Superstition Mountains, and if you're lucky, you'll also get your own saguaro cactus to watch over you at night. We loved ours and named him Fred.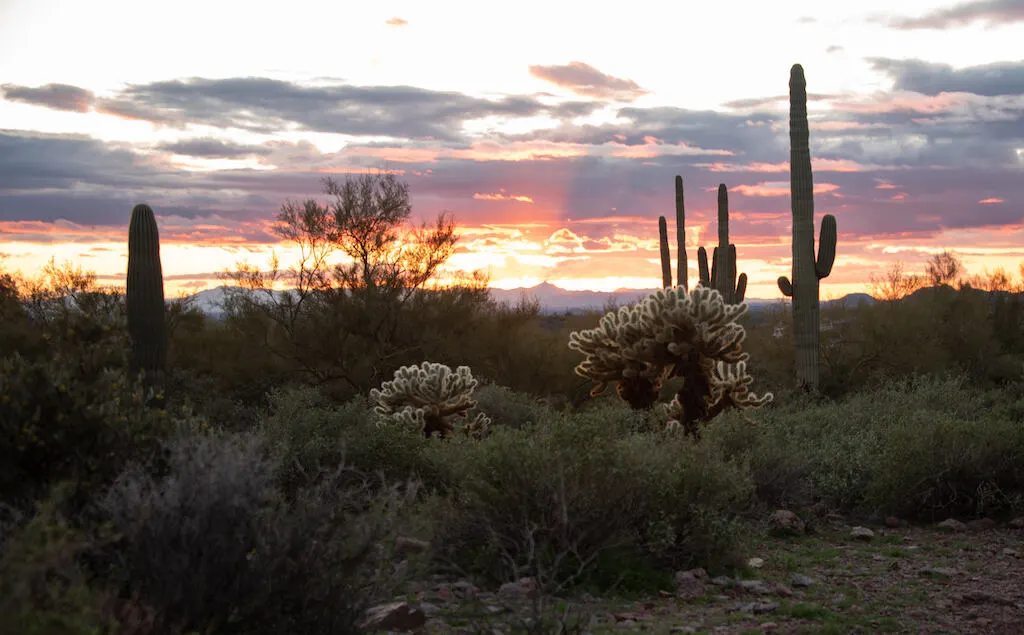 If you choose to relax at your campsite, you'll be treated to all kinds of visiting birds during the day, and an amazing canopy of stars when the sun goes down. The quail families running through our campsite were hilarious to watch, and we also saw lots of hummingbirds, warblers, woodpeckers, and wrens.
Dogs are permitted at Lost Dutchman State Park, and there's even a small fenced dog park so that they can run off-leash. We were missing our pooches on this trip, but fortunately, there were lots of dogs in the campground who didn't mind us gushing over them.
We loved our stay at Lost Dutchman State Park, and even though we had little privacy at our campsite, our neighbors were very friendly and there were numerous trails leading away from the campground. We spent a few days here without having to drive, which was very much appreciated.
Lost Dutchman State Park Hiking Trails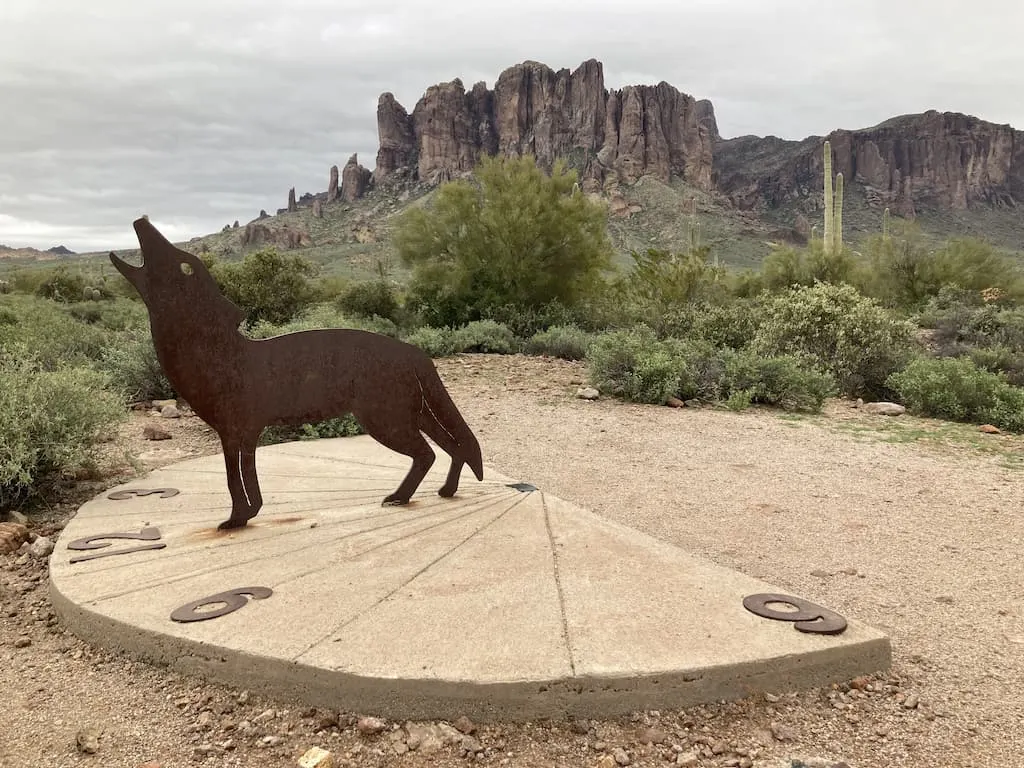 So many trails loop through Lost Dutchman State Park and lead into Tonto National Forest. Many of the trails can be combined to create longer loops. We didn't have time to explore them all, but here's a brief overview:
Lost Dutchman State Park Camping FAQs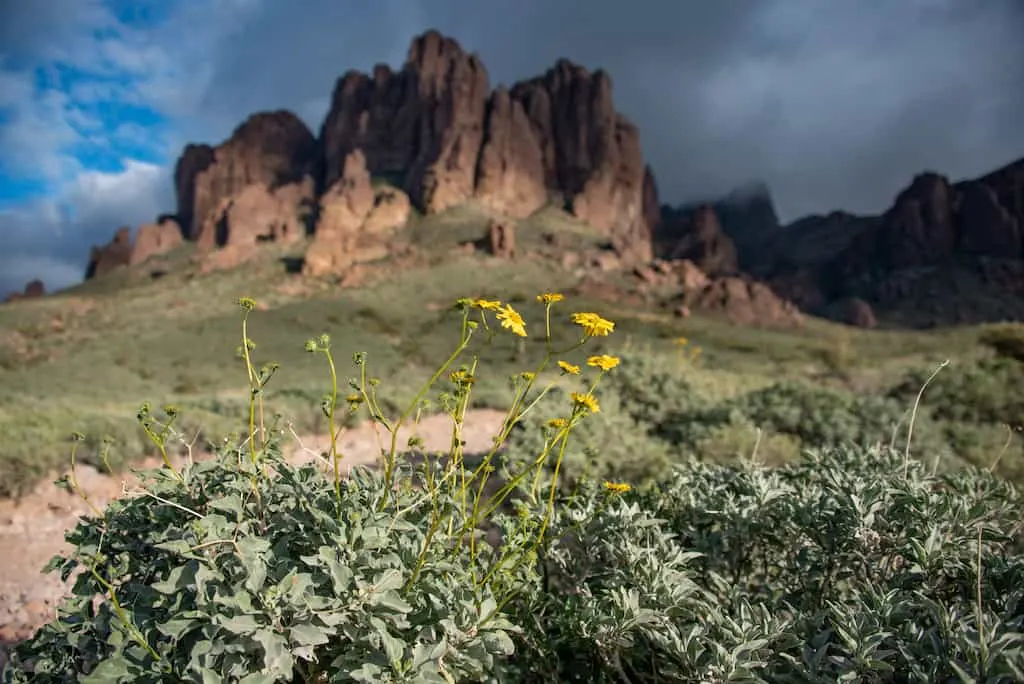 Love it or hate it, planning a memorable camping trip starts with the 'planning'. Here are a few of the most frequently asked questions about camping in Lost Dutchman State Park.
What is the Best Time to Visit Lost Dutchman State Park?
March is an ideal time to set up camp at Lost Dutchman State Park. Not only will you be treated to beautiful carpets of wildflowers, but the temperatures will be mild during the day and cool at night. We visited during the middle of February, and the flowers were just starting to open up.
What is the Weather Like at Lost Dutchman State Park?
The desert climate is arid with an average annual rainfall of about 14 inches. During the winter, daytime temperatures usually reach 60° F and nights cool down to 40° F.
Summer is hot, with daytime temperatures reaching 100 ° F or more in June, July, and August. The park's busy season is from October to April when temperatures are moderate.
Why is it called Lost Dutchman State Park?
The legend of the Lost Dutchman has been told and retold. Movies and books have been written, but alas, the fabled gold has never been found. Here's the abbreviated story:
During the 1840s the Peralta family of northern Mexico is said to have developed rich gold mines in the Superstition Mountains. They worked in the mines and carried gold back to Mexico. During their last expedition in 1848, the family was apparently ambushed and killed by Apache Indians. While one or two family members made it safely back to Mexico, the mines were abandoned and forgotten.
In the 1870s, Jacob Waltz, known as "the Dutchman," even though he was German, and his partner, Jacob Weiser, allegedly located and began working in one of the lost mines. They hid their secret caches of gold throughout the region. Weiser is said to have been killed, either by Apache Indians or by Waltz, who wanted the gold for himself.
Jacob Waltz died some twenty years later in 1891. Before he left this world, he is said to have described the exact location of the mine to a neighbor, but nobody has ever been able to discover its whereabouts. Sounds like a fun treasure hunt for a camping weekend!
Lost Dutchman State Park Camping Tips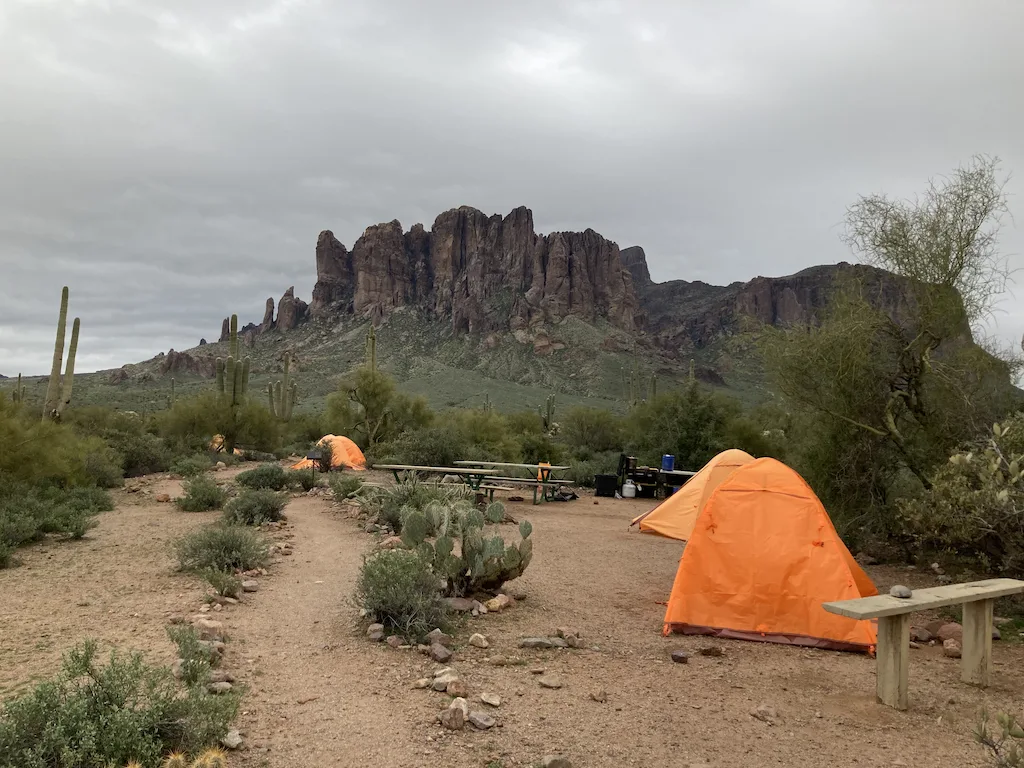 Reserve your campsite well ahead of time. Lost Dutchman State Park is one of the most popular parks in Arizona, so our top recommendation is that you snag a spot as early as you can, especially if you are planning to visit in the winter or spring. Summer and fall are HOT in this part of Arizona, so if you don't mind melting in the heat and scorching in the sun, then you shouldn't have a problem getting a spot without reservations.
Respect the desert. This beautiful ecosystem is home to the majestic saguaro cactus, as well as rattlesnakes, scorpions, and tarantulas. The plants are prickly, so it's important to wear sturdy footwear, watch where you're walking, and keep your dog on a leash.
Take advantage of the park's interpretive programs. There's always something going on at Lost Dutchman State Park, from guided hikes to live music and fun presentations about the plants and animals of the park. Check the park's website for an up-to-date schedule.
Follow Leave-no-Trace Principles and good campground etiquette.
---
Is Camping Your Favorite Pastime? Download The Dyrt App!
The Dyrt is a massive search engine for finding the best campsites for your next trip, with detailed information about campsites on both public and private lands. Find out about amenities, weather forecasts, cell phone coverage, and RV length restrictions before you head out. You can also read reviews from other campers and browse hundreds of photos so you know what to expect.
The Dyrt Pro (currently $2.99 a month) features offline maps so that you find awesome campsites even when you don't have cell service. If you love finding amazing campgrounds, The Dyrt Pro is a must-have app.
---
Follow us on social media for more camping inspiration!
Pin for Later?