Planning your next vacation to the amazing, iconic, stupendous Grand Canyon?
Carved out by the Colorado River over the course of millions of years, the Grand Canyon is 277 miles long and up to 18 miles wide.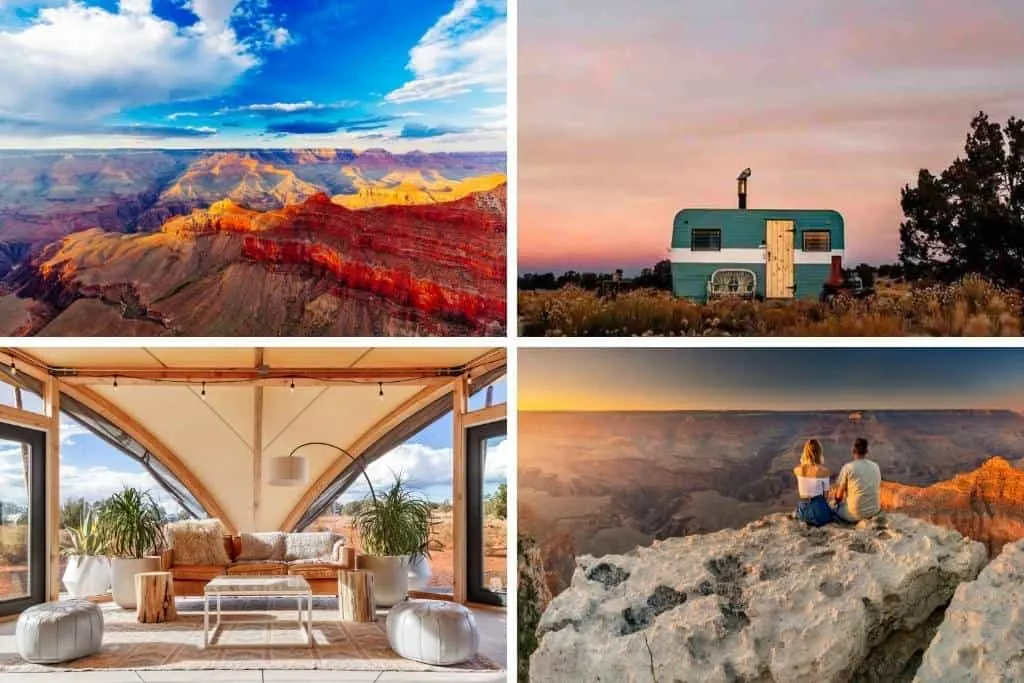 Much of the Grand Canyon is protected within Grand Canyon National Park, but the canyon stretches beyond the borders of the National Park Service into rugged and remote areas that are owned and managed by the Navajo Nation. The area surrounding the Grand Canyon has been continuously inhabited by native peoples for thousands of years.
There is nothing like the intensity of a Grand Canyon sunrise. Or the exhilaration of hiking deep into the canyon to the Colorado River.
Just visiting the Grand Canyon is a life-changing experience, but it can indeed get better! What if you turned your Grand Canyon visit into a fantastic Grand Canyon glamping vacation?
Glamping near the Grand Canyon is a fabulous way to embrace the majestic beauty of this area without the hotel and campground crowds.
These unique spots for glamping near the Grand Canyon are pretty much the cherry on top of your already awesome desert dessert.
Getting to the Grand Canyon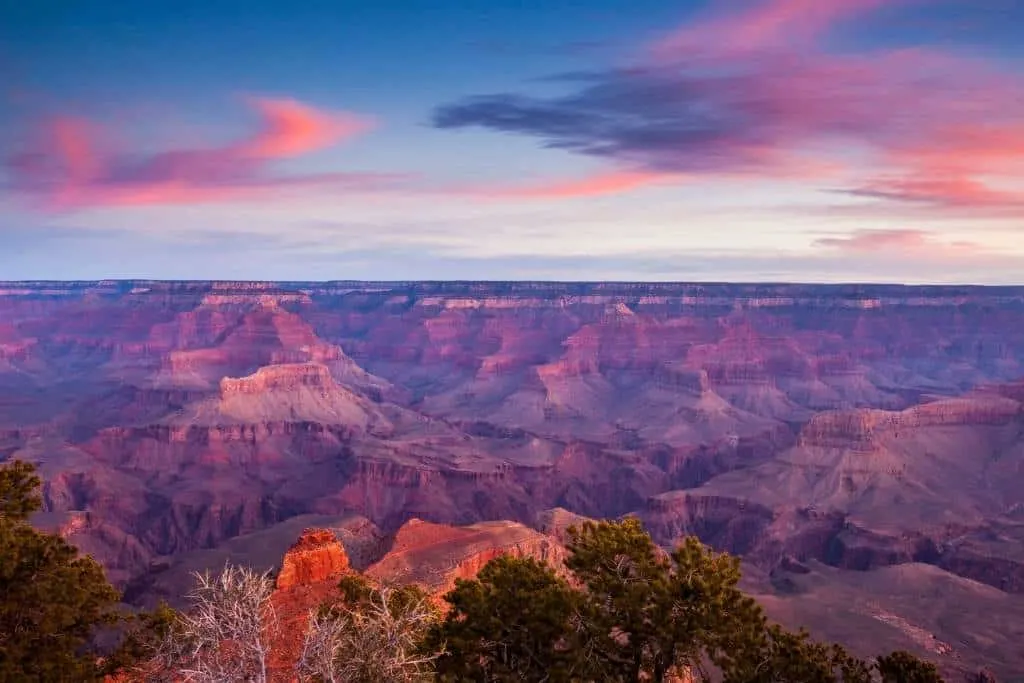 First, let's get some of the logistics out of the way.
Unless you live within a few hours of the Grand Canyon, the easiest way to get there is to fly into Phoenix Sky Harbor Airport (PHX), which is the closest airport to the South Rim, about three and a half hours drive. From there, we recommend renting a car for your Grand Canyon adventure. If you want to visit the North Rim only, you should fly into McCarran International Airport in Las Vegas (LAS).
Renting a car will give you the most flexibility, as the majority of these glamping properties require a drive to and from the Grand Canyon. We have found some great deals for car rentals on Kayak, which searches for and compares the prices of dozens of rental companies in one place. Our snazzy Volkswagen Passat that we rented a few winters ago was only $250 for the whole week.
Driving north from Phoenix will bring you through Sedona and Flagstaff, which are 100% worth exploring for a day or two.
Driving east from Las Vegas will take you into Southern Utah before veering south into Arizona. If you opt for that route, definitely stop in St. George, Utah before continuing on to the North Rim.
What is Glamping?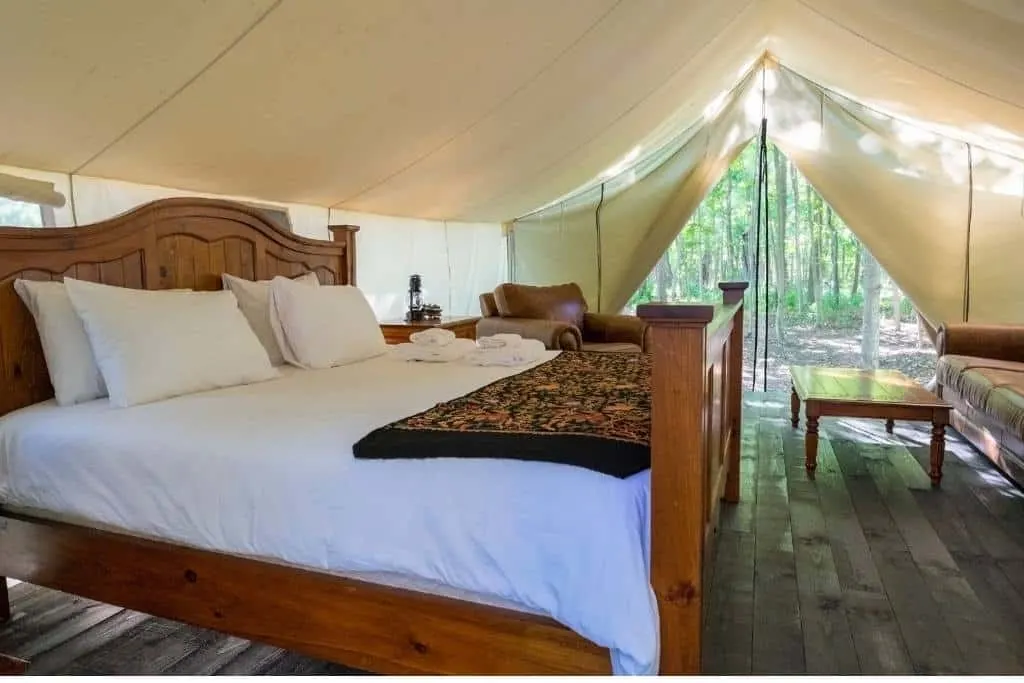 Only the most awesome way to sleep since the invention of the sleeping porch. Glamping embraces everything you love about camping — campfires, starry skies, and expansive wilderness, without the things you could do without — sleeping on the hard ground, shivering through the night, and trying to wash dishes in the backcountry.
With glamping, you almost always get a comfy bed, as well as some sort of kitchen. Depending on the site you choose, you may also be treated to luxuries like indoor plumbing, a woodstove, and Wi-Fi.
We still love tent camping, but we also find glamping hard to resist! There are just so many unique properties that you can rent to kick your vacation up a notch!
When to go Glamping near the Grand Canyon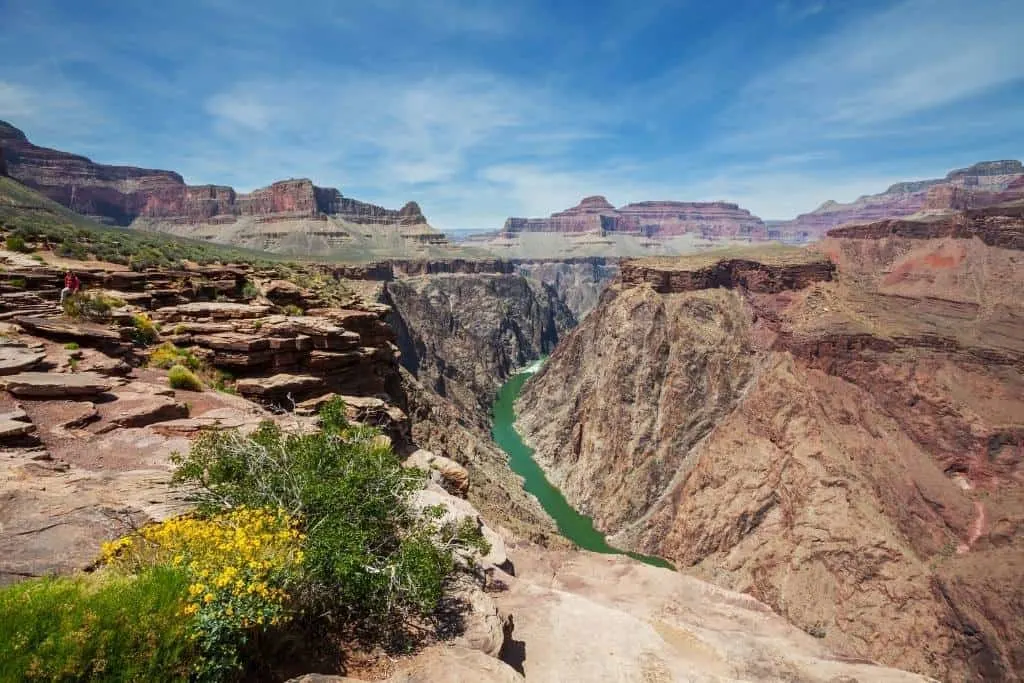 The beauty of glamping near the Grand Canyon is that it's not as weather-dependent as camping would be. There are plenty of places on this list that will work for year-round Grand Canyon glamping.
The bigger question is when should you visit the Grand Canyon? We've been in April, June, and October, but not in the winter. October was, by far, our favorite time to visit the Grand Canyon. The temperature was in the low 70s and the crowds were very manageable.
In summer, the crowds and the heat can be overwhelming, especially if you plan on hiking into the canyon. Don't get me wrong, the Grand Canyon is still gorgeous in the summer, but if you have the chance to visit in the off-season, take it!
We've heard the winter is great too, especially if you aren't camping. You do have to be prepared for winter conditions, including icy roads and trails, but the benefit is that you will see far fewer people than you will in the summer.
Yes, it snows on the rim of the Grand Canyon, which makes for stunning vista views.
Because the temperature drops roughly 5.5 degrees Fahrenheit for every 1,000 feet you travel into the canyon, the snow usually turns to rain before reaching the canyon floor.
The Most Incredible Glamping Near the Grand Canyon
Ready to experience all the best views, hikes, and adventures of the Grand Canyon?
The following glamping retreats are located near the South Rim of the Grand Canyon. If you are hoping to visit the North Rim, we recommend the cabins at Grand Canyon Lodge (open May 15 – October 15).
Here are our favorite Grand Canyon glamping spots for your Arizona adventure.
Under Canvas Grand Canyon in Valle, Arizona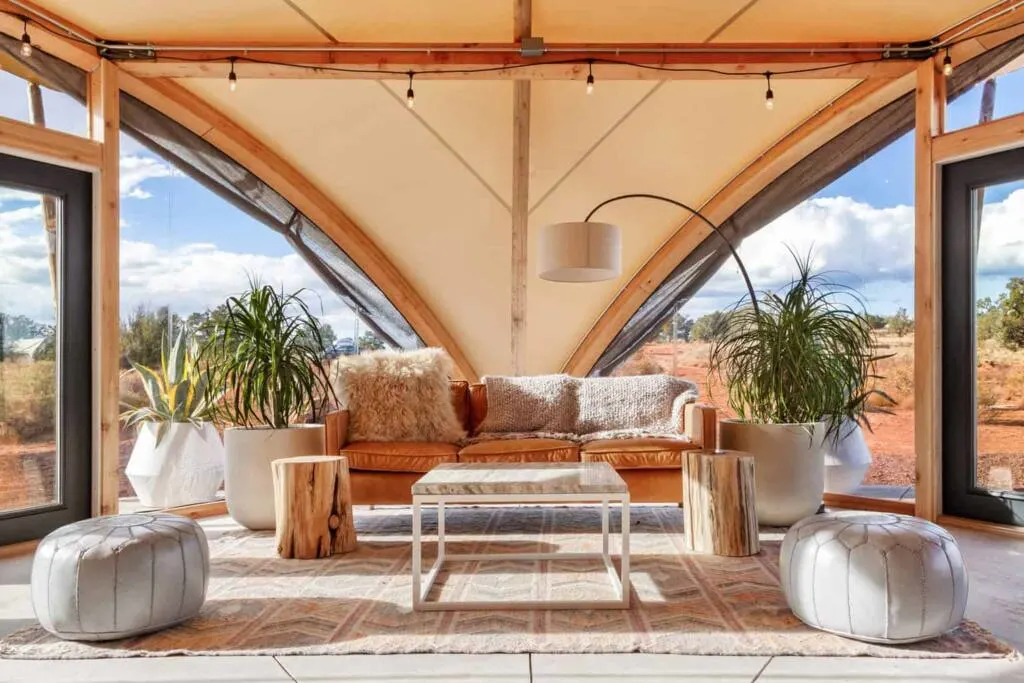 The glamping tents at Under Canvas Grand Canyon are located on 160 acres of secluded piñon and juniper forest just 25 minutes from Grand Canyon National Park. It's safari-inspired, upscale glamping at its best — perfect for families.
Under Canvas tents at the Grand Canyon include beds for two to six people with luxurious linens, wood-burning stoves with complimentary firewood, and a private deck with lounge chairs. Some glamping tents include full bathrooms, while others make use of a nearby bathhouse.
The sprawling grounds include a Zen garden, on-site dining facilities, and a fire pit with s'mores for glampers. Live music and activities are offered throughout the day and evening.
Under Canvas Grand Canyon is a pretty big complex and the tents are gorgeous, but quite close together. I would recommend this for a family glamping trip and not a romantic getaway for that reason. Pets are permitted at Under Canvas for an extra fee but can't be left unattended.
---
Wander Camp King Tent in Valle, Arizona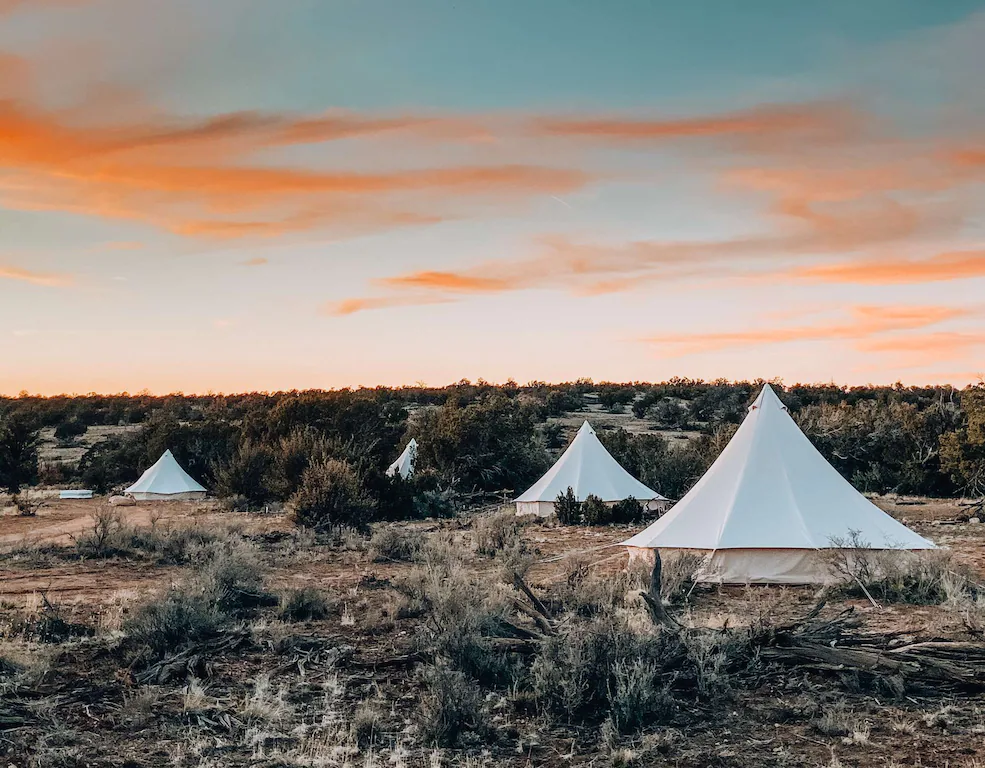 These beautifully rustic glamping tents near the Grand Canyon are located in Dark Sky Country just 15 miles from the South Entrance, and 15 Miles from Williams (25-30 minutes with lots of food options), it's also 5-10 minutes from the local gas station, market, and a few local restaurants in Valle.
Each tent is 200+ sq ft feet and made from sturdy waterproof canvas with low-profile windows and a large netted door with zipper closure. Inside each tent are a bed (this one is king-size), linens and plush down comforters, fleece blankets, and pillows.
There are also side tables, butterfly chairs, and a soft rug. A single solar light is provided, but extra lanterns and/or flashlights are recommended.
Communal bathrooms are available in designated areas throughout the camp and shared among all guests. Pets are welcome too!
---
Luxury Dome in Valle, Arizona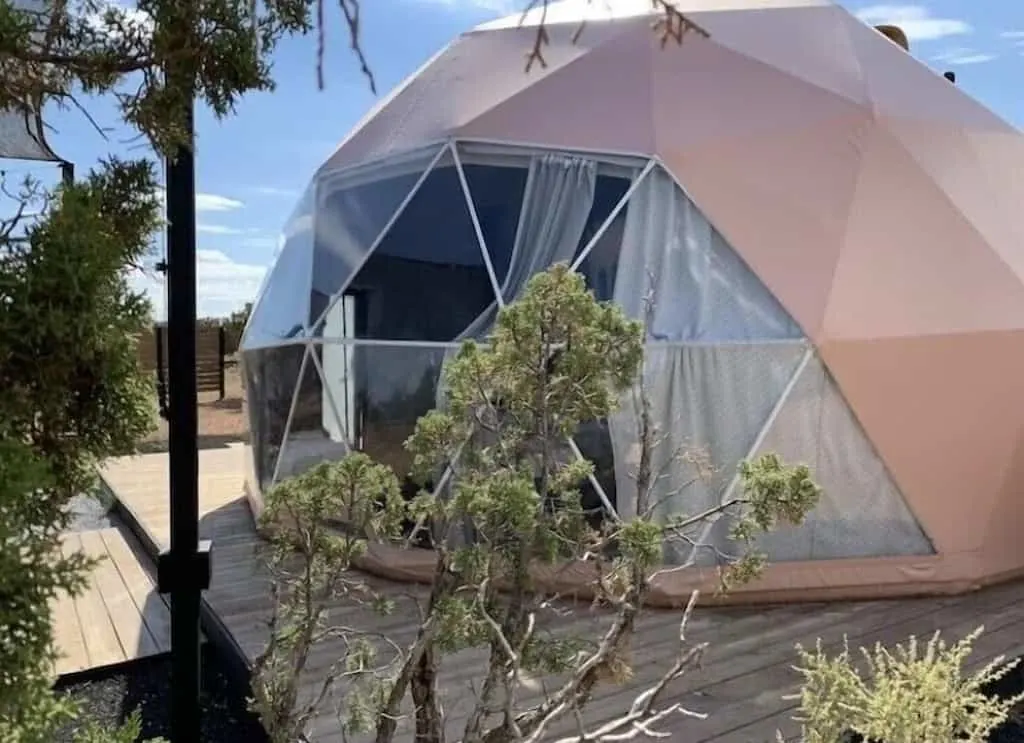 Sleep under the expansive night sky in this beautifully secluded dome in Valle, Arizona. This unique property offers an exceptional view of the Milky Way Galaxy you won't find anywhere else, and a telescope is provided for your viewing pleasure.
Secluded among the pinyon and pine trees in the high desert, the glamping dome is just 20 minutes from the entrance of The Grand Canyon's South Rim.
The dome features a queen-size memory foam bed with microfiber bedding, 120v outlets with USB charging ports, a shower, heating, and air conditioning. An outdoor fire pit is perfect for enjoying an evening in the desert, and you may even spot elk wandering through the property!
---
Grand Canyon Tiny House in Valle, Arizona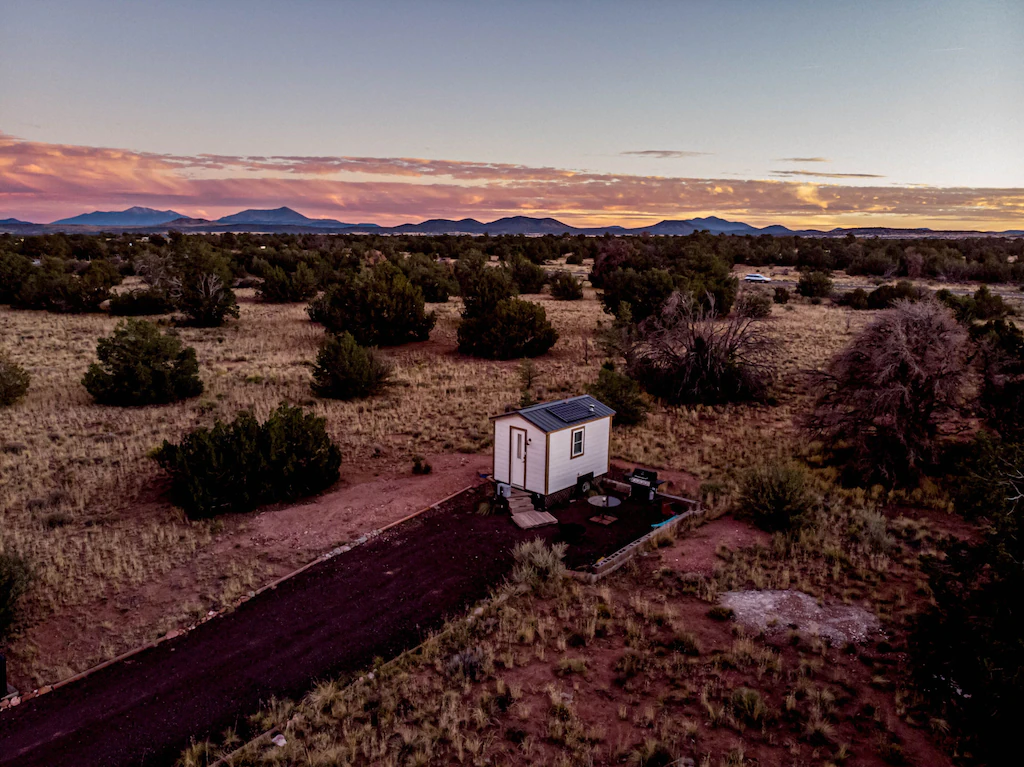 Looking for a tiny slice of paradise just 30 minutes from the Grand Canyon? Check out VRBO's newest tiny home near the Grand Canyon. This gem of a spot is affectionately known as the "Nugget," and while the space is small, it's got everything you need for your glamping adventure.
The space includes a full-size bed, a composting toilet, and a small kitchenette, all tucked in just 112 square feet.
Take advantage of the beautiful outdoor space, which includes a fire pit, a barbecue grill, and some of the best stargazing you've ever had the pleasure of witnessing. This private spot is Grand Canyon glamping at its very best!
---
The Love Shack Camper in Williams, Arizona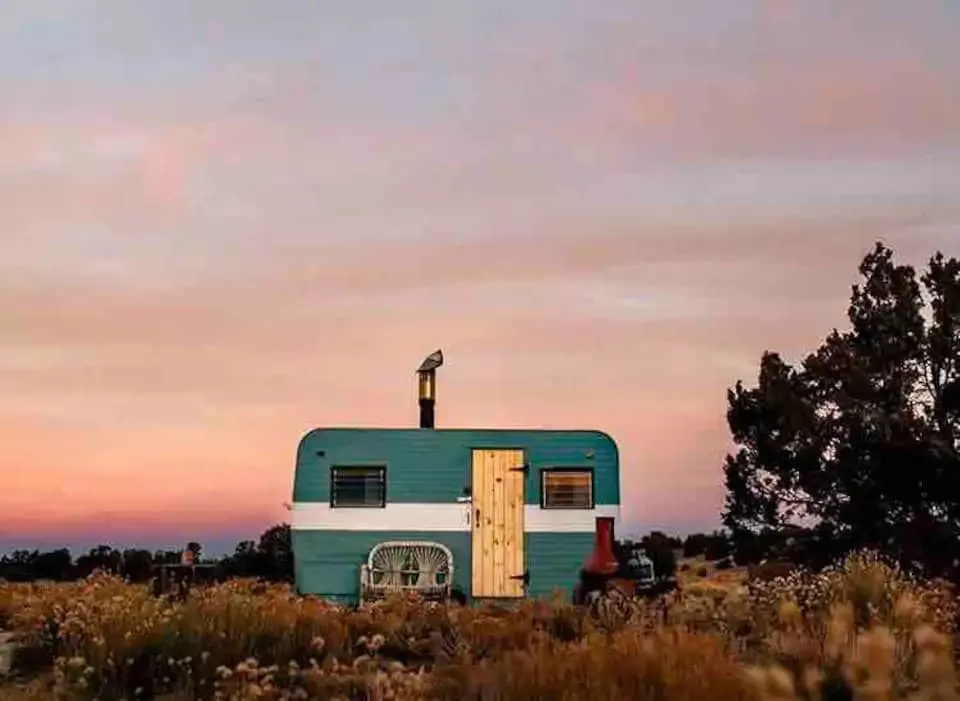 If you've been looking for love in all the wrong places, then you may want to try the Love Shack in Williams, Arizona.
This off-grid camper is located 30 minutes from the Grand Canyon and features a cozy bed, a wood stove, solar-powered lighting, and a small kitchenette. There is a grill, fire pit, and picnic table outside the camper for cooking under the stars. A nearby bathhouse includes a composting toilet and a solar shower.
The Love Shack is a stellar Grand Canyon glamping experience and is located on a secluded property with one other glamping rental. The views are spectacular, as are the sunsets. This is a great little spot to disconnect from the world for a bit and is perfect for a romantic glamping getaway near the Grand Canyon.
---
Phantom Ranch inside the Grand Canyon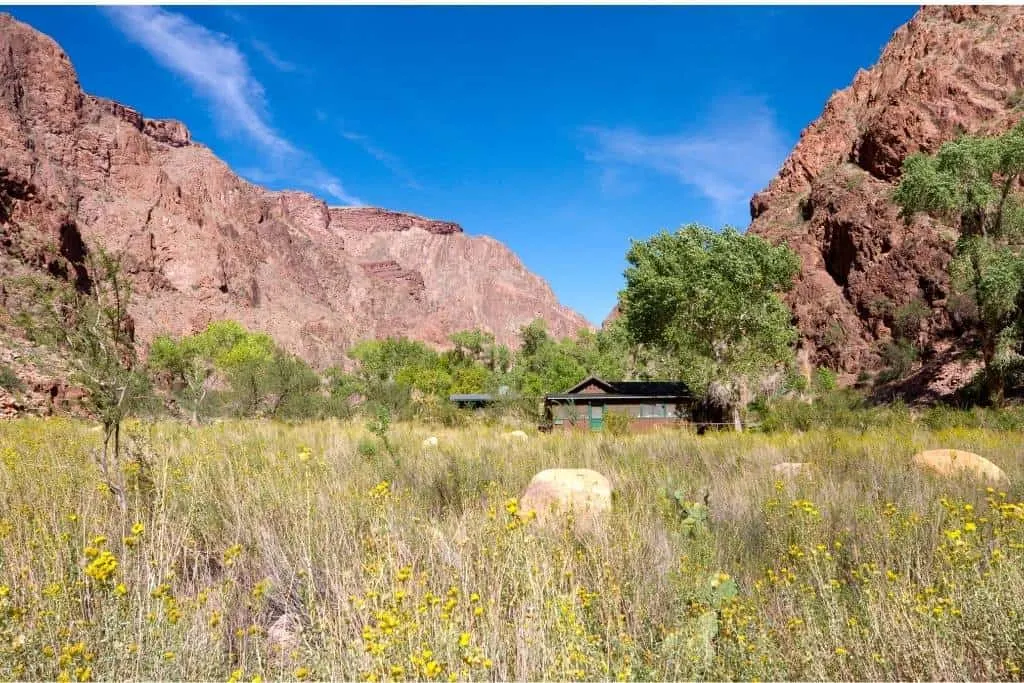 A stay inside the Grand Canyon at Phantom Ranch is one of the most exclusive lodging opportunities in America's National Parks, and one of the hardest reservations to snag. However, I'm still including it here because if you are lucky enough to be chosen for a stay at Phantom Ranch through their lottery program, it's well worth the experience!
While the lodging at Phantom Ranch is rustic, you absolutely can't beat the location. It's the only lodging inside the Grand Canyon. Cabins are nestled along Bright Angel Creek on the north side of the Colorado River.
There are cabins that sleep between two and ten people and dormitory-style lodging for both men and women. Cabins include bedding, a cold-water sink, and a toilet. A central bathhouse includes hot water sinks and showers. Breakfast and dinner are available but must be reserved in advance.
There are a few ways to get to Phantom Ranch. You can hike 7.5 miles on the South Kaibab Trail or 10 miles on the Bright Angel Trail, reserve a one or two-night mule trip, or embark on a rafting trip on the Colorado River.
The best way to secure your stay at Phantom Ranch is through the lottery program, which runs 15 months in advance.
---
Have you ever been to the Grand Canyon? Would you stay in one of these cool Grand Canyon glamping retreats nearby?
---
You need more Arizona adventures! Check out these posts to start planning:
---
Follow us on social media!
Pin for Later?