Grand Canyon National Park is one of the most iconic and magical landscapes in the United States.
It's not an overrated hole in the ground, despite what the naysayers would have you believe. And if you're tired of hearing the word 'breathtaking' in conjunction with the natural landscape, you obviously haven't been to the Grand Canyon.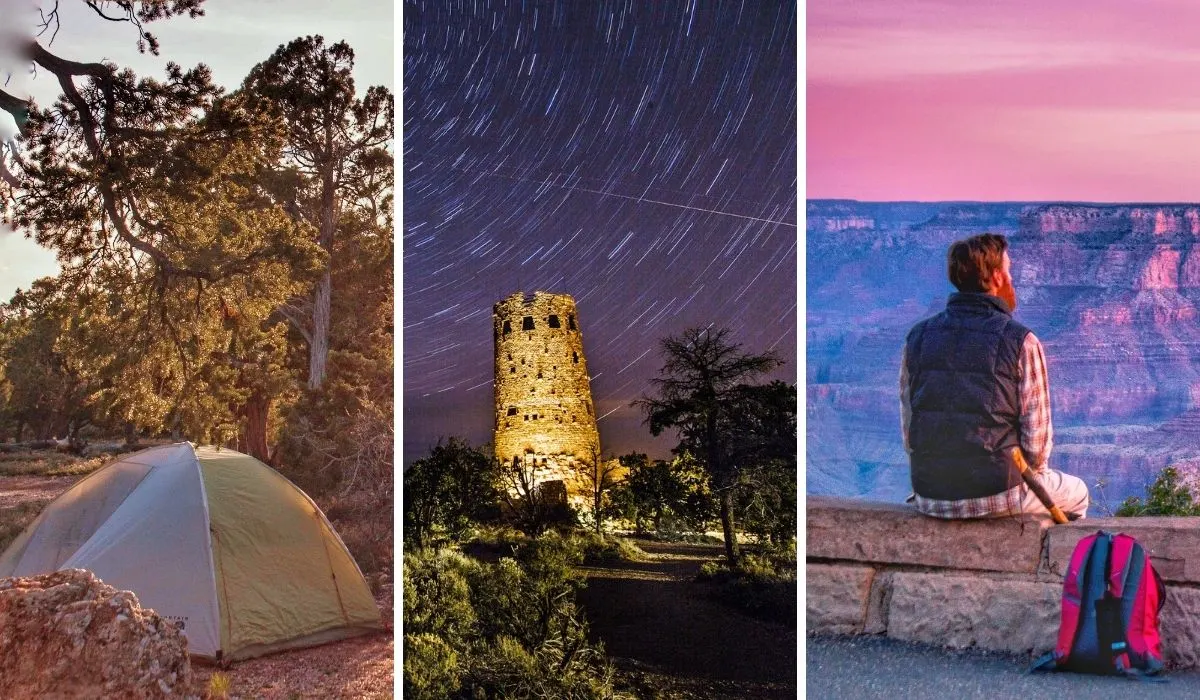 Breathtaking is certainly an apt way to describe the Grand Canyon landscape; heart-stopping works if you're afraid of heights.
You can eyeball the Grand Canyon from numerous viewpoints along the South Rim in an afternoon, but what's the fun in that? Instead, reserve a spot at Desert View Campground and spend a few nights in the desert under a canopy of stars.
A Grand Canyon Camping camping trip is an immersive experience that you will never get in a hotel.
As the National Park Service likes to remind us, "half the park is after dark." In 2019, Grand Canyon National Park was awarded International Dark Sky Park status, making it one of the best parks for stargazing in the United States.
A Grand Canyon camping trip also gives you front-row seats to mind-blowing sunrises and sunsets.
Ready to start planning your own Grand Canyon camping adventure? Here are some of the coolest things about camping in the Grand Canyon, and why, despite its popularity, you still need to plan a trip.
The Best Time of Year for Grand Canyon Camping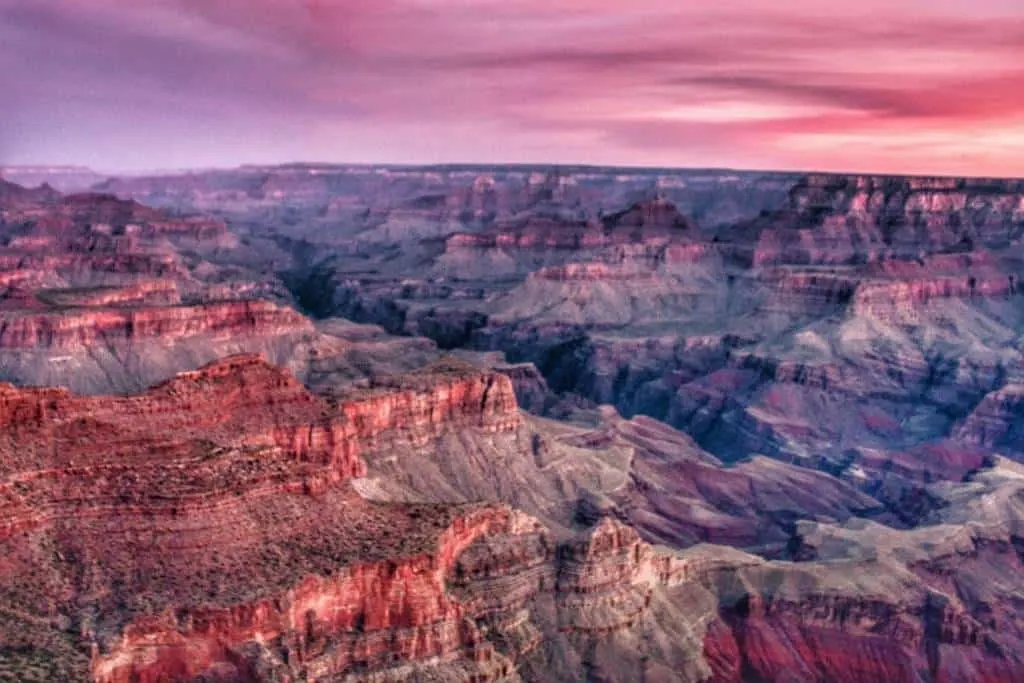 Technically, Grand Canyon camping is available year-round on the South Rim.
Mather Campground and Trailer Village (a private RV campground) are open in the winter. Desert View Campground and all North Rim services are closed. Unless you are prepared for winter camping and cold, snowy conditions, winter is not the best time for Grand Canyon camping.
Summer months are the busiest on the South Rim, with campgrounds filling up on most days.
Temperatures on the rim are warm, between the low to mid-80s (F) during the day, and in the 40s and 50s at night. If you hike into the canyon, you'll find a different story. For every 1,000 feet you travel into the canyon, the temperatures rise by an average of 5.5 degrees.
In my opinion, the best time to visit the Grand Canyon is in the month of April or between September and October. Late spring and early summer are very dry – perfect for hiking and other outdoor activities. Starting in September, the days become cooler, but the nights may be frosty.
Crowds are very manageable in both the spring and fall, and if you visit in winter, you won't have to deal with crowds at all.
Grand Canyon South Rim Camping Options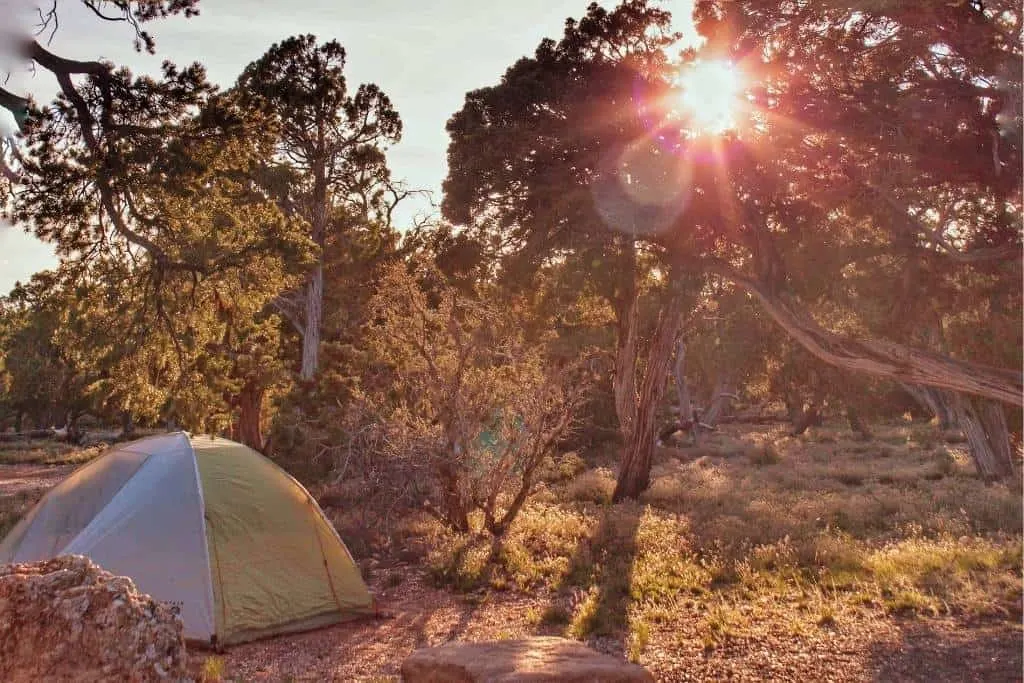 There are three front-country camping options on the South Rim of the Grand Canyon.
Two, Mather Campground and Desert View Campground, are run by the National Park Service. Trailer Village is a privately-run RV park in Grand Canyon Village. Here's an overview of your Grand Canyon camping on the South Rim.
Mather Campground: Located in Grand Canyon Village, Mather Campground is close to amenities like shops and restaurants, as well as numerous trails into the canyon. From Mather Campground, you can easily hop on a shuttle, check out the visitor center, or embark on a train ride.

For access to conveniences, Mather Campground is hard to beat.

The trade-off is that it gets extremely crowded, especially during the summer — there are 319 campsites at Mather Campground! Tents and RV camping are both available (30-foot maximum), but there are no hook-ups. Laundry and showers are available at the campground entrance, and pets are permitted.

Reservations at Mather Campground are strongly recommended from March through November. Sites are $18 per night.

Trailer Village: If having full hook-ups is important to you, book your stay at the privately-run Trailer Village in Grand Canyon Village. Paved pull-through sites are available for RVs up to 50-feet long. Pets are permitted on-leash and wood fires are not allowed (charcoal only).

RV sites start at $49 per night. Note that sites within Trailer Village are very close together, and don't offer much in the way of privacy.

Desert View Campground: Saving the best for last. Desert View Campground is located 25 miles from the hustle and bustle of Grand Canyon Village. Reservations are required.

The season usually runs from mid-April to mid-October. The 50 sites at Desert View Campground can accommodate tents or RVs (maximum 30 feet), and the cost is $18 per night. There are no hook-ups, showers, or laundry. Pets are permitted as long as they are kept on a leash.

Desert View Campground may sound like another run-of-the-mill camping spot, but this tiny campground is special for a few different reasons. Keep reading!
Psst… Have you seen those groovy campervans meandering around America? They're Escape Campervans and you can rent one for all of your Grand Canyon explorations.
There's an Escape Campervan rental center in Las Vegas, which is just four hours from the Grand Canyon and Desert View Campground.
These iconic vans include everything you need (and a kitchen sink) for your van camping adventure. Talk about a memorable experience!
Our Review of Desert View Campground on the South Rim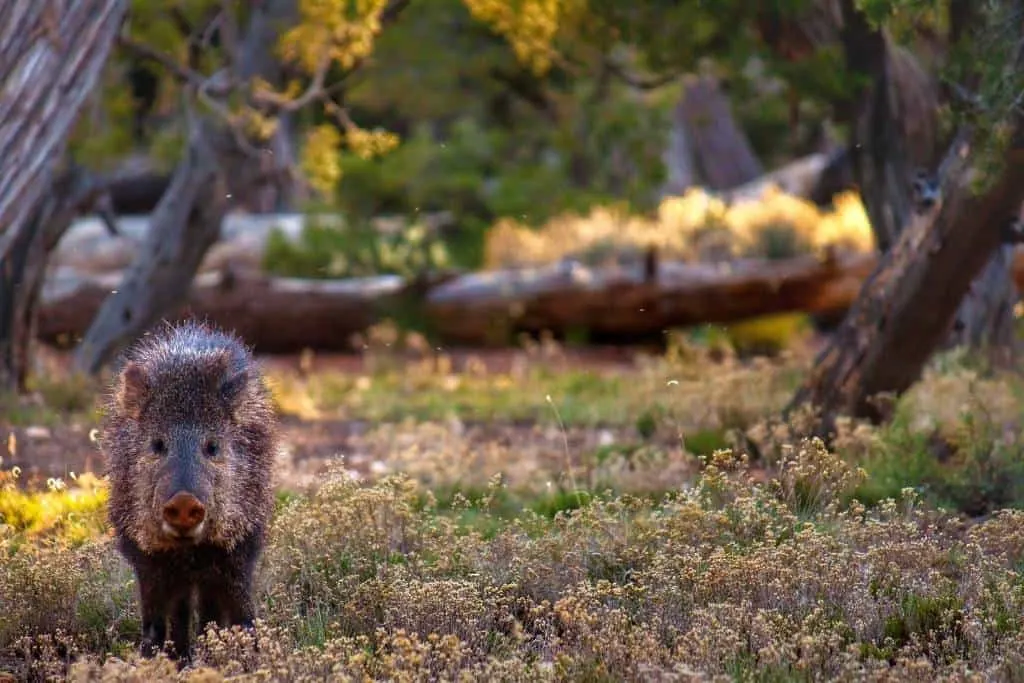 If you don't mind craziness and crowds, both Mather Campground and Trailer Village will serve you well, but if you want to escape the nonsense and immerse yourself in the magic of the Grand Canyon, you have to check out Desert View Campground.
Our most recent visit to Grand Canyon National Park was in April, back when the sites were available without reservations. Scoring a site after driving all day was part of the fun, but as of 2021, you have to do your scoring online.
Desert View Campground is perched on the canyon rim at the eastern edge of the park. If you enter the park through the east entrance of the South Rim, you'll be just steps away from the canyon and worlds away from the crowds of Grand Canyon Village.
There are fifty campsites at Desert View Campground, each nestled among the gnarly pinyon pines for a bit of privacy.
All of the sites at Desert View Campground are level and well-spaced, but we do have a favorite, at least for tent camping. If you can, try and score site #46, which has easy access to the rim of the Canyon.
The photo below was taken from the little trail behind site #46.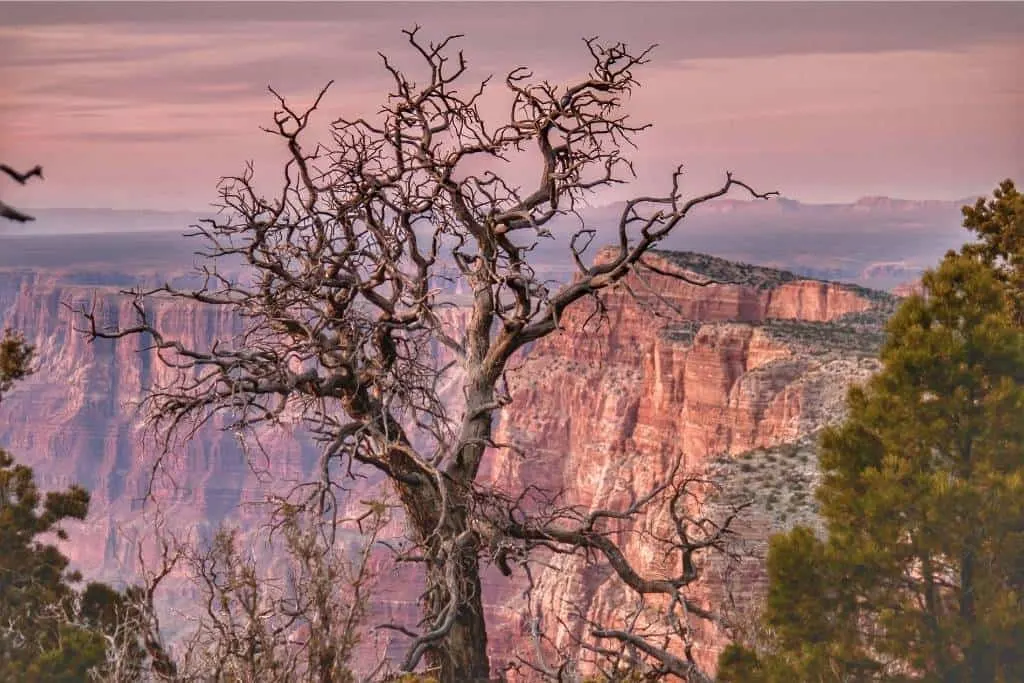 Here are a few reasons we love Desert View Campground:
The Desert View General Store sells fabulous local beer and wine, plus whatever else you need — t-shirts, potato chips, ice cream, beef jerky, deodorant. You can easily walk to the store from Desert View Campground, so you're not really roughing it. My kids especially appreciated escaping from the watchful eye of their parents to go buy junk food.
There is a beautiful unmarked trail between sites 46 and 48. It meanders through the trees and along the South Rim, with the most beautiful views of the Colorado River below. We saw footprints out here, so I know people hike the trail, but we spent four hours exploring and relaxing on the edge rim and didn't see another soul. Like I said — magic. This is another reason why we love site #46.
Ravens will steal your food. Talk about opportunistic — the ravens at Desert View Campground were very accustomed to people and their trashy ways. They worked as a team to steal food from the campsites. One would sit on a tree and watch for unsuspecting campers to head to the bathrooms, while the others raided campsites. Put your food away when you're not able to keep a close watch.
Be on the lookout for javelina. We saw two during our stay — one right behind our campsite, and another near the Desert View Watchtower. There are lots of elk too.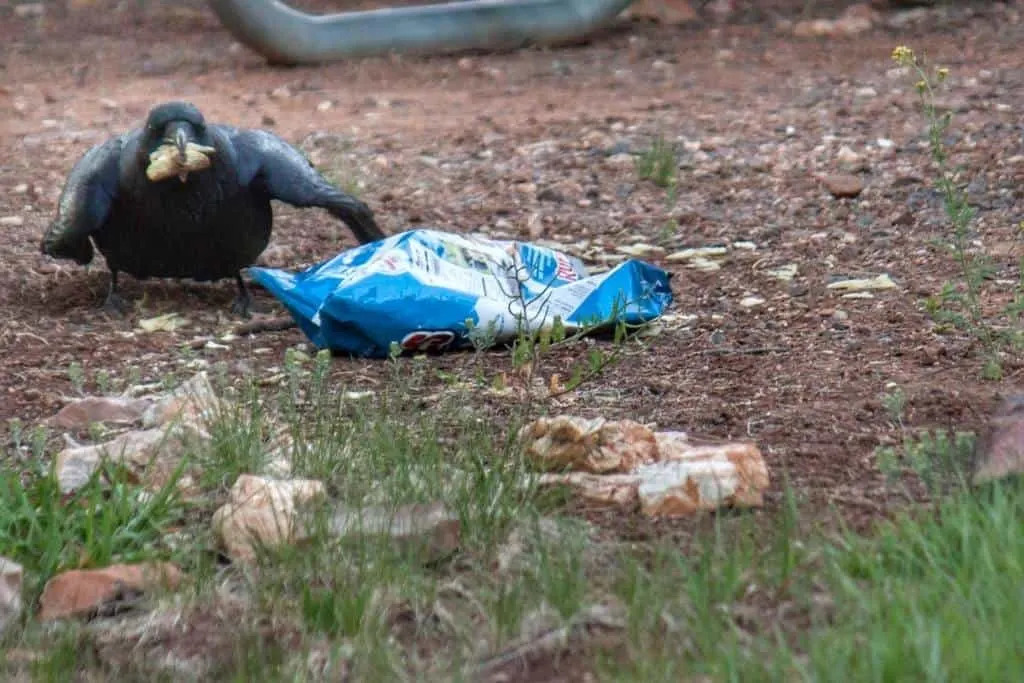 Desert View Campground also makes a great base camp for longer Grand Canyon adventures or a relaxing piece of a Southwest road trip itinerary.
We love how peaceful and wild it felt, and would absolutely stay here again if we can get reservations.
Exploring Grand Canyon After Dark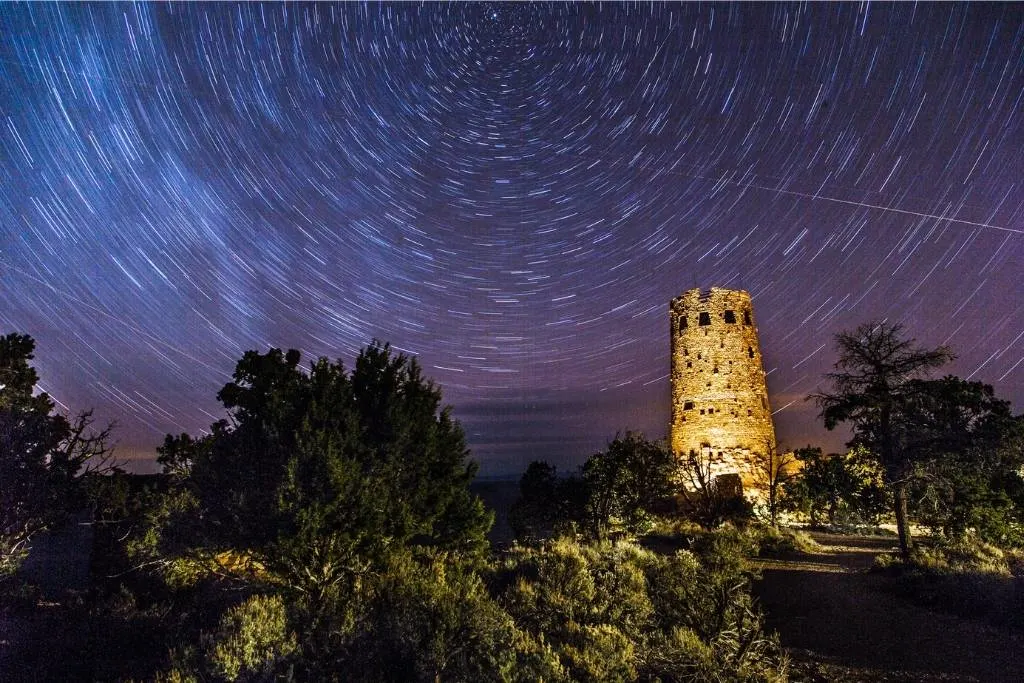 In 2016, Grand Canyon National Park was awarded Provisional International Dark Sky Park status as they worked to change over more than 5,000 light fixtures so they are in compliance with International Dark Sky (IDA) requirements. In 2019, they were awarded official Dark Sky Park status!
Stargazing at Grand Canyon National Park is nothing short of extraordinary, and for the past few years, the dark-sky experience has been available to more than 6 million visitors every year.
The National Park Service conducts guided stargazing programs throughout the year, but you can also just look up to experience the magic of a billion stars over your head.
No matter where you go near the Grand Canyon, you are bound to have a fabulous night-sky experience, but here are a few extra special spots for stargazing on the South Rim.
Desert View Watchtower: Just a short walk from Desert View Campground, this is a great spot to see all kinds of stars and constellations, not to mention the full moon if you plan accordingly. Nighttime ranger-led programs are very common on the weekends.

Lipan Point: After Desert View, Lipan Point is one of the closest viewpoints from Desert View Campground. It is half a mile north of the main scenic drive, reached by a spur road that climbs 80 feet to the parking area. A small summit would provide a 360-degree view were it not for the pine woodland on the east side.

Moran Point: Moran point provides far-reaching views into the Grand Canyon. As the crow flies, the North Rim is just eight miles away from this spot. At Moran Point three main rock groups are clearly visible, making a stunning backdrop for the night sky.
Best Places to Watch the Sunset on the South Rim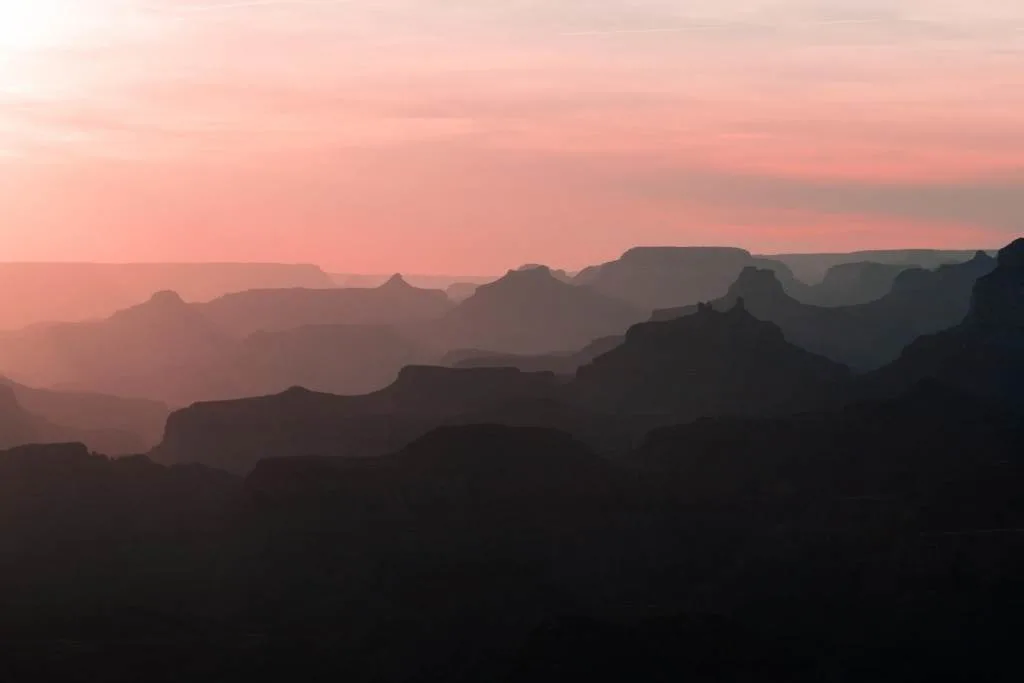 No matter where you travel on the South Rim, you're bound to find a unique and beautiful sunset, but some spots give you a better vantage point. Our number one choice for a Grand Canyon sunset is Lipan Point, followed by Yavapai Point. Desert View is nice too if you simply want to walk over from the campground.
Watching the sunset is a jovial affair, and all of the viewpoints will be crowded. There is something about sharing a sunset with dozens of other travelers that makes the stunning event even more memorable.
Best Places to Watch the Sunrise on the South Rim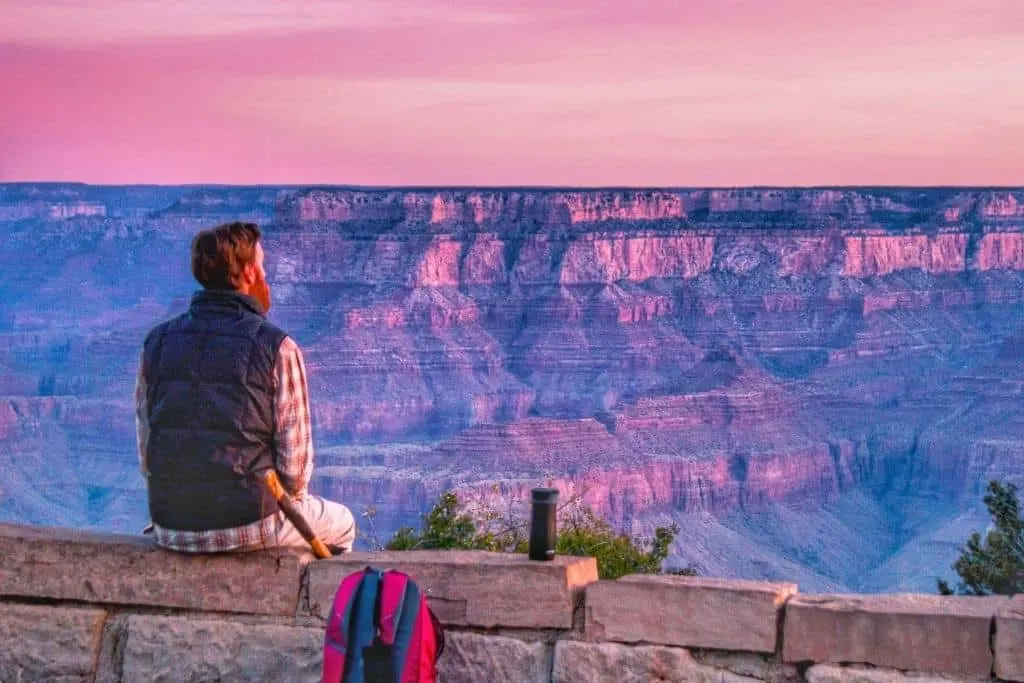 You may want to hit snooze in your tent, but do yourself a favor and get up early for an amazing Grand Canyon sunrise!
On our most recent trip in April, the alarm sounded at 4:30 am. I was grumbly for a bit, but after I made the coffee and drove out to Mather Point, I was so happy that I resisted the snooze.
Sunrise on the South Rim has a totally different feel than sunset. Each vantage point usually comes with a handful of people, so unlike the huge crowds that gather for the sunset.
There's almost a reverence to the sunrise, and strangers share the moment in silence and awe – gloved hands holding hot drinks, the warmth of the new sun warming every face. It really is magical!
Bring Your Dog Camping at the Grand Canyon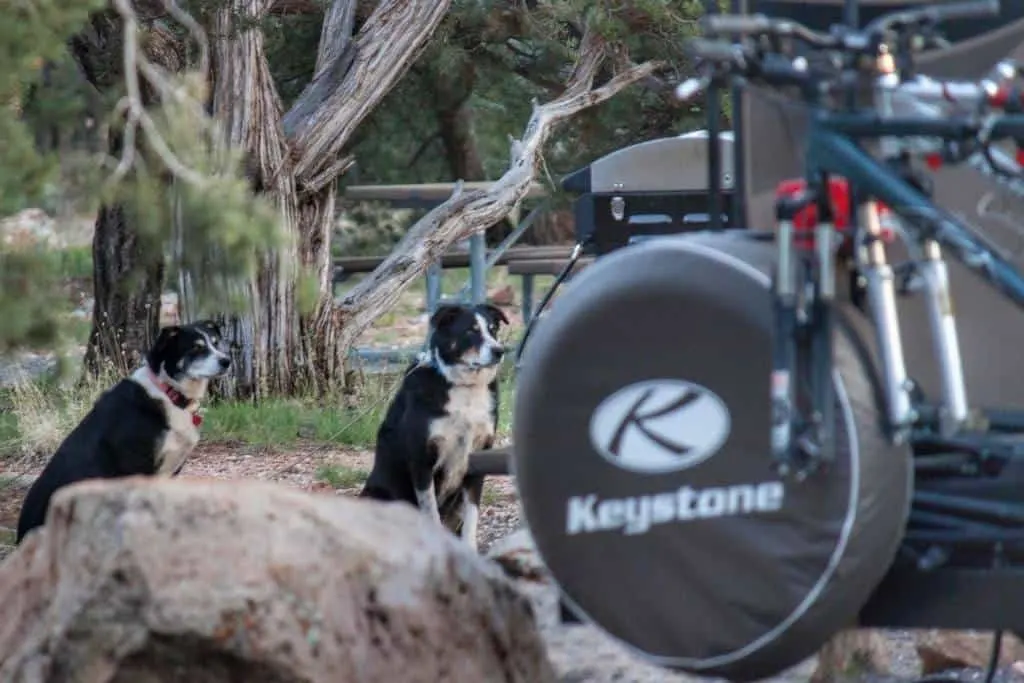 As much as I love traveling with dogs, I don't usually bring them to national parks. I have not found the parks to be very dog-friendly, and there are so many other beautiful destinations (national forests) that are. Grand Canyon National Park is an exception.
Perhaps it's because there is less emphasis on wildlife at the Grand Canyon, but we saw dogs just about everywhere. They are allowed in all of the campgrounds, within Grand Canyon Village, and on the Rim Trail. They are not allowed on the trails into the canyon, but there is an onsite kennel in Grand Canyon Village if you feel the need to explore without your dog.
---
---
Final Thoughts on Visiting Grand Canyon National Park
The Grand Canyon is a magical, but busy place. If you like your wilderness experience to be wild, consider visiting in the off-season, between October and April.
Leave your car behind, and hop on a shuttle bus to any number of spectacular trailheads.

The South Kaibab Trail offers stunning views and relative solitude for not much effort, but be sure to pack sunscreen, snacks, and lots of water for your journey into the Canyon.
Even meandering along the South Rim Trail from Grand Canyon Village will allow you to escape the throngs of visitors that never leave their cars or parking lots.
As with any national park, an awesome visit to the Grand Canyon takes some advance planning, but as you hike along the rim, scout the skies for incredible birds, stand in awe of golden sunsets, and sleep under a billion twinkling stars, the magic of the canyon will reveal itself to you.
And then, of course, you'll wonder why you didn't make the trip sooner.
---
Explore the Southwest! Read these next!
You should also visit our national park camping and hiking page.
---
Follow us on social media for more national park adventures!
Pin for Later?