Olympic National Park on the Olympic Peninsula in Washington is huge and there's so much to see and do, that it can be hard to plan an itinerary that doesn't leave out something monumental. On the bright side, it just means you have to keep coming back to experience the magic.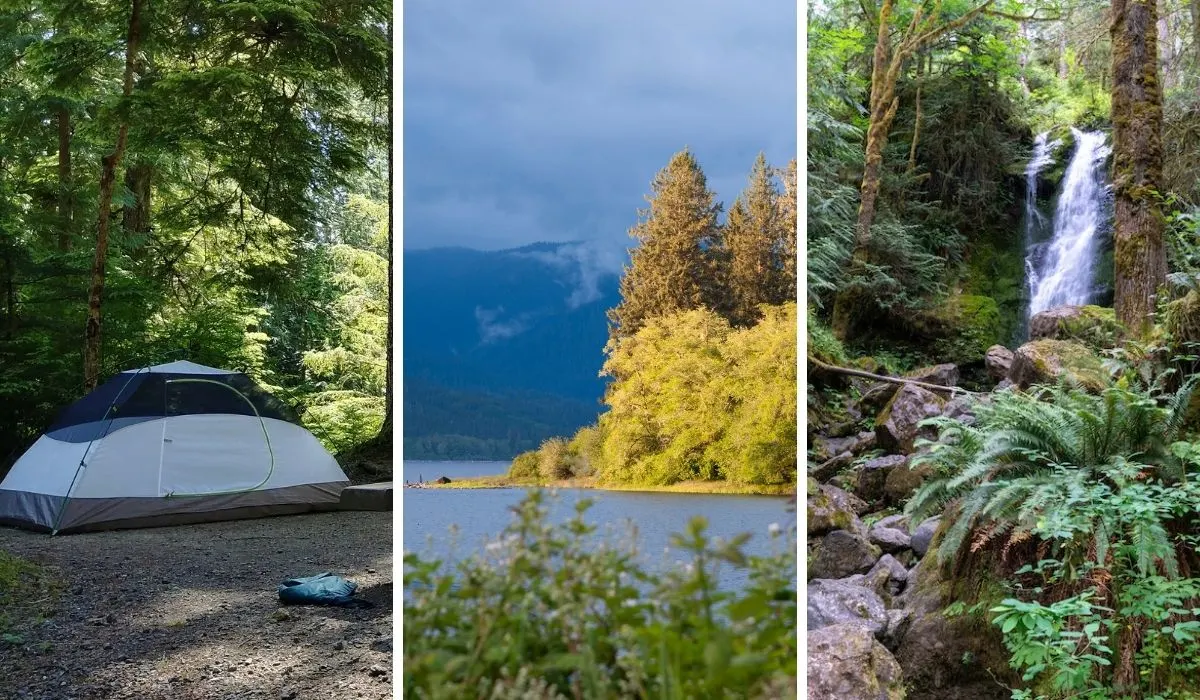 The lush and beautiful Quinault Rain Forest is a little slice of rainforest heaven, but visitors tend to overlook it because it is dwarfed by the magnificence of the HOH Rain Forest, which is one of the most popular destinations in Olympic National Park.
Popular destinations are not usually our thing, so instead, we're taking you on a little journey through the Quinault Valley, which is located in the southwest corner of the park.
How to Get to Quinault Rain Forest
The Quinault Valley is a three-hour drive from Port Angeles and an hour from the sleepy, but now famous town of Forks.
During our most recent foray into Olympic National Park, we explored Quinault Rain Forest after several days camping in the Sol Duc Valley. The trip from Sol Duc to Quinault took us about four hours with numerous stops to admire the scenery.
You could definitely do the journey in 2.5 hours without gawking, but what fun would that be?
From the Sol Duc area in Olympic National Park, simply hop on Route 101 and head toward the coast. You will drive through beautiful, old-growth forests and then along the Pacific Ocean. You likely won't be able to avoid stopping when you see views like this one, from Ruby Beach.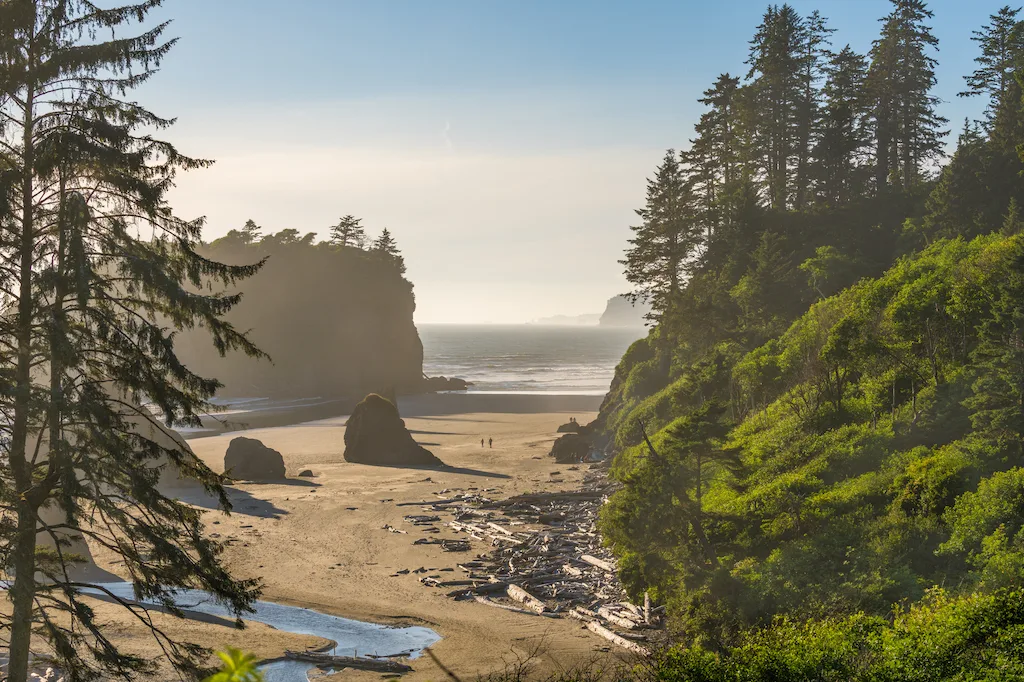 When you reach the town of Queets, you will start to head inland again. Follow the signs and turn left on North Shore Road to head into Quinault Rain Forest.
Insider tip: If you are planning to visit several national parks in a calendar year, save yourself a few coins by purchasing the America the Beautiful Pass. This will get you and a carload of friends/family into every national park unit in the United States for a full year. Buy from REI, and they will donate 10% to the National Park Foundation.
Driving the Quinault Rain Forest Loop Road
North Shore Road is part of the Quinault Rain Forest Loop Road, which is a driving perfect loop if you want to get acquainted with the rainforest. There are numerous stops along the way, including picnic areas, large trees, waterfalls, and trailheads.
If you decide to camp at one of the two national park campsites in this area, simply follow the signs off of the loop road into the forest to the campgrounds.
The Quinault Ranger Station and Kestner Homestead
The Quinault Ranger Station should be your first stop after passing Quinault Lake.
For an idea of how isolated this part of Olympic National Park is, we stopped at the Quinault Ranger Station to get our bearings before finding hiking and camping, and the ranger told us that we were the first visitors of the day at noon. She even sat down and picnicked with us.
The Kestner Homestead trail is a 1.3-mile loop through the rainforest and an abandoned 100-year-old homestead. The trail takes you through abandoned farm fields and a blissfully cool forest. For an even quicker loop from the Quinault Ranger Station, take the Maple Glade Nature Trail, which is just 0.5 miles.
If you want to break a sweat, there are plenty of longer hikes with trails from the campgrounds, but this little hike is perfect for families or anyone who wants a little stroll.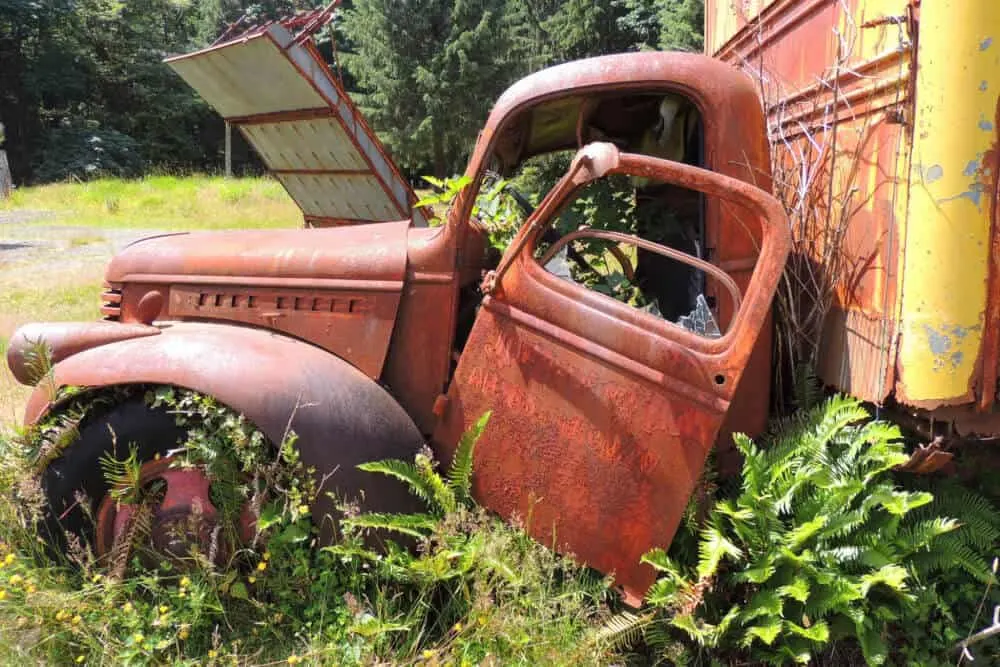 Bunch Falls
Eventually North Shore Road curves around on itself and becomes South Shore Road. The road hugs the beautiful Quinualt River and there are a couple of magnificent waterfalls worth checking out.
The first, Bunch Falls, is a 60-foot waterfall on Bunch Creek that you can see from the road. The mossy rocks and misty forest make this a pretty spot to take photos. There's no sign at Bunch Falls, but if you stop at the bridge and look into the forest, its not hard to spot.
Merriman Falls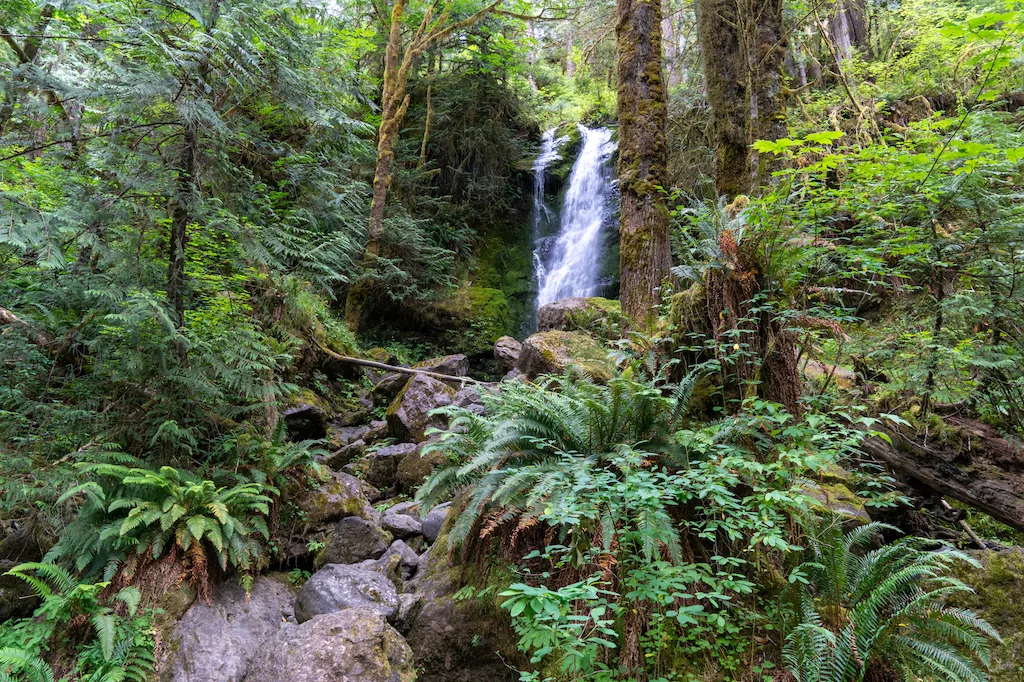 Continue driving on South Shore Road for another 5.5, which will turn from gravel to pavement. You'll leave the river for a bit, but you'll still see numerous small creeks that cross or run alongside the road. Merriman Creek tumbles over rocks to create the beautiful Merriman Falls, one of the most magnificent waterfalls in Quinault Valley.
While you can see Merriman Falls from the road, it's worth parking so you can walk into the forest a bit for a better look. At just over 40 feet, Merriman Falls isn't tall, but the falls cascade over the rocks in a single drop, making for a picturesque view among the tall trees.
Camping in Quinault Rain Forest
There are two campgrounds in Quinault Rain Forest, both first-come, first-served. The Graves Creek Campground has 30 tent sites, but the road conditions make it unsuitable for RVs or trailers.
A sweet little stream runs through the campground – perfect for toe-dipping and splish-splashing. Camping at Graves Creek Campground is $20 per night.
The tiny North Fork Campground has nine sites and is also not recommended for RVs. Looking for solitude? You'll certainly find it there. Campsites at North Fork Campground are $20 per night. Be sure to bring your own water for drinking and cooking.
We spent one night at the North Fork Campground and were not surprised to be the only ones there.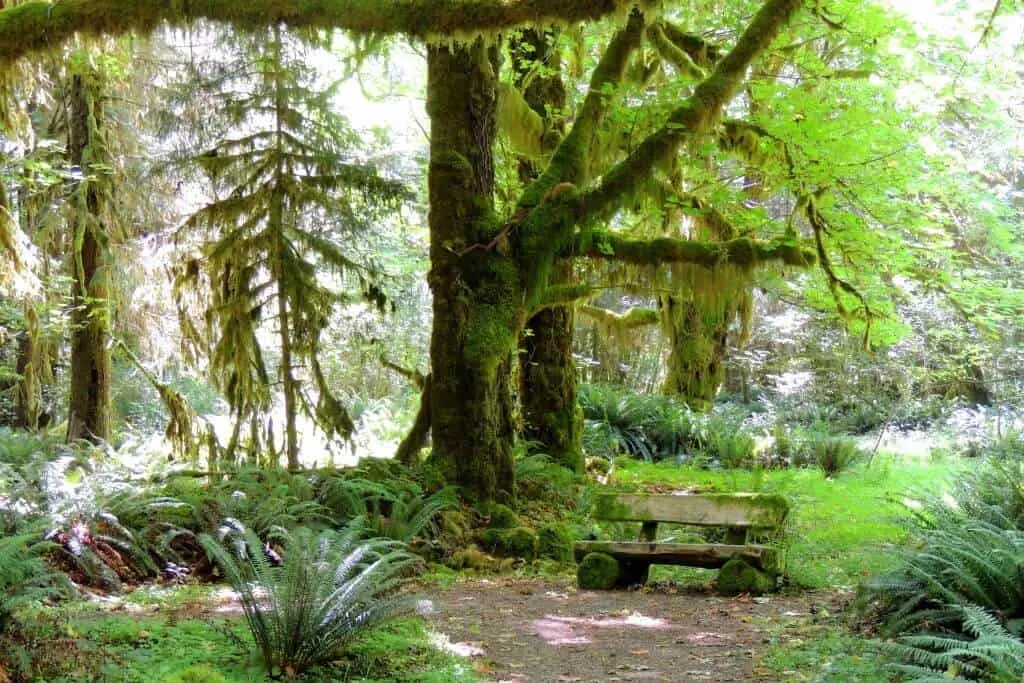 There are a few really pretty hikes that start at North Fork Campground, but we only got as far as Isley Lake, which is a tiny lake along the Three Lakes Trail. Actually, I'd call it more of a swamp, but it was still lovely.
If you have time for a little backpacking or a nice long day hike, continue past Isley Lake on the Three Lakes Trail, where you'll discover beautiful old-growth forests, wild meadows, and yes, beautiful lakes that aren't swamps.
Lake Quinault Camping and Lodging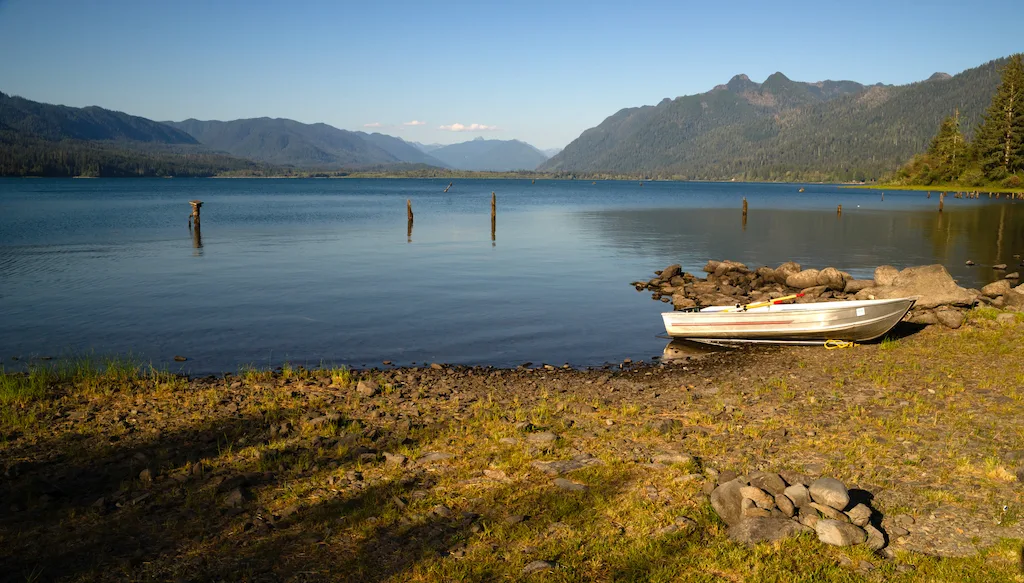 If you've decided to bypass the two national park campgrounds, you can drive back to Quinault Lake on South Shore Road and either stay at Lake Quinault Lodge or camp in one of the national forest campgrounds.
Lake Quinault is a large lake covering more than 3,000 acres. This is a great lake for swimming, boating, and fishing.
Most of Lake Quinault is located in Olympic National Forest, and along the south shore, you'll find three United States Forest Service campgrounds, plus the famous (and incredibly beautiful) Lake Quinault Lodge.
Camping in any of the three forest service campgrounds costs $25 per night, and while you won't find any hook-ups, there is potable water for drinking and vault toilets. Picnicking, hiking, and swimming from any of the campgrounds is free.
Lake Quinault Lodge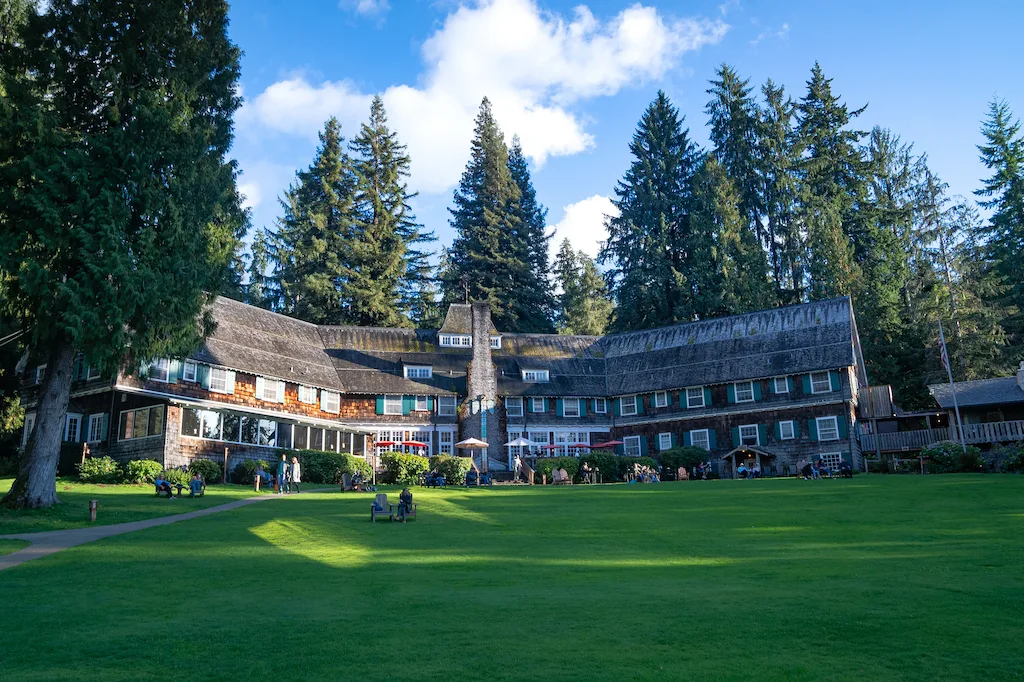 The first time we passed through the area, we were fresh out of cash, so we chose to camp at North Shore Campground, which as perfectly rustic and wonderful.
On our second visit to the Quinault Valley, we were able to reserve a room at Lake Quinault Lodge. The place puts off serious summer camp vibes, and while its not luxurious, it does provide clean rooms with kitchenettes, an onsite restaurant, and an indoor pool. We paid extra for a room with a balcony.
Lake Quinault Lodge is open year-round and offers guided boat tours, boat, and paddleboat rentals, and guided driving tours of Quinault Rain Forest. We did not take advantage of any of these extra perks, but we did spend a full afternoon swimming in Lake Quinault, which was heavenly!
---
Read Next: How to Pack a Small Car for a Big Trip
---
Packing Tips for Visiting the Quinault Rainforest
The Olympic Peninsula and Olympic National Park are notoriously hard to pack for, even if you visit in the summer.
You can most certainly count on rain, mud, sunshine, and wind, no matter what season you visit, so plan accordingly. We have always visited during the summer, when temperatures are mild, but we still occasionally needed a light jacket.
Aside from the usual travel and road-trip gear, here are some important pieces of gear/clothing that we recommend for exploring Quinault Rain Forest.
The Quinault Rain Forest is ripe for exploring and is especially nice for families looking to escape the crowds in the more popular areas of Olympic National Park.
---
Read more about adventuring in Olympic National Park. Check out these posts!
---
Follow us on social media!
Pin for Later?