We have a really small car! As passionate road-trippers, we've been known to live out of our little Pontiac Vibe for weeks, even months on end. And we've learned lots of easy car-packing hacks to make it happen.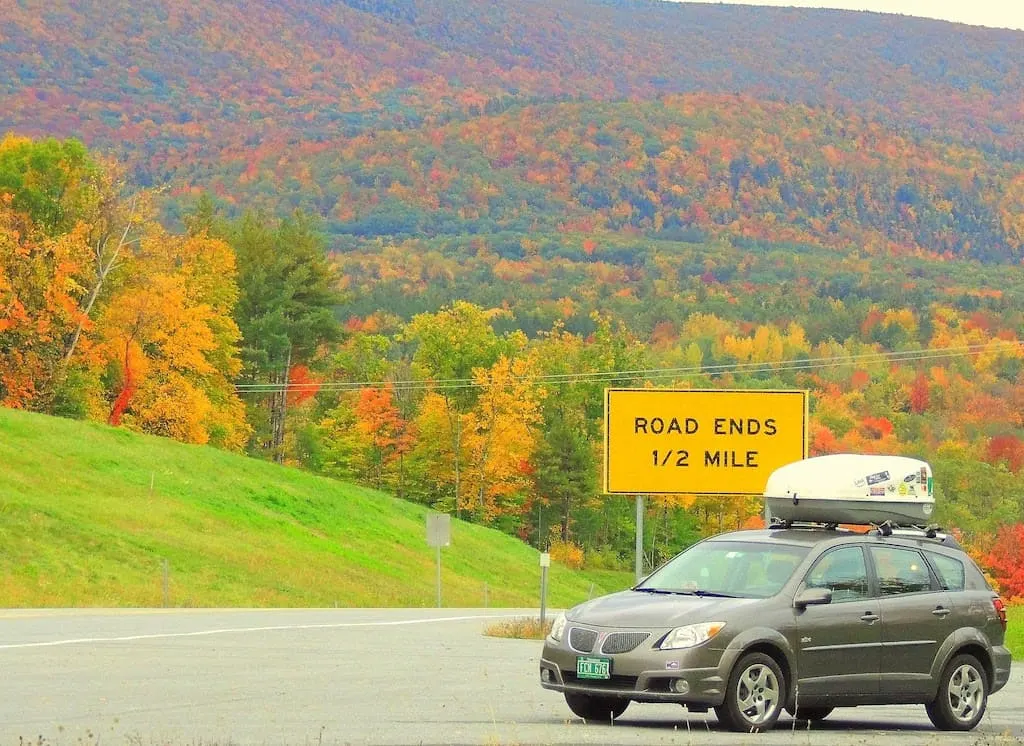 We choose to travel in a tiny car for many reasons: maneuverability, great gas mileage, and easy upkeep, just to name a few.
And we've become experts at packing light, so we thought we'd share some of our favorite tips for how to pack a car for a road trip.
Our experiences backpacking have really helped us learn to pack only the bare necessities for long road trips in a small car.
When you've lived your life out of a backpack, a car trunk seems cavernous. Of course, that makes it tempting to pack more than you need, but in the end, tough decisions are made, and the car always wins.
So what do you have to pack for a long road trip in a small car? Well, that depends on where you're going and what you're doing, but I do have a few tips to share based on our own experiences packing a small car for a big trip.
Let's take a look at some easy car-packing hacks that you can use to make the most of the space you have. But first…
Benefits of Traveling in a Small Car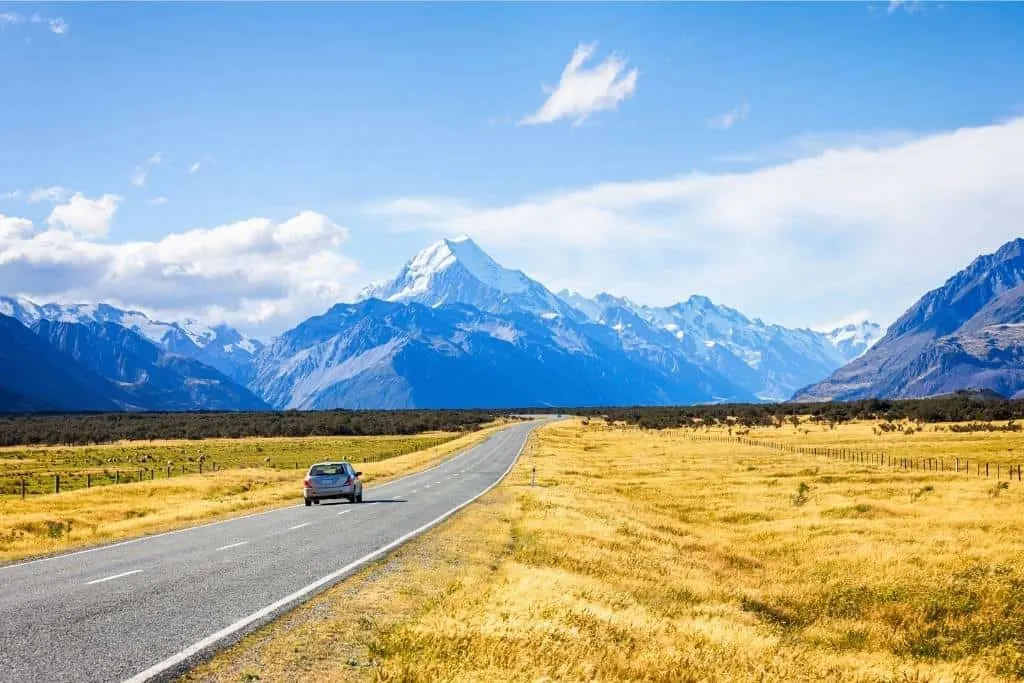 There are obvious benefits to traveling in both small and large cars, so before you plan your road trip, decide what the most important factors are. For us, gas mileage and maneuverability are both very high on the list, and we've always been very comfortable traveling in a small car.
Here are some of the benefits of small-car travel that you should consider before your next road trip.
Small cars get the best gas mileage. Our little Pontiac Vibe gets 33 miles per gallon, which is very reasonable. It allows us to stay on the road longer without spending a fortune.
Small cars are easier to park. Driving a small car allows you to fit in tight spots that would be tricky for a larger car, truck, or van. We find this very useful when visiting national parks during the busy season. Also, if you are not a pro at parallel parking, driving a small car makes it so much easier!
Small cars are easier to drive. I love the maneuverability of small cars, especially when driving in the city. They handle turns better, and are great for driving on narrow city streets.
Small cars are easier and more affordable to maintain and insure. Saving money for your next road trip just got a little easier.
Road Trip Packing Hacks to Fit Everything In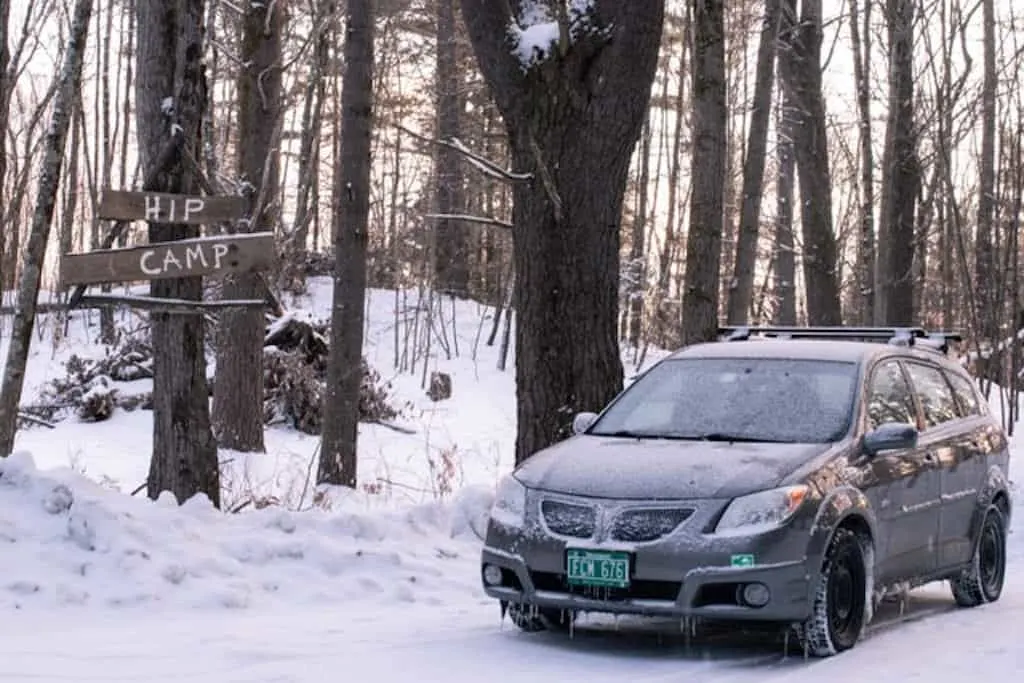 Obviously, when you're packing a small car for a long road trip, you don't want to fill it with stuff you won't use. Packing will require a bit of extra planning, but it will be so worth it!
Start by thinking about the season you'll be traveling in, as well as how long you'll be gone, and what you plan to do on your trip. Road-tripping with kids and/or dogs will take extra consideration, of course. Our family is big on outdoor adventures, and we mainly travel in the summer, so our packing list usually reflects that.
Next, create a packing list, starting with supplies that your family can't live without (clothes, food, and shelter), and moving on to items that may make your road trip more exciting and memorable (fishing poles, toys, games, books, and musical instruments).
Recruit your kids to make lists of their own. Even if you have to nix the idea of bringing along the pet iguana or the boogie board, at least their ideas were in the running.
Here are a few more easy car-packing hacks to help you make the most of the space you have:
Utilize every inch of space: Spots that are often underutilized in a car include the glove compartment (first aid, toiletries), the center console (charges and other technology), under the seats (books, games), and the space where your spare tire lives (tools). Think about how you access gear to determine where to store things, and always put things back in their proper spot.
Hang Carabiners from the back of the front driver and passenger seats: Why? These are great for hanging small bags, organizers, or other necessities that you often need when road-tripping.
Compartmentalize everything: Yes, everything! We'll go into more details below when we talk about specific packing tips, but ideally, you want to keep like things together and easy to access. Clothes should go in one bag, kitchen supplies in another, and camping gear in another.
Do you still have more stuff than will fit in your small car? Invest in a car-top cargo carrier for your extra gear. Hard shells are way more durable than soft ones, even though they are more expensive.
We got our car-top cargo carrier used, and can't imagine traveling without it! We use it to hold all of our bedding, backpacks, tents, and souvenirs, while our trunk stores food, cooking supplies, and clothing.
Packing a Small Car for a Camping Road Trip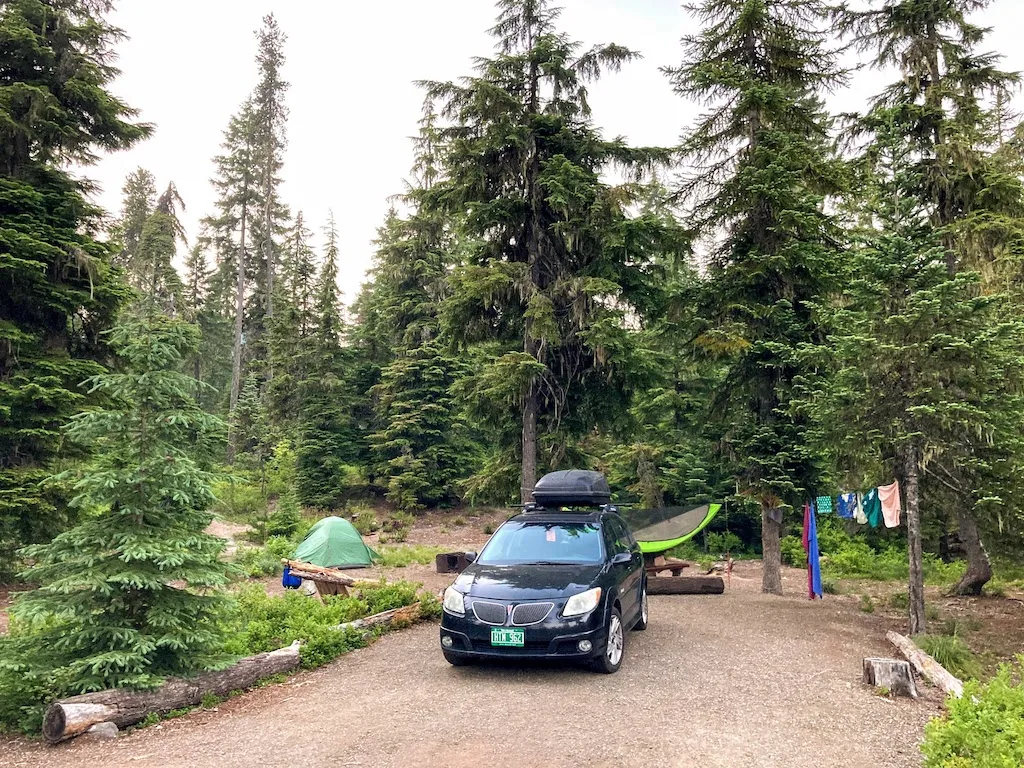 This basic packing list is for a months-long, cross-country road trip in a small car. It's the road trip packing list that we used for a family of four on our last big summer trip.
To save money, and because we love being outdoors, we cook almost every meal outside and camp every night of the trip. It's our favorite car-packing hack for budget traveling.
Your packing list will be much different if you are driving from hotel to hotel and eating in restaurants.
Here's what we recommend for cramming all of your stuff into a small car and hitting the road:
Clothing – For each person, we pack underwear and socks for one week, a few pairs of hiking shorts and t-shirts, one bathing suit, one pair of hiking pants, long underwear top and bottom (merino wool), fleece pants, fleece pullover, windbreaker/raincoat, wool cap, gloves, hiking boots, sandals, and one dress (for me).

Everyone's clothing stash goes into a compression sack. Compression bags are like packing cubes, only better because the bag compresses down and hardly takes up any room. Using compression bags for clothes is one of our favorite road trip packing hacks, but using them means you don't want to pack clothes that you will have to iron. We bring another compression sack for communal dirty laundry. The bags of clothes live in the trunk for easy access.

Camping/Hiking – A light-weight sleeping bag and pad for everyone, small pillows, two tents suitable for car-camping and backpacking- one for the kids, one for the grown-ups, internal frame backpacks for everyone in case we decide to do some backpacking, headlamps, a lantern, and rope for a clothesline, Crazy Creek camp chairs (because they pack flat), and mosquito head-nets. Most of this camping gear lives in the cargo carrier, or as we like to say – "upstairs."

The Kitchen – In our small car, we are lucky enough to travel with a kitchen, a fridge, and a pantry (otherwise known as a duffel bag, cooler, and a big plastic tub). Packing with the intention of cooking all of our meals saves us so much money! In the duffel bag, we keep a double-burner Coleman camp stove, a backpacking stove, lightweight MSR deep dish plates, travel mugs, silverware, backpacking cookware, cooking utensils, two collapsible buckets for dish-washing, biodegradable dish soap, microfiber dishcloths, a tablecloth, matches, and propane. You can read our full packing list for our camp kitchen if you're interested.

The Fridge – Our little cooler usually contains our dairy products and vegetables, plus the snacks for the day, which we prep in the morning. We rarely use ice, so we have to eat things up pretty quickly. The cooler sits between the kids in the back seat so they can access snacks while we're on the road. Road trip hack for keeping your cooler cold: Go for a swim. Dry off with a camp towel. Drape a damp towel over the top of the cooler.

The Pantry – Our pantry is a big Rubbermaid tub. In it, we keep canned goods, crackers, bread, our spice kit, coffee, refillable water bottles, and condiments. The pantry gets refilled about once a week, just like at home.
Car repair kit – Our emergency car repair kit contains motor oil, anti-freeze, washer fluid, a small air compressor for filling the tires with air, and miscellaneous tools that I really didn't pay attention to, because honestly if it were up to me, I would just call AAA and hope for the best.

First Aid Kit – Because we like to travel off the beaten path, we always keep a well-stocked first aid kit on hand. You can read more about our road trip first aid kit if you're interested.

Fun stuff – If there's room, we pack toys and instruments, including a travel guitar, harmonica, various books and field guides, binoculars, an iPad with a keyboard for blogging, smartphones, a camera, colored pencils and journals, a backpacking hammock, Frisbee, football, swim goggles, card games, and dice.

Dog stuff – We did not have room for our dog on this particular road trip, but our dogs travel with us fairly often. Want to know what we pack for traveling with our pups? Check out: Does your Dog Deserve a Road Trip?
The thing about packing for a road trip is the packing list is pretty much the same whether you're traveling for a long weekend or the whole summer. Get into the habit of packing light, and you'll love traveling across the country in a compact car.
What are your favorite car-packing hacks to fit more stuff into your vehicle? Have you ever traveled across the country in a really small car? It's an adventure, that's for sure.
Pin for Later?