Is this the year that you escape to the woods for a secluded, laid-back getaway in the Adirondacks?
New York's Adirondack Mountains offer endless opportunities for hiking, paddling, fishing, and small-town explorations, and it's one of our top choices for a quick unplugged vacation.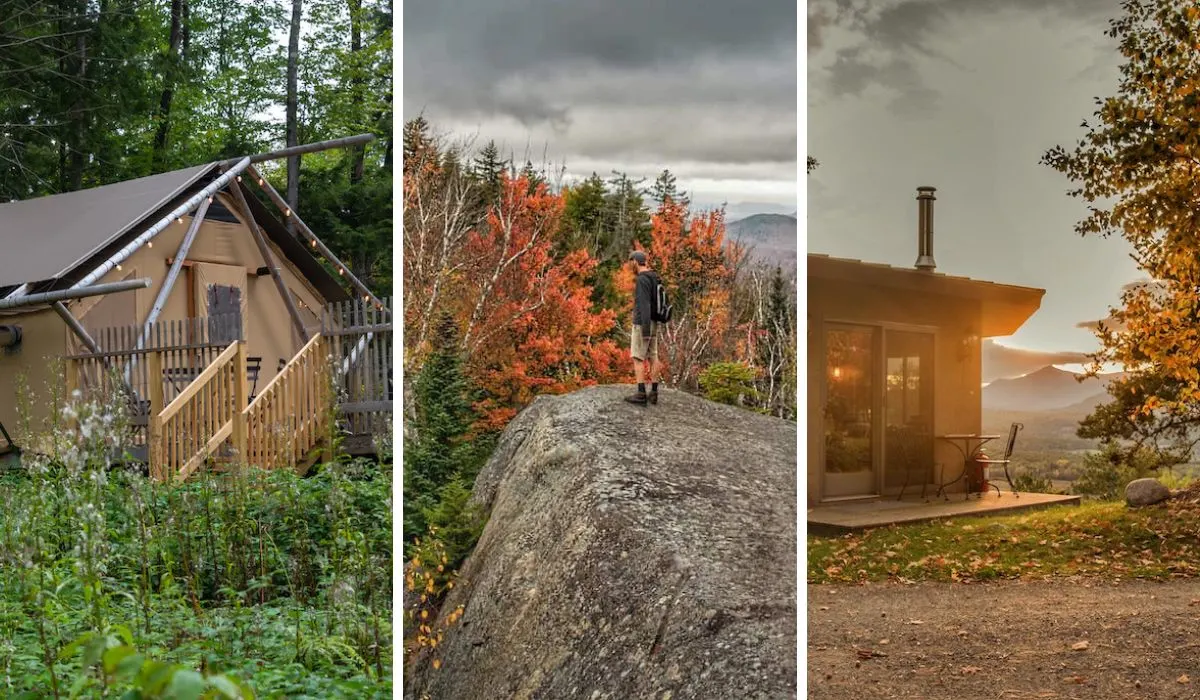 Adirondack Park is a vast wilderness area covering more than 6 million acres, making it the largest publicly protected area in the contiguous United States.
Consisting of both public and private land, it's the largest National Historic Landmark in the US, covering an area larger than Yellowstone, Yosemite, Grand Canyon, Glacier, and the Great Smokies National Parks combined.
Thanks to its close proximity to large metropolitan areas on the east coast, it's no wonder that the Adirondacks are so appealing to outdoor-loving travelers.
Whether you want to spend a quiet afternoon fishing in a mountain stream, paddling a pristine pond, or hiking or biking a mountain trail, you need the perfect place to unwind afterward.
We'd like to suggest the following Adirondack cabins for your next New York getaway. Because spending time in the woods is the best medicine for all that ails you.
You can find these beautiful Adirondack cabin rentals on VRBO or Airbnb.
Cozy Cabin for Two in Jay, New York
Sleeps: 2
Dogs: No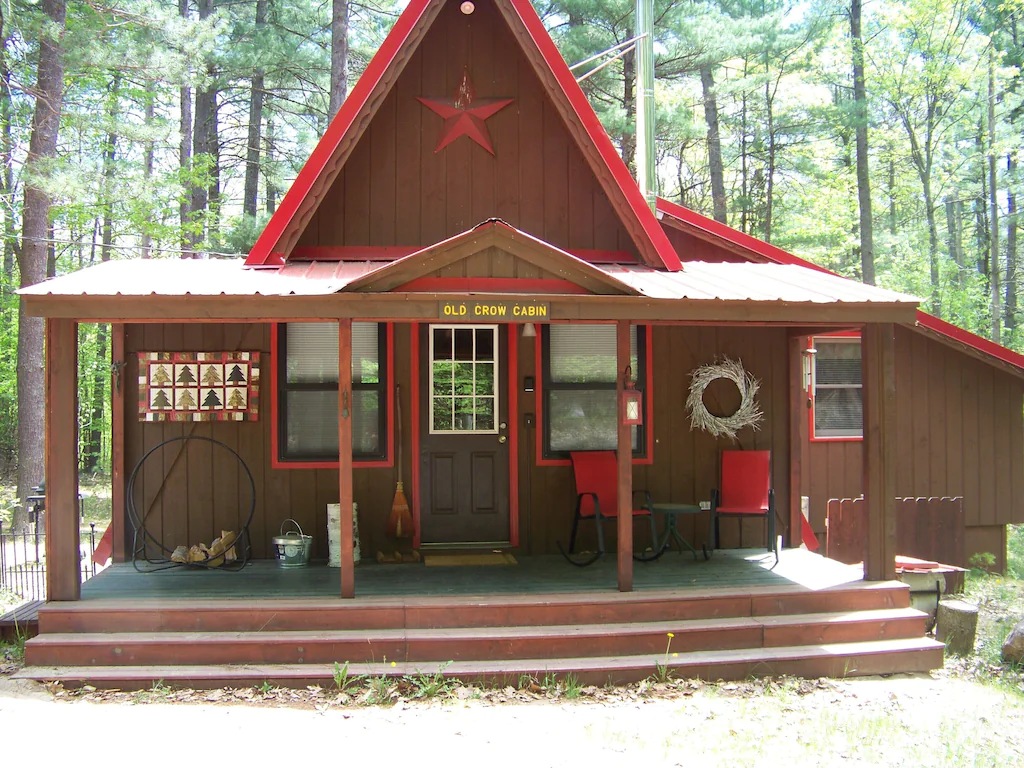 This adorable cabin between Jay and Ausable Forks makes the perfect getaway for couples. It's tucked away in a private, wooded neighborhood and close enough to conveniences like grocery stores and restaurants.
Ausable Acres is a small community with fantastic amenities for residents and visitors. There's a lovely trail network, a man-made lake, tennis courts, a basketball court, a playground, and a picnic pavilion.
The interior of this cozy cabin features a separate bedroom with a new queen-size bed, a newly remodeled bathroom, and a wood stove for cozy evenings. There's a desk for catching up on emails, and high-speed internet to make it quick and painless.
In the kitchen, you'll find everything you need to make delicious home-cooked meals. If you want to cook outside, there's a gas grill and a picnic table.
Things to do in Jay: The town of Jay is located on the Ausable River, which is one of the best trout rivers in the Northeast. Jay Covered Bridge is beautiful and makes a fun stop along the river. Hikers should check out Jay Mountain, which is a challenging trail along a ridge with fantastic Adirondack views.
---
Also Read: 16 Incredible Spots for Glamping in New York
---
Rustic Cabin in Keene Valley, New York
Sleeps: 4
Dogs: Yes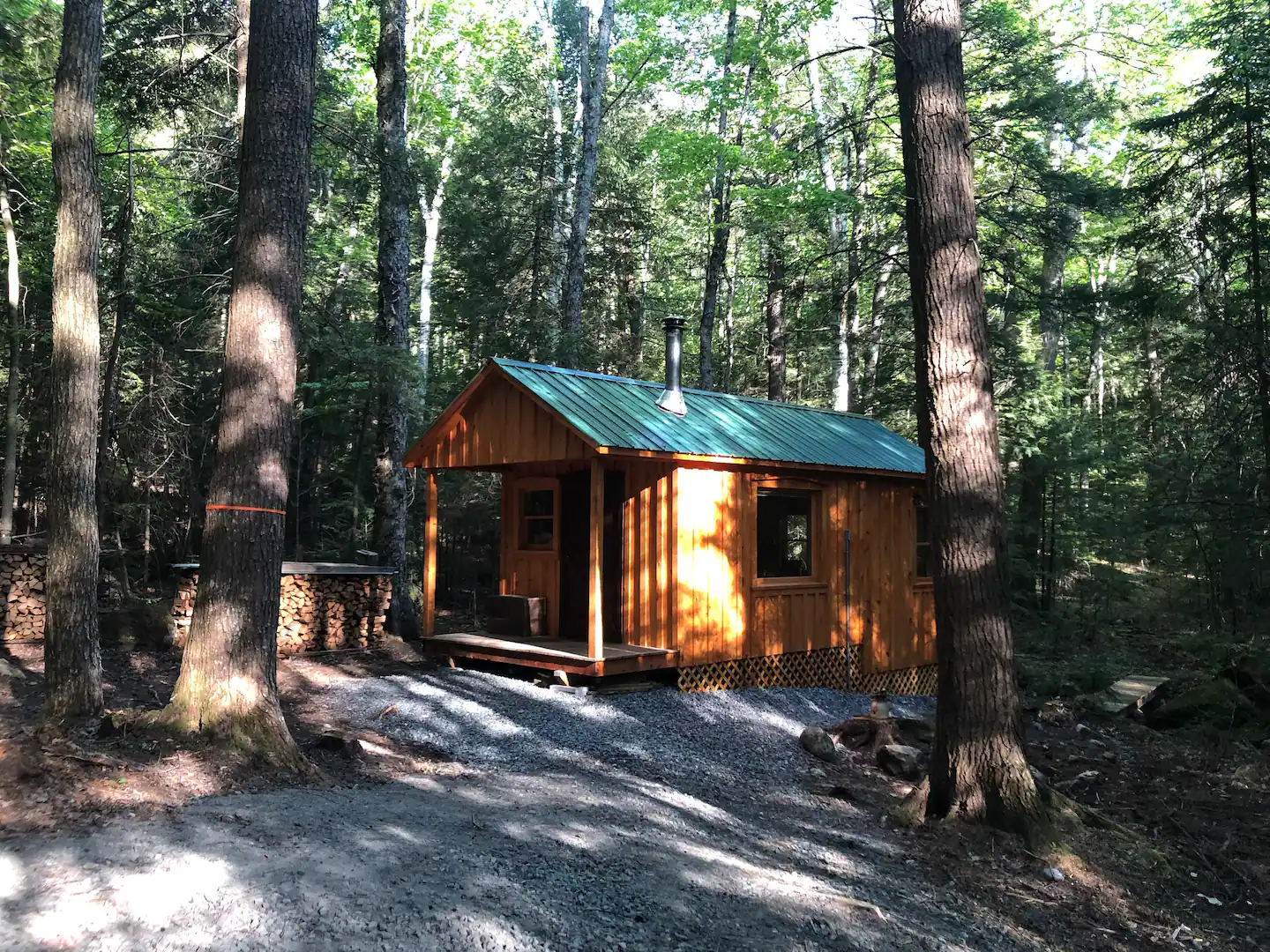 This may be one of the most affordable Adirondack cabins on this list, and if you don't mind using an outhouse to do your business, you'll find that it's perfect for up to four guests (and pets too!).
This beautiful glamping cabin features a sleeping loft with a full-size bed and another full-size futon couch on the first level. There is a two-burner electric hot plate and a toaster oven, plus all the cookware and dishes you'll need for basic meals. An indoor woodstove will keep you toasty in the winter, and in the warmer months, you can fall asleep to the sounds of the stream as it passes by.
While there is no indoor plumbing and no internet, you'll find this a delightfully secluded spot with electricity, an outdoor fire pit, and a small brook that is perfect for cooling off in during the summer.
Things to do in Keene Valley: Keene is a paradise for hikers, who come from all over to climb several of the high peaks that are located in this area. While there are too many great trails to list, highlights include Rooster Comb Trail, a rocky, challenging trail with great views at the summit, and Baxter Mountain, which is a short, not-too-difficult climb with more fantastic views.
---
Romantic Woodland Cabin in Keene, New York
Sleeps: 2
Dogs: No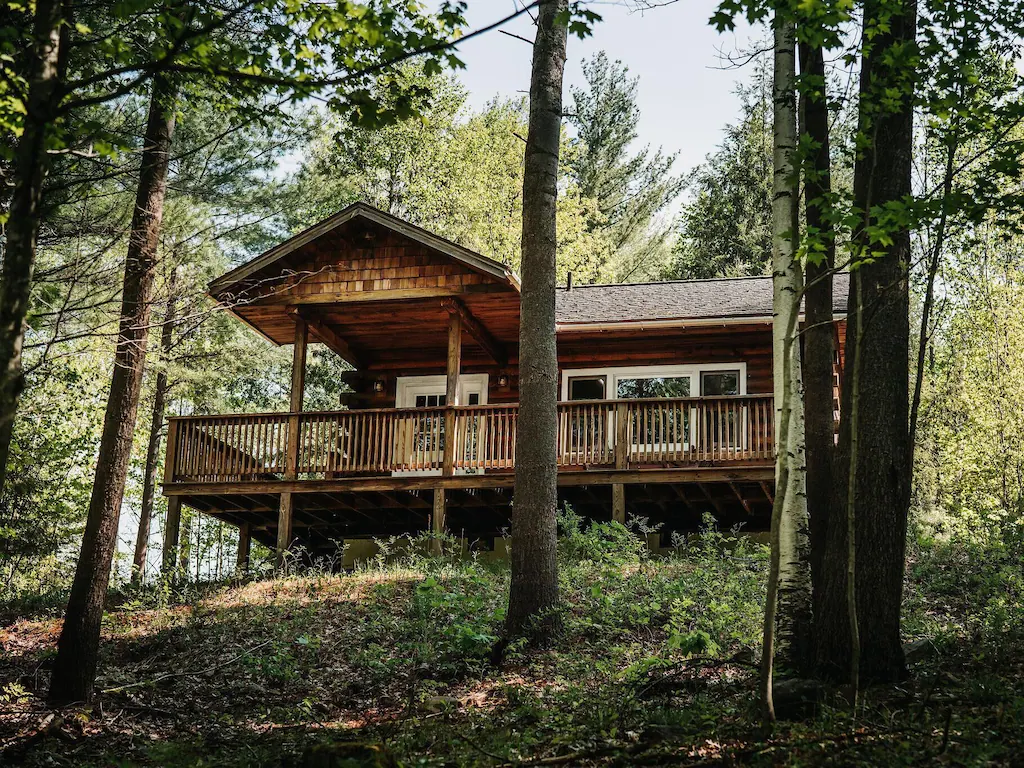 Here's another great cabin rental in the High Peaks area of Keene. This one is a bit less rustic, but just as cozy, with a king-size bed, an indoor jacuzzi tub, and a kitchenette for cooking basic meals.
There is a beautiful covered porch with rocking chairs for relaxing with your favorite book and a fireplace inside for cozying up when the nights are cold.
The property is surrounded by 200 gorgeous acres with trails crisscrossing the property.
This enchanting cabin is part of Bark Eater Inn, a farm-to-table bed and breakfast, which offers six beautiful rooms and hand-crafted meals using ingredients from community farms. There are two Adirondack cabins for rent. The Trillium is perfect for couples, and the Sentinel is larger, with three full bedrooms.
Add-on experiences at Bark Eater Inn include yoga, massage, breathwork, guided nature walks, garden tours, and more.
Things to do in Keene: In addition to the Keene Valley hikes mentioned in the listing above, visitors should also check out the downtown area for cute shops and restaurants. We love the seasonal menu offerings at Forty Six. Also, Black Rooster Maple is a great place to stock up on that liquid gold!
---
Camp Lillian in North River, New York
Sleeps: 3
Dogs: 1 only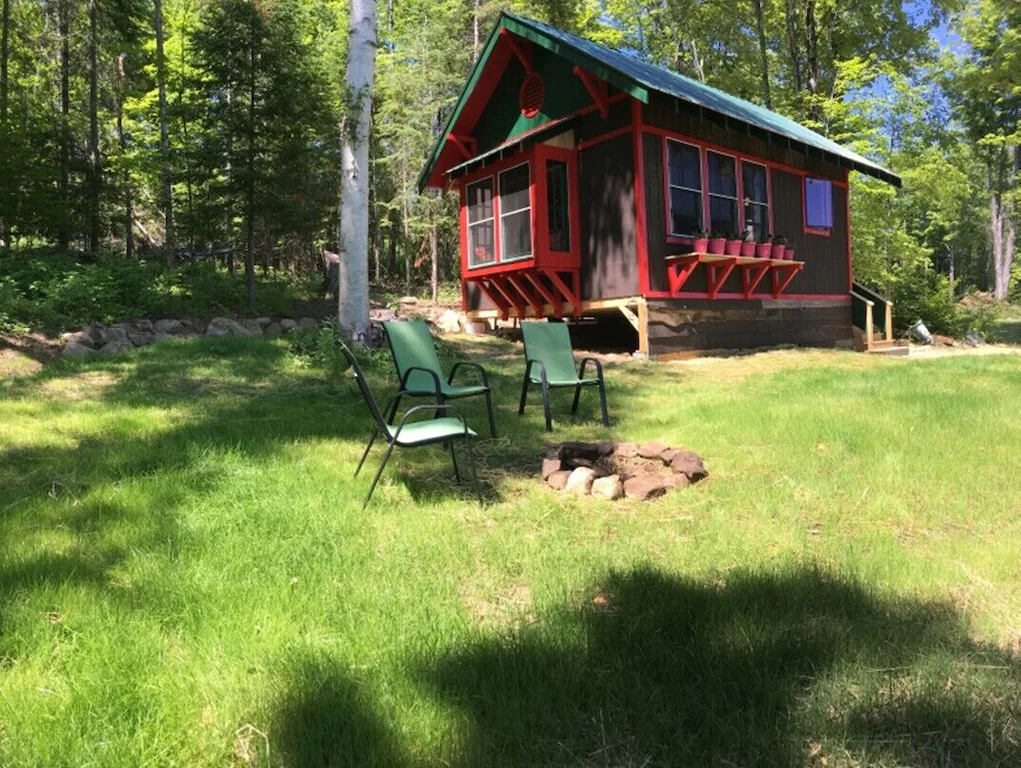 This adorable little cabin in the Adirondacks is modest but beautiful in its simplicity. Located on 40 gorgeous acres, Camp Lillian is part of North River Hobby Farm, a 40-acre property that boasts an outdoor pizza oven, a no-chemical hot tub, and a few other cabins and Adirondack glamping tents.
Lillian features a queen-size bed, beautiful south-facing views of the mountains, a full bathroom with a shower, and a fully stocked kitchen. Electric heat provides warmth in the winter, and a fire pit with Adirondack chairs is perfect for relaxing on summer evenings.
During the summer, guests are invited to make wood-fired pizza at the community pizza oven, and for an extra $25 an hour, you can book a time slot in the all-natural hot tub.
Things to do in North River: Lillian Cabin is just five miles from Gore Mountain for downhill skiing and three miles from Garnet Hill Lodge for cross-country skiing. White water rafting is very popular on the upper Hudson River, just a short drive from the property.
---
Pet-Friendly Cabin with a Hot Tub in Wilmington, Vermont
Sleeps: 3
Dogs: Yes, with pet fee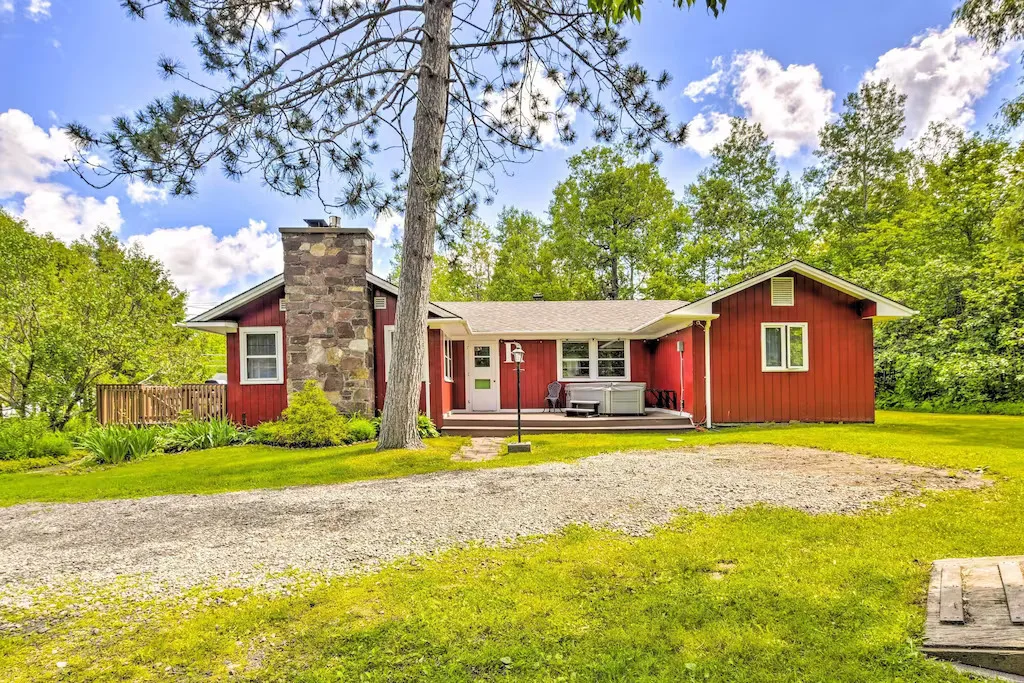 This well-appointed Adirondack vacation rental includes everything you need for a relaxing getaway in vacation land. Imagine coming home for a day of skiing or a grueling hike to relax in the private hot tub and roast marshmallows over the outdoor fire.
Featuring two bedrooms, a fully-stocked kitchen, and even a separate office for those that can't unplug, this updated cabin makes the perfect home-away-from-home in the Adirondacks.
An indoor fireplace creates both warmth and ambiance, and the full deck outside is fantastic for dining al fresco in the summer. Pets are welcome for an additional fee.
Things to do in Wilmington: Located in the High Peaks region of the Adirondacks, there are hundreds of miles of hiking trails to take advantage of. The Flume Falls Trail System is two miles from the cabin. Whiteface Moutain Ski Resort is four miles away, and Lake Placid, with its adorable downtown and fun Olympic sites, is just 12 miles away.
---
Sunset Cottage on Tupper Lake, New York
Sleeps: 2
Dogs: Yes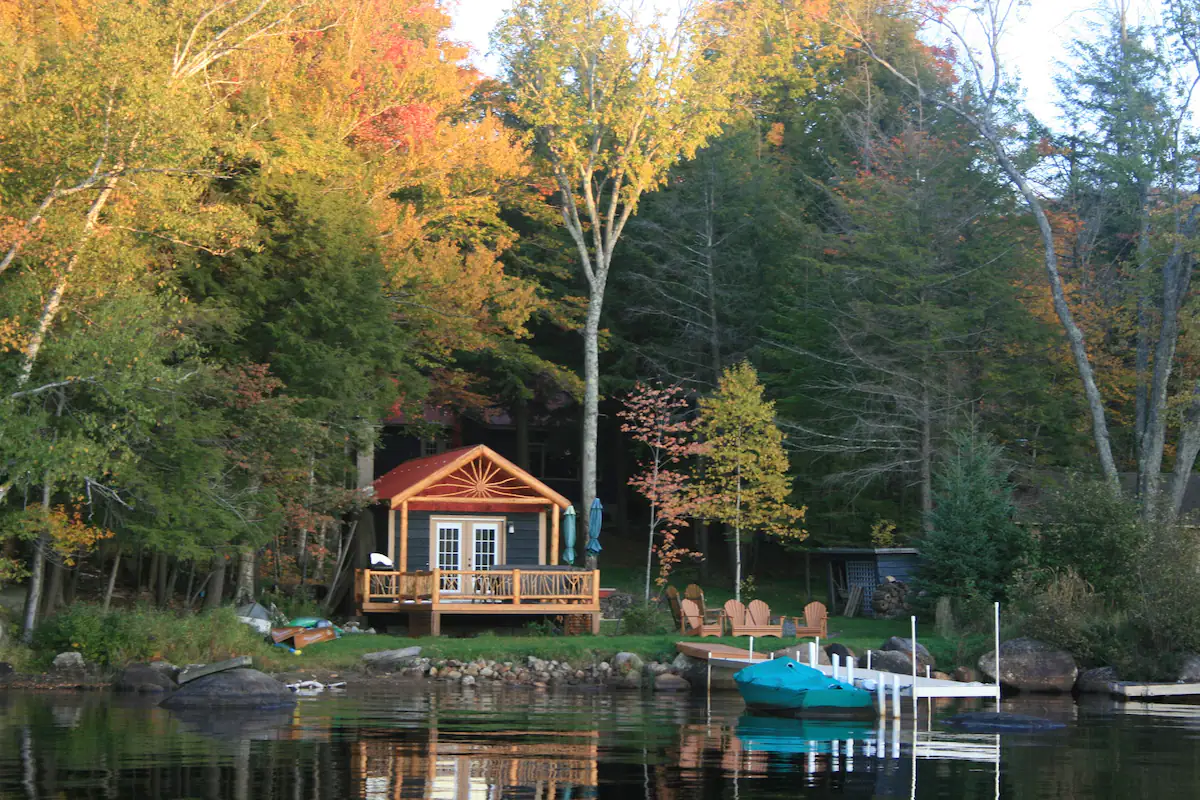 This enchanting cottage is just steps from Tupper Lake, for all the water-based activities that you can imagine. There is room for you to dock your own boat for adventuring on the lake, or you can take advantage of the two new kayaks.
The cabin features custom woodwork and hand-built furniture and a beautiful kitchen with new appliances and everything you could possibly need for creating fantastic meals. There is a fireplace to take the chill off, a smart TV for streaming, and waterproof Bluetooth speakers for taking your entertainment outdoors with you.
Outside the cabin, you'll find a fire pit to relax next to and a propane BBQ grill on the deck near the lake. This is the perfect spot to take advantage of summer in the Adirondacks.
Things to do in Tupper Lake: If you can pull yourself out of the water, be sure to visit the Wild Center, where you can walk in the treetops, meet Adirondack critters, and learn about the wild world of this vast ecosystem.
---
Huttopia Adirondacks in Lake Luzerne, New York
Sleeps: Up to 6 people
Dogs: Yes, 1 per rental unit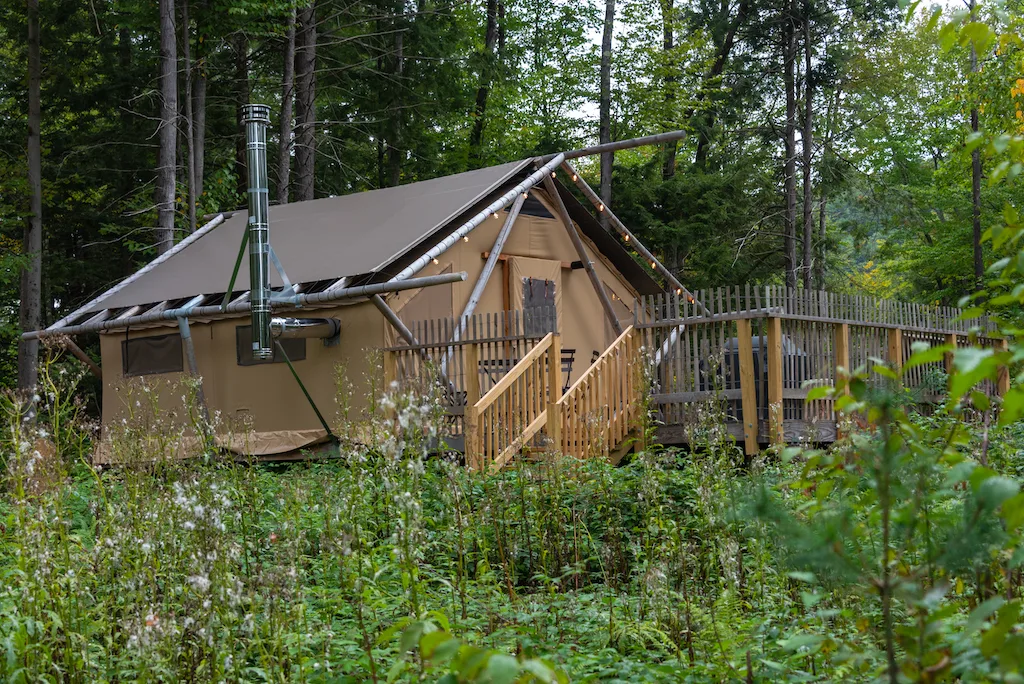 These beautiful glamping tents near Lake George are part of a delightfully rustic glamping resort. Huttopia Adirondacks is just one of five Huttopia locations in the United States. We've had the pleasure of staying at three of Huttopia's properties and we have never been disappointed.
Whether you're traveling solo, as part of a couple, or with the whole family, Huttopia Adirondacks is perfect for outdoor lovers. A variety of glamping tents are available, and most include a full kitchen and bathroom, as well as an outdoor grill on the private deck, and a fire pit.
You can also take advantage of an onsite heated pool, a full restaurant (with crepes every morning), a camp store, hiking trails, and a playground.
Firewood and ice are both available for purchase, and there's Wi-Fi at the lodge if you need to stay connected. The lodge is also stocked with board games, a foosball table, and a library, making it the perfect retreat for rainy days.
Things to do in Lake Luzerne: Tour Lake George on the Minne-Ha-Ha, part of a small fleet of historic tour boats with the Lake George Steamboat Company. If you've got kids, you may not be able to resist a day at Six Flags Great Escape in nearby Queensbury.
---
Lakeside Cabin with Stunning Views in Arietta, New York
Sleeps: 4
Dogs: No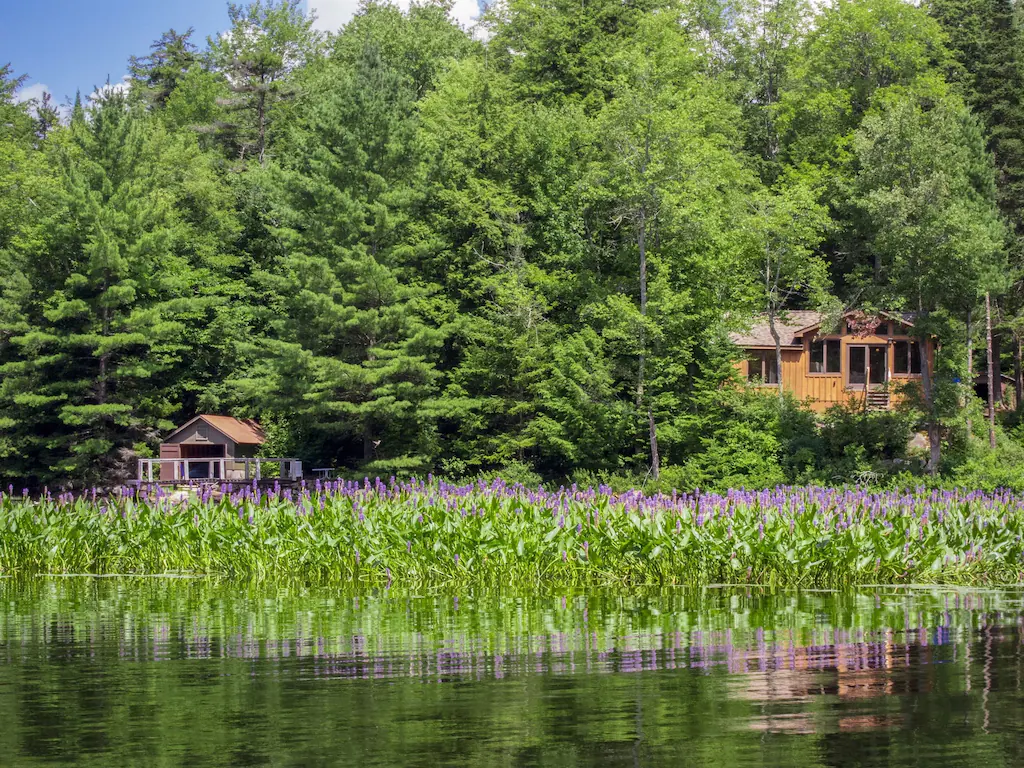 Welcome to Camp Stardust, where you can procure the ultimate space for relaxing lakeside in total privacy. unique waterfront cabin with exceptional comforts and ultimate privacy.
This beautiful cabin provides unparalleled views from its wall of windows overlooking the water. There are two bedrooms, suitable for up to four people, cathedral ceilings, a gas fireplace, and a full kitchen.
Outside, you'll find a fire pit and a charcoal grill, plus four kayaks and a canoe to use on the lake. This area is perfect for snowmobiling in the winter, but you'll need a four-wheel drive vehicle to navigate the driveway once the snow starts flying. Cell service is spotty here, but there's a landline if you need it.
Things to do in Arietta: The cabin is located in a remote area near Piseco Lake, where you can spend your days paddling, swimming, and fishing. Be sure to hike to the top of Echo Cliff on Panther Mountain Trail for a different vantage point of the lake.
---
Waterfront Cabin in Lake Pleasant, New York
Sleeps:5
Dogs: No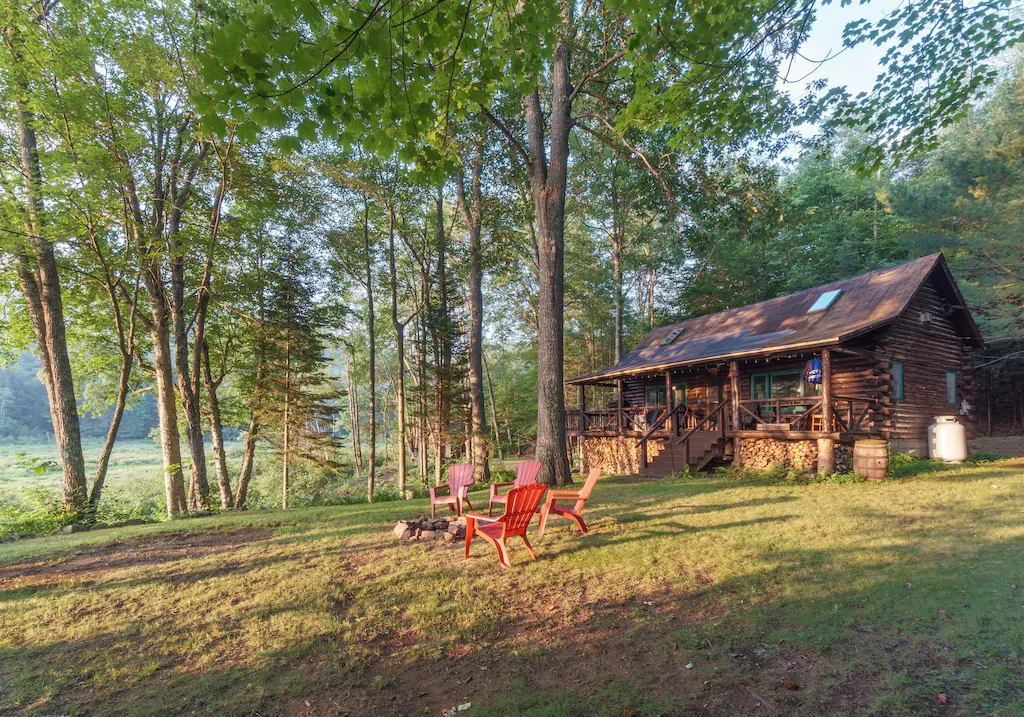 Escape to this private lakefront log cabin on three wooded acres with a separate glamping cottage in Lake Pleasant. The main cabin features a sleeping loft with a queen-size and twin-size bed, a full kitchen and bathroom, a cozy fireplace in the living room, and a spacious wrap-around porch.
The second cabin is small, with just a queen-size bed and a little deck with fantastic views.
The property is perfect for outdoor adventures and comes equipped for outdoor adventures and includes binoculars, a spotting scope, two kayaks, two paddle boards, and a canoe.
Things to do in Lake Pleasant: The town of Lake Pleasant is sandwiched between Lake Pleasant and Sacandaga Lake, making it a great location for all kinds of water-based activities. Nearby find free tennis courts, motorboat rentals, ice cream, golf and mini golf, a town beach, and great restaurants.
---
Riverside Retreat in Ohio, New York
Sleeps: 4
Dogs: 1 only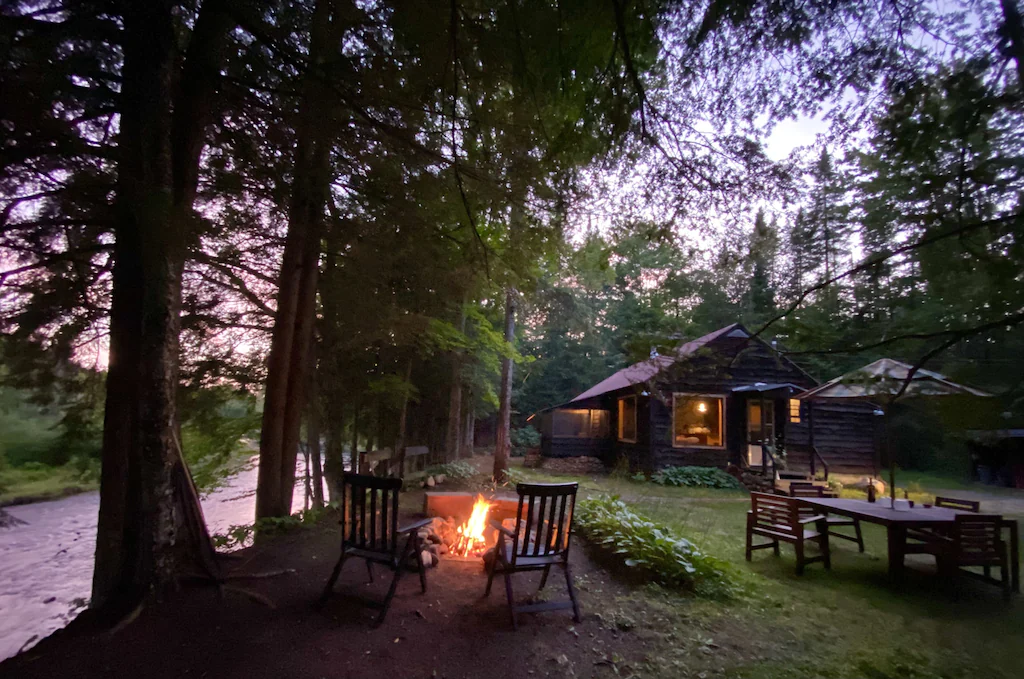 You will love this private 1957 classic Adirondack cabin on 24 private acres right on West Canada Creek, one of the best cabins on this list for total seclusion.
This rustic cabin in upstate New York features a full kitchen and bathroom, one bedroom with a queen-size bed, a screened-in porch, a wood stove, and a massive stone fireplace for warmth. A nearby glamping tent can be rented if you have extra people in your group.
Outside, there is a great seating area, a fire pit, and of course, the river that is always beckoning.
Things to do in Ohio: Directly across West Canada Creek, you can explore hundreds of acres of wilderness. Hinckley Reservoir is six miles away, and Black River Forest Vista Trail is even closer.
---
Beautiful New Cabin Near Whiteface Mountain, New York
Sleeps: 4
Dogs: No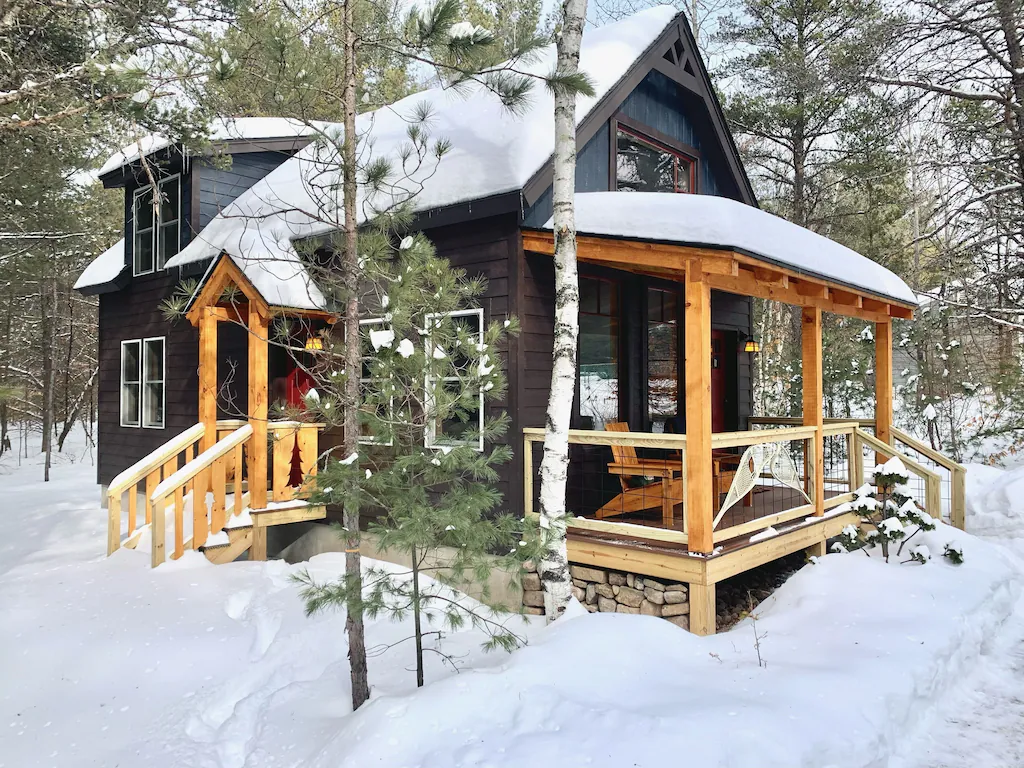 Another gem in Wilmington, this beautiful newly constructed cabin is tucked away in the trees — a secluded retreat that is suitable for couples or small families.
The open-concept design makes this cabin feel bigger than it is. There's an electric fireplace, a full kitchen with granite countertops and stainless steel appliances, a downstairs bedroom with a queen-size bed, and a loft with another queen-size bed. The bathroom has heated floors and a large shower, but there's also an outdoor shower for making the most of your woodland setting.
Outside, there's a nice fire pit and a front porch with Adirondack chairs. This cozy cabin is located near the Grand View Motel in Wilmington — perfect if you're traveling with others.
Things to do in Wilmington: Located in the High Peaks region of the Adirondacks, there are hundreds of miles of hiking trails to take advantage of. Whiteface Moutain Ski Resort is four miles away, and downtown Lake Placid, with its adorable downtown and fun Olympic sites, is just 12 miles away.
---
Adirondack Star Ridge in Ausable Forks, New York
Sleeps: 2
Dogs: No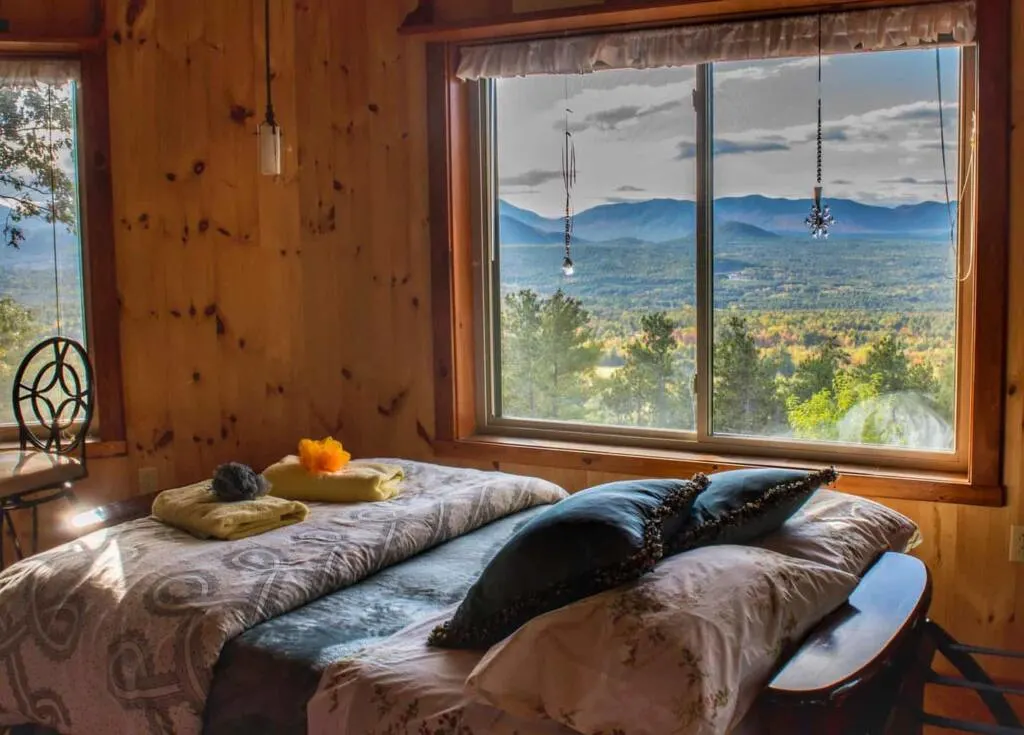 Wake up to expansive mountain views from your comfy bed in this delightful cabin at Adirondack Star Ridge. Perched on a hillside in Ausable Forks, this cabin is suitable for couples or solo travelers.
Adirondack Star Ridge is actually a collection of unique rental properties situated on a high ridge with a fabulous view of Whiteface Mountain and the Adirondack High Peaks. The studio consists of a large living space with a small kitchen area, a sitting area, and a sleeping area with a queen-size bed and quality bed linens.
There is a luxurious outhouse and shower just a short walk from the cabin, and a communal fire pit is perfect for enjoying the magnificent views. A small outdoor seating area is perfect for enjoying your morning coffee. Trust me!
Things to do in Ausable Forks: Hikers should check out Jay Mountain, which is a challenging trail along a ridge with fantastic Adirondack views. Lake Placid is just a short drive away for shopping, dining, and touring all the Winter Olympic sites.
---
Need more ideas? Here are even more unique vacation rentals in New York:
---
Follow us on social media for more outdoor inspiration!
Pin for Later?