Find your next great adventure with a glamping trip in New York. Glamping gives you all the benefits of the outdoors — lower blood pressure, and an abundance of peace and tranquility — without the stress.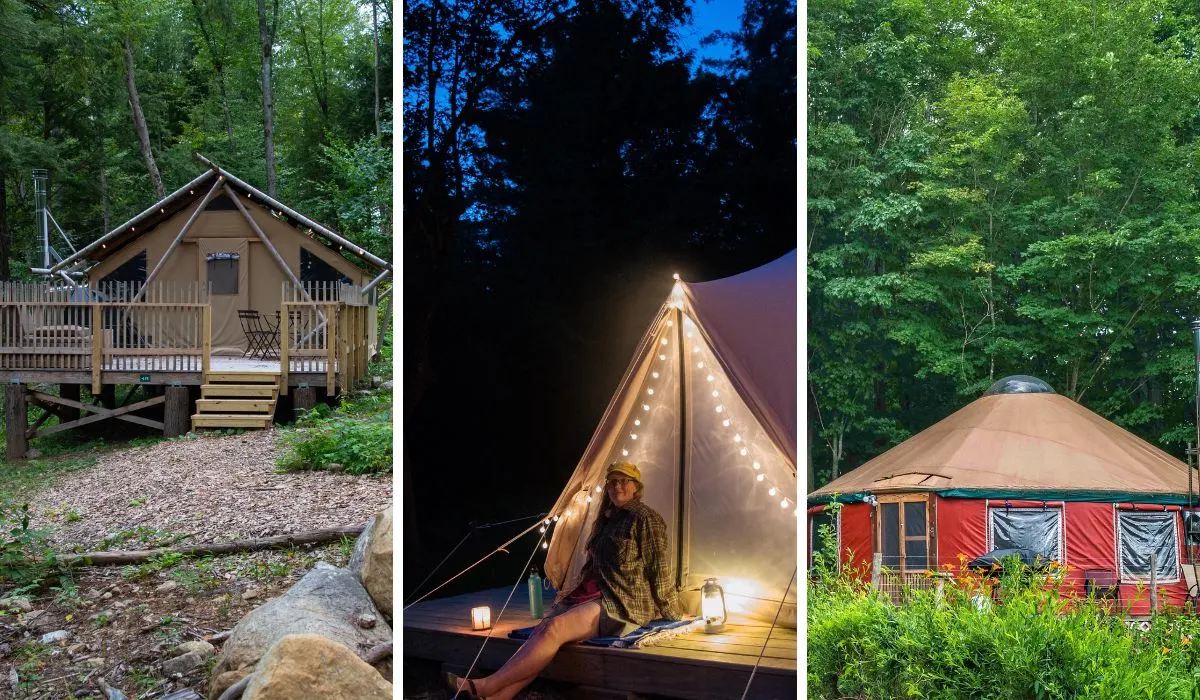 You can sleep in a real bed at night, sip cocktails under the canopy of a billion stars, and head inside when the mosquitoes start biting or the rain starts falling.
Glamping in New York is one of the best ways we know to unplug and enjoy the outdoors while still appreciating all the comforts of home.
From the rolling hills of the Hudson Valley to the Catskill and Adirondack Mountains, and every place in between, here are some of our favorite glamping spots across the state.
An Overview of Glamping in New York
So, what exactly is glamping and why do we love it so? Glamping is for people who enjoy spending time outdoors but are less thrilled with sleeping on the ground.
Glamping destinations provide unique accommodations in an outdoor setting, so you get perks like a real bed, a source of heat, and maybe even a kitchen.
When glamping, you can enjoy hiking trails, campfires, and relaxing outdoors, and then sleep in a real bed each night. See why we love it?
I use several online resources when looking for fun spots to go glamping in New York. Here's a quick overview of the booking platforms that we use frequently.
VRBO – While VRBO doesn't have the option to let you specifically search for glamping in New York, you can look for cabins, cottages, and houseboats, and we have found some gems while searching! VRBO stands for Vacation Rental by Owner and is a great spot to look for lake cabins and mountain getaways.
Hipcamp – Hipcamp specializes in all types of private campsites, not just glamping. Generally speaking, these Hipcamp properties are more rustic and affordable than other booking platforms on this list. New to Hipcamp? Use our referral link to save $10 off your first stay!
Glamping Hub – We have found some awesome New York glamping opportunities on Glamping Hub, which features yurts, treehouses, cabins, and glamping tents. Glamping sites on this platform do tend to be more luxurious and expensive, but the booking process is easy and there are lots of properties to choose from.
Airbnb – If you navigate to the Airbnb website, you can use the icons across the top of the page to filter your search by camping (which also includes glamping), cabins, tiny homes, off-grid homes, and more.
Tentrr – Signature Tentrr Signature Tentrr sites are ready-to-go glamping tents made of canvas, complete with a bed, woodstove, and toilet. They are very private spots in unique locations. Prices are pretty standard, between $95 and $150 per night.
In addition to the booking platforms mentioned above, we've also stayed at dedicated glamping resorts, which are more like fancy summer camps with lots of extra amenities. One of our favorites was a glamping trip to Huttopia in Lake Luzerne near Lake George. More on that below!
The Best Glamping in New York
We've loosely organized this post by region to make planning your New York glamping trip easier. New York's regions kind of run together and overlap, so be sure to scroll through the whole list and see if something catches your eye!
Glamping Near New York City and Long Island
Will you really find glamping in New York City? Sure, if you know where to look. Admittedly, there aren't a lot of options in NYC or even in Long Island, but we had to mention a couple of spots because sometimes enjoying the outdoors is one of the best ways to appreciate city life. Here are two great glamping spots in New York City and Long Island.
Watch Hill Family Campground at Fire Island National Seashore
Sleeps: 2-6 people
Dogs: Yes
Fire Island National Seashore includes 26 miles of barrier islands and coastline with natural beaches, maritime forests, and beautiful wetlands. Watch Hill is located on the western edge of the Otis Pike Fire Island High Dune Wilderness, directly across the Great South Bay from Patchogue, Long Island. Take the Watch Hill Ferry to the campground, or travel on your own private boat.
Watch Hill Family Campground has a handful of safari tents for adventurous glampers. The sites include one or two queen-size beds, a dresser, a nightstand, a table, throw rugs, and a rechargeable LED lantern. The covered porch has two Adirondack chairs, a cooler, and a charcoal grill, plus an outdoor picnic table for dining.
This gorgeous spot is close to some of the best spots on Fire Island. Otis Pike Fire Island High Dune Wilderness is the only federally designated wilderness in the State of New York. It includes a seven-mile stretch of an undeveloped barrier island with unbelievable views and lots of chances to spot wildlife.
The restaurant and general store at Watch Hill are open every day, and there are special events and live music during the summer.
---
Collective Retreats Glamping on Governors Island
Sleeps: 2-6
Dogs:
Skyline views that don't stop. 173 acres of green space. A chance to slow down and enjoy a slower pace of city living. Take an 8-minute ferry ride to Governors Island and set up camp at one of the gorgeous glamping tents or guest-room containers at Collective Retreats.
Luxurious accommodations feature a private deck, high thread count bedding, plush towels, designer lighting, air conditioning, and Byredo bath products. Start the day with a bountiful continental breakfast basket brought to your tent.
An onsite restaurant features a globally influenced menu that highlights local farm fare prepared on a wood-fired grill and signature cocktails on the sunset terrace. Special events, wellness activities, and spa experiences are offered to guests for an additional fee, and bicycles are available to rent for $20 for two hours.
While the glamping experience at Governors Island isn't cheap, it's a one-of-a-kind experience that is ideal for splurge-worthy occasions.
---
Glamping in the Hudson Valley
The culturally rich and picturesque Hudson Valley stretches along the Hudson River from Westchester County (just north of NYC) to Albany, the capital of New York. This region is well-known for its farm-to-table dining, vineyards, farms, and small towns. There are lots of public access points along the river, as well as stately mansions and fantastic hiking trails.
Take it slow in the Hudson Valley. Pop into roadside antique stores, stop at a winery for a tasting with a view, and meander the grounds of countless estates, gardens, and museums before heading to our own glamping getaway tucked in the hills. The Hudson Valley is meant to be savored!
Luxury Glamping in Port Ewen, NY
Sleeps: 4
Dogs: 1 dog under 20 pounds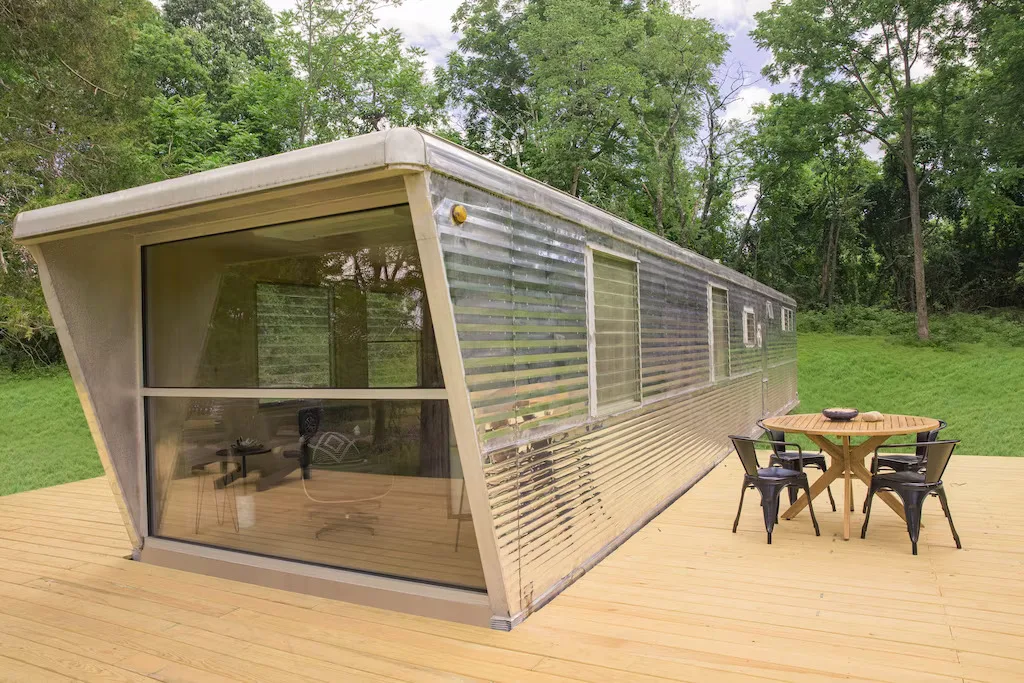 Spend the night in this luxurious Spartan Trailer in Port Ewen, New York, where you can take advantage of all the best things to do in the Mid-Hudson Valley while still enjoying a tranquil oasis nestled in the woods on almost 100 acres.
This vintage aluminum camper provides plenty of space for up to four guests with a sleek, modern interior with floor-to-ceiling windows, custom hardwood flooring, a gourmet kitchen, a full bathroom with a shower and radiant heating, and a queen-size bed in the bedroom.
Guests can take advantage of the onsite swimming pool, the spacious deck with a barbecue grill, and the beautiful outdoor fire pit. This luxurious rental is just two miles from Kingston, where you can take advantage of restaurants, shopping, and the Hudson River Maritime Museum.
---
Camper Rental in Cold Spring, NY
Sleeps: 4
Dogs: Yes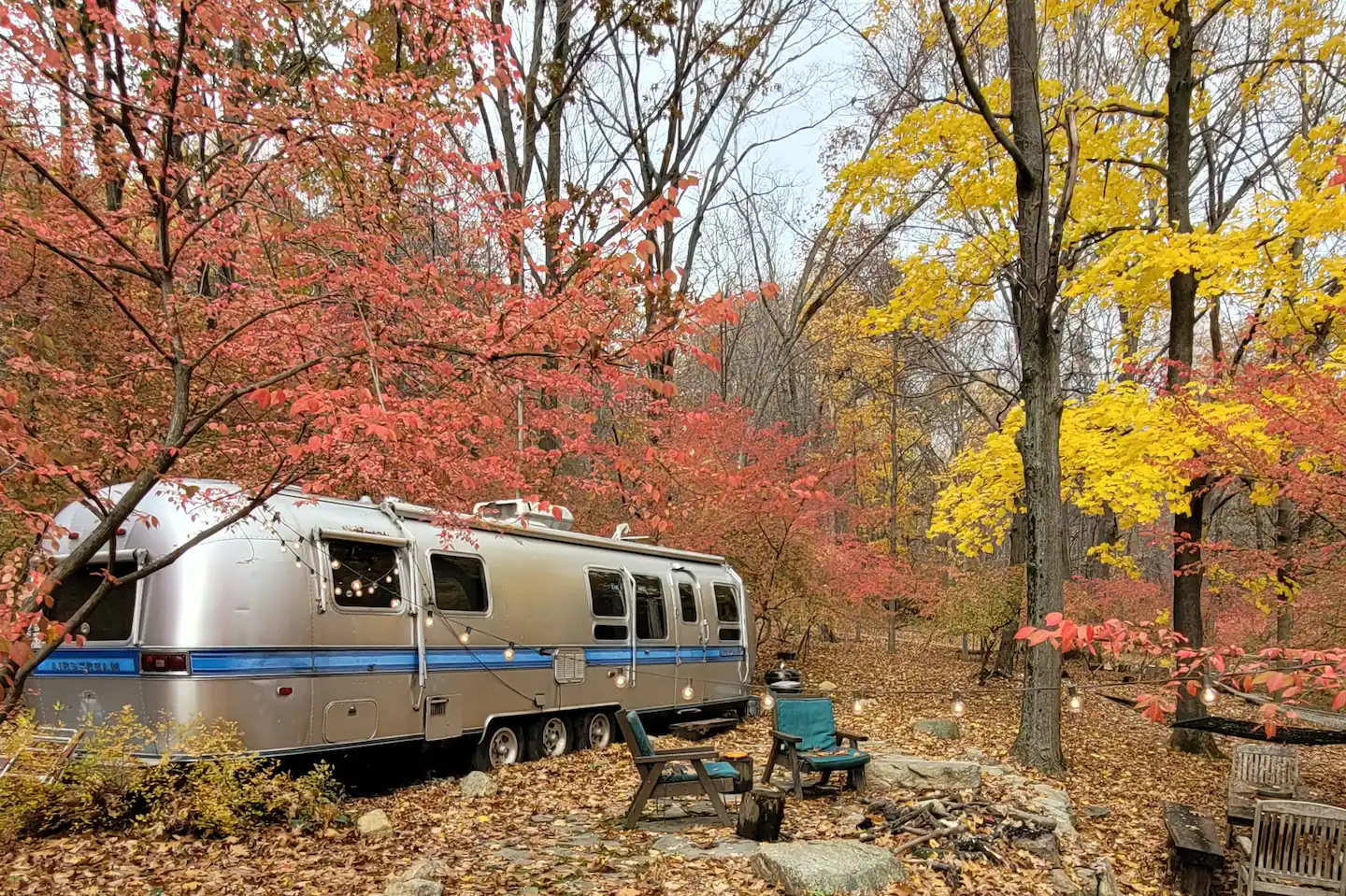 Located in the Hudson Highlands just a 20-minute walk from the Cold Spring Metro North Station, this beautiful vintage camper is a perfect getaway from the city, and you won't even need a car to enjoy your stay. You can easily get to shopping and restaurants, as well as hiking trailheads without driving.
This Airstream camper includes a full kitchen, a bathroom with a shower, heat, hot water, and Wi-Fi. A full-size bed is perfect for couples, and there's a back bedroom with two singles as well.
Outside, you'll find plenty of space to spread out and enjoy the woods. There's a fire pit, a charcoal grill, a picnic table with an umbrella, and hammocks, all tucked away in a delightful wooded setting.
---
Waterfront Glamping Tent in Ulster, NY
Sleeps: 2
Dogs: 1 dog under 50 pounds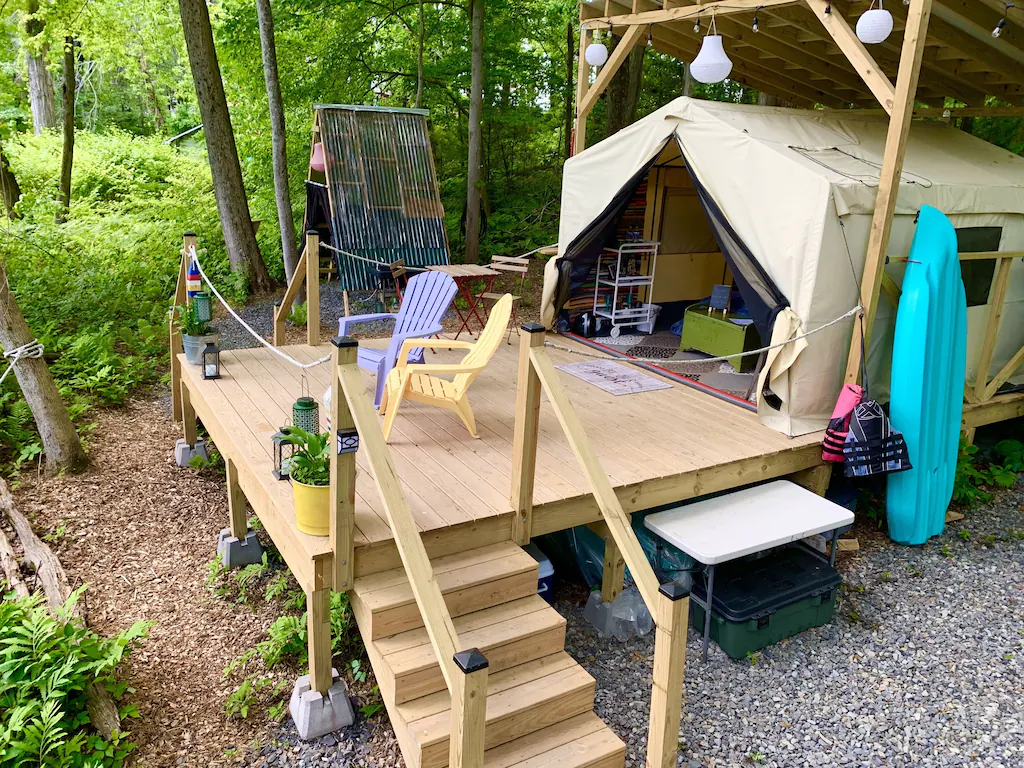 Enjoy this well-appointed safari tent with a private deck overlooking the beautiful Esopus Creek in Ulster, New York. This glamping tent is perfect for couples and features a queen-size bed, indoor and outdoor seating areas, a private outdoor shower, a propane grill, and a port-a-potty for taking care of business. It even has electricity and hot water!
Kayaks and tubes are included in your rental, and you have easy access to the Esopus Creek for swimming, fishing, and paddling. From this beautiful spot, it's just a short walk to visit the farm-raised bison, and hiking trails are just a short drive away. Take advantage of dining and shopping in either Kingston or Saugerties, which both have lovely downtown areas.
This wooded retreat is perfect for summer adventures in the Hudson Valley!
---
Farmstay Tipi with a Sleeping Loft in Accord, New York
Sleeps: 6
Dogs: No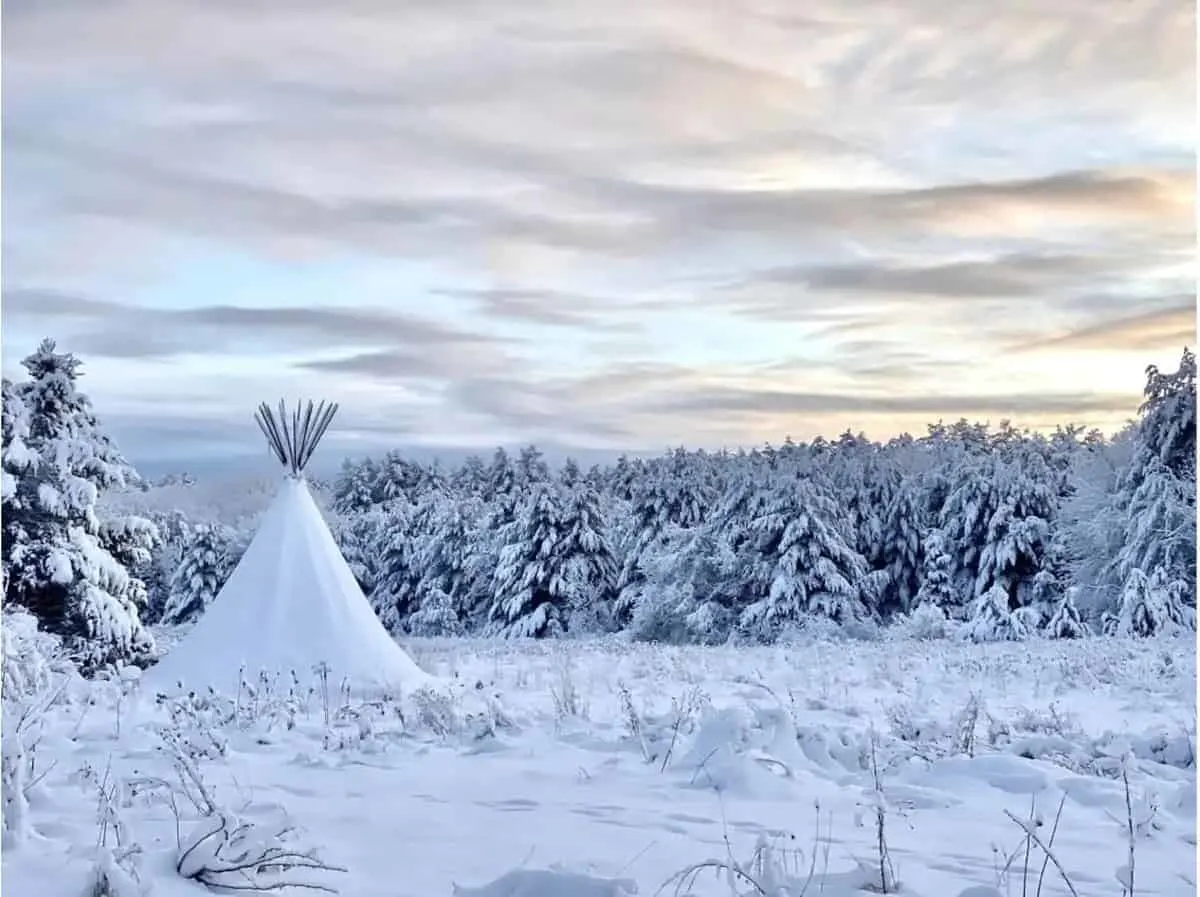 Located in the Hudson Valley, this delightfully quirky tipi is located on a 20-acre farm with horses, chickens, bunnies, dogs, and cats. Not only are there animals to hang out with and views to enjoy, but there are miles of trails, a wood-fired pizza oven, and a luxurious hot tub. Your host will provide you with basic cooking gear and drinking water.
It's a rustic glamping experience that is perfect for the rugged outdoors person. The tipi doesn't have heat, so be sure to bring extra layers and someone to cuddle with!
There are plenty of trails to explore right on the farm, but you're also close to some amazing recreation opportunities, including Minnewaska State Park and Mohonk Preserve.

---
Planning a winter glamping trip? Read this next: The Best Winter Glamping in New York for Your Next Adventure
---
Glamping in the Adirondack Mountains
New York's Adirondack Mountains offer endless opportunities for hiking, paddling, fishing, and small-town explorations, and it's one of our top choices for a quick unplugged vacation.
Whether you want to spend a quiet afternoon fishing in a mountain stream, paddling a pristine pond, or hiking or biking a mountain trail, you need the perfect place to unwind afterward.
We'd like to suggest the following Adirondack cabins and glamping tents for your next New York getaway. Because spending time in the woods is the best medicine for all that ails you.
Huttopia Glamping Resort in Lake Luzerne, NY
Sleeps: varies
Dogs: Yes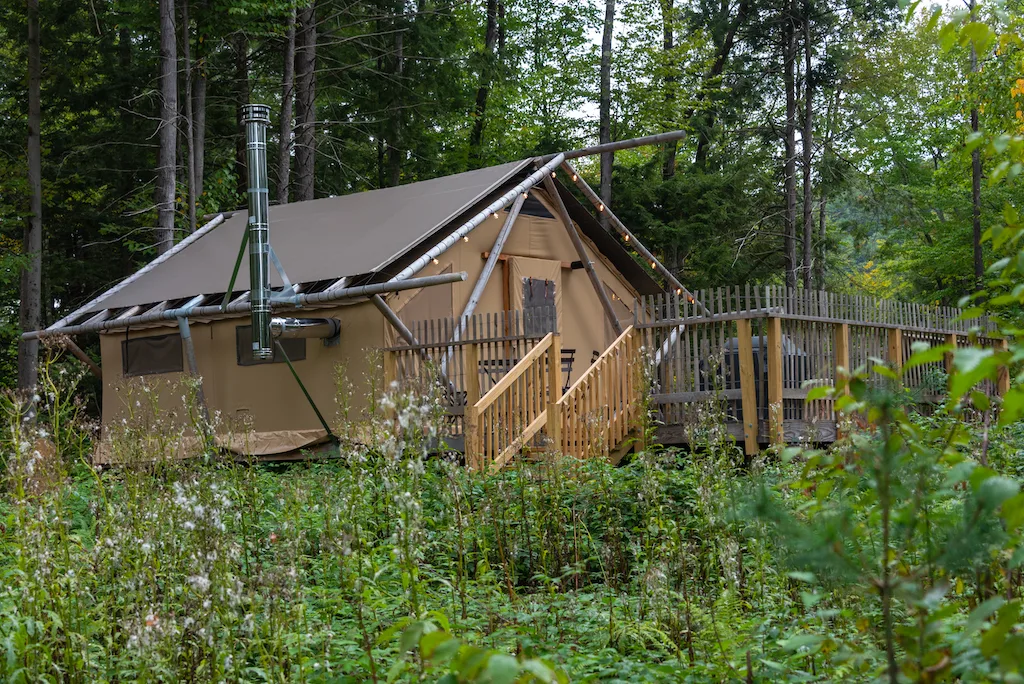 These beautiful glamping tents near Lake George are part of a delightfully rustic glamping resort. Huttopia Adirondacks is just one of four Huttopia locations in the United States. We've had the pleasure of staying at three of Huttopia's properties and we have never been disappointed.
Whether you're traveling solo, as part of a couple, or with the whole family, Huttopia Adirondacks is perfect for outdoor lovers. A variety of glamping tents are available, and most include a full kitchen and bathroom, as well as an outdoor grill on the private deck, and a fire pit.
You can also take advantage of an onsite heated pool, a full restaurant (with crepes every morning), a camp store, hiking trails, and a playground.
---
Adirondack Star Ridge in Ausable Forks, New York
Sleeps: 2
Dogs: No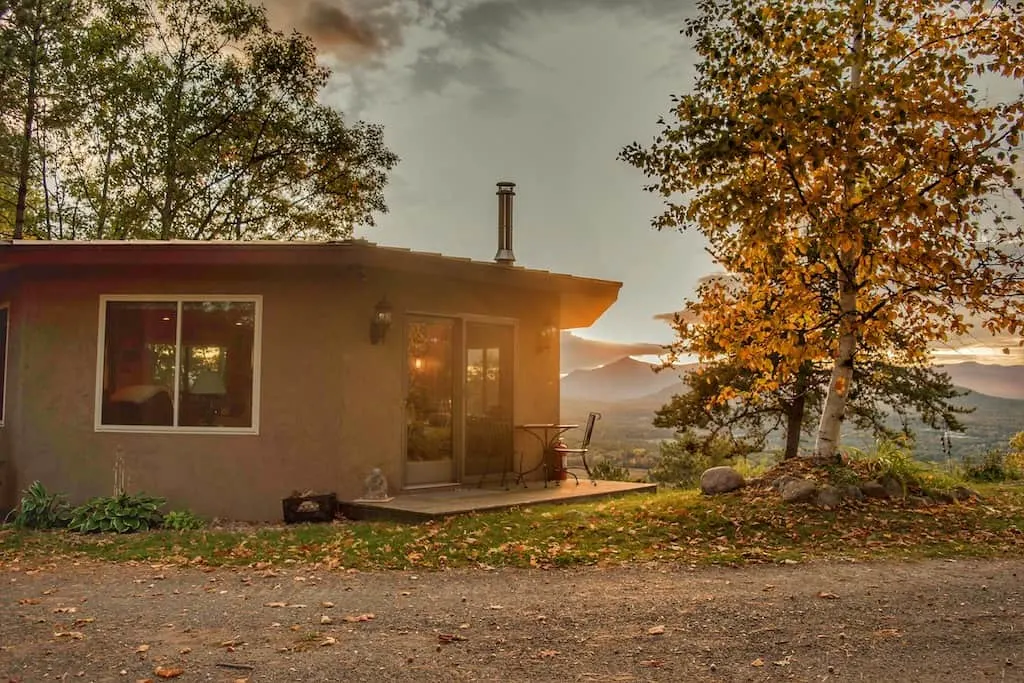 Wake up to expansive mountain views from your comfy bed in this delightful cabin at Adirondack Star Ridge. Perched on a hillside in Ausable Forks, this cabin is suitable for couples or solo travelers.
Adirondack Star Ridge is actually a collection of unique rental properties situated on a high ridge with a fabulous view of Whiteface Mountain and the Adirondack High Peaks. The studio consists of a large living space with a small kitchen area, a sitting area, and a sleeping area with a queen-size bed and quality bed linens.
There is a luxurious outhouse and shower just a short walk from the cabin, and a communal fire pit is perfect for enjoying the magnificent views. A small outdoor seating area is perfect for enjoying your morning coffee. Trust me!
Lake Placid is just a short drive away for shopping, dining, and touring all the Winter Olympic sites.
---
Camp Lillian in North River, NY
Sleeps: 3
Dogs: 1 only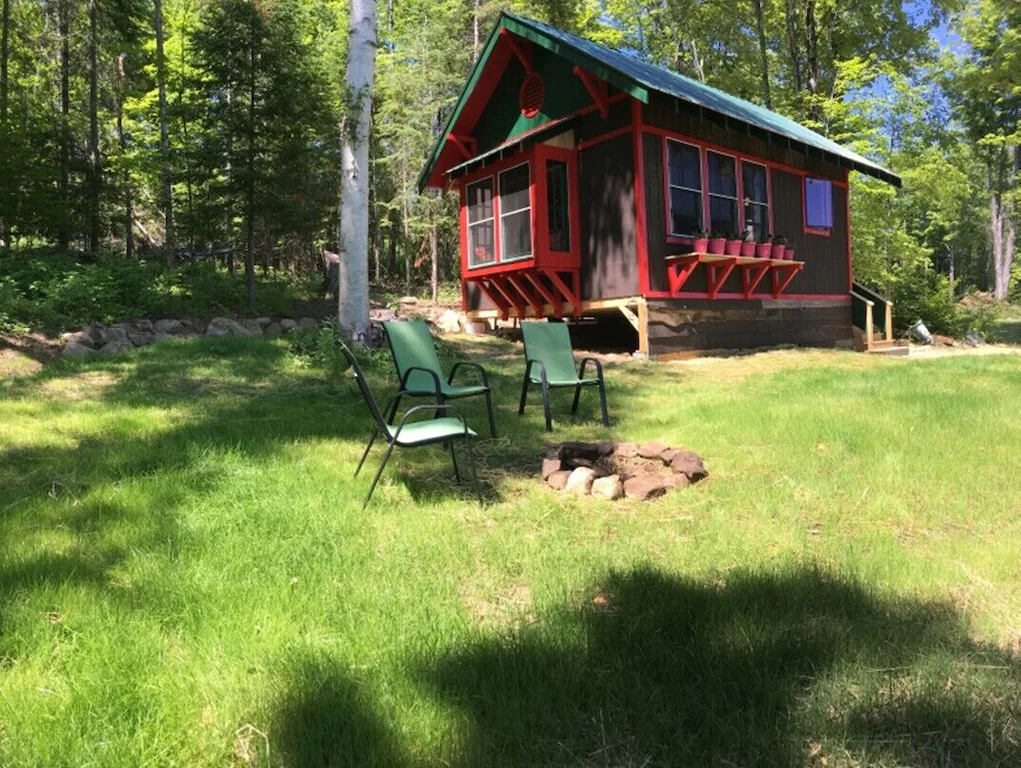 This adorable little cabin in the Adirondacks is modest but beautiful in its simplicity. Located on 40 gorgeous acres, Camp Lillian is part of North River Hobby Farm, a 40-acre property that boasts an outdoor pizza oven, a no-chemical hot tub, and a few other cabins and Adirondack glamping tents.
Lillian features a queen-size bed, beautiful south-facing views of the mountains, a full bathroom with a shower, and a fully stocked kitchen. Electric heat provides warmth in the winter, and a fire pit with Adirondack chairs is perfect for relaxing on summer evenings.
During the summer, guests are invited to make wood-fired pizza at the community pizza oven, and for an extra $25 an hour, you can book a time slot in the all-natural hot tub.
Lillian Cabin is just five miles from Gore Mountain for downhill skiing and three miles from Garnet Hill Lodge for cross-country skiing. White water rafting is very popular on the upper Hudson River, just a short drive from the property.
---
Also Read: 12 Cozy Adirondack Cabin Rentals for Your Next Adventure
---
Glamping in the Catskill Mountains and Capital Region
I'm not exactly sure how or why, but there seems to be a higher concentration of glamping properties in the Catskills than anywhere I've ever been. Maybe it's because there are so many city folks within driving distance of the Catskill Mountains that are aching for outdoor recreation.
I wouldn't be a bit surprised if glamping was invented in the Catskills!
Whatever the reason, we are very fortunate to live within a day's drive of the Catskill Mountains, and we're excited that there are so many gorgeous glamping properties available for us to choose from!
Getaway House in Western and Eastern Catskills, NY
Sleeps: 2-4
Dogs: Yes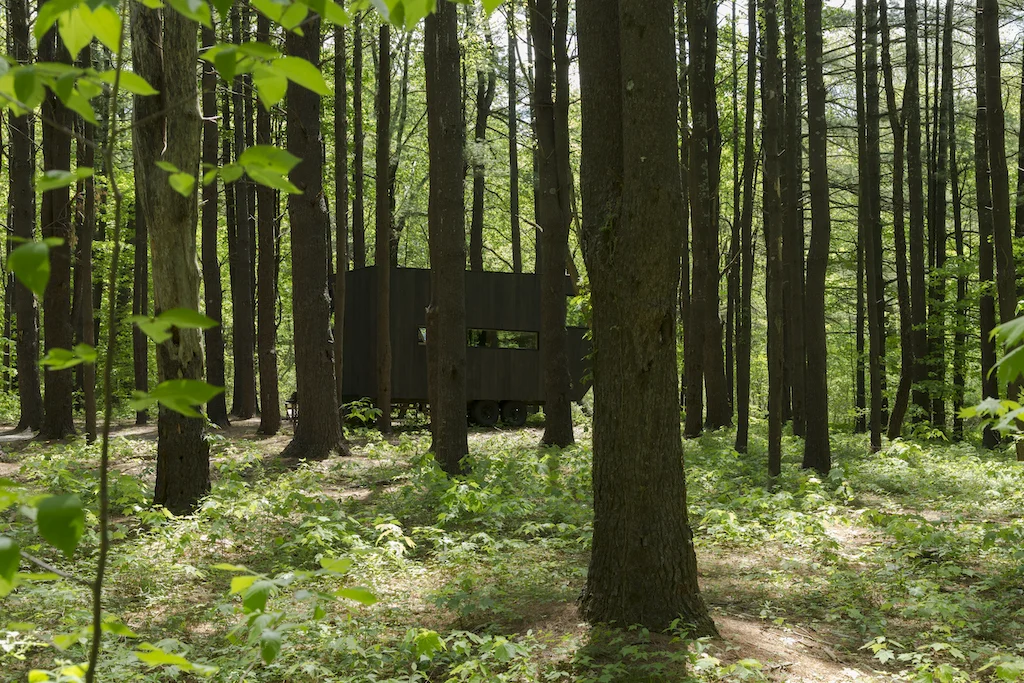 Escaping to a tiny cabin in the woods has never been easier. Getaway outposts specialize in providing secluded cabin vacations within two hours of major metropolitan areas. Each Getaway outpost includes a collection of tiny cabins with plenty of outdoor spaces for you to reconnect with nature.
Each beautiful Getaway cabin includes one or two luxurious queen-size bed(s) next to a large picture window, a tiny kitchen equipped with everything you need to prepare delicious meals, and a bathroom with a shower and toiletries.
Outside, you'll find a picnic table, fire pit, and chairs for relaxing with your after-dinner cocktails and s'mores. While each tiny cabin offers plenty of privacy, you'll likely see other glampers through the trees.
There are two Getaway Outposts in the Catskill Mountains. The Eastern Catskills Outpost is located in Catskill, New York, just a 10-minute drive from the village of Catskill and the Hudson River.
The Western Catskills Outpost is in Roscoe, New York near the beautiful Pepacton Reservoir, which supplies NYC with nearly 25% of its drinking water. The biggest brown trout in the Catskills, and perhaps the east, swim in the Pepacton, which can be accessed from the shore or from non-motorized boats.
For a full list of Getaway Outposts across the United States, visit Getaway.
---
Magic Forest Farm's Enchanted Cabin in Coeymans Hollow, NY
Sleeps: 4
Dogs: Yes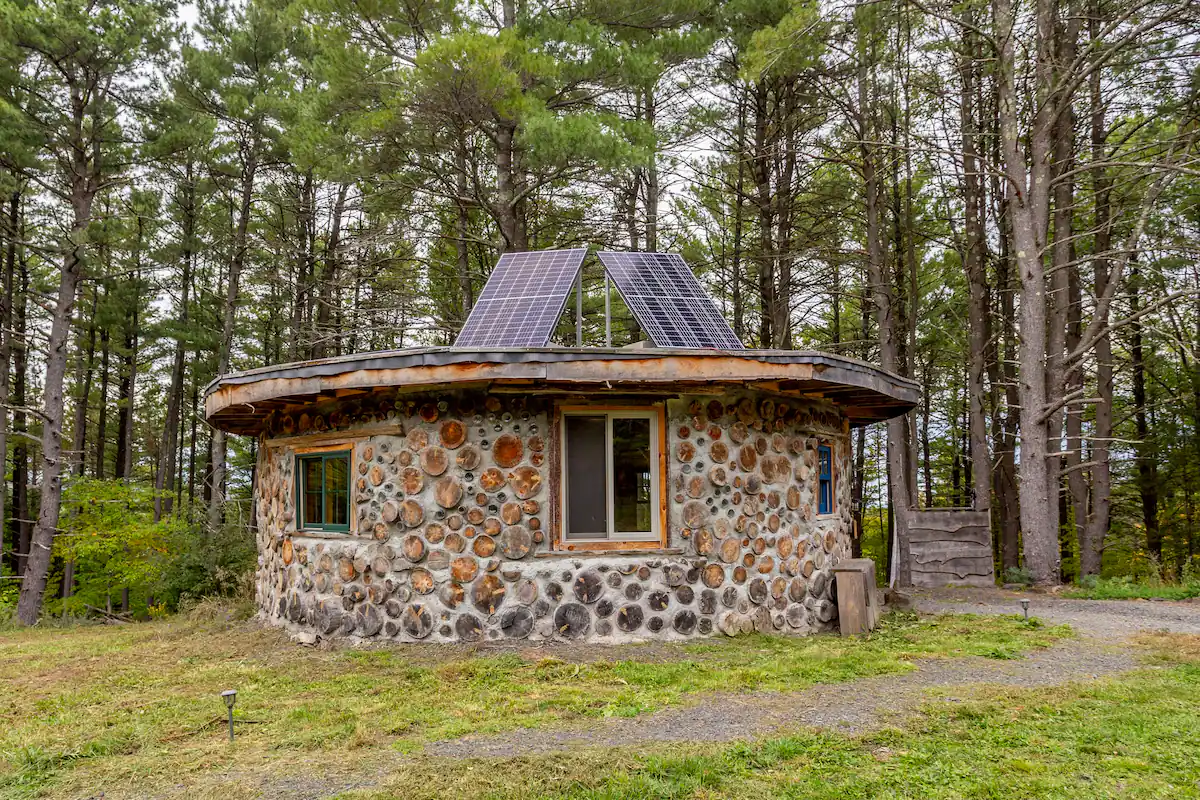 This enchanting, eco-friendly cabin was built with cordwood masonry on a working 225-acre organic farm. Escape to this special spot to connect with friendly farm animals, hike miles of woodland trails, or just relax in this secluded little paradise.
The indoor space features a fully-equipped kitchen with running water for washing, but not for drinking. There is a queen-size bed, two single beds, and solar electricity.
Outside, you will find a nice fire pit, an outdoor solar shower, and a nearby outhouse. Seasonal food items and firewood are available for sale.
While we doubt you'll want to leave this beautiful spot, the cabin is a half hour from Albany for all the restaurants, shopping, and culture you could possibly want.
---
Runamuk Farm in Cambridge, NY
Sleeps: 4
Dogs: Yes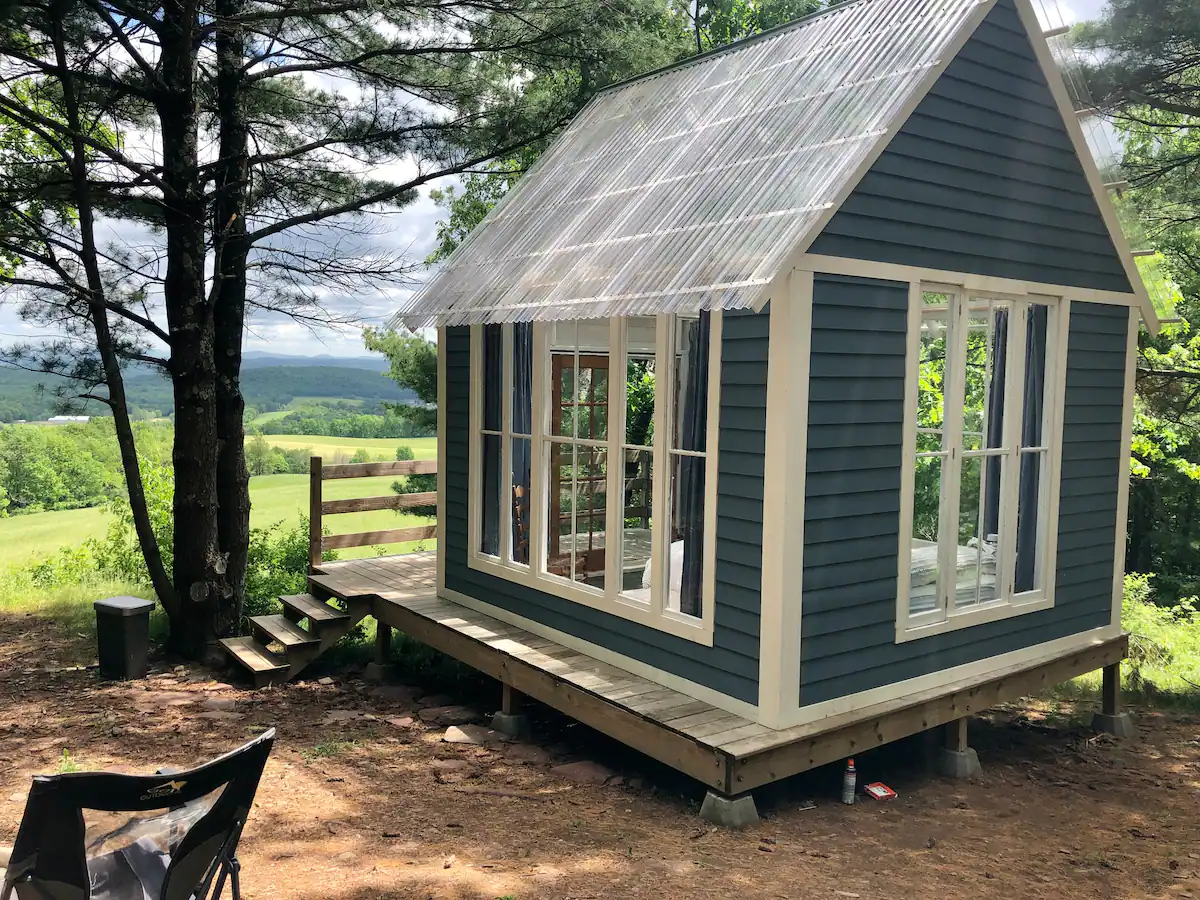 Escape to this beautiful tiny cabin on a micro-farm in Upstate New York near the Vermont border. This little getaway, along with three other little cabins, sits on a hill at the edge of a meadow with beautiful views of the mountains. It's the perfect spot for couples, and dogs are permitted as well.
Inside each cabin, there is a queen-size bed surrounded by windows. A small cookstove and a picnic table are available for cooking, and the host provides you with a five-gallon container of potable water.
You are free to wander around Runamuk Farm and visit with the animals, and you are just a short drive from Saratoga, Lake George, or Manchester, Vermont.
---
Cozy Airstream in Boiceville, NY
Sleeps: 2
Dogs: No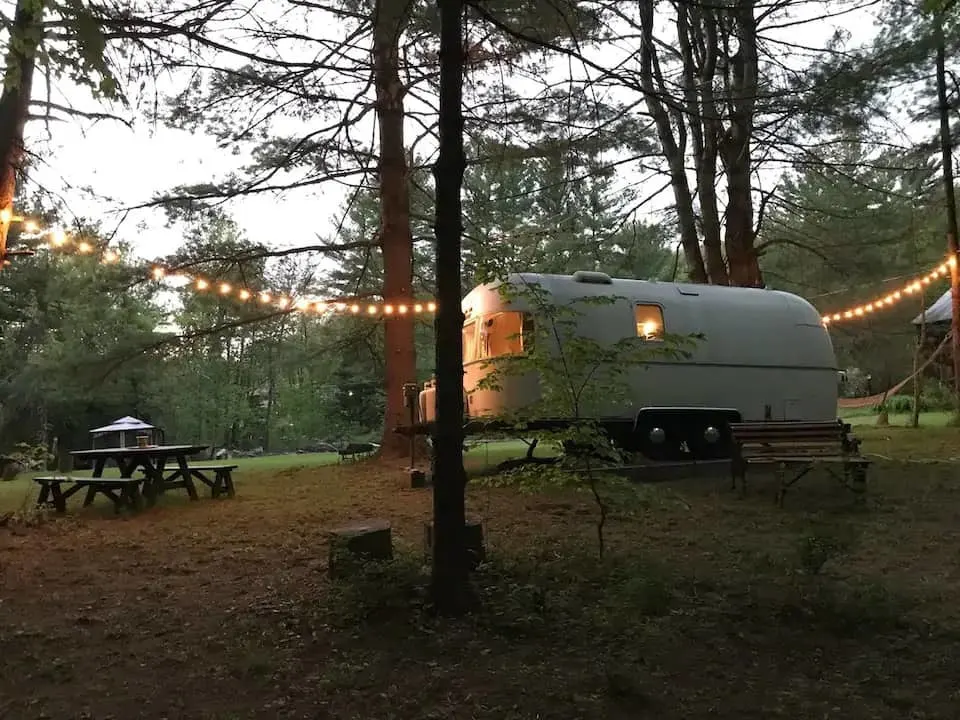 Have you always wanted to stay in an Airstream? Well, now is your chance!
This gorgeous little camper is located next to a 2-acre meadow and stream in Boiceville, and it's been outfitted with all the comforts of home. Amenities include a cozy double bed, a full kitchen and bathroom, plus lots of outdoor space to relax and rejuvenate.
A hammock, picnic table, and grill are available for your use, as well as a screened-in outdoor dining area.
Boiceville is located near the beautiful Ashokan Reservoir and the Ashokan Rail Trail, which runs 11.5 miles from Boiceville to West Hurly. For amazing artisan bread, be sure to stop into the original Bread Alone Bakery in downtown Boiceville.
---
Also Read: Four-Season Glamping in the Catskill Mountains
---
Glamping in Western New York and the Fingerlakes Region
Home to Niagara Falls, Letchworth State Park (New York's most Googled state park), and more lakes, wineries, and waterfalls than you can count, western New York overflowing with beautiful views, hiking trails, and fun spots to spend the night, and the Finger Lakes region is one of our favorite destinations.
People often remind me that the Finger Lakes are actually considered Upstate New York, but it feels like western New York to this Vermonter, who has to drive four hours west to get there.
We've stayed in a bunch of great glamping spots in the Finger Lakes — yurts, glamping tents, and remote little cabins, and there are so many more to discover! Here are a few of our favorites.
Bear Ridge Cabin in Clymer, NY
Sleeps: 4
Dogs: No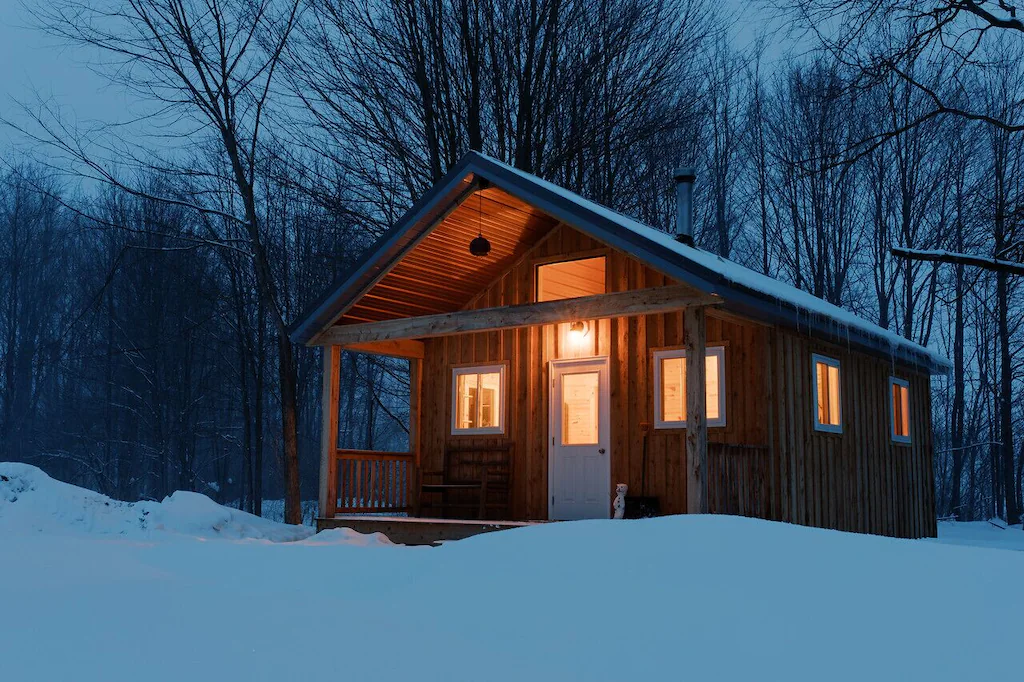 This cozy cabin is nestled in the woods of western New York near beautiful Bear Ridge Pond. The cabin is beautiful in its simplicity, with two bedrooms with queen-size beds, a full kitchen, and a clawfoot bathtub. A woodstove will keep you warm in the winter, and a fire pit will keep you cozy in the summer.
Best of all, there's a cedar snorkel hot tub that will make you forget all of your troubles! There are several other cabins on the property, but you've got plenty of privacy.
Peek n' Peak Ski Resort is less than a mile from this New York glamping cabin, and Lake Erie is less than 15 miles away.
---
Wellspring Forest Farm in Trumansburg, Vermont
Sleeps: 4
Pets: No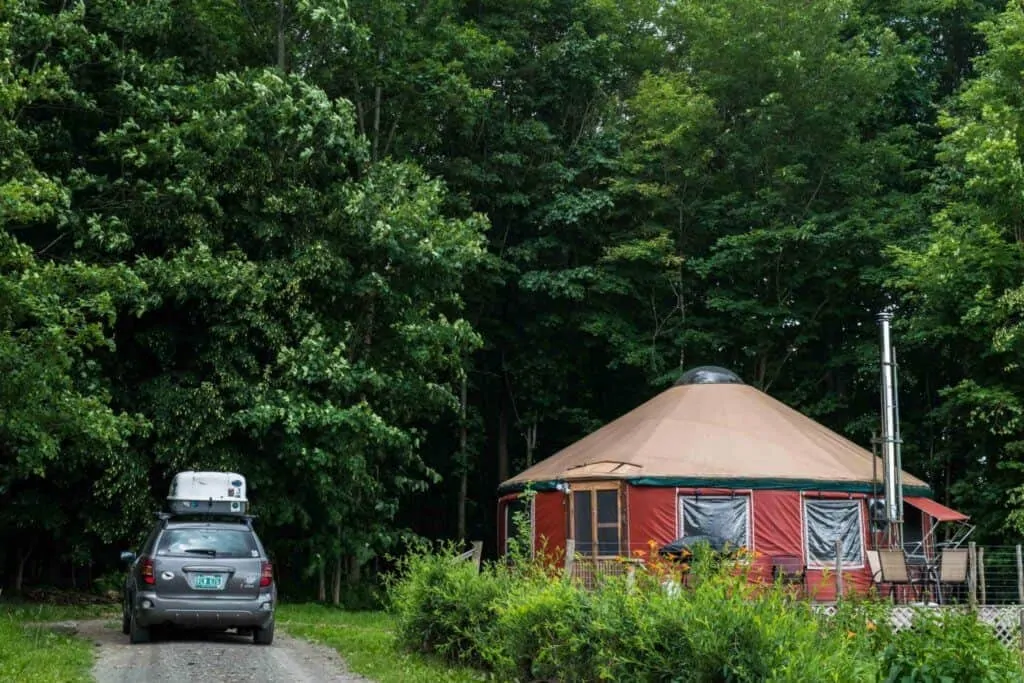 Wellspring Forest Farm in Trumansburg has everything you're looking for in a Finger Lakes vacation — comfort, privacy, and farm-fresh goodies.
If you want to explore the trails and wineries around Ithaca, make this beautiful yurt your home base for all your adventures.
This beautiful Finger Lakes glamping spot is located on the edge of the forest where your host grows mushrooms. It's surrounded by gardens and a pasture where sheep graze.
Small touches make a big impact here — you can buy shiitake mushrooms from your hosts for breakfast, brew up some local coffee, and stroll along the many farm paths through fields and forests.
The yurt includes a queen-size bed in the loft, a pull-out futon, and a full kitchen and bathroom. There's a deck with an outdoor dining table and a grill, an outdoor fire pit, and a woodland hammock for catching up on your favorite novel.
---
Also Read: 10 Incredible Yurts in New York for Your Next Adventure
---
Affordable Off-Grid Cabin Near Keuka Lake, NY
Sleeps: 4
Dogs: Yes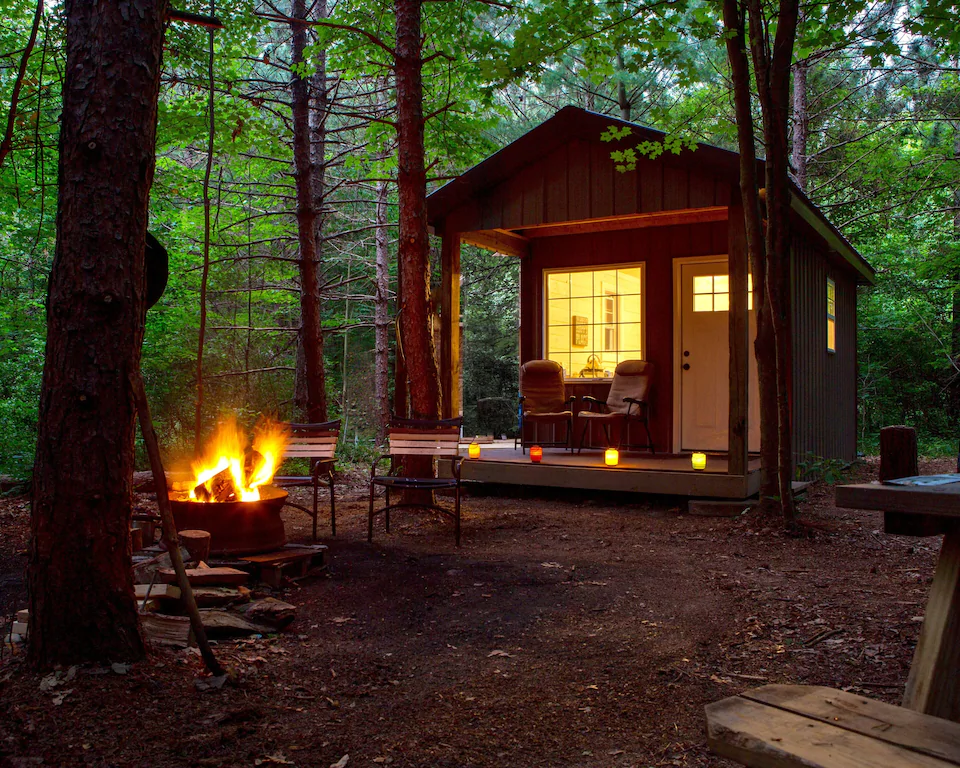 We discovered this gem while searching for pet-friendly cabins in the Finger Lakes, and while we haven't had the pleasure of staying here yet, it's currently the top spot on our list for unplugging with our pups.
This no-frills, one-room cabin near Keuka Lake is entirely off-grid and doesn't have electricity or running water. What it does have is a private wooded setting, a nearby outhouse, an outdoor shower, a lovely fire pit, and a comfy full-size bed.
This cozy cabin isn't for everyone, but it's perfect for solo travelers or couples who need an affordable spot to enjoy some peace and quiet. That's what Finger Lakes glamping is all about!
As with most of the Finger Lakes region, there are numerous wineries and vineyards around Keuka Lake. You should also check out Keuka Lake State Park, which is a great spot to launch a boat, cast a line, or take a hike.
---
Glamping has quickly become our favorite way to travel. What about you? Tell us about your favorite experience glamping in New York in the comments!
Need more ideas for your New York glamping getaway? Check out these posts:
---
Follow us on social media for more outdoor inspiration!
Pin for Later?