Want to spend a weekend exploring rugged mountain peaks, hidden back roads, and a small village dedicated to the Winter Olympics?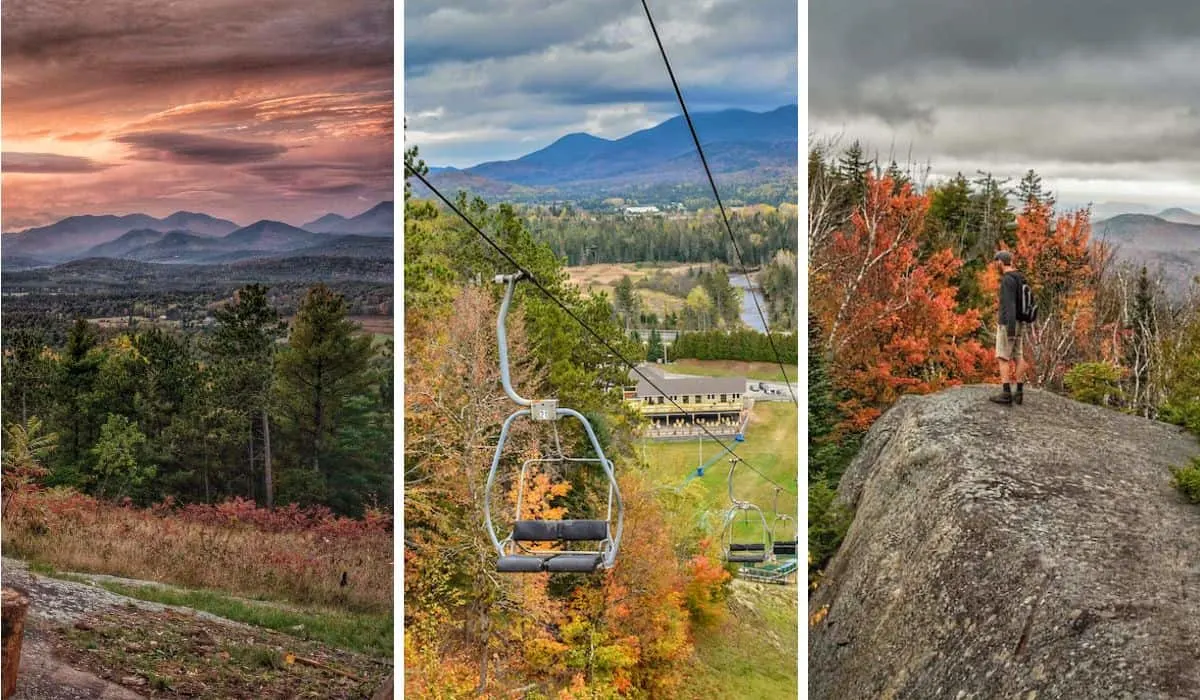 Let's journey to Lake Placid, New York, the beautiful centerpiece of the High Peaks Region in the Adirondacks and one of our favorite small-town vacation spots for families.
Spending a weekend in the Adirondacks is one of the best ways to connect with nature, and you can't beat Lake Placid's location in the center of it all.
Just off the Adirondack Northway (I-87) in upstate New York, a back road winds through spectacular mountain passes, along scenic rivers, and past towns and villages just begging to be explored.
Take exit 30 off the highway, and embark on a weekend journey of outdoor adventuring. This is Route 73, known as the High Peaks Scenic Byway, and it's a gateway to the six-million-acre Adirondack Park — the largest publicly protected land in the contiguous United States.
October is a magical time to explore the Adirondacks and this awesome scenic byway, but it's definitely a four-season destination.
Here's a little overview of what I'd consider a perfect weekend itinerary, complete with beautiful day hikes, great food, a visit to a wildlife sanctuary, and one of the most beautiful lodging options in the area.
A weekend in Lake Placid in the fall is exactly the vacation you've been looking for!

At-A-Glance Trip Planner: A Weekend in Lake Placid
Best Time to Visit: June – February, but this itinerary was created for October
Where to Stay: The centrally located Whiteface Lodge in Lake Placid, or one of these Adirondack cabins.
Nearest Airport: Albany International Airport is the best airport ever and about two hours from Lake Placid.
How to Get Around: To really explore the area, you will need a car. Kayak is great for finding car-rental deals.
3 Things to Pack: Rugged hiking shoes, a daypack, and the 10 essentials for hiking.
The Perfect Weekend in Lake Placid (Itinerary for Fall)
While this itinerary includes spending a lot of time in Lake Placid, we also explore nearby Wilmington, Keene, and Jay. There are a lot of lodging options in the Village and the gorgeous Whiteface Lodge is just a mile from downtown.
Ready to explore the Adirondacks? Here's a map of all the places we've covered in this post.
Insider tip: Since there are several not-too-hard hikes in this itinerary, be sure to download the AllTrails app before heading to Lake Placid. It's a GPS tracker, but also allows you to easily find trails while you're traveling, read reviews, and find current conditions for local trails.

If you purchase AllTrails+ ($35.99 per year), you can download your map so that you can follow the GPS tracks even if you don't have cell service.
Day 1: Spend your afternoon in Keene and the Adirondack High Peaks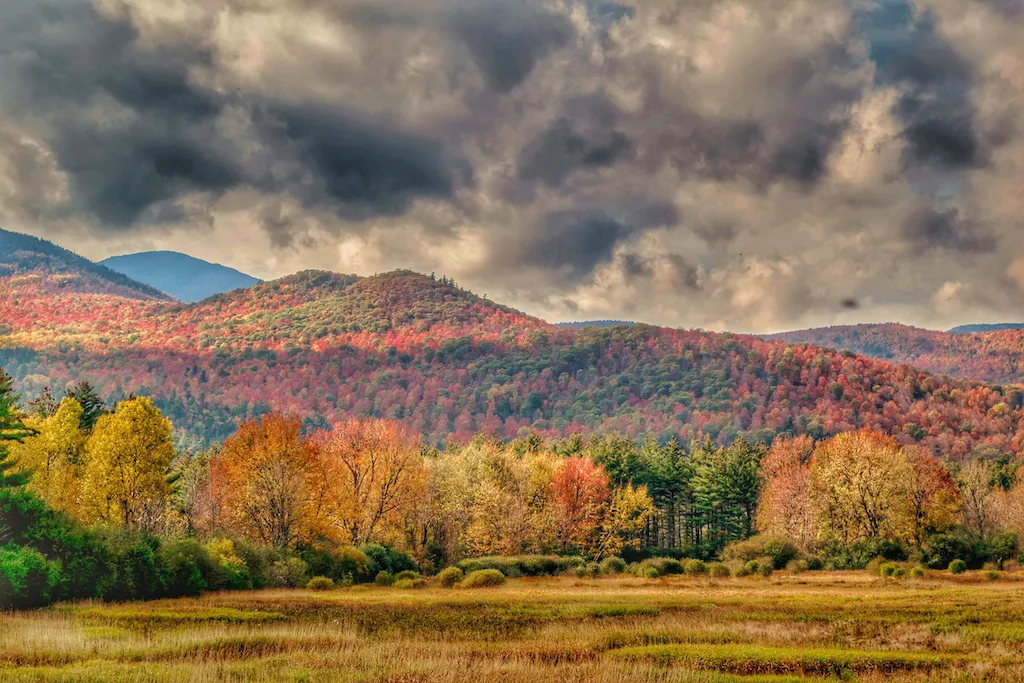 Start your weekend by embracing the outdoors in the town of Keene, New York.
Located in the heart of Adirondack Park, Keene is a mecca for hikers, climbers, and anglers. 15 of the 46 High Peaks are within the town limits, and there are more miles of trails in Keene than there are residents.
Meandering around town won't take long — be sure to check out The Mountaineer, which is one of the best outdoor gear stores we've ever set foot in. They have a great selection of topographic maps, which may come in handy for the weekend ahead.
If you're looking for quirky Adirondack gifts and beautiful furniture, you will also need to pay a visit to Dartbrook Rustic Goods. They've been crafting wood in the traditional Adirondack style since the 1920s, and the store is gorgeous and fun to explore.
For weekend provisions, visit Cedar Run Bakery, where you'll find a nice selection of local beer, good chocolate, and fresh-baked bread.
Take an Easy Day Hike up Owl's Head in Keene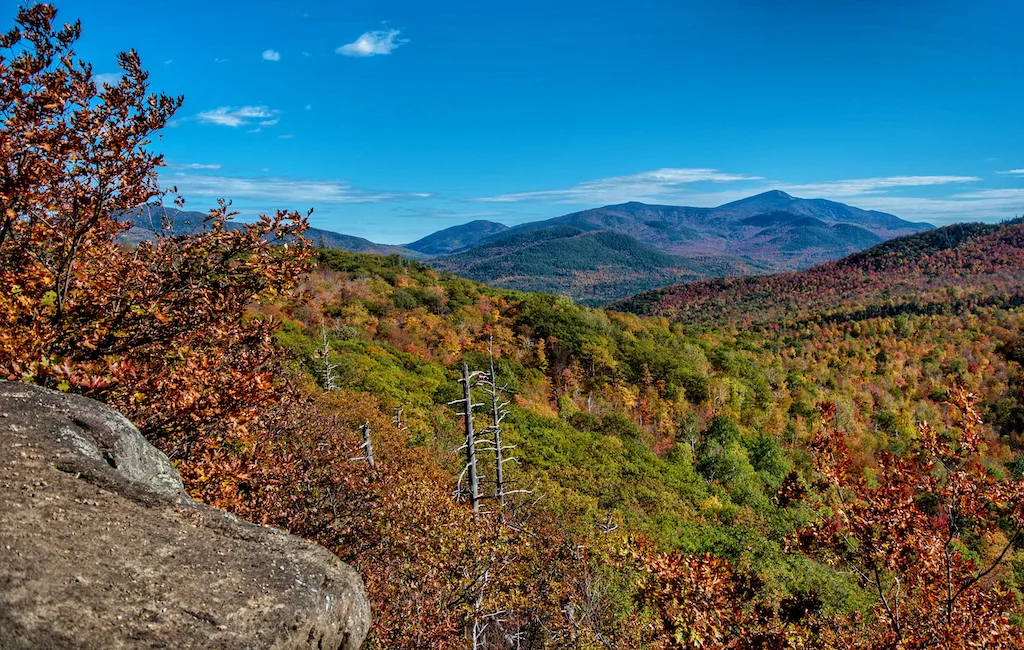 If you make it to town before 3 pm on Friday, I recommend the short hike up Owl's Head to take advantage of the spectacular views.
I make this recommendation with some reservations, however — this gorgeous hike offers a whole lot of view for very little effort, and it has been just about loved to death by locals and visitors alike.
To remedy the situation, the trail is now closed on weekends, from 4 pm Friday to 7 am Monday. It is located on private property, but the owners have agreed to keep it open, provided that hikers follow the rules.
The Owl's Head trail is quite eroded and well-worn. It's .6 miles to the top, where you'll find unobstructed views in every direction.
The summit tops out at 2,120 feet, but the ascent is less than 500 feet. To get to the Owl's Head trailhead, take route 73 north 3.2 miles out of Keene, and turn left on Owl's Head Road. The trailhead is in .2 miles.
The whole hike shouldn't take you longer than 45 minutes, making it a great stop for leg stretching and amazing views.
Visit the Jay Covered Bridge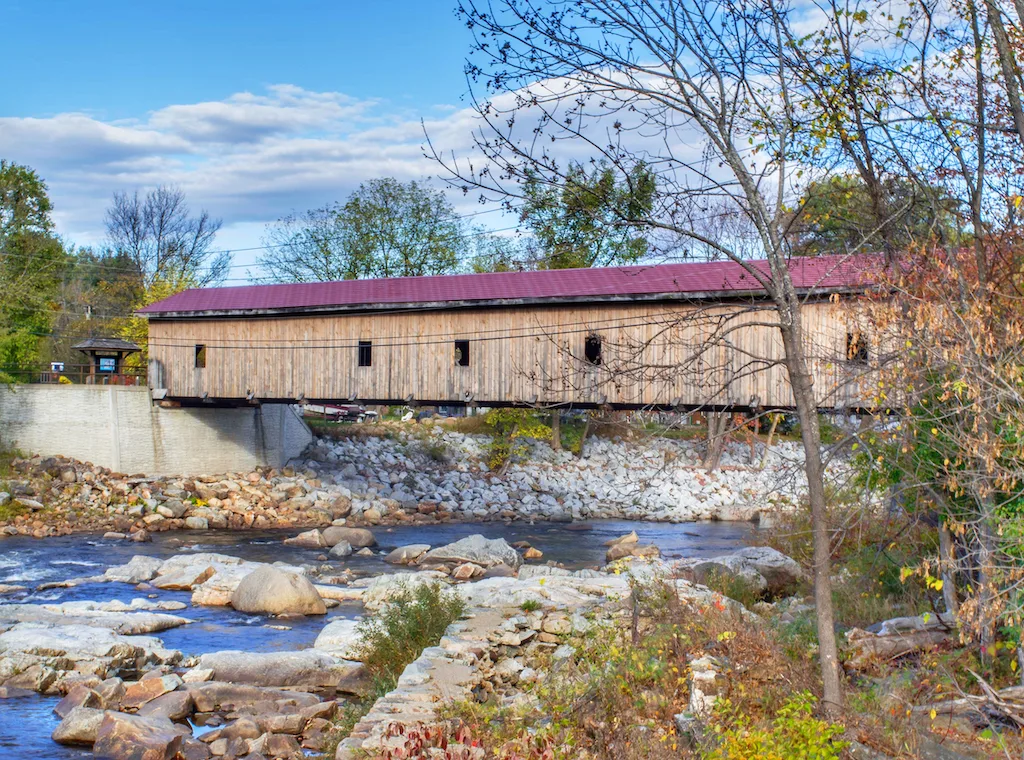 Next up, a quick stop at the Jay Covered Bridge in the little hamlet of Jay.
If you're a sucker for covered bridges (I am), stop at the Jay Covered Bridget to snap some photos. If you're visiting in the summer, this is also a favorite swimming hole with the locals.
The Jay Bridge is one of 29 covered bridges in New York State. It was built in 1857, repaired in 1953, and closed to automobiles in 1997.
Where to Eat
Check out Ice Jam Inn & Restaurant in Upper Jay before heading "home" for the night. The menu is upscale American with a few unique dishes thrown in for good measure. I was excited to try the Banh Mi with tempeh and the seared sea scallops are served over sweet potato and corn hash — so yummy!
Day 2: Explore Lake Placid
Start with a morning hike to get your heart pumping, followed by some explorations in downtown Lake Placid.
Take a Hike up Mt. Jo
No visit to the High Peaks Region would be complete without embarking on a few hiking adventures.
There are hundreds of trails to choose from in the High Peaks Region, if if you don't want to scale a high peak! We often look for shorter hikes with a big payoff, and we found that with Mt. Jo in Lake Placid.
If you are looking for something more challenging, or just want to explore more trails than mentioned in this itinerary, I highly recommend the book, Trails of the Adirondack High Peaks by the Adirondack Mountain Club.
Need a map? Check out: Lake Placid/High Peaks by National Geographic. You can get both of these at the Mountaineer in Keene, but my links are to Amazon.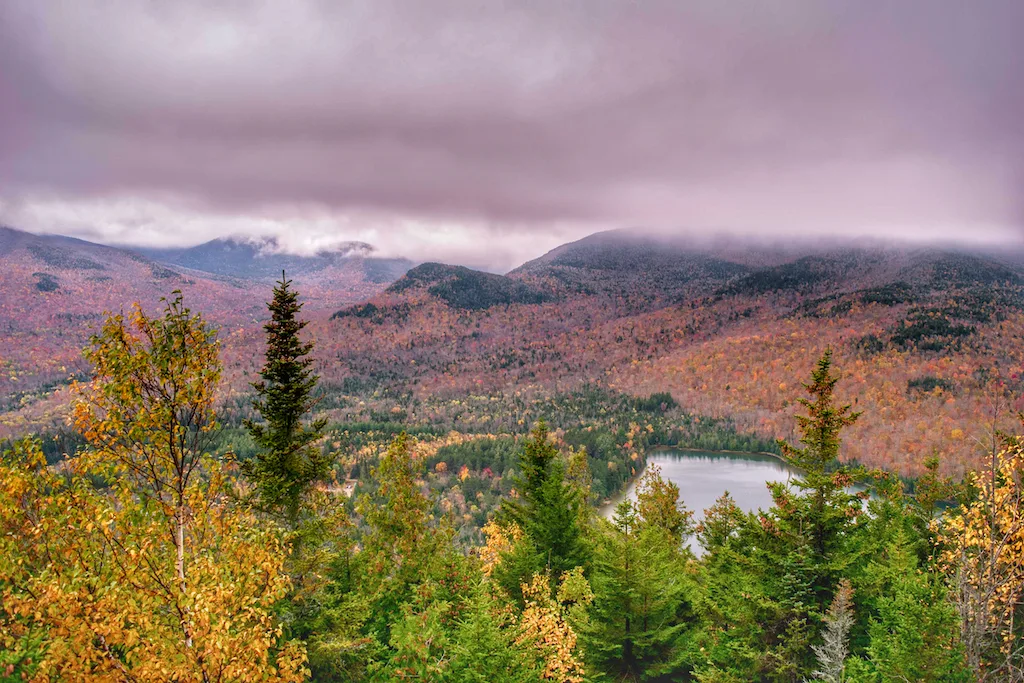 Back to Mt. Jo. — The trail is a moderately steep 2.1-mile loop with fantastic views of the High Peaks.
There are two trails to the summit, but we recommend taking the short, steep route up and the longer route back down — the total elevation gain is 700 feet.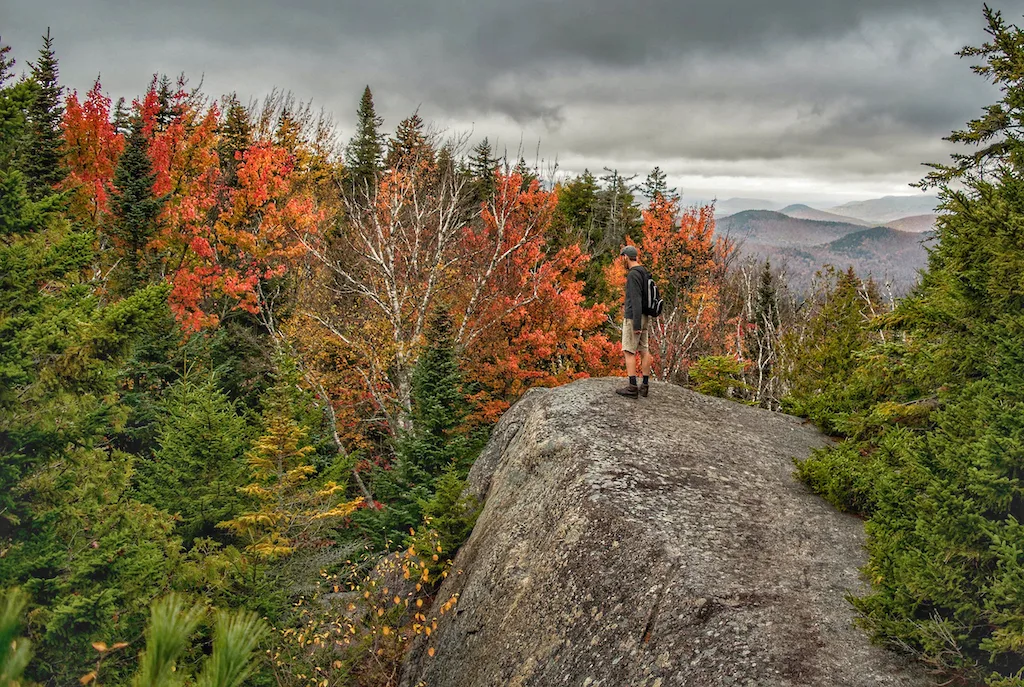 Don't be discouraged by all the cars in the parking lot and along the road.
After seeing the hundreds of cars and hikers, we almost turned around. Turns out there are a lot of trails to explore, and while the Mt. Jo trail is a popular one, we encountered about 20 people on the whole hike.
If you have more time, you can hike around Heart Lake or to Rocky Falls before heading back to your car.
To get to the Mt. Jo trailhead, follow route 73 (north from Keene or south from Lake Placid) to Adirondack Loj Road. Follow the road to the end, and park in the lot ($10 fee) or on the side of the road (free).
Exploring Lake Placid and the Winter Olympic Sites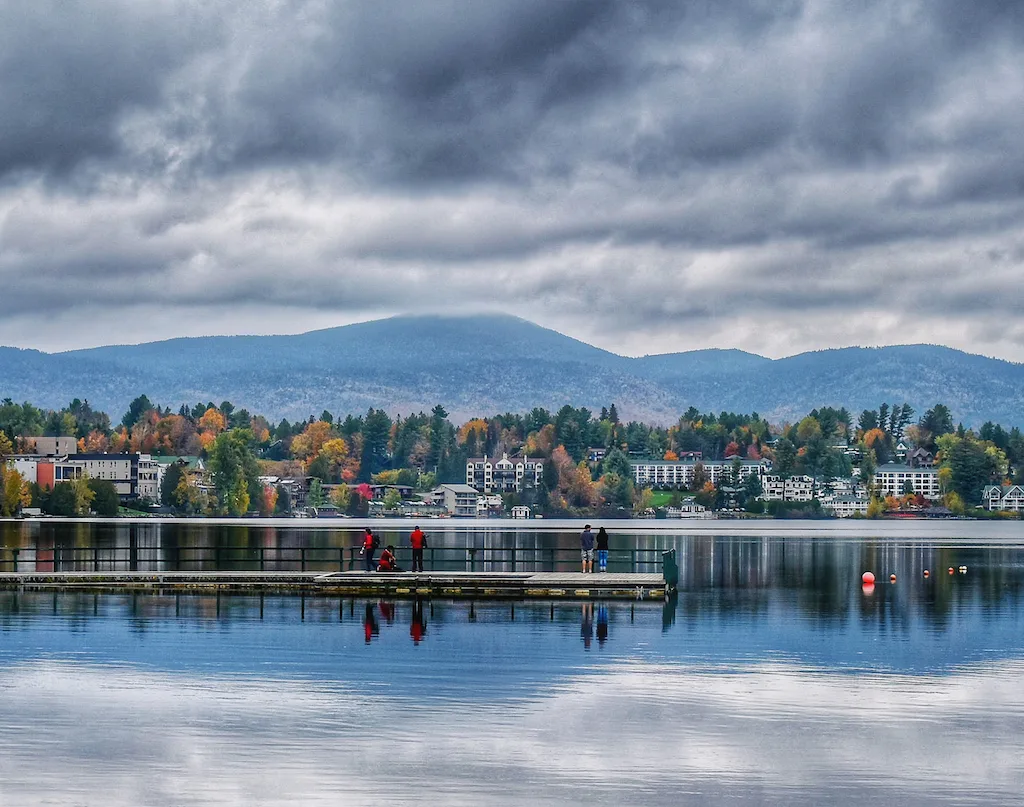 By now you've probably worked up quite an appetite and are more than ready to explore the bustling village of Lake Placid. As you may know, Lake Placid was home to the 1932 and 1980 Winter Olympics and is still the training site for winter athletes.
Two of our favorite Olympic sites in Lake Placid are the Lake Placid Olympic Museum, which is right downtown, and the Olympic Jumping Complex.
During our fall visit, we took the chairlift and elevator to the top of the jump and were lucky enough to watch some young skiers training, which was so incredible. The cost to ride the new, eight-person Skyride is $20 per person, and worth it for the views alone!
There are plenty of other Olympic sites you can tour during your fall visit to Lake Placid. If that's your goal, be sure to pick up the Olympic Sites Passport for $64 (adults) or $44 (kids).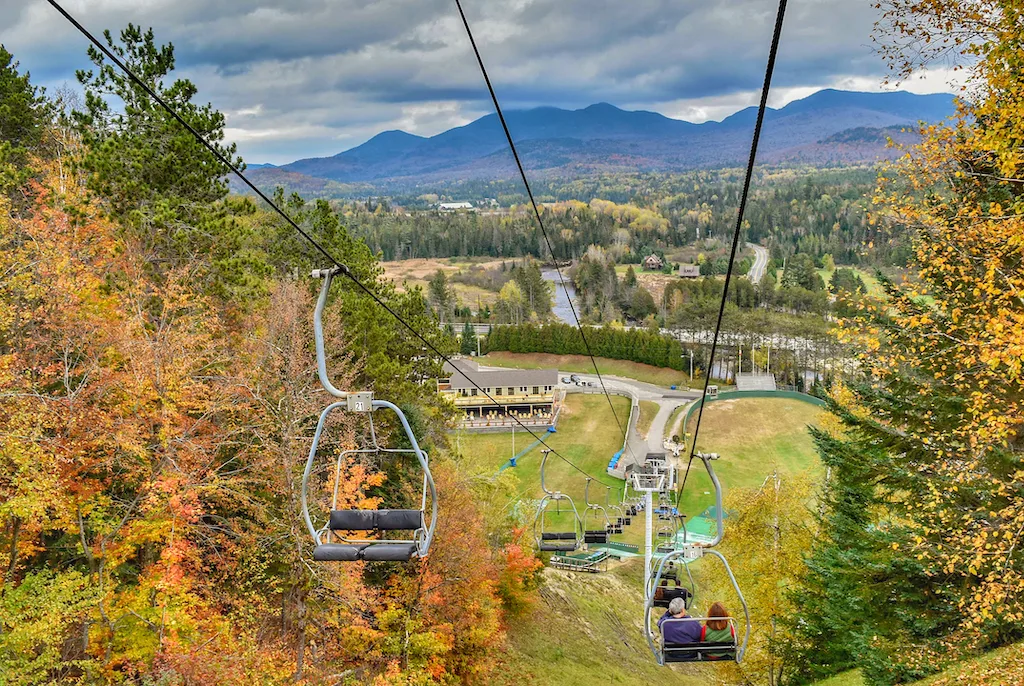 Downtown Lake Placid is a fun town to explore, with a nice combination of boutique shops and galleries, touristy gift shops, and Adirondack kitsch. I'm not a huge shopper, but I do love a good Main Street. Here are some of the shops that I enjoyed during our visit.
Adirondack Trading Company: Located on Main Street, this is the place to go for your Adirondack-themed gifts to bring home to your dog sitter. Plan on spending some time here – they've got three floors of stuff!
Where'd You Get that Hat?: I love hat stores, and this one has a lot of headwear that you won't find anywhere else. It's located at 2569 Main Street in Lake Placid.
After you've meandered around town a bit, relax with some dinner and take in the view. Many of the Lake Placid restaurants are located right on Mirror Lake. We were quite happy with Lake Placid Pub & Brewery – be sure to try the Ubu Ale — they're famous for it.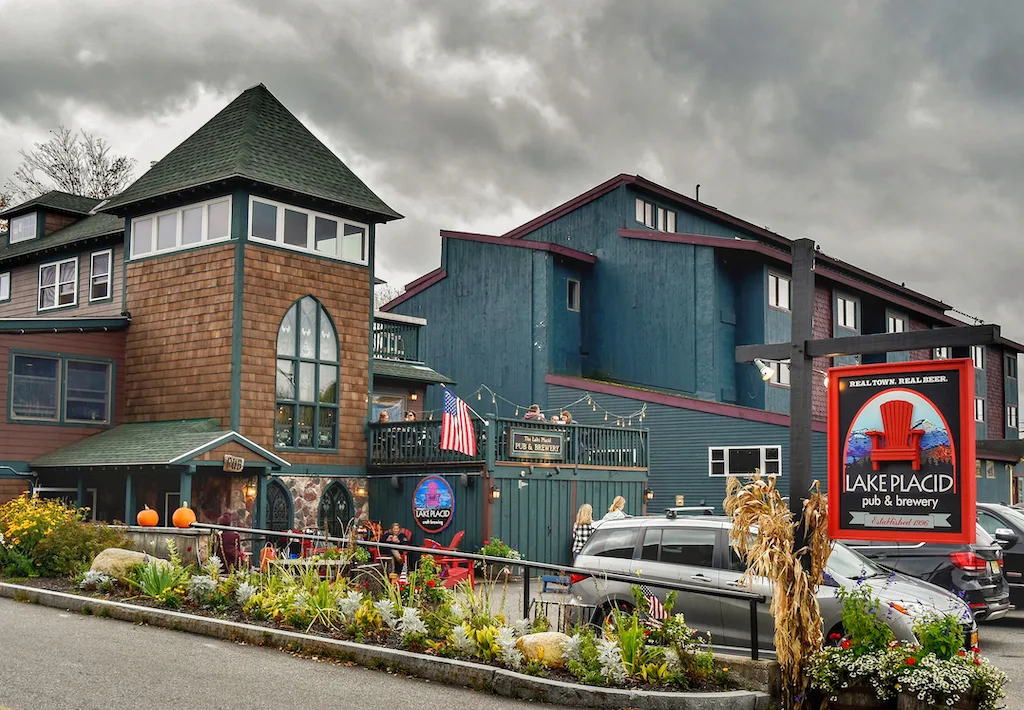 Day 3: Paddling and Mountain Adventures
We've got more outdoor adventures for you today. Paddle Mirror Lake and visit the wildlife at the Adirondack Wildlife Refuge and Rehab Center.
Paddle on Mirror Lake
Getting out on Mirror Lake gives you a whole new view of the village of Lake Placid.
From the water, you'll have a fantastic view of the High Peaks. This 124-acre lake is perfect for a short morning paddle. More than half of the lakeshore is undeveloped forest, and you may even share the water with the local loons.
Bring your own human-powered boat, or rent one from Mirror Lake Boat Rental, which offers hourly rentals on kayaks, canoes, SUPs, paddle boats, and even hydro bikes!
Breakfast: Whether you're craving sweet or savory, you will find so many unique offerings at the Breakfast Club. Banana Nutella French Toast! Bacon Waffles! Biscuits and Gravy! The Breakfast Club is located at 2431 Main Street.
Take in the Views from the top of Whiteface Mountain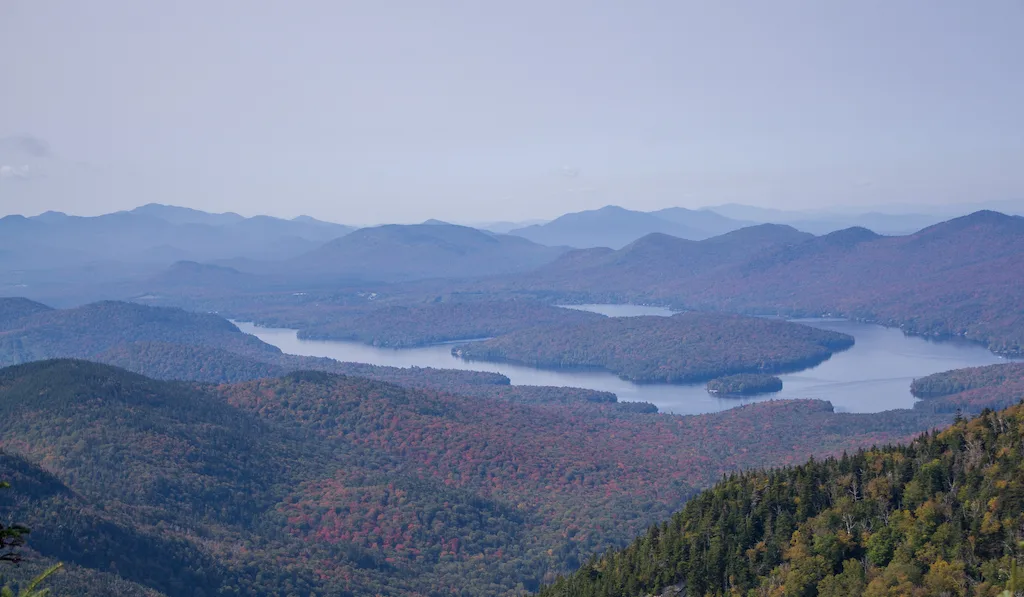 Skiers and snowboarders already know more about Whiteface Mountain than I do. This massive ski mountain has the greatest vertical of any lift-serviced mountain east of the Rockies and is touted as the best skiing in the east.
Alas, I am no skier, but I am a huge fan of mountains and wild spaces, and Whiteface is a four-season recreational playground. In the winter, Whiteface offers 3,430 vertical feet and 94 trails covering 22 miles. With an average annual snowfall of 184″ and one of the best ski towns in the US (Lake Placid), Whiteface Mountain should absolutely be on your winter adventure list.
In summer and fall, drive the Veterans' Memorial Highway to the 4,867-foot summit, where you can see for hundreds of miles on a clear day. There's also a castle built from native stone, a restaurant and gift shop, and an elevator carved into the mountain.
The Cloudsplitter Gondola Ride is another option for fantastic views in summer and fall. It transports visitors from the base of Whiteface Mountain to the peak of Little Whiteface with more of those stunning views.
FAQs About Visiting Lake Placid in the Fall
When is the best time to see fall foliage in Lake Placid?
While it's not an exact science, fall foliage in the Adirondacks usually begins in late-September and continues until late October. Peak fall foliage around Lake Placid starts around the last week of September and lasts through the first week of October. Of course, beautiful fall colors can be seen early and later than those peak times, you just may have to look a little harder to see them.
What's the best way to get to Lake Placid?
Lake Placid is within a few hours of several major international airports, including Albany, NY, Burlington, VT, and Montreal, Quebec. To get the full fall foliage experience in the Adirondacks, I recommend renting a car or bringing your own. The actual village of Lake Placid is quite walkable, and if you stay right in town, you will be able to access shopping, restaurants, and attractions without a car.
Will I enjoy Lake Placid if I don't like to hike?
The Adirondacks are known for their amazing hiking opportunities, but you don't have to be a hiker to love this area! The village of Lake Placid is a bustling little place with all kinds of great attractions, restaurants, and shops. The Olympic sites alone could keep you busy for days, and there are other small towns nearby that you can check out.
What's the weather like during the fall in Lake Placid?
In one word – unpredictable! Be prepared for rain and cool weather. Merino wool layers are great for the shoulder seasons, as they regulate your body temperature whether it's warm or cool. Our favorite brand for the softest wool layers is Woolly Clothing Co., which is also one of the most affordable brands selling merino wool activewear.
Where should I stay in Lake Placid?
There are a lot of lodging options in the village and the gorgeous Whiteface Lodge is just a mile from downtown. This cozy lodge is the perfect place to escape to after a day of adventuring and is our top recommendation for a Lake Placid hotel.
If you want to stay right in Lake Placid, you might want to check out the Crown Plaza , which features gorgeous lake views, an indoor pool, and luxurious accommodations. Oh, and did I mention that it's pet friendly?
We've also got a bunch of recommendations for Adirondack cabins nearby.
---
Follow us on social media for more road trip ideas!
Pin for Later?