Please don't travel until it's safe to do so, and be sure to check with each state/destination for its current COVID-19 guidelines before planning a visit. Also, please note that this post may contain links from which we earn a small commission.
Just off the Adirondack Northway (I-87) in upstate New York, a back road winds through spectacular mountain passes, along scenic rivers, and past towns and villages just begging to be explored. Take exit 30 off the highway, and embark on a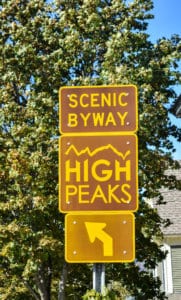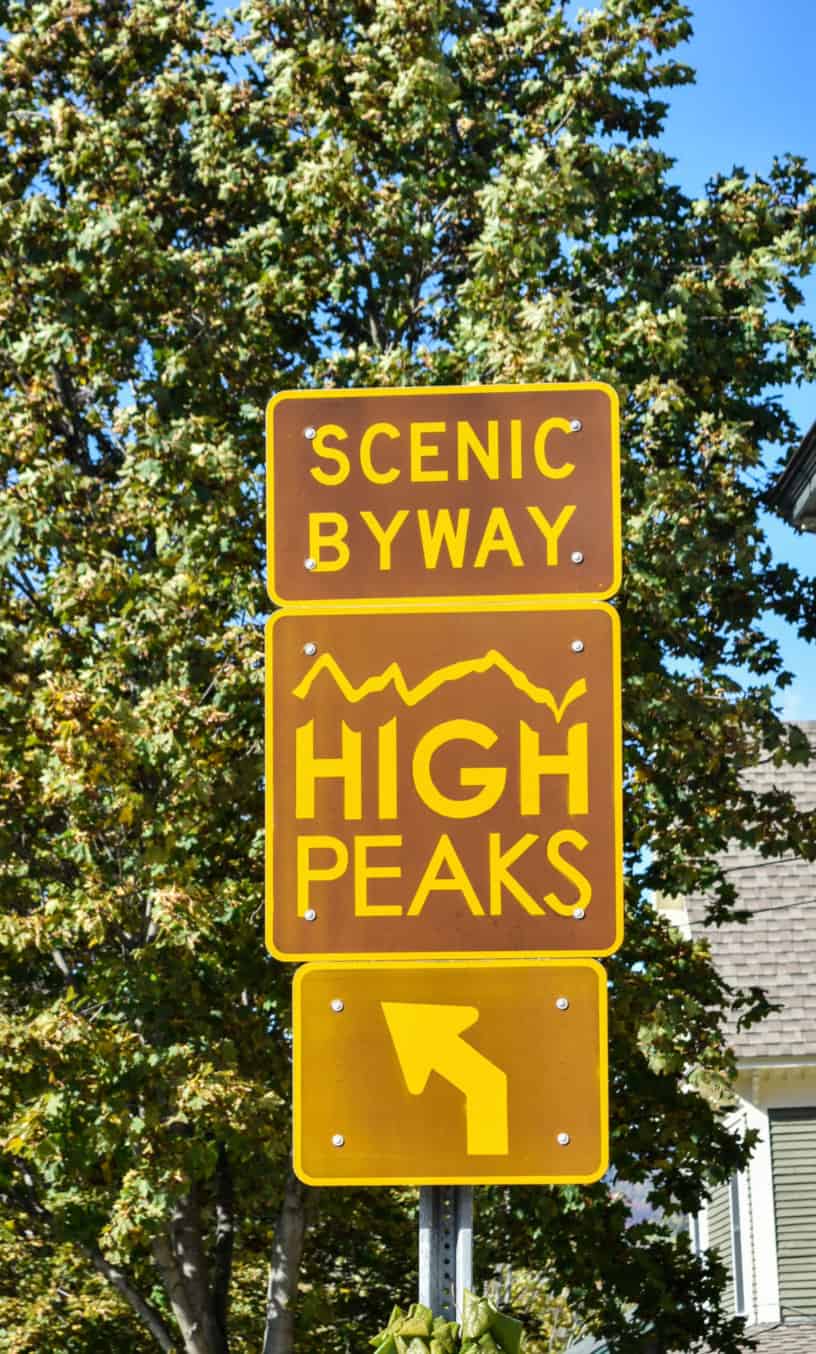 weekend journey of outdoor adventuring. Route 73 is known as the High Peaks Scenic Byway, and it's a gateway to the six-million-acre Adirondack Park — the largest publicly protected land in the contiguous United States.
October is a magical time to explore the Adirondacks and this awesome scenic byway, but it's a four-season destination. Here's a little overview of what I'd consider a perfect weekend itinerary, complete with beautiful day hikes, great food, a visit with wolves, and one of the most beautiful lodging options in the area. I think a weekend in the Adirondacks is exactly what you've been waiting for.
Day 1: Exploring Keene, New York
Start your weekend by embracing the outdoors in the town of Keene. Located in the heart of Adirondack Park, Keene is a mecca for hikers, climbers, and anglers. 15 of the 46 High Peaks are within the town limits, and there are more miles of trails in Keene than there are residents. Meandering around town won't take long — be sure to check out The Mountaineer, which is our all-time favorite outdoor gear store. They have a great selection of topographic maps, which may come in handy for the weekend ahead.
If you're looking for quirky Adirondack gifts and furniture, you can't go wrong at Dartbrook Rustic Goods. They've been crafting wood in the traditional Adirondack style since the 1920s, and the store is beautiful and fun to explore. For weekend provisions, pay a visit to Cedar Run Bakery, where you'll find a nice selection of local beer, good chocolate, and fresh baked bread.
Hiking Owl's Head
If you make it to town before 3 pm on Friday, I recommend the short hike up Owl's Head to take advantage of some spectacular views. I make this recommendation with some reservations, however — this gorgeous hike offers a whole lot of view for very little effort, and it has been just about loved to death by locals and visitors alike. To remedy the situation, the trail is now closed on weekends, from 4 pm Friday to 7 am Monday.
The Owl's Head trail is quite eroded and well worn. It's .6 miles to the top, where you'll find unobstructed views in every direction. The summit tops out at 2,120 feet, but the ascent is less than 500 feet. To get to the Owl's Head trailhead, take route 73 north 3.2 miles out of Keene, and turn left on Owl's Head Road. The trailhead is .2 miles.
A Visit to the Jay Covered Bridge
If you have time, make a quick stop at the Jay Covered Bridge in the little hamlet of Jay. This was very close to our lodging at Adirondack Star Ridge, and we couldn't resist, but it also makes for a great photo opp, and there is a small park nearby for walking. If you're visiting in the summer, this is also a favorite swimming hole with the locals. The Jay Bridge is one of 29 covered bridges in New York State. The bridge was built in 1857, repaired in 1953, and closed to automobiles in 1997.
Day 2: Hiking Mt. Jo in Lake Placid
No visit to the High Peaks Region would be complete without embarking on a few hiking adventures. Truly, there are hundreds of trails to choose from, but we were looking for relatively short and relatively easy, so our next recommendation is Mt. Jo in Lake Placid. If you are looking for something more challenging, or just want to explore more trails, I highly recommend the book, Trails of the Adirondack High Peaks by the Adirondack Mountain Club. Need a map? Check out: Lake Placid/High Peaks by National Geographic. You can get both of these at the Mountaineer in Keene, but my links are to Amazon.
Back to Mt. Jo. — The trail is a moderately steep 2.1-mile loop with fantastic views of the High Peaks. There are two trails to the summit, but we recommend taking the short, steep route up and the longer route back down — the total elevation gain is 700 feet. Don't be discouraged by all the cars in the parking lot and along the road. After seeing the hundreds of cars and hikers, we almost turned around. Turns out there are a lot of trails to explore, and while the Mt. Jo trail is a popular trail, we encountered about 20 people on the whole hike. If you have more time, you can hike around Heart Lake or to Rocky Falls before heading back to your car.
To get to the Mt. Jo trailhead, follow route 73 (north from Keene or south from Lake Placid) to Adirondack Loj Road. Follow the road to the end, and park in the lot ($10 fee) or on the side of the road (free).
Exploring Lake Placid
By now you've probably worked up quite an appetite and are more than ready to explore the bustling village of Lake Placid. As you may know, Lake Placid was home to the 1932 and 1980 Winter Olympics and is still the training site for winter athletes. Two of our favorite Olympic sites in Lake Placid are the Lake Placid Olympic Museum ($7 per person), which is right downtown, and the Olympic Jumping Complex. We took the chairlift and elevator to the top of the jump and were lucky enough to watch some young skiers training, which was so incredible. The cost to ride the lift is $11 per person. There are plenty of other Olympic sites you can tour. If that's your goal, be sure to pick up the Olympic Sites Passport for $35.
After you've meandered around town a bit, relax with some dinner and take in the view. Many of the Lake Placid restaurants are located right on Mirror Lake. We were quite happy with Lake Placid Pub & Brewery – be sure to try the Ubu Ale — they're famous for it.
Day 3: Adirondack Wildlife Refuge and Rehab Center in Wilmington
Get up close and personal with wolves and other wildlife at the Adirondack Wildlife Refuge. The main attraction is three beautiful resident wolves, but you'll also get a glimpse of bears, coyote, fox, eagles, owls, and a bunch of other critters. Many of the animals are permanent residents of the refuge, due to injuries or illness, while others will be rehabilitated and returned to the wild. Be sure to catch Steve's fabulous wolf talk every day at 10 am — it's incredibly interesting to learn about how these magnificent creatures affect even the smallest plants and animals in the ecosystem. Afterwards, take a stroll around the 1-mile trail to visit the other critters.
The Adirondack Wildlife Refuge and Rehab Center is located on Springfield Road in Wilmington, New York. It is open from 10-4, Thursday through Monday. Suggested donation of $10 per person will help offset the cost of feeding and caring for the resident animals.
Resources for Visiting Lake Placid and the Adirondack High Peaks
How to Get There: We're most fond of road trips, but if you have to fly, the nearest major airport is in Burlington, Vermont (62 miles away). Car rentals are available at the airport, and you will have to cross Lake Champlain on one of the Lake Champlain Ferries.
Where to Stay: We stayed at Adirondack Star Ridge in Au Sable Forks, New York. You will not find a better view anywhere in the region, and your hosts, Mini and Mike, are fabulous hosts. There are a few lodging options available here, including a private room, two glamping cabins, or a two-bedroom cottage. Please read our full review of Adirondack Star Ridge.
Best time to Visit: The High Peaks and Lake Placid area is a four-season vacation destination. We are partial to fall hiking, but you will find lots to do throughout the year.
Our favorite resources for planning a weekend getaway in the Adirondacks:
Lake Placid –

We used the official

Lake Placid website

for planning much of our itinerary.

Whiteface Region

– The

Whiteface Region website

has great tips for family attractions and outdoor adventures in the region.

Outdoor Project – For good overviews of local trails in the Adirondacks, check out the adventures listed in Outdoor Project.