Hiking is basically walking in the woods — putting one foot in front of the other while enjoying the beautiful scenery. Just about anyone can do it, and you don't need a lot of gear to get started.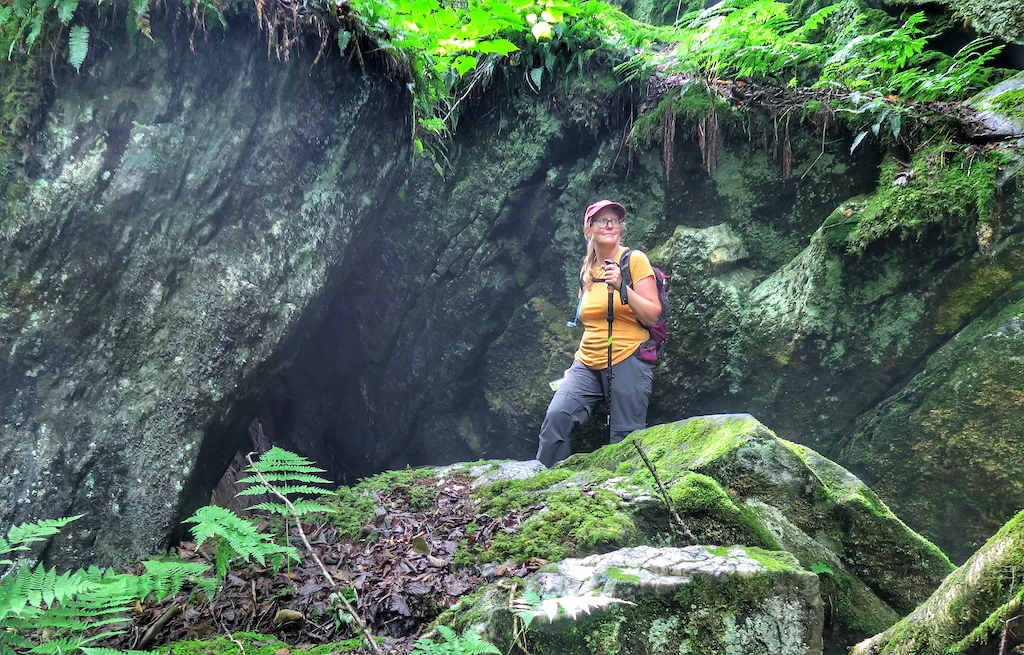 Experts (and gear manufacturers) often talk about all the cool gear and clothing that will elevate your hiking experience, but in reality, you don't need much to start day hiking.
Sturdy footwear and a backpack will get you started, along with the 10 essentials.
What are the 10 essentials for hiking, you ask? These are the heavy hitters that will keep you safe and comfortable on every single hike.
Once you get into the habit of packing the 10 essentials for hiking, it becomes second nature, and you'll have important supplies at the ready during your trail-based adventures.
You will likely find that you rarely use some of the items that you store in the bottom of your daypack, but the most important gear is lightweight and doesn't take up much space.
I'll admit that I haven't always packed the 10 essentials, especially if I was hiking on an easy trail that I've walked on many times in the past. It was all about risk analysis, and it was just easier to grab my water bottle and phone as I headed out the door.
After years of raising outdoor kids and adventurous dogs, with several minor woodland catastrophes and a published hiking guide under my belt, I'm officially in the "better-safe-than-sorry" camp and I don't regret it for a minute. Not to mention that I've solidly entered middle age and hike solo more often than not.
Why 10 Essentials for Hiking?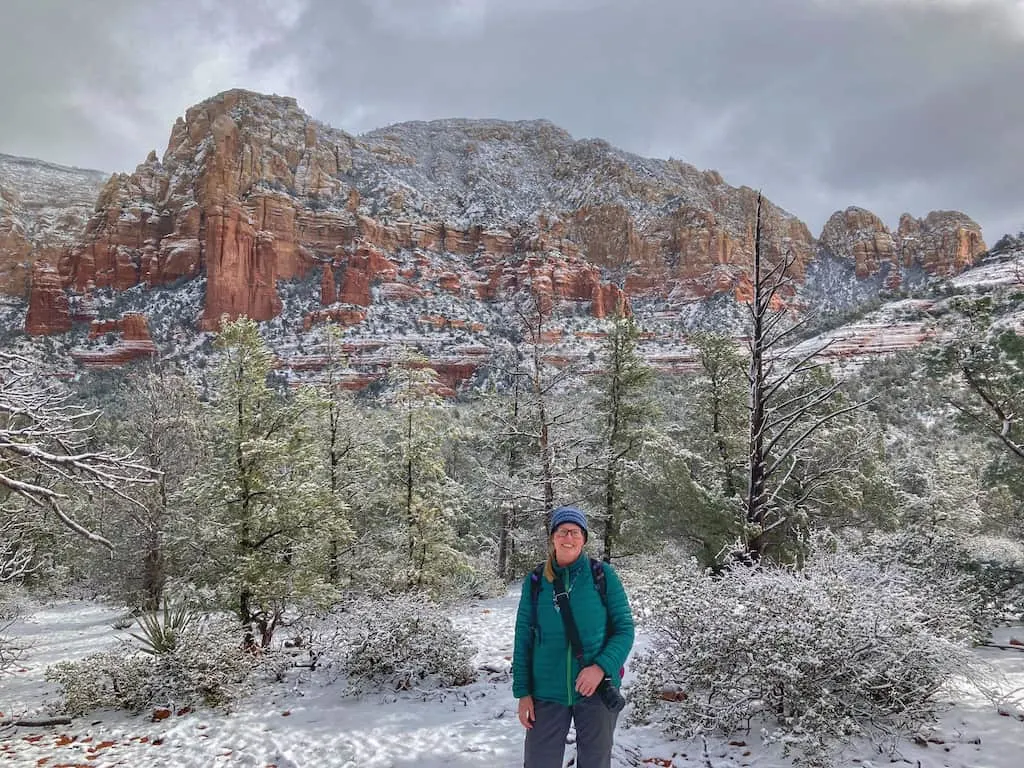 The idea for a 10 essentials hiking list was put forward in the 1930s by an organization for climbers and hikers called The Mountaineers. The idea was to make it easier for outdoor lovers to prepare for small and large emergencies.
The original 10 essentials for hiking included a map, compass, sun protection, extra layers, a headlamp or flashlight, a first-aid kit, a fire starter, matches, a knife, and extra food.
Many of the original 10 essentials for hiking are still important, but instead of a concrete list, the 10 essentials is now more of a framework for what to include in your pack to prepare for all the what-ifs you might have to deal with.
Here's an overview of the 10 essentials for hiking, followed by an overview of what we carry with us on every single day hike.
The 10 Essentials for Hiking: Quick Guide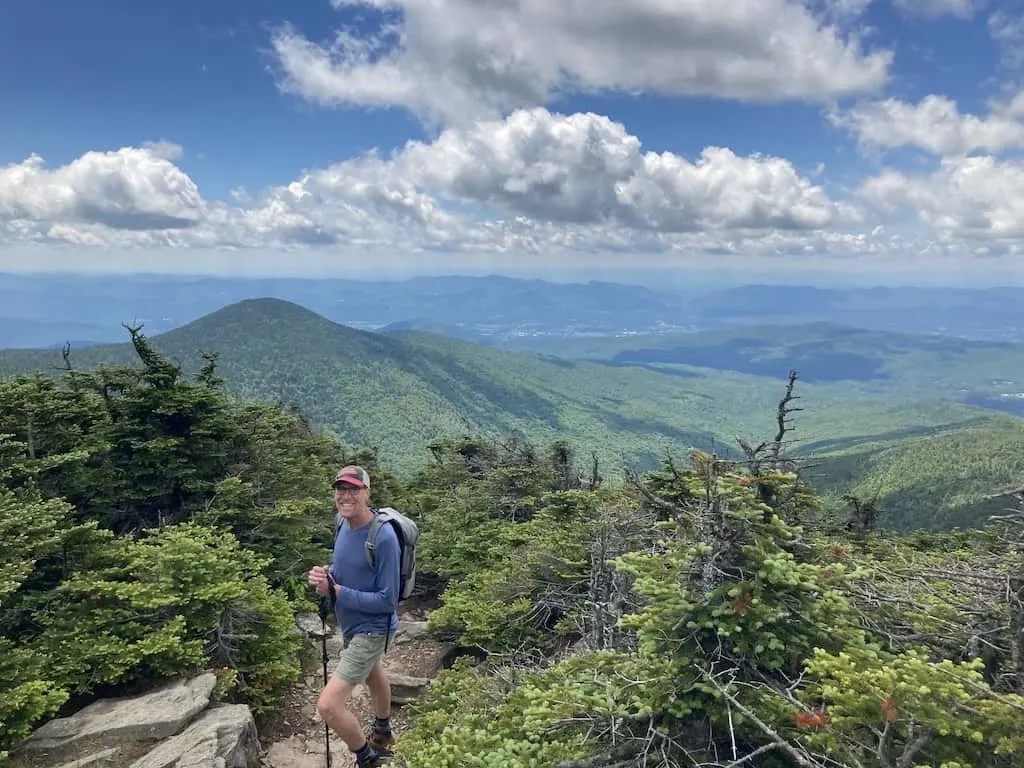 Navigation: How will you find your way? Pack a map and compass or download a reliable GPS app on your phone that is suitable for use offline (don't forget a portable power bank to charge your phone).
Headlamp: Check to make sure your headlamp is fully charged before a hike. These Biolite 325 HeadLamps are rechargeable, bright, and lightweight.
Sun protection: Sunglasses, sunblock, and SPF lip balm can live in your daypack so you never forget them.
First aid: The basics include bandages and gauze, Benadryl for allergic reactions, insect repellent to prevent mosquito and tick bites, and medications. Store in a small Ziplock bag or get a premade hiking first aid kit.
Knife: A simple pocket knife is useful for many things, including first aid and gear repair.
Fire: How would you create a fire in an emergency? A lighter and some tinder don't take up much room and can be a lifesaver when you need extra warmth.
Shelter: One of those mylar emergency blankets will keep you warm when you need it most.
Extra food: Pack snacks for your hike and then a bit extra for emergencies.
Extra water: Bring what you need for your hike, and then extra for emergencies.
Extra clothes: This is weather dependent, but at the very least, keep a lightweight waterproof shell in your backpack for summer hikes, and an insulating layer for the other three seasons.
Obviously, you should tailor your 10 hiking essentials packing list to match your hike. Consider the weather, length of the trail, difficulty, and distance from civilization. Longer, more difficult hikes will require more careful preparation.
The Details: 10 Essentials for Hiking
If you've been hiking for a while, you may not need to read any further, but we wanted to dig a little deeper into exactly what essentials we pack for hiking.
We've been fine-tuning our system for years now, and we adjusted everything this summer, as we hiked almost every day while doing research for a hiking guidebook.
First, a note about daypacks. Do you have a favorite? I went with the lightest and smallest pack with a hydration reservoir I could find, which was this Gregory Amasa 14L daypack. Daypacks are often a matter of personal preference, so I recommend visiting a gear store to try on different brands before making a purchase.
Navigation
I'll be honest, I almost never bring a physical map or compass with me on hikes, although if it's a trail I'm unfamiliar with, I'll print out a map before leaving home.
I live in the northeast and hike on well-established trails. The backcountry in Vermont is not the same as the backcountry in Montana. It's rare that I don't see other hikers when I'm in the woods.
For navigation, I have invested in both AllTrails+ and Gaia Pro. I use them both for different reasons.
AllTrails is fantastic for finding trails and reading real-time reviews from other hikers. I love Gaia for its accuracy and the statistics it collects.
No matter which app I'm using, I download the map within the app for offline use before leaving home — that way if I don't have cell service, I can still follow my tracks and navigate using the map feature.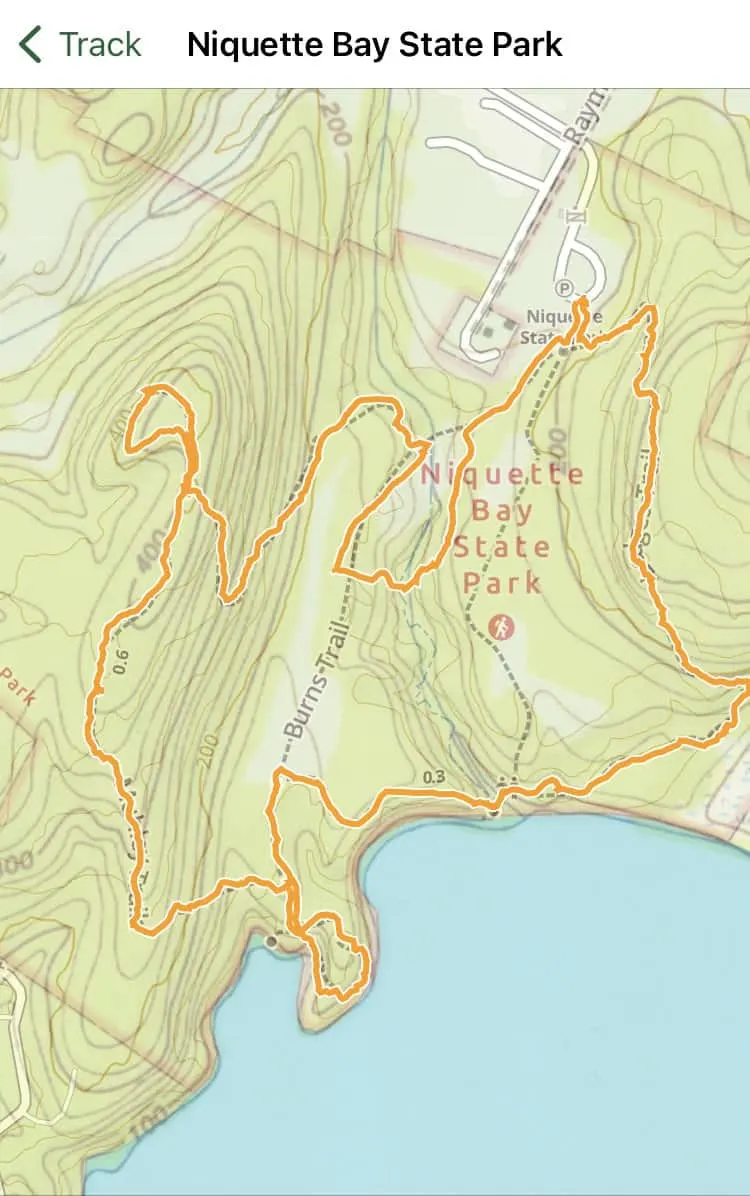 Yes, technology can fail. Bring a charger so that you can keep your device powered up. My charger will give my phone four extra charges and can also be used to charge my headlamp.
A paper map is a better choice If you are heading into remote areas that you don't know. USGS Topographical maps for any region in the US can be downloaded and printed for free.
Headlamp for Navigation After Dark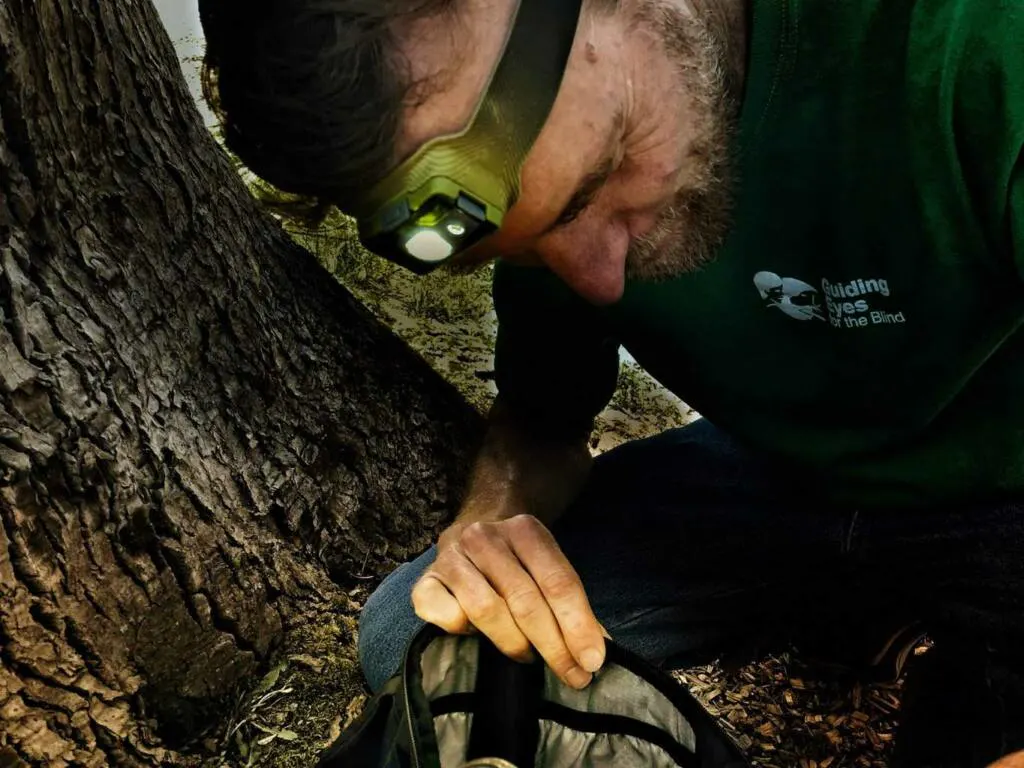 I use the Biolite 325 HeadLamp, which is the lightest and cheapest that Biolite makes. Not only is this the most comfortable headlamp I've ever worn, but it also holds a charge for a long time so that I can just keep it in my backpack until I remember to pull it out and charge it.
If you are doing a lot of overnights, you may want to upgrade to the Biolite 330 headlamp, which is brighter, heavier, and more rugged.
Sun Protection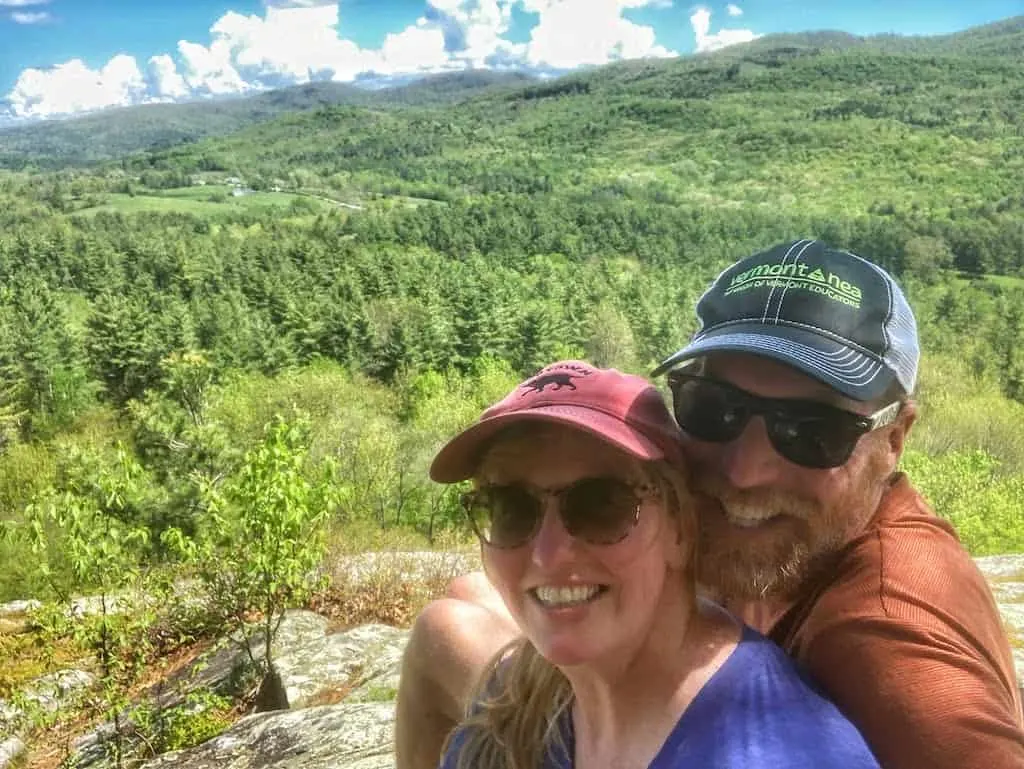 Most of the northeast hiking I do is deep in the woods, so sun protection is less important. I have really fair skin though, so I pack the basics. This includes a tiny (3-ounce) bottle of reef-safe sunscreen, a tube of SPF lip balm, and my prescription sunglasses.
If you are hiking above the tree line, I would strongly suggest wearing long sleeves with SPF protection and a wide-brimmed hat.
First Aid for Hiking
This is another one of the 10 essentials for hiking that requires a bit of risk analysis. Consider the length and difficulty of your hike, as well as the scenarios you are most likely to encounter, and pack accordingly.
I make my own small first aid kit, which includes foot care items, wound care, Benadryl (for humans and dogs), Tylenol, and Vet Wrap, which is a self-adhesive tape for use on our dogs' feet. I also tuck in a small bottle of insect repellent for preventing tick bites and pesky mosquitoes.
You can certainly buy a ready-to-go first aid kit until you feel more confident knowing what you'll need.
Pocket Knife
I most often use my pocket knife for cutting medical tape and removing splinters but have also used it to free my dog who was tangled in fishing line, to harvest mushrooms, and to cut up a block of cheese at snack time.
Since a pocket knife has an endless number of uses in the woods, it seems silly not to have one in your pack. I carry this lightweight Opinel pocket knife on every hike.
Fire Starter
I have never used my emergency fire-starting kit when hiking. I have never even started a fire when hiking. I still carry a lighter, along with a wad of dryer lint in a small Ziplock bag. Some day, I will need it, and I will be prepared!
Emergency Shelter
For day hikes, I just keep a mylar emergency blanket in with my first aid kit. It's another piece of gear that I've never used, but I imagine that if I had to sleep in the woods, I'd be fortunate to have it.
Mylar blankets are also great as an additional layer when hiking in the cold, and to wrap up a human or dog who is hurt or in shock. I also keep a few in my car in case we have a winter emergency while road-tripping.
Food
Only you will know how much food you need for your day hike. If we're going to be out for less than three hours, I pack a few of these granola bars and some dried fruit.
It's enough food for a quick burst of energy and would likely tide me over if I had to spend the night in the woods.
The longer and more difficult the hike, the more an emergency food supply will matter.
Water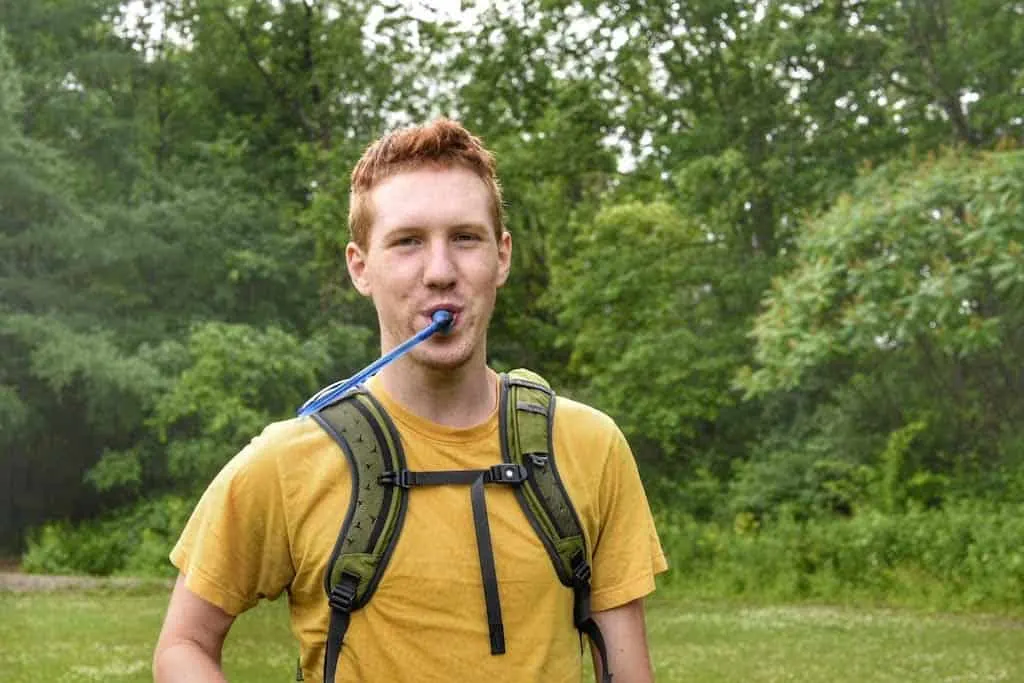 The rule of thumb is to carry about a 1/2 liter of water for every hour on the trail with moderate activity. Higher amounts are recommended when the temperatures are very hot, the hike is difficult, or you are at high elevations.
A daypack with a hydration bladder is great for three-season use. Mine holds three liters of water and I fill it based on the above criteria. My husband simply carries Nalgene bottles with water for drinking, which are lightweight and much easier to clean than the hydration reservoirs.
For longer hikes, a few iodine tablets are not a bad idea so that you can treat water from wild sources.
Extra Clothing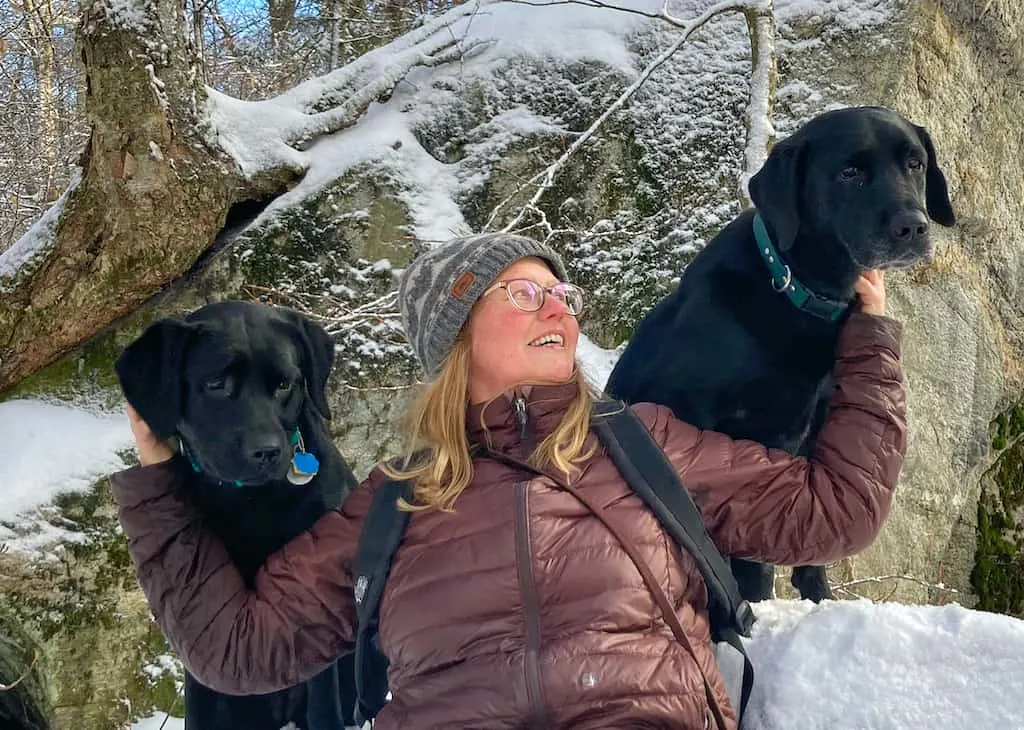 When hiking, you want to be prepared for fluctuations in temperature, as well as weather events. That means that you will want to think ahead about the clothing you'll need.
If you are hiking up a mountain, expect the temperatures to drop as you climb in elevation. You will also need warmer layers if you plan on relaxing at the top and enjoying the view.
What you choose to pack for extra clothing will depend on many factors, but here are a few suggestions:
Merino wool layers: Merino wool base layers are pricy, but so worth it. They are naturally antimicrobial so they rarely smell nasty, plus they wick moisture away from your skin to keep you dry and warm. Do not wear cotton clothing when hiking! Cotton does not dry well and could hasten hypothermia in wet conditions.
Extra pair of socks: Great for when your feet get wet, either from sweat or from walking through water. We love Darn Tough Vermont socks, which are made in Vermont from merino wool and come with a lifetime guarantee.
Wool hat and gloves: For fall, winter, and spring
Waterproof layer: For four seasons of protection from wind and rain, a waterproof layer is crucial. The MARMOT Women's PreCip Stretch is my current favorite waterproof shell. It is 9.2 ounces and packs down small.
Puffy layer: For days when we're not sure what the weather will bring, or when we're climbing in elevation, we also pack a down puffy jacket. This one from REI is so light and packable but may not hold up well to brambles and such. Mine has lasted for about 3 years, but I patch it with NoSo patches (these make great gifts too) and it's almost ready to be replaced. Also, this puffy jacket is not waterproof, but it is quite warm.
---
Now that you know the 10 essentials for hiking, here are a few more hiking essentials (the less essential essentials, if you will). This includes some extra pieces of equipment, as well as clothing that I love for hiking in three seasons.
---
---
Follow us on social media for more hiking tips!
Pin for Later?