Day hiking. It's the gateway drug to the outdoors. Hiking can be as easy or as difficult as you'd like it to be, but it's still just putting one foot in front of the other.
One of the benefits of hiking is that you can do it just about anywhere, from your local park to the most remote wilderness. And if you're out of breath from that mountain climb, you can always say it's because of the incredible view.
No matter how difficult the trail, it's still just a walk in the park, right?
Hiking also doesn't require much gear. Start with the basics — sturdy walking shoes and a backpack with the 10 essentials. As you fall head-over-heels in love with hiking, you can expand your gear and clothing list.
I have been "hiking" for the past 20 years, but I use the term loosely because, for much of that time, my hikes were short meanders in our local state parks with toddlers and then small children.
Over the past couple of years, my hikes have gotten longer and more difficult; it's not uncommon for me to spend a full day in the woods with my camera and my dog, and I recently co-authored AMC's Best Day Hikes in Vermont, which was published in May of 2023.
Lots and lots of hiking trips mean that I've had a chance to really dial in my day hiking essentials and clothing so that I can pack up quickly and get to the trailhead.
Today, I'm sharing my favorite clothing and gear for day hiking between spring and fall. Winter requires extra stuff, so we'll cover that on another day.
This is an overview of all the stuff that I wear and/or carry with me while hiking, including stuff that I usually forget (maybe this post will help with that).
If you are clothed and have the 10 essentials, you'll be fine. Extra stuff may be useful, but it's also extra weight.
Ready to hit the trail? Here are my favorite day hiking essentials for a day enjoying the outdoors.
Choosing Your Day Hiking Clothes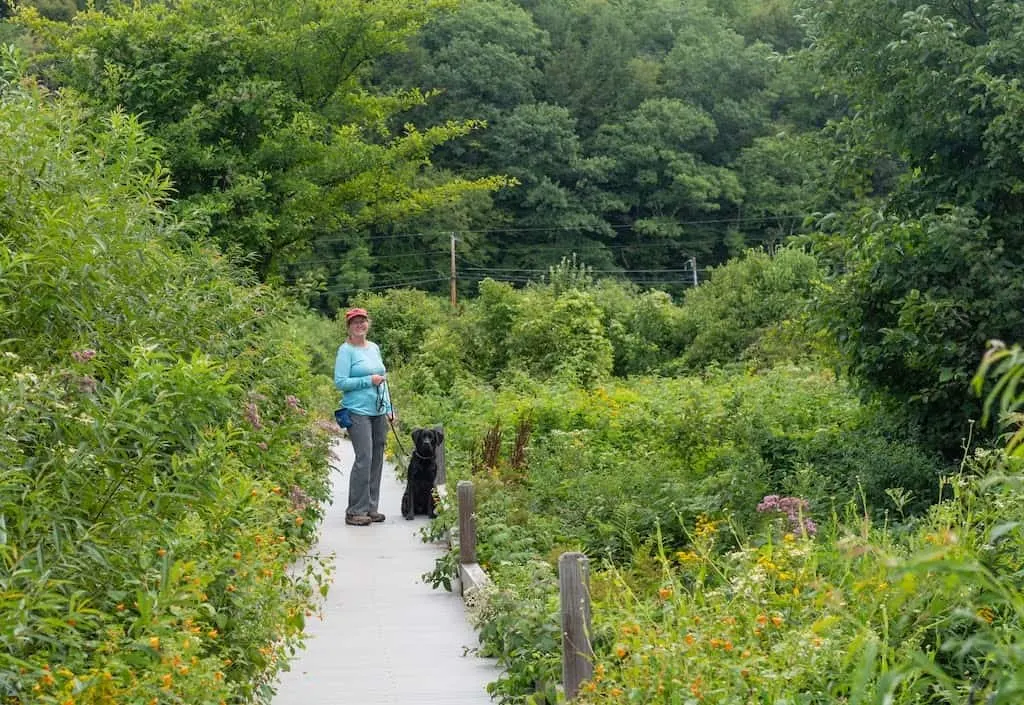 There's nothing wrong with hiking in your favorite pair of shorts and a t-shirt, especially when you're just starting out, but you may need to pack a few extras in your daypack to account for changes in weather.
Short, easy hikes obviously require less preparation than longer treks, where you really want to ensure that you plan for any "what-ifs" —
What if the clouds open up when you're in the middle of the woods?
What if you step into the world's largest mud puddle?
What if you fall asleep after eating too much GORP and you wake up freezing after dark?
Here are a few clothing choices to consider so that you'll always be prepared:
Don't wear cotton: Unless you're just out for a quick jaunt, cotton clothing and hiking don't really go well together. The big issue is that once cotton gets wet, either from sweat or rain, it takes forever to dry.

Damp cotton socks will cause blisters, and hiking in wet cotton clothing is uncomfortable at best and potentially dangerous at worst. Instead, choose a synthetic material meant to dry quickly and wick moisture away from your skin, or try the miracle fabric — Merino wool.

Consider convertible pants: I always thought those combination shorts/pants were dorky, but now that I hike in all kinds of weather, I find them so useful, especially in the spring and fall when you never know what the weather will do.

Leggings? 50% of the women I see when I'm on the trail are wearing leggings, so they're absolutely worth considering. I've tried it, and it's just not my thing so I can't really make recommendations except to say that if you already wear leggings and love them, then you'll likely enjoy hiking in them.

Hiking shoes or boots? What you choose to wear on your feet will depend a lot on the terrain, season, and personal preference, but I highly recommend buying your hiking shoes or boots from a reputable shoe store, at least until you find a favorite pair in the right size. I wear a low-top, waterproof hiking shoe for most of the hiking season.

Think in layers: It's easy to mix and match lightweight layers to create a system that will work in three seasons. Your base layer will be a t-shirt in the summer and a long-sleeve shirt in the spring and fall. Next, you need an insulating layer for cool days, followed by a waterproof layer to keep out wind and rain. For your bottoms, you shouldn't need more than a single layer (pants or shorts).
---
Read Next: The Ultimate Guide to Hiking with Kids
---
My Basic Day Hiking Uniform: Summer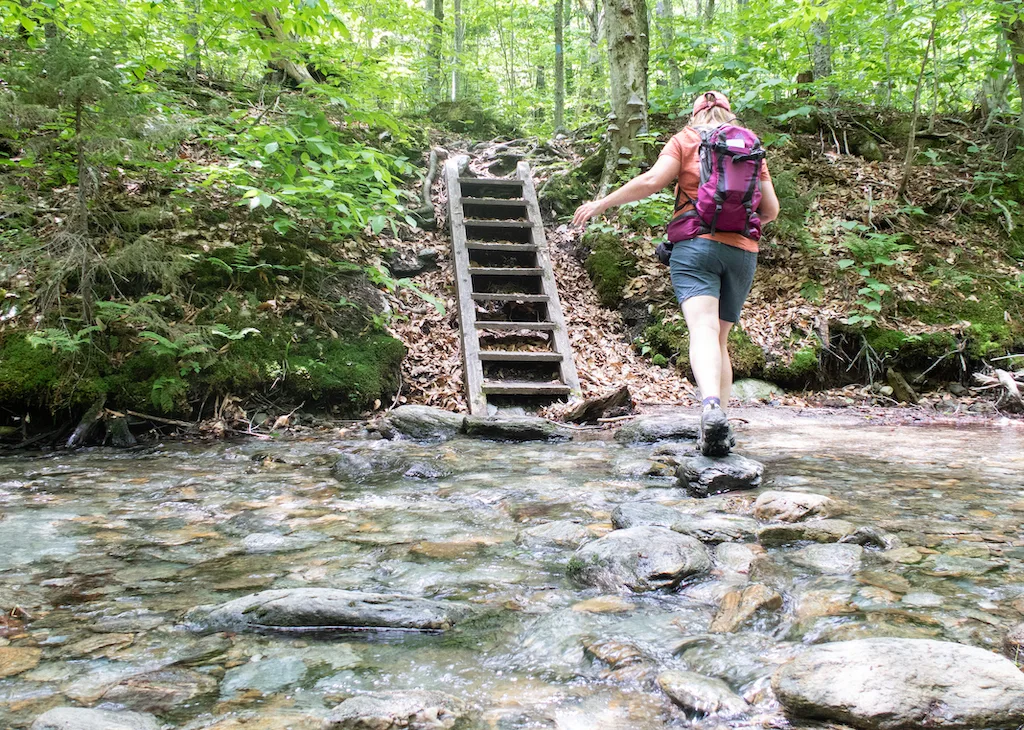 I have amassed a small collection of clothing specifically for hiking, but I still tend to stick to a favorite outfit. Here's my go-to summer hiking outfit for all types of trails.
Underwear: Merino wool or synthetic underwear that will wick all that sweat away from my body.
Base layer: A Merino wool t-shirt in a dark color. I have a love affair with Merino wool and could wax on poetically about all its benefits. To keep things concise, I'll just say that today's Merino doesn't itch, doesn't smell, can go many wears between washing, and has cooling properties that are perfect for summer hiking.

I've tried lots of Merino clothing brands, but my current favorite is Woolly Clothing Co, which offers lots of colors at a decent price (merino is still pricier than cotton or synthetic shirts).

Hiking shorts: I like my shorts on the rugged side, and. I want them long enough so that nothing is hanging out or making me feel self-conscious. I adore these Halle hiking shorts from Prana, which are made from a blend of nylon and elastane. I love that they don't stretch out during my hike and they dry extremely fast.

Wool socks: The best socks on Earth are made by Darn Tough Vermont. Prove me wrong! These extra soft hiking socks are made in Vermont and come with a lifetime warranty. The average pair lasts me about five years, after which I send them back to the company for a brand new pair. I wear a pair of cushioned hikers and pack an extra pair in my daypack. Darn Tough Vermont makes socks for men, women, and kids.

Hiking shoes: For summer hiking, I wear these Oboz Sawtooths. They come in a regular or waterproof version. These work really well for my wide feet, but I definitely encourage you to get fit for your first pair at a good shoe store.

Waterproof shell: A lightweight, waterproof jacket should live in the bottom of your pack. This will be your go-to layer when you stop for a mountaintop picnic in the summer and need protection from both wind and rain. The best and most affordable that I've found is the Marmot Precip Stretch for both men and women. It's durable, but no-frills, and weighs just 9.2 ounces!

An insulating layer (as necessary): For days when we're not sure what the weather will bring, or when we're climbing in elevation, we also pack an insulating layer. A simple fleece works well and dries fast. Here's an affordable fleece for women and for men.

A versatile buff: Wear it as a neck gaiter, headband, beanie, balaclava, and more. The ever-versatile buff is an easy and lightweight piece of gear that should be in every woman's pack and one of my favorite day hiking essentials. The Totally Tubular by Turtle Fur is breathable, dries fast, and resists odors. And it comes in dozens of colors and designs!

A brimmed hat: Either a ball cap or sun hat.

Sunglasses

Head net for bugs: Sometimes the mosquitoes and black flies make hiking unbearable. That's when we break out these head nets!
Extra Clothing for Hiking in Spring and Fall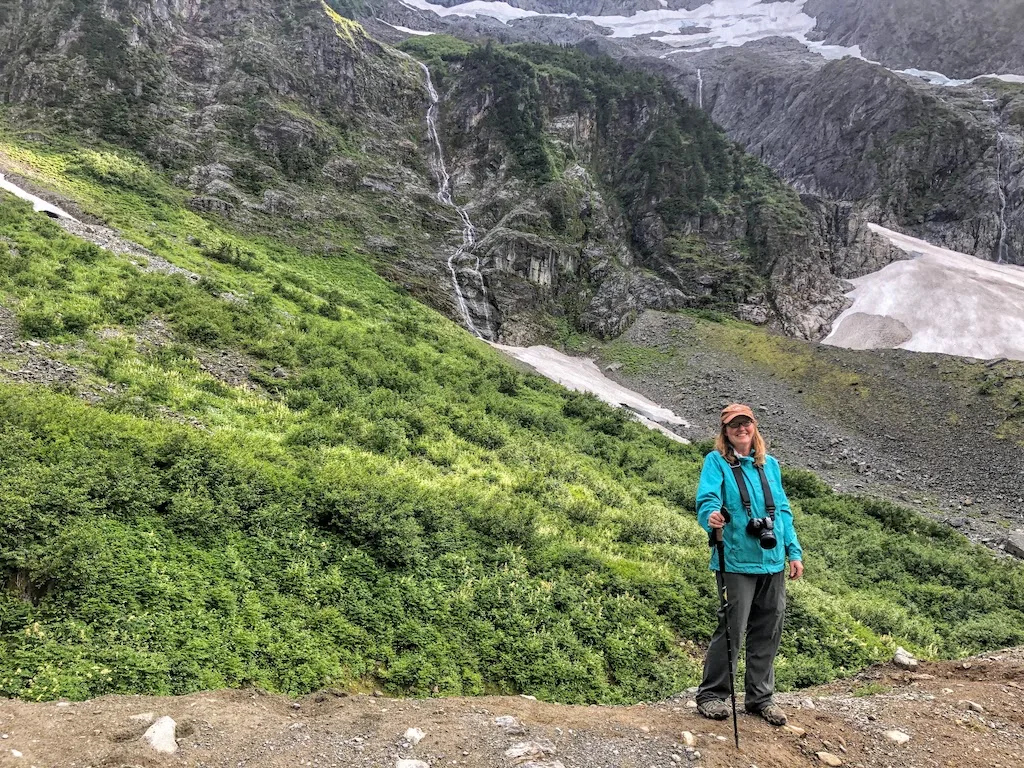 We wear the same outerwear in the spring and fall, just changing from shorts to pants, and from short sleeves to long sleeves. Here are a few extra pieces of clothing that I add to the mix when hiking in spring and fall:
Long-sleeve hiking shirt: I love these lightweight Merino wool shirts from Woolly Clothing Co. Here's the men's version, which they always seem to run out of.

Hiking pants: I'm a new fan of convertible hiking pants. These pants are current faves! Here are the hiking pants that Eric loves. I also wear these Prana Halle pants all the way into winter, and I love that they come in both short and tall sizes. They are probably the most comfortable pants I own.

Beanie and gloves: For those chilly mornings on the trail.
---
Read Next: Winter Daypack Essentials: What to Take Hiking with Kids
---
Day Hiking Essentials: Gear
Ready to rock your day pack on your next hike? Here are all the day hike essentials that I keep with me on all but the shortest hikes.
The 10 Essentials for Day Hikes: What You Actually Need
Are the 10 essentials really essential? Let's take a look at what's considered to be the most important gear for day hiking. This list was created by experts to keep hikers comfortable and safe on the trail. I'm going to break down the list and tell you exactly what's in my pack.
Navigation: This could be a map and compass, a GPS device, or a satellite messenger. For navigation, I will usually print a paper map or pick one up at the trailhead. I also download a map for offline use on the Gaia GPS app or AllTrails. I record my tracks from the trailhead so that I can get back to my car if I get lost. I stick to pretty well-known trails, so it's not usually an issue.

Headlamp: Today's headlamps are so lightweight, that I always have one in the bottom of my pack for emergencies. This one from Biolite is extremely comfortable and is easily recharged with a micro USB.

Sun protection: I wear a brimmed hat, put on sunscreen before I leave the house, and carry SPF lip balm for day hikes.

First aid kit: There are lots of ready-to-go hiking first aid kits out there. I make my own small kit, which includes foot care items, wound care, Benadryl (for humans and dogs), Tylenol, and Vet Wrap, which is a self-adhesive tape for use on our dogs' feet.

Pocket knife: I carry a sharp Opinel pocket knife.

Firestarter: I bring a simple lighter and dryer lint, which is light and very flammable.

Shelter: A lightweight mylar blanket weighs next to nothing, but is very useful in emergency situations.

Food: Usually, I pack lunch and snacks for day hikes. These include Craisins, trail mixes, and granola bars.

Water: A daypack with a hydration bladder is great for three-season use. Mine holds three liters of water. My husband simply carries Nalgene bottles with water for drinking. For longer hikes, a few iodine tablets is not a bad idea.

Extra clothing: We've already discussed clothing, but if the weather is iffy, be sure to pack extra layers, an extra pair of socks, a warm hat, and gloves.
---
Read Next: A Detailed Guide to the 10 Essentials for Hiking
---
The Best Daypack for Hiking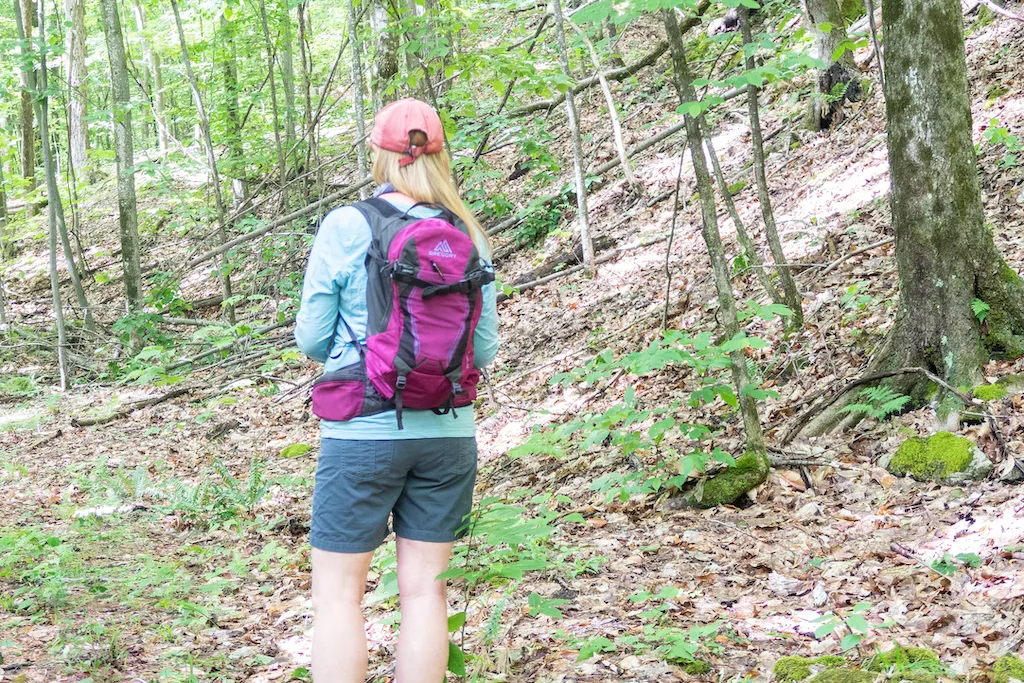 The best daypack for hiking is the one that fits well and you'll love wearing.
There are so many great choices now that I'm not going to tell you what is best for you. I will, however, go into a bit of detail about the features I love in a daypack to help you choose.
Hydration-reservoir compatible: I love using a hydration reservoir on day hikes! It means that I don't have to break my stride to drink, which also means that I won't get dehydrated. Many daypacks come with a hydration reservoir. The ones that don't are at least compatible with them.

Insider tip: Worried about your hydration reservoir becoming gross and full of germs because they don't dry properly in between hikes? Store them in the freezer! I empty mine out after each hike and toss it in the freezer until the next trek. Keeps bacteria from forming and I don't have to clean and dry it each time!

Hip belt: A hip belt is a necessity for me. It helps distribute the weight so that it's not all on your shoulders.

Hip belt pockets: I couldn't live without the small hip belt pockets on my daypack. I use them to keep sunblock, a cloth to clean my glasses, chapstick, and a small bag of trail mix. So useful!

If you are looking for the best daypack for hiking, your best bet would be to visit an outfitter so that you can try on a bunch to see what fits best with your body type. I have a short torso and love my Gregory Amasa 14 daypack. It's meant for mountain biking and is quite small and lightweight, perfect for the type of hiking I do (3-8 miles at a time).
---
Read Next: How to Avoid Ticks When Camping and Hiking
---
More Useful Day Hike Essentials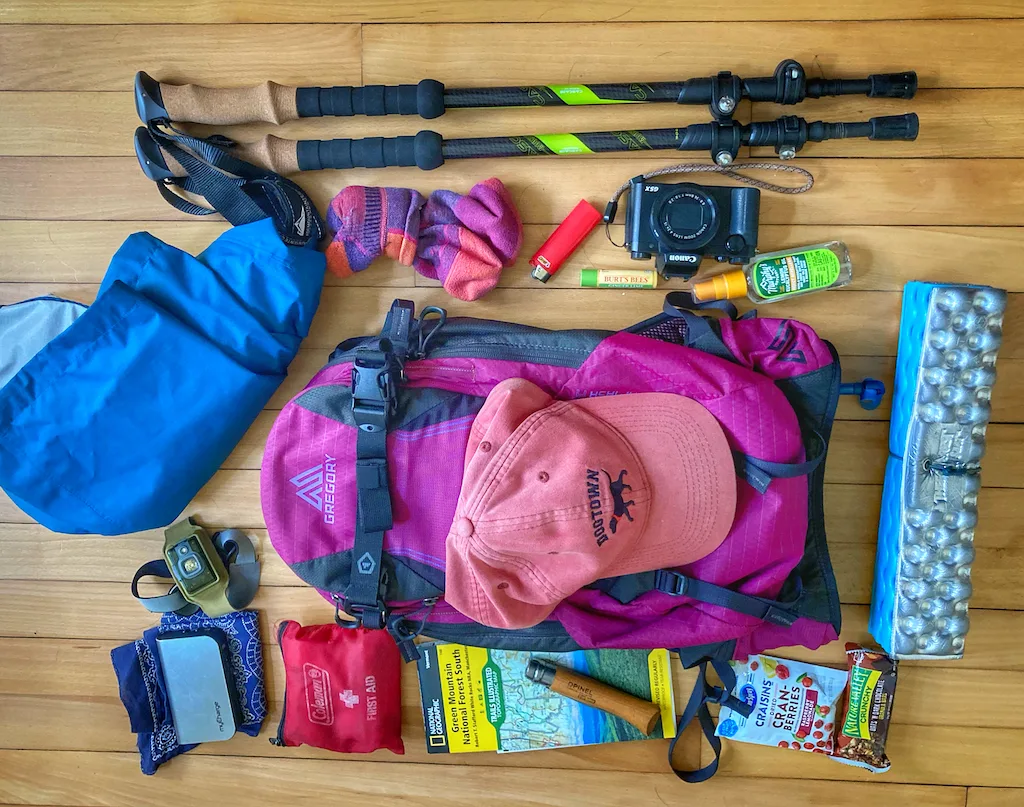 The following items may not be considered "essential" for most people, but they are always in my daypack:
A small charger for my cell phone and headlamp: Since my cell phone is my primary navigation tool, I always bring a backup charger with me. I have had this little charger from My Charge for several years now and it still works great. I love that the cables are built-in so I don't have one more thing to remember.

Bug spray and head net: As needed. If you hike in the northeast, these are essential! Our favorite bug spray is Sawyer Picaridin Insect Repellent. Picaridin is an alternative to DEET and it works great! These Sea to Summit head nets are teeny tiny and useful when you need them most.

A foldable camping seat: Best $20 I ever spent! This little closed-cell foam seat is perfect for perching on rocks or the wet ground and it only weighs two ounces so it comes on most of our day hikes.

A bandana: Useful for so many things!

A little notebook and pencil: For taking notes, drawing, writing poetry, etc.

Selfie stick: I hike alone. I like to take a few photos when I get to the summit!

A point-and-shoot camera: Absolutely not necessary, but when I want to take good photos and save my cell phone battery, I use a small point-and-shoot camera. The photos are superior to phone pics. Here's the camera I use. No, you don't need such an expensive camera. I love to take photos, and I did a ton of research and saved up for this one. It's been awesome!

Trekking poles: While they don't actually go inside my pack, I bring these Black Diamond trekking poles on day hikes when the incline is steep. They keep me balanced and take some of the load off my knees. Sometimes I only use one. On flat hikes, I leave them at home.

---
Psst… Want a printable day hike packing list? Join our mailing list and we'll email you one that you can print out and tack to your mud-room wall so you never forget the most important day hiking essentials.
---
Follow us on social media for more outdoor inspiration!
Pin for Later?