Please check to make sure destinations are open to visitors before planning a trip and follow local guidelines. We earn a commission from affiliate links that may be included in this post.
If you love camping in the summer, but reserve fall for cozying up indoors with a good book, listen up — Fall camping is amazing! There are no bugs, no crowds, early star gazing opps, and beautiful colors. Yeah, it's a bit colder at night, but you can handle it, I promise, especially if you read our favorite fall camping tips before heading out on your adventure. Ready? Let's go camping!
Why Camping in the Fall is Awesome
Think about all the things you love about fall — crunchy leaves under your boots, wooly sweaters, crisp, cool days, and mulled cider are some of my favorites. Now think about how you can enjoy those things to the fullest. A fall weekend camping trip is just the thing, I promise.
So, just to remind why camping in the fall rocks, here are some reasons to get out there:
You won't be a sweaty mess when you go for a hike. Cool fall temps are so great for hiking big peaks.
No mosquitoes!!
Early campfires. Want to stay super warm and toasty in the evenings? Try some of our favorite hot drink recipes, both kid and adult versions.
Later sunrises. If catching a sunrise is on the agenda, you will be comforted knowing it's not as early as it was in the summer.
No noisy neighbors. Actually, you may not have any neighbors. Fall campground campers can choose from all the very best spots available, as there's very little competition.
Where to Camp in the Fall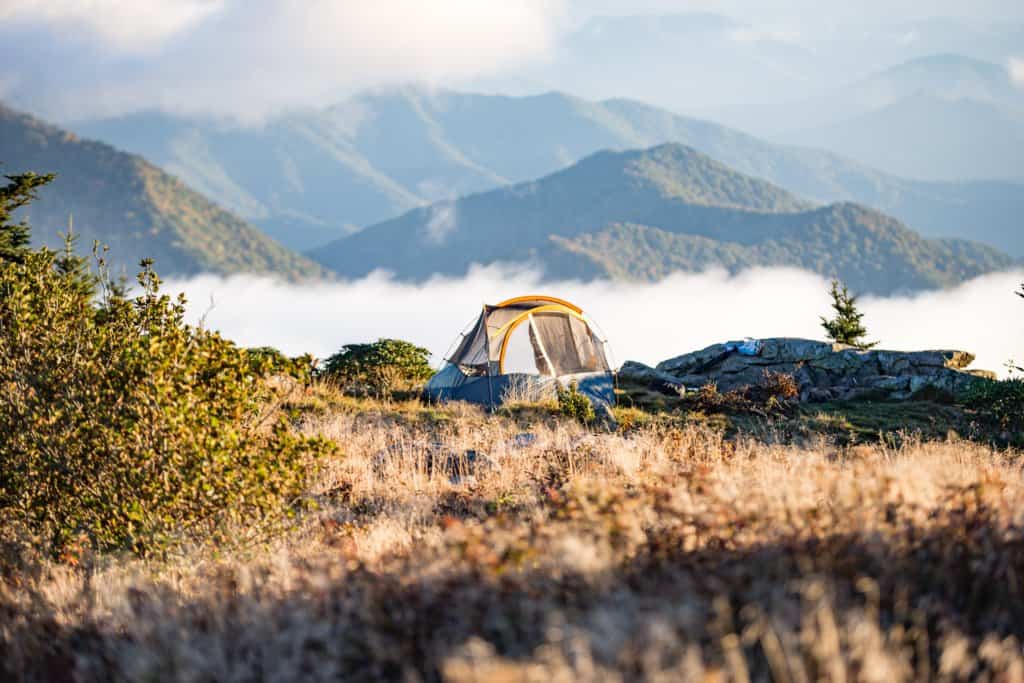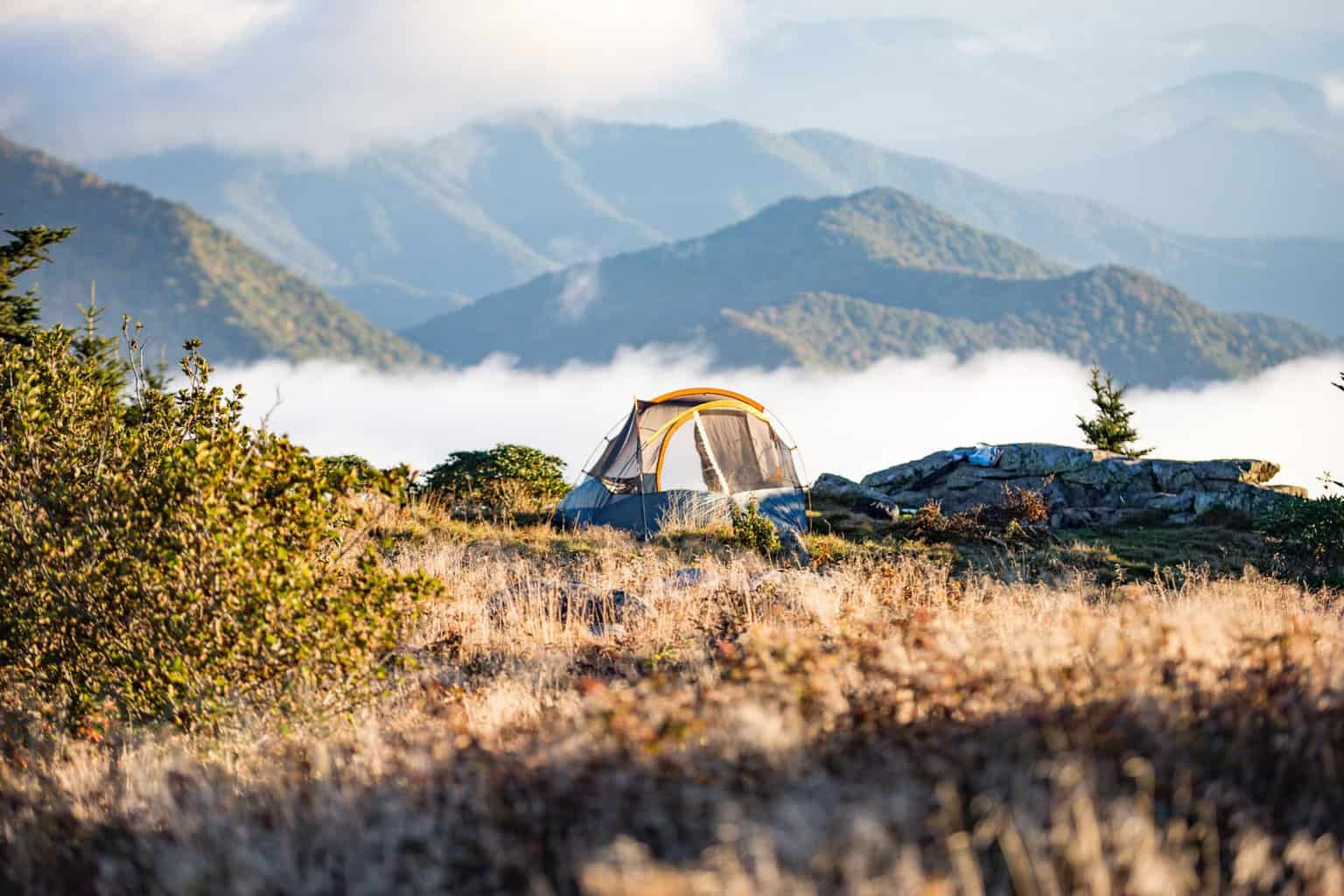 That's the million-dollar question, isn't it? If you're like me and you live in the northeast, you'll find that most campgrounds close after Columbus Day (It's Indigenous People's Day in Vermont now). The exception is national forest campgrounds, which are usually open year-round. I've got a few suggestions for fall camping in New England if you're looking for amazing fall foliage without the crowds.
There are so many national parks that are perfect for fall camping too. If you don't want super cold-weather camping, stick to parks in the lower elevations, as parks like Glacier, Yellowstone, and the Tetons may already have snow. Our favorite national parks for fall camping are the Utah national parks, Joshua Tree National Park in California, Theodore Roosevelt National Park in North Dakota, and Shenandoah National Park in Virginia.
National Forests are great affordable options for fall camping. At Grout Pond in Vermont, we can score a waterfront campsite with an incredible view for $16 a night year-round, but fall is definitely the best time to visit. I'd also suggest these great national forests near popular national parks for awesome fall colors and very few crowds.
Watch this Video, and then Come Camping in Vermont!
---
Fall Camping Gear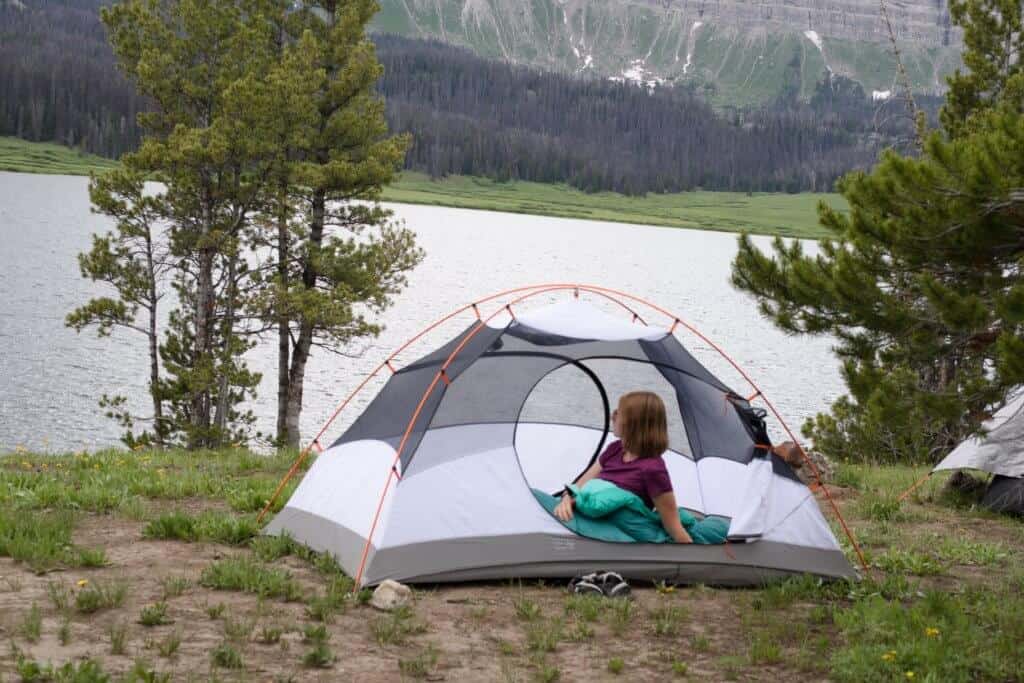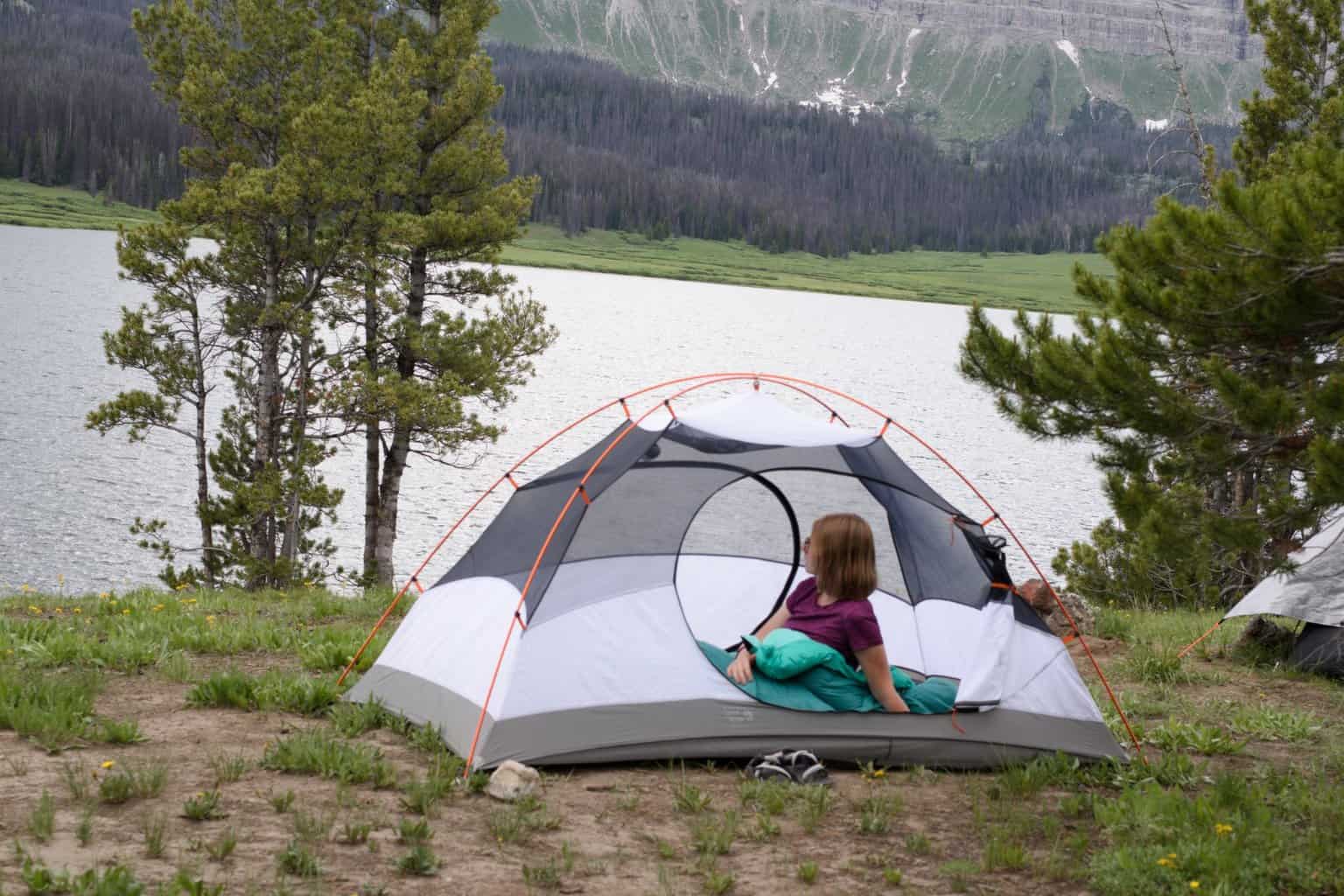 If you are a summer camper, then you've already got most of the gear that you need. Just keep in mind that fall weather can change quickly, changing from warm and sunny to cold and rainy in the course of a day.
Whether you are fall tent camping, camping in an RV, or luxuriating in a cabin, the most important things to think about are warmth and staying dry. In addition to your shelter – tent, RV, cabin, etc., here's what you need to pack for fall camping gear.
Clothing for Fall Camping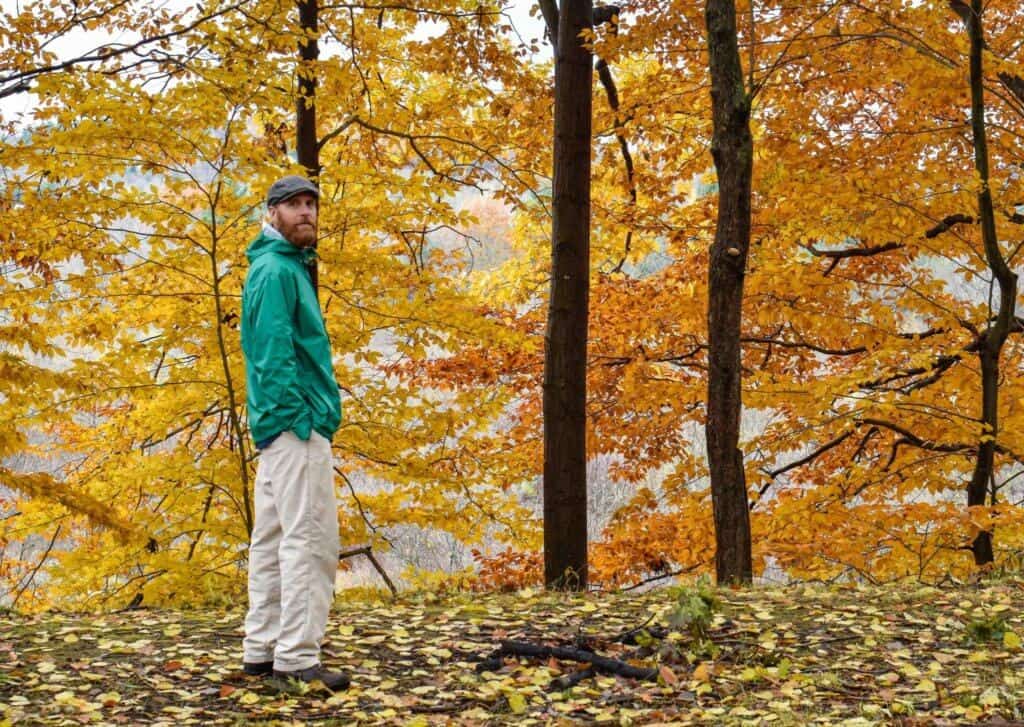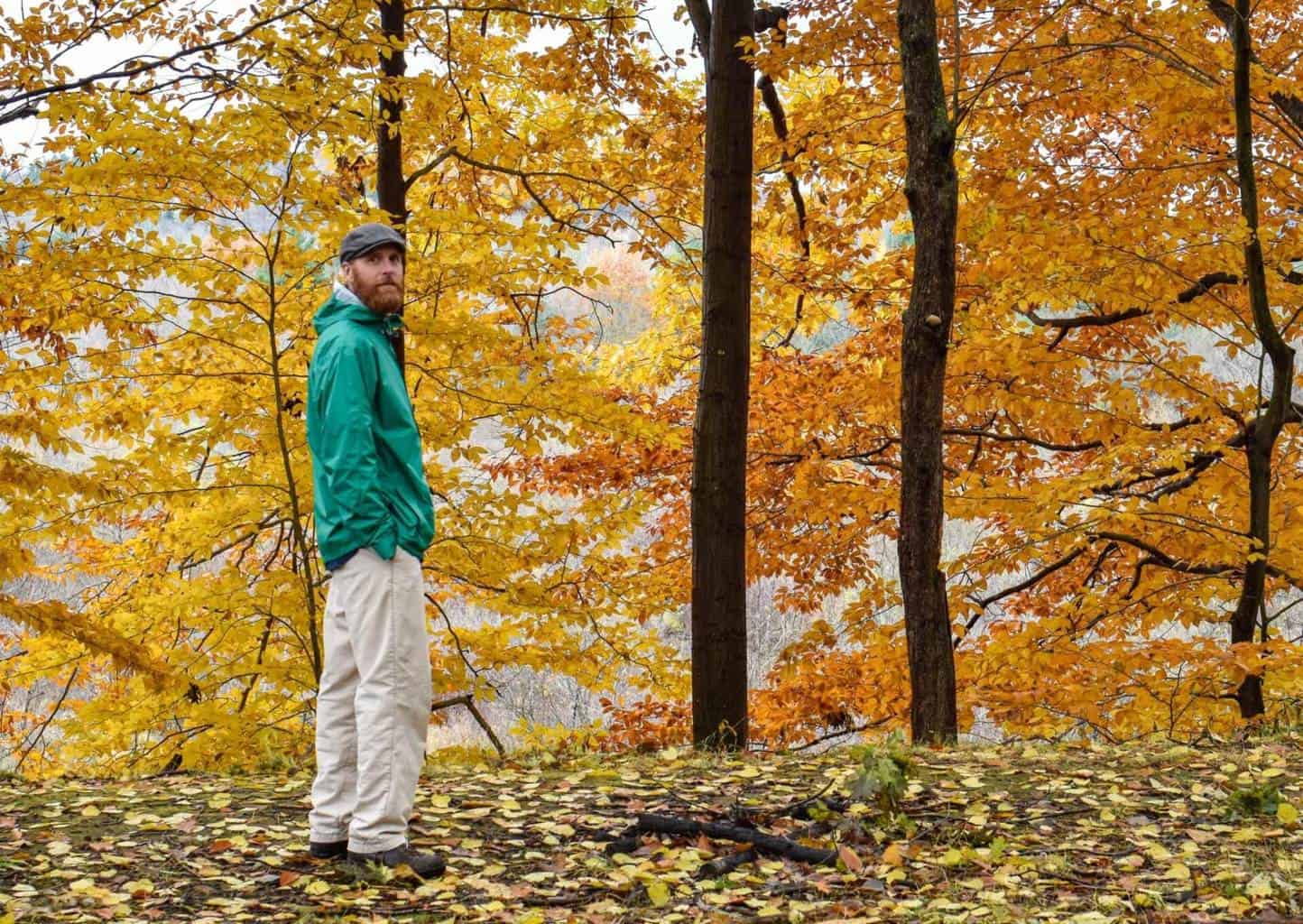 One word will describe your fall camping wardrobe. Layers. They will go on and come off over the course of your trip, which exactly what you have them for. There's a bit of an art to layering, but I usually wear three layers first thing in the morning and peel them off as the day wears on. Here's an overview of the fall layers you need for your camping trip.
Wool socks. We wear wool socks all through the year. In the fall, we opt for full cushion wool boot socks by Darn Tough. Not to be salesy, but these are the only brand of socks we buy and we can't recommend them enough. Made in Vermont. Lifetime guarantee. Nuff said.
Base layers. Again, we're going for merino wool because polyester causes big-time B.O. Or is that just me? We can usually get by with a thin base layer for fall. Perfect for hiking and for sleeping. Our favorite brand went under, but Smart Wool base layers are pretty great, for both men and women.
Hiking pants – On fall camping trips, I pretty much switch between my hiking pants and my fleece pants (below). I am not a leggings girl, but if I was, I'd probably skip the hiking pants and go that route.
Fleece pants Fleece pants work really well over a base layer and are great for warming up on chilly days. Teton fleece pants come in both men and women's versions, as well as petite sizes for shorties like me.
Wool sweater – Fleece works up top too, but I prefer a thin wool layer because it stuffs into my backpack better than fleece.
Waterproof layer – A rain jacket is a must for fall camping trips. If you're buying new, order a size up so that you can layer your waterproof layer over a sweater. Here's what we recommend for women's rain jackets and men's rain jackets.
Puffy layer – Throw a down puffy into your bag for mountain summits and cold nights in your tent. Just don't get it near the campfire. I made that mistake once and there were feathers everywhere.
Wool hat and gloves – Especially useful for early mornings when the campfire isn't pumping out the heat.
Waterproof boots and camp shoes – My absolute favorite pair of boots for fall/winter are made by Oboz. Yes, I'm an Oboz ambassador, but the Oboz Bridger 7" insulated waterproof boots have totally changed the way I do cold weather. They are like the perfect mix between fuzzy slippers and super rugged hiking boots. They make me feel invincible on slippery trails. And warm. I could sing their praises all day, but I won't. Just get some before winter. For camp shoes, I love Crocs.
Fall camping with little ones? We've got a separate post for layering babies and toddlers in cold weather.
Tips for Staying Warm in Your Tent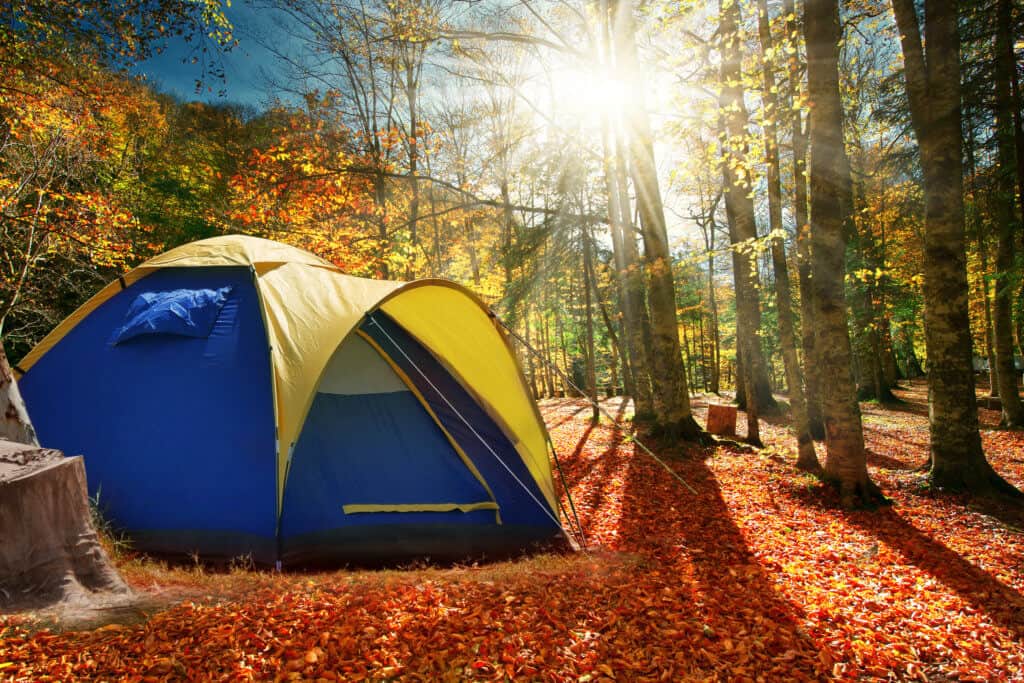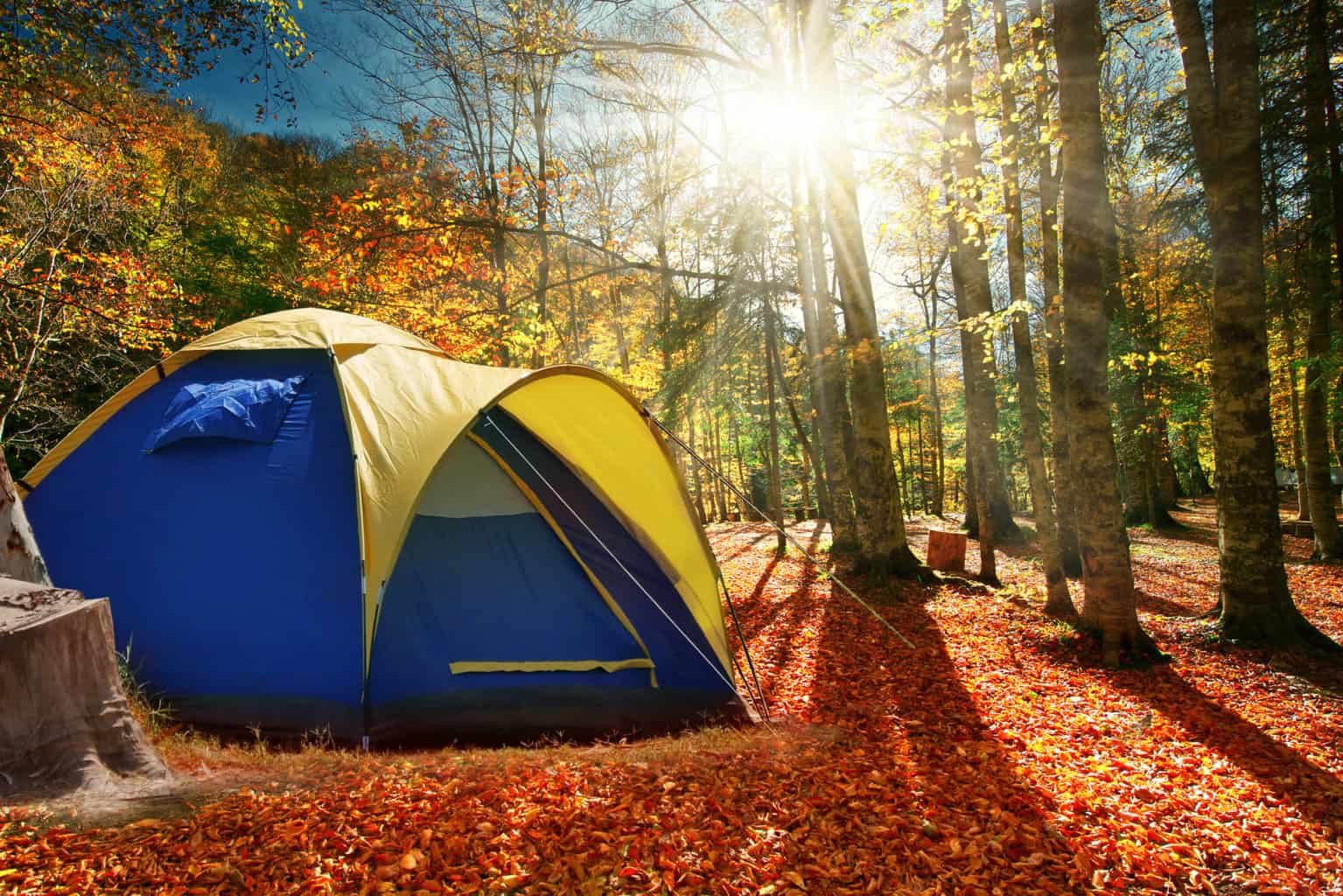 If you invest in a good sleeping bag and pad, you've already won half the battle. You'll likely stay super warm all night during your fall camping trip. But just in case, the thermometer really drops while you're out there, here are a few more tips that we've found useful over the years.
Share your body heat. Invite your favorite sleeping partner to snuggle up. As long as they're warm-blooded — dog, child, or partner, you'll be cozier than sleeping alone.
Use a hot water bottle. Heat up some water over your campfire before bed. When it's time to turn in, pour it into your Nalgene bottle and tuck it into the bottom of your sleeping bag for toasty toes.
Do some jumping jacks. Think it's warm sitting around the campfire? That's external heat that will totally disappear as soon as you walk toward your tent. Make your own heat by taking a minute to do jumping jacks or another type of exercise before hitting the sack.
Use an emergency blanket to reflect heat. You can drape it over your sleeping bag if it's really cold, or tape it to the inside of the ceiling of your tent.
Great Fall Camping Activities for Your Whole Family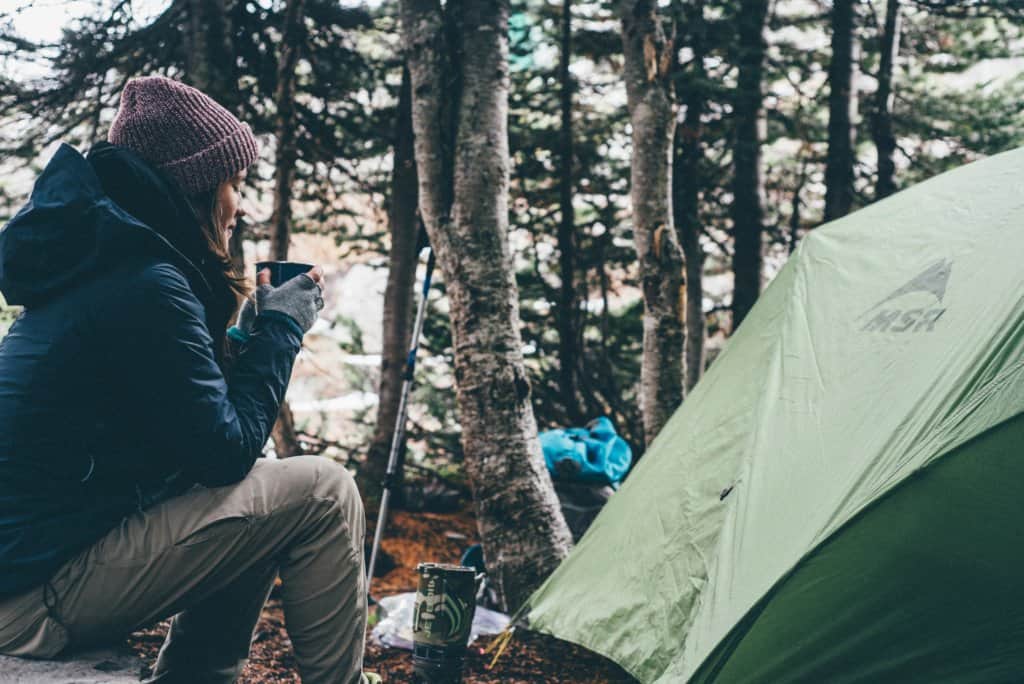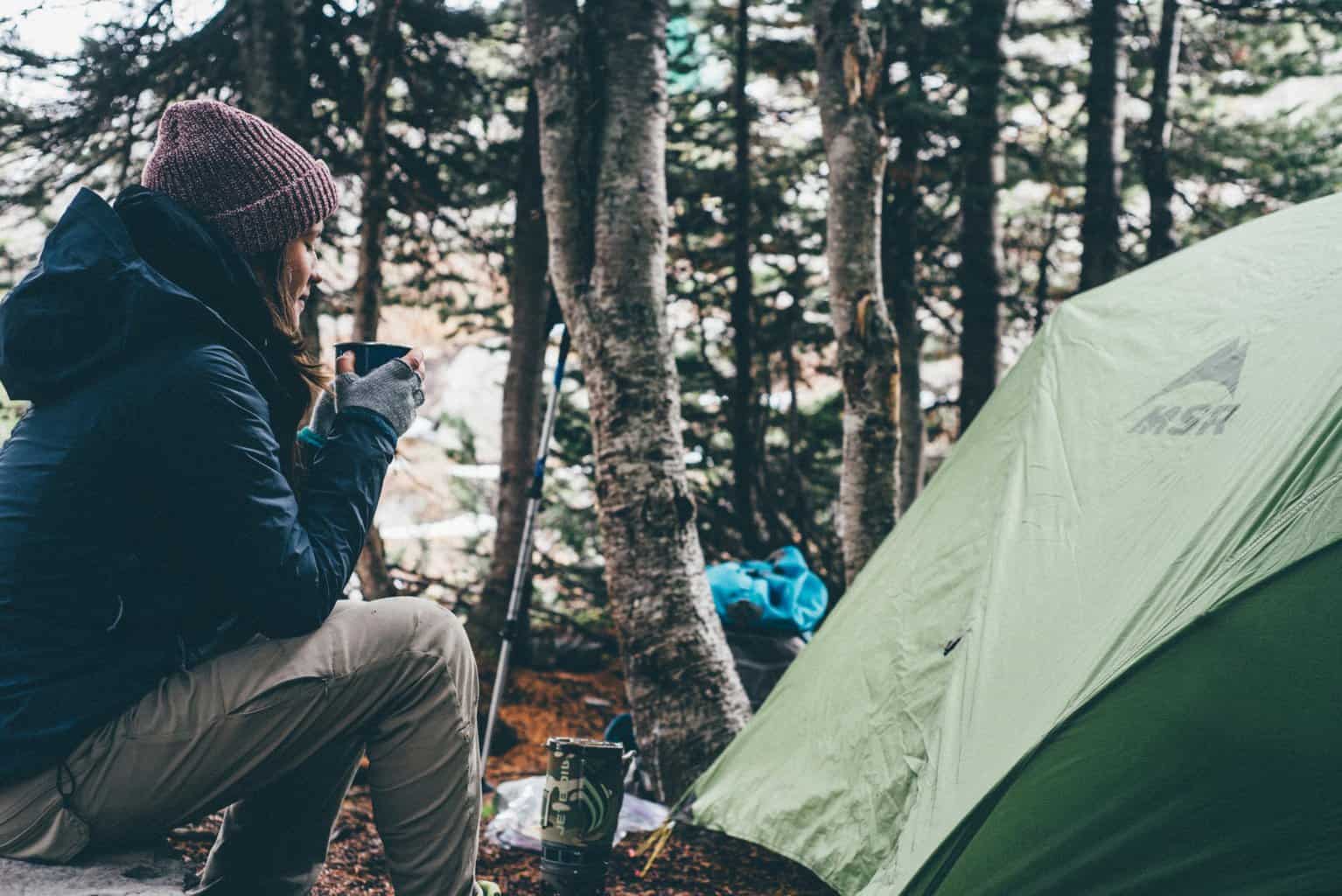 Camping is an activity in and of itself, but in case you need some more ideas for what to do on your fall camping trip, here ya go!
Go geocaching. I'm still obsessed with geocaching even though my kids are grown up and don't do it with me anymore. It's basically an outdoor treasure hunt using the GPS on your phone. You can go geocaching in every season, but fall is great because some of the growth has died back a bit so you aren't bushwacking to find your cache. If you don't know anything about geocaching, start here. Or just download the Geocaching app and have fun!
Play with your camera. Fall foliage is one of my favorite things to photograph, year after year. What I love about fall camping is that I have all the time in the world to play around and experiment. I almost always bring a tripod for night shots, plus a waterproof camera cover just in case. If you're interested in learning more about photography, check out my post on money-saving tips for beginner photographers.
Go canoeing or kayaking. Fall paddling is pretty special. There's just something about the colorful trees reflected in the water. Choose a warm day with lots of sunshine, pack a picnic and head out on your favorite lake or pond.
Go bird watching. You don't have to be an expert birder to enjoy bird watching, especially in the fall. Many birds are preparing for a long migration, and because the leaves are starting to fall, they are easier to spot. If you are new to birdwatching, download an app like Merlin to help you with identification. We also have a comprehensive article about bird watching with kids, which is useful even if you don't have kids.
Carve pumpkins. What better place to embark on a super messy craft than out in the woods. Pick up some pumpkins before your fall camping trip, and don't forget newspaper, serrated knives, and some big spoons. And, the best part? You can cook your pumpkin seeds over the campfire. Just rinse off the seeds before cooking them in a few tablespoons of oil and seasoning in a cast-iron skillet. They're so good!
Play Ghost in the Graveyard. If you're camping with a crowd that involves some kiddos, this is a super fun game, especially if you are camping in a forest where there are lots of hiding spots. It's a twist on hide-and-seek and great because you don't need any extra equipment, just a group of fun-loving campers. If you've never played (or it's been a while), here's an overview of the rules.
---
Fall camping really is one of the best ways to explore and enjoy the outdoors. Hopefully, our fall camping tips were helpful, but if you want to read camping tips, hacks, and ideas, check out these posts:
---
If you found this post helpful, pin it for later!