Do you love camping, but struggle to find a comfortable sleeping position with a traditional sleeping pad on the ground? Are you looking to lighten your backpacking load without sacrificing your sleeping system?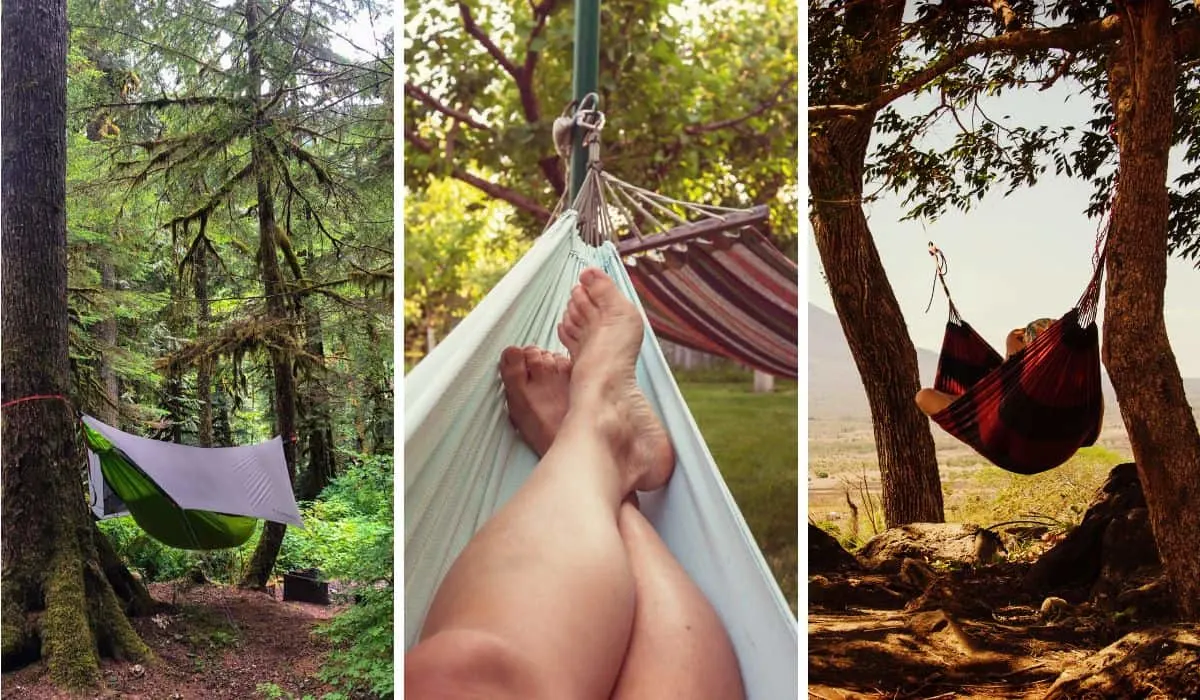 Hammock camping, once a fringe activity for ultralight backpackers, has gone mainstream. The gear has gotten more comfortable, more affordable, and easier to set up, and many campers have traded in their tents to sleep in the trees.
I'm not a total hammock camping convert yet, but I've been using the Kammok Mantis, an all-in-one hammock, rainfly, and bug net, for several years now, and I'm impressed with the fast set-up, durability, and comfort when I'm solo-camping.
It started in 2019 when we brought our Kammok Manits on a cross-country road trip. It was passed around between three people, and while we each had our own way of creating the perfect sleep system, we also learned a lot about staying warm and comfy while hammock camping, and we'd be remiss not to share our tips with you.
Since then, I've used it a bunch of times on solo camping trips, and I've fallen in love with sleeping in the trees. If you're new to camping, read on. I'm sharing my best hammock camping tips for anyone who wants to try it out.
Why Hammock Camping is Awesome (at Least in the Northeast)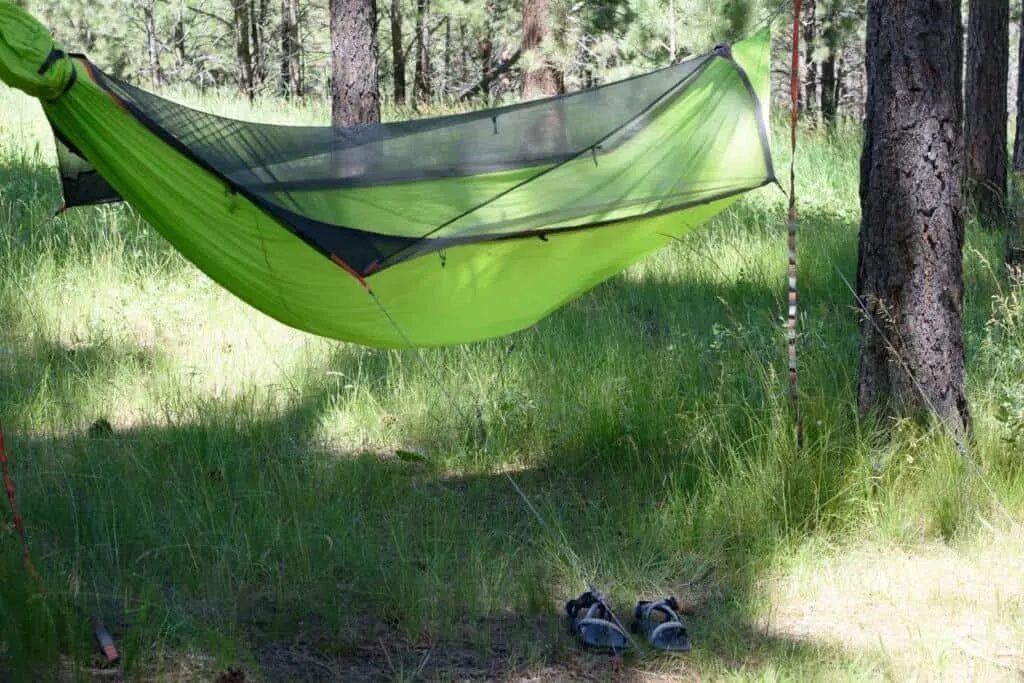 We hang our hats and our hammocks in Vermont most of the time. If you've ever camped in Vermont, you may already know that finding a flat, level camping spot is not always easy. If the roots and rocks aren't poking you, you're sliding downhill through the night. Yes, rocks and roots are plentiful, but the good news is – so are trees!
While camping on flat ground is a rarely attainable dream in Vermont, finding two perfect hammock trees is a cinch! Hammock camping in Vermont is 100% better than tent camping, but we still tent camp when we bring our dogs.
During our most recent road trip, we brought a tent and our camping hammock. We found that hammock camping worked out better than sleeping in the tent (which was more comfortable) in the Midwest, the Black Hills, the Tetons, and the Pacific Northwest.
We preferred tent camping in the Badlands, Utah, and Arizona – basically wherever trees were scarce.
Hammock Camping Tips
I love camping in my hammock, and I no longer consider myself a hammock newbie!
I've learned so much since I started camping with my hammock. Hopefully, you can learn from some of my hammock camping mistakes so that you experience restful nights from day one. Here are a few hammock camping tips to get you started.
Don't hang your hammock too tightly. If you hang it too tight, the weight of your body will pull the sides up around you, making you feel like you're sleeping in a cocoon or a taco. You want a decent amount of slack in your hammock.

Look for trees that are between 13 and 18 feet apart. It's okay, you don't have to bring a tape measure! The trees should be sturdy, healthy, and straight.

Don't hang your hammock higher than a height you would feel comfortable falling from. You're not going to fall! But you also don't want to have to take a flying leap to get into your hammock. Especially after a few amazing campfire drinks.

Lay on the diagonal. This will help the hammock contour to your back without added pressure points. It also allows you to lie flatter, cutting across the curve of the hammock.

Use a pad or an underquilt for extra warmth. I use the Kammok Insulated Pongo Pad with my hammock. The wide shoulder box pushes fabric out for a bit more space. The downside is that you slide around a bit more than you would without it. When it's warm out, I forgo the pad for an underquilt like the Firebelly 30-degree down trail quilt.

I find that using a quilt is way more comfortable than using a traditional sleeping bag in a hammock, but I've only used the hammock to camp in the summer. Three-season camping may be a different story.
Introducing the Kammok Mantis: An All-in-One Hammock Camping Solution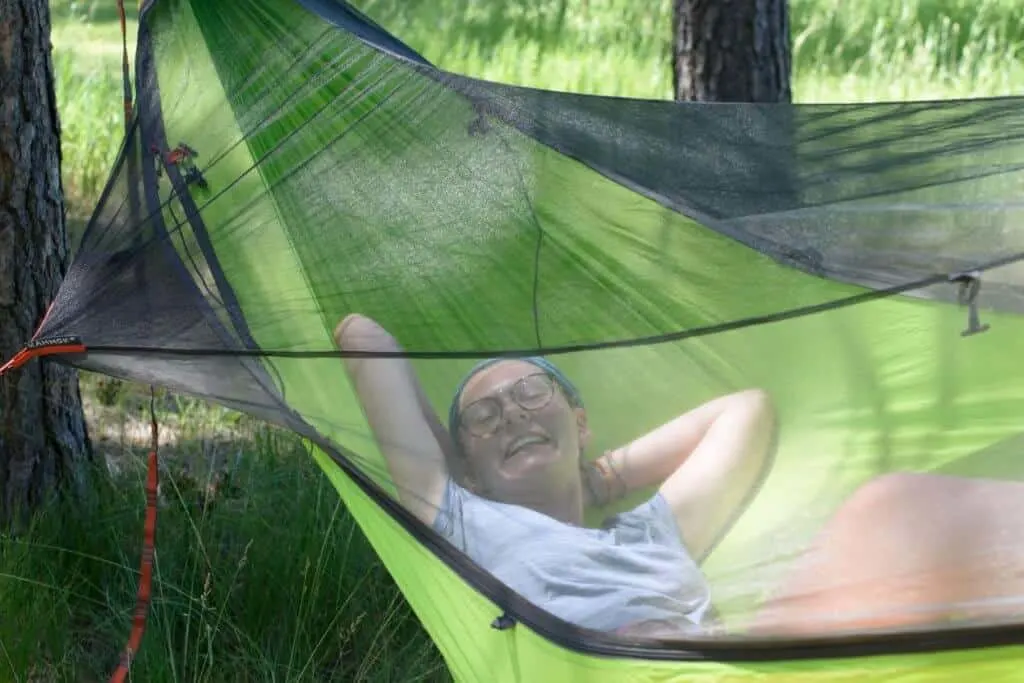 The Kammok Mantis launched on Kickstarter in early 2019 and immediately started making waves in the outdoor community. Based in Austin, Texas, Kammok is known for its durable, lightweight camping hammocks, but the ultralight, all-in-one model was a first for the company — one that outdoor lovers have been waiting for.
The Kammok Mantis hammock features a lightweight hammock body, an integrated bug net, and a lightweight rainfly. Extras include reflective guy lines, two 10-foot Python straps, and six stakes, all of which come in at just 2 lbs. 8.5 oz.
It was the packability that first drew me to the Kammok Mantis. While not an ultralight camper, I often fly to my camping destinations, so sticking with a lightweight sleep system is a must, as is a hammock with a mosquito net.
Since we got the Mantis in the summer of 2019, we have run it through its paces in weather that was not always cooperative.
Did it keep us dry? Mostly.
Was it comfy? Definitely.
Could we set it up in 60 seconds as the Kammok website promised? Not even close, but we'll keep working on it, but we've definitely gotten better at it!
Here's an overview of our hammock camping experience with the Kammok Mantis.
What's Included with the Kammok Mantis?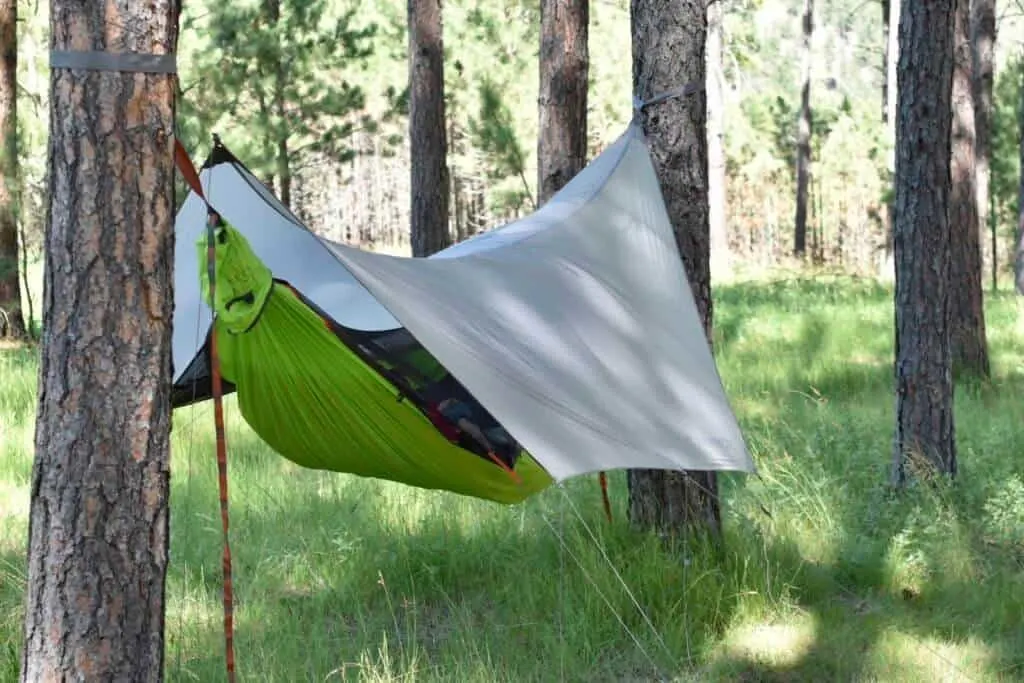 The Kammok Mantis all-in-one camping hammock includes the following (taken directly from the Kammok website):
1 x Hammock body with suspension including 2 patented mini 13kN Kanga Claw carabiners, ultra-high-molecular-weight polyethylene 'continuous loops', and 13kN Kanga Claws for suspension ensure safe weight loads up to 500 l
4 x hammock guy outs each with aluminum knotless hooks (Guy outs are 1.5 mm reflective cord)
1 x Bug net (removable)
1 x Integrated structural ridgeline (Ultra-high-molecular-weight polyethylene cord ensures a perfect hang angle every time)
1 x Rain fly (Patagium™ 15D diamond ripstop nylon 1,500 PU/Silicone/DWR)
4 x rain fly guy outs (each with aluminum knotless hooks)
8 x Hypalon-reinforced guy out points with built-in line locks
2 x Python 10 Straps
6 x Dac J-Stakes
1 x Dual-compartment roll-top stuff sack (Patagium™ 15D nylon diamond ripstop nylon 1,500 PU/Silicone/DWR)
Specifications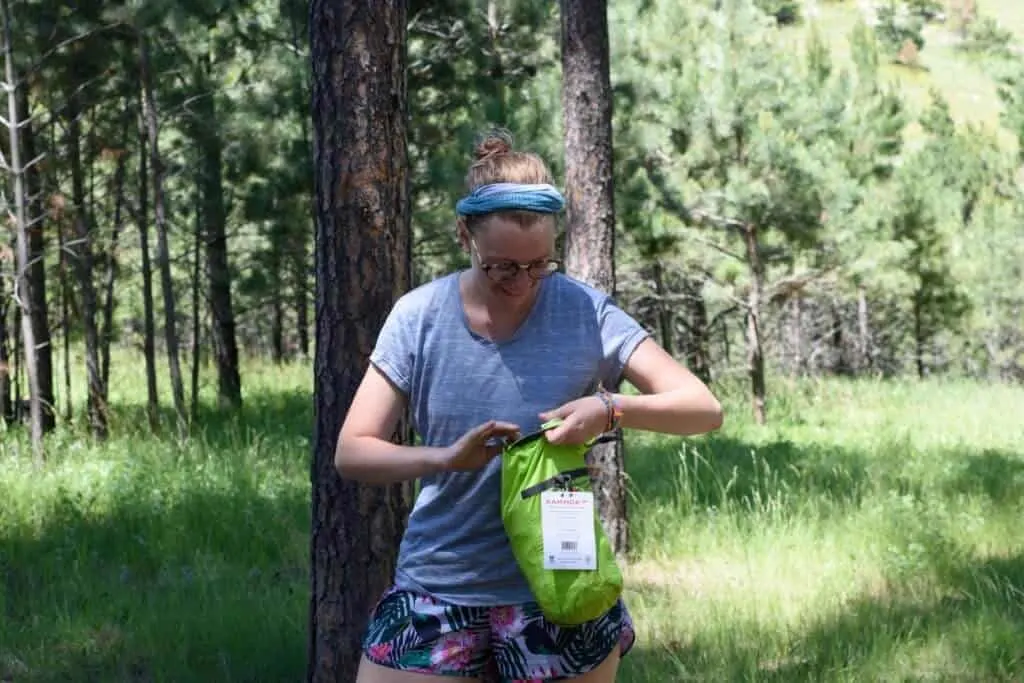 Unpacked Dimensions: 120″ x 56″
Packed Dimensions: 10″ x 6″
Packed 'Compressed' Dimensions: 8″ x 6″
Packaged Weight (oz): 2lb 12oz
Trail weight w/out rainfly: 1lb 11.8oz
Trail weight w/ rainfly: 2lb 8.5oz
Weight Capacity: 500 lb
Sleep Capacity: 1 person
Hammock Fabric: Gravitas™ 40D nylon diamond ripstop DWR
Canopy Fabric: Dragonet™ mesh with Stargazer™ panel optimal contrast with the night sky
Fly Fabric: Patagium™ 15D nylon diamond ripstop nylon 1,500 PU/Silicone/DWR
Product Water Proofing Treatment: DWR
Stuff Sack Material(s): Diamond Shell™
Stuff Sack Water Proofing Treatment: 1,500mm DWR/PU Diamond Shell™ fabric
Warmth Rating: N/A
Other key specs for the Mantis Camping Hammock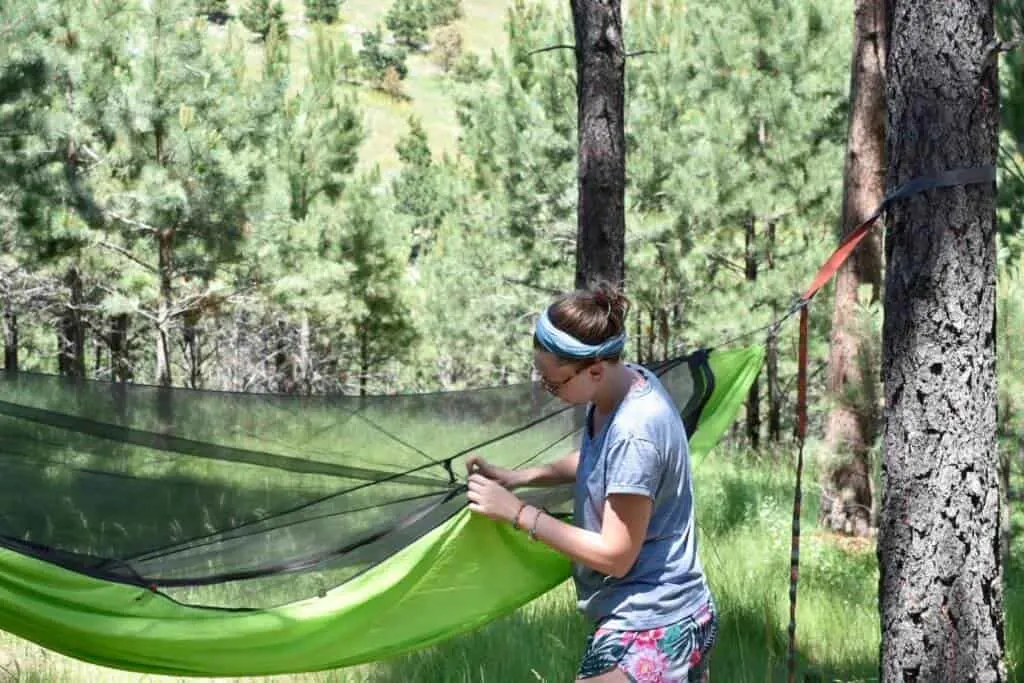 Mantis fly: 11.3 oz / 321 g (comes with 6 guy outs and 2 knotless hooks)
2) Python 10s: 7.7oz (no stuff sack)
Mini Kanga: 13g / 0.5 oz (1 oz total for both)
6 DAC Stakes: 2.3oz/ 66g (total for 6)
2 shock cord guy-outs with knotless hooks: 0.8oz/22.68g (total for 2)
Mantis body w/ out mesh (with mini Kanga & continuous loops): 15.4oz/437g
Mesh: 5.3oz/152g
Stuff sack: 1.5oz/ 43g
Ridgeline length: 115″
The Kammok Mantis is touted as being waterproof, windproof, and bugproof. Coming in at under three pounds, it is a top contender for an all-in-one backpacking hammock with a mosquito net. With practice, Kammok believes the Mantis can be set up in 60 seconds and packed up just as quickly.
It currently comes in four colors — midnight blue, moss green, ember orange, and aloe green, which was my choice.
Ease of Set-Up and Break Down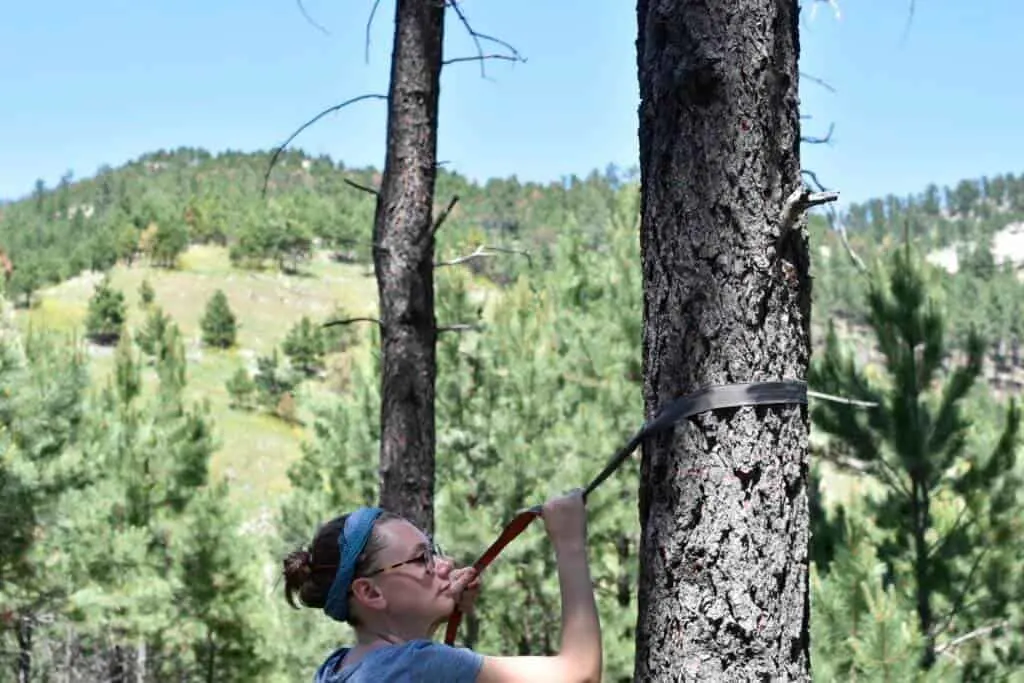 I'll admit that this is the area that we had the biggest issue with. I just don't believe that you can get the Mantis swinging in 60 seconds. Feel free to prove me wrong!
At the beginning of that first camping road trip, we began each evening by setting up the hammock first, then tying out the hammock wings (used for lifting the bug net off of your body), then setting up the rainfly, and finally attaching and adjusting the six guylines.
After the hammock and fly were in the air, we made countless adjustments, mostly to the rainfly — loosening guylines, tightening others, and raising and lowering the fly for maximum coverage. It was a lesson in perseverance, but the midwestern weather wasn't great and we wanted to stay dry!
Fortunately, the rainfly's ridgeline and all of the guylines are outfitted with knot-free cord cams to make adjusting everything easier. We got faster as the days turned into weeks, and then we watched this little video and realized that setting up and adjusting the rainfly first would speed things up considerably.
After a month of setting up the Kammok Mantis for hammock camping, we had it swinging from the trees in about eight minutes. While we certainly won't break any speed records, I was impressed with our improvements
We're Still Trying to Figure Out the Break-Down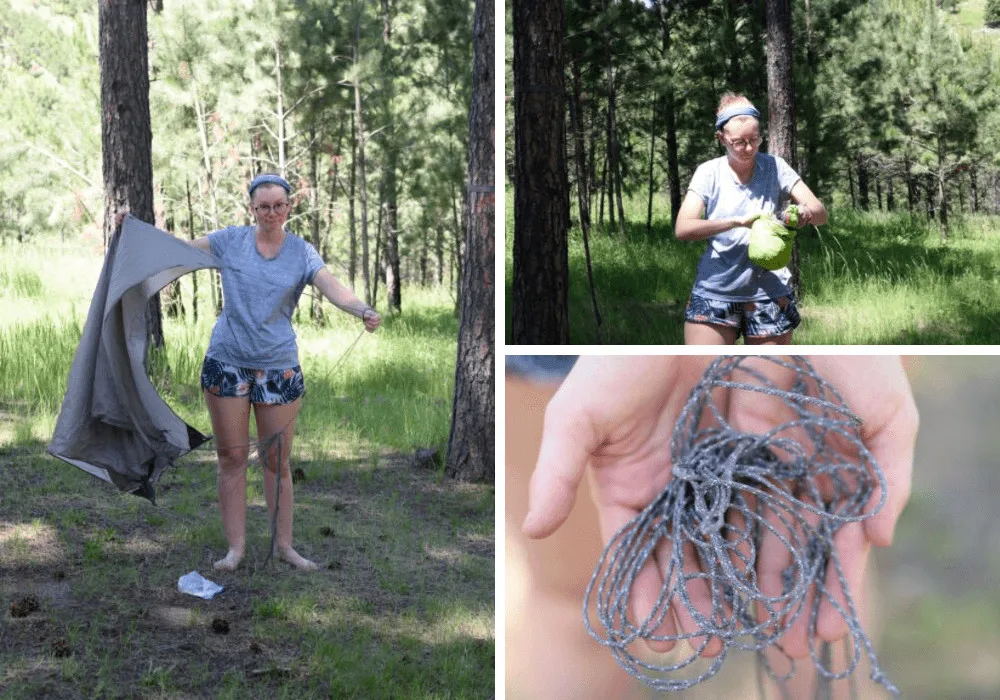 Mornings were another issue, especially when we were trying to be packed and on the road by 6 am.
Packing up the hammock and bug net is straightforward, but the rainfly includes six long guylines. We tried wrapping up each cord individually, which took forever, and tying them all together in one simple knot before packing everything away into the stuff sack.
I will admit that we often ended up with a tangle of string that we had to unravel before setting up the hammock each evening.
At the end of the month, we had improved our breakdown considerably, but we are still trying to figure out the best way to avoid a mess of knots.
Those rare nights when we didn't need to set up or break down the rainfly were the best. And the stargazing was incredible.
Performance in the Elements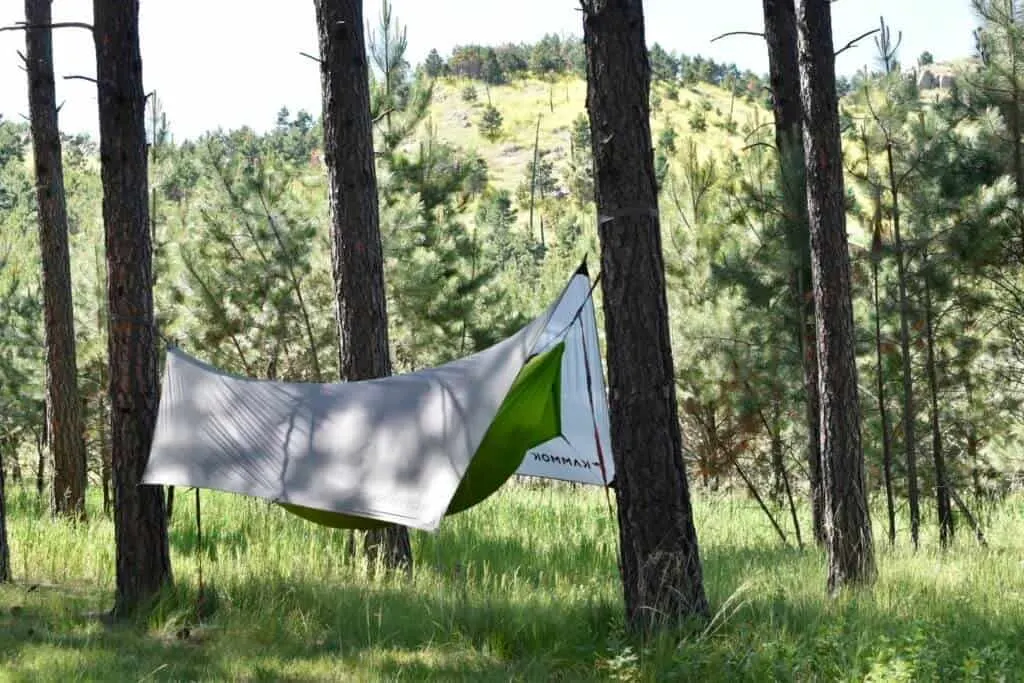 I used the Kammok Mantis more than 30 times during our summer road trip, and I have used it on backpacking trips since — in beautiful weather, but also in a few downpours and several nights with heavy winds.
The good news is that I never got wet. Ever. I had one instance during wind and rain where the cord cams loosened up on the rainfly making it collapse onto the hammock. Fortunately, this was during the day and I was able to dry everything out before nightfall.
It's important that you don't pull the ridgeline on the rainfly too taught. If you do, you risk the cord cams loosening up, which could totally ruin your night.
Setting up the rainfly before the hammock definitely helped with this issue, but I do feel like the cord cams, which are designed for knot-free loosening and tightening of the ridgeline and the guylines are a weak point in the Mantis design and could potentially result in a wet night if not set up properly.
Kammok Mantis Sleep Comfort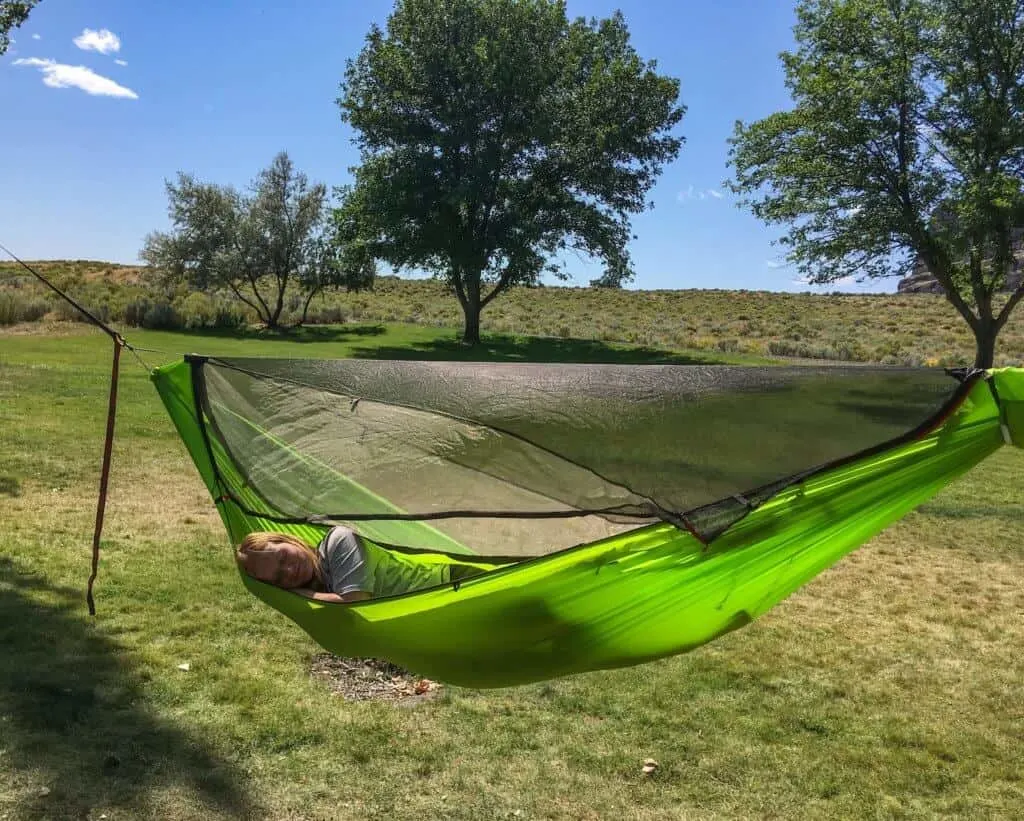 If you've never hammock camped before, I recommend giving it a try at home before committing to a longer camping trip. I've found the Kammok Mantis to be extremely comfortable when it was set up properly, but there was a learning curve before I found optimum comfort.
It's important that your camping hammock doesn't hang too tightly between the trees and that one side isn't a lot higher than the other. Trees that are 13 to 18 feet apart are ideal and laying on the diagonal will give you more surface area and more support.
The bug net on the Mantis has sturdy zippers on both sides so you aren't limited when getting in and out. It can also be removed on bug-free nights (what are those?) or swapped out for the optional winter barrier, which would be awesome for hammock camping in cold weather.
For added comfort and warmth while hammock camping, you can throw in the Pongo inflatable sleeping pad which is three inches thick with a tapered design that pushes the walls of the hammock away from your body.
The Pongo clips onto the sides of the hammock so that it doesn't slide around while you're sleeping.
While the Pongo worked fine, I preferred using an underquilt for warmth so that I could move around a bit and take advantage of the body-hugging features of the hammock. I would recommend experimenting with both pads and quilts to find a system that works best for you.
Another option for added comfort is the Puffin inflatable camping pillow, also by Kammok, which also attaches to the inside of the hammock so it doesn't escape in the night. Both the Pongo pad and the Puffin pillow can be used on the ground with a tent.
Weight and Packability
The Kammok Mantis, along with the Pongo sleeping pad and the Puffin pillow, all pack up incredibly small in a tidy package that is perfect for backpacking or stuffing into your carry-on.
The Mantis stuff sack is attached to the hammock so you don't lose it, and one of the included carabiners attaches to the outside of the stuff sack so you can clip it to the outside of your backpack.
Durability
Aside from the cord cams, which gave us a bit of trouble and feel kind of cheap, the Mantis proved to be incredibly durable.
The zippers are heavy and provide a nice smooth action, and the hammock is made of 40D ripstop nylon that can hold up to 500 pounds. The rainfly is a lighter 15D ripstop fabric that is treated with DWR waterproofing, which held up really well.
We anticipate our Kammok Mantis lasting for many years to come, but if it doesn't hold up to our expectations we will definitely let you know.
Kammok Mantis: Bottom Line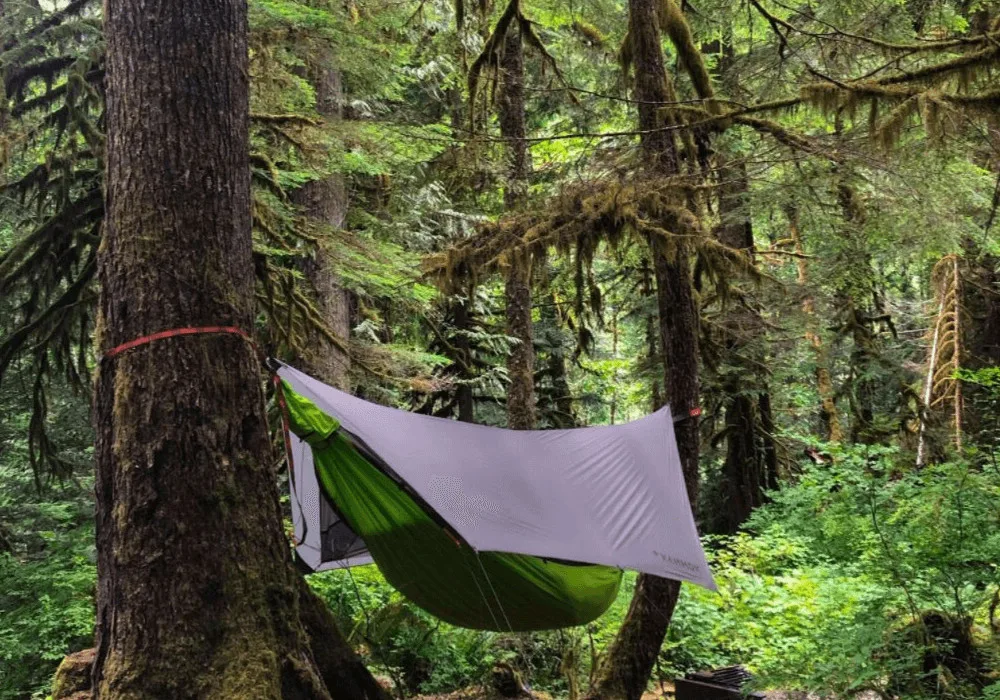 There is a learning curve to setting up the Kammok Mantis for optimum performance and comfort, and we had some trouble with the knot-free cord cams, but we believe most of these issues stem from us being novice hammock campers, and not necessarily design flaws.
After four years of use, I've found the Mantis to be both durable and comfortable and a great lightweight alternative to carrying a tent.
Am I a total convert to hammock camping? No, but that's mainly because I most often camp with my husband and a 70-pound black lab. I love using the Kammok Mantis on solo trips though, especially when I'm flying to my destination!
Pros
Extremely lightweight and packable
Very comfortable
Great for camping in the Northeast!
The all-in-one design keeps out rain and bugs
Durable construction
Cons
Takes some practice to set up quickly
Guylines get knotted easily if you don't take steps before packing up
Cord Cams on rainfly ridgeline can fail if they are pulled too tightly
We recommend a sleeping pad or an underquilt for warmth
---
Follow us on social media for more outdoor inspiration!
Pin for Later?