Expansive prairies, rugged rock formations, neverending views, and abundant wildlife. Welcome to Badlands National Park, encompassing more than 244,000 acres of desolate beauty in South Dakota.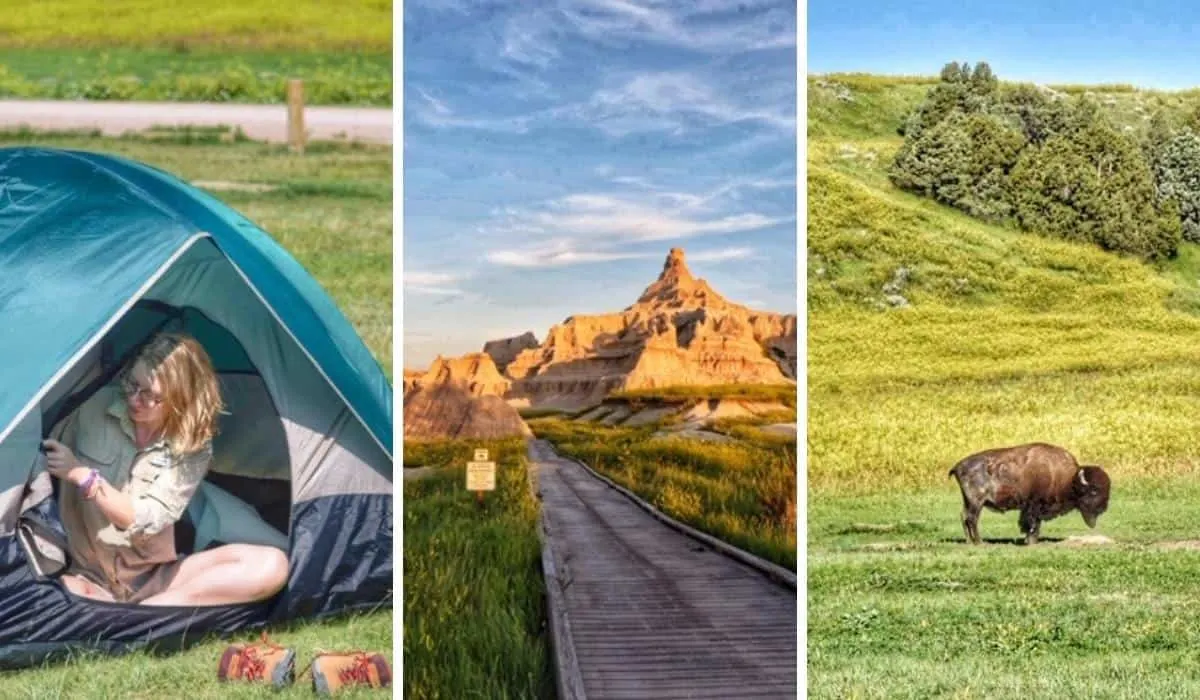 The Badlands are home to one of the world's richest fossil beds and most incredible geological features, not to mention bison, big-horned sheep, burrowing owls, and thousands of prairie dogs.
We have enjoyed several amazing camping and hiking trips in Badlands National Park over the past few years, and while summer seems to be the most popular time to visit, you will also experience days of unbearable heat and scorching sun.
My nieces and I managed to do lots of hiking in the early mornings and late evenings on our summer visit.
We found a fabulous, but crowded free campground with a resident bison, and spent the heat of the day learning about Badlands history in the Ben Reifel Visitor Center. Nights were reserved for stargazing and listening to the creepy sounds of desert wildlife.
Despite temperatures that regularly top 100 degrees, summer remains the most popular time to visit Badlands National Park, but fall is perfect for hiking in the Badlands, so if you can visit in the off-season, do it!
Here's a complete guide to hiking and camping in Badlands National Park in spring, summer, and fall. We've never visited in the winter, but I'm sure it's dreamy!
Quick Fact: Badlands National Park
Address: 25216 Ben Reifel Road, Interior, SD 57750
Open: Year-round
Fees: $30 for a car load is good for 7 days
Dogs: Permitted on roads and in campgrounds. Prohibited on trails.
Camping: 118 sites in two front-country campgrounds
Official Park Website
Badlands National Park Camping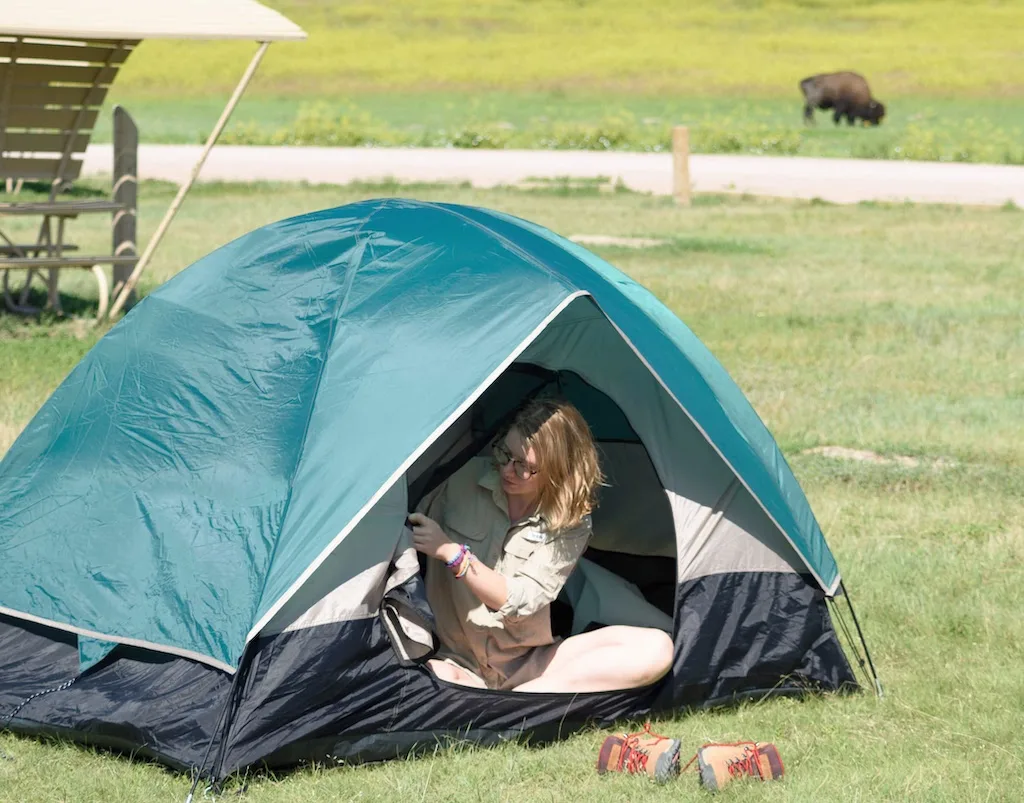 There are two front-country campgrounds within Badlands National Park.
Cedar Pass Campground is conveniently located near the Ben Reifel Visitor Center, as well as the most popular hiking spots within the park. There are 96 sites here, some of which have electric hook-ups for your RV. Cedar Pass Campground also has running water and flush toilets.
Rates are $28 per night and $40 for sites with hookups.
Sage Creek Campground is free for visitors and way out in the middle of nowhere. To get there, you need to travel along a bumpy dirt road for many miles, which makes for great wildlife viewing, but may also take its toll on your car's suspension!
At both campgrounds, you can camp for 14 consecutive overnight stays. Campfires aren't permitted anywhere in the park, but you can use propane camp stoves and charcoal grills at campgrounds and picnic areas.
Badlands Camping Map
The map below shows the two Badlands campgrounds in relation to each other and the rest of the attractions within Badlands National Park.
It takes longer to drive between the two campgrounds than you would think, thanks in part to the rutted dirt road out to Sage Creek Campground. Give yourself an hour and a half to drive from Sage Creek to Cedar Pass Campground or the visitor center.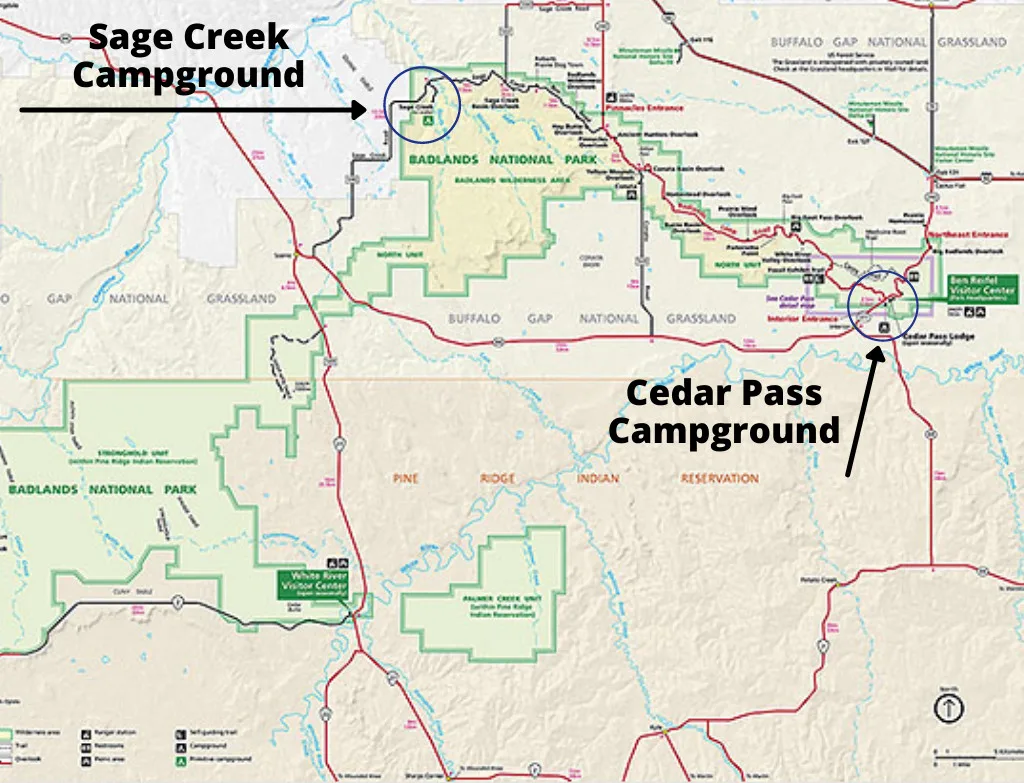 Badlands Camping Reservations
Reservations are only needed for camping at Cedar Pass Campground, which is located near Ben Reifel Visitor Center near the park's eastern entrance.
This is a privately managed campground, so you have to make reservations through Cedar Pass Lodge. The current rate is $28 per night for tent sites with two people and $4 for each additional person. RV sites are $40 per night for two people, which includes electricity. $4 for each additional person.
You do not need reservations for Sage Creek Campground. The campsites are first-come, first-served and they are free.
If you are interested in secluded backcountry camping in Badlands National Park, all you have to do is stop at the Ben Reifel Visitor Center or Pinnacles Entrance Station for more information.
Backcountry registration kiosks are located at the Medicine/Castle Trail Loop, Saddle Pass Trailhead, Conata Picnic Area, Sage Creek Basin Overlook, and the Sage Creek Campground.
Fall is an ideal time for a backpacking trip in Badlands National Park.
Overview: Cedar Pass Campground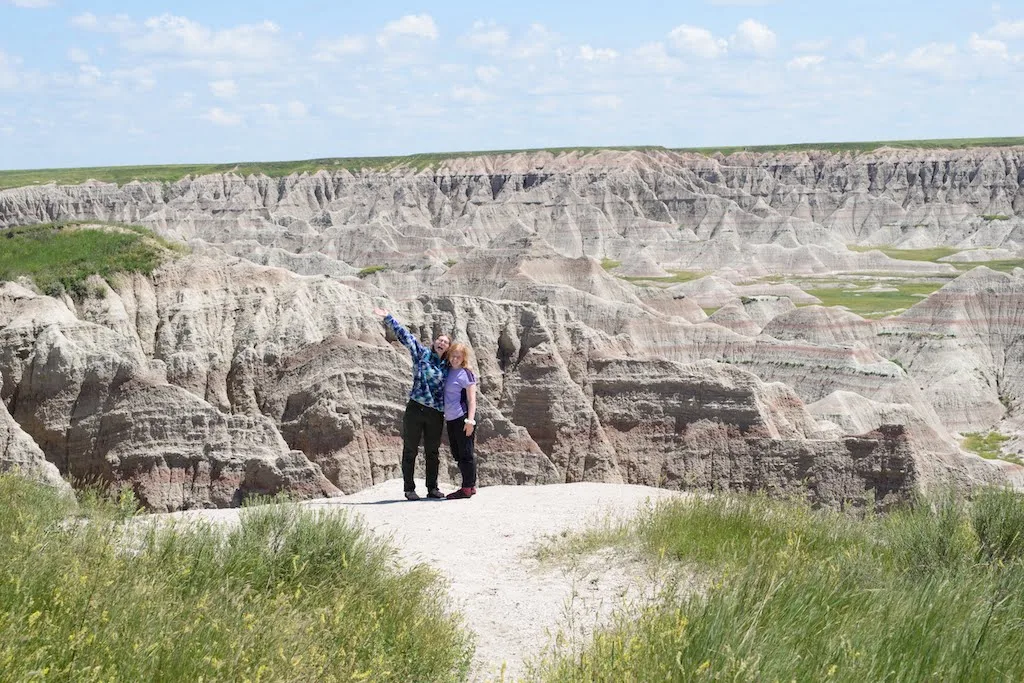 Number of Sites: 96 campsites for tent campers and RVs (with electricity, but no sewer/water). 4 group sites are available for up to 10 people.
Fee: $28 per night for a basic tent site and two people. $40 per night for RV site with electricity. $4 for each additional person.
RVs: Yes
Dogs: On-leash
Fires: Not permitted
We spent three nights at Cedar Pass Campground last fall, and love how convenient it is to the visitor center, Cedar Pass Restaurant, gift shop, and nearby hiking trails.
What We Loved About Cedar Pass Campground
As for location, you really can't beat Cedar Pass Campground. The views of the Badlands are all around you, and you can leave your car and walk to several beautiful viewpoints and trailheads. The trails that aren't within walking distance are just a short drive away. Both sunset and sunrise were spectacular from our campsite!
There are flush toilets and hot showers, which is nice when every part of you is covered with a layer of sand. Picnic tables are covered so you have a bit of shade in the heat of the day — you'll need it!
What We Didn't Love About Cedar Pass Campground
This isn't a wilderness experience as the sites are close together and there isn't much vegetation to provide privacy. Because you don't pull into your campsite, RVs and pop-up campers basically sleep on the side of the campground road. Tent camping works better here because you can move deeper into your campsite for more privacy.
Another issue we had on the Saturday of our stay – the nearby dumpster didn't get emptied. It started to overflow, smell, and attract flies. The campground was short-staffed at the time, and they addressed the problem the next day.
Overall, Cedar Pass Campground was absolutely fine for a Badlands National Park camping trip where you plan to spend your days hiking or exploring away from your campsite. We would definitely stay here again.
Overview: Sage Creek Campground
Number of Sites: 22 'official' campsites, but many tenters camp wherever they want.
Fee: Free
RVs: Yes, up to 18 feet long
Dogs: On-leash
Fires: Not permitted
Sage Creek is definitely a primitive campground. There are no electric hookups, no potable water, and two pit toilets. The campground is basically a huge field surrounding an active prairie dog colony with a few shaded picnic areas.
The whole area feels a bit lawless, like rowdy festival grounds, and even though there are length restrictions for RVs, we saw lots of big ones trying to maneuver around the campground.
Basically, you park your car around the edge of the circular field, and then you can set up camp in the middle. Sites are numbered, and most have picnic tables. A few even have shaded cabanas, but those sites are in high demand.
It seems that when the sites fill up, people just pitch their tents wherever they will fit, and there is no delineation between sites. We did not see a park ranger or park employee out here at all during our stay.
We stayed in Sage Creek Campground for several nights in the summer and really enjoyed it despite the overcrowded, festival feel.
What We Loved About Sage Creek Campground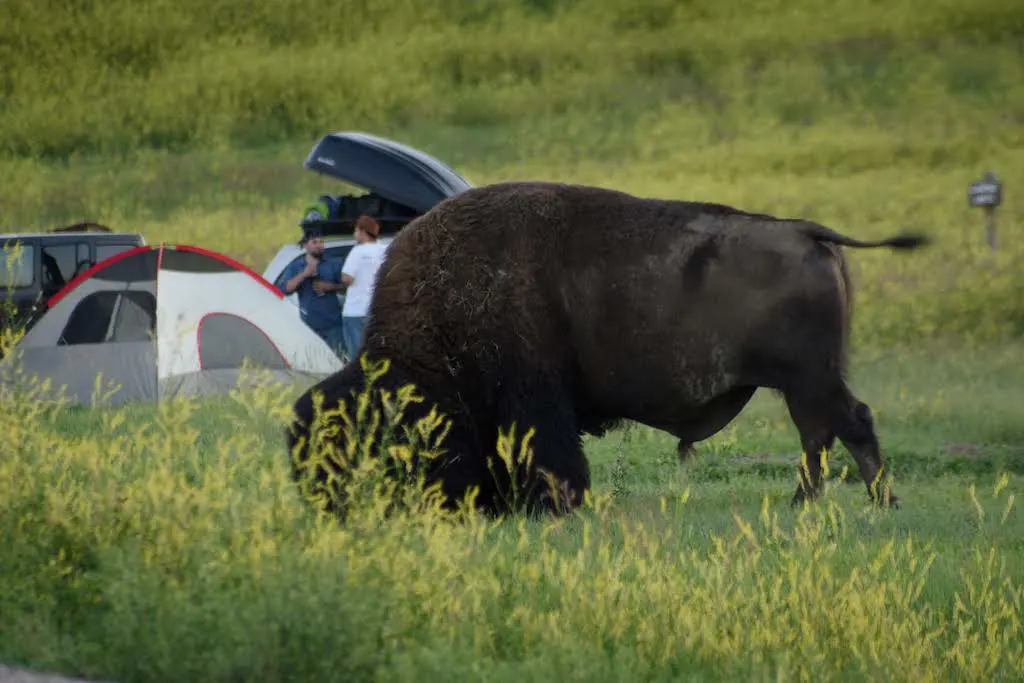 The animals! The road into Sage Creek Campground passes through some wildlife hot spots. We saw bison, pronghorn, mule deer, lots of bighorn sheep, prairie dogs, and burrowing owls. The campground surrounds a prairie dog village and has a resident bison, or at least we think he's a resident bison — he acted like he owned the place!
The remoteness. Sage Creek Campground is in the middle of nowhere, which means you have to plan ahead. We left the site each morning and didn't return until late in the evening after sunset. I'm guessing that it takes over an hour to drive from the Badlands National Park Visitor Center to Sage Creek Campground.
It's free. You can't beat free, right?
What We Didn't Love About Sage Creek Campground
Sage Creek Rim Road is terrible! Seriously awful. You would think it would deter people from camping here. Nope.
There's no shade. Aside from the few shade cabanas sprinkled around the field, there is no way to escape the sun. We had a large tarp that we set up over our picnic table, which worked out well for us.
The animals. I know, we said this was something we loved about Sage Creek Campground, but what we didn't love was how some people interacted with the bison and the prairie dogs in the campground — getting way too close for comfort, which made me angry and nervous.
Bottom line — I would stay at Sage Creek Campground again, especially if we visit in the offseason. It's a beautiful, remote part of the park, and even though the road is awful, the views are amazing coming and going. It was a memorable camping experience!
Why You Should Visit Badlands National Park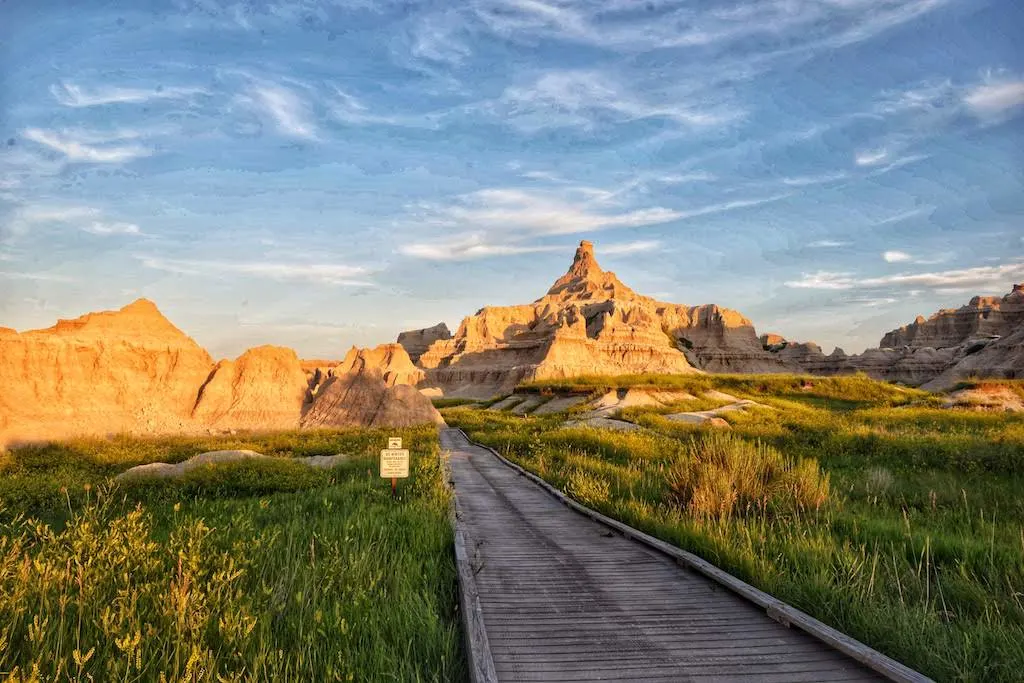 The Badlands are incredibly unique! The landscape consists of a mixed-prairie ecosystem, with badlands formations that include steep buttes, rocky pinnacles, and one of the most complete fossil accumulations in North America.
The buttes and rock formations are constantly eroding, and eventually, they will be completely eroded away. The hiking trails in the Badlands provide expansive views for very little effort, and the wildlife is easy to spot.
When is the Best Time to Visit the Badlands?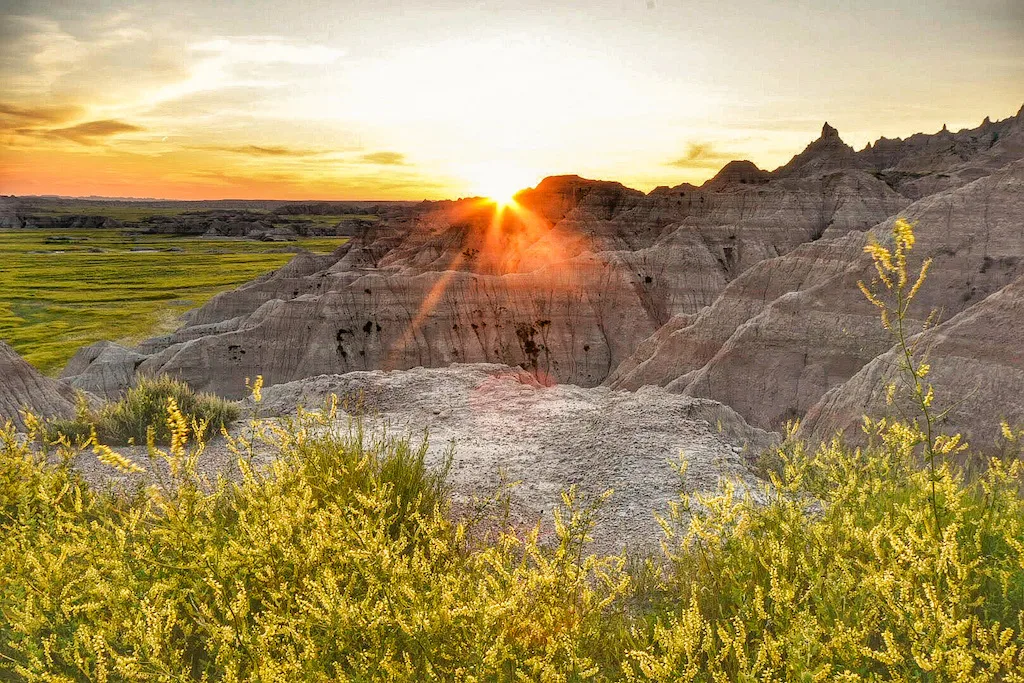 Summer is definitely not the best time to visit Badlands National Park, but even with crazy heat and thunderstorms, I'm glad we went in the summer. July is the busiest month, followed by August and then June.
If you can choose any time at all to visit, go with May or September, when you'll experience relatively mild temperatures and fewer crowds. It will be warmer and drier in September, which would be my top choice.
If you have to visit Badlands National Park in the summer, don't despair. It's beautiful any time of year. You just have to be prepared for lots of sun and be careful when hiking.
How Much Does it Cost to Get into Badlands National Park?
The Badlands National Park entrance fee for a vehicle and all of its occupants is $30 and good for seven days.
If you are traveling to more than one national park, I'd recommend buying the America the Beautiful Pass for $80. It's good for a year and gets you into all national parks in the United States. You can buy the pass at any national park or at REI. If you do buy the pass online from REI, they will donate 10% of the proceeds to the National Park Foundation.
---
Read more about visiting our national parks with this hiking and camping guide.
---
Badlands National Park Hiking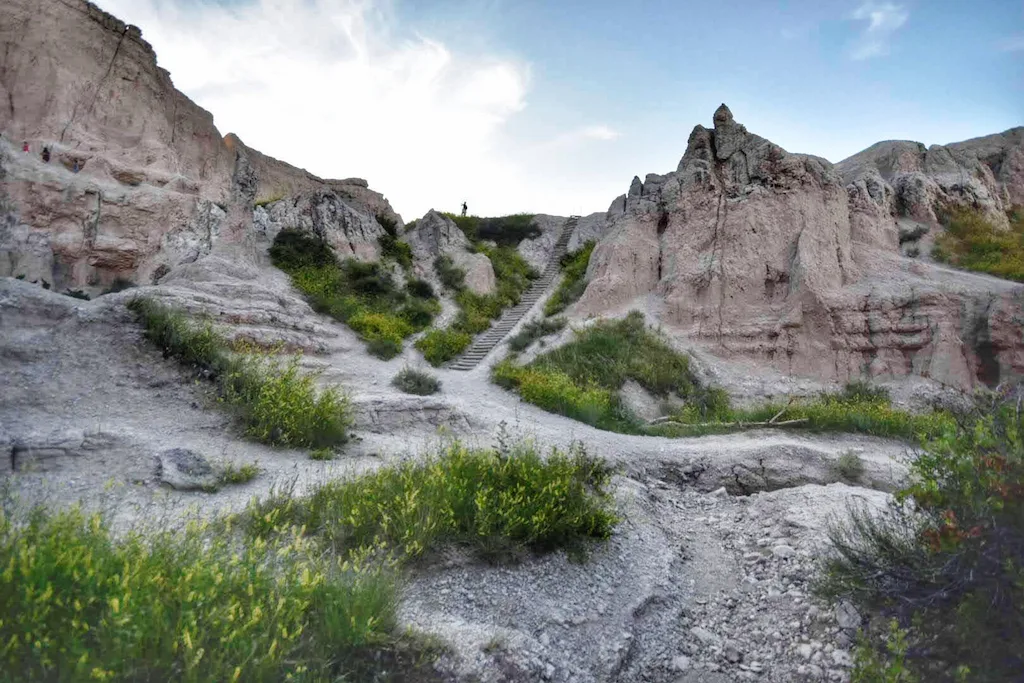 If you visit Badlands National Park in the summer, you will probably want to do shorter day hikes that you can accomplish during the early morning or late evening. Day hiking works really well in Badlands National Park as most trails are short.
The longest trail in the park, Castle Trail, is 10 miles. Of course, there are lots of opportunities to adventure off-trail, but we didn't during our trip. Here are the hikes we've tackled during our visits to Badlands National Park.
Cliff Shelf Trail. This was the first trail we explored in Badlands National Park. It's a short trail that climbs about 200 feet in elevation. It is one of the shadier trails in the park as it meanders through a juniper forest. We saw several deer browsing in the forest and the views were spectacular. The total distance is just a half-mile.
Notch Trail. The Notch Trail is probably the most famous trail in Badlands National Park, probably because of the wooden ladder that you have to climb up to a rim overlooking the expansive White River Valley. I admit that the ladder didn't look so bad from the bottom, but I wouldn't recommend it if you're scared of heights. The Notch Trail is 1.5 miles, and after the ladder climb, it's pretty easy.
Windows Trail. This one begins at the same parking area as the Door Trail and the Notch Trail. It's very short, but there are great views (of course).
Door Trail. I love how the Door Trail really does feel like you are traveling through a door that leads to another world. When you start, there are walls on either side, and then all of a sudden, a break in the wall known as the door. The .75-mile trail follows a number system beyond a short boardwalk. There's not exactly a trail, you just search for the next number as you meander along the rock formations. It's quite fun!
Fossil Exhibit Trail. A very easy and short interpretive trail near a picnic area. We did this one at lunchtime and it was sweltering. We were the only ones on the trail. There are signs and fossil replicas which were super interesting. The whole trail is a boardwalk and is accessible for wheelchairs.
Tips for Hiking in the Badlands in the Summer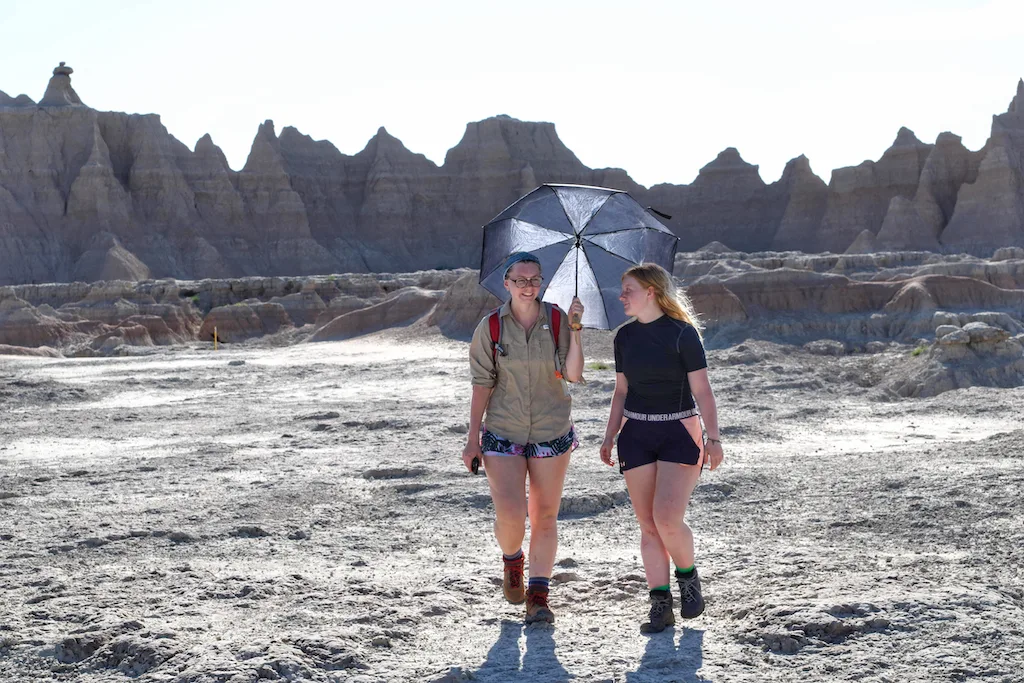 Since most people will visit the Badlands in the summer, we wanted to share some hiking tips that worked for us. Sunstroke and dehydration are very real risks in the summer, so take any warnings seriously.
Wear long pants and boots. There are rattlesnakes. Although we didn't see any, there were signs everywhere. Also, there are lots of prickly plants.
Wear copious amounts of sunblock, sunglasses, and a brimmed hat. Carrying an elegant parasol is totally fine as well (see photo).
Hike during the early morning or later in the evening to avoid heatstroke.
The NPS recommends two liters of water per person per hour.
Stay 100 feet away from wildlife.
If you're planning a trip through South Dakota this year, be sure to bookmark this Badlands National Park camping and hiking guide so you can make the most of your visit.
---
Where to Next?
Badlands National Park is not far from amazing natural attractions in the Black Hills, including Mount Rushmore, Wind Caves National Park, and Custer State Park. Here are a few more posts you should check out before planning your trip.
---
Follow us on social media for more outdoor inspiration!
Pin for Later?