Tucked into the southern terminus of the Green Mountains of Vermont, Wilmington is a tiny village of just over 2,000 people. It sits on the crossroads of Vermont Route 9, which runs east and west, and Vermont Route 100, which runs the length of Vermont, from Massachusetts to Canada. While many small towns in Vermont and across the country have fallen on hard times, Wilmington is thriving.
The town was hit hard by Hurricane Irene in 2011, with massive flooding and destruction of beloved buildings, but if anything, Irene seemed to bring the people of Wilmington, VT together, making it stronger, and more committed to embracing and promoting the charms of this beautiful mountain village.
Wilmington is fortunate to have both mountains and lakes for outdoor adventures, not to mention one of the cutest little New England villages out there. It attracts out-of-towners in three seasons, so even though Wilmington is a tiny Vermont town, there really is a lot going on – restaurants, live music, amazing outdoor recreation, and some really cool shops. We are incredibly lucky to live just 30 minutes from Wilmington, so we visit all the time. It's a great getaway for an afternoon, a weekend, or even a whole week.
Ready to explore the beautiful town of Wilmington, Vermont? No matter what season you choose to visit, we're sure you'll fall in love with this special place!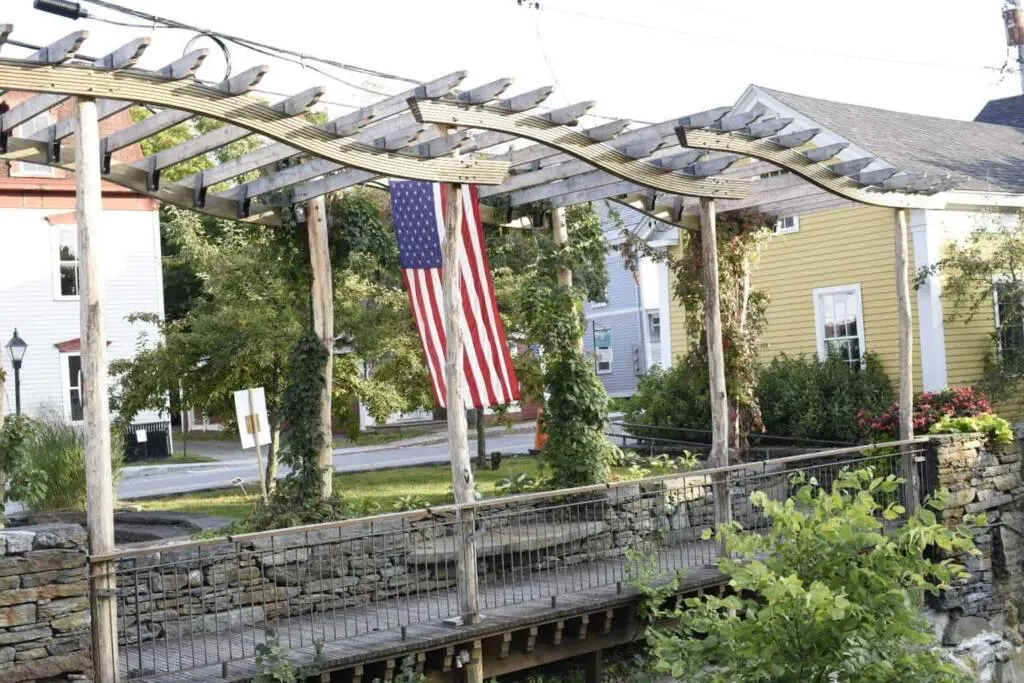 Exploring Wilmington, Vermont
Visitors to Wilmington will find more than a dozen restaurants with eclectic culinary offerings, quirky, independent shopping opportunities, and a variety of lodging choices, from campgrounds and mom & pop motels, to upscale luxury inns and resorts. Wilmington is also a playground for outdoor adventurers and nature lovers in every season. That's why we love it!
In the summer, vacationers flock to the gorgeous Lake Whitingham (Harriman Reservoir) to swim, boat, sail, and fish. Lake Whitingham is the largest lake entirely contained within Vermont's borders. This man-made lake was created in 1923 by the New England Power Company, which dammed the Deerfield River as part of a hydroelectric power project.
Today, Lake Whitingham is more than eight miles long and features more than 28 miles of wild, undeveloped coastline. We find this lake pretty hard to resist, and spend countless days along its shores in every season.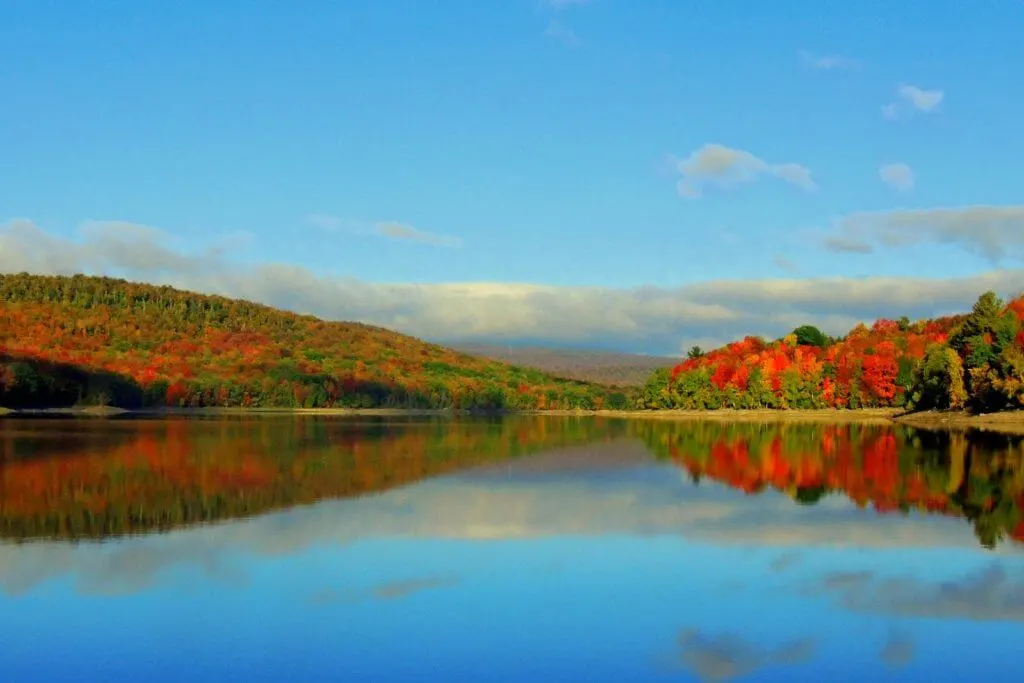 Leaf peepers pass through Wilmington, VT in the fall, journeying along Vermont's back roads for a spectacular and colorful show beyond compare. The incredible beauty of Wilmington in the autumn is just too good to pass up, and there are numerous back roads, scenic vistas, and attractions to explore as part of a New England leaf-peeping trip. Wilmington is one of the towns that I visit again and again when the leaves start to change, and it makes a great starting point for a Southern Vermont leaf-peeping getaway.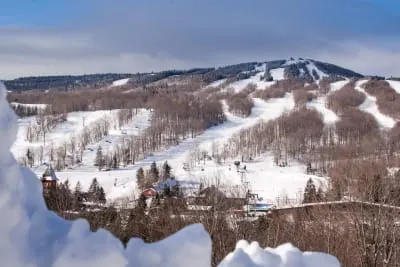 Wilmington isn't just a fair-weather destination, either. In the winter, Mount Snow, in nearby West Dover, VT, attracts skiers and snowboarders from all over the world. At 3,600 feet high, Mt. Snow is Vermont's closest big mountain resort to major Northeast metropolitan areas, and one of the most popular ski resorts in all of New England.
Wilmington makes a great home base for a southern Vermont family vacation. You'll find eclectic galleries, secluded beaches, and incredible trails, all within the confines of the town proper. Day trips around southern Vermont are easy from Wilmington — it's just 30 minutes from Bennington to the west and Brattleboro to the east, both hubs for art and culture in their own right.
Ready to plan your Wilmington, Vermont vacation? Here are our favorite things to do, places to go, and culinary indulgences in and around Wilmington, VT. As usual, our suggestions are heavy on the outdoor activities because that's what our family is drawn to. The stores and shopping opportunities are abundant, but you'll have to explore that on your own.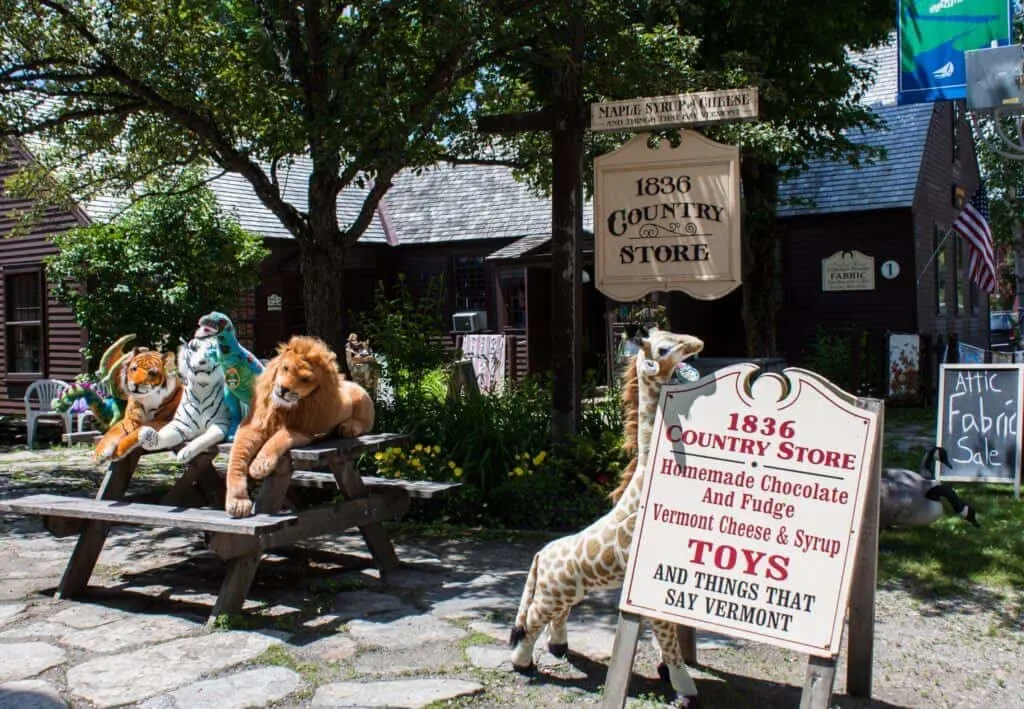 Wilmington, Vermont Restaurants
There are no chain restaurants in Wilmington, and every dining opportunity is unique. From roadside stands, to incredible fine-dining, here are our top choices for eating out in Wilmington.
Wahoo's Eatery – After a day swimming, boating, or fishing in Lake Whitingham, this is where we seem to end up, wet bathing suits and all. Wahoo's offers quality roadside food (burgers, wraps, ice cream) at affordable prices. The ice cream is always our favorite and the burgers are made with local beef. If you're looking for delicious, unfussy, barefoot dining, this is it.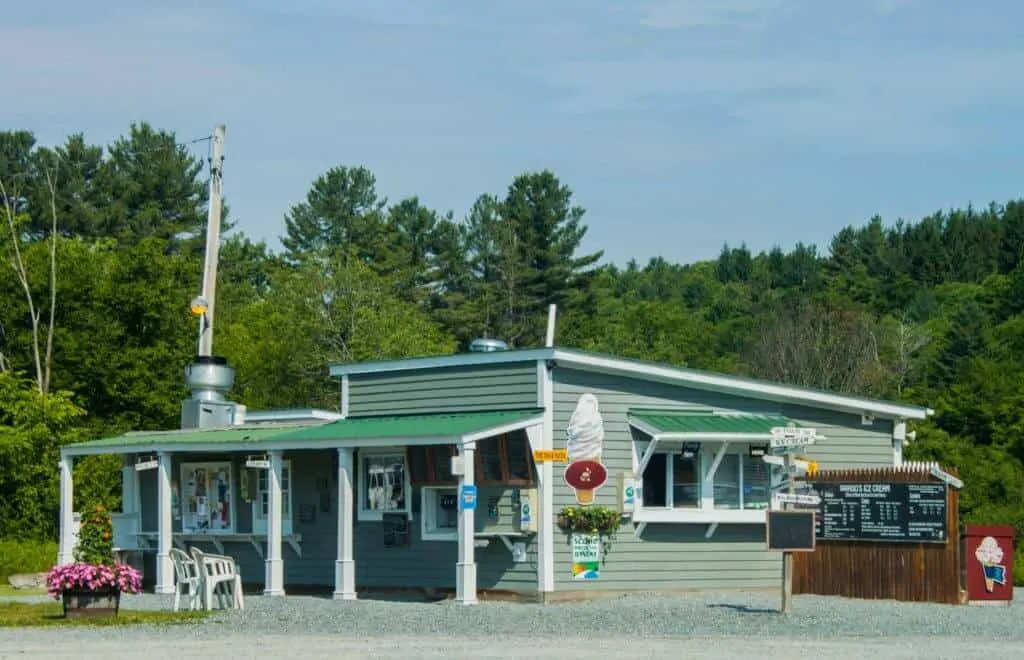 Dot's Diner – After Hurricane Irene severely damaged this beloved diner, we were worried that Dot's might not recover. We're so glad it did, and that locals and tourists continue to support this Wilmington icon. Head to Dot's for traditional diner fare, especially breakfast.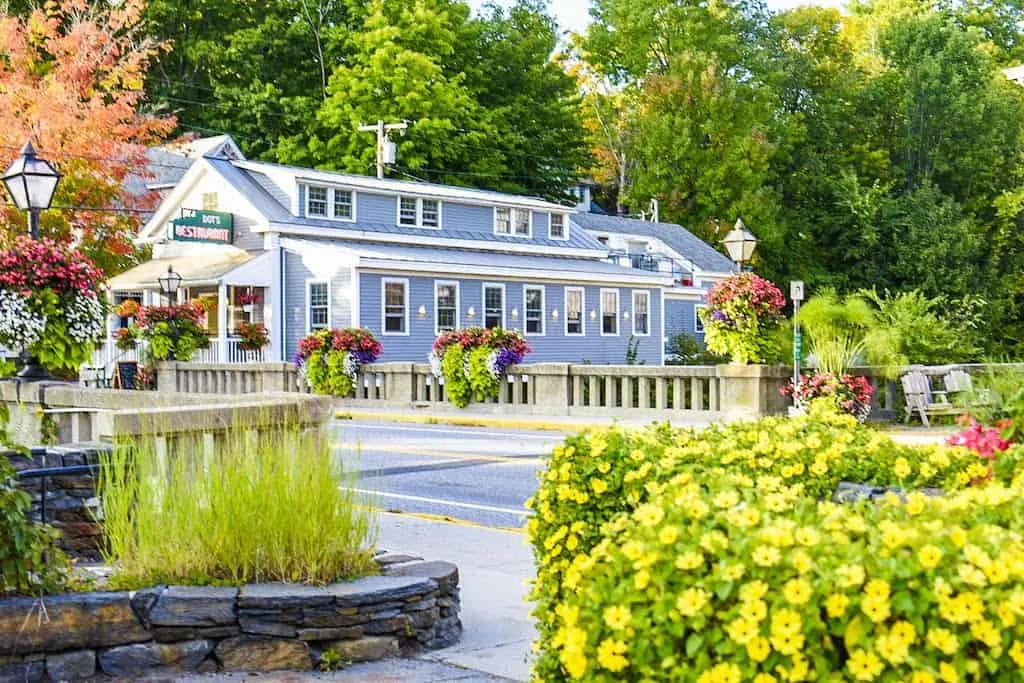 Jezebel's Eatery – This is one of our favorite lunch spots for paninis and dessert, especially in the summer when you can relax on the back deck after some downtown shopping. Jezebel's has a good beer selection and an ice cream counter if you want to picnic outside with your favorite doggo.
Cask and Kiln Kitchen – **Currently closed due to COVID-19** Pub Fare with an incredible beer and drink menu on the second floor or eclectic fine dining on the first floor, this posh restaurant has a big-city feel that is anniversary worthy. Try the hearth-baked chicken or the delicious meat and seafood dishes featuring seasonal, local produce.
Wilmington, Vermont Hotels
We admit that we're suckers for small road-side motels, which you can definitely find in Wilmington. There are also some incredibly luxurious inns if that's your thing, plus a handful of comfortable bed and breakfasts. These are our favorite places to stay in Wilmington, Vermont.
The Viking Motel – It's not for everyone, but for families looking for affordable lodging, the Viking Motel has everything you need. It's clean and cute, if a bit outdated, and the owners will happily chat and give you tips about where to go and what to do. It's unique and within walking distance to everything — our favorite kind of place.
The Nutmeg – Another sweet find, the Nutmeg is an incredibly charming bed and breakfast in Wilmington. You'll find a beautiful garden for sitting in, antique furnishings, and friendly hosts. This B&B sits on the outskirts of town, perfect if you don't want to be in the thick of it. Breakfast is served each morning, and you can also get a delicious evening meal on Friday and Saturday nights.
White House Inn – For the ultimate in elegance, the beautiful White House Inn will take your breath away. The inn sits up high on a hill, with beautiful views and a sprawling lawn. The rooms are spacious, unique, and luxurious. This is THE spot for a romantic getaway, but rooms fill up quickly, especially during the foliage season. Breakfast and dinner are served daily in two beautiful dining rooms. And if you visit in the winter, you'll find the BEST sledding hill in front of the inn.
Camping in Wilmington, VT
You know, sometimes we'd rather just pitch our tent! Vermont summers are short, so we sleep outside when we can! Here are our recommendations for camping in or near Wilmington.
Molly Stark State Park – We just returned from a trip to this beautiful park, and can't recommend it enough. The park staff was extremely helpful, dogs are welcome, there are wooded and grassy sites to choose from, and the hiking trail to the top of Mt. Olga is awesome.
The best part? Molly Stark State Park is just a short drive from everything Wilmington has to offer. You can explore all day and come home to a blazing campfire and fireflies at this beautiful mountain campground. Another plus – the bathrooms are super clean at Molly Stark State Park and showers are free.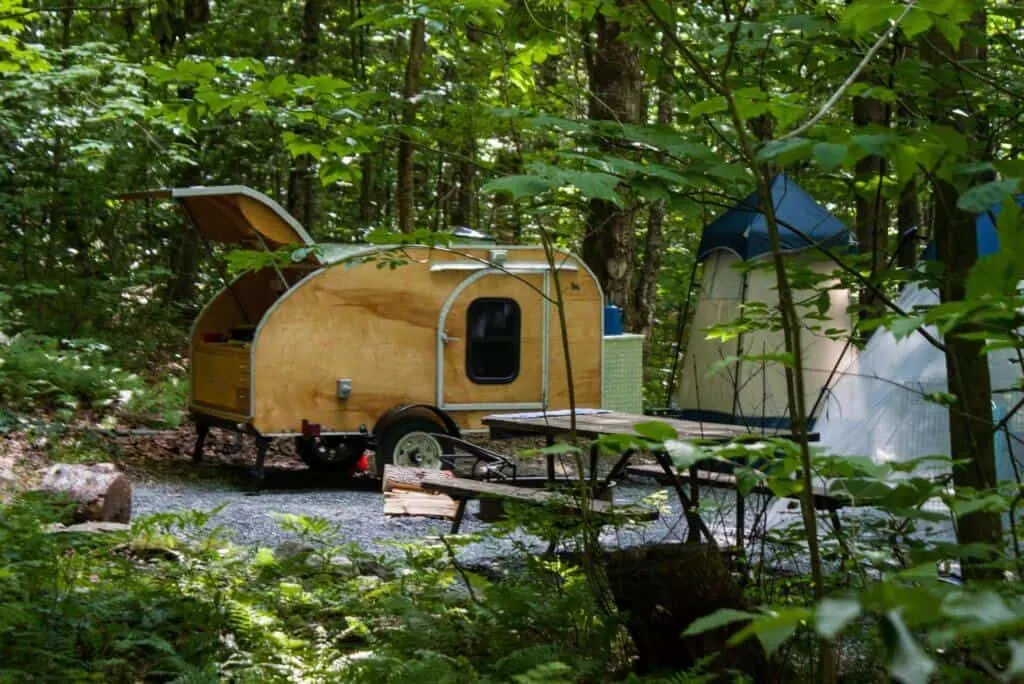 Woodford State Park – Woodford is several miles west of Wilmington, about halfway between Bennington and Wilmington. I've been singing Woodford State Park's praises for years. Here you can score a waterfront tent site, or if rain threatens, a cabin or lean-to. The park is always a good 10 degrees cooler than our home in Bennington, and for the most part, it's blissfully quiet. At Woodford State Park, you'll find hiking trails, a small beach for swimming, and canoes, kayaks, and paddleboats for rent.
Hiking in and around Wilmington, Vermont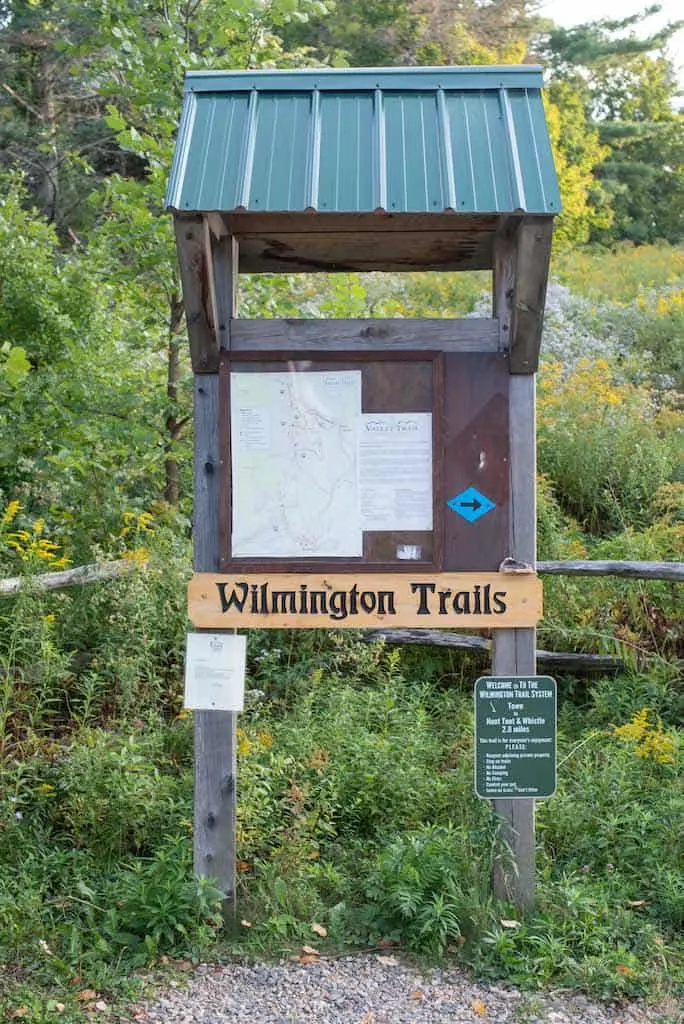 Wilmington has good hiking too! There are mountain trails and lake trails. Meanders and treks. Here are our favorite hiking trails in Wilmington, VT.
Haystack Mountain Trail – This 5 mile (round-trip) trail provides a moderate woodland hike with stunning views from the top of the mountain. The hardest part might just be finding the trailhead, which is in a development with roads and houses that all look the same. If you click on the link above, you'll find directions. Follow them exactly and you shouldn't have a problem.
Valley Trail – This is one of my favorite new trail systems, but I haven't explored it all. The trail connects Mt. Snow and West Dover with Wilmington. Occasionally it follows along the road, but you'll also be exploring woods, meadows, wetlands, streams, and ponds. Download the map above and start exploring. Our favorite trails so far are in the Sherwood Forest area.
Hoot, Toot, and Whistle Trail – More of a meander, this trail hugs the river and the lake until it reaches a nice swimming beach and boat launch. You can see the trail with directions on the Valley Trail map above.
Hogback Mountain Trails – Have you been to the 100-mile view on route 9, just east of Wilmington, VT? This is Hogback Mountain and the feature photo for this post was taken there. There's a gift shop here, a cool natural history museum, a distillery and restaurant, and yes, a fabulous view. What many don't know is that there is also a series of cool trails on the north side of route 9. The parking lot for the trails is just west of the gift shop. Here's the trail map.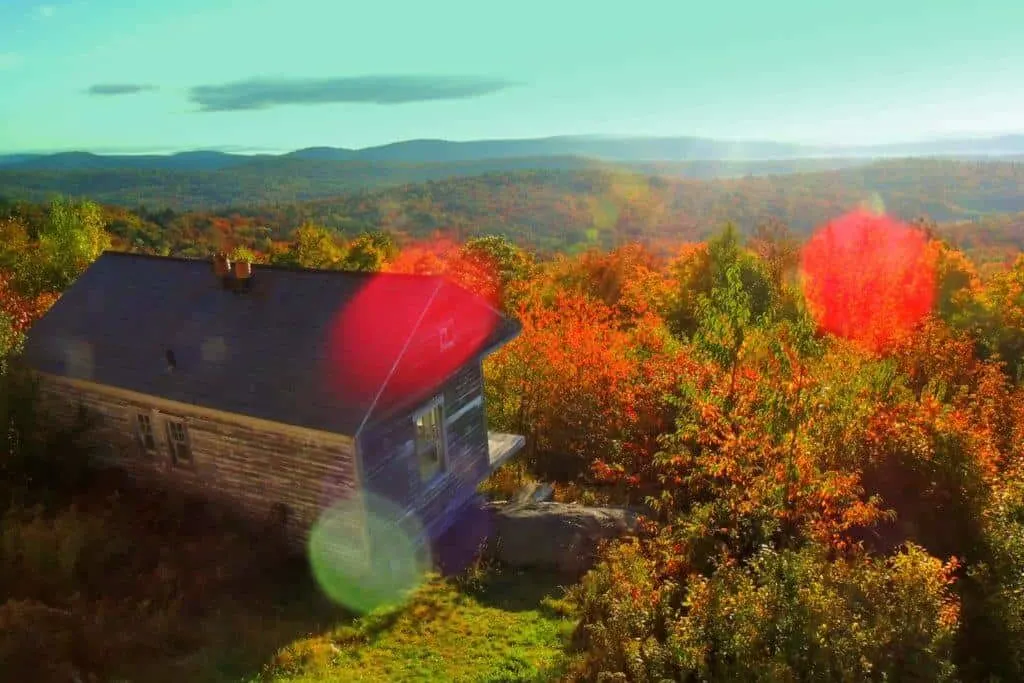 Catamount Trail – The Catamount Trail is a long-distance ski trail spanning more than 300 miles. The Wilmington portion starts at the end of Woods Road west of Wilmington and follows the whole length of Lake Whitingham. There are lots of places to swim as you hike and dogs are commonly off-leash.
There are even more trails that I haven't explored yet. Here are some more great ideas for day hiking in Wilmington, Vermont.
Beaches in Wilmington, VT
There are lots of places to swim in Lake Whitingham — the shore is undeveloped and there are plenty of pull-offs and trails that will take you to the water. We regularly visit 3 designated spots for swimming. I'll call them beaches, but that's not exactly what they are. The names listed below seem to be what the locals call these spots, but I'm not sure they're official names. Each spot has picnic tables, grills, and porta-potties, though, and on a busy summer day, you'll share the lake with lots of locals and visitors.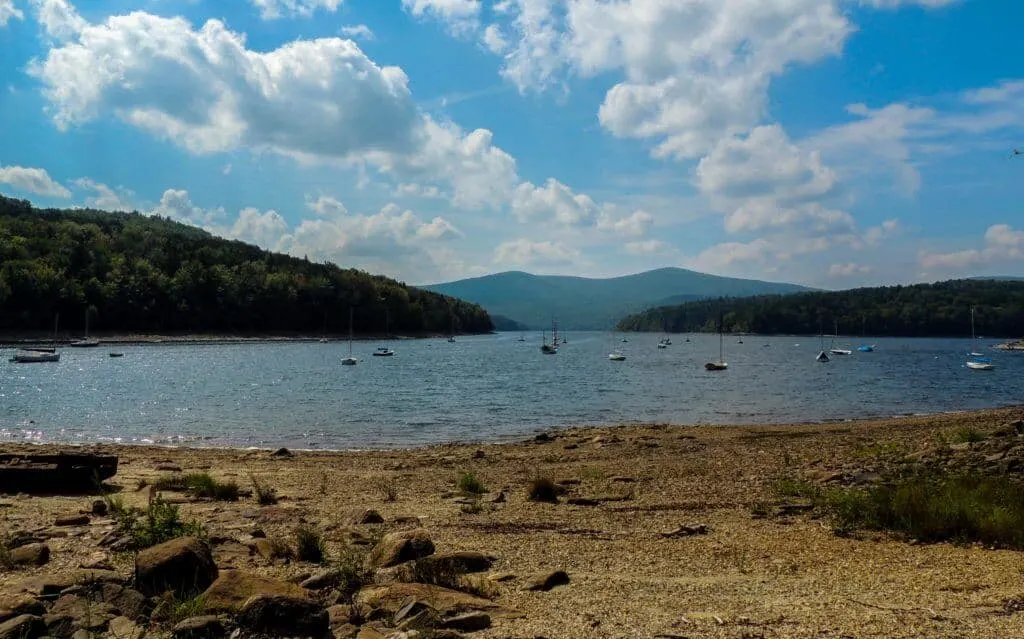 Fairview Avenue Boat Launch – From route 9, turn south at the traffic light onto Castle Hill Road. Turn right onto Fairview Avenue and follow to the end. This spot is sandy in spots and rocky in spots, but the swimming is delightful. There's a boat launch here too.
Boyd Hill Road Picnic Area – Just east of the center of Wilmington, turn south onto Route 100. Turn right on Boyd Hill Road and follow to the end. There's a sailboat mooring area here and it's really fun to watch the boats come in and out on a windy day. The shore is rocky, and the swimming is deep. There's also a trail from here that heads out to a nude beach. Never been, but if you go, please let me know how it is.
Woods Road Picnic Area – Just west of town, cross the bridge heading south onto Woods Road. There's a parking area when the road turns into dirt. This is the start of section 2 of the Catamount Trail, so hiking is good. There's a grassy picnic area and a small, sandy beach. This is also a good spot to launch canoes and kayaks into the lake.
Can you tell that Wilmington is one of our favorite Vermont towns? Come for a visit and I'm sure you'll agree with me — mountains for hiking, a huge lake for swimming, and a really cute town with lots of Vermont charm.
Resources for Exploring Wilmington, Vermont
---
Want to read more about our favorite spots in Vermont? Visit our Vermont Vacation Guide for Outdoor Lovers or check out these posts:
---
Are you on Pinterest? Pin this image for later: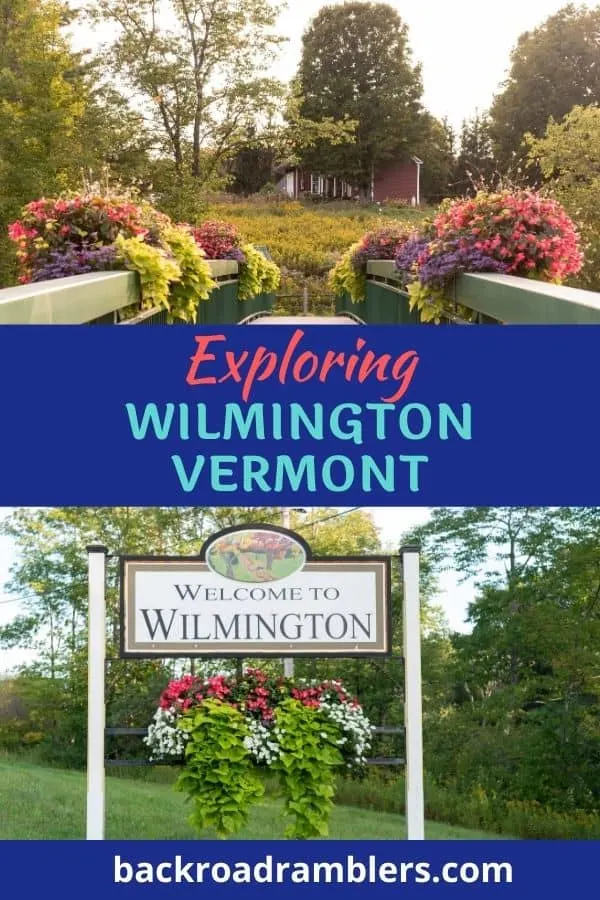 Our Favorite Resources for Road Trips and Outdoor Adventures

These are the resources we use to plan road trips, save money while traveling, and shop for outdoor gear.

Car Rentals: While we use our own car most often for road trips, we also enjoy flying into major airports and then renting a car for more regional road trips. We use Kayak to compare prices and find deals from dozens of car rental agencies at once.

Flights: We use Kayak to search out flight deals.
Money-saving tip: If you find yourself using the same airline repeatedly (we are huge Southwest fans), consider joining their loyalty program and getting an airline credit card. With our Southwest Rewards Visa, we earn a few free flights each year.

Hotels: When it comes to lodging, we seek out small boutique hotels or quirky roadside motels. First, we search for hotels on TripAdvisor so we can read reviews from other travelers. Then, we use Booking.com to make reservations (they have the best prices, plus a flexible cancelation policy).

Camping: Camping is one of our favorite things to do on long road trips. It allows us to explore the outdoors, cook our own food, and save money. We use They Dyrt Pro to find campsites and read reviews before booking on Recreation.gov or state park websites.

Glamping and Vacation Rentals: For weekend getaways and shorter vacations, we love glamping (check out our glamping resource guide). We book glamping properties through Tentrr, Hipcamp, and Airbnb. For cabins and vacation rentals, we like to use VRBO (they have fewer fees and a better cancelation policy than Airbnb).

Guides and Maps: If we are visiting a new region, we usually invest in a Moon Travel Guide for the area. We pass them on to friends and family after our trip. If we are planning on hiking, we also purchase a Falcon guide in the Best Easy Day Hikes series.

Outdoor Gear: We are REI Co-Op members. It cost us $20 for a lifetime membership, but we get a yearly dividend based on our purchases, plus great deals and coupons throughout the year. REI also has a great return policy.

Check out our complete guide for planning a road trip on a budget