Want to pitch your tent beside a clear alpine lake and spend a weekend hiking, swimming, paddling, and fishing in a magical wilderness setting?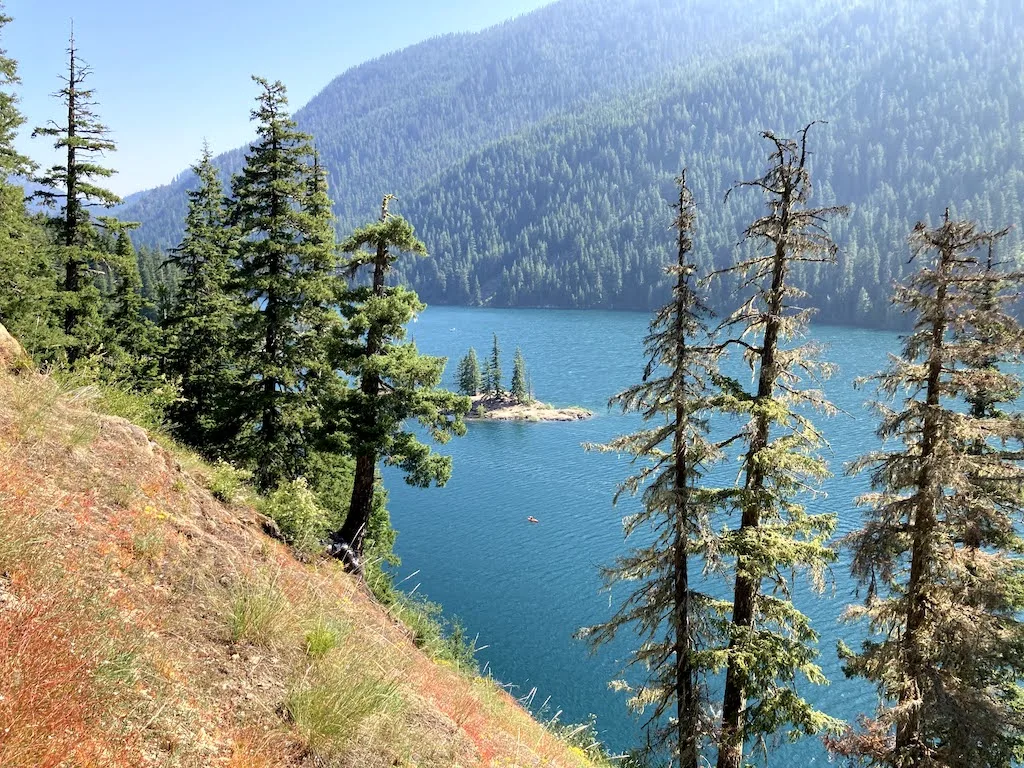 Driving Interstate 90 and looking for a beautiful nearby campsite to rest up before continuing on? If your travels are taking you to the Pacific Northwest this summer, you won't want to miss camping at Kachess Lake.
FAQs for Planning a Camping Trip at Kachess Lake
Where Exactly is Kachess Lake?

Kachess Lake is just five miles from Interstate 90 in Okanogan-Wenatchee National Forest near Easton, Washington. The 92-acre campground and day-use area is located on the northwest shore of Kachess Lake with Little Kachess Lake to the immediate north. Kachess Lake Campground is just over an hour from Seattle, making a perfect destination for city dwellers who need a break.

Do You Need Reservations to Camp at Kachess Campground?

You don't need necessarily need reservations. There are about 40 campsites that are designated as first come, first served, and if you get there early enough, you should be able to snag a spot. Kachess Lake Campground does fill up on summer weekends, so if you have your heart set on camping here, head to recreation.gov to reserve your spot.

Can You Swim in Kachess Lake?

Yes! The swimming is delightfully cold in the summer and the water is very clear.

Can You Camp with an RV at Kachess Lake?

There are 150 campsites in Kachess Campground, and 106 of them can be reserved ahead of time at recreation.gov. Most sites are suitable even for large RVs, but no hookups are provided.

Is Kachess Lake Campground Open Year-Round?

No. Kachess Lake Campground is open between the end of May and the end of September. You can reserve sites for the upcoming season starting in January on recreation.gov.

How Much Does it Cost to Camp at Kachess Lake?

Single-family sites are $24.00 per night. Extra vehicles are $8.

What Type of Fish Can You Catch in Kachess Lake?

Fishing is good in Kachess Lake and it's open year-round for still fishing and trolling for the following species. *Note that Kachess Lake is currently closed to Bull Trout fishing.
-Burbot
-Cutthroat trout
-Kokanee
-Pygmy Whitefish
-Rainbow trout
-Westslope cutthroat trout
Kachess Lake and the Kachess River are both part of the Columbia River basin. Kachess is in the middle of three large lakes near Route 90.
We live in Vermont and our oldest son lives in Washington, so as much as we love back-road travel, we find ourselves trucking along on Interstate 90 pretty often.
Last summer, we reserved four whole nights at Kachess Lake Campground so we could relax and enjoy the Fourth of July holiday before making tracks back to Vermont.
While the campground gets crowded, especially on a holiday weekend, there's plenty of room to spread out, especially if you can get out on the water!
Whether you just want a quick spot to pitch your tent while road-tripping or are looking for your next destination for a family camping trip, definitely check out Kachess Lake in Okanogan-Wenatchee National Forest.
Psst… Have you seen those groovy campervans meandering around America? They're Escape Campervans and you can rent one for all of your Washington explorations.
There's an Escape Campervan rental center in Seattle, which is just a short drive from Kachess Lake Campground.
These iconic vans include everything you need (and a kitchen sink) for your van camping adventure. Talk about a memorable experience!
Pros and Cons: Kachess Lake Campground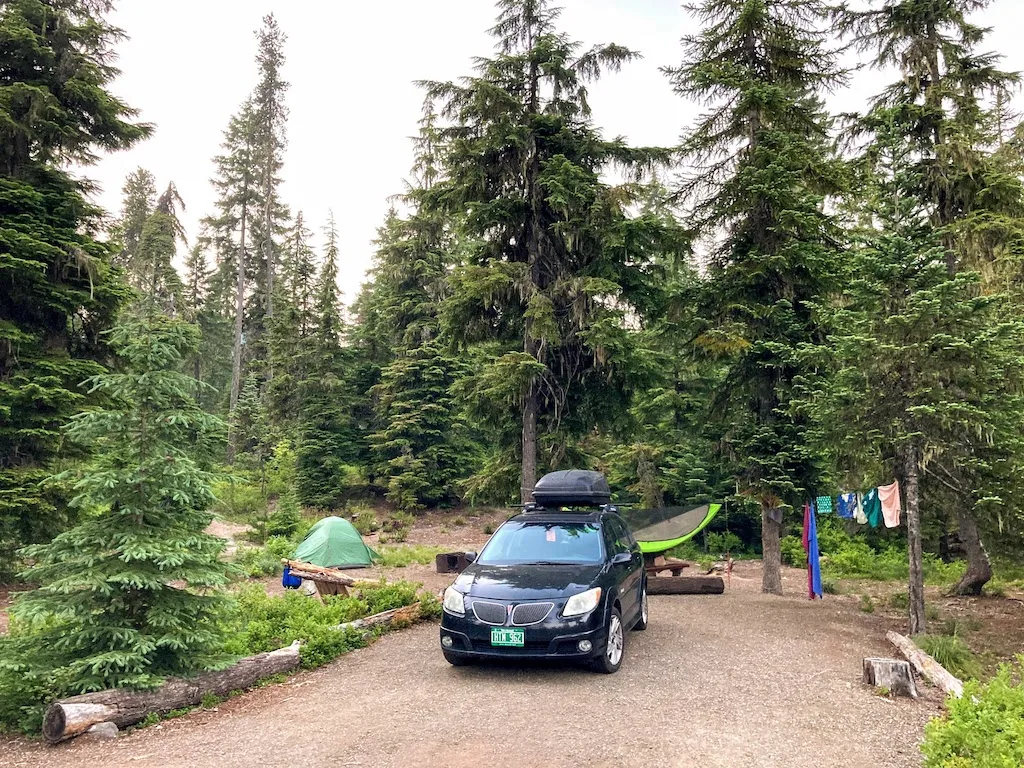 So as not to keep you guessing, here's an overview of what we loved and didn't love about our camping experience at Kachess Lake to help you decide if it's right for you.
Pros:
Beautiful private campsites: The campsites are large and set among tall trees. Some are right on the water with mountain views.
Great swimming, paddling, and boating: Kachess Lake is crystal clear.
Awesome hiking trail with a trailhead in the campground: Little Kachess Trail hugs the shore and has water access.
Affordable: $24 a night is pretty good for such a beautiful spot.
Close proximity to I-90: Perfect for road trippers!
Cons:
No hook-ups
The bathrooms could have been cleaner (we were there on a holiday weekend)
No recycling (just dumpsters)
No cell service
Kachess Campground Overview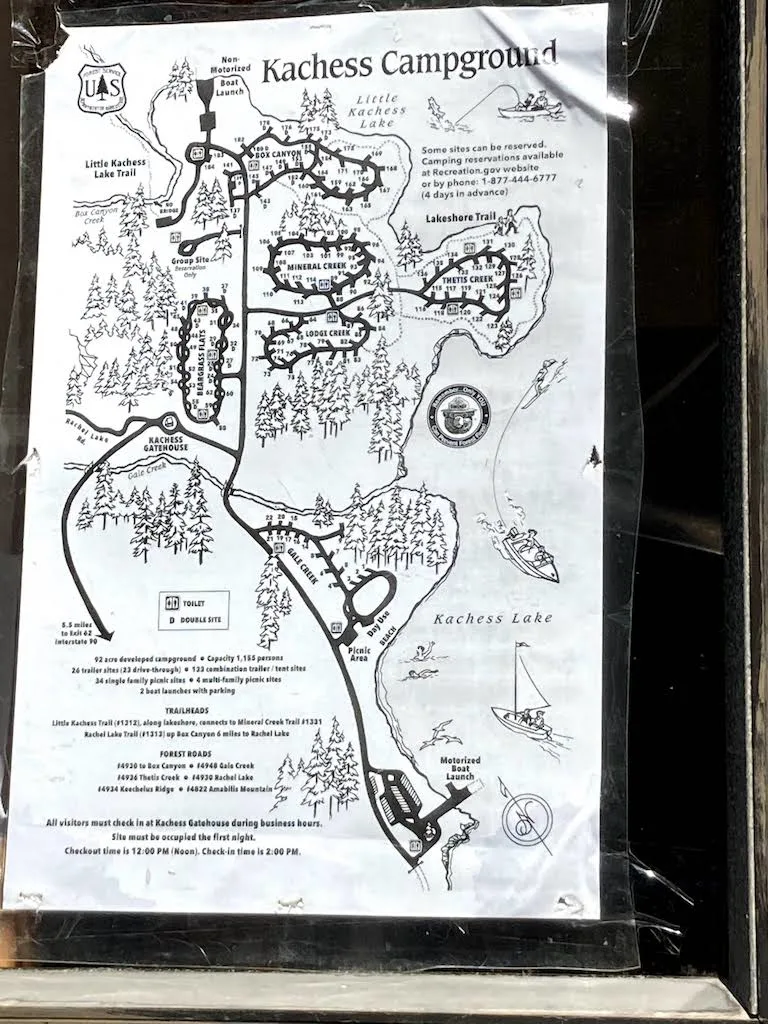 First, you should know that this is a pretty big campground that gets crowded on summer weekends. Like most national forest campgrounds, the amenities are limited.
Each campsite has a picnic table and a fire ring with access to vault toilets in each campground loop. There are water faucets nearby for cooking water and washing up.
Choose from several campground loops when making your reservation. Every campsite is nestled in an old-growth forest with good privacy between them, but some of the loops are farther away from the water than others.
We booked a site in the Mineral Loop, which was equidistant from the Little Kachess Trailhead and the day-use area and beach.
If I had a choice, I would book a campsite in the Thetis Loop, which has water access, a nice trail, and private sites, but we were very happy with our spot!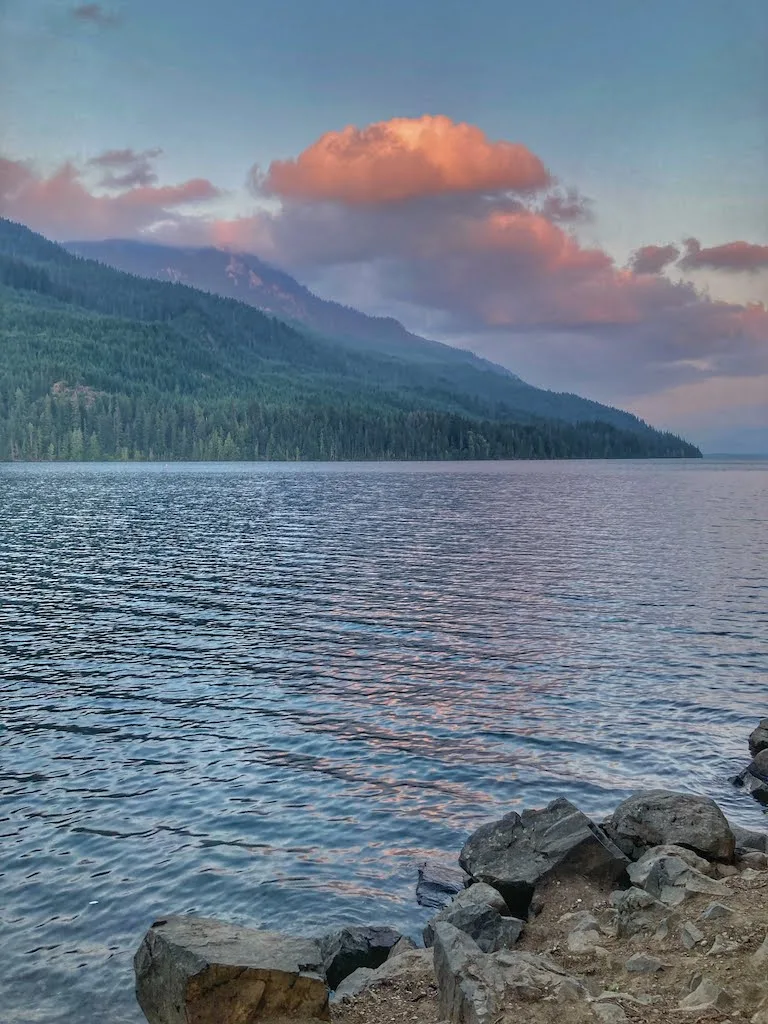 Kachess Lake Campground is a great spot for just chilling out near the water, which is what we did most of the time. If you have a boat, definitely bring it along. There is a boat ramp in the day-use area.
During our visit, we saw motorboats, jet skis, fishing boats, and kayaks out on the water. There seems to be plenty of room for everyone.
Hiking Little Kachess Trail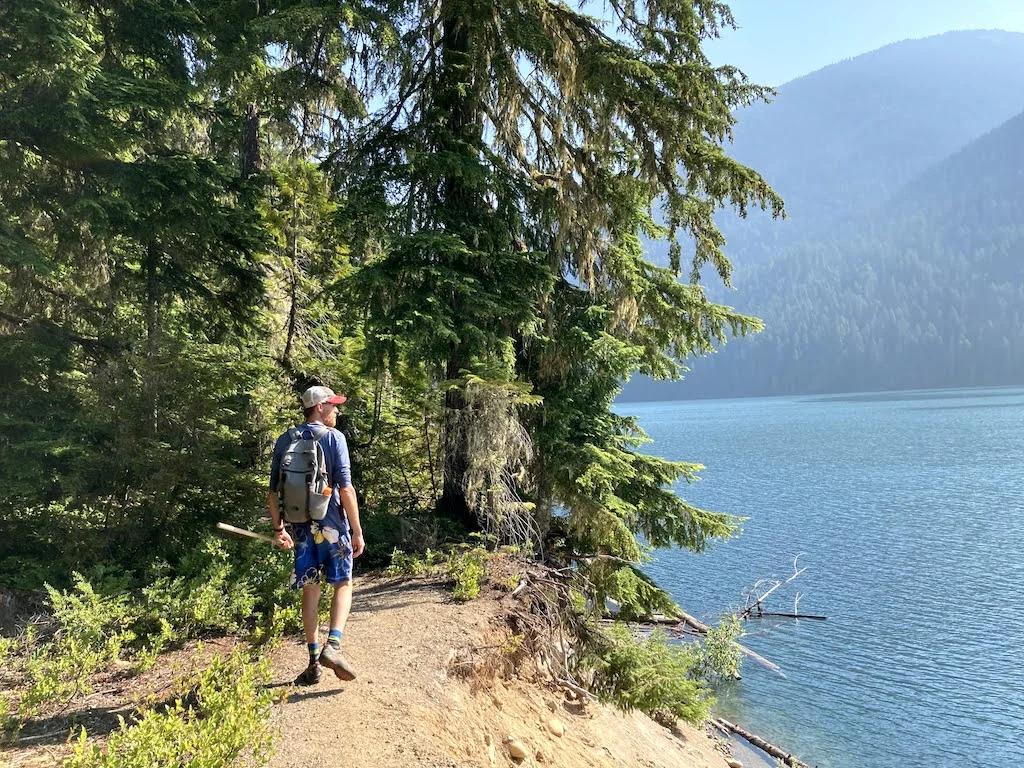 There is a lot of great hiking nearby, but the only trails that start right in Kachess Lake Campground are the Lakeshore Trail and Little Kachess Trail. T
he Lakeshore Trail isn't much of a hike, more like a meander along the shore while looking for the perfect swimming spot, but we loved Little Kachess Trail, which starts near Box Creek.
Little Kachess Trail is an out-and-back trail totaling 8.6 miles and climbing 1,300 feet in elevation. It starts at the northern end of Kachess Campground and travels north along the lakeshore.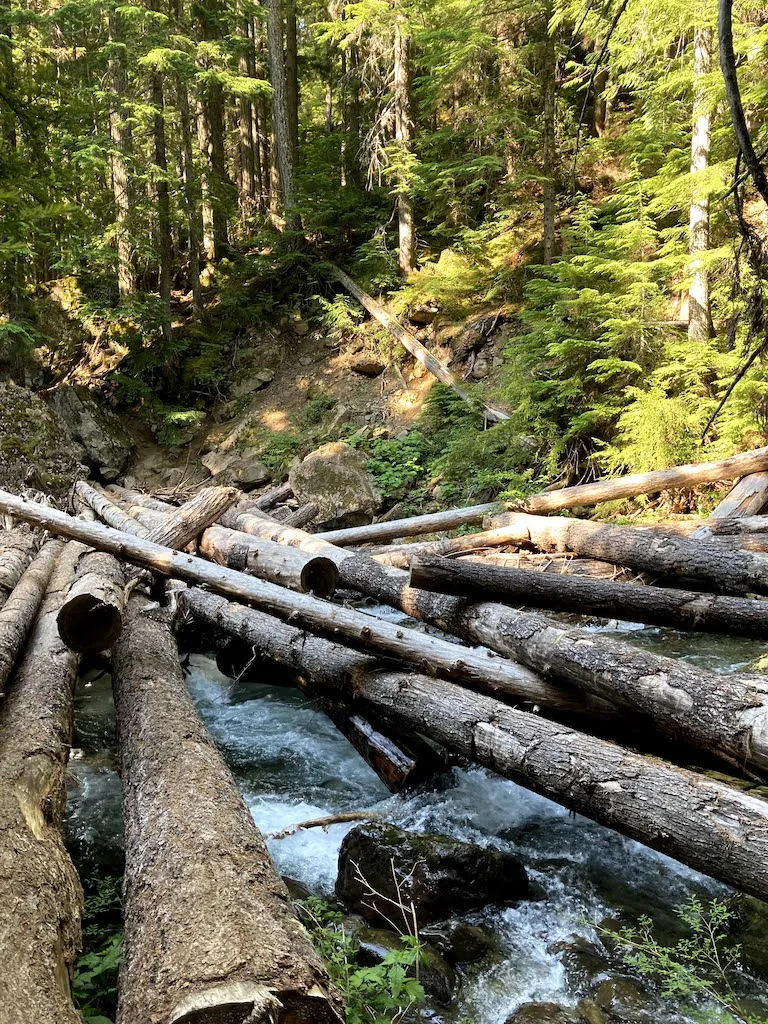 The hike starts near the parking lot to the day-use boat launch and picnic area and travels along Box Canyon Creek.
The original bridge across the creek washed away a few years ago. Now to get across, simply hike along the river past the washed-out bridge crossing until you come to a massive log jam that acts as a bridge. Don't worry — it's an easy crossing.
From here, the trail hugs the lakeshore, with many fabulous viewpoints and a few private spots where you can access the lake, take a dip, and have an afternoon picnic.
The trail continues for more than four miles, so just turn around when you've had enough and head back to camp for a cold brew and a nap in your hammock.
Little Kachess Trail Map and Elevation Profile
As you can see the endpoint of Little Kachess Trail is just beyond the lake after a steady climb to 2,643 feet above sea level. We found so many great spots to hang out by Kachess Lake that we never made it this far.
More Hiking Near Kachess Campground
We loved Little Kachess Trail because it started in the campground and we didn't have to get back in the car to get to the trailhead (we were more than 3,000 miles).
If you are spending a few days and want to tackle some harder hikes, there are several nearby. Cell service is spotty, so be sure to get AllTrails+ so you have access to offline maps for these trails.
Here's what we'd recommend.
South Ridge of Alta Mountain: This difficult hike starts about 4 miles from the campground and climbs steeply for almost 4,000 feet to end at 6,424 feet. The total out-and-back hike is about 10 miles. For less of a challenge, hike up to Rachel Lake and back, which will cut considerable miles off the total.
Mount Margaret: This 5.4-mile hike starts 10 miles from Kachess Campground and features fantastic views from the summit. The hike gains a little over 2,000 miles in elevation and is quite steep at the very end.
Kachess Beacon Loop Trail: The Kachess Beacon Loop starts just south of Kachess Lake, about 16 miles from the campground. Unlike the other trails mentioned here, this one is a loop (my favorite) and at just 4.5 miles, it can be completed in an afternoon. It's still a steep trail, gaining more than 2,200 feet in elevation, but once you get to the ridge, the views make it all worth it.
Final Thoughts on Camping at Kachess Lake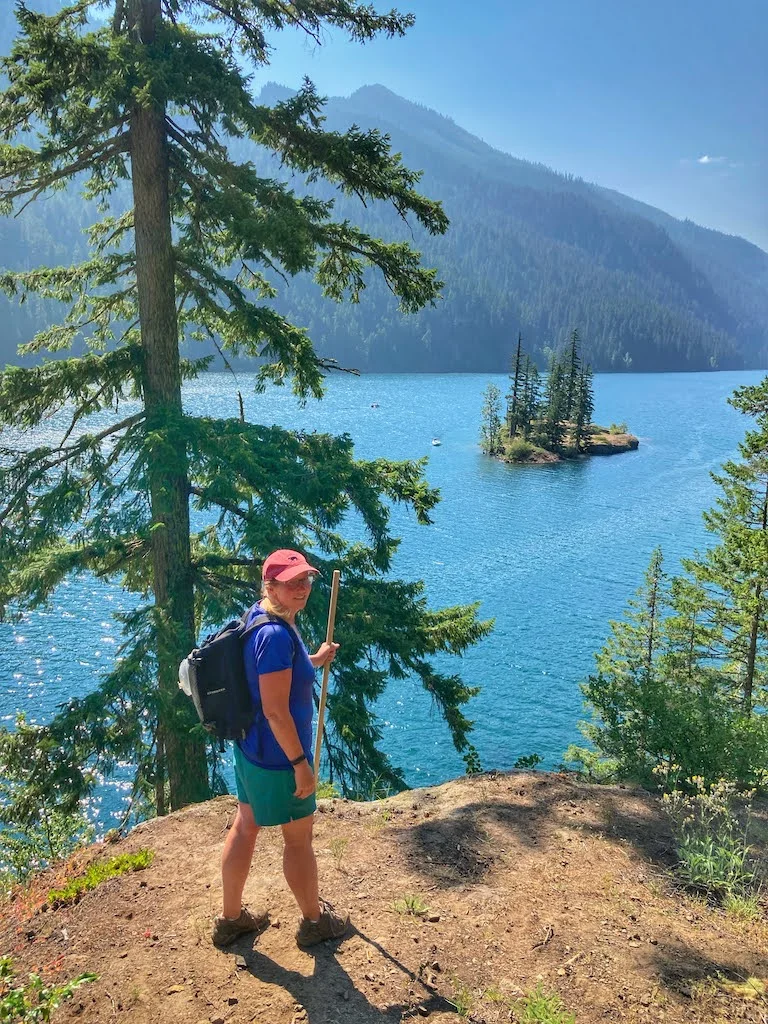 This is an ideal destination for all types of campers. You can bring all of your boats and water toys and spend a weekend relaxing, cooking good food, and getting out on the water, or you can use your campsite as a home base and tackle all of the nearby trails before falling into your tent each night.
While Kachess Campground was busier than the spots we normally choose, the views, hikes, and swimming more than made up for it. We drive Route 90 more than we would like to, but now we have one more awesome stop to make the trip more worthwhile!
---
Looking for more adventures in the Pacific Northwest? Check out some of our favorite destinations!
---
Follow our adventures on social media
Pin for Later?