Glacier-clad peaks, virgin forests, vast turquoise lakes, and sub-alpine meadows, North Cascades National Park is a gem of a wilderness — one that is often overlooked by tourists and revered by rugged adventurers.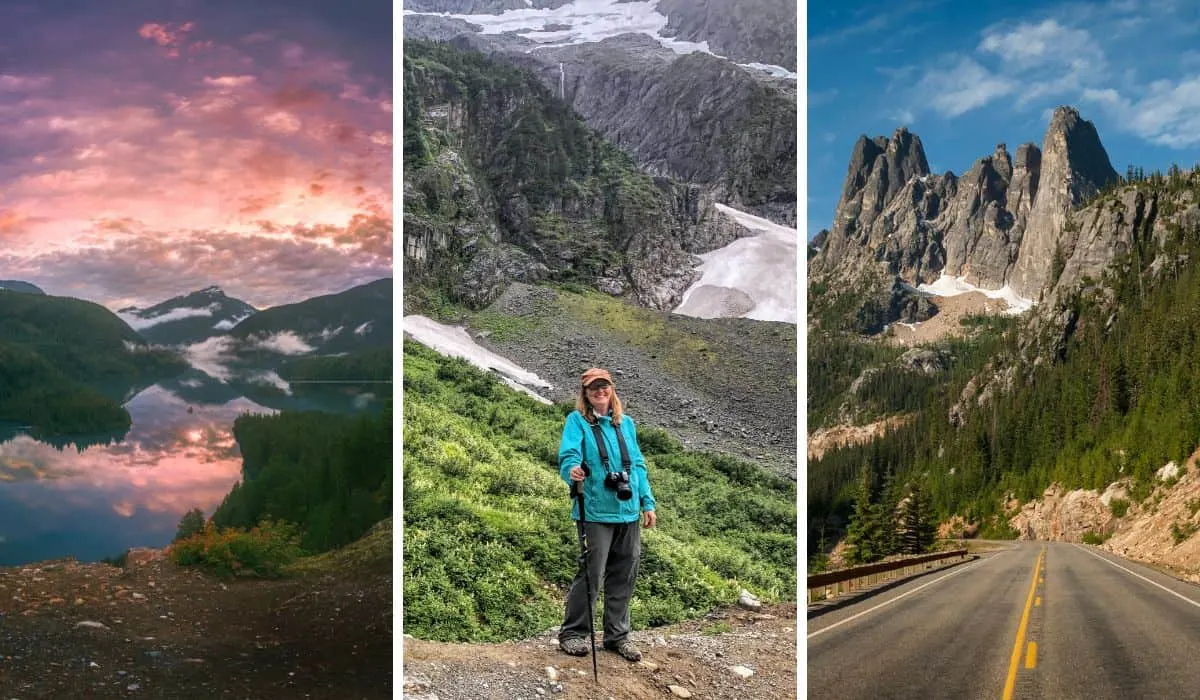 North Cascades National Park is isolated, encompassing 360 miles of trails, an incredible array of wildlife, and innumerable waterfalls.
The Cascade Range extends from British Columbia to Northern California, with just one paved road embarking into the heart of its untamed wilderness. If you're an avid hiker or backpacker, you've no doubt been seduced by these mountains, but this post is for the road tripper, the casual hiker, and the family adventurer.
If you've never journeyed through North Cascades National Park, it's time to make amends.
Getting to North Cascades National Park
There are major airports in both Bellingham and Seattle, Washington. From Bellingham, the entrance to the park is about an hour and a half drive. From Seattle, it's about three hours.
Route 20, also known as the North Cascade Highway, was completed in 1972 and takes visitors on a smooth, easy ride through some seriously imposing terrain.
Aside from a few dirt roads, it's the only road through the park; it's closed in the winter, and oftentimes into the spring.
There's no entrance fee to get into North Cascades National Park, but a few trailheads require a $5 parking pass.
Traveling the North Cascades Highway
Route 20 is really the only road through North Cascades National Park, but what a beautiful way to go!
Our family arrived from the east, in the middle of a 10,000-mile road trip across America, and what we were most impressed with, was how incredibly different the eastern and western slopes of the mountains are. The eastern slopes have a very dry, old-west feel to them, with lots of sagebrush, horses, and ranch land.
After cresting the mountains and heading down the western slope, we found ourselves in the midst of lush old-growth forests, dark and drippy, and covered with moss. We loved the juxtaposition of the two climates converging within a few hours' drive.
Exploring Winthrop, Washington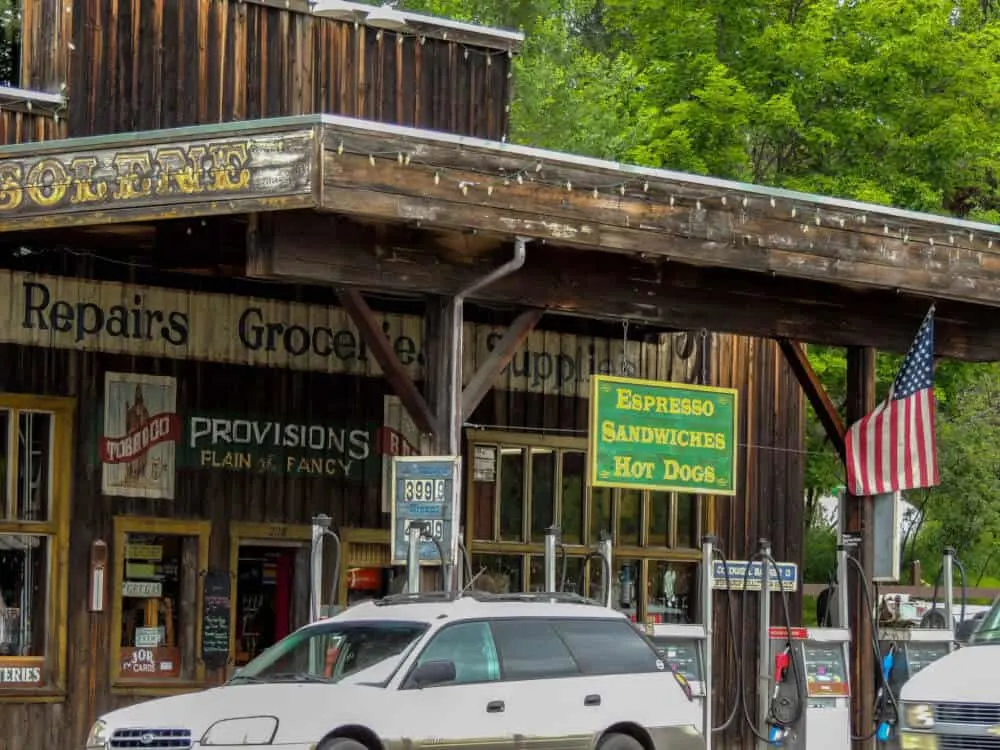 The night before we traveled into North Cascades National Park, we camped in a little campground just outside of Wauconda in the Okanogan National Forest. It was kind of a rowdy place and the campsites were nestled around a swamp/pond that wasn't good for swimming.
The folks at the campground convinced us to visit the little town of Winthrop the next day on our way into the park. They promised wild-west tourism, shopping, and good eats.
We arrived in Winthrop, WA at lunchtime the next day, and we weren't disappointed— It's a serious tourist destination, with lots of back road travelers like us, motorcycles, RVs, and people everywhere.
We ate pickles from the Winthrop Emporium, played the part of tourists with cameras all around town, and even did a little shopping.
I highly recommend Winthrop as a stop-over, wherever you happen to be headed. We barely scratched the surface there, so if you want to learn more, you'll have to visit Winthrop's official website.
North Cascades National Park Camping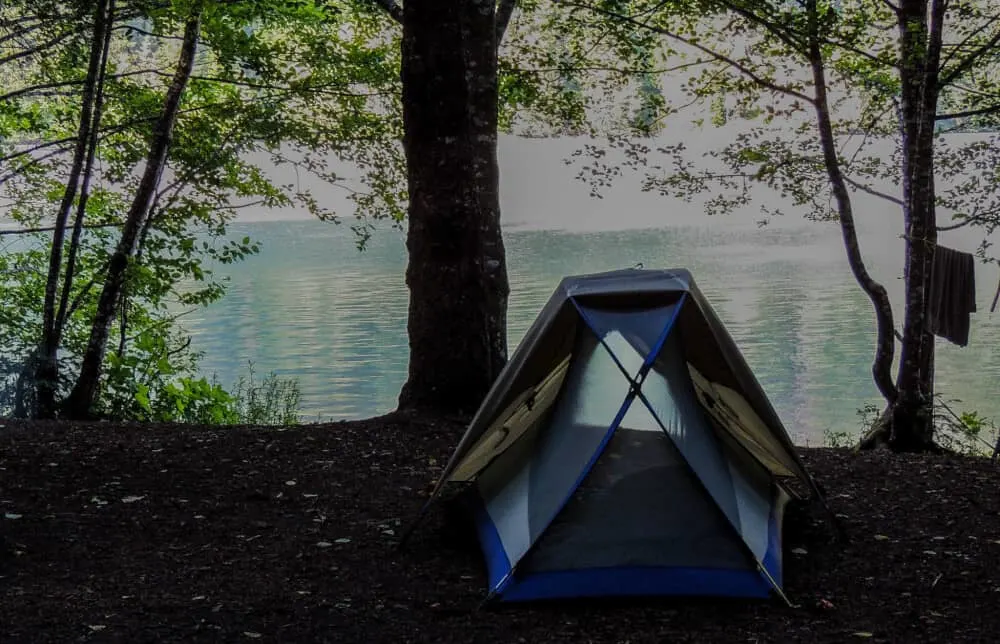 There are a bunch of camping options in North Cascades National Park.
We were road-tripping, so we chose one of the eight front-country campgrounds, but there are also several boat-in campgrounds and lots of options for wilderness camping too.
During our visit, most of the campsites were first-come, first-served, but they have recently changed over to reservation-only between May and September.
There are eight campgrounds to choose from, but if you can score a waterfront site at Colonial Creek South, you will be a very happy camper indeed!
Tent sites are $24 and can be made in advance at recreation.gov.
The trailhead to Thunder Knob, Thunder Creek, and Thunder Woods all begin in Colonial Creek Campground, which is awesome when you just want to stay out of the car for one more day.
There's an accessible fishing pier on Diablo Lake, which is within walking distance, and some seriously frigid water for swimming.
A few of us are pretty brave swimmers when it comes to cold water, but not one of us ventured into Diablo Lake at the end of June. A pity. Maybe next time.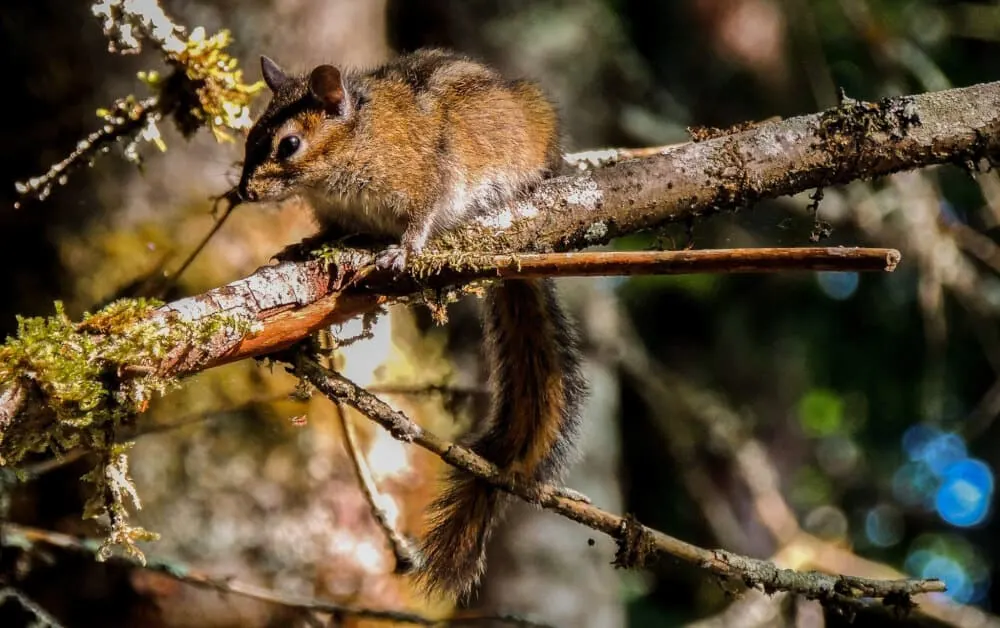 We loved our Colonial Creek campsite. It offered a good amount of privacy, a soft flat surface for our tent, and of course, an amazing water view.
Our next-door neighbors at the campground were awesome, and I really wish I could remember their names so I could look them up, but I think they will have to exist only in my memories.
North Cascades National Park Hiking
Despite the fact that we were road-tripping and didn't get to spend a lot of time in the park, we did manage several fun hikes.
I'll leave the backpacking trips, climbing adventures, and strenuous mountain ascents to more seasoned adventurers and tell you about a few family-friendly hikes within the park.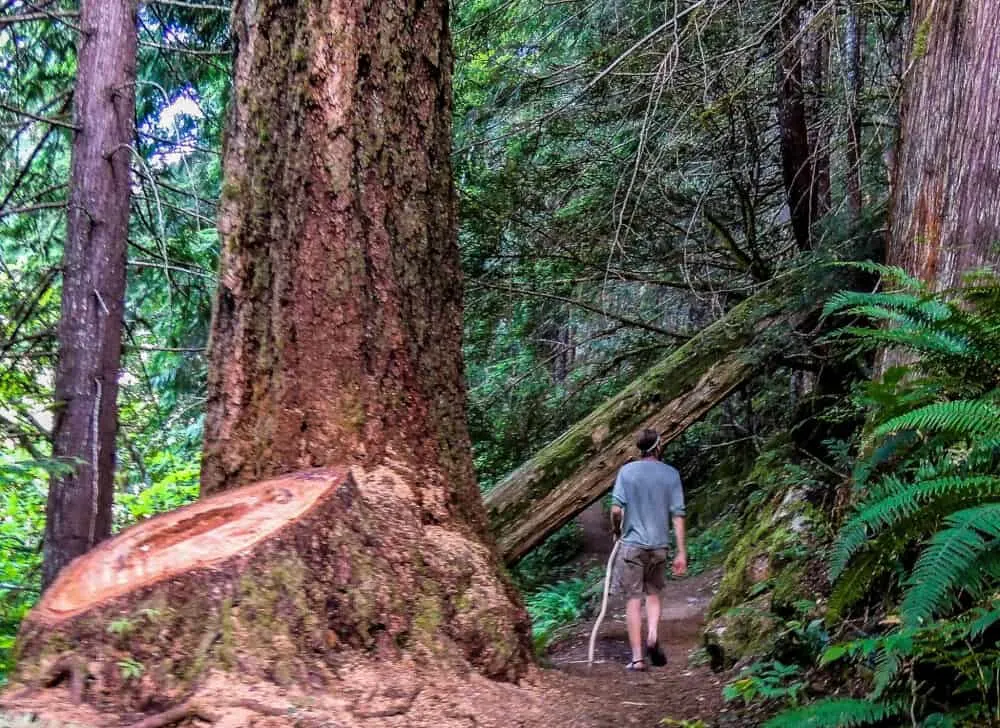 Thunder Knob Trail – This 3.6-mile hike is perfect for an afternoon in the woods with or without kids. It gains just 425 feet in elevation with incredible views of both mountains and lakes. It begins at Colonial Creek Campground on Diablo Lake. Leashed dogs are permitted on the trail.
Happy Creek Forest Walk – Who can resist a trail with a name like that? This is a really short (.8 miles), accessible walk, perfect for stretching out your legs. It meanders along a creek, and there are plenty of benches for resting or reflecting. You can also turn this walk into a real hike by continuing on from the boardwalk to Happy Creek Falls. Then your total distance becomes 4 miles.
River Loop Trail – This is another easy trail that starts in Newhalem Creek Campground. It meanders through the forest and along the creek, with ample opportunities for birdwatching and getting your feet wet. The trail is a 1.8-mile loop that also connects to the "To Know a Tree Nature Trail," which is a ½ mile interpretive nature path.
Stetattle Creek Trail – This one is a bit more difficult, but still a manageable day hike for adults and children who like to walk. The beginning of the trail hugs Stetattle Creek, with a bit of rock scrambling along the shore. Eventually, it leaves the creek behind, heading into a mature forest and then petering out after about 3 miles.
Resources for Exploring North Cascades National Park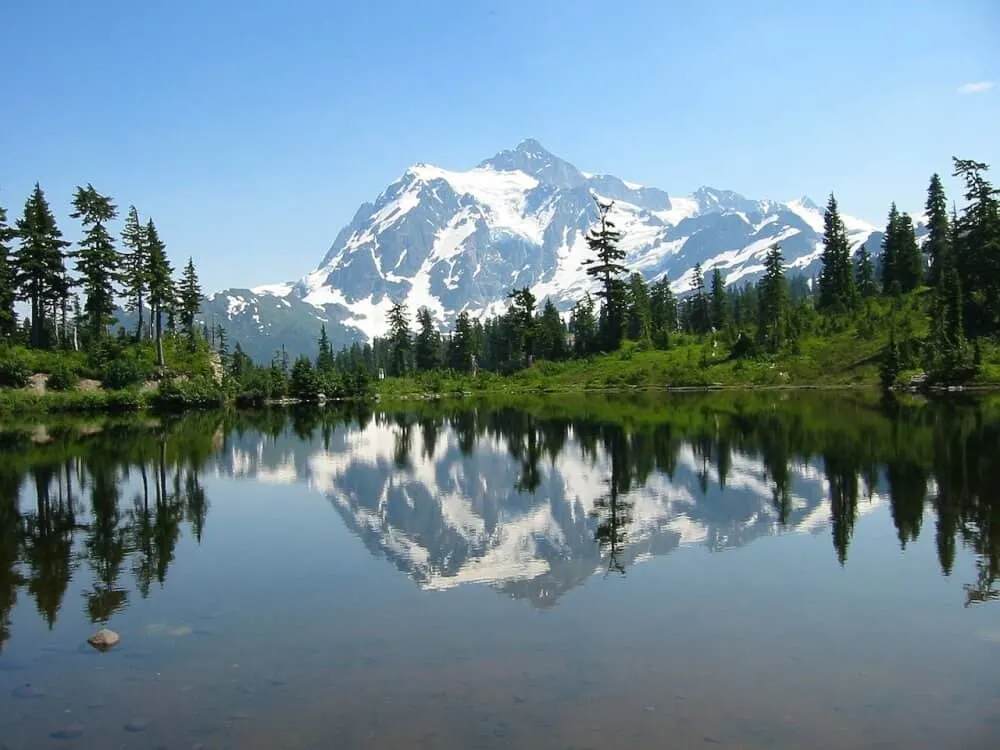 The National Park Service – Everything you need to know about camping, hiking, and wildlife within North Cascades National Park, plus information about road and trail closures.
The Cascade Loop – A whole road trip worth of ideas for exploring route 20, North Cascades National Park, and the surrounding communities.
Seattle Met – Way more information about North Cascades National Park than I could realistically cover in one post.
The Pacific Northwest is one of our favorite regions in the USA. During our cross-country road trip, we spent a few blissful days in the shadow of the North Cascades, and then we moved on down the coast.
Since then, we visit the Pacific Northwest whenever we have time and money – it's our home away from home! Read more about some of our favorite spots:
Port Townsend: one of our favorite towns in all the world
Sol Duc Valley in Olympic National Park
The Quinault Rainforest in Olympic National Park
We're already planning our next trip to the North Cascades and Olympic National Park. We'd love to hear about your favorite places, hikes, and campgrounds. Please share your tips in the comments, and don't forget to visit our national park camping and hiking page.
---
Pin for Later?