For winter glamping on an epic scale, you can't beat the varied landscapes of New York.
A winter getaway to New York is perfect for skiing ancient wooded peaks, snowshoeing around deep glacial lakes, and taking in the pastoral views of rolling farmland tucked in under a blanket of snow for the season.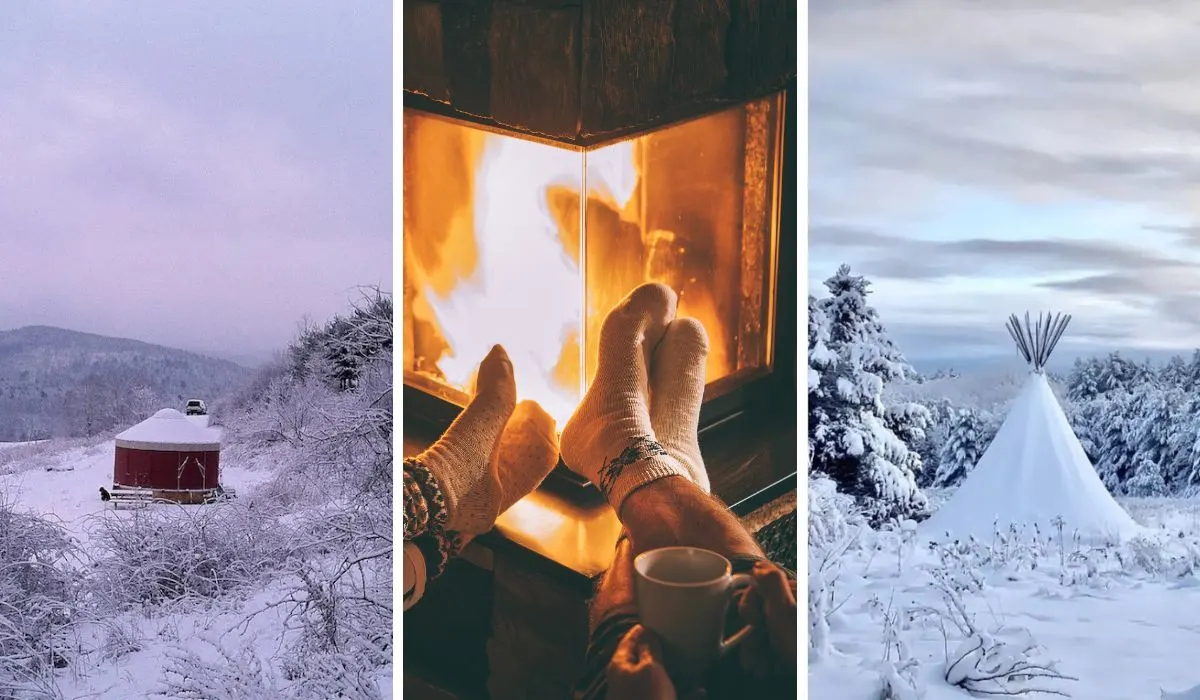 And it's not all wilderness! The state is teeming with important historic sites, adorable towns, and some pretty amazing restaurants and shopping opportunities. For an impeccable blend of these two worlds, a winter glamping vacation is exactly what you need. Let's venture outdoors with a New York State of Mind this winter.
How to Find Winter Glamping in New York
First and foremost, if you want to try winter glamping in New York, you have to figure out which region you want to visit.
New York is a huge state and there are hundreds of awesome glamping properties that are worth checking out. I've divided New York into three sections for this guide – Hudson Valley/Catskills, Adirondacks, and Central/Western New York.
Booking Platforms that Have Tons of New York Glamping Properties
Let's start with the basics — how to find that perfect glamping spot in New York. We use a few different booking platforms when looking for awesome glamping spots throughout the US — VRBO, Airbnb, Hipcamp, Glamping Hub, and Tentrr. Here's a brief overview of all of them, in the order that we begin our research.
VRBO: VRBO stands for "Vacation Rentals by Owner". This gem of a site specializes in both rustic and luxurious cabins that you can rent for your next getaway.
Airbnb: Airbnb includes a variety of short-term rental options.
Glamping Hub: Glamping Hub is another great option for finding really unique stays that embrace the outdoors. Glamping Hub rentals do tend to be more luxurious and expensive, but the booking process is easy and there are lots of New York glamping properties to choose from.
Hipcamp: Hipcamp is a booking platform that specializes in all types of private camping, not just glamping. Hipcamp properties are often more affordable than on other stays, and we've had some really unique experiences. New to Hipcamp? Use our referral link for $10 off your first stay.
Tentrr: With Tentrr, hosts provide the land and Tentrr provides glampers with ready-to-go canvas tents with beds, woodstove, and a toilet, as well as wooden platforms, outdoor seating areas, and more. Prices are pretty standard, between $95 and $150 per night. Tentrr got its start in New York, and there are more Tentrr sites here than anywhere else. When searching for winter glamping, you can check the "winter-ready" box so you know what's available.
Tips for Winter Glamping in New York
Just because you're glamping and not camping, doesn't mean that you don't need to prepare for winter conditions. You should count on it being very cold and always bring more cozy layers than you think you'll need. Here are some tips to make your winter glamping adventure a success:
Read the listing very carefully before booking. Things to know: Is the driveway accessible in snowy conditions? Will there be running water? An indoor toilet or an outhouse? A woodstove or other source of heat? Electricity? Many of these sites are rustic, but there are luxurious ones too! Do your homework to avoid any unpleasant surprises upon arrival.
Check the weather report before traveling. The higher up in elevation you go, the colder and snowier it's likely to be. Plan for winter conditions, especially if you're going to spend time outside (which is the whole point!). Pack your warmest clothes, extra blankets, snowshoes, microspikes, and maybe even cross-country skis.
Ask your glamping host about cell service. In the mountainous regions of New York, cell service can be really spotty. It's good to know whether you will have service or not so you can plan ahead.
Plan your meals based on the kitchen in your glamping spot. Some destinations will have full kitchens. Others will have more limited amenities. If cooking seems like it will be a challenge, consider bringing backpacking meals to make life easier for everyone.
Bring books, games, and puzzles. Even if you're lucky enough to have electricity in your glamping retreat, there's a good chance you won't have Wi-Fi. Use this as a time to disconnect with technology and reconnect with yourself or your glamping partner-in-crime.
Unique Winter Glamping in New York
Ready to embark on a New York Glamping adventure?
These properties are perfect for your glamping vacation all through the year, but they're especially lovely in the winter when you can take full advantage of the snowy landscape and the cozy indoor spaces.
Winter Glamping in the Hudson Valley/Catskills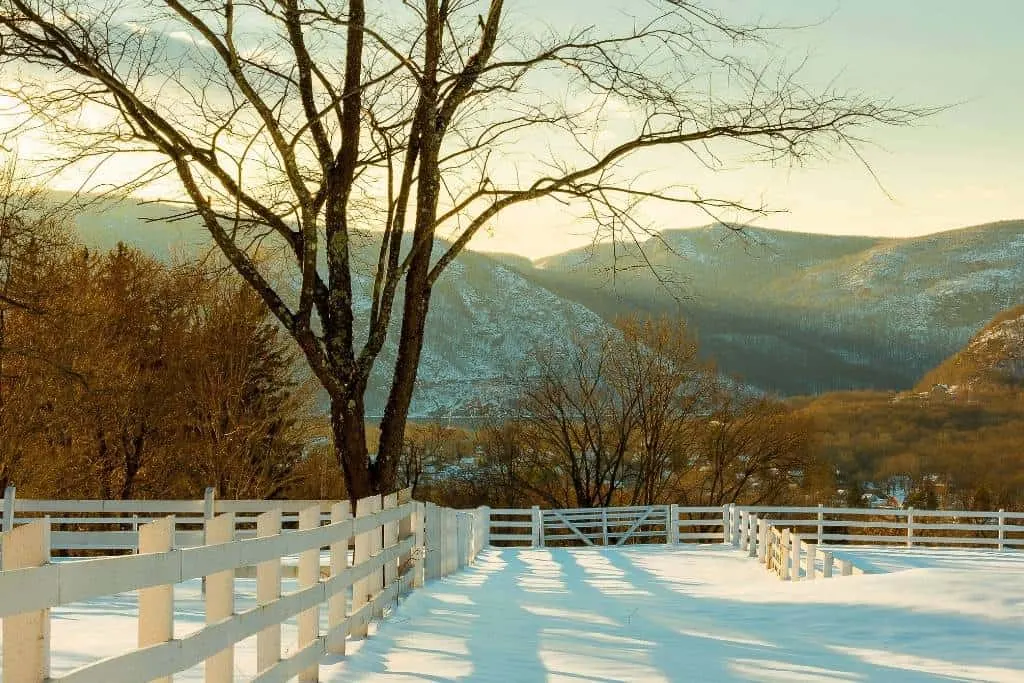 The Hudson River flows from Lake Tear of the Clouds on New York's highest peak south to Manhattan and is one of the most historic and beautiful waterways in the east.
West of the Hudson River loom the Catskill Mountains, part of the larger Appalachian Mountain range. Home to the 700,000-acre Catskill Park, this area is an outdoor lover's paradise that includes rugged peaks, cascading waterfalls, and several ski resorts.
Winter glamping in the Hudson Valley or the Catskills will enable you to have a wilderness experience combined with a taste of the region's shopping, dining, and rich cultural heritage.
Farmstay Tipi with a Sleeping Loft: Accord, New York
Distance from NYC: 2 hours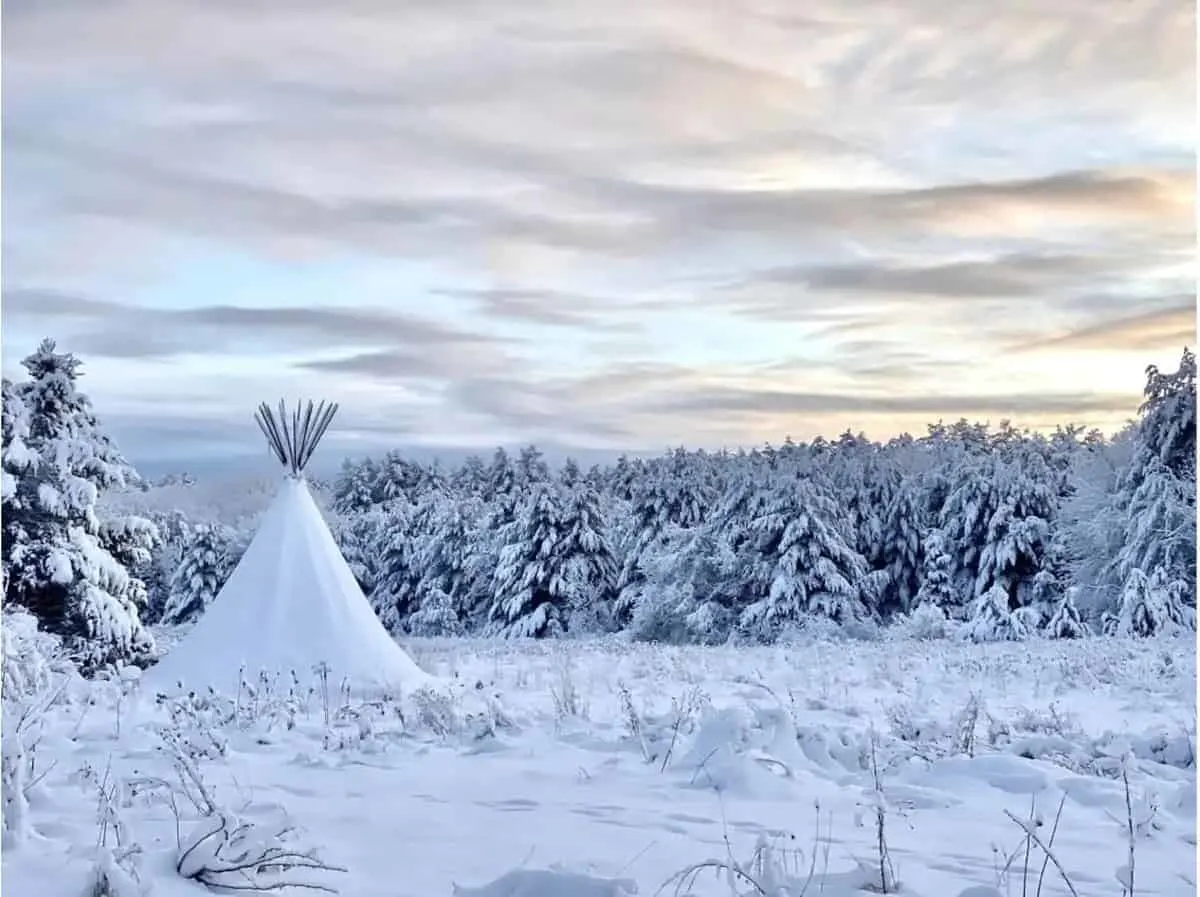 Located in the Hudson Valley, this delightfully quirky tipi is located on a 20-acre farm with horses, chickens, bunnies, dogs, and cats. Not only are there animals to hang out with and views to enjoy, but there are miles of trails, a wood-fired pizza oven, and a luxurious hot tub. Your host will provide you with basic cooking gear and drinking water. It's a rustic glamping experience that is perfect for the rugged outdoors person.
Winter recreation near Accord: There are plenty of trails to explore right on the farm, but you're also close to some amazing recreation opportunities, including Minnewaska State Park and Mohonk Preserve.
What we love about this winter glamping spot: Friendly farm animals!
Something to consider: The tipi doesn't have heat, so bring extra layers and someone to cuddle with.
Tiny House in Saugerties, New York
Distance from NYC: 2 hours
Plan your winter glamping escape to Saugerties, a little town that embraces the Hudson Valley and the Catskills. This lovely container home is one of four on the 20-acre property. The cabin is off-grid but features modern amenities, including a wood-burning stove, composting toilet, a propane cookstove, and a luxurious queen-sized bed.
A star-gazing patio with a gas grill and an outdoor fire pit is perfect for relaxing outdoors, and there's even a Finnish wet sauna (book a private 90-minute session). There are streams and cliffs and tons of wildlife on the property, but the village of Saugerties is also well worth exploring!
Outdoor recreation near Saugerties: Take a hike at the Esopus Bend Nature Preserve or out to the Saugerties Lighthouse.
Little Glamping Dome: Hensonville, New York
Distance from NYC: 3 hours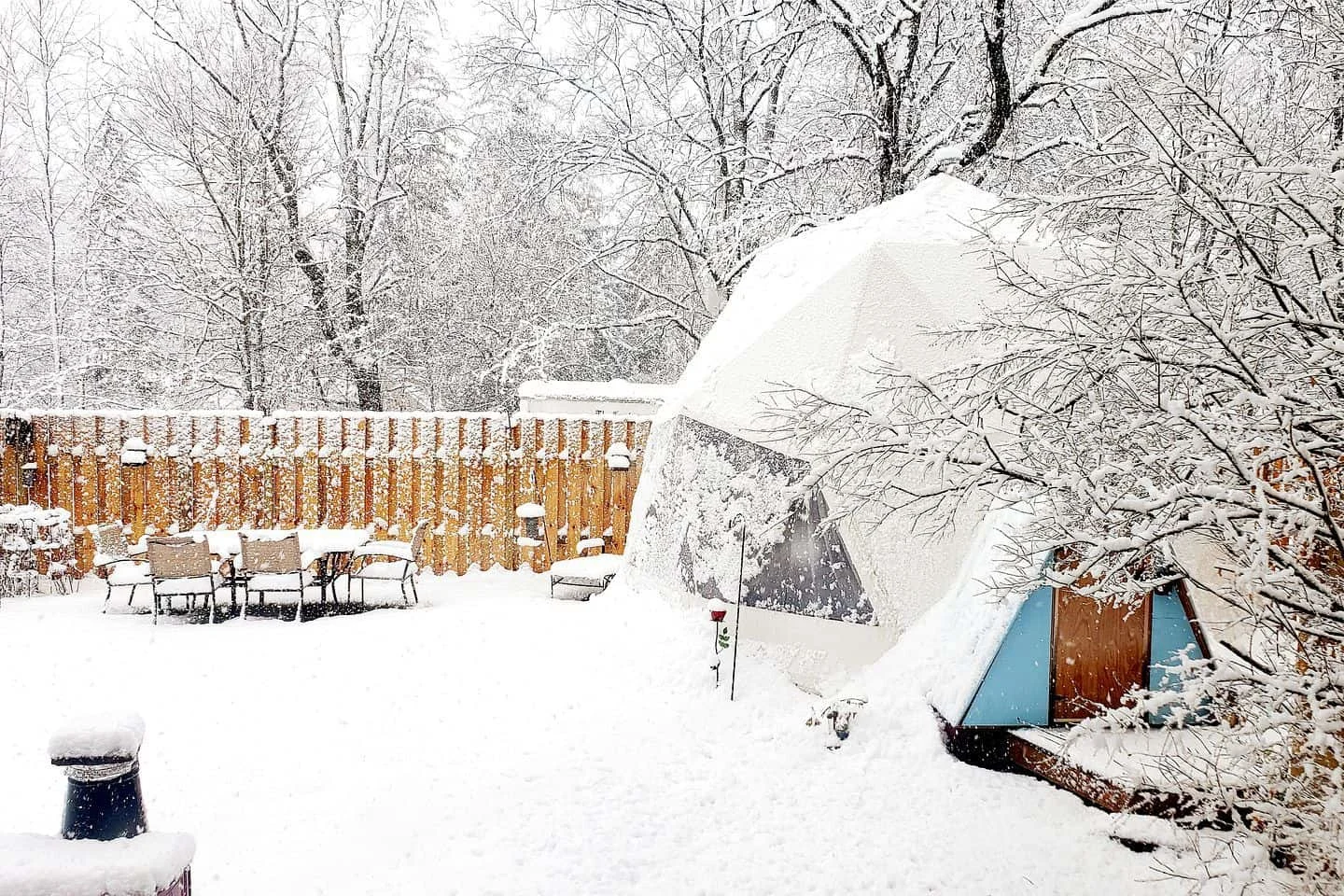 This cute little glamping dome is located in the town of Hendersonville, New York in the Catskill Mountains. The enchanting interior is decorated like a birch forest and can sleep up to four guests. There's also a private bathroom, a small kitchenette with a sink, fridge, microwave, and coffee, plus a table for two to enjoy your meals. Heat, cable TV, and Wi-Fi are also included.
Outside, you have access to a lovely fenced-in backyard with seating and a barbecue grill. This is an awesome location for skiers, as Windham Mountain is just a few minutes from the dome.
Winter recreation near Hendersonville: In addition to skiing at Windham Mountain, there are huge tracts of wilderness and hiking trails for snowshoeing. Mountain peaks will almost certainly require snowshoes or microspikes, so be sure to plan ahead.
What we love about this winter glamping spot: The interior decorating is so unique!
Something to consider: This is more of an in-town glamping spot, but there are so many great trails nearby!
---
Winter Glamping in the Adirondacks
Home to more than 100 peaks, 10,000 lakes, and the largest state park in the United States, the Adirondacks give visitors a taste of wilderness that is usually reserved for landscapes in the Western United States. Unlike most state parks, about 52 percent of the land is privately owned, covering approximately 6.1 million acres.
If you are looking for a proper northeast winter, you are guaranteed to find it in the Adirondacks, one of the best winter getaways in all of New York.

Bell Crest Cabin: Elizabethtown, New York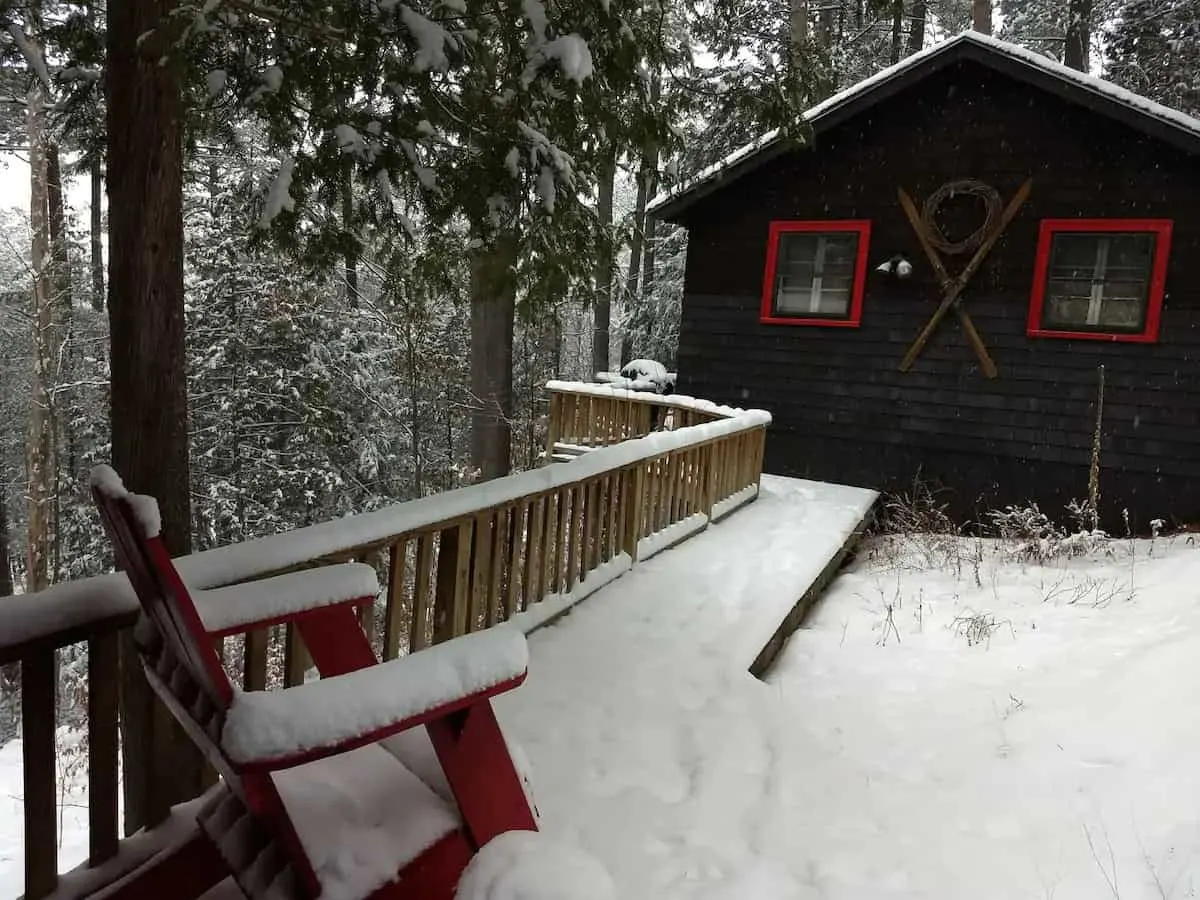 Located in the small town of Elizabethtown, this small woodland cabin includes many of the comforts of home, including a fireplace, Wi-Fi, a small kitchen, and a bathroom with a clawfoot tub. The cabin is located next door to the main house, but it still feels very private. It's decorated like a true Adirondack camp, with lots of wood paneling and north-country animals.
This lovely winter glamping cabin is located 20 Miles from Whiteface Mountain, 25 miles from Lake Placid, and 10 miles from Lake Champlain, putting you right in the heart of lots of outdoor activities.
Winter recreation near Elizabethtown: Be sure to check out the Adirondack History Museum while you're in town. It gives you a peek into the hardscrabble life that was the norm in these rugged mountains. Then, drive Route 9N through the high peaks and the town of Keene. There are a lot of great trails right off the road here, and skiing at Whiteface Mountain is 20 miles away.
What we love about this winter glamping spot: The proximity to great winter hiking and skiing.
Winter Glamping in Central/Western New York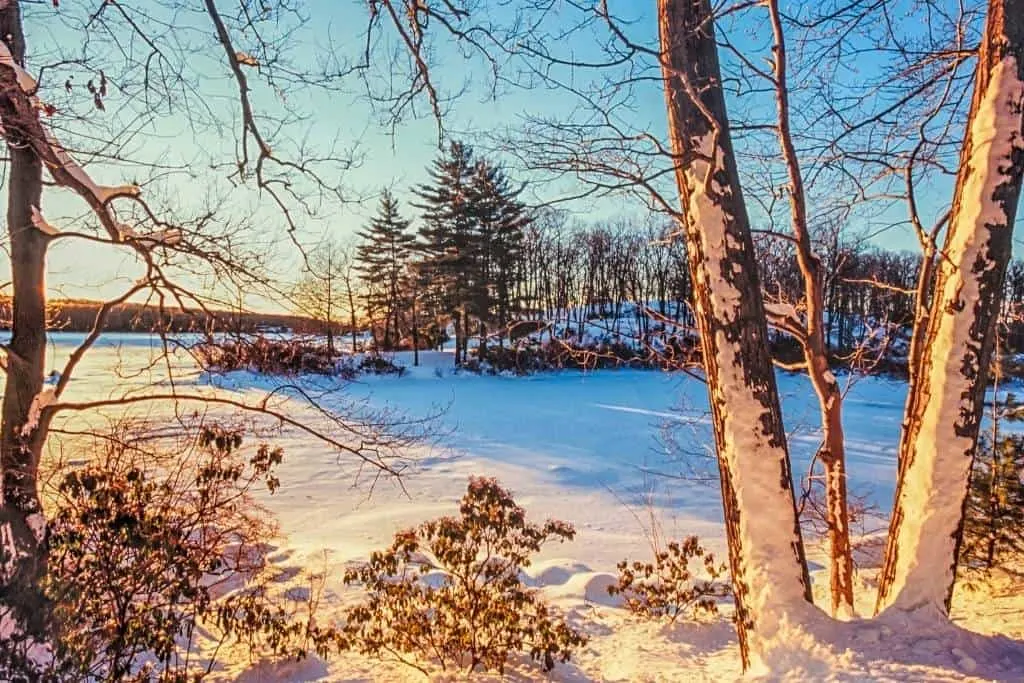 This massive region of New York is a dream for winter glamping! There are treehouses, yurts, and cabins sprinkled throughout a landscape that is as varied as it is huge. Hike through huge tracts of forests, discover beautiful waterfalls, and enjoy pastoral views that just won't quit!
Adorable Cabin with Hot Tub in Clymer, New York
Distance from NYC: 7 hours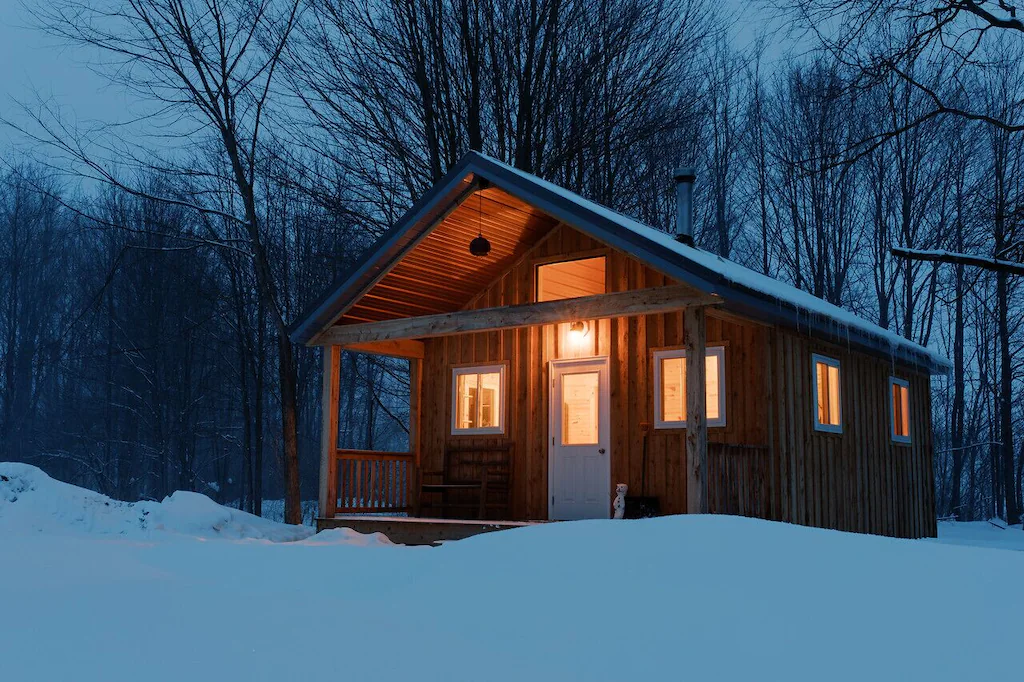 What could be better than a snowy weekend holed up in a little waterfront cabin with an outdoor hot tub and cozy indoor amenities? Bear Ridge Cabin is rustic but modern, with a full kitchen, bathroom with a tub and shower, WIFI, a pot belly wood stove, an outdoor fire pit, and an amazing cedar snorkel hot tub.
Outdoor recreation near Clymer: The rural community of Clymer is located in far western New York near the Pennsylvania border. There is a lovely, easy hiking trail in French Creek Preserve (perfect for snowshoeing or cross-country skiing), and you're also just a short drive from Lake Eerie.
What we loved about this winter glamping cabin: The hot tub is the perfect spot to relax after a winter hike!
Upcycled A-Frame: Winter Glamping in Sherburne, New York
Distance from NYC: 4 hours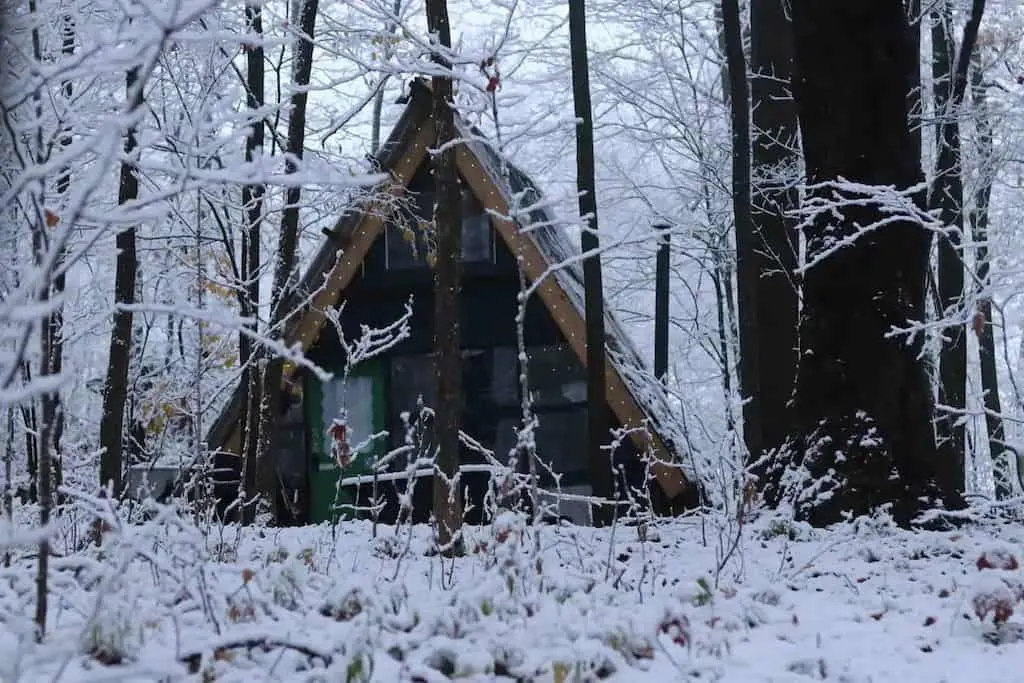 The beautiful off-grid cabin blends many of the comforts of home with a unique and rustic woodland experience. With just 200-square feet of living space, this well-appointed interior includes a sleeping loft with a queen-size bed and a downstairs futon.
A modest kitchen set-up includes a propane grill and hot plate inside and a charcoal grill outside. There's even a mini-fridge for keeping a few things cold during your stay. A woodstove and propane heater will keep you toasty, even when the temperatures drop below freezing.
Outside, you can explore hiking trails throughout the forest, make s'mores over a roaring campfire, or soak in the nearby hot tub. This little A-frame is totally underrated and a great spot to unplug from the rest of the world.
Winter recreation near Sherburne: Hike the short trail to Rexford Falls, or ski/snowshoe the Harry Lang Trails.
What we love about this New York A-frame: It's so peaceful and quiet!
Something to consider: Bring easy-to-cook meals for this one and spend your time relaxing! Don't want to cook? Try the porter and flatbread at Bullthistle Brewing Company.
Octagon Cottage in the Finger Lakes: Ovid, New York
Distance from NYC: 4.5 hours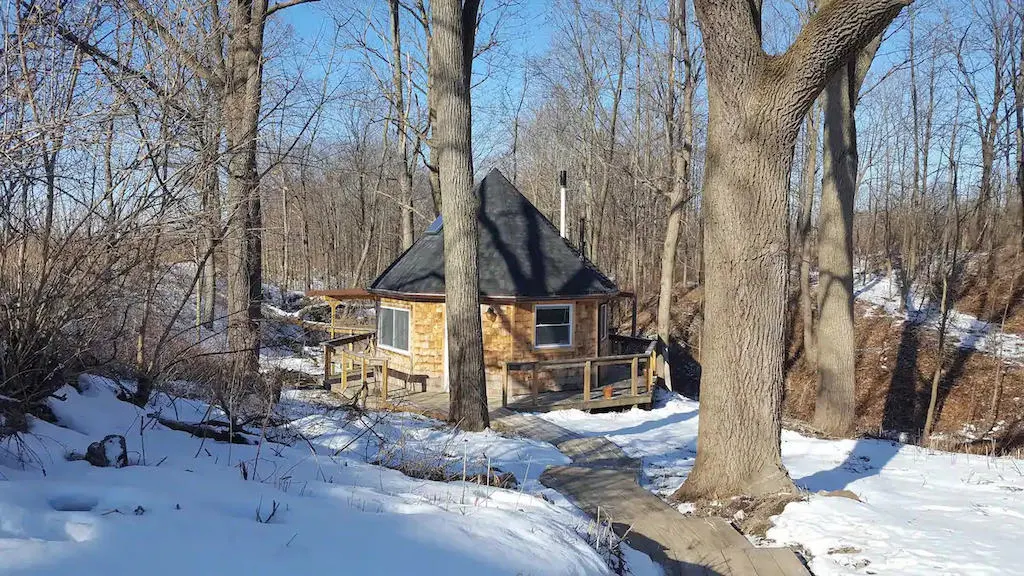 This cozy cottage includes is totally secluded and includes all the comforts of home, including Wi-Fi, a great sound system, and a full kitchen and bathroom with a shower. A spiral staircase leads to a sleeping loft with a queen-size bed, plus there is a pull-out sofa bed downstairs. An indoor fireplace will keep you warm, and there's even a TV!
The property is located between Cayuga and Seneca Lakes in the Finger Lake Region, so it is a great home base for exploring waterfalls and wineries.
Winter Recreation near Ovid: Travel south to the Finger Lakes National Forest, where you can hike or snowshoe multiple trails, including the Burnt Hill Trail, which is an easy 3.8-mile loop with lovely views.
What we love about this winter glamping spot: The location is pretty sweet, and there are more than a dozen wineries within a 15-minute drive!
Cozy Yurt on 80 Acres: Waterville, New York
Distance from NYC: 4 hours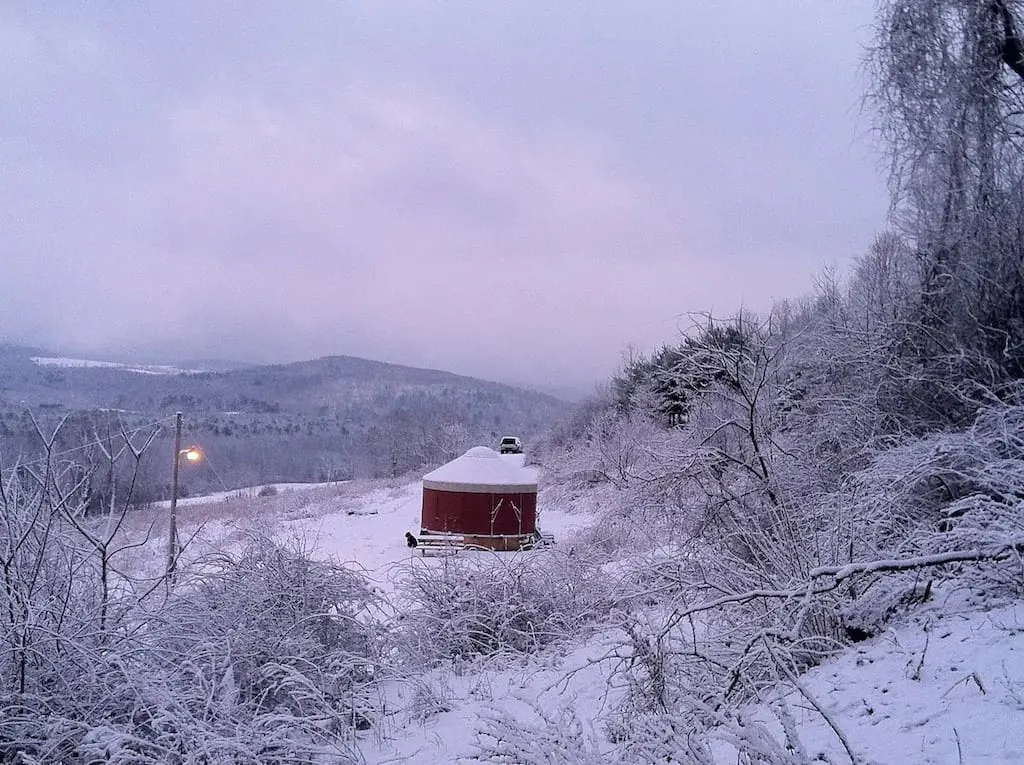 Check out this cozy 16-foot yurt nestled among 80 private acres with wonderful views and hiking trails throughout. This is a truly unique getaway, whether you choose to stay put or explore more of the region.
The yurt includes a queen-size futon, a two-burner electric stove and a small fridge, and a bathroom with a shower. There is electricity, but no TV or Wi-Fi – plan on unplugging and enjoying the serene beauty of the space!
Outdoors, you can ski, snowshoe, hike the trails, say hello to the farm animals, or just enjoy the spectacular views. The yurt sits on the former lair of the infamous Loomis Gang, the largest organized crime family in 19th-century America.
Winter recreation near Waterville: There's a lot of hiking nearby! Check out Charles Baker State Preserve and Roscoe Conkling Park for hiking, snowshoeing, and skiing.
What we love about this winter glamping spot: You can spend all of your time in and around the yurt without having to go anywhere!
The Vista – Tiny House Resort: Leeds, New York
Distance from NYC: 2 hours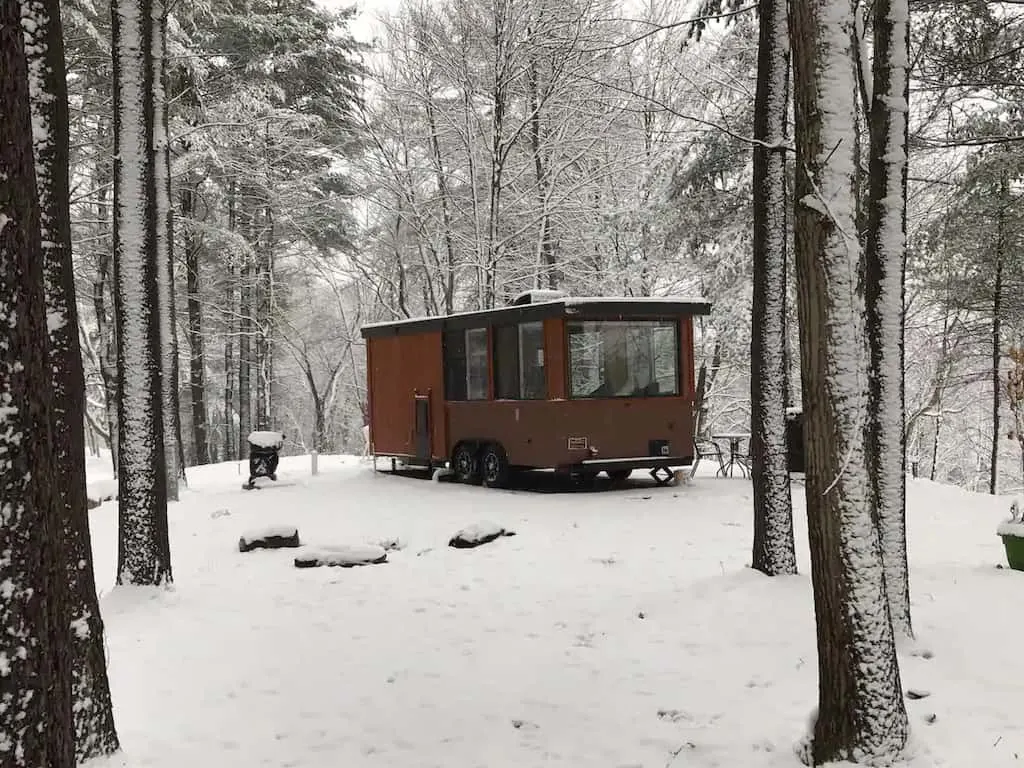 For winter glamping in style, head to Vista – a tiny home with lots of glass, perched on the side of a cliff overlooking Catskill Creek. Vista is part of a tiny house resort, and the 28 acres are shared among eight tiny homes. Inside, you've got small, but luxurious accommodations – a queen-size bed, kitchen, bathroom, cable TV, Wi-Fi, and more.
A private outdoor space includes a patio with a grill and a private fire pit. The tiny house resort has a fenced dog park, hiking trails, and a waterfall. If you visit in the summer, there's even a heated swimming pool and kayaking on the creek!
Winter recreation near Leeds: Head to the Mawignack Preserve, a small meadow and forest preserve with trails along Catskill Creek. The town of Catskill has experienced quite a renaissance in recent years and is a fun place to shop and dine. Rip Van Winkle Brewing Company has great pub fare, flatbread, and of course, beer.
What we love about this tiny house: Dog-friendly with a dog park!
---
Ready for more glamping? Check out these posts, or jump right to our glamping resource guide:
---
Pin for Later?