Did you know that the Finger Lakes region of New York is just four hours from Manhattan? And that Finger Lakes glamping is just about the best vacation ever?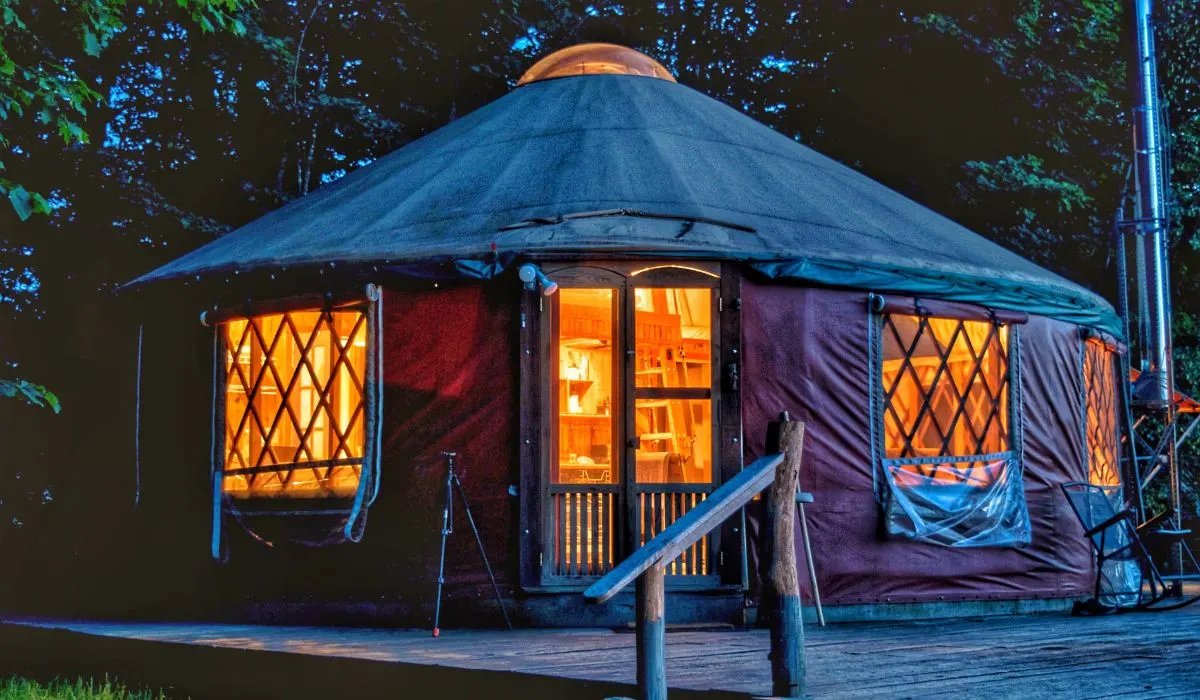 A vast network of narrow, long lakes gives the region its name, and no other area east of the Mississippi can boast of more wine-sipping and gorge-hiking goodness than this beautiful part of Western New York.
At last count, there were more than 100 wineries in the Finger Lakes, and the number keeps growing. Throw in more than 150 waterfalls and a few perfect spots to spend the night, and you'll want to pack your bags before you finish reading.
And speaking of cool spots to spend the night, we were flabbergasted at all the options available for glamping in the Finger Lakes. We've stayed in many of these eclectic glamping spots ourselves – thanks in part to our obsession with hiking into gorges, photographing waterfalls, and tasting wine (on the same day, but not at the same time).
If you're looking to embrace the outdoors, but still sleep in a real bed at night, Finger Lakes glamping might be the perfect option.
Check out some of these fantastic destinations for glamping in the Finger Lakes region of New York and start planning your memorable summer adventure.
---
Also Read: 16 Incredible Spots for Glamping in New York
---
Wellspring Forest Farm: Trumansburg, NY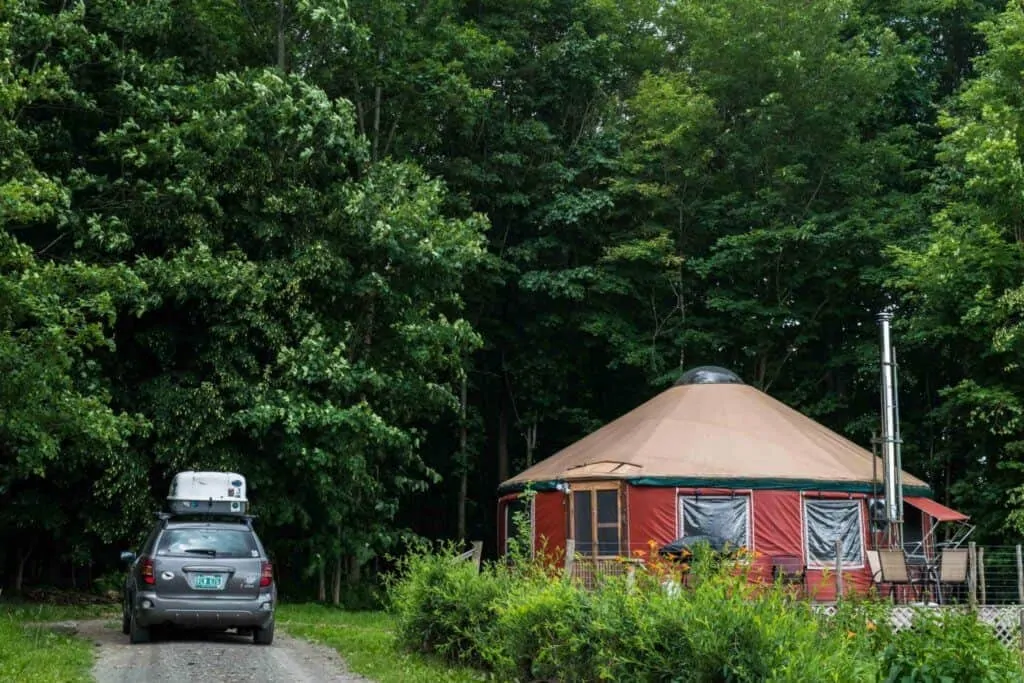 We had the absolute pleasure of staying in this beautiful and well-appointed yurt during our wine and waterfall road trip through the Finger Lakes, and it was absolutely our favorite spot of the trip.
Wellspring Forest Farm in Trumansburg has everything you're looking for in a Finger Lakes vacation — comfort, privacy, and farm-fresh goodies.
If you want to explore the trails and wineries around Ithaca, make this beautiful yurt your home base for all your adventures.
This beautiful Finger Lakes glamping spot is located on the edge of the forest where your host grows mushrooms. It's surrounded by gardens and a pasture where sheep graze.
Small touches make a big impact here — you can buy shiitake mushrooms from your hosts for breakfast, brew up some local coffee, and stroll along the many farm paths through fields and forests.
The yurt includes a queen-size bed in the loft, a pull-out futon, and a full kitchen and bathroom. There's a deck with an outdoor dining table and a grill, an outdoor fire pit, and a woodland hammock for catching up on your favorite novel.
Things to do near Trumansburg: This Finger Lakes glamping retreat is just a short drive from Taughannock Falls State Park and Americana Vineyards, which features a popular tasting room and a small cafe.
---
Firelight Camps: Ithaca, NY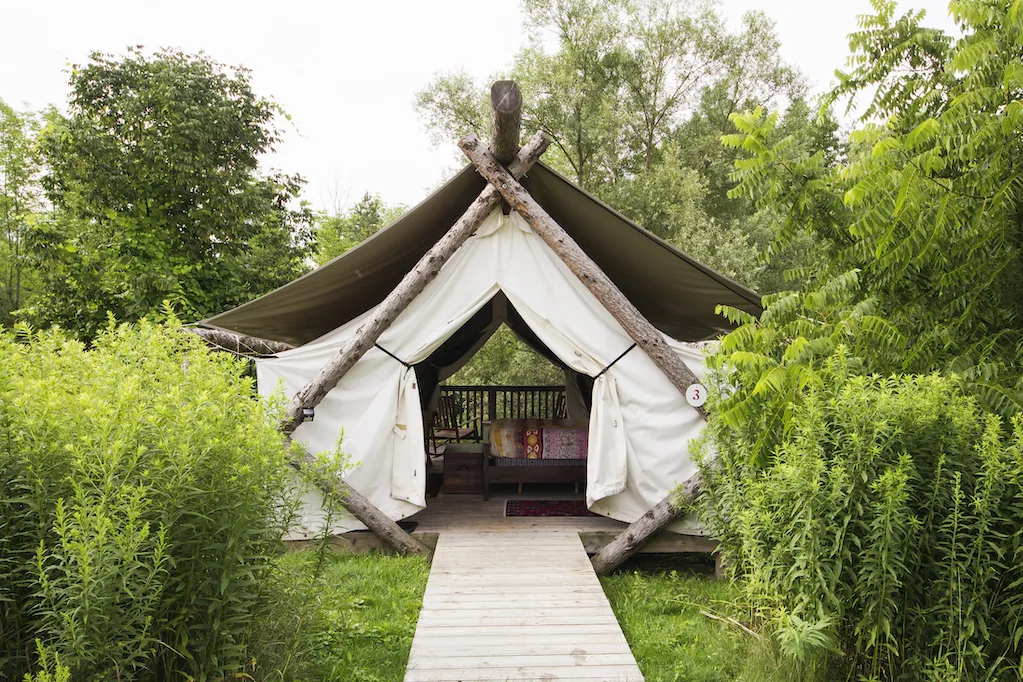 You'll sleep like a baby in one of these luxury safari tents just outside of Ithaca. The well-appointed upscale tents at Firelight Camps are outfitted with hardwood floors, plush king or double queen beds, a private tented porch with rocking chairs, battery-powered lanterns, and a writer's desk and chair.
A bathhouse with hot showers, flushing toilets & eco-friendly bath products is just a short walk away.
Your stay at Firelight Camps includes a complimentary, locally sourced breakfast, and immediate access to the trails surrounding Buttermilk Falls, one of our favorite state parks near Ithaca.
A lobby tent includes a beverage station with freshly brewed coffee and tea, and an evening bar that serves artisanal wines, beers, cider, and spirits from the best micro-producers in the Finger Lakes.
Communal campfires are lit at sundown, and you also have access to a selection of games and books for that summer camp feel.
Things to do in Ithaca: Ithaca is a bustling, walkable town with all kinds of shops and restaurants. Both Buttermilk Falls State Park and Robert H. Treman State Park are also nearby.
---
Tiny Octagon: Ovid, NY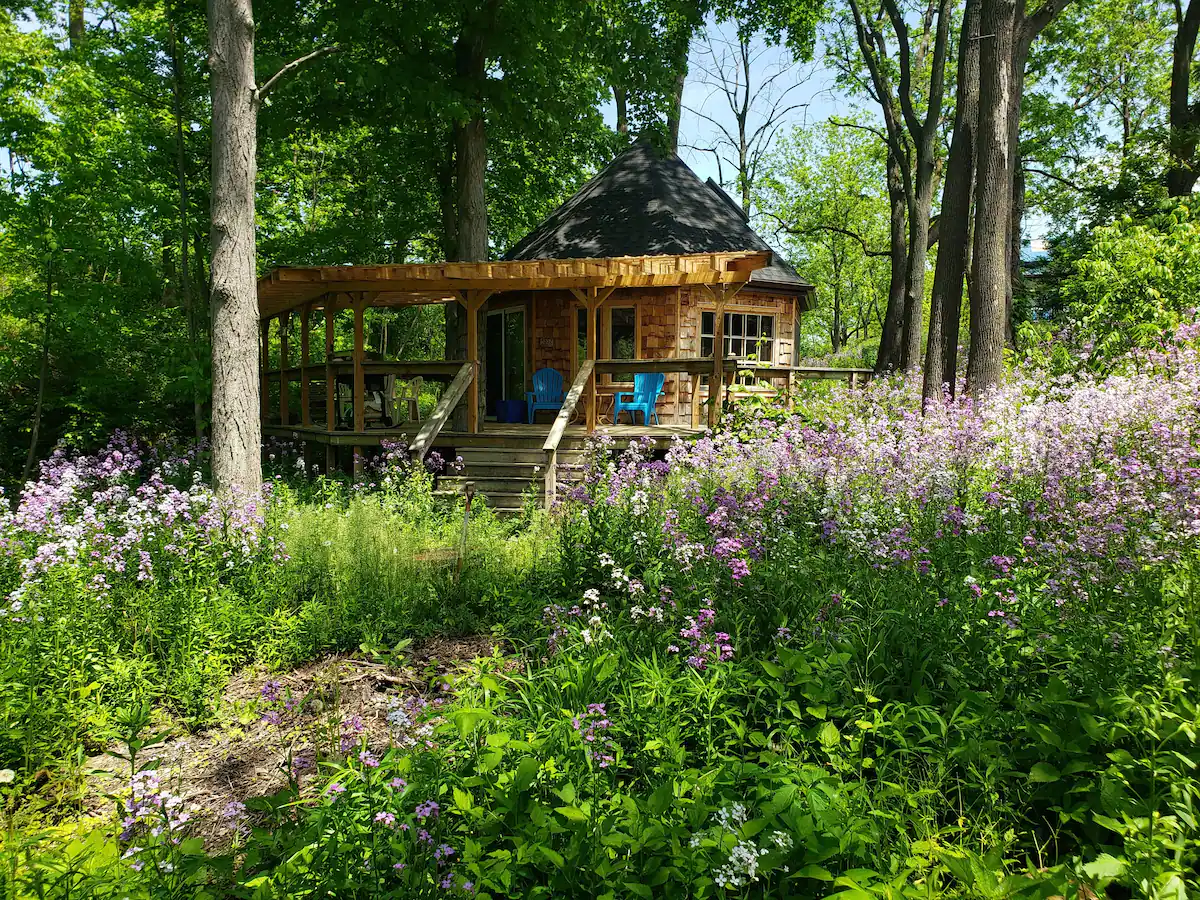 Your troubles will melt away as you relax on the private covered deck in the forest at this charming Finger Lakes glamping retreat. Located on a beautiful berry farm on the east side of Seneca Lake, this tiny octagon house provides total privacy and has everything you need for a comfortable stay.
The lower level features a 400-square-foot open floor plan with a kitchen, living room, and bathroom. The loft has a queen-size bed and is accessed by a spiral staircase. There's an electric fireplace inside and a fire pit outside for cozy vibes no matter where you want to hang out.
Things to do near Ovid/Willard: Nearby Sampson State Park encompasses 2,000 acres and includes a beach, hiking trails, and a marina. It's also one of the best spots to watch the sunset over Seneca Lake. There are numerous wineries between Seneca and Cayuga Lakes so you can hike in the morning, sip local vino in the afternoon, and relax in the Tiny Octagon when the sun goes down.
---
Affordable Off-Grid Cabin Near Keuka Lake, NY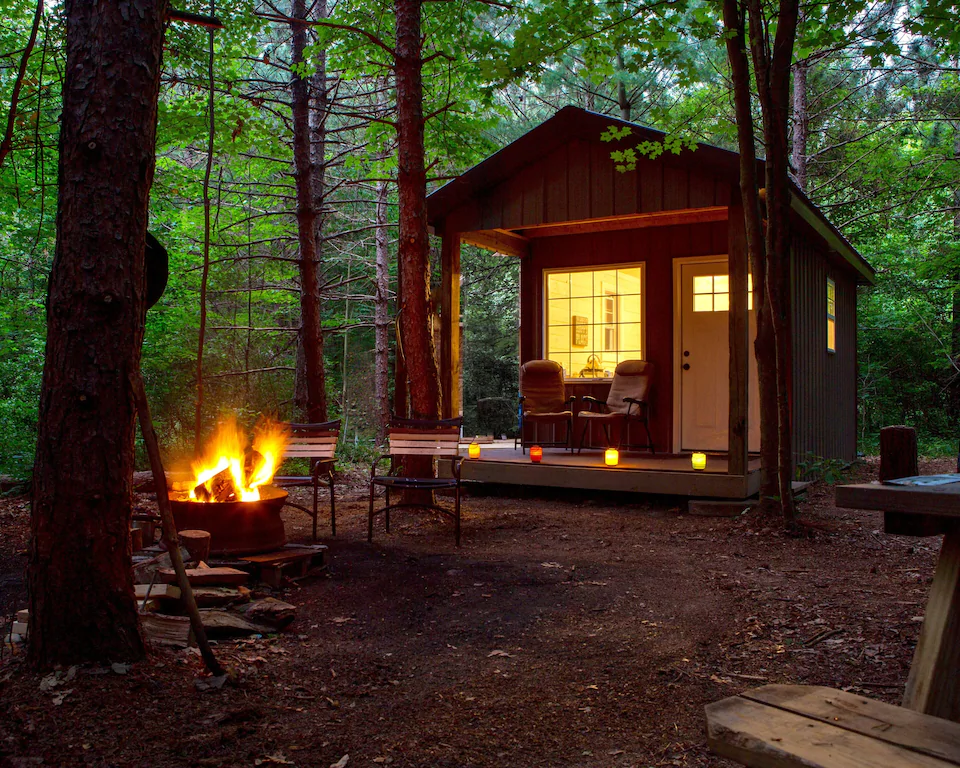 We discovered this gem while searching for pet-friendly cabins in the Finger Lakes, and while we haven't had the pleasure of staying here yet, it's currently the top spot on our list for unplugging with our pups.
This no-frills, one-room cabin near Keuka Lake is entirely off-grid and doesn't have electricity or running water. What it does have is a private wooded setting, a nearby outhouse, an outdoor shower, a lovely fire pit, and a comfy full-size bed.
This cozy cabin isn't for everyone, but it's perfect for solo travelers or couples who need an affordable spot to enjoy some peace and quiet. That's what Finger Lakes glamping is all about!
Things to do near Keuka Lake: As with most of the Finger Lakes region, there are numerous wineries and vineyards around Keuka Lake. You should also check out Keuka Lake State Park, which is a great spot to launch a boat, cast a line, or take a hike.
---
Rustic Pet-Friendly Cabin: Pen Yan, NY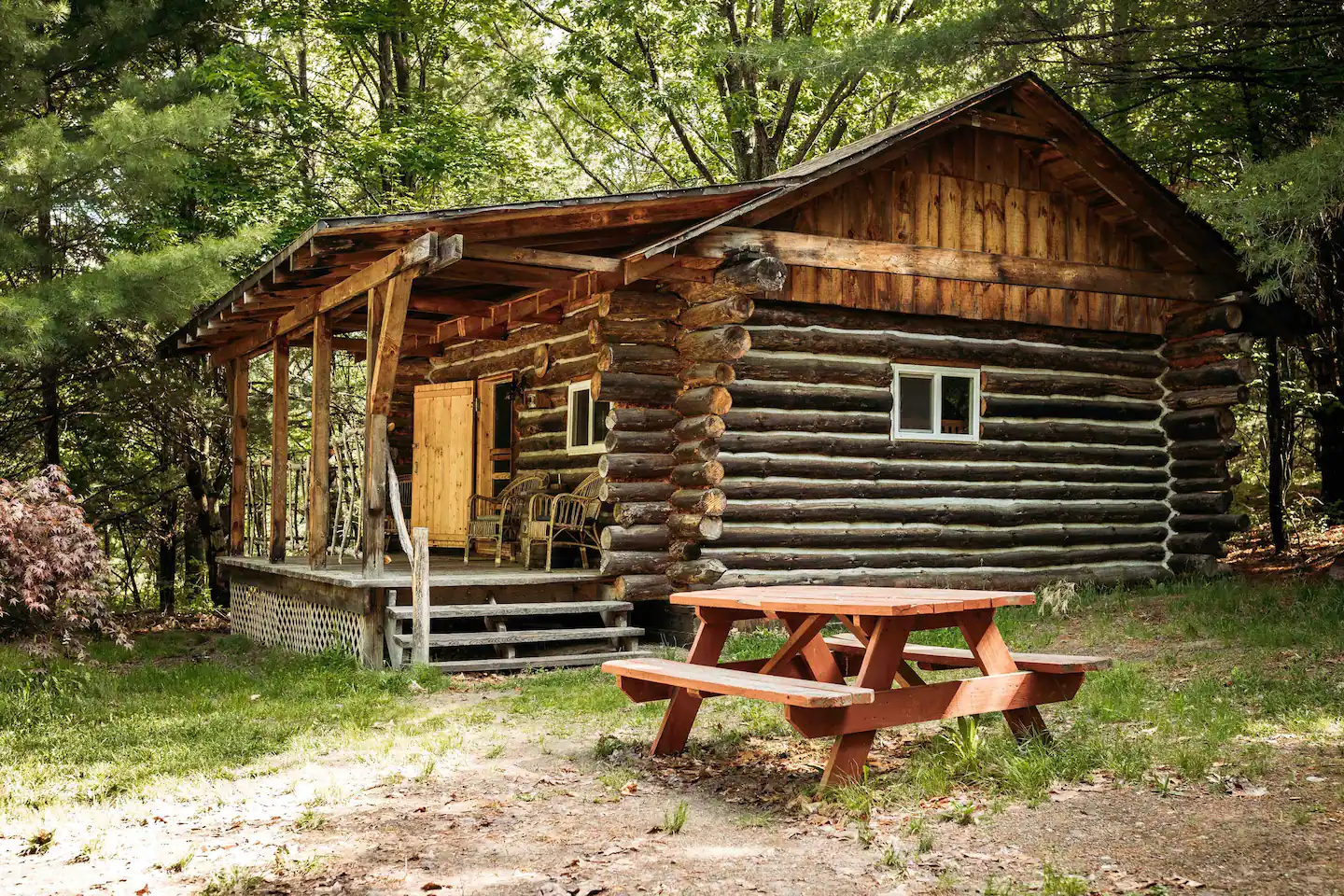 Here's another off-grid, pet-friendly cabin in the woods ready to embrace you. This log cabin is tucked into the woods on six acres on the east side of Keuka Lake. While it doesn't have running water, it does have limited solar power so you can keep your devices charged and use a few lights.
Inside, there are two twin beds and a queen, as well as a gas fireplace to keep you cozy through the night. The kitchen area includes a gas stove and oven so you can cook basic meals after a day of exploring outdoors.
Outside the cabin, there's a huge fire pit with chairs, as well as a nearby outhouse for doing yer business.
Things to do near Penn Yan: Penn Yan is a few miles north of the cabin, and it's one of the larger towns in the area, with several restaurants, a grocery store, and a brewery. The nearby wineries in the area are located near the lakeshore.
---
Finger Lakes Glamping with Panoramic Views: Keuka Park, NY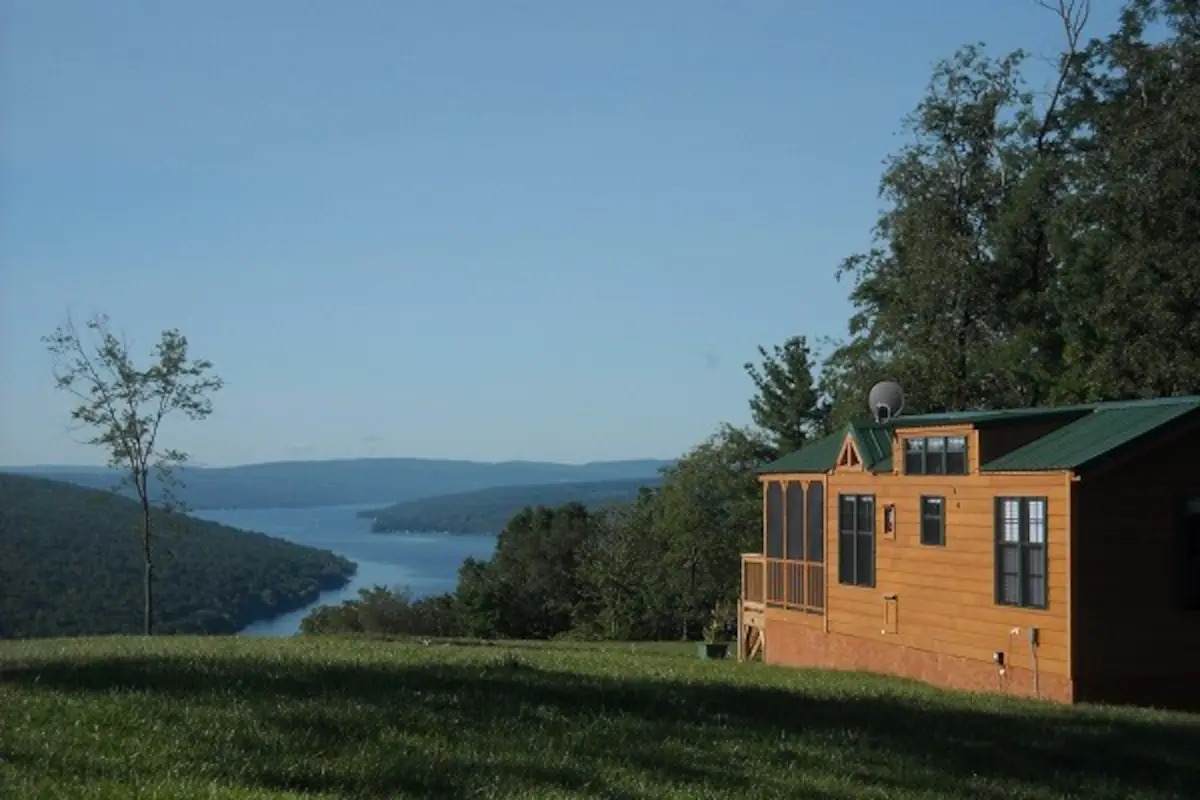 With views that don't stop, this tiny home is a unique blend of luxury and nature in the heart of the Finger Lakes. There are four separate cabins situated on a bluff overlooking beautiful Keuka Lake.
Each cabin includes a full kitchen, a bathroom, and a queen-size bed. There's a covered porch for enjoying the views and an outdoor fire pit for relaxing with a glass of local wine. A shared hot tub is provided for guests to use.
Things to do near Keuka Park: Keuka State Park is just south of the cabins, and Vineyard View Winery is a short drive away.
---
Seneca Sol Glamping Resort: Burdett, NY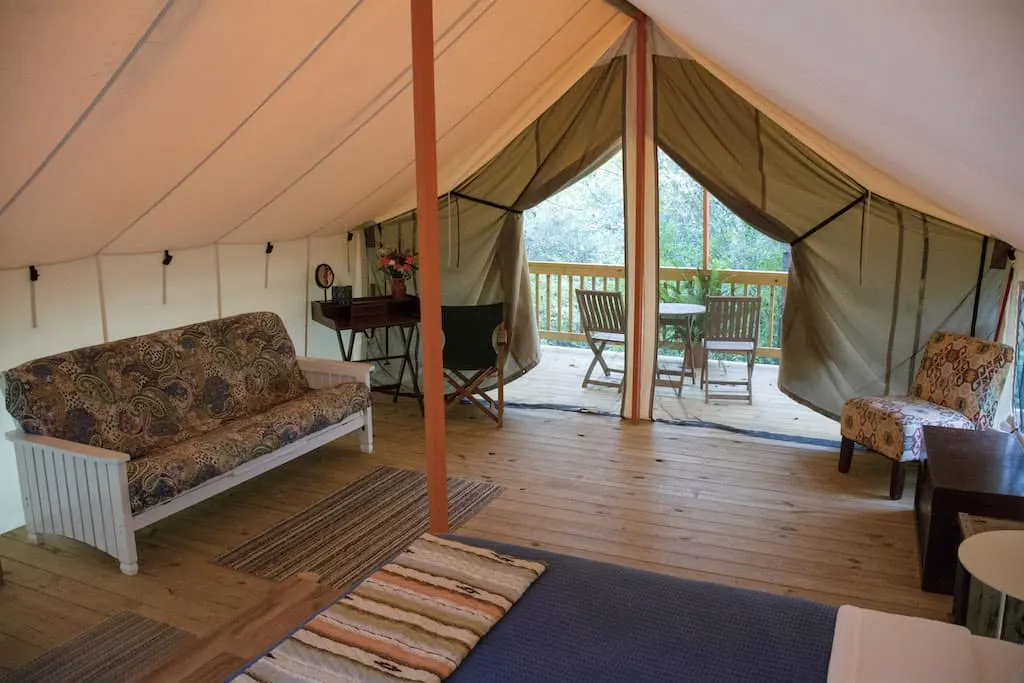 Seneca Sol is an upscale, family-friendly glamping resort on 25 beautiful acres. It's a short drive from Seneca Lake for swimming and boating, and wineries, breweries, and waterfalls are all within easy reach.
Each glamping tent includes a sleeping area with different bed configurations depending on your needs, a seating area, and a private balcony.
There is a separate bathhouse with private showers, a fully equipped outdoor kitchen, and a communal campfire. The glamping tents are dog-friendly and perfect for embracing the outdoors without roughing it.
Things to do near Burdett: The east side of Seneca Lake is a winery hot pot. Check out Damiani Wine Cellars, Silver Springs Winery, Catherine Valley Winery, and Ryan William Vineyard. Seneca Sol is also just six miles from Watkins Glen State Park, with its CCC-crafted walls, bridges, and walkways, plus 19 magnificent waterfalls.
---
More Glamping in New York
Ready for more New York glamping? Check out our overview of the best glamping in New York or skip right to these posts:
---
Follow us on social media and never miss a new post!
Pin for Later?