Looking for a weekend vacation that will get you outside and away from the crowds? Why not spend the weekend glamping in the Catskills of New York?
Glamping embraces all of the most awesome aspects of camping without the hassle of bringing and setting up tons of gear, and it's one of the best ways to get outside.
So why go glamping in the Catskills? Good question!
I'm not exactly sure how or why, but there seems to be a higher concentration of glamping properties in the Catskills than anywhere I've ever been. Maybe it's because there are so many city folk within driving distance of the Catskill Mountains that are aching for outdoor recreation.
I wouldn't be a bit surprised if glamping was invented in the Catskills!
Whatever the reason, we are very fortunate to live within a day's drive of the Catskill Mountains, and we're excited that there are so many gorgeous glamping properties available for us to choose from!
Where are the Catskills?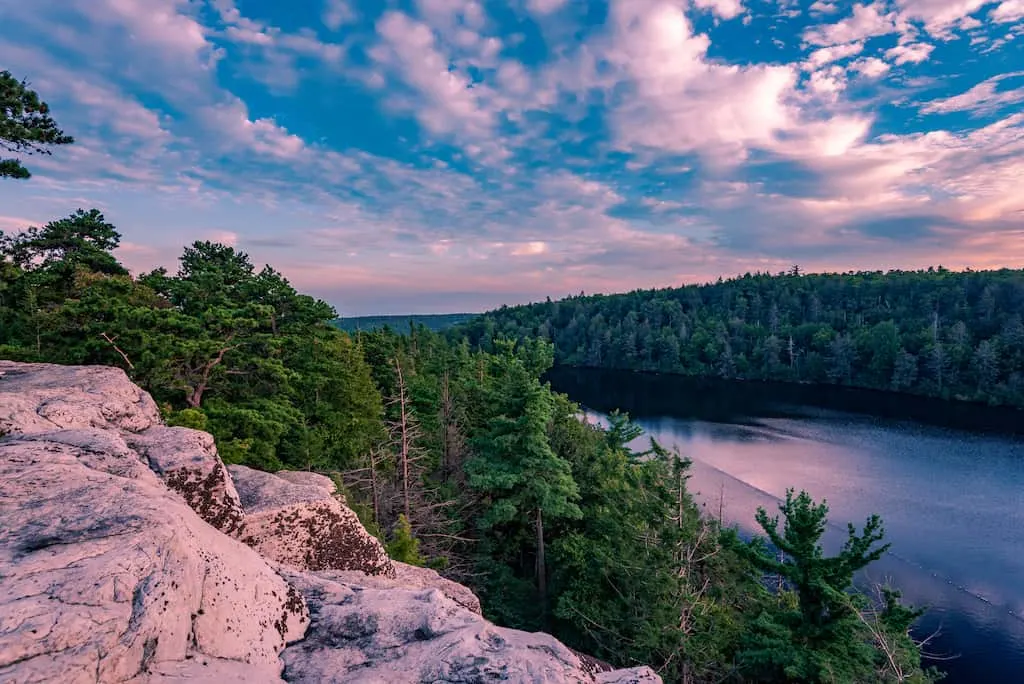 The Catskill Region encompasses more than 700,000 acres of public and private land in Sullivan, Delaware, Greene, and Ulster Counties of New York State.
The Catskill Park is a massive state park within the Catskill Region that includes 286,000 acres of protected land.
Catskill Park and the surrounding mountains include endless opportunities for hiking, paddling, swimming, fly-fishing, skiing, and wildlife viewing. Scenic roads wind through the mountains, passing through unique villages, and past scenic vistas, waterfalls, and historic attractions.
The Catskills are just a two-hour drive from New York City, and three hours from Boston and Philadelphia, making it a perfect spot for a weekend getaway.
What is Glamping?
Glamping in the Catskills encompasses all the most awesome things about camping, with some added "glamorous" perks.
Glamping is like a rustic vacation rental or a really upscale camping trip. You usually have a shelter and a bed, but other amenities will depend on the location. Maybe you'll have a full kitchen, bathroom, and Wi-Fi. Maybe you'll get an outdoor shower and a composting toilet.
One constant with glamping is that it embraces nature and the outdoors, so you can do all the fun activities you love and then come home to the comforts of your awesome glamping space.
We still love tent camping, but we've been hit hard by the glamping bug. There are just so many cool properties out there!
Why Glamping in the Catskills is Awesome
The Catskill Mountains have long been considered a retreat for New York City residents, who have been vacationing and recreating in these gorgeous mountains since the early 19th Century.
America's first grand resort hotel, The Catskill Mountain House opened in 1824, and before long, millions of city residents were hopping on trains and heading north to drink in the crisp mountain air, swim in the lakes, and relax by the hotel pools.
While the era of grand resorts began to wane in the 1960s, the Catskill Mountains continue to be a draw for outdoor lovers of all persuasions. Opportunities for glamping in the Catskills include cabins, tiny homes, treehouses, yurts, tents, and even a train caboose.
Glamping in the Catskills allows you to have an immersive outdoor experience without having to pack up all your gear. When glamping, you can simply pack a suitcase and head to the woods.
When is the Best for Catskills Glamping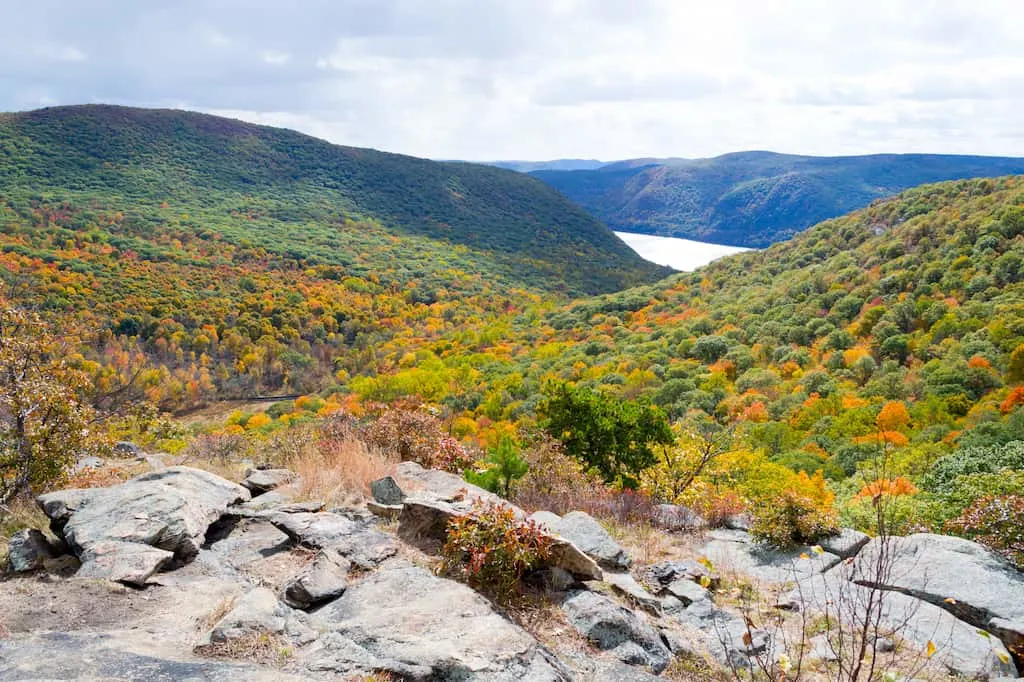 The best time to go glamping in the Catskills depends entirely on what you're hoping to do when you get there. Summer is obviously prime time for hiking, swimming, and paddling, but a fall foliage glamping trip is a magical experience too!
If you are a winter-sport enthusiast, you will find a number of Catskills glamping retreats that provide wood heat and a cozy atmosphere.
Finally, if you want to escape the seasonal crowds, and maybe wet a line in the famous trout streams of the Catskill Mountains, you can't beat a late spring getaway. The Catskills is truly a four-season destination!
---
Also Read: 16 Incredible Spots for Glamping in New York
---
Amazing Glamping in the Catskills of New York
There are seriously hundreds of great spots to go glamping in the Catskills! This means that choosing where to go is the hardest part of planning your vacation. If you aren't prepared to scour the internet for hours before planning your trip, why not choose one of these incredible glamping properties?
No matter what you're looking for in a glamping vacation, there's an awesome Catskill retreat with your name on it!
The following unique Catskill Mountain glamping properties are available to rent through various booking platforms, including Tentrr, VRBO, and Airbnb. We talk more about the pros and cons of each booking platform on our Glamping Resource page.
And now onto the amazing Catskills glamping spots!
Eight-Sided Tiny Home in Roxbury, New York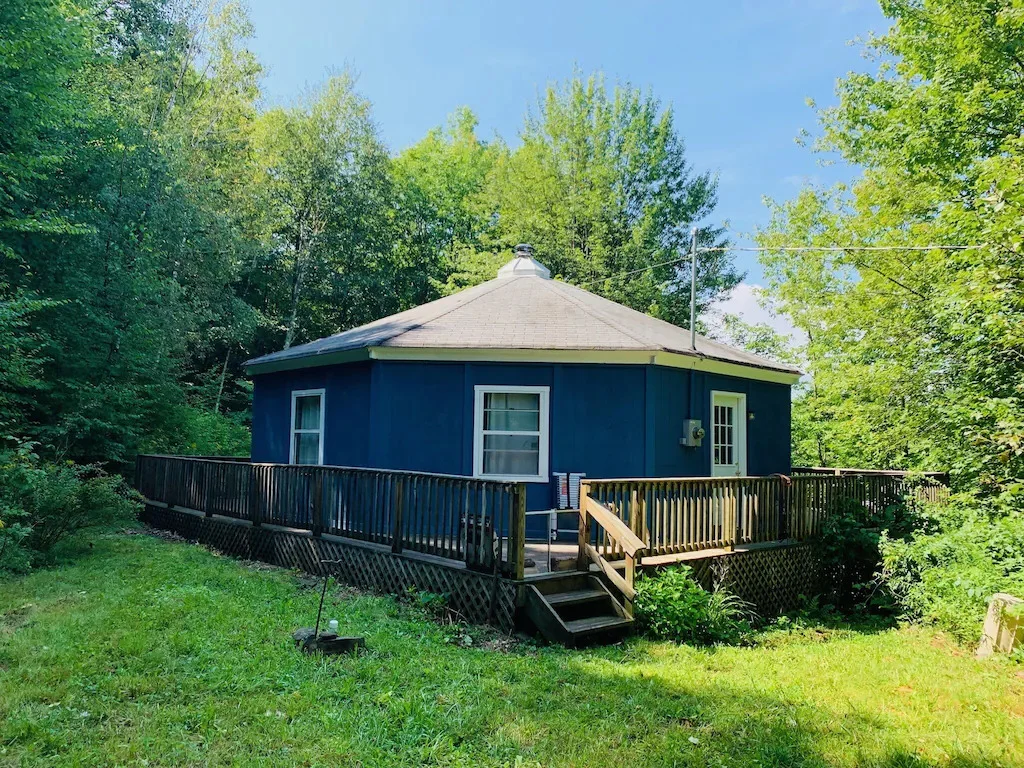 This fantastic Catskills glamping property in Roxbury is located on 15 secluded acres down a dead-end road near the tiny town of Roxbury, New York. This idyllic tiny home is perfect for couples and features an open floor plan, a full kitchen, a wood-burning stove, and a spa-like bathroom. There's even wi-fi so you can make this glamping retreat in the Catskills part of a work-cation.
Outdoors, you have access to a fire pit with seating, a cozy deck, and the beautiful woodland property to meander around on. The space is decorated in the boho style, while still embracing all the creature comforts of home. It sleeps two people comfortably, and pets are not permitted.
A visit to this part of the Catskills wouldn't be complete without a bike ride on the Catskill Scenic Trail, a train ride on the Delaware & Ulster Railroad, or a stop in the Hobart Book Village — a tiny village with a large number of bookstores!
---
Beautifully Rustic and Secluded Cabin in Willow, New York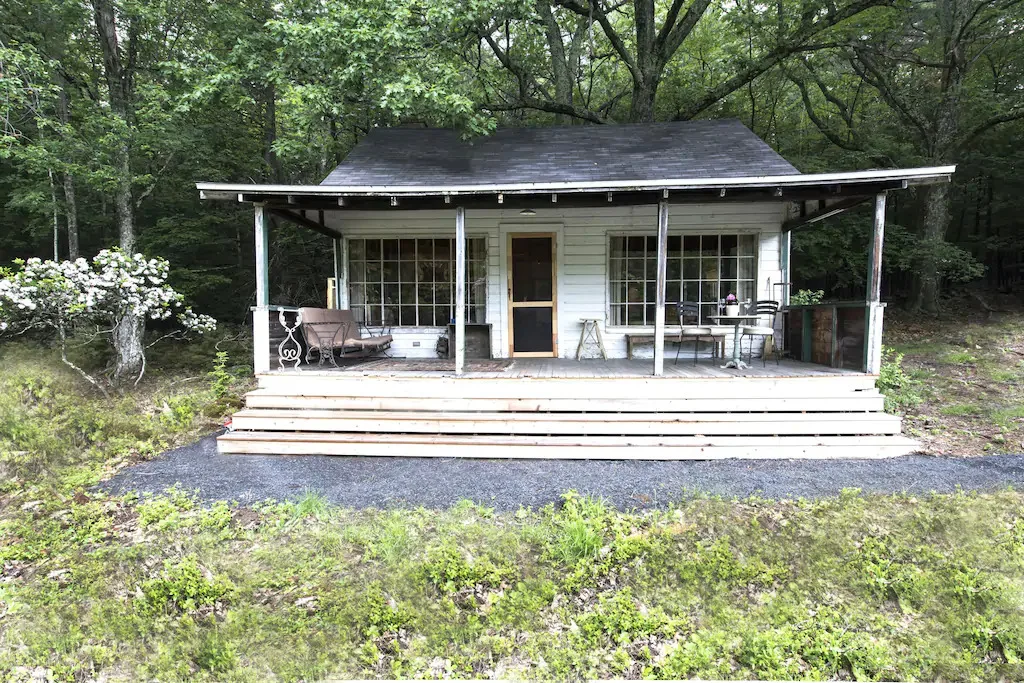 Located just 15 minutes from Woodstock, this rustic cabin in Willow is nestled among the trees, Blueberry Cabin has room for two guests and is pet-friendly. Yes, it's no-frills, which is exactly what we're looking for! Amenities include a queen-sized bed, a TV, wi-fi, a 60s turntable with vintage records, a kitchenette with basic cooking supplies, and a clawfoot tub, shower, and toilet.
Outdoors, you will find a two-acre field with wild strawberries, blueberries, and mountain laurel, surrounded by 19 acres of woodland. Enjoy evenings in front of the fire pit or relaxing on the porch swing.
Visitors to this cozy glamping cabin will definitely want to check out the Catskills Visitor Center, which has some beautiful, easy hiking trails with nice views. If you are looking for a more challenging trail, be sure to hike to the Tremper Fire Tower from Jessup Road.
The Esopus Creek, just to the west of Willow, is known far and wide as a prime trout fishing river, so don't forget your pole and waders.
---
Glass House in Marlboro, New York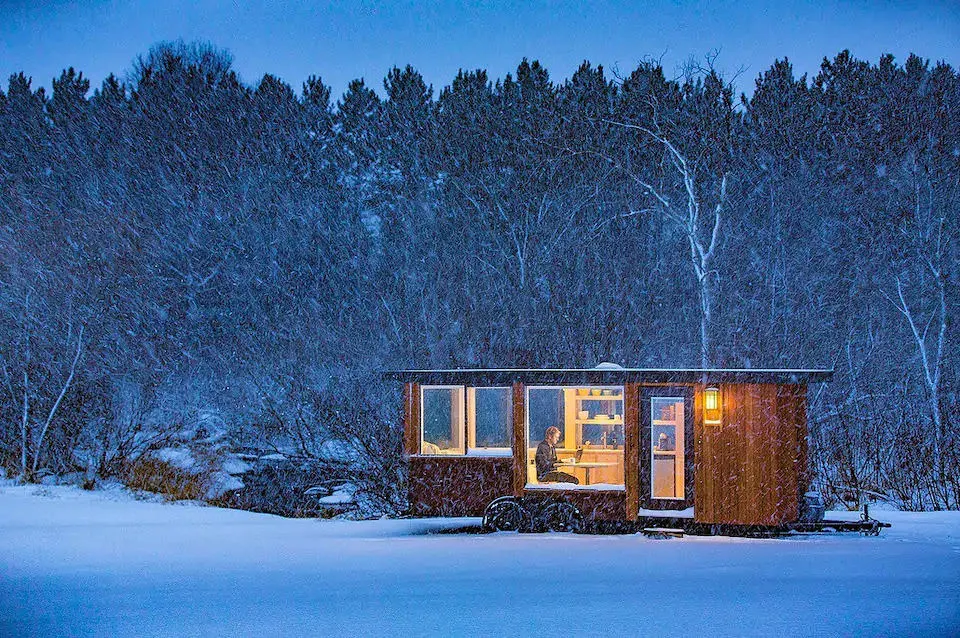 This tiny camping cabin in the Catskills is located on 30 acres just 90 minutes from New York City. Glass walls open up to endless views of the surrounding vineyards and orchards, and modern comforts include air conditioning, wi-fi, and a modern kitchen.
With just 180 feet of living space, this incredible tiny house is big on comfort and features a small kitchen, wi-fi, a queen-size bed, a dry-flush toilet, and even a shower. The Glass House has been featured in the New York Times, the Today Show, and Upstate House Magazine.
Marlboro, New York is wine country, and no visit would be complete without doing a few tastings and tours. We recommend Benmarl Winery, which is considered the oldest vineyard in America. Estate-grown Baco Noir and Cabernet Franc are incredible, as is the 37-acre vineyard.
Follow the Marlboro Farm Trail to visit more wineries, as well as farms, orchards, and markets in the area.
---
Container Cabin in Saugerties, New York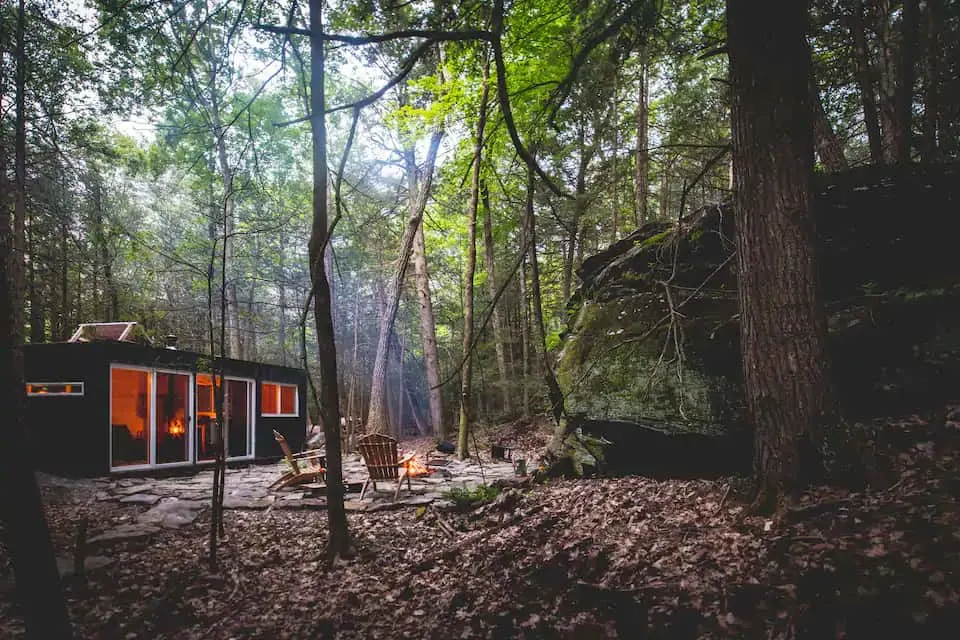 You may have heard of the shipping container craze a few years back when people began buying them up and turning them into unique tiny homes. Well, one of those shipping containers found a home in Saugerties, New York, and has been converted into a beautiful woodland retreat for your Catskills glamping pleasure.
The Container Cabin in the Catskills is unlike anything you've ever stayed in. It's a lot like camping, except you have the comfort of four walls and a cozy woodstove to keep you warm.
Amenities include a queen-size sofa bed, a propane stove with pots and pans, and an outdoor shower. There is enough electricity to charge your phones, a working record player, a hammock to relax in, and a nearby waterfall that will lull you to sleep at night.
Saugerties is an eclectic town with lots of great dining and shopping. Looking for nearby hiking trails? Check out Overlook Mountain in Woodstock and the Esopus Bend Nature Preserve in Saugerties.
---
Catskills Glamping Tent in Accord, New York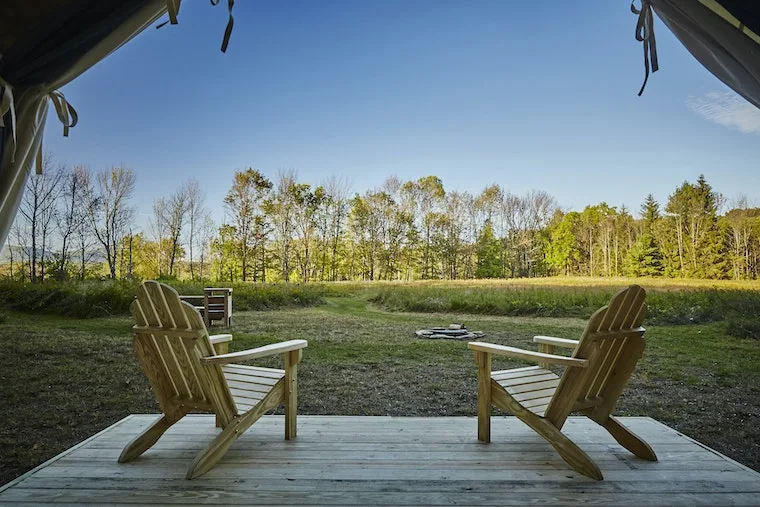 Nestled in the foothills of the Shawangunks, the camp is sited at the corner of a sweeping meadow with views of the Catskills and Mohonk.
Stroll a logging road down to Stony Kill Creek or drive 15 mins to Mohonk or Minnewaska for hiking. This Tentrr signature site is equipped with flannel sheets, pillows, blankets and down comforters, plates, cups, bowls, metal wine goblets, corkscrew, utensils, portable sinks to wash up, sponge, dishcloths, iron skillets, and a coffee pot that can be used as a kettle.
For even more outdoor adventures near Accord, head to Minnewaska State Park, where you'll find miles of hiking trails, excellent rock climbing, and beautiful waterfalls.
The site is also 10 minutes away from Pete's Kill, Split Rock, and Vernooy Kill Falls. Also be sure to check out Westwind Orchard, ArrowWood Brewery, and RoughCut Brewery.
This Catskills glamping retreat is also pet-friendly!
---
Airstream in Boiceville, New York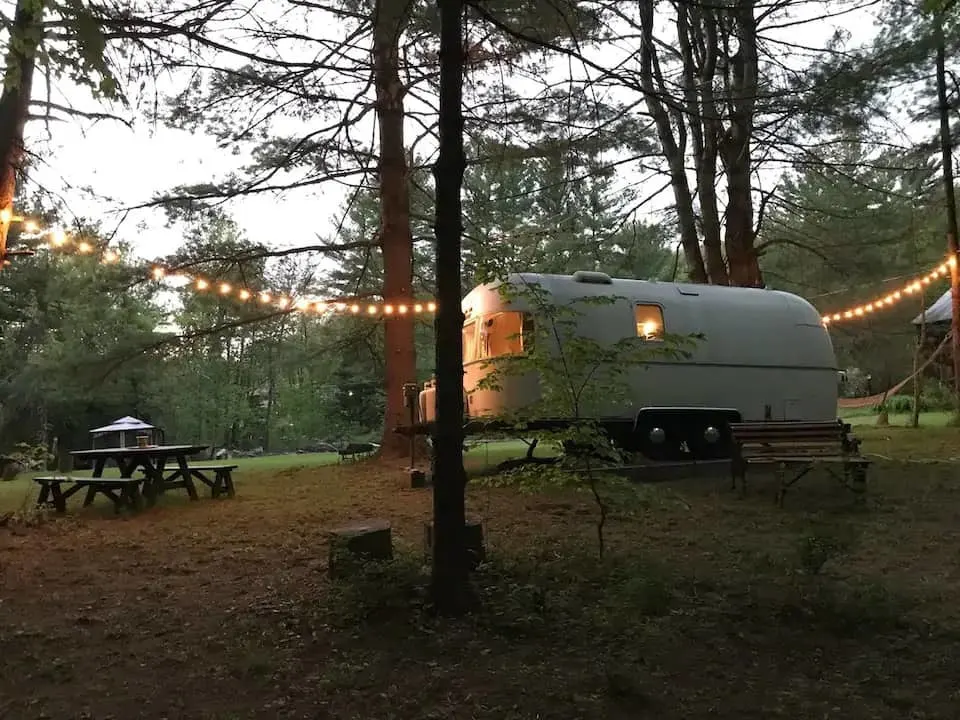 Have you always wanted to stay in an Airstream? Well, now is your chance!
This gorgeous little camper is located next to a 2-acre meadow and stream in Boiceville, and it's been outfitted with all the comforts of home. Amenities include a cozy double bed, a full kitchen and bathroom, plus lots of outdoor space to relax and rejuvenate.
A hammock, picnic table, and grill are available for your use, as well as a screened-in outdoor dining area.
Boiceville is located near the beautiful Ashokan Reservoir and the Ashokan Rail Trail, which runs 11.5 miles from Boiceville to West Hurly. For amazing artisan bread, be sure to stop into the original Bread Alone Bakery in downtown Boiceville.
---
1922 Restored Caboose in Windham, New York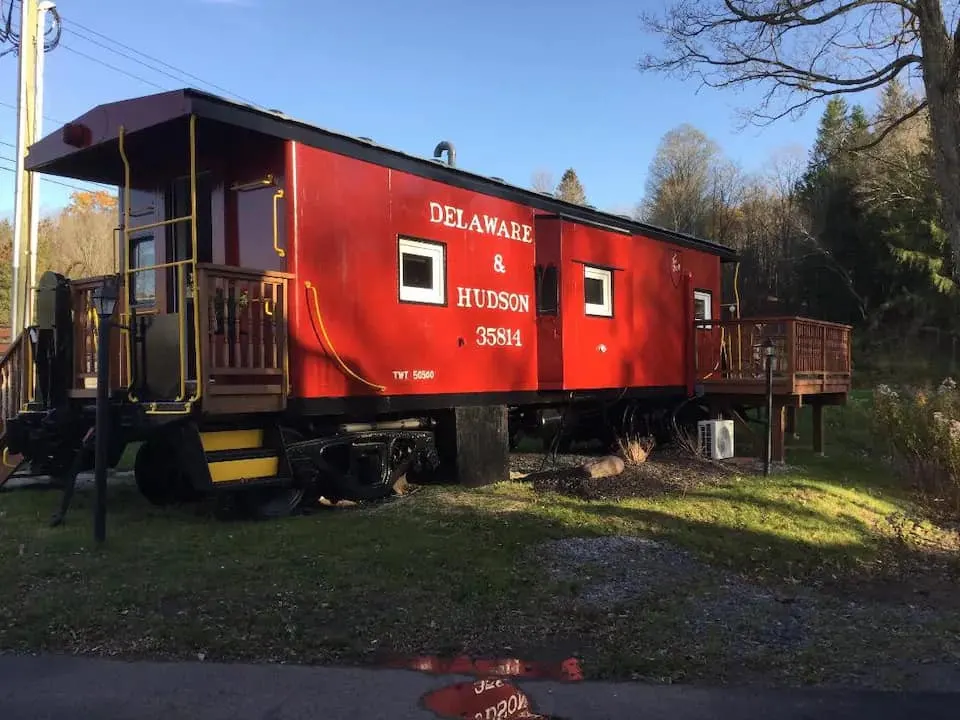 A downtown glamping retreat like no other, this cozy restored caboose is within walking distance of Windham restaurants, shops, and bars.
This cool vacation rental is a perfect couples retreat and includes a queen-size bed, TV, wi-fi, a small kitchenette, and even a bathroom with a shower. An outdoor deck is perfect to relax on after a busy day exploring. What a unique Catskills glamping experience!
Windham is best known as the home of Windham Mountain, a premier Catskill Mountain Ski Resort.
When visiting in the summer and fall, you can hike Windham High Peak via several different trails of varying levels of difficulty. After a climb of around 1,500 feet, you'll be treated to expansive views of the Catskills and the Adirondack Mountains. Such a great hike!
---
Catskills Glamping Tent in Bearsville, New York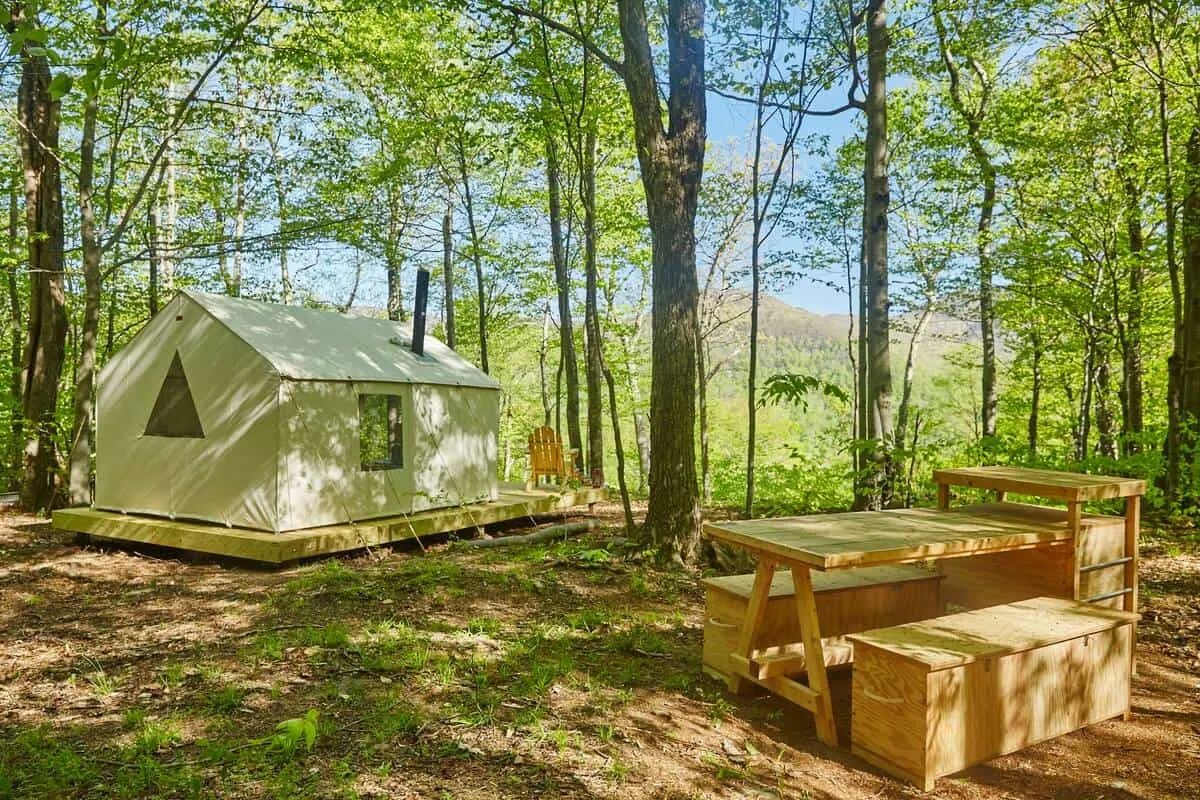 Want to go glamping in absolute privacy? This Tentrr glamping tent is located on the edge of thousands of acres of a state forest preserve in Bearsville, New York.
You'll be smitten with the mountain views from your canvas glamping tent, not to mention the nearby stream that is perfect for both fishing and swimming. In addition to a queen-size bed, you will also find a deck with two Adirondack chairs to relax in, an outdoor dining area, and a woodstove inside the tent for chilly evenings.
Bearsville is just a 10-minute drive to Woodstock, where you can shop at some of the most unique stores you'll find anywhere. There are some great restaurants too! If you're in Woodstock for lunch, definitely check out the Garden Cafe if you're into vegetarian eats.
---
Geodesic Dome in Woodridge, New York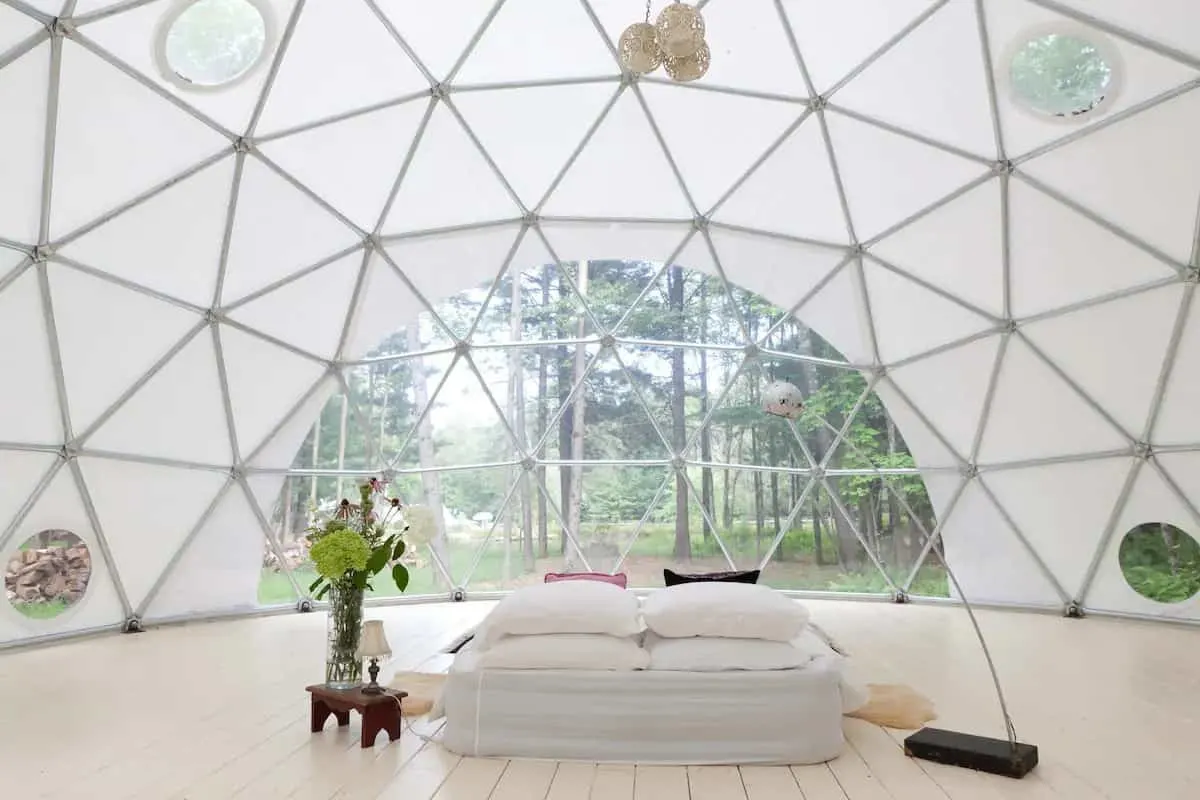 We've stayed in a few geodesic domes since we became hard-core glampers, and this one is absolutely stunning — a spacious geodome at the Outlier Inn in Woodbridge, New York, just 90 minutes from New York City.
The space includes a full-size bed, as well as an outdoor shower, clawfoot tub, outdoor kitchen, and a large fire pit.
The Outlier Inn is a retreat center, an event/workshop/location space, a fiber and vegetable farm, and a world-class recording studio.
There are many animals on the farm, including merino sheep, angora goats, alpacas, chickens, and Oberhasli dairy goats. Spend your time chilling with the animals, hiking the six miles of trails across the street, or just relaxing in your peaceful, wooded retreat.
Aside from the magnificent geodome, you can also rent one of several tiny homes for your Catskills glamping retreat.
---
Want to find more unique camping and glamping properties in the Northeast? Check out these posts!
---
Follow us on social media for more glamping ideas!
Pin for Later?