Ready to hike through an ancient forest and up a handful of grueling switchbacks to a gorgeous mountaintop with panoramic views of Crescent Lake on Washington's Olympic Peninsula?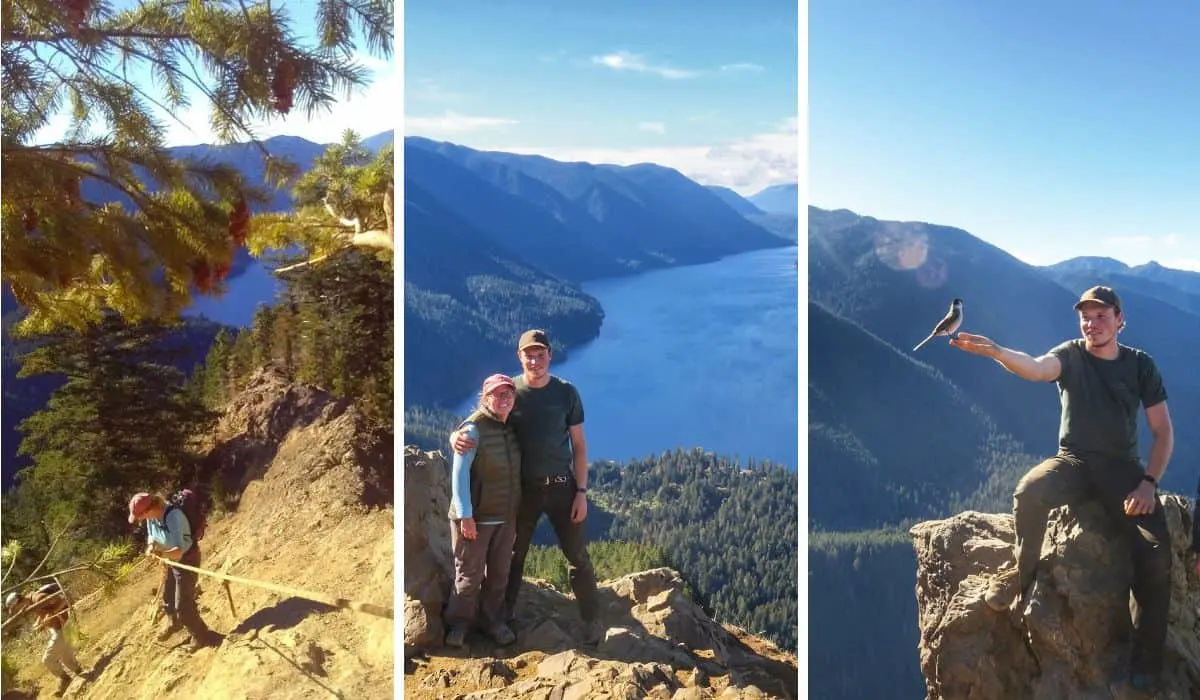 Want to enjoy a picnic on top of the world while cheeky birds perch on your hand to beg for crumbs?
Welcome to Mount Storm King, a short, steep hike in Olympic National Park that will certainly test your patience, encourage you to face your fear of heights, and make you glow with a major feeling of accomplishment (once you're safely back to sea level).
Okay, perhaps that's just me, but it's all about perspective, right?
So, since I'm sharing my perspective on the Mount Storm King Hike, I should preface my trail guide with a tiny bit of background info. I am a middle-aged hiker in decent shape, but I am not (and have never been) an athlete. I hike slowly and have a healthy fear of heights that I've been working to overcome.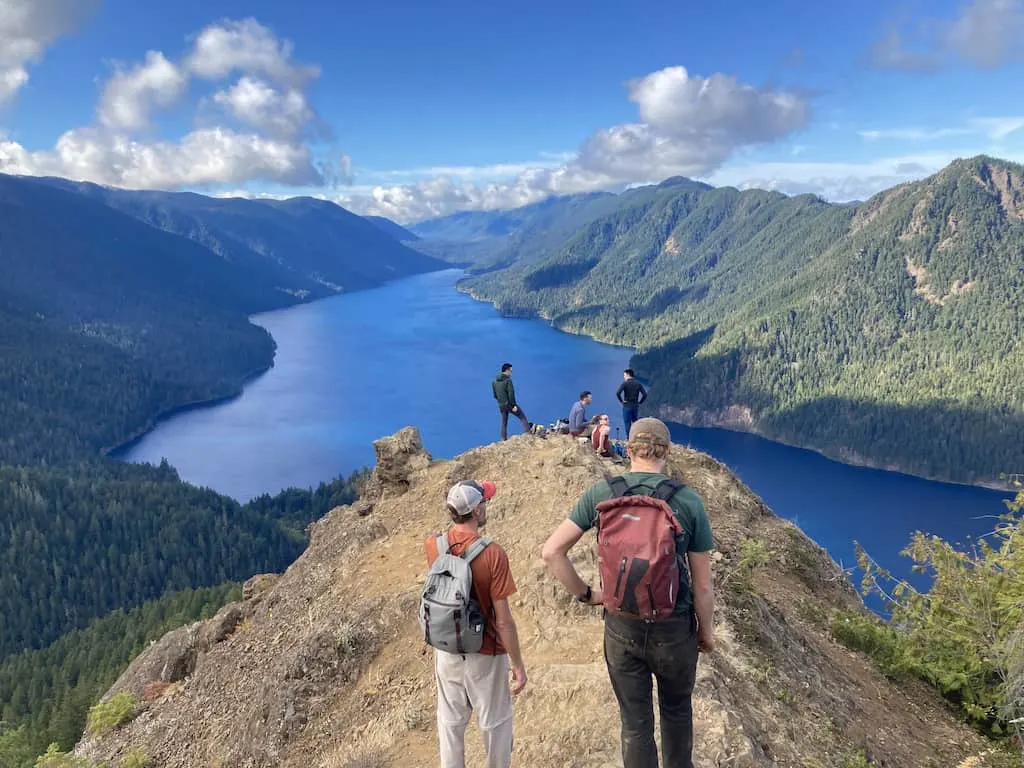 Based on my own personal experience, I would rate the Mount Storm King Trail as difficult due to its steepness and the short, formidable ascent at the end that uses questionable ropes for "safety."
The total distance (out-and-back) is less than five miles (thank goodness), and the trail itself does not require any fancy footwork, at least until that last sketchy part toward the end.
Hiking Mount Storm King took us just under five hours (we took it really slow), and the trail can be combined with a short hike to Marymere Falls, which would make it about 5 miles total. If you visit in the summer, I recommend doing the Mount Storm King hike in the morning and spending the afternoon at Lake Crescent.
Mount Storm King Trail is included in the Day Hiking the Olympic Peninsula by Craig Romano. This is an awesome guide to have with you if you plan on doing more hiking during your trip.
Pick up an Olympic National Park trail map too!
Quick Facts: Mount Storm King Hike in Olympic National Park
Length: 4.1 miles (round-trip)
Difficulty: Strenuous
Elevation Range: 600 ft – 2,707 ft
Elevation Change: 2,100 ft
Dogs: No
Cost: $30 entrance fee is good for a carload for 7 days
Directions to Trailhead
Written Directions to Mount Storm King Trail
From Port Angeles, drive west on Highway 101 for about 20 miles. At milepost 228, turn right and follow signs for Lake Crescent and Marymere Falls. Continue 0.2 miles to the Storm King Ranger Station on the shores of Lake Crescent. There is a large parking area and restrooms are nearby.
The Mount Storm King hike begins on Marymere Falls Nature Trail.
Mount Storm King Trail Overview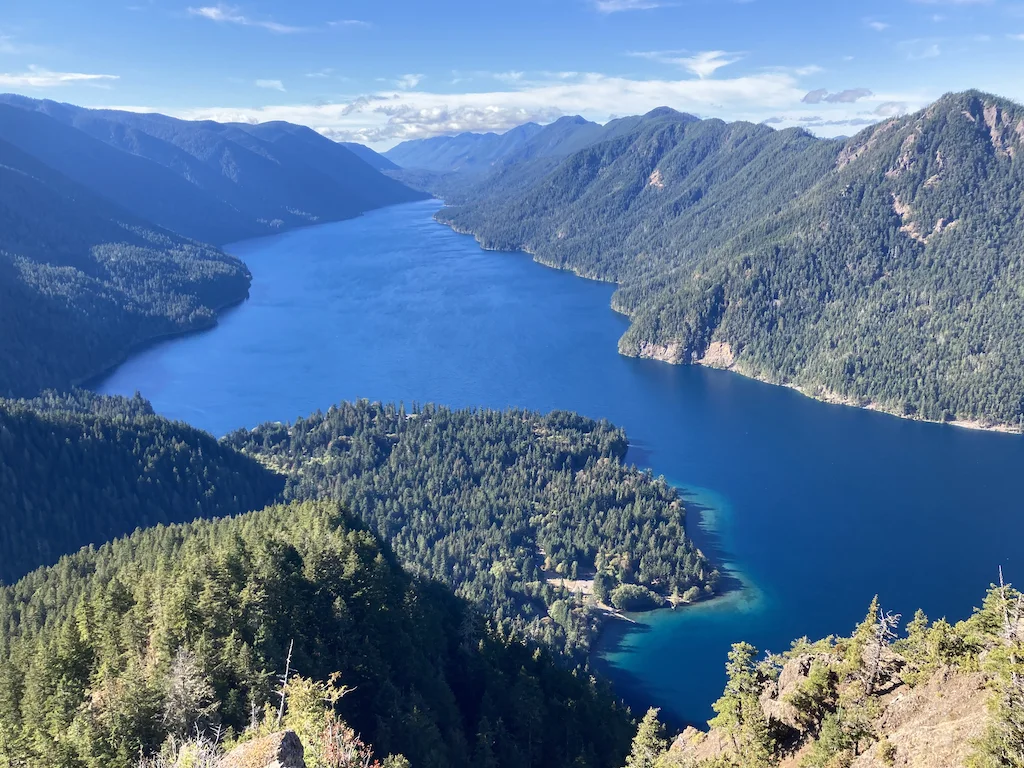 Mount Storm King Trail begins at the Storm King Ranger Station near the Barnes Point boat launch. This is a popular area, but most visitors are here to hike the Marymere Falls Trail, meander along the Moments in Time Trail, or hang out on the shore of Lake Crescent.
The first thing you'll do after passing the Storm King Ranger Station is head into the woods and then through a pedestrian tunnel that takes you under the highway. Once you're through the tunnel, the trail opens up and becomes a wide, flat path with plenty of room for dozens of hikers to spread out as they enjoy the enchanted forest.
Mount Storm King Trail, while not a hidden gem, is far less popular than the trail to Marymere Falls, where your hike begins. The two trails coincide for the first 1/2 mile, and the easy walking may trick you into thinking that you're out for a stroll in the park.
Ha! Just wait for the fun to begin!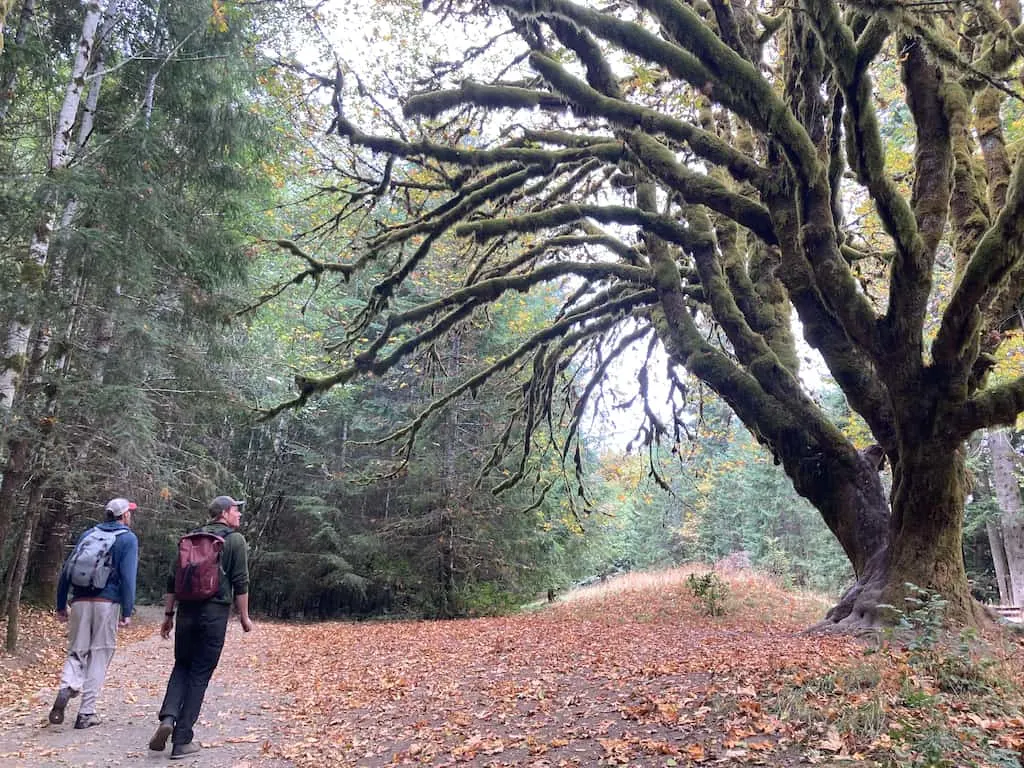 An elephant-sized boulder marks Mount Storm King Trail on the left. There's a small sign too, behind which a narrow path heads steeply into the woods. Switchbacking through a dense, damp forest, a slow burn will begin in your thighs.
This is the time to take it slow and enjoy the changing forest as you climb. Or perhaps it's the time to remove a few layers and huff and puff your way upward while wondering what's so great about hiking anyway. The choice is yours.
Yes, it will feel like a brutal climb, but take heart, you'll be rewarded with your first view after just a mile. Giant pines and Douglas firs give way to a dry, open forest of manzanita and madronas as you climb.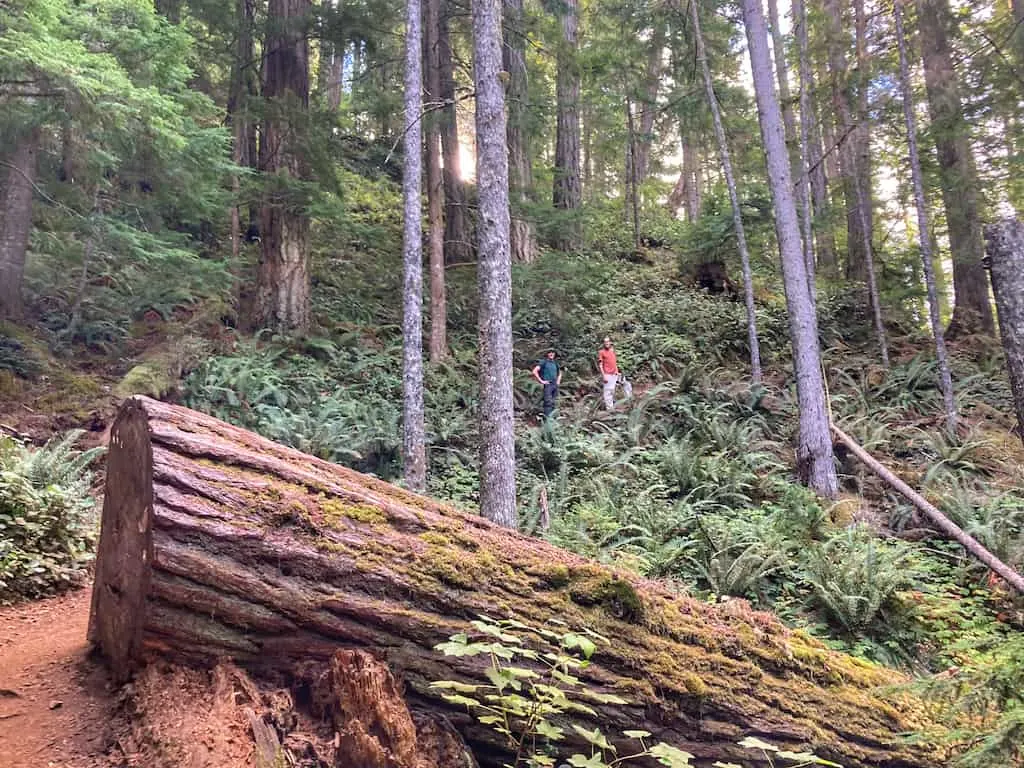 If you've got a healthy sweat going, try hugging a nearby madrona tree. Nicknamed "the refrigerator tree," madronas (Arbutus menziesii) hold water within their bark, making the trunk cool to the touch.
At approximately 1.8, you will come to a foreboding sign that marks the end of the trail maintained by the National Park Service.
For those feeling apprehensive about continuing onward, the views of Crescent Lake are beautiful from this spot, and you've still accomplished quite a nice climb that you can be proud of.
Looking for a challenge?
Continue onward and upward until you come to a pile of holey climbing gloves and a threadbare rope leading up a rocky, steep incline.
This is the beginning of the climber's trail, which is an exposed route taking you a 1/4 mile to the summit.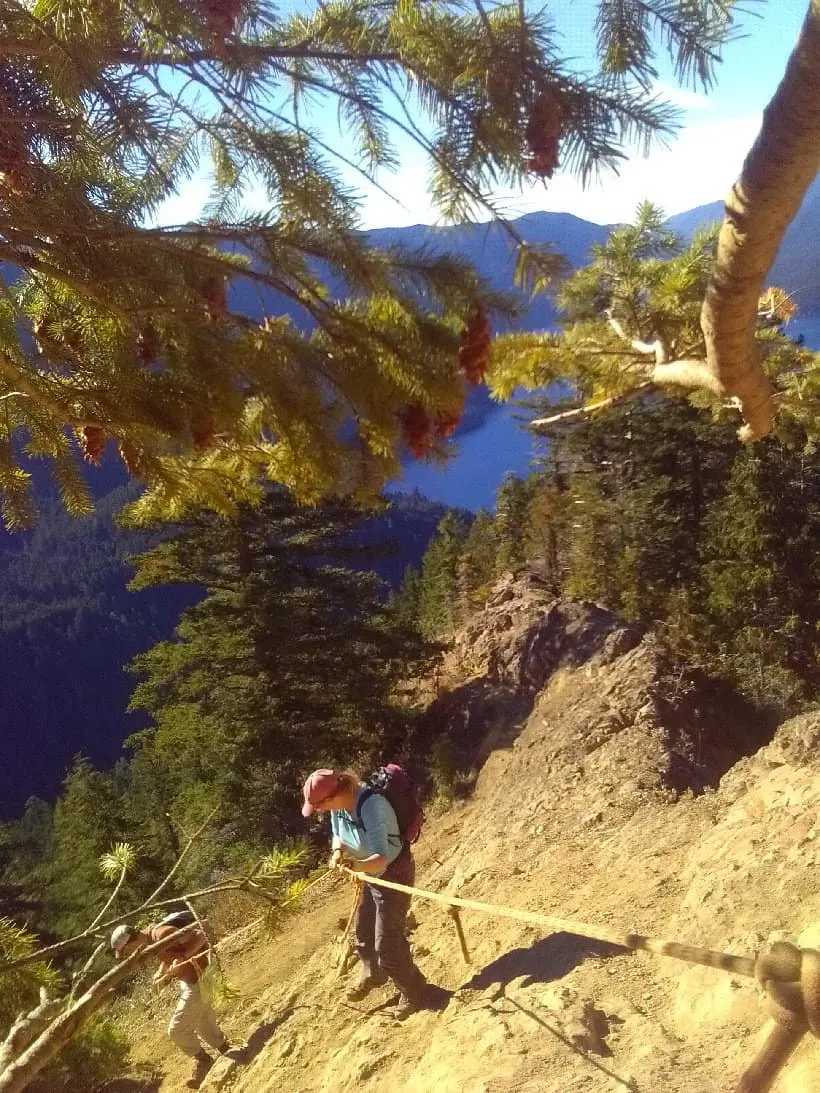 This is the point in the hike where my heart started racing. The antidote was a slow crawl up the hill with very careful placement of each foot as I moved forward. It was a slow and painful process, but if I can do it, I'm pretty sure you can too!
The ropes should be used to guide you, but don't put all of your faith in them as they aren't maintained or tested and they look like they've seen better days.
You should also turn back if the trail is icy or really wet.
According to AllTrails, "Search and Rescue (SAR) operations are not uncommon on the Mount Storm King Trail–multiple SARs occur each year due to hikers being unprepared and/or underestimating their abilities."
After the short rope-assisted climb, you'll find yourself on the top of a rock outcrop with incredible views of Lake Crescent all the way to the Strait of Juan de Fuca.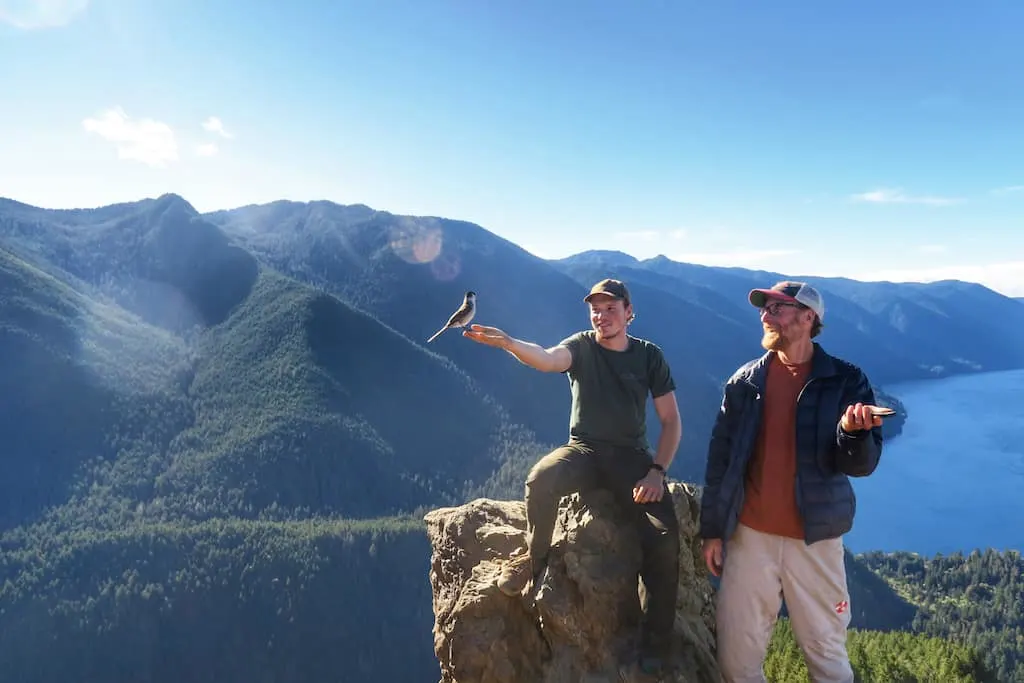 You'll very likely be greeted by a flock of friendly Canada jays, who will perch on your hat, your hand, or your hiking boots and try to steal your lunch.
Enjoy the views as you wait for your heart rate to return to normal before climbing carefully back down the way you hiked up.
Mount Storm King Trail Map and Elevation Profile
We use AllTrails+ for GPS tracking and finding nearby trails when we travel. The Mount Storm King Hike is marked in red, with waypoints set where the trail splits from Marymere Falls Trail, at the first viewpoint, and where the maintained trail ends.
If you zoom out, you can see Marymere Falls Trail, as well as Barnes Creek Trail, which bypasses Mount Storm King and travels deep into the forest.
Extend Your Hike: Marymere Falls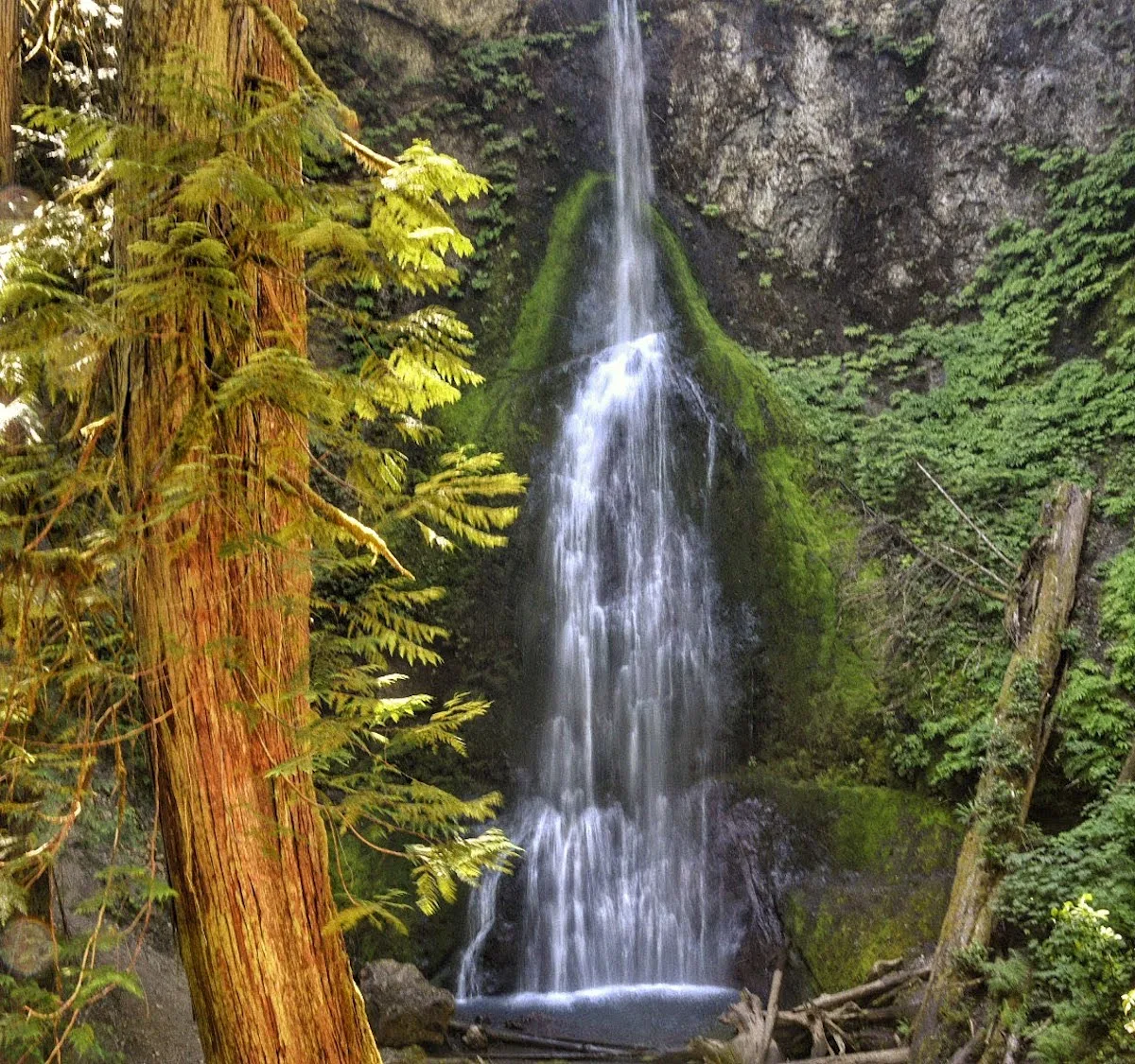 After climbing down Mount Storm King, turn left to visit Marymere Falls. This short loop totals about a mile and the falls are beautiful. Here's an overview of the Marymere Falls Trail from our summer visit.
More Fun at Lake Crescent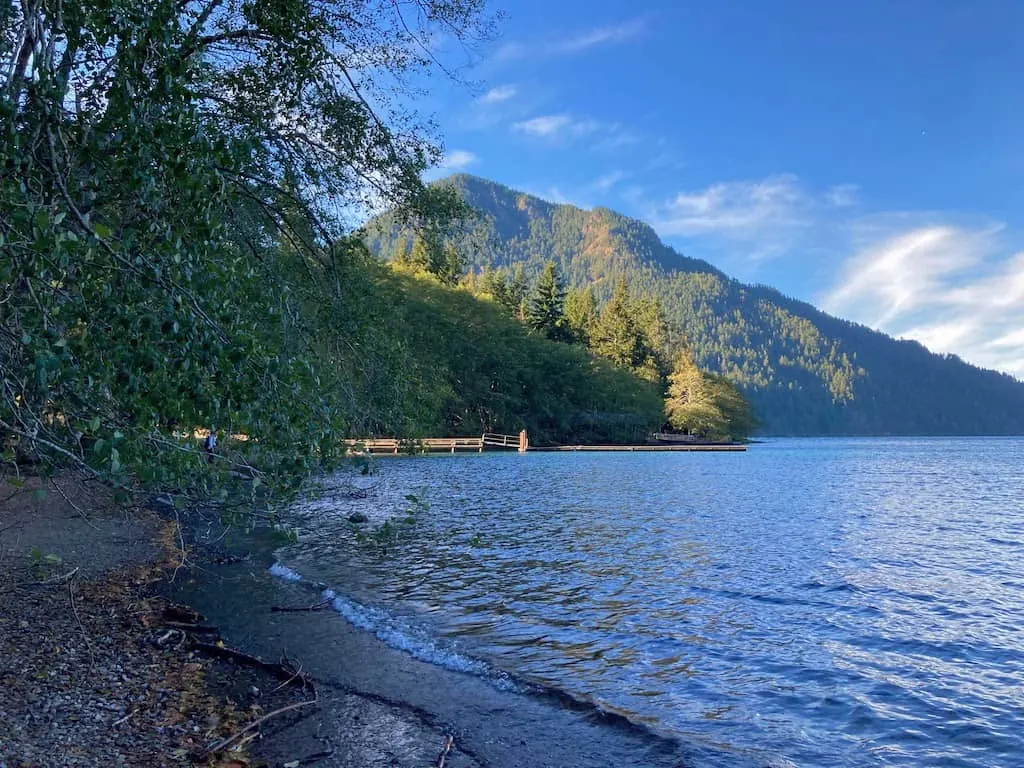 The first time we visited this area, the Olympic Peninsula was experiencing an unprecedented heat wave, with temperatures reaching 106 degrees Fahrenheit. It was the perfect opportunity to swim in Lake Crescent, one of the deepest (and coldest) lakes in Washington. The deep blue color is thanks to the lack of nitrogen in Lake Crescent.
We visited again in the fall, and while the lake was certainly too cold for swimming, it was still fun to meander along the shore and take in the beautiful views.
If your legs aren't screaming at you yet, hop on the lovely Moments in Time trail, which is a .7-mile loop that hugs the shore of Lake Crescent and also takes you into the beautiful old-growth forest.
Tips for Hiking Mount Storm King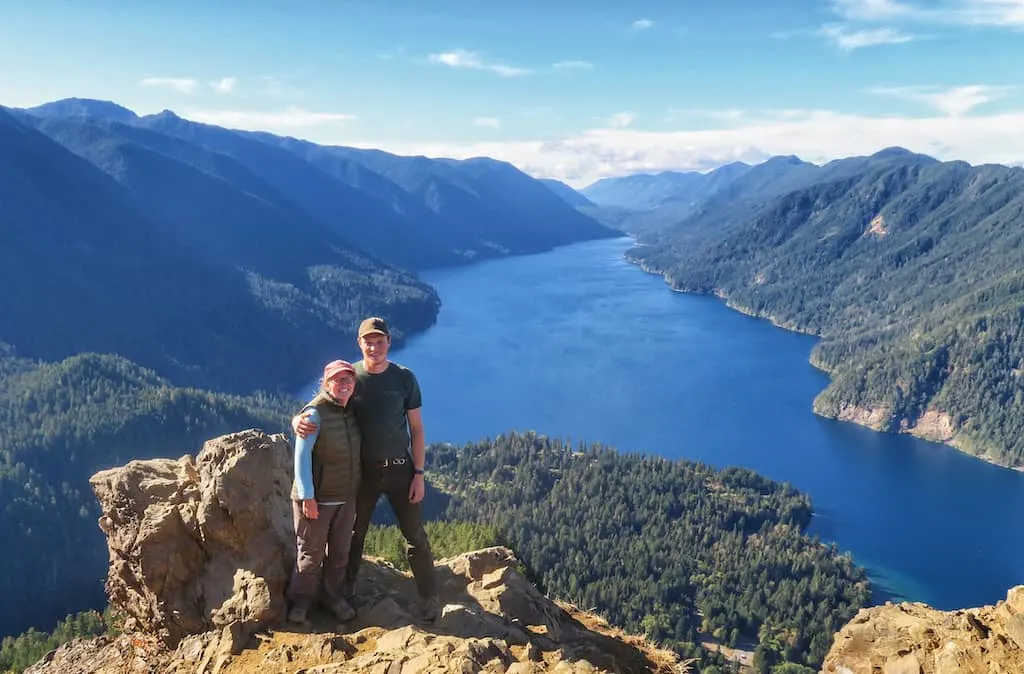 This is a difficult hike that requires a bit of advanced preparation. At a minimum, be sure to pack the 10 essentials for hiking.
If you are hiking in the off-season (late fall, winter, and early spring), you may want to pack Microspikes to improve your footing on icy spots. I would not attempt the last push to the summit if it's icy, but you know your ability better than I do.
Trekking poles will be useful for most of the trail, but when you get to the unmaintained section, I recommend packing them in your bag so that you can use your hands and your feet for the last bit.
No matter what season you hike Mount Storm King, you can regulate your body temperature with a merino wool base layer. Merino is basically a miracle fabric, keeping you cool in the summer and warm in the winter. It's also antimicrobial, which means you can sweat all the way to the top and you'll still smell nice when you get there. We love merino wool base layers from Woolx.
Finally, if you're going to visit more than one or two national parks this year, invest in the America the Beautiful pass. This is an annual pass that will get your family into every single national park for $80. Buy it at any national park or at REI, which will donate 10% of each sale to the National Parks Foundation.
---
Explore more of the Olympic Peninsula and Olympic National Park. Read these next:
---
Follow us on social media for more outdoor inspiration!
Pin for Later?