Where can a budget adventurer explore miles of secluded hiking trails, relax in the pools of world-famous hot springs, and then sleep under the canopy of an old-growth, temperate rainforest?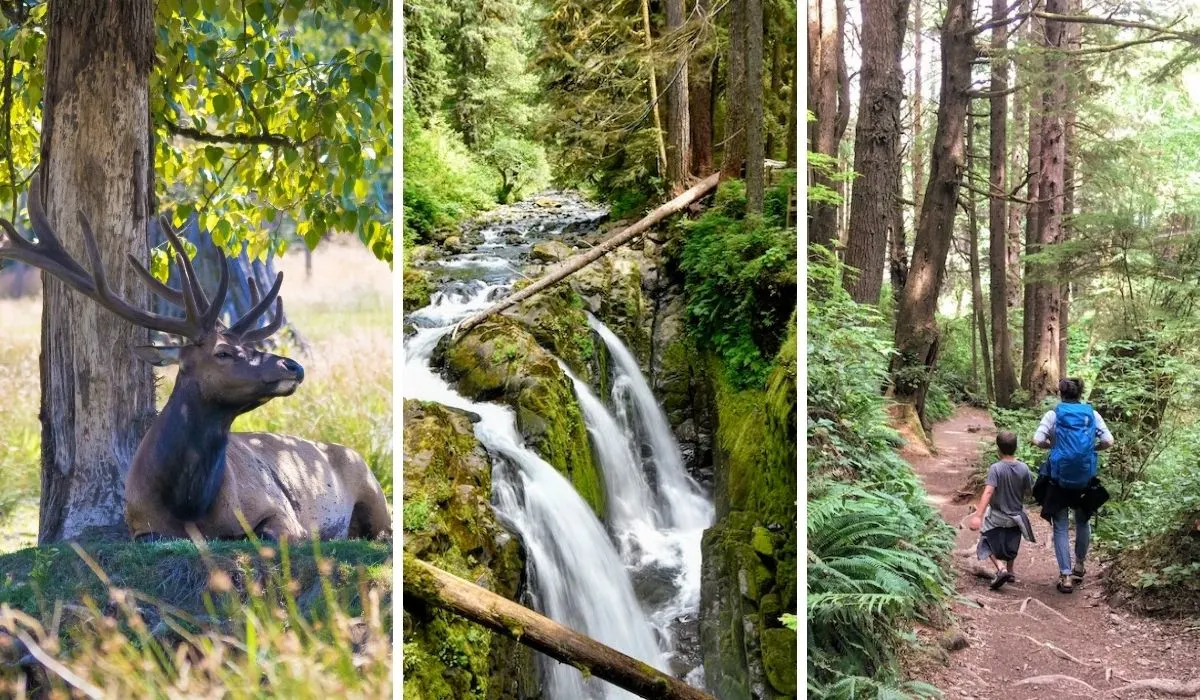 Sol Duc Valley in Olympic National Park offers all this and more, and Sol Duc Campground makes a perfect home base for exploring Sol Doc Hot Springs, Sol Duc Falls, and some lovely hiking trails that lead into the interior of the park.
The name Sol Duc comes from a mispronunciation of the native Quileute word for sparkling waters. Settlers named the hot springs Sol Duc in the late 1800s and built a hotel on the site in 1912.
The original hotel burned to the ground in 1916 and was replaced in the 1920s.
Because Olympic National Park is so massive, it makes sense to plan escursions based on location, spend a few days, and then move on to a different part of the park. Or, you can do like we do — fall head-over-heels in love with the Olympic Penninsula and visit every year, exploring a different part of Olympic Naitonal Park each time you visit.
Your Perfect Home Base: Sol Duc Campground
In the Sol Duc Valley, you will find hidden waterfalls, sparkling lakes, quiet, backcountry trails, and a full-service resort within walking distance of the Sol Duc Campground, which is the perfect place to begin your Sol Duc experience.
Sol Duc Campground is privately run by Aramark. There are 82 private tent sites, and 17 RV sites with full hookups.The campground is also maintained for primitive camping during the off season.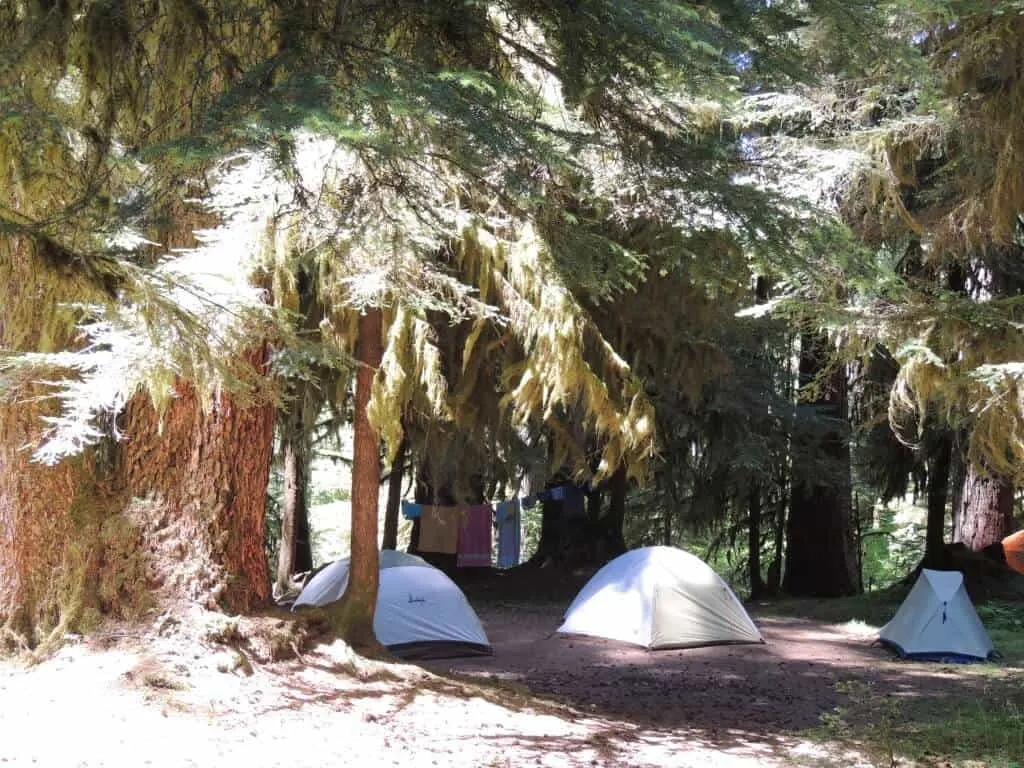 Sol Duc Campground is right on the Sol Duc River, and it's a short walk from Sol Duc Hot Springs Resort, where you can soak your cares away in steamy thermal waters. The resort also has a small store where you can buy a bottle of local beer, stock up on provisions, or purchase souvenirs.
Sol Duc Campground has two tent-camping loops to choose from. Of the 82 tent sites, 62 of them can (and should) be reserved ahead of time.
The other 20 tent sites are first-come, first-served, but you must check in with Sol Duc Hot Springs Resort before choosing a site. At each campsite, you will find a picnic table and a fire ring. There are flush toilets and potable water nearby.
All of the sites are situated under the canopy of old-growth trees, so don't expect sunshine. There are plenty of flat areas and lots of privacy for $33 a night.
Insider tip: If you are traveling in an RV, you may want to think twice about staying at Sol Duc. The RV area is basically a gravel parking lot with no privacy for $58 a night.
We visited Sol Duc Campground and Hot Springs in July. We did not make reservations for a weeknight stay. Apparently, we were lucky to score a site, and we're very grateful.
Beautiful Day Hikes in the Sol Duc Valley
To truly make the most of Sol Duc Valley, you have to explore on foot.
The following trails in Sol Duc Valley can be accessed from Sol Duc Campground, taking you deep into the forest, and making you work a bit for the relaxing evening that awaits in Sol Duc Hot Springs.
Hiking to Sol Duc Falls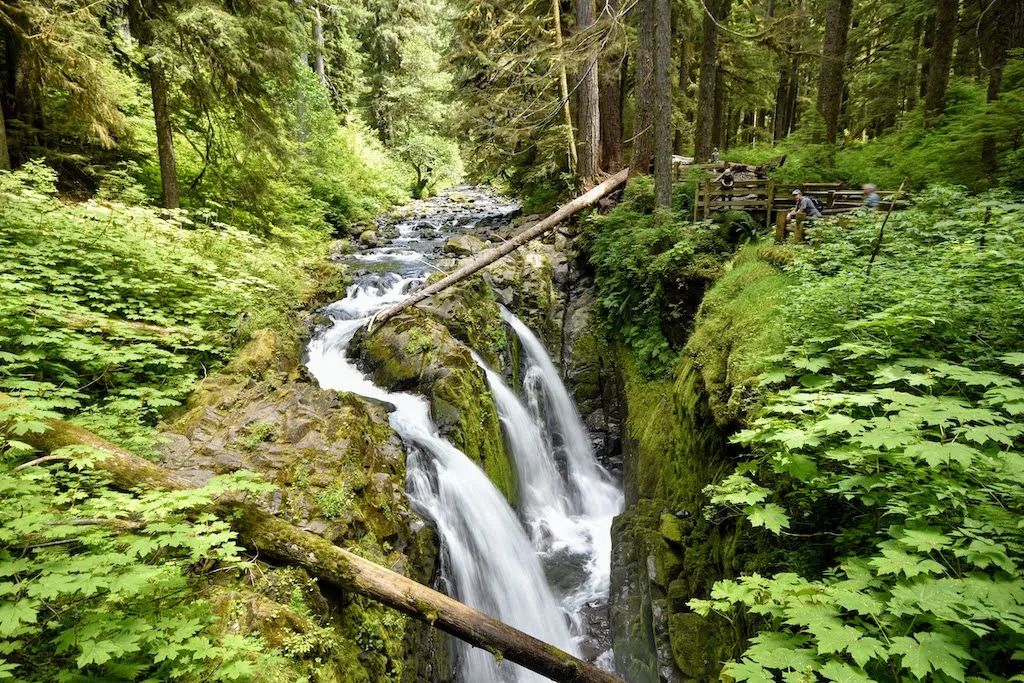 The hike to Sol Duc Falls is relatively easy, making it a perfect choice for families with small children.
At just under two miles, the loop is short and therefore fairly social. It is a popular hike for campers, as well as people staying at Sol Duc Resort.
The trail leads through a lush, old-growth forest, which meanders along the creek. There is very little elevation change, but you will have to watch out for roots in the path.
Sol Duc falls can be viewed from several different vantage points. The tree separate cascades put on an impressive display throughout the year.
There are a few benches to relax on, and a small shelter if you're in the mood for a picnic.
Hiking Lover's Lane From Sol Duc Campground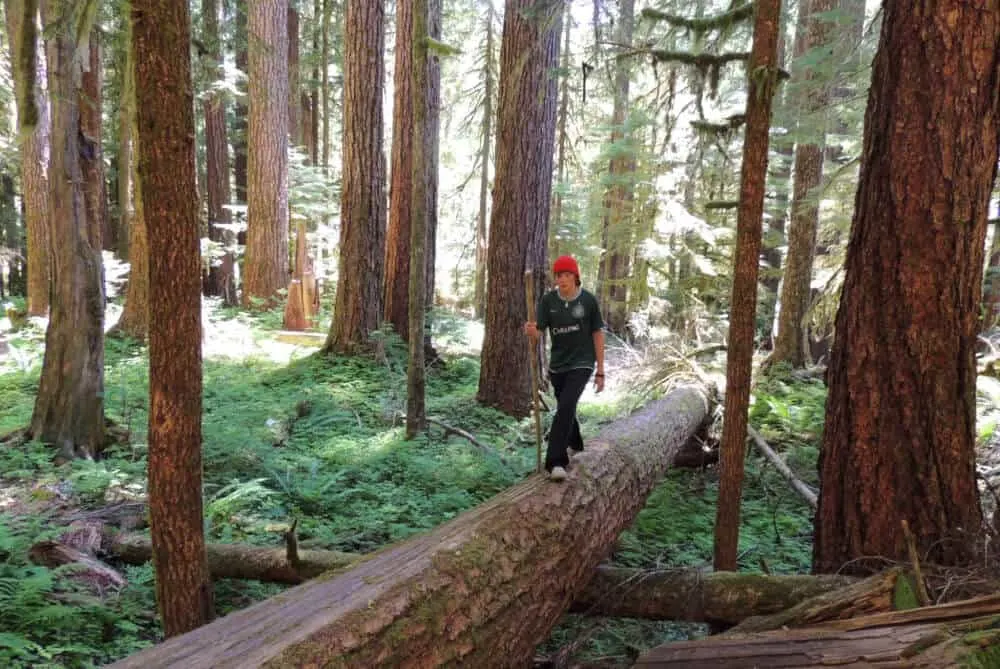 Connecting the Sol Duc Campground trail to the Sol Duc Falls trail, Lover's Lane is a 6-mile loop that travels along the river, through peaceful clearings, and among old-growth cedars and hemlock for a glimpse of the diverse habitats found in the Sol Duc Valley.
With only a 200-feet elevation gain, this is an easy hike through a beautiful forest, and while it might not leave you breathless, you will certainly be ready for a soak in the hot springs when you're through.
Hiking to Mink Lake
This moderate trail takes you through dense forest, and leads to a quiet, hidden lake, surrounded by wildflowers (and swarms of mosquitoes).
The trail begins in the Sol Duc Hot Springs Resort parking area at 1,650 feet and gains 1,450 feet in elevation.
At 5.2 miles round-trip, it is best for intermediate hikers and older children. The trail travels through stands of old-growth fir and hemlock, followed by a lush subalpine forest, and then a marshy meadow.
There are primitive campsites around Mink Lake for more adventurous backpackers.
Hiking Little Divide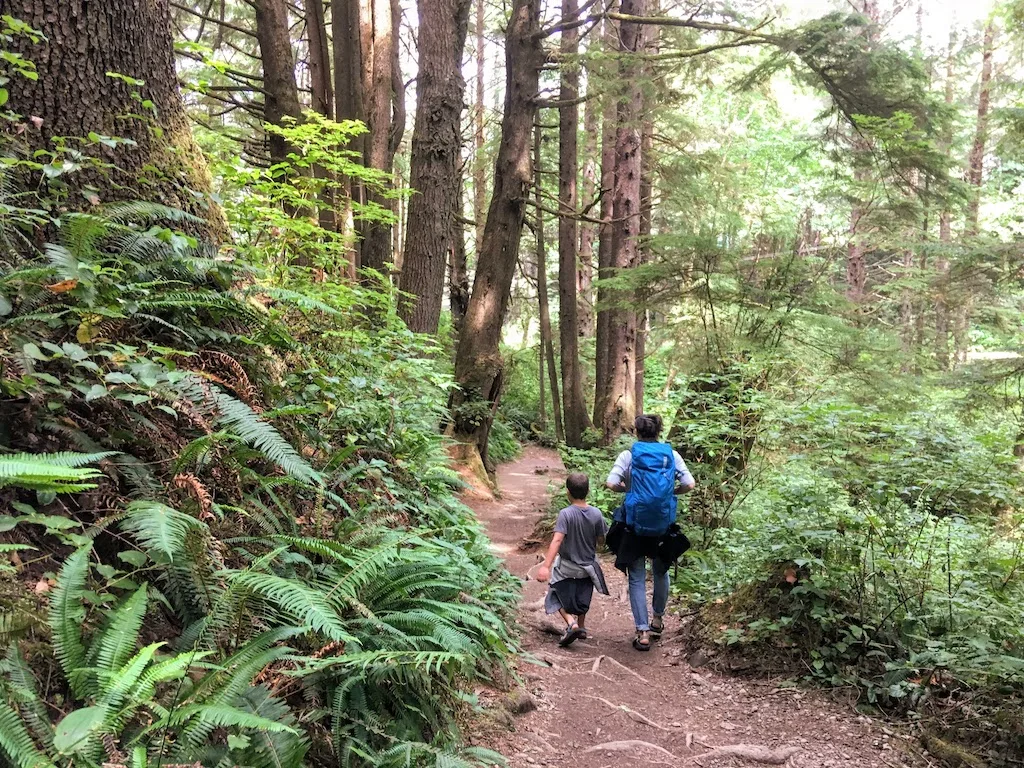 If you're looking for a more adventurous day hike and total solitude, continue on Mink Lake Trail for another two miles. Little Divide will give you a glimpse of the valley below and of Mount Olympus, the iconic peak of Olympic National Park.
While not the grandest of views, you are in the wildest part of Sol Duc Valley, and there's a good chance of seeing deer, elk, and bear if you stick around long enough.
After Mink Lake, you will gain another 1,000 feet in elevation. You can turn this into a loop by following the trail to Lover's Lane and back to Sol Duc Resort.
The Little Divide Loop is a total of 14 miles and is only recommended for experienced hikers.
Insider tip: Cell service is spotty throughout Olympic National Park. Before your trip, grab this National Geographic Trail Map and Falcon Hiking Guide to Olympic National Park so you're prepared for offline adventures.
Exploring Sol Duc Hot Springs Resort
Sol Duc Hot Springs are privately run, and pretty busy during the summer months.
True back-country aficionados might scoff at the idea of a full-service resort in the middle of such a pristine wilderness, and I had my doubts as well. I usually stay away from such spectacles, but really the thought of relaxing in thermal waters just steps from our campground was too tempting to pass up.
Soaking in Sol Duc Hot Springs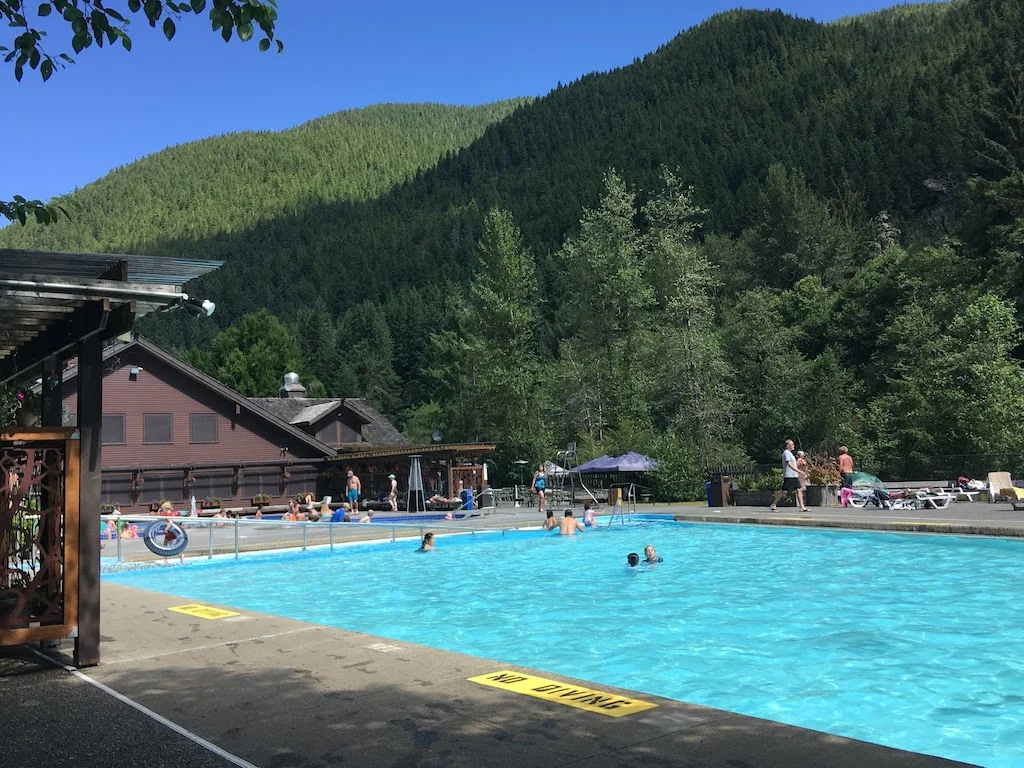 There are four separate pools in the resort area. Three of the smaller pools are each set at a different temperature for soaking, and the larger pool is an unheated freshwater pool.
Although the pools can be crowded during the day, if you head over after a hike and a good camp dinner, you can relax in the healing waters as the sun sets and twilight envelopes the valley. It doesn't take long for your aches and pains to disappear, and you will forget that there is anywhere else on earth.
Since our last visit to Sol Duc Hot Springs, the resort has changed its pricing policy.
Instead of a day pass, which we loved, you now have to reserve a 1.5-hour time slot. While this helps with overcrowding, it's not ideal for coming and going from the campground. Sigh.
Current Rates for Enjoying Sol Duc Hot Springs
Reservations for soaking must be made in person.
Adults (Age 12+)
$18.00 (per 1.5-hour session)
Children (Age 0-3)
FREE (with limited pool access)
Children (Age 4-11)
$12.00 (per 1.5-hour session)
Senior Citizens (62+), Disabled, or Military
$12.00 (per 1.5-hour session)
Book of 10 Pool Passes
$150.00
Towel Rental
(Towels are for rent as available)
$5.00
Courtesy of Aramark
If you are road tripping like we were, you will certainly change your plans and stay a few extra days, because really, there is no place on earth like the Olympic Peninsula and no place that will heal your troubles like Sol Duc Hot Springs.
Staying at Sol Duc Hot Springs Resort
Prefer not to camp? Sol Duc Hot Springs Resort offers lodging in basic cabins located right near Sol Duc Hot Springs between late March and late October.
Choose from a few different layouts with basic amenities. The standard layout is set up like a basic hotel room with room for four guests. Kitchen cabins, also accommodating four guests, include a sink, refrigerator, stove/oven, and a table.
Sol Duc Hot Springs Resort does have one cabin (the Riverside Suite) with three bedrooms and two bathrooms that sleep 10 people.
Pets are permitted in the standard and kitchen cabins for a $25 fee per pet. They must be leashed at all times.
---
Planning Your Trip to Olympic National Park and Sol Duc Valley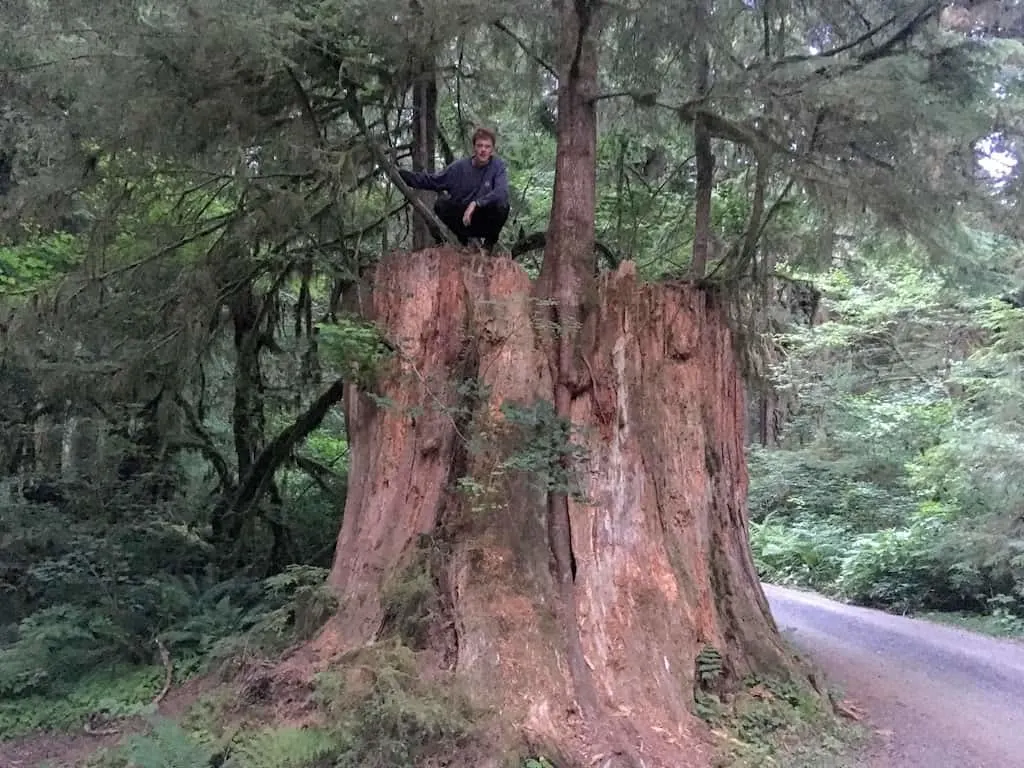 Ready to explore Sol Duc Valley? Here are a few tips to help you plan your trip:
Transportation: The closest airport to Olympic National Park and Sol Duc Hot Springs is Seattle-Tacoma International Airport. Reasonable flights can be found on Kayak throughout the year. From the airport, it's a 3.5 to 4-hour drive to Sol Duc Valley, depending on the schedule of the Edmonds-Kingston Ferry.
Public transportation is pretty much nonexistent within Olympic National Park. Renting a car will give you the freedom to explore the park.
Rent a campervan: Looking for a unique way to explore Olympic National Park? Why not rent one of these beautiful and fully-equipped campervans from Escape Campervans? Pick up your rental in Seattle and explore the park in style. Escape campervans offer deals throughout the year, so be sure to join their mailing list so you know when the Seattle van rentals go on sale.
Connectivity: There is no internet service available within the park or at Sol Duc Hot Springs Resort, and cell service is quite spotty.
Fees: Entrance fees into Olympic National Park are $30 for a carload for seven consecutive days. If you know that you'll be visiting more than two national parks in a calendar year, you can save money by getting the America the Beautiful Pass. For $80, it gets you into every site run by the National Park Service for a full calendar year. If you buy your pass from REI, they will donate 10% to the National Park Foundation.
Camping at Sol Duc Campground is $33 per night for a tent site. You can reserve your site in advance at Recreation.gov.
Official NPS website: Learn more about visiting Olympic National Park.
---
Want to read more about visiting the Pacific Northwest and Olympic National Park? Check out these posts:
---
Follow us on social media!
Pin for Later?