Please check to make sure destinations are open to visitors before planning a trip and follow local guidelines. We earn a commission from affiliate links that may be included in this post.
There is no place on earth like Olympic National Park. Where else can you hike through an Alpine meadow in the morning, meander through a rainforest in the afternoon, and watch a Pacific coast sunset in the evening? While it's certainly a land of extremes, it's also a diverse ecosystem that beckons explorers and outdoor entusiasts. This dramatic landscape on the Olympic Peninsula includes more than 60 named glaciers, 3,000 miles of rivers and streams, 70 miles of undeveloped coastline, 64 trailheads, and 16 developed campgrounds.
Camping is a great way to immerse yourself in Olympic National Park, but you can also have a thoroughly outdoor experience without sleeping on the ground. Why not turn your Olympic National Park visit into a one-of-a-kind glamping vacation that you'll remember forever? Whether you're visiting Olympic National Park for a weekend getaway or a week of non-stop adventures, glamping near Olympic National Park allows you to explore the park all day and have an immersive outdoor experience at night without sleeping all the ground.
Getting to Olympic National Park
First, let's get some of the logistics out of the way. Unless you live within a few hours of Olympic National Park, the easiest way to get there is to fly into Seattle-Tacoma International Airport, which is about two hours from the eastern border of Olympic National Park. From there, we recommend renting a car to Explore Olympic National Park. The park encompasses nearly a million acres and there are very few roads into the heart of the park.
Most destinations can be reached via U.S. Highway 101, which circumnavigates the Olympic Peninsula, but it's important to plan ahead so you can maximize your time exploring within the park and minimize driving time. Here's an overview of the mileage between popular sites within Olympic National Park.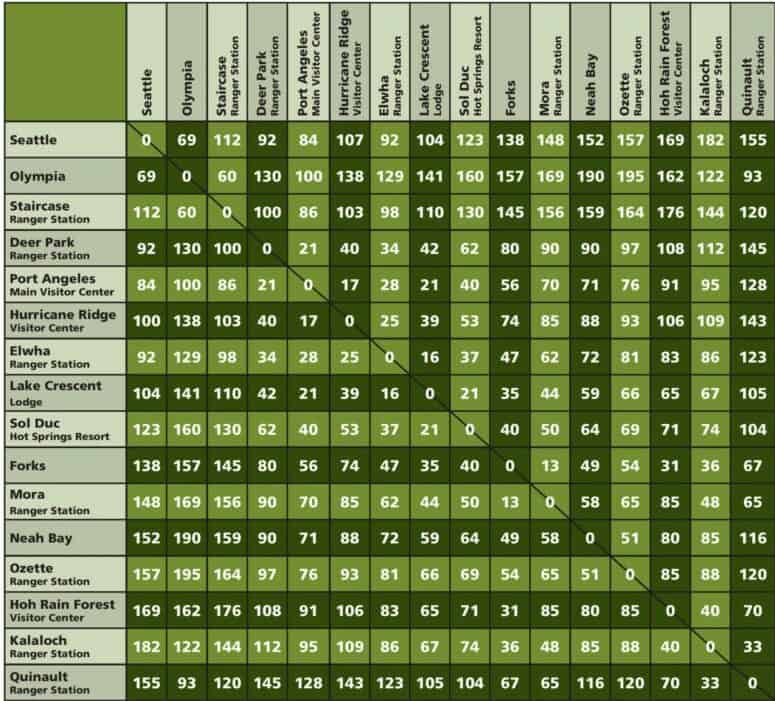 Renting a car will give you the most flexibility, as the majority of these glamping properties require a drive to and from Olympic National Park. We have found some great deals for car rentals on Kayak, which searches for and compares the prices of dozens of rental companies in one place. We have found unbelievable deals on car rentals using this platform.
If you have extra time on the Olympic Peninsula before or after exploring Olympic National Park, we highly recommend checking out the Victorian Seaport of Port Townsend.
What Exactly is Glamping?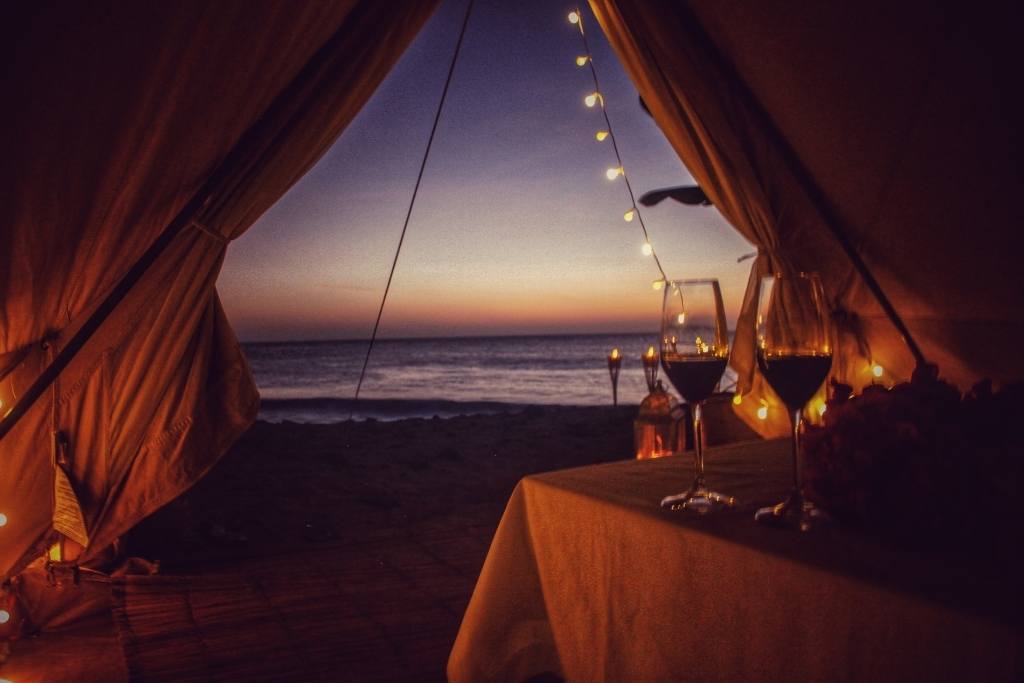 Once you try glamping, you may never go back to tent camping again. Actually, we still love regular old camping but we've totally been bit by the glamping bug. Glamping embraces everything you love about camping — campfires, smores, endless starry skies, and a nice dose of wilderness, without the things you could do without — shivering through the night and trying to wash dishes in the backcountry.
When glamping, you almost always get a cozy bed with real sheets, as well as some sort of kitchen. Depending on the glamping site you pick, you may also be treated to luxuries like Wi-Fi, indoor plumbing, and some sort of heat source.
When is the Best Time for Olympic National Park Glamping?
While Olympic National Park is beautiful in all four seasons, we recommend visiting between July and September to avoid heavy rains and most unpredictable weather events. The amount of rainfall you can expect varies dramatically from place-to-place within Olympic National Park, but no matter where you decide to hang your hat during your visit, you can expect less rain in the summer months.
Want to avoid the crowds of summer visitors? Plan your Olympic National Park glamping trip for early September, after most schools are back in session.
A Few Tips for Glamping Near Olympic National Park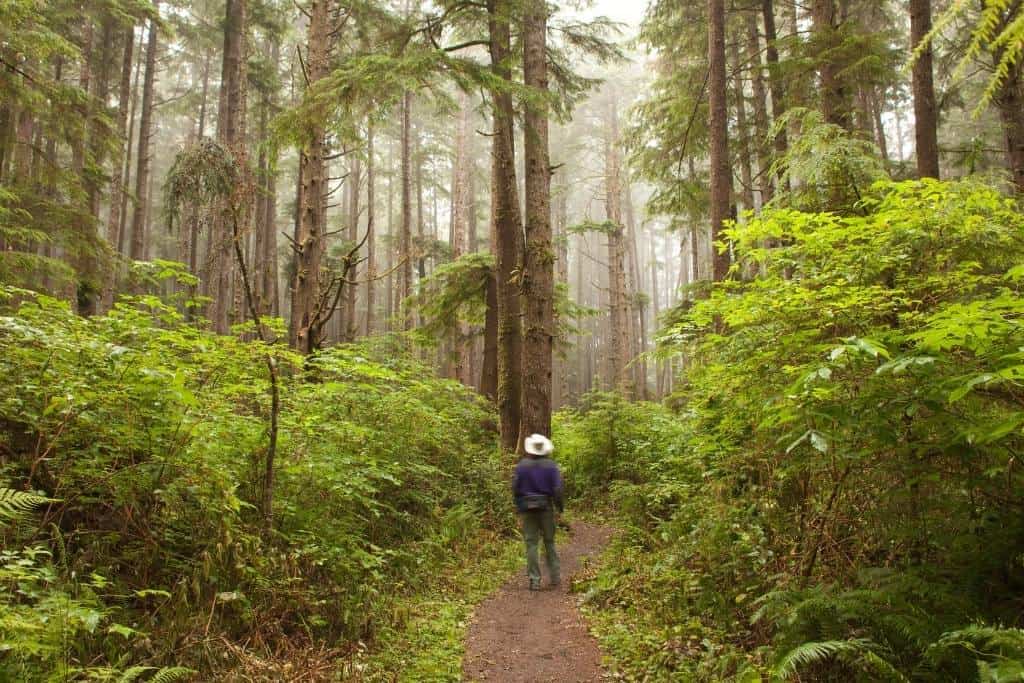 There are a few downsides to glamping over camping in Olympic National Park. First of all, the campgrounds in Olympic National Park are very close to the best park attractions. The glamping spots on our list will all require a drive. Also, campsites in Olympic National Park are very affordable, ranging from totally free at Dosewallips Campground to $24 a night at most other campgrounds.
Glamping, while a bit pricier than pitching a tent, lets you sleep in a real bed each night so you are fresh and ready for you Olympic National Park adventure. Here are a few more tips for glamping near Olympic National Park:
Glamping is way more luxurious than camping, and there's a good chance you won't need any camping gear, but be sure to read the listing carefully so there aren't any unpleasant surprises. Does your glamping spot have a bed with linens included or do you need to bring a sleeping bag? Is there a shower? A kitchen? A fancy espresso maker?
Hook yourself up with an America the Beautiful Pass! If you're planning to visit several national parks this year, we recommend getting an America is Beautiful National Parks Pass. You can use your pass at more than 2,000 National Park sites and 10% of the proceeds are donated to the National Park Foundation, helping to protect our parks. The average cost of admission to a single national park is $35, so the $80 park pass will pay for itself very quickly.
Be prepared for rain. The Olympic Peninsula sees most of its rain between November and April, but even the summer can be wetter than would imagine, especially in the HOH and Quinault Rainforests. A good rain jacket is essential and worth its weight in gold.
Pack lots of layers. The weather in Olympic National Park can vary from day to day. I recommend three solid layers – a long-sleeve wool shirt, an insulating layer, and a water/windproof layer so that you're prepared for all types of weather conditions.
The Most Incredible Olympic National Park Glamping for Your Next Adventure
Ready to experience the best that Olympic National Park has to offer? Most of these glamping destinations are located around the perimeter of Olympic National Park. Before you book your stay, decide which part of the park you most want to visit and choose your spot accordingly.
Most of these spots are available on Airbnb, and cancellation policies can vary wildly from one vacation rental to the next. Read each policy carefully so you know what to expect if you have to make a last-minute cancellation, especially during this pandemic.
Private Hand-Crafted Tiny House in Port Angeles, Washington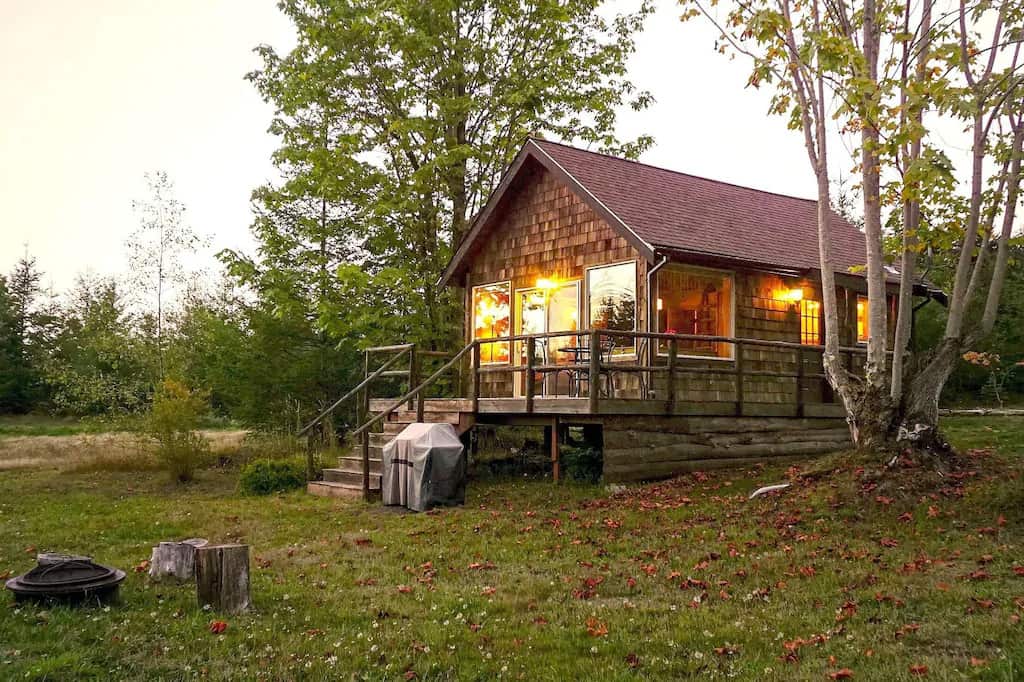 Tiny cabins go hand-in-hand with the landscape of the Pacific Northwest, and the pond cottage is one of three beautiful vacation rentals available at Olympic View Cottages in Port Angeles. As the name suggests, this gem of a place is located on a private pond with a view of the Olympic Mountains. The property provides easy access to the roads leading into Olympic National Park, but there are also trails surrounding the property.
The cabin is ideal for 2 people although it can sleep 5. The main pond-view room has a single window-seat bed and a sofa that converts to an excellent queen air bed. There is a full kitchen, a loft with a queen-size bed, a bathroom, and a woodstove for those chilly PNW nights. Modern amenities include a TV, wi-fi, and air conditioning, but if you want to unplug, head outside to firepit or fire up the BBQ. Whether you spend all day admiring the view from the porch, or head out for serious adventures, this Olympic National Park glamping retreat is sure to provide the coziest spot for your getaway. Did we mention that this cabin is pet-friendly?
What we love about this gorgeous glamping spot near Olympic National Park: The view of the pond and the quiet surroundings!
Dogs? Yes!
---
Tiny Glamping Cabin in Hoodsport, Washington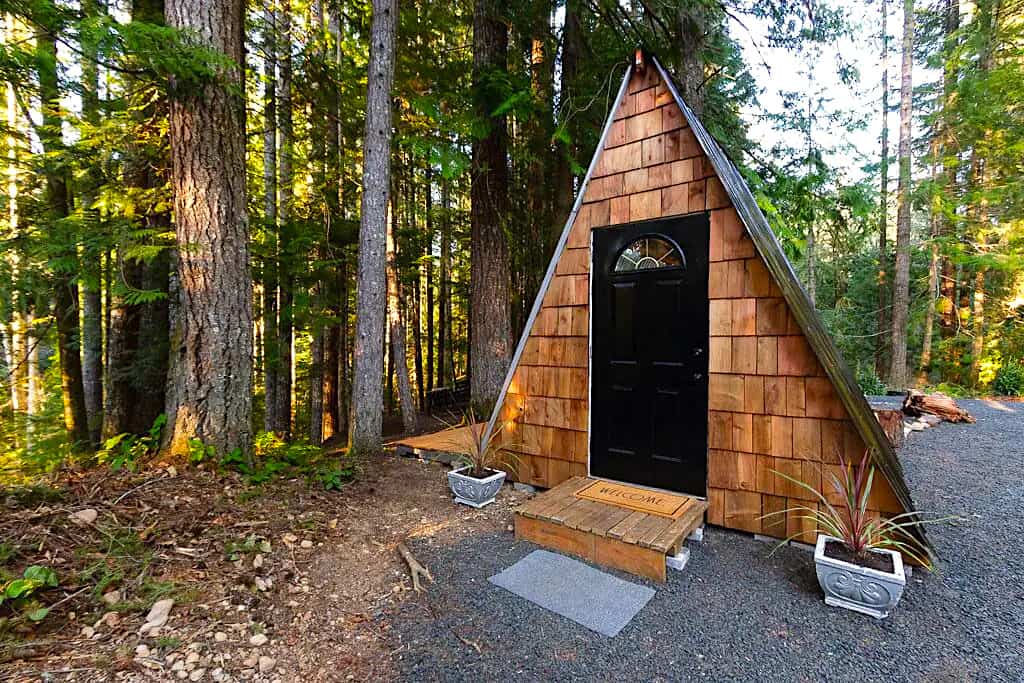 This tiny cabin nestled in the woods is perfect for a couple or small family hoping to go glamping near Olympic National Park. The cabin is big enough to hold two twin-size beds, but the back opens up so that you have your own private sleeping porch, and the clear roof provides a lovely view of the sky at night. The property is great for families, with hot showers, a swim area, playground, basketball court, and two kayaks that you are free to use.
Located southeast of Olympic National Park, and very close to Lake Cushman, and Mt. Elinor, this is a dream location for anyone who wants to explore the quiet side of the Olympic Peninsula. This unique property has so many extra features and cool spaces that you may want to skip the park altogether and spend your day relaxing by the creek, swimming in the lake, and swinging in the provided hammock-tent.
What we love about this glamping retreat near Olympic National Park: The location is beautiful, and not at all crowded.
Dogs? Yes!
---
Converted Train Station in Sequim, Washington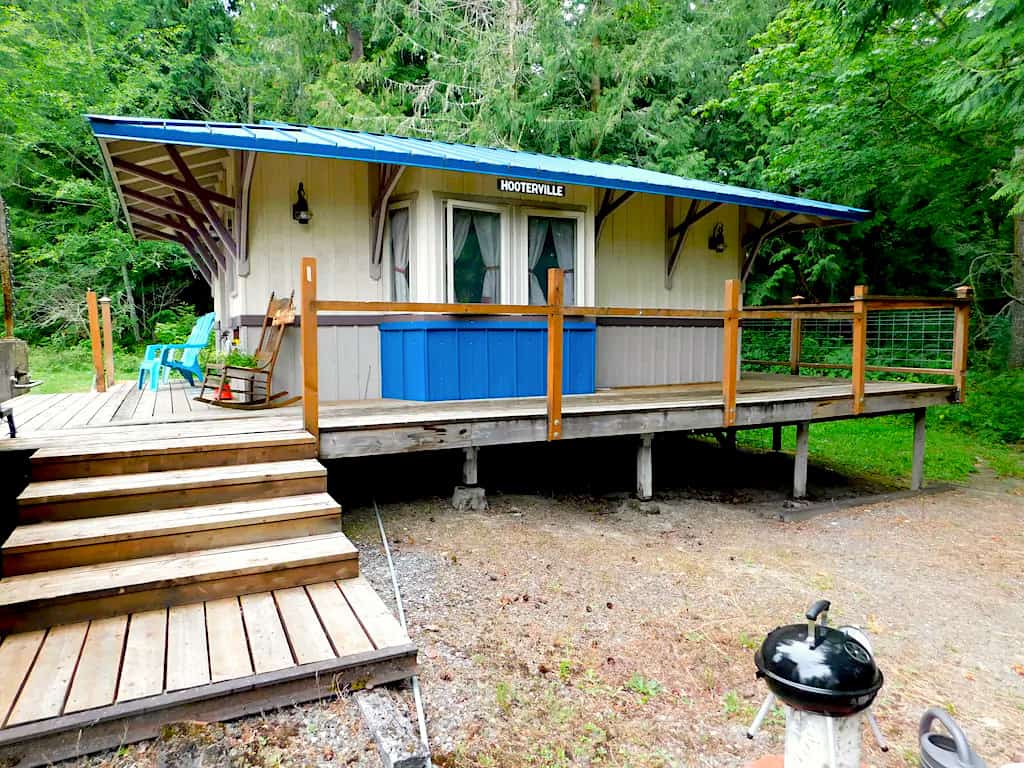 You know you've always wanted to sleep in a train station, and this one includes all the comforts of home – a queen-size bed with an additional small futon, a kitchenette, and a full bathroom with a shower. Relax on the outdoor patio while you barbecue dinner or meander around the small pond while you're here. Need more space, the caboose next door is also available.
The train station is closest to the Hurricane Ridge entrance to Olympic National Park, but you should also check out Whidbey Island and Deception Pass while you are in the area!
What we love about this renovated train depot: Great communication and the price is right!
Dogs? No
---
Olympic Mountains Tiny House in Sequim, Washington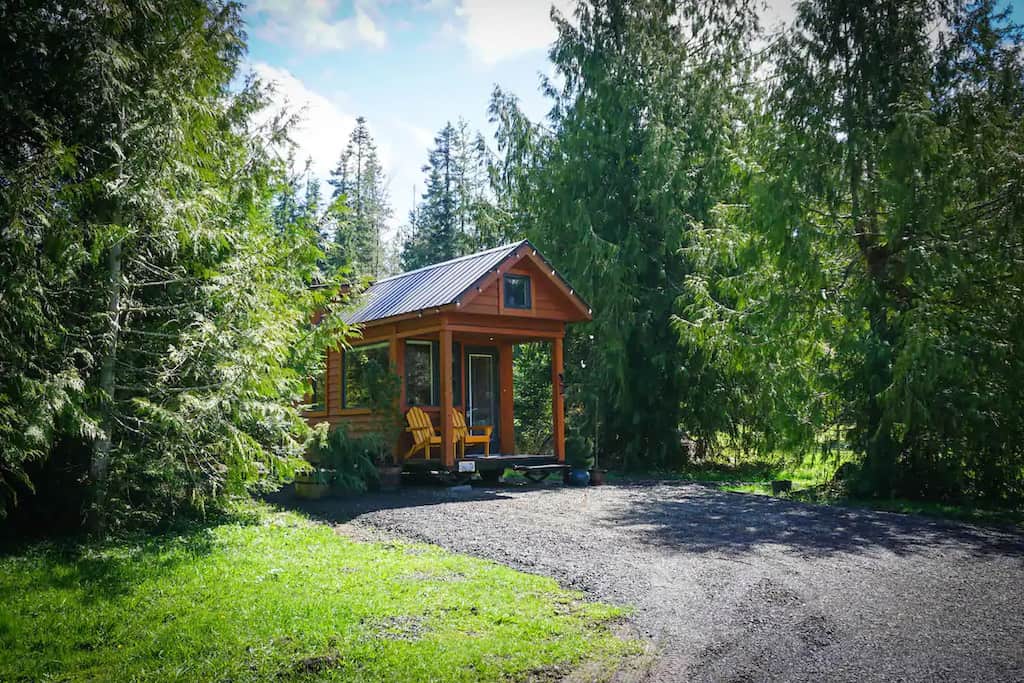 This beautiful new tiny home is tucked in the foothills of the Olympic Mountains, just a short drive from both Olympic National Forest and Olympic National Park. The home is located in Sequim – closest to the Hurricane Ridge Visitor Center within the park. The beautifully-decorated space includes two separate loft sleeping areas (with room for four guests), both with Tuft and Needle foam mattresses for cozy comfort. There is a full kitchen and a bathroom with a full-size shower. While this tiny home isn't high-tech, it does include electricity, as well as a TV with a Blu-Ray player.
The tiny home is located in a picturesque valley atop a mountain surrounded by tall timber. The forest is filled with wildlife – coyotes, black bear, cougar, bobcat, wild geese, and bald eagles. Its a great spot to get away from it all, while still being closs to major attractions.
What we love about this tiny home: The thoughtfully-designed interior.
Something to consider: This home doesn't have Wi-Fi, so plan on unplugging when you get here.
Dogs? No
---
Luxurious Glamping Tent Near Port Angeles, Washington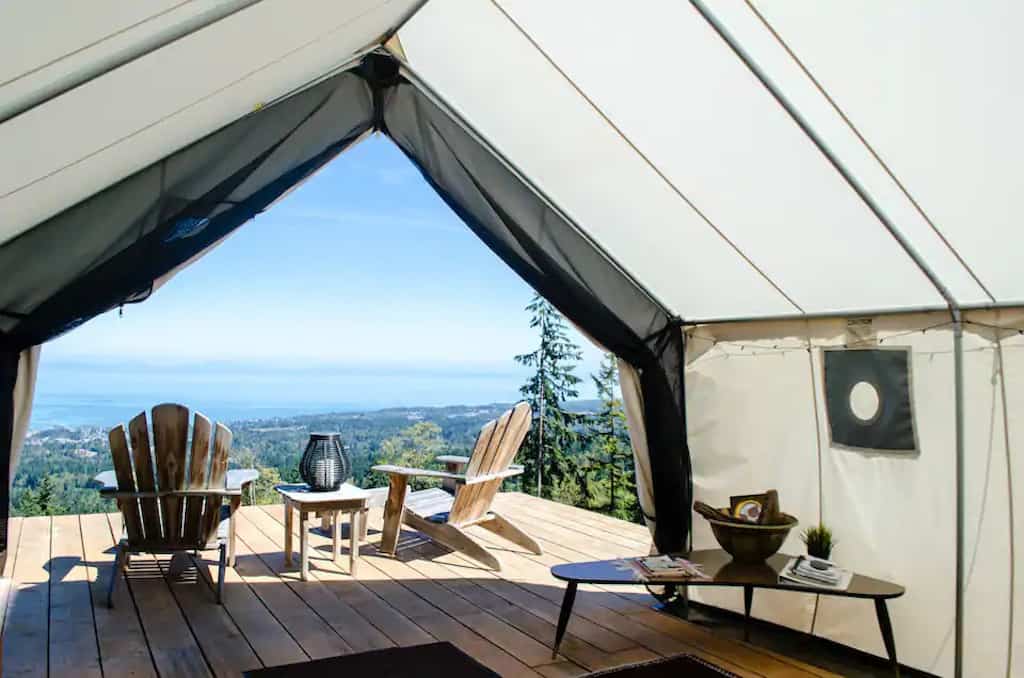 This comfy glamping tent outside of Port Angeles is famous for its incredible views of both mountains and the Strait of Juan de Fuca and the Salish Sea. The property is 15 minutes to downtown Port Angeles and 25 minutes to Olympic National Park & Hurricane Ridge. Inside the cozy tent, you will find a queen-size bed, solar power, a mini-fridge, and propane heat, but no running water. Drinking water is provided, and there is a porta-potty for getting down to business. Down comforters and wool blankets are provided to keep you warm.
Outdoors, you will have access to seven acres with lots of berries and wildlife, plus breathtaking views. The hosts provide a Jetboil stove and freshly-ground coffee too. It's everything you need for a fun and comfortable night under the stars near Olympic National Park.
What we love about this Port Angeles glamping tent: The views are beyond compare!
Something to consider: To take advantage of fresh, local berries, visit in July or August.
Dogs? No
---
Class A Motor Coach in Port Angeles, Washington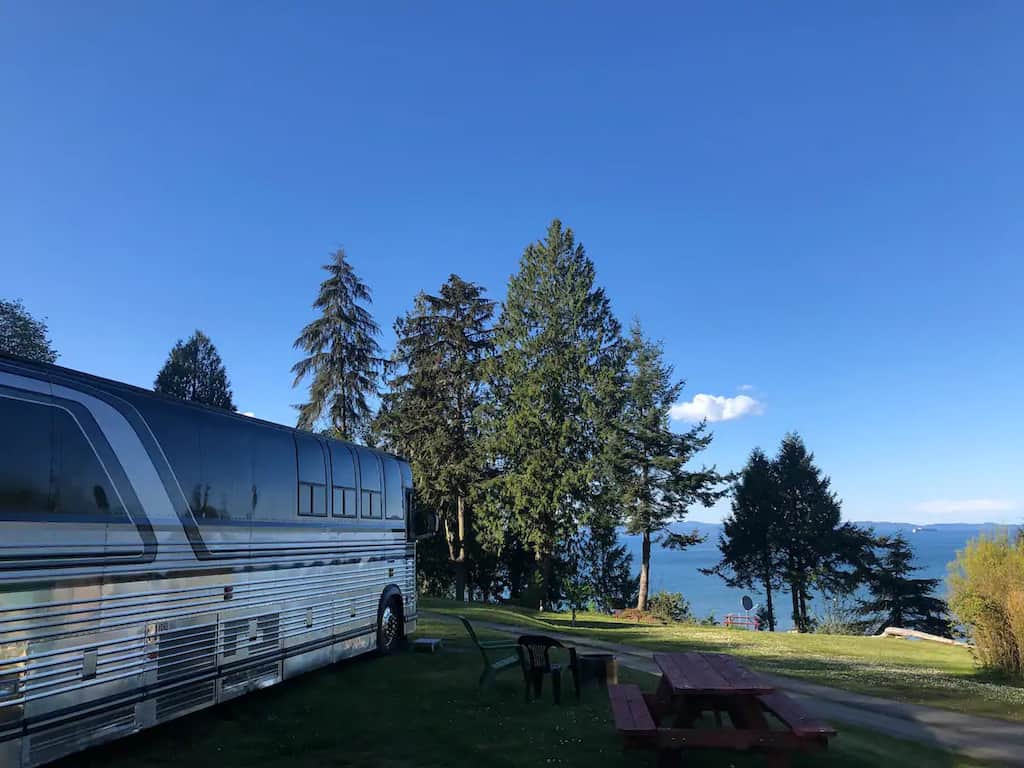 Welcome to Whiskey Creek Beach NW, located on the Strait of Juan de Fuca near Port Angeles. This is a camping resort that has lots of different lodging experiences, including cabins, cottages, tent sites, and a few unique accommodations like this Provost Private Coach. The resort is centrally located near several Olympic National Park entrances, great hiking trails, and awesome waterfalls.

The Prevost Private Coach has waterfront and mountain views. Full hook-ups mean you have water, electricity, hot showers, and a private bathroom. Enjoy the private fire pit, Adirondack chairs, and picnic table outdoors, and the beautifully renovated interior. Sleep on a queen-size bed in the master bedroom, cook up luxurious meals in the full-size kitchen, and relax in the spacious living room near the electric fireplace.
What we love about this cool glamping property: Easy access to the beach and Olympic National Park.
Something to consider: Outdoor lights are minimal, making for a beautiful night sky.
Dogs? Small dog under 25 pounds for an extra fee
---
Luxurious Waterfront Treehouse in Port Angeles, Washington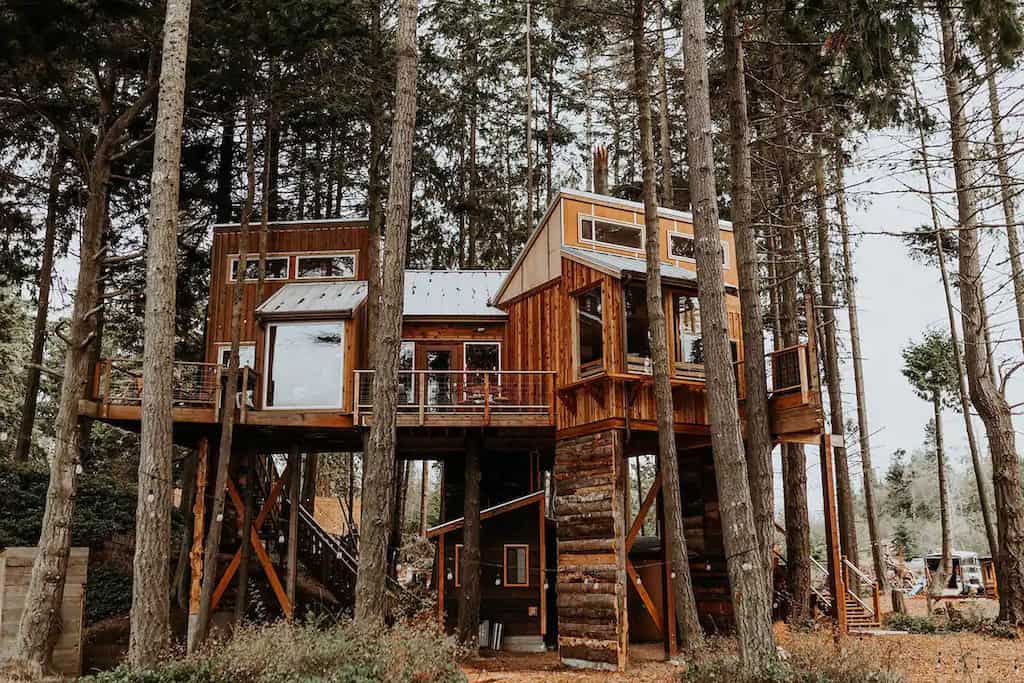 Ready for a memorable glamping experience on the Olympic Peninsula? This gorgeous treehouse apartment overlooks the Strait of Juan de Fuca. Floor-to-ceiling windows with incredible views mean you may never want to leave this cozy sanctuary. A private porch provides great sunset views. This part of the treehouse is a small space for two and includes a queen a single bed, a hotplate, microwave, refrigerator, Keurig, and basic cooking supplies. There is a full private bathroom downstairs with a shower, toilet, and sink.
The treehouse apartment is attached to another rental, but the spaces are all very private. Outdoors, you will find yourself on a high bluff with scenic views and two separate fire pits for enjoying the outdoors. The treehouse is located near several great Olympic National Park destinations, including Sol Duc Hot Springs and Falls.
What we love about this Port Angeles treehouse: It's a treehouse!
Something to consider: The kitchenette is perfectly adequate, but leave the gourmet meals at home.
Dogs? Yes, for a small fee
---
Heated Yurt in Sequim, Washington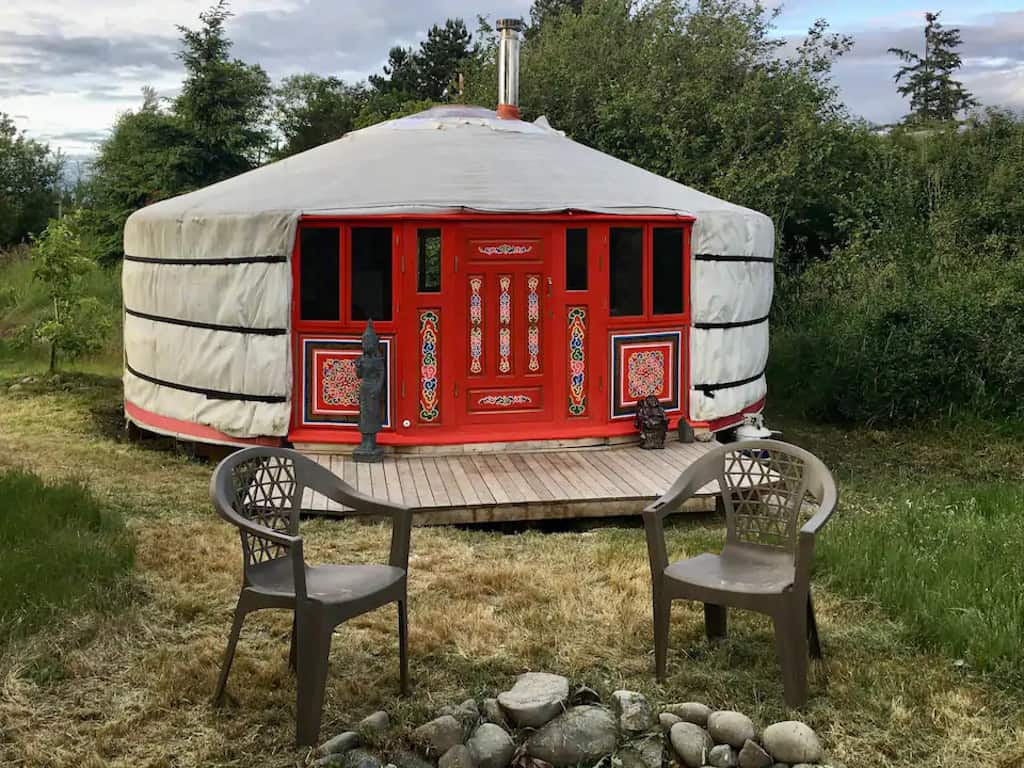 Stay in a cozy beautiful hand-painted Mongolian Yurt with a breathtaking view of the Olympic Mountains! This special hideaway provides the perfect place for you to explore the Olympic Peninsula and Olympic National Park. This beautiful space is heated with an electric heater and a wood-burning stove to keep you warm. There is cold running water, a full-size bed, dresser, table and chairs, full-size couch, and refrigerator. There is an indoor composting toilet, but no shower.
The yurt is located on a one-acre lot with another home on the property. It's a neighborhood setting, but has fantastic views of the mountains.
What we love about this glamping yurt: The cozy interior.
Something to consider: You will have to boil water if you want it hot for dishes or cleaning up.
Dogs: No
---
Ready to explore more of the Olympic Peninsula? Do it in style at one of these beautiful Olympic National Park glamping retreats! We've got a few more posts to help you explore the Pacific Northwest:
---
Pin for Later?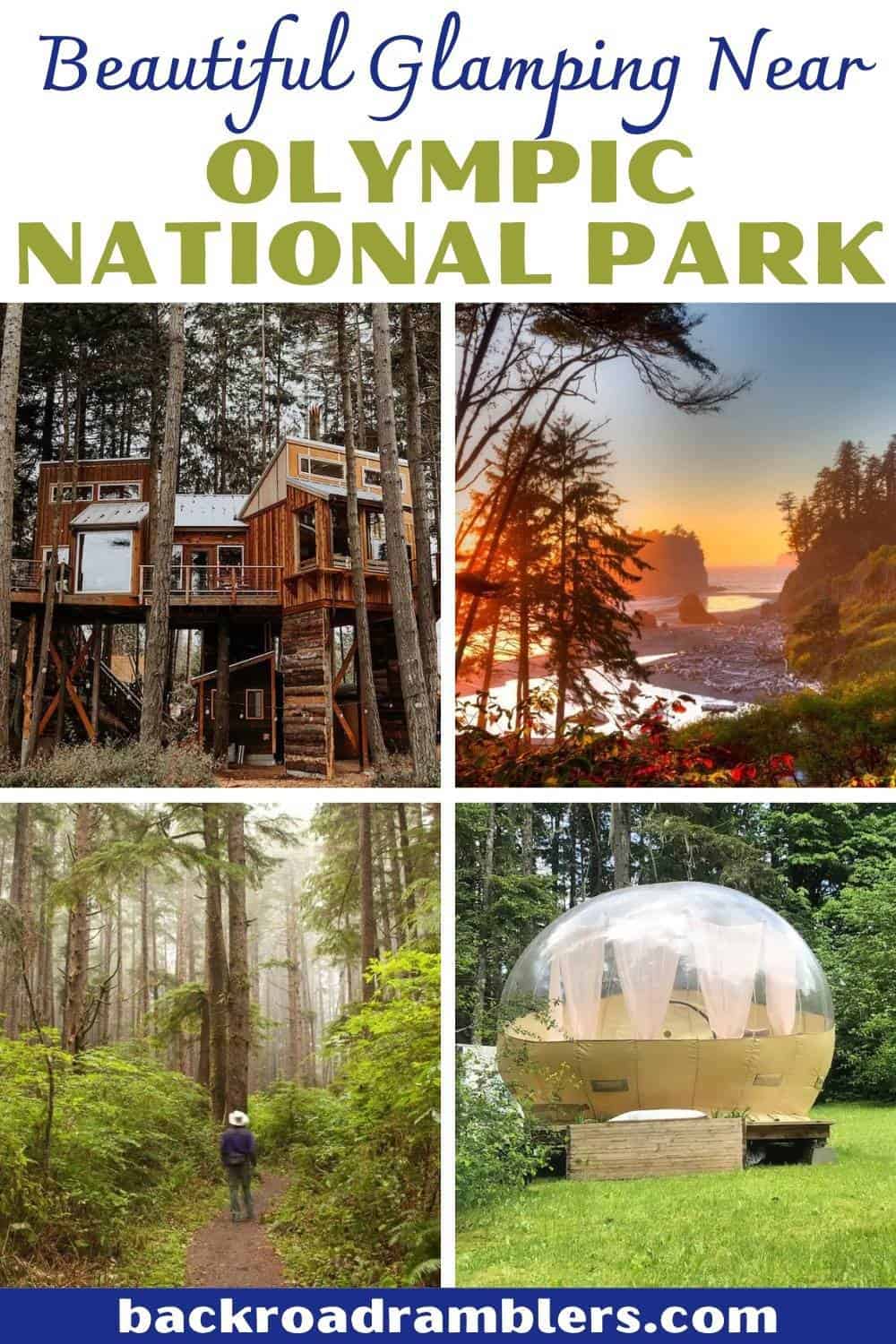 Our Favorite Resources for Road Trips and Outdoor Adventures

These are the resources we use for planning road trips, saving money while traveling, and shopping for outdoor gear.

Car Rentals: While we use our own car most often for road trips, we also enjoy flying into major airports and then renting a car for more regional road trips. We use Kayak to compare prices and find deals from dozens of car rental agencies at once.

Flights: We use Kayak or Skyscanner to search out flight deals. Money-saving tip: If you find yourself using the same airline over and over again (we are huge Southwest fans), consider joining their loyalty program and getting an airline credit card. With our Southwest Rewards Visa, we earn a few free flights each year.

Hotels: When it comes to lodging, we seek out small boutique hotels or quirky roadside motels. First, we search for hotels on TripAdvisor so we can read reviews from other travelers. Then, we use Booking.com to make reservations (they have the best prices, plus a flexible cancelation policy).

Camping: Camping is one of our favorite things to do on long road trips. It allows us to explore the outdoors, cook our own food, and save money. We use They Dyrt Pro to find campsites and read reviews before booking on Recreation.gov or state park websites.

Glamping and Vacation Rentals: For weekend getaways and shorter vacations, we love glamping (check out our glamping resource guide). We book glamping properties through Tentrr, Hipcamp, and Airbnb. For cabins and vacation rentals, we like to use VRBO (they have fewer fees and a better cancelation policy than Airbnb).

Guides and Maps: If we are visiting a new region, we usually invest in a Moon Travel Guide for the area. We pass them on to friends and family after our trip. If we are planning on hiking, we also purchase a Falcon guide in the Best Easy Day Hikes series.

Outdoor Gear: We are REI Co-Op members. It cost us $20 for a lifetime membership, but we get a yearly dividend based on our purchases, plus great deals and coupons throughout the year. REI also has a great return policy.

Check out our complete guide for planning a road trip on a budget