A forest of giant trees, a massive shimmering waterfall, and a cold, deep lake for your summer dip. These are icons of summer on the Olympic Penninsula in Washington. Marymere Falls Trail and Lake Crescent combined make a stellar day trip to Olympic National Park.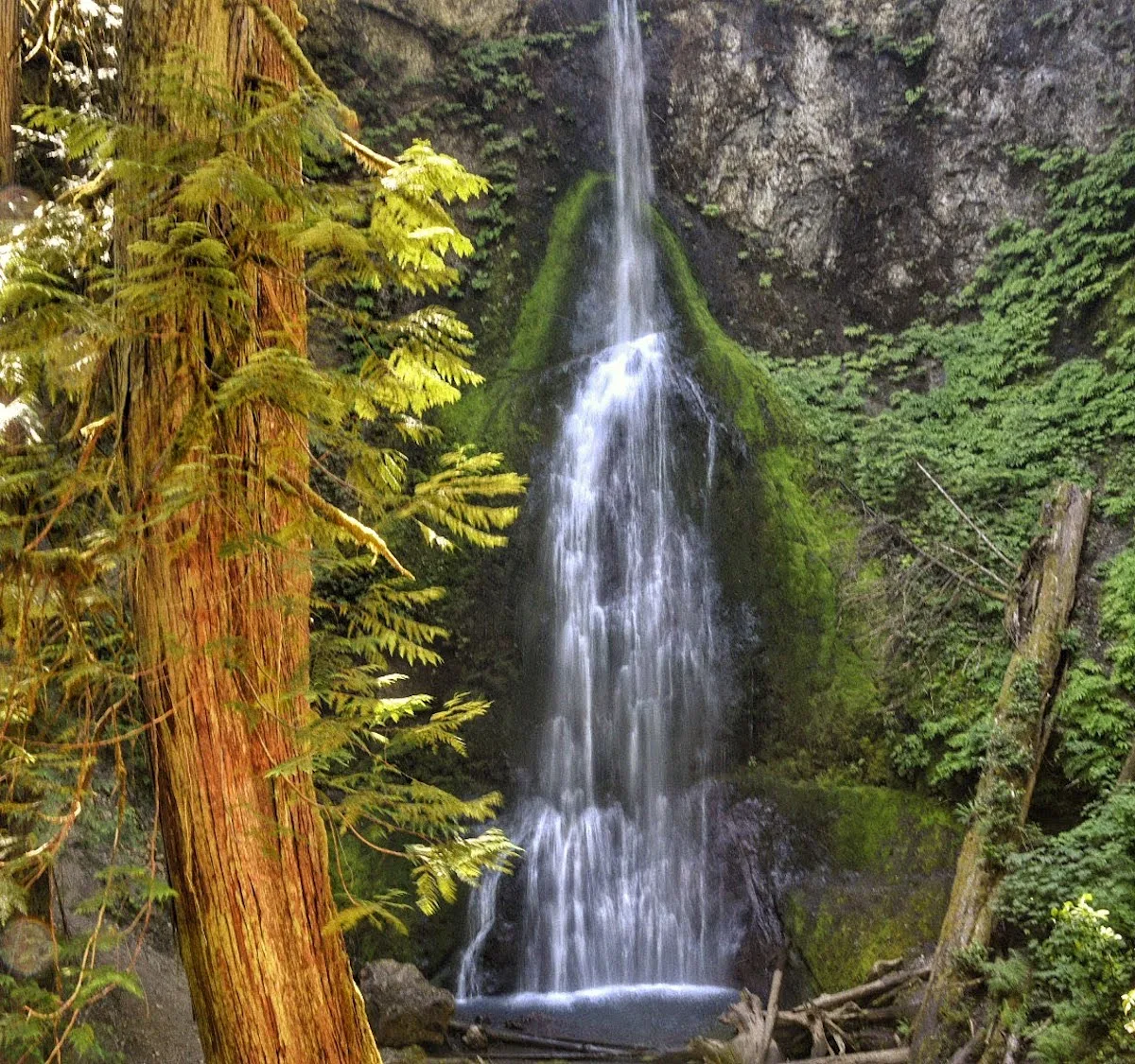 Trust me when I tell you that this massive national park is too big to explore quickly. It's far easier to break up your adventures into manageable day trips so that you can thoroughly immerse yourself in the experience.
Today, we're hiking on the Marymer Falls Trail – an easy (and popular) hike to a 90-foot waterfall near Lake Crescent. The Marymere Falls hike is only 1.8 miles and will take less than an hour. Kids and cameras will both add to the time you spend on the trail, obviously, but you can hike this in the morning and then have a picnic lunch on the beach at Lake Crescent when you're done.
Marymere Falls Trail is included in the Day Hiking the Olympic Peninsula by Craig Romano. This is an awesome guide to have with you if you plan on doing more hiking during your trip. Pick up an Olympic National Park trail map too!
Quick Facts: Marymere Falls Trail
Length: 1.8-mile loop
Difficulty: Easy
Elevation Range: 600 ft – 900 ft
Elevation Change: 300 ft
Dogs: No
Cost: $30 entrance fee is good for a carload for 7 days
Directions to Trailhead
Marymere Falls Trail Overview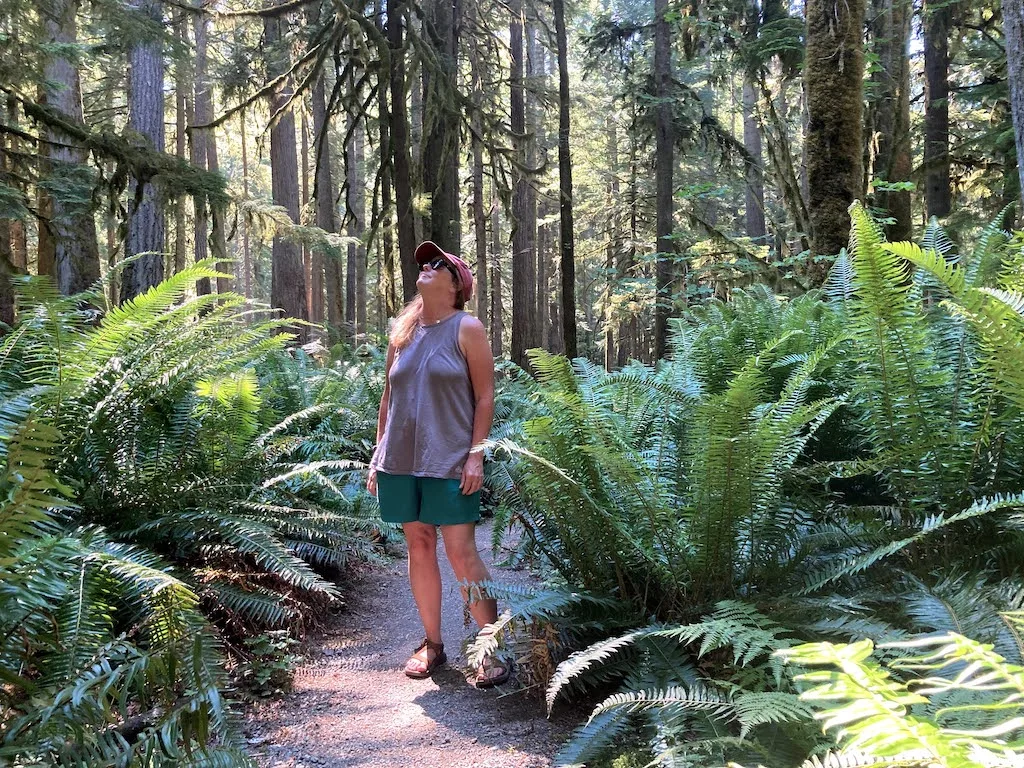 The trail begins at the Storm King Ranger Station near the Barnes Point boat launch. You can also hike to Marymere Falls from Lake Crescent Lodge, which is a little longer at 2.1 miles round trip, but just as easy.
The hike to Marymere Falls isn't exactly a hidden gem, so if you want to hike with fewer crowds, get there early in the morning on a weekday.
We hiked the trail on a Monday morning, in what turned out to be one of the hottest days ever on record for Olympic National Park. The trail was only crowded right near the waterfall because people were taking photos and admiring its beauty.
The first thing you'll do after passing the Storm King Ranger Station is head into the woods and then through a pedestrian tunnel that takes you under the highway. Once you're through the tunnel, the trail opens up. It is a wide, flat trail with plenty of room for dozens of hikers to spread out among the forest.
As you walk, you'll see side trails leading to Mount Storm King (4.1 miles round-trip) and the Barnes Barnes Creek Trail (10 miles round-trip). Both of these trails are less traveled than the one you're on, so if you're hoping to find solitude, not to mention a workout, these are great options.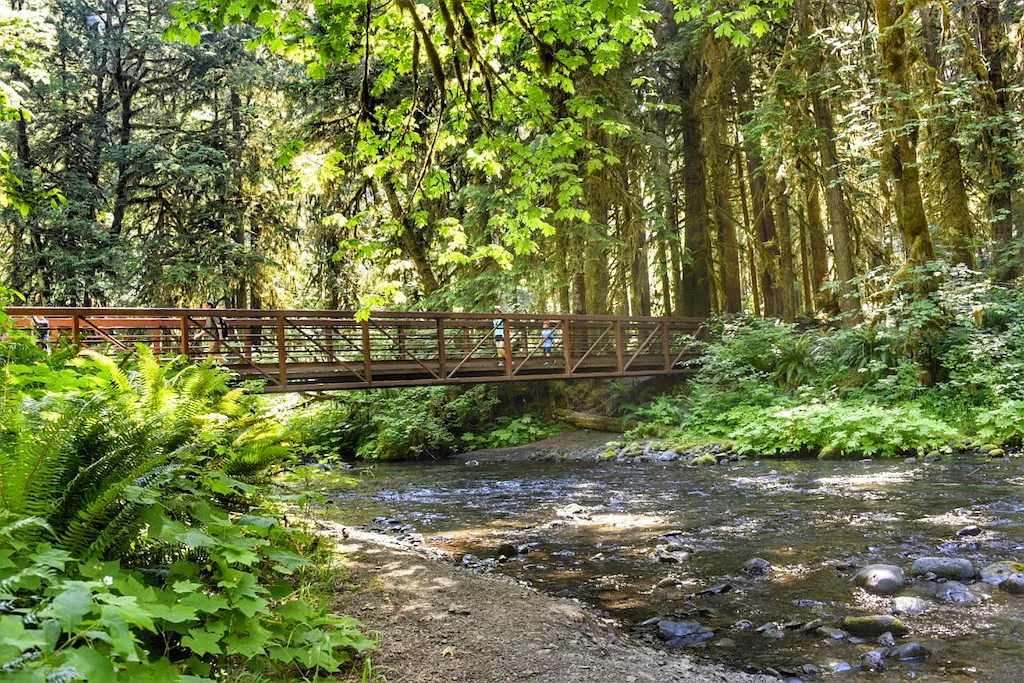 Before you know it, you'll see Barnes Creek in front of you and a steel footbridge that brings the trail across the river. The creek bank here is wide and flat, and it's a nice place to explore if you have kids or just want to take a little break before continuing onward.
Next, you will cross a smaller log bridge and then start a moderately-steep climb up to the falls. Stairs make this part easier than it would be, but because the trail narrows significantly, you may also find yourself in a bit of a hiker traffic jam.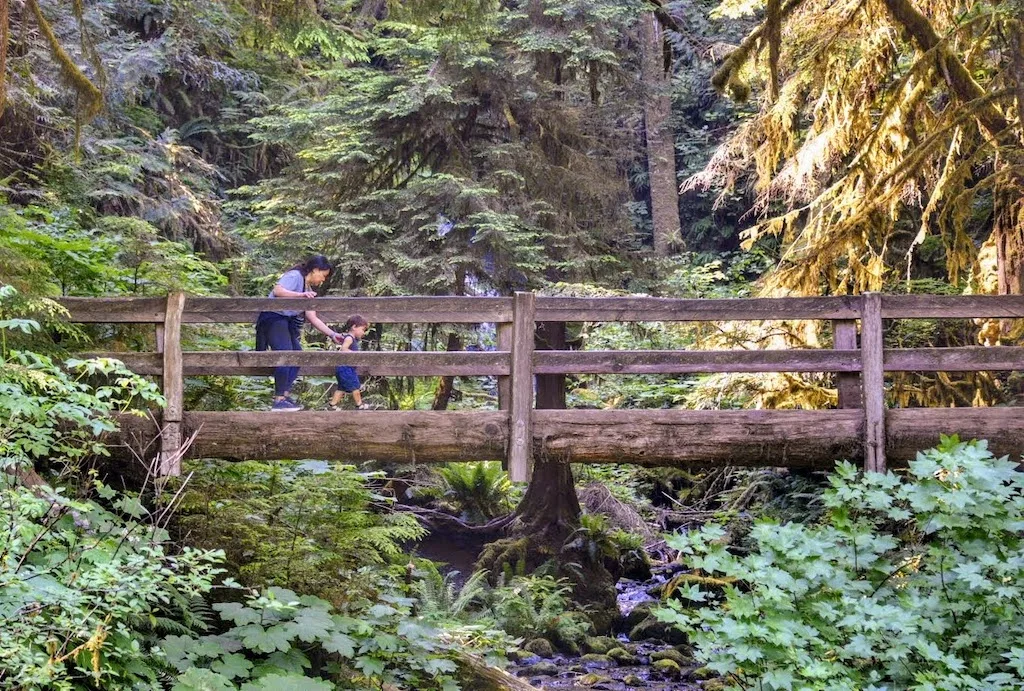 The trail twists and turns among massive cedar trees, with guard rails to keep everyone moving in the right direction. Before long, you'll hear, and then see Marymere Falls tumbling over the rocks into a beautiful shallow pool. If the water is really flowing, you may even feel some spray from the falls.
There's an upper and lower viewpoint for checking out the falls. Unfortunately, if you're sharing the trail with lots of other hikers, you'll feel pressured to move on so that others can have a turn admiring their beauty.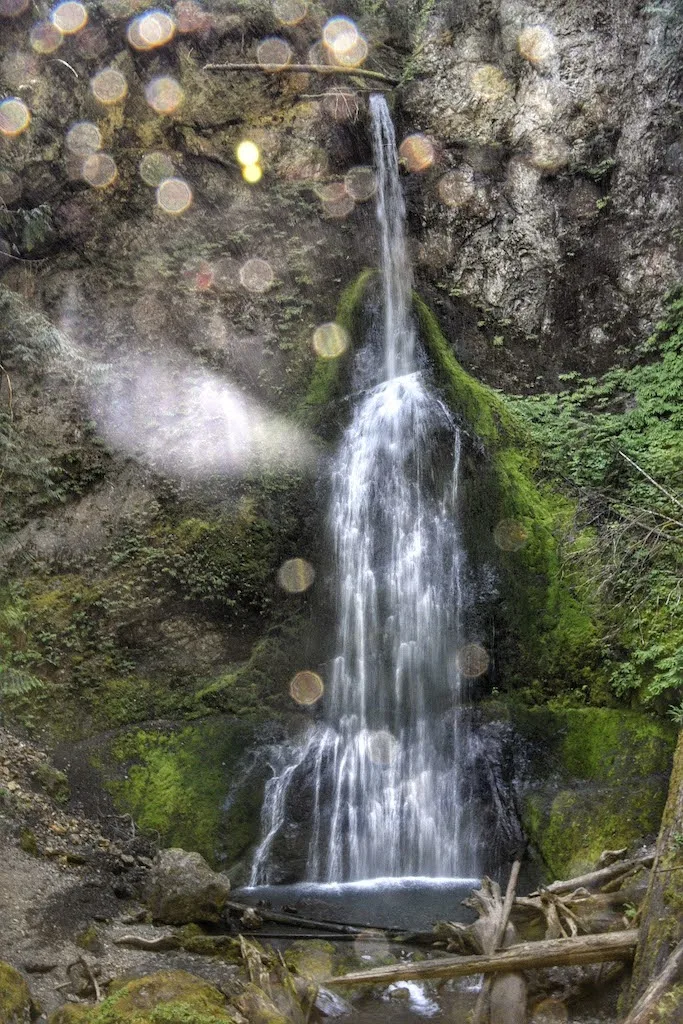 After viewing the falls, Marymere Falls trail loops around on itself and heads back toward the parking area.
Marymere Falls Trail Map and Elevation Profile
The map below is courtesy of AllTrails. The trail to Marymere Falls is outlined in red, but you can also see where the trail turns to head up Mount Storm King and where it continues on the Barnes Creek Trail.
Lake Crescent in Olympic National Park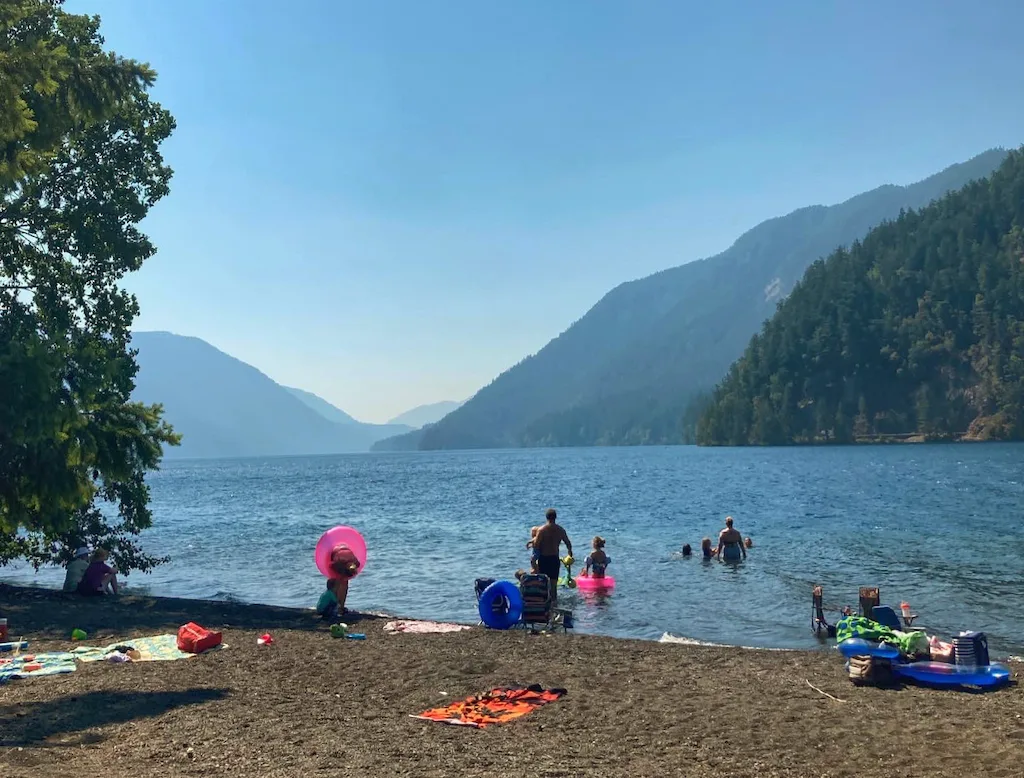 If you're hiking in the summer, you can reward yourself with a swim in Lake Crescent after your hike. Lake Crescent is incredibly blue, incredibly deep, and incredibly cold. The blue color is thanks to the lack of nitrogen in the lake. It's also the second deepest lake in the state of Washington, reaching depths of 623 feet at its deepest point.
We just happened to visit Lake Crescent during a sweltering day last summer, and the water temperature was a lovely 67 degrees Fahrenheit, but we heard from the ranger on duty that these temps aren't the norm and the water is usually much colder.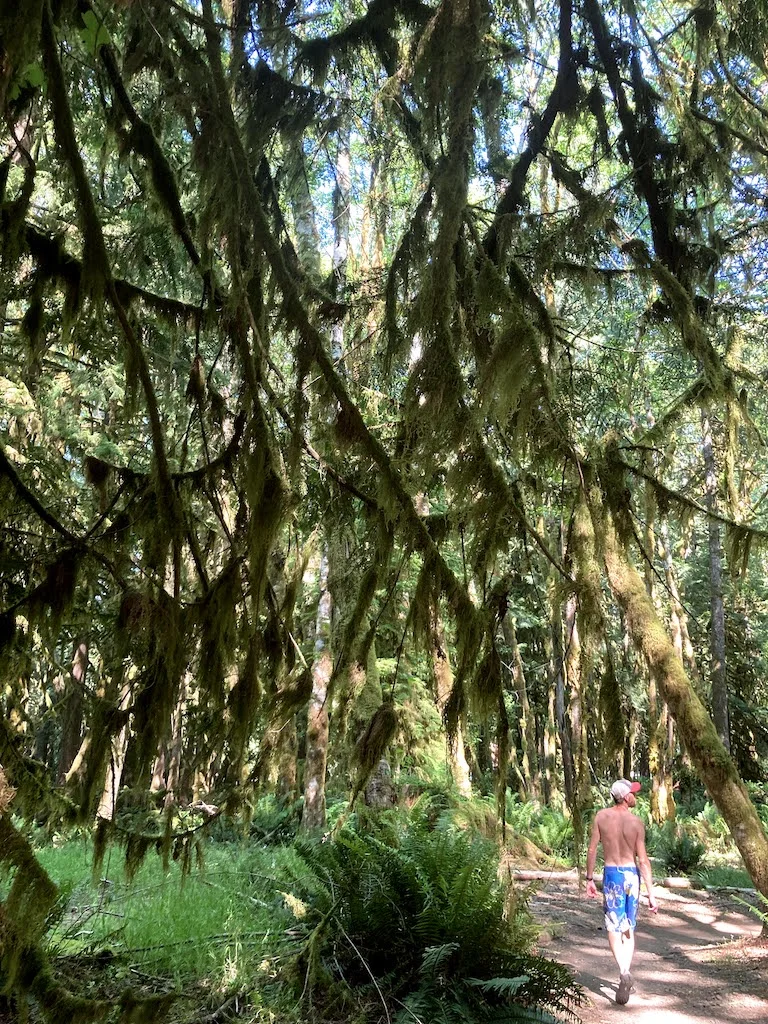 We took the trail to the water from Storm King Ranger station because that's where our car was parked, but there are unofficial beaches all along the shore from here to Lake Crescent Lodge. You can also walk on the lovely Moments in Time trail, which is a .7-mile loop that hugs the shore of the lake and also takes you into the beautiful old-growth forest.
---
Follow us on social media:
Pin for Later?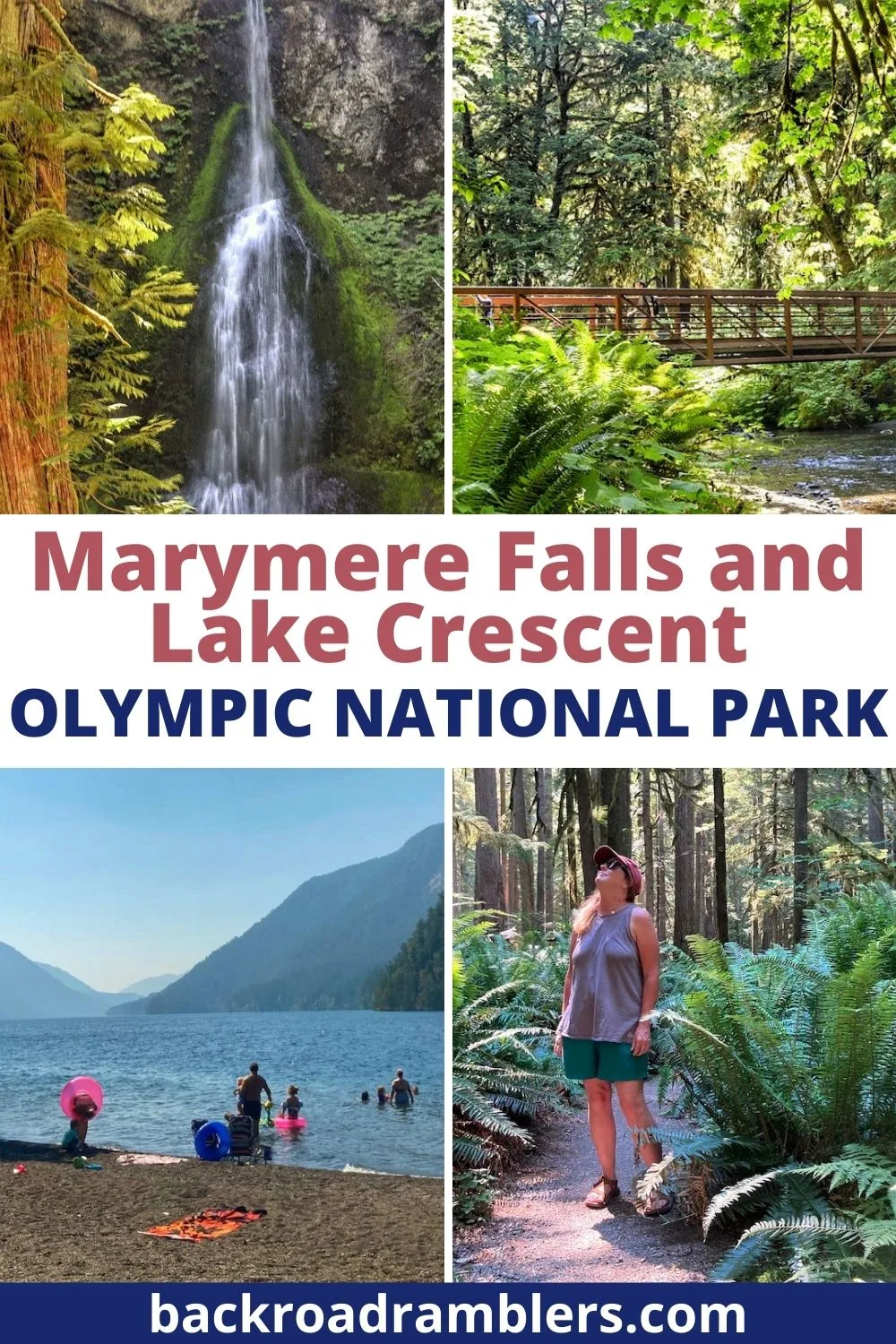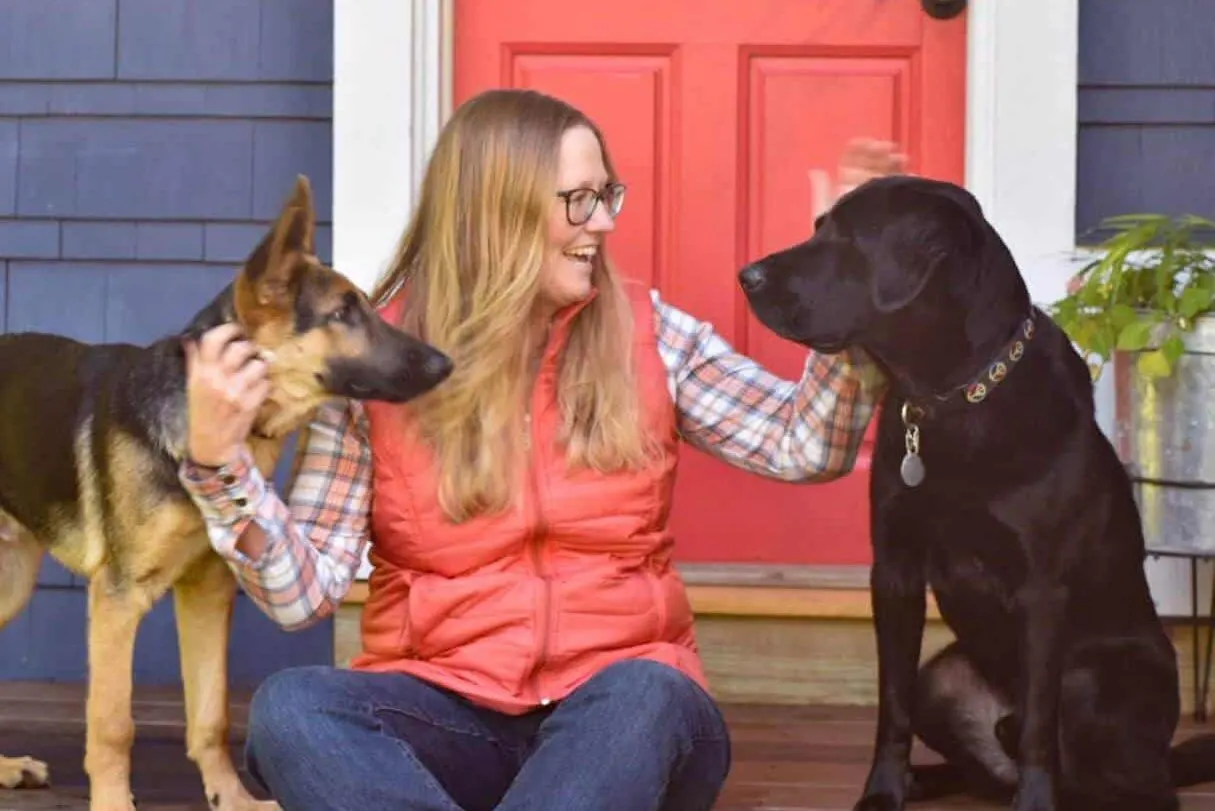 Watch the Marymere Falls web story!