Please check to make sure destinations are open to visitors before planning a trip and follow local guidelines. We earn a commission from affiliate links that may be included in this post.
If ever there was a beautiful, must-visit American town, Port Townsend, Washington has to be it. Located at the northeastern tip of the Olympic Peninsula on the Puget Sound, Port Townsend experiences a temperate climate year-round and is best known for its Victorian architecture and natural beauty.
Our family first explored Port Townsend many years ago on a cross-country road trip, and it has been captivating us ever since. In fact, our firstborn has since flown the coop and makes his living building and repairing wooden boats on the waterfront in Port Townsend. This means that we get to spend lots of time in our favorite west coast town!
Because Port Townsend is so near and dear to us, we thought we'd share some of our favorite Port Townsend activities with you, but first some important details for those of you who want to visit one of the most beautiful small towns in America.
How to Get to Port Townsend, Washington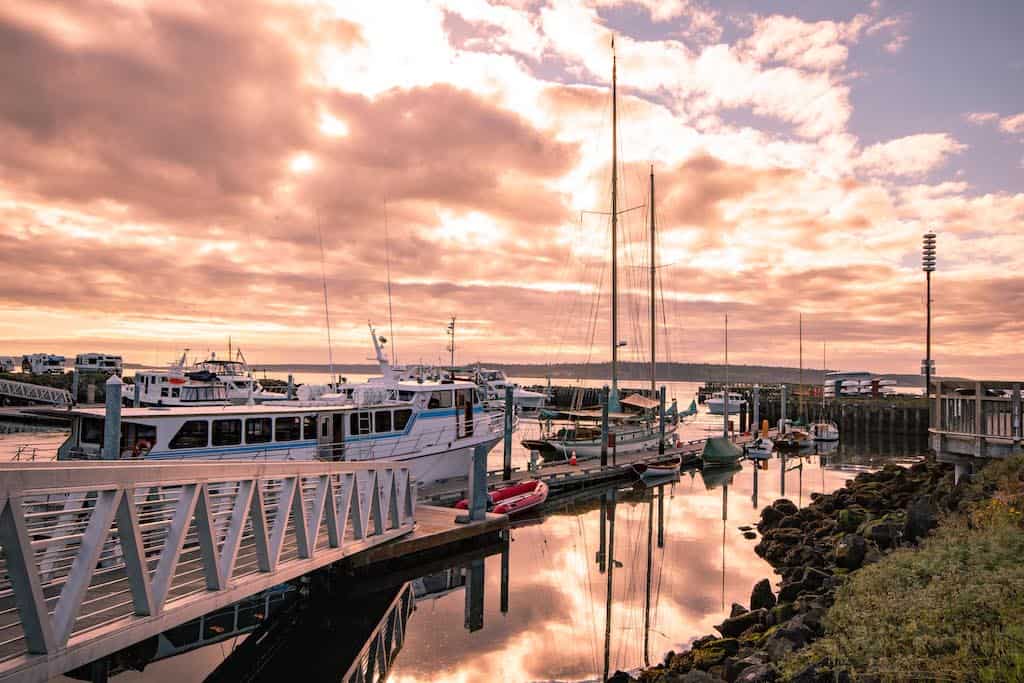 Port Townsend is located on the northeastern tip of the Olympic Peninsula, just two hours or so from Seattle. After flying into Seattle-Tacoma International Airport (Sea-Tac), you can either rent a car or embark on a hodgepodge of different types of transportation to get to your destination.
You don't need a car to get around Port Townsend, especially if you're staying at a downtown Port Townsend hotel. The area is very walkable, with all the major sites and attractions within the downtown area. If you are planning on road-tripping to Olympic National Park, then a car rental car will be very helpful.
If you don't want to rent a car, you can take the Light Rail from Sea-Tac to the Pioneer Square Station, walk two blocks to the ferry terminal and hop on a ferry to Bainbridge Island.
From Bainbridge Island, catch the Kitsap Transit bus to Poulsbo, and then transfer to the Jefferson Transit bus to the Port Townsend park-and-ride. From there, it's a mile to downtown Port Townsend. You can hoof it, or hop on the Jefferson Transit downtown shuttle.
See? You've just taken a plane, train, ferry, and bus to get from Seattle to Port Townsend. Now you're ready for a long siesta!
The Best Things to do in Port Townsend, Washington
Ready to fall in love with the cutest Victorian town on the planet? Pack a rain jacket, and embark with us on some of the best things to do in Port Townsend, Washington. You're going to love this place!
Get Outside: Discover Port Townsend's Parks and Natural Areas
No matter where we go, we love to explore parks and trails, beaches, and campgrounds. Port Townsend has so many beautiful natural areas! Here are some of our favorite outdoor spots in Port Townsend.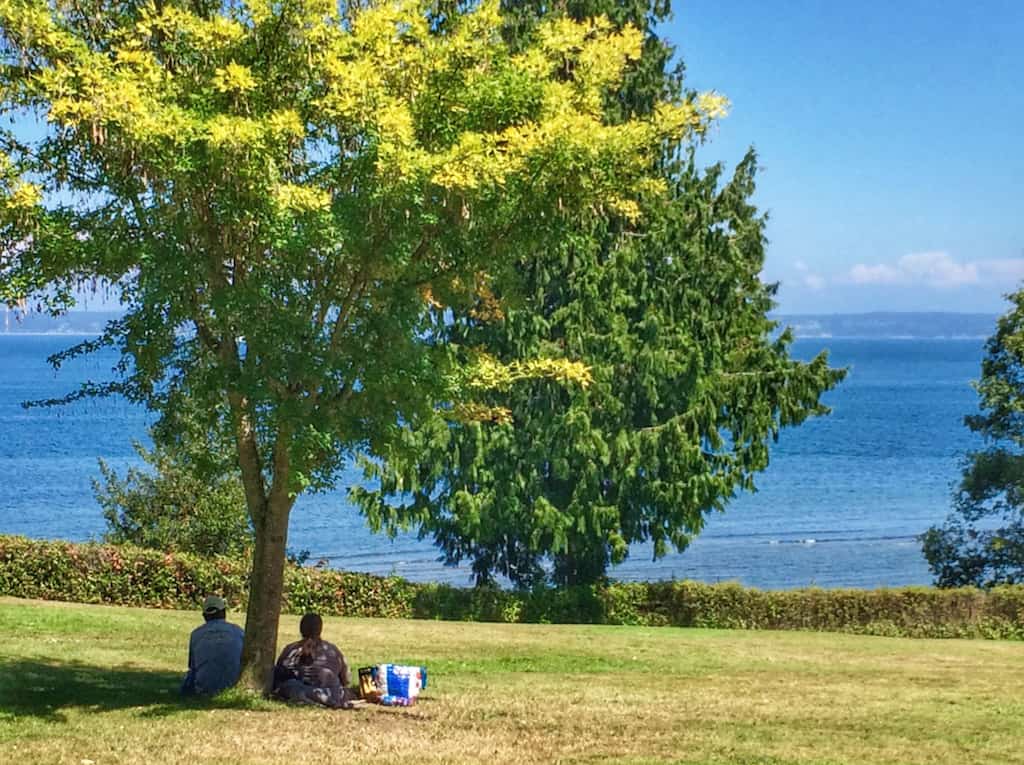 Chetzemoka Park is the Perfect Spot for a Port Townsend Picnic
This little waterfront park is a treat to visit on a sunny afternoon. Bring a picnic and stroll through the expansive gardens of donated tropical flowers and the colorful rose promenade. There are botanical secrets At Chetzemoka Park that are just waiting to be discovered. You are also likely to spot deer browsing on the park's lush grass. There's a short trail that leads to a small rocky beach, a few bench swings to relax on, and plenty of picnic tables.
The best part about Chetzemoka Park is that you can walk here from downtown. you'll find shady spots to relax and amazing views of the Puget Sound. It's a peaceful in-town park that is full of surprises!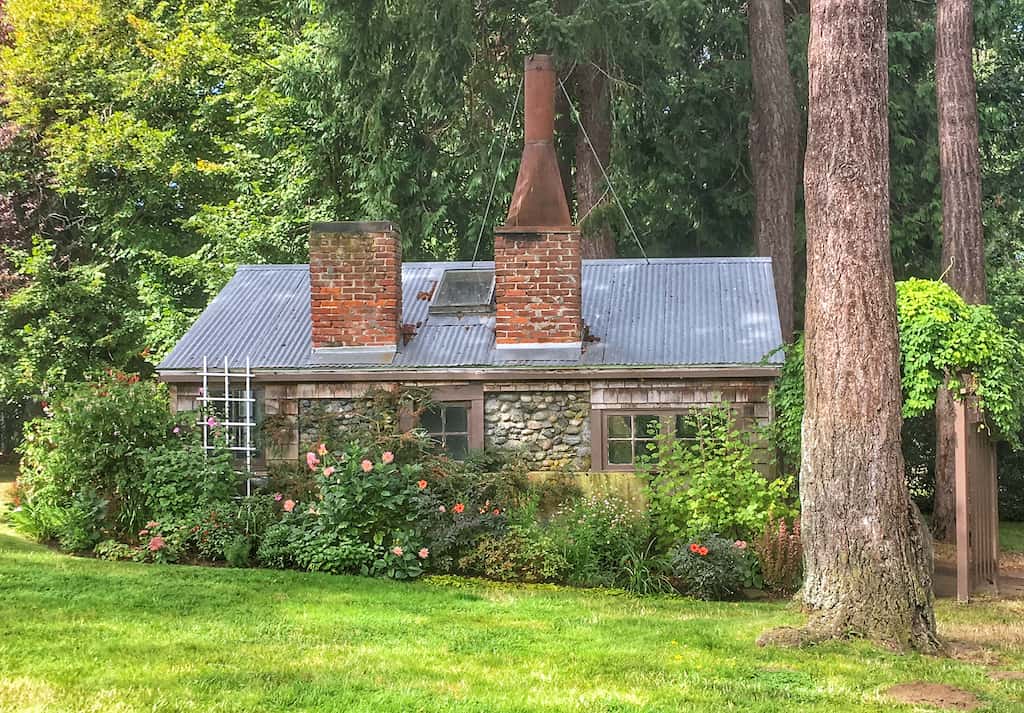 Looking for Port Townsend Camping? Check out Fort Worden State Park
For Port Townsend camping and hiking that's close to downtown, you really can't beat Fort Worden State Park, plus Fort Worden is a great destination for hikers, swimmers, anglers, and nature lovers. You could visit every day for a week and not tread on the same trail twice!
There are two distinct camping areas in Fort Worden State Park. The Beach Campground is the most popular (for obvious reasons), but the beach sites are quite exposed, offering little shade or privacy. If this doesn't bother you, then you will love the beach campground for its awesome view and its proximity to the Point Wilson Lighthouse and the Marine Science Center.
If you are looking for a more sheltered site, consider the Upper Forest Campground, which provides both shade and privacy. It is located in the southwest corner of Fort Worden, near the Chinese Gardens Lake. 25 of the 30 sites provide full hookups for RVs. The other 5 are primitive sites suitable for hikers or bikers. When camping in Port Townsend, we almost always choose the Upper Forest Campground.
Fort Worden campgrounds are open year-round, and if winter camping isn't' your thing, there is dedicated lodging available as well. You can make your reservation online on the Washington State Parks website.
Insider tip: In the summer, Port Townsend camping at Fort Worden State Park can be really busy. Reservations are a must in July, August, and September. You can probably get away with not making reservations during the rest of the year.
Explore the Abandoned Fort Worden Bunkers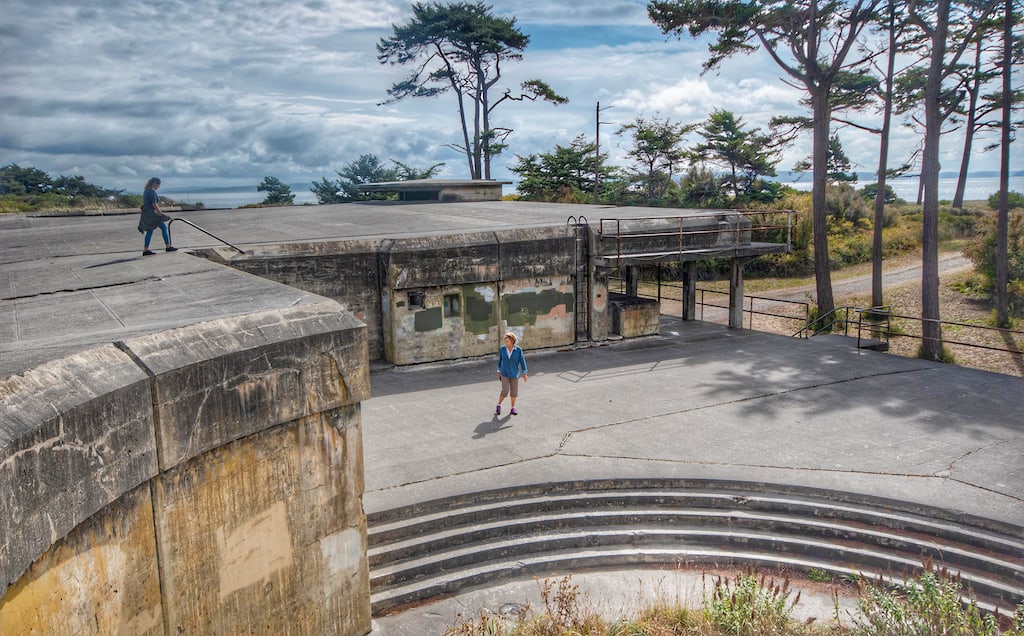 When our kids were younger, their favorite part of the entire Port Townsend experience was the turn-of-the-century bunkers in Fort Worden State Park. The bunkers are widespread throughout the park, but our favorites are nestled into the bluffs overlooking the Straits of San Juan de Fuca and the Puget Sound.
Take heed because these abandoned bunkers are massive, unsupervised concrete structures without any of the safety precautions or oversight you might expect in a historical landmark. Obviously, that's what makes them so much fun to explore!
Filled with unlit tunnels and chambers, rail-less stairways, vertical ladders, and the sense that once entered, these "catacombs" (as our kids coined them) could become labyrinths without escape. The bunkers are a treat for adventurous or imaginative souls and would make a great setting for the next big horror flick.
Visit the Point Wilson Lighthouse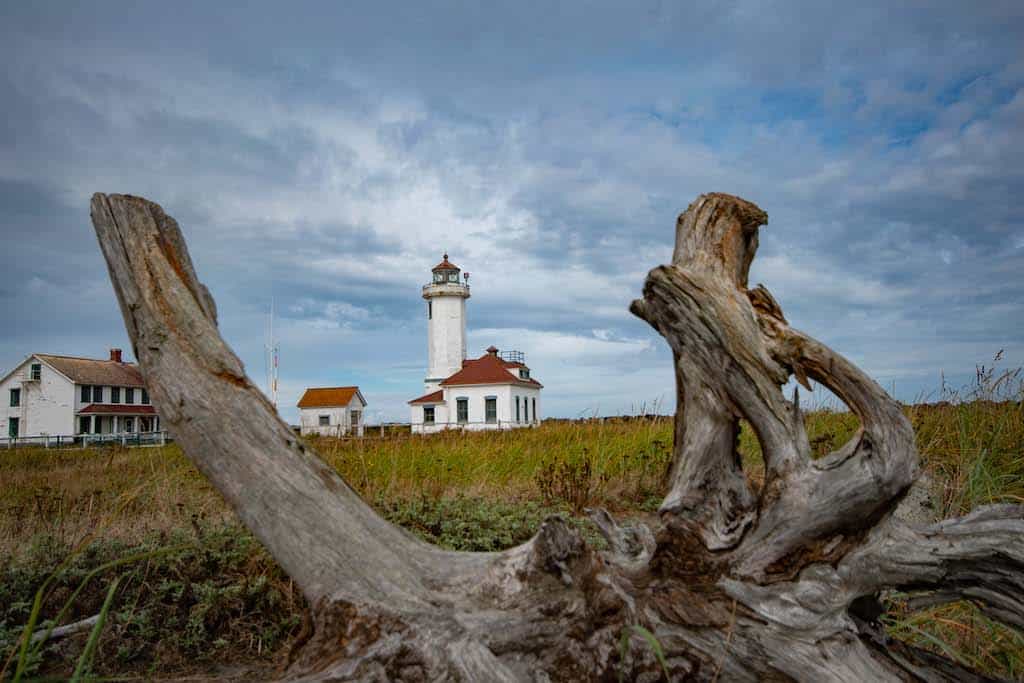 The Point Wilson Lighthouse is located right at the entrance to the Puget Sound at Admiralty Inlet at the tip of Fort Worden State Park. It is a vital navigational aid for ships coming and going in the area. The original lighthouse was built in 1879 and sat atop the lightkeeper's house. The current lighthouse and fog signal building were both constructed in 1913. It is one of 19 U.S. lighthouses still standing along the Puget Sound.
Point Wilson lighthouse is not an official part of Fort Worden State Park, but the park provides easy access to the lighthouse grounds. It can be reached by walking along Fort Worden Beach or the park's north shore. Tours are offered on Saturdays from 1 to 4 p.m. from May through September.
Visit the Port Townsend Marine Science Center
This beloved little science center in Fort Worden State Park makes a great stop on a rainy afternoon, or any time if you have kids. The Marine Science Center opened in 1982 and provides hands-on explorations to teach kids and adults about the Salish Sea with touch tanks, aquariums, and even a hydrophone to listen to offshore whales.
The center is also home to one of only six fully articulated orca whale skeletons in the United States. The Marine Science Center is open on the weekends during the winter months and every day but Tuesday during the summer.
Explore Downtown Port Townsend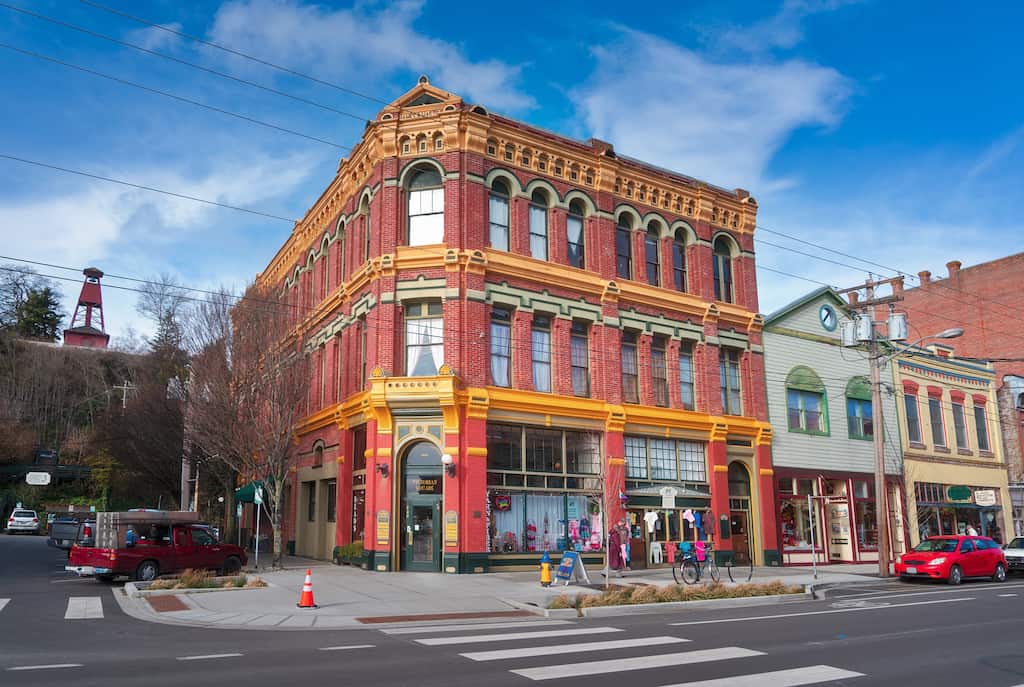 Insider tip: If you book a room at a downtown hotel, you can do all of your exploring on foot. Even though Port Townsend isn't big, there's plenty to do without having to get in your car.
Our Favorite Port Townsend Restaurants in the Downtown Area
We've done a lot of eating in Port Townsend, and our favorite restaurants change every time we visit. The following list includes some of our very first favorites, as well as new loves from recent visits. I know there are many, many restaurants that we haven't had a chance to visit, so be sure to experiment and let us know what we're missing.
Waterfront Pizza. Located on Water Street in the center of town, this is not your ordinary pizza joint. Unique flavor combinations and fresh ingredients come together to create otherworldly pies that we can't get enough of. The lines are long but believe me, the pizza is well worth the wait. We recommend ordering at the takeout window and eating outside near the water.
Khu Larb Thai. Superb, authentic Thai food can be yours without leaving the shores of the US. The Olympic Peninsula's first Thai Restaurant has been wowing foodies for more than 25 years. No matter what you order, you'll be delighted with the food, the service, and the ambiance.
Since our last visit, there is a new Thai restaurant – Banana Leaf Thai Bistro, which is pretty awesome. Our suggestion. If you are looking for an elegant Thai meal, go with Khu Larb. For more casual fare or outdoor seating, check out Banana Leaf.
Hillbottom Pie. How is it possible that Port Townsend can sustain two amazing pizza shops? Every single thing we've ordered from Hillbottom Pie has been amazing – soup, pizza, dessert. Everything! Get the marionberry pie if they have it!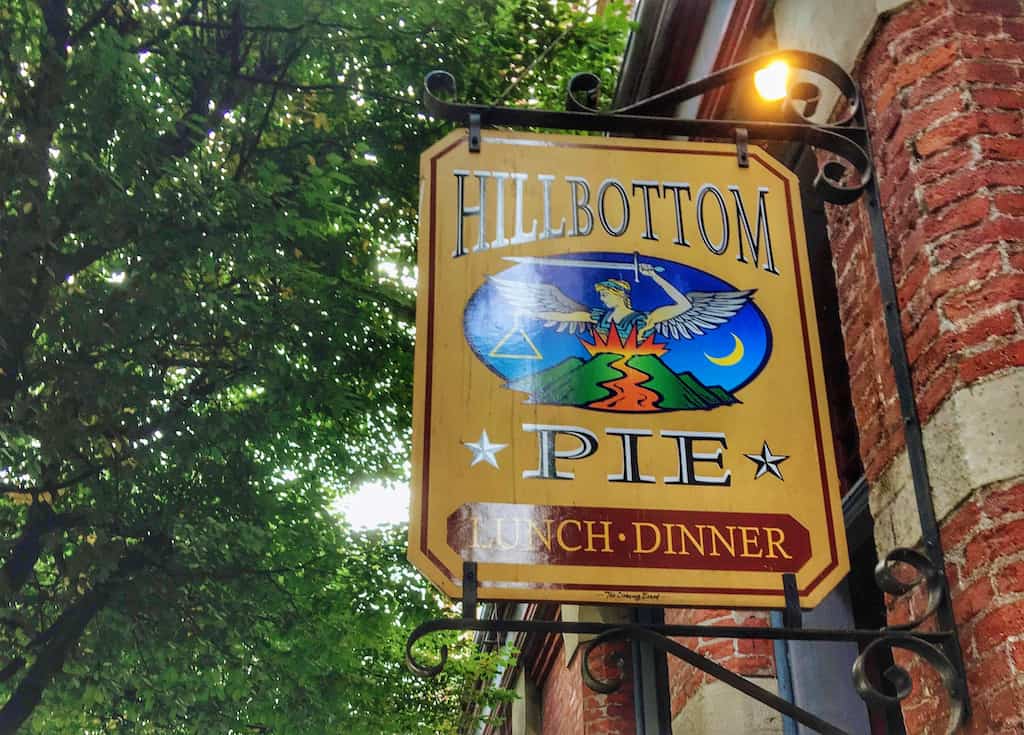 Elevated Ice Cream. Swiss Orange Chocolate, Blind Love, and Marionberry –these were our favorite flavors, but there are dozens and dozens to choose from. They're all original, all homemade, and all delicious. No matter how full your belly is from all that Thai food and pizza, do not skip the ice cream!
Hanazona Asian Noodle Shop. Although Hanazona has been open since 2005, we visited for the first time last year. This is a small place that is perfect for a quick lunch. It features affordable, delicious, organic food, much of which is sourced from local sources. My son, who works in Port Townsend says that Hanazona is totally habit-forming. We definitely agree!
Better Living Through Coffee – The best small-town coffee shop I've ever been to, and a strong contender for my favorite coffee shop of all time. Better Living Through Coffee has a lot going for it. The location is in the heart of downtown Port Townsend and right on the waterfront so you can drink your coffee and watch the boats go by.
The coffee is fresh, hot, and strong. They use the pour-over method for all of their coffee, and it doesn't sit around for even one second. If you are looking for a special coffee drink, do yourself a favor and order the Caffe Arancia (coffee with cocoa powder, orange peel, and vanilla), or the Caffe Chetzemocha (coffee, cocoa, chile peppers, and spices.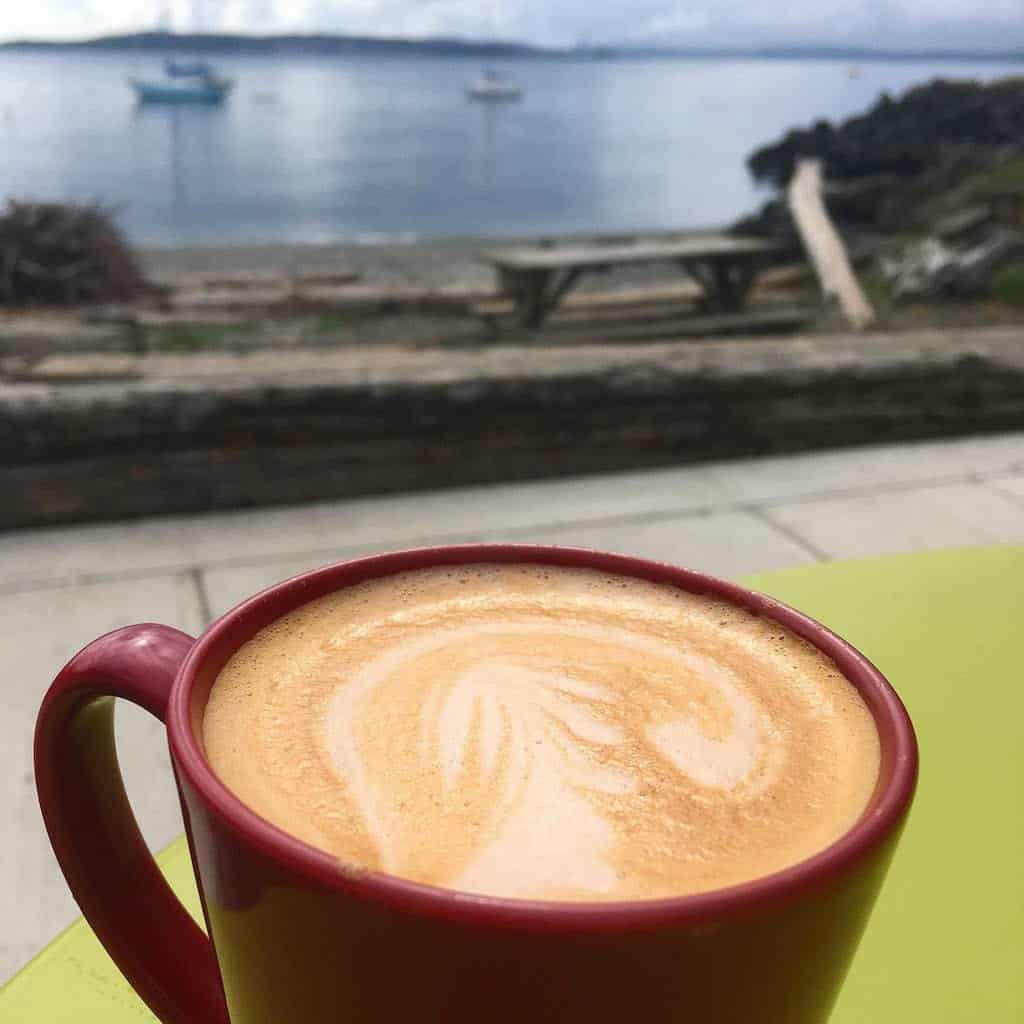 Enjoy the Port Townsend Wooden Boat Festival
In 2019, we timed our visit to coincide with the Port Townsend Wooden Boat Festival. The festival happens each year in early September and features three days of activities, workshops, boat tours, music, and more. There are more than 300 wooden boats packed into the Port Townsend Marina, and the town is overrun with boat enthusiasts, sailors, and woodworkers.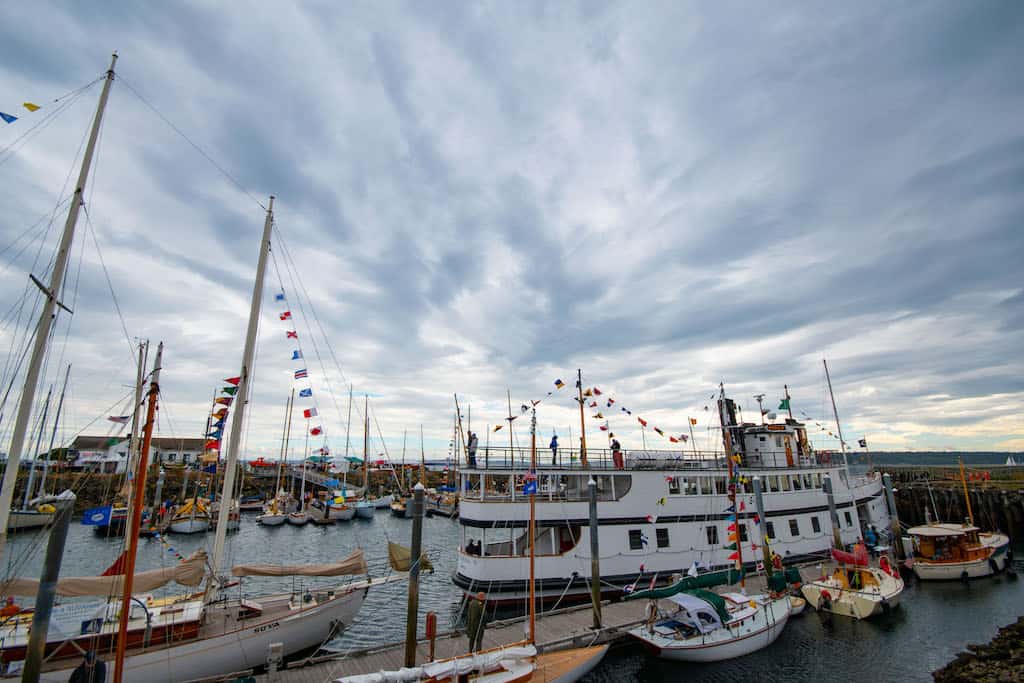 We had been hearing about the festival for years and were thrilled to be there to experience it in person. If you are planning a visit to Port Townsend and are interested in boats and maritime history, you owe it to yourself to check out this fabulous festival. My only word of caution would be to make your reservations early because lodging fills up very quickly for this world-famous event.
Stroll Uptown Port Townsend and Check out the Historic Victorian Houses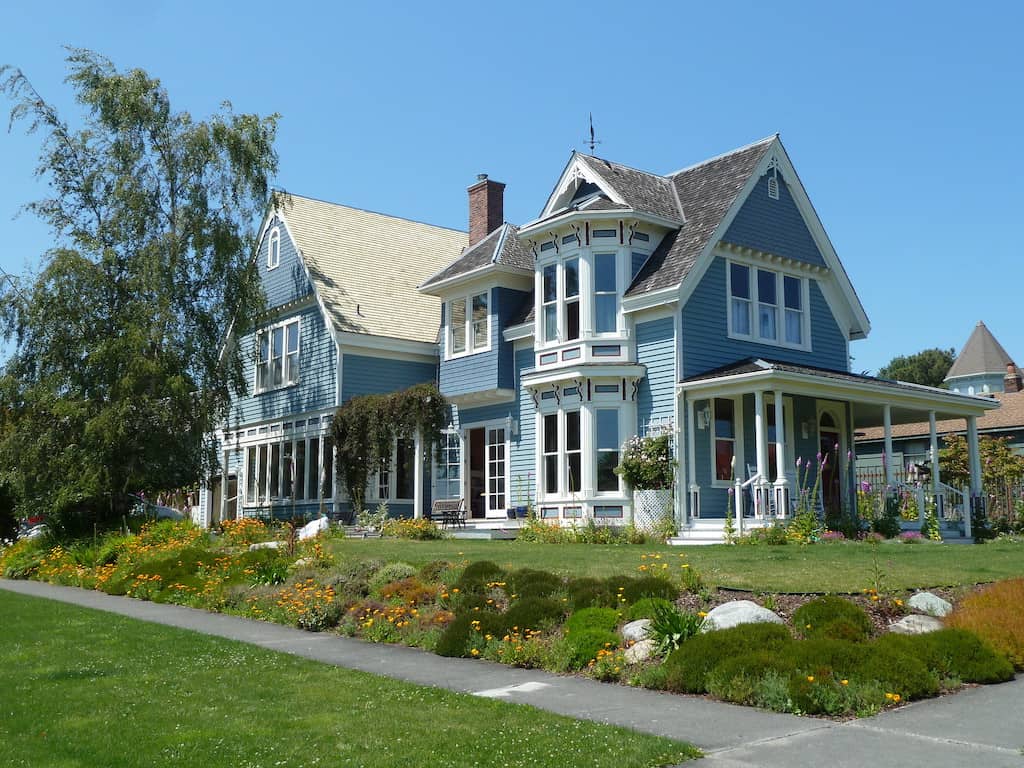 The Victorian homes of Port Townsend were built uptown starting in the 1880s when the town was a contender for hosting the main railroad terminus for the Pacific Northwest. While Seattle was eventually chosen as the railroad hub, Port Townsend was left with dozens of fabulous homes that survive to this day.
The Victorian homes are primarily located uptown, and while most are private residences, you can definitely stroll the streets and view the homes from the outside. For lovely photos and an overview of many of the Victorian homes in Port Townsend, check out Dave's Victorian House site. It's a great resource.
Go Whale Watching from the Port Townsend Marina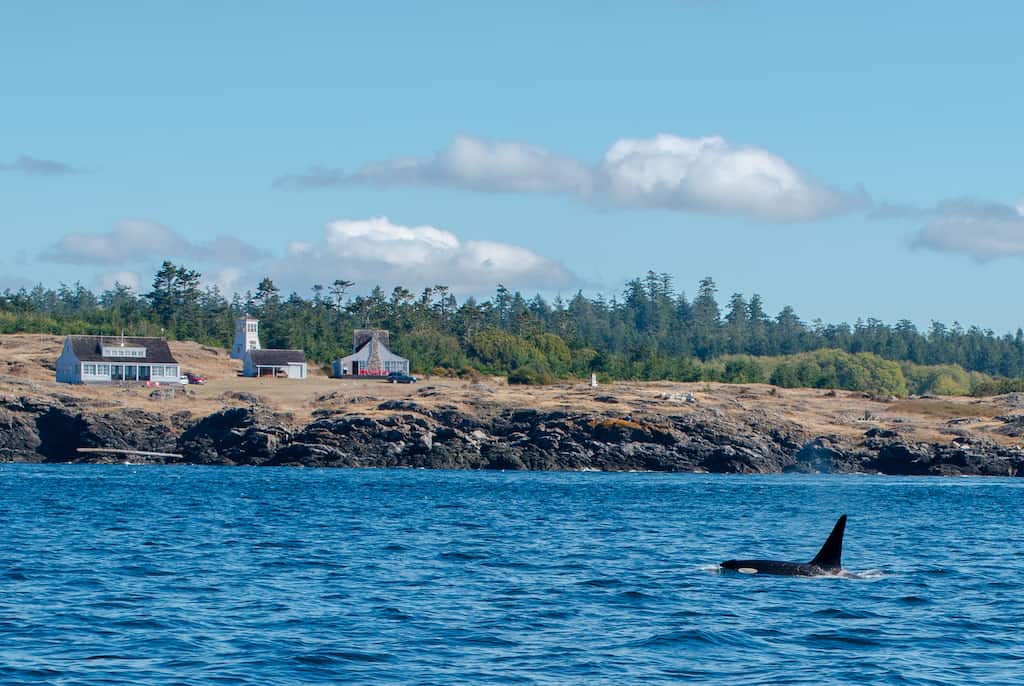 Whale watching for orcas has been on my personal bucket list for a long time, so I was so excited to embark on a whale-watching tour in the Puget Sound last September. We set sail one early morning with the Puget Sound Express, which has been offering nature tours and whale watching excursions in the Salish Sea for more than 40 years.
We spent the whole day on the water, with a short stop in Friday Harbor for lunch. We saw lots of wildlife on our trip, including many Southern Resident orcas, a tufted puffin, and lots of seals and sea lions. I will never forget it! This full-day excursion was a splurge for us, but whale sightings are guaranteed, and it really was an amazing experience.
---
Read Next: Go Whale Watching on the Puget Sound in Washington
---
Where to Stay in Port Townsend, WA
There are a lot of options for your Port Townsend lodging, based on how much you want to spend (of course), and where you want to be. The downtown area has some lovely downtown hotels that are within walking distance of everything. Uptown Port Townsend is more residential and quiet, with a few really nice vacation rentals that would be perfect for families.
Click on the map below to check prices and availability for Port Townsend hotels, bed and breakfasts, and vacation rentals.
Here are a few of the places we've stayed at in Port Townsend that we can recommend:
Blue Gull Inn Bed & Breakfast – Port Townsend
Built in 1868, the Blue Gull Inn is a historic Bed & Breakfast located in a residential neighborhood in the Uptown District. You can still walk downtown from here, but it's very quiet.
There are places to sit and relax in the yard, and there's a good chance you'll spot deer as they roam through the neighborhood eating up everyone's flower gardens. Your stay includes a hearty breakfast, and the hosts are charming and very friendly.
There's plenty of reasons to head to this beautiful corner of the Pacific Northwest. Whether you're hitting up some urban culture in Seattle, or making a pilgrimage to Olympic National Park, your road trip will be so much more colorful with an extended stop in this unique and hip seafaring town.
Two-Bedroom Vacation Rental in Morgan Hill Neighborhood
If you need some extra room to spread out, this lovely Port Townsend vacation home includes two bedrooms, a full kitchen and bathroom, and incredible views of the sound. A washer/dryer, fireplace, and fast Wi-Fi make this a great spot for either a workcation or family vacation (older children only), and you can easily walk downtown. The space even includes a home office with two desks so you can get some work done when you're not exploring.
---
For even more ideas for exploring Port Townsend in all seasons, visit Enjoy Port Townsend. They are a great Port Townsend Resource – providing lots of information on dining, shopping, lodging, and special events.
---
Want to learn more about this beautiful part of the world? Here are a few more of our favorite PNW posts:
---
Pin for Later?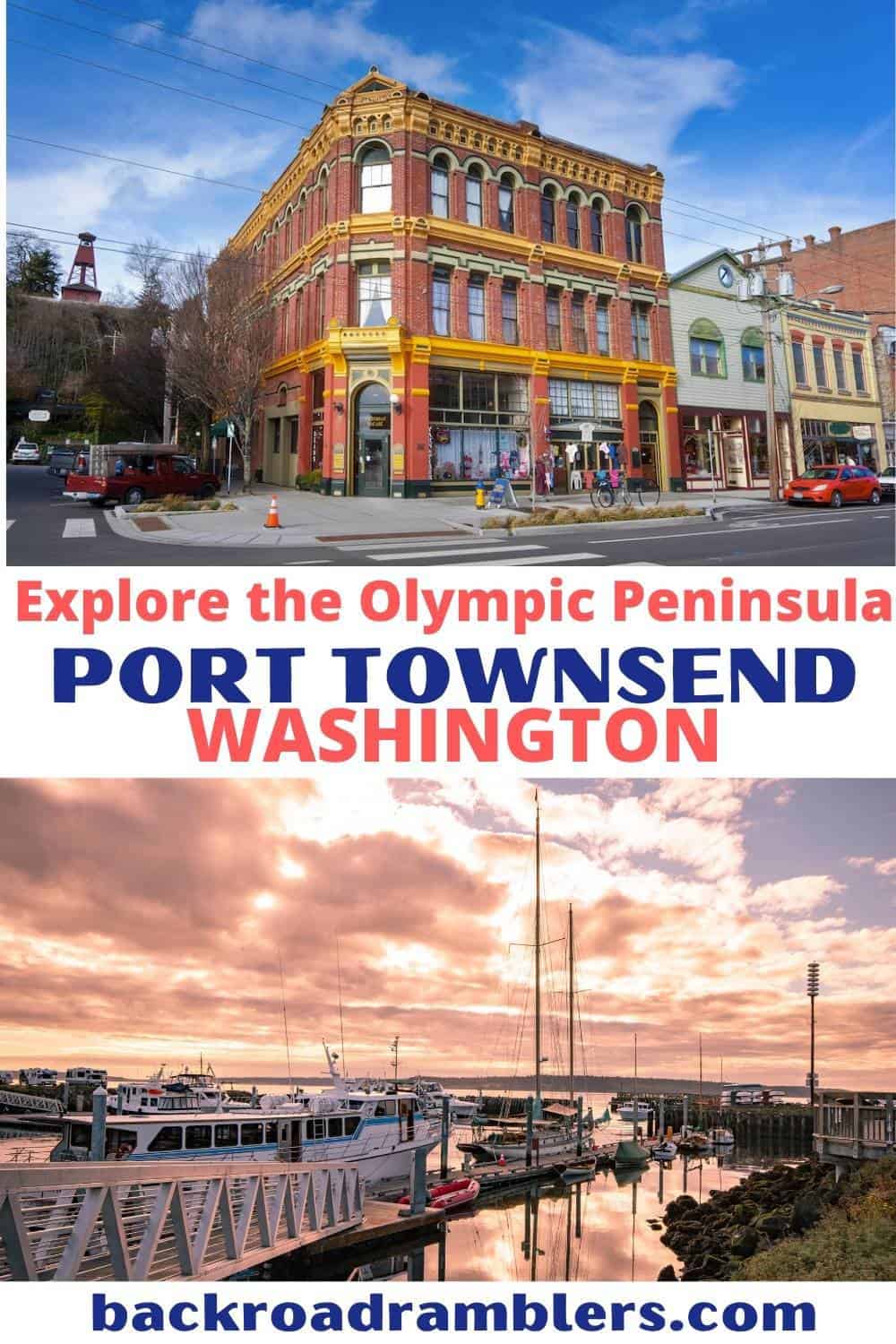 Our Favorite Resources for Road Trips and Outdoor Adventures

These are the resources we use for planning road trips, saving money while traveling, and shopping for outdoor gear.

Car Rentals: While we use our own car most often for road trips, we also enjoy flying into major airports and then renting a car for more regional road trips. We use Kayak to compare prices and find deals from dozens of car rental agencies at once.

Flights: We use Kayak or Skyscanner to search out flight deals. Money-saving tip: If you find yourself using the same airline over and over again (we are huge Southwest fans), consider joining their loyalty program and getting an airline credit card. With our Southwest Rewards Visa, we earn a few free flights each year.

Hotels: When it comes to lodging, we seek out small boutique hotels or quirky roadside motels. First, we search for hotels on TripAdvisor so we can read reviews from other travelers. Then, we use Booking.com to make reservations (they have the best prices, plus a flexible cancelation policy).

Camping: Camping is one of our favorite things to do on long road trips. It allows us to explore the outdoors, cook our own food, and save money. We use They Dyrt Pro to find campsites and read reviews before booking on Recreation.gov or state park websites.

Glamping and Vacation Rentals: For weekend getaways and shorter vacations, we love glamping (check out our glamping resource guide). We book glamping properties through Tentrr, Hipcamp, and Airbnb. For cabins and vacation rentals, we like to use VRBO (they have fewer fees and a better cancelation policy than Airbnb).

Guides and Maps: If we are visiting a new region, we usually invest in a Moon Travel Guide for the area. We pass them on to friends and family after our trip. If we are planning on hiking, we also purchase a Falcon guide in the Best Easy Day Hikes series.

Outdoor Gear: We are REI Co-Op members. It cost us $20 for a lifetime membership, but we get a yearly dividend based on our purchases, plus great deals and coupons throughout the year. REI also has a great return policy.

Check out our complete guide for planning a road trip on a budget