For a romantic weekend in New Hampshire, you want it all – a walkable downtown, unique accommodations, fun things to do, and awesome food. Being near the ocean is a definite plus.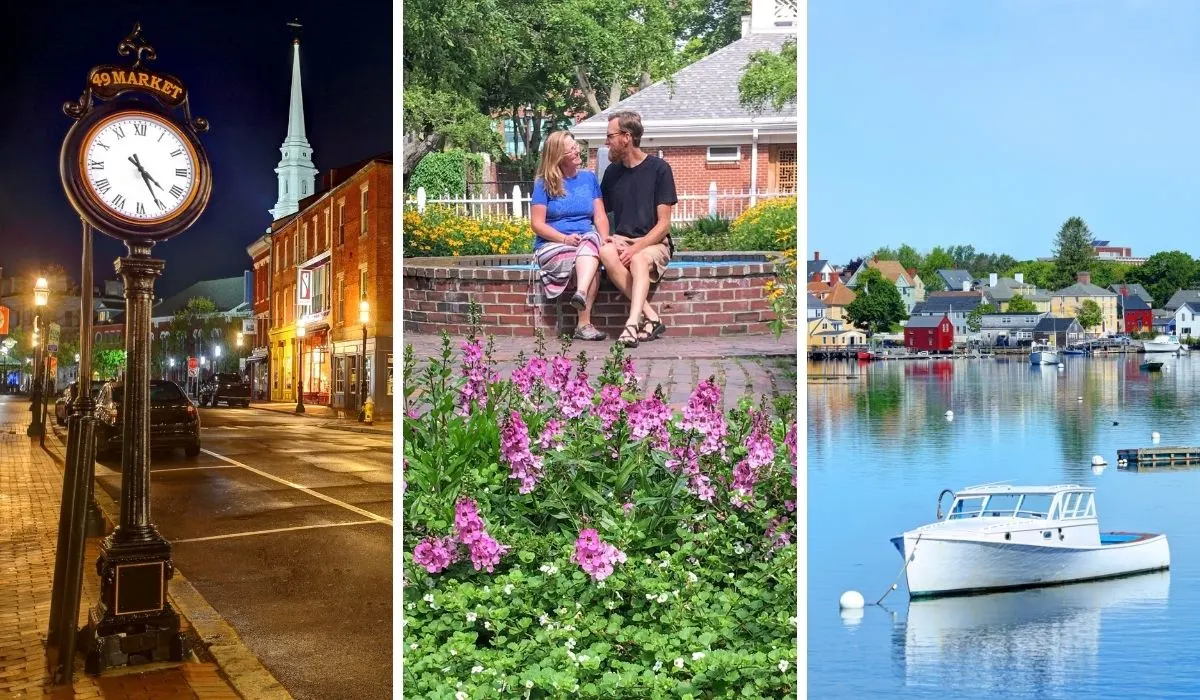 For our 20th wedding anniversary, we escaped to Portsmouth, New Hampshire for a romantic getaway. We strolled historic streets, ate incredible food at cozy restaurants, and fell in love with all the gardens.
Portsmouth is an enchanting town for couples, and one of the most romantic destinations in New Hampshire. Plan a weekend getaway, and we guarantee you'll be completely smitten with this little city by the sea.
Incredibly Romantic Things to do in Portsmouth NH
Did you know that Portsmouth was settled in 1623 and is considered the third oldest city in the United States? The town practically oozes old-world charm, and strolling the brick-paved sidewalks beneath centuries-old buildings is the perfect way to spend a summer evening.
Need more reasons to visit Portsmouth in the summer? Here are some thoroughly romantic things to do in Portsmouth NH for your summer getaway.
Meander Around the Beautiful Portsmouth Gardens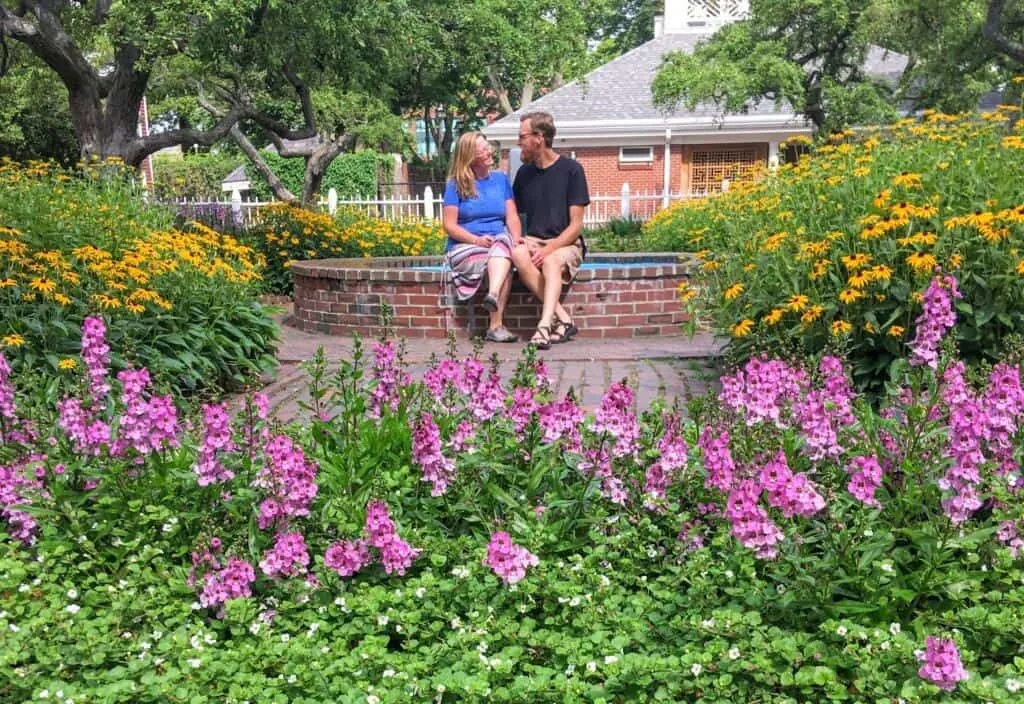 The summer gardens in Portsmouth are worth a visit all by themselves, and I just can't imagine the amount of work that goes into them.
Strolling through the Prescott Park gardens on a warm summer evening made me want to sell everything I own and move to Portsmouth. Thousands of blossoms are planted each year, most of which are colorful annuals.
Located right on the water, Prescott Park is also the absolute best place for a picnic in Portsmouth.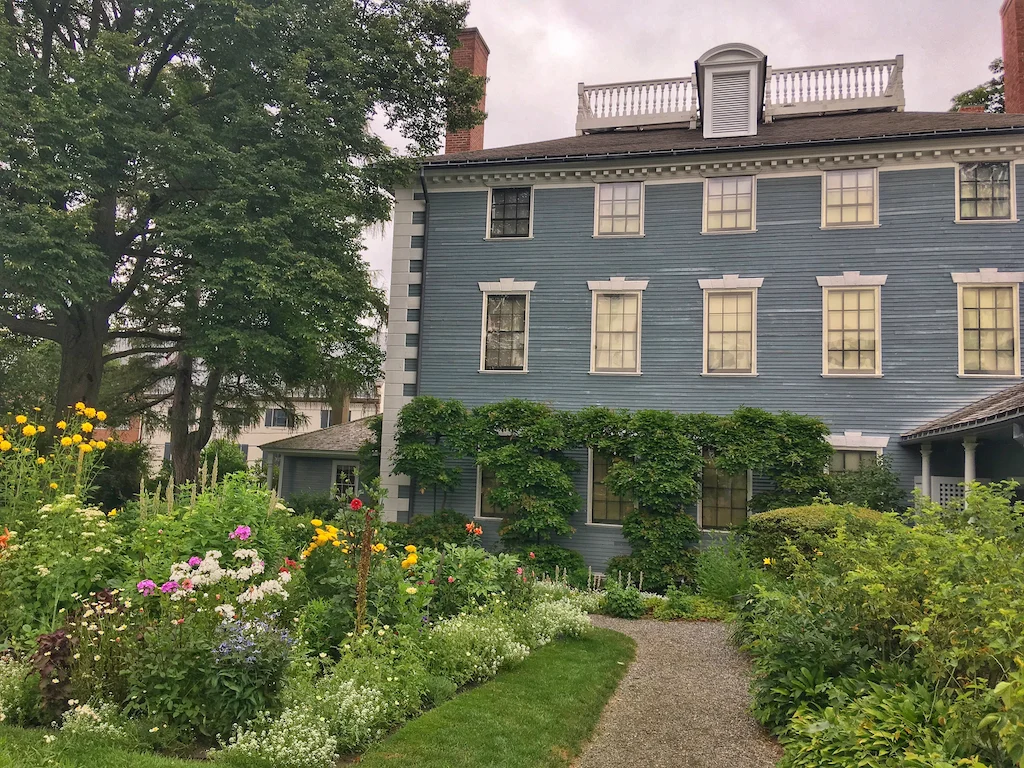 After exploring Prescotte Park, head over to the Moffatt-Ladd House, which includes a horse chestnut planted in 1776 and an English damask rose planted in 1768. A 300-foot path flanked by formal gardens leads from the house up four terraces to a wrought-iron gate at the rear boundary.
The formal gardens are meticulously cared for. You can tour the house, which was built between 1760 and 1763, and the gardens for $8 or just the gardens for $2.
Relax on one of Portsmouth's Beautiful Outdoor Patios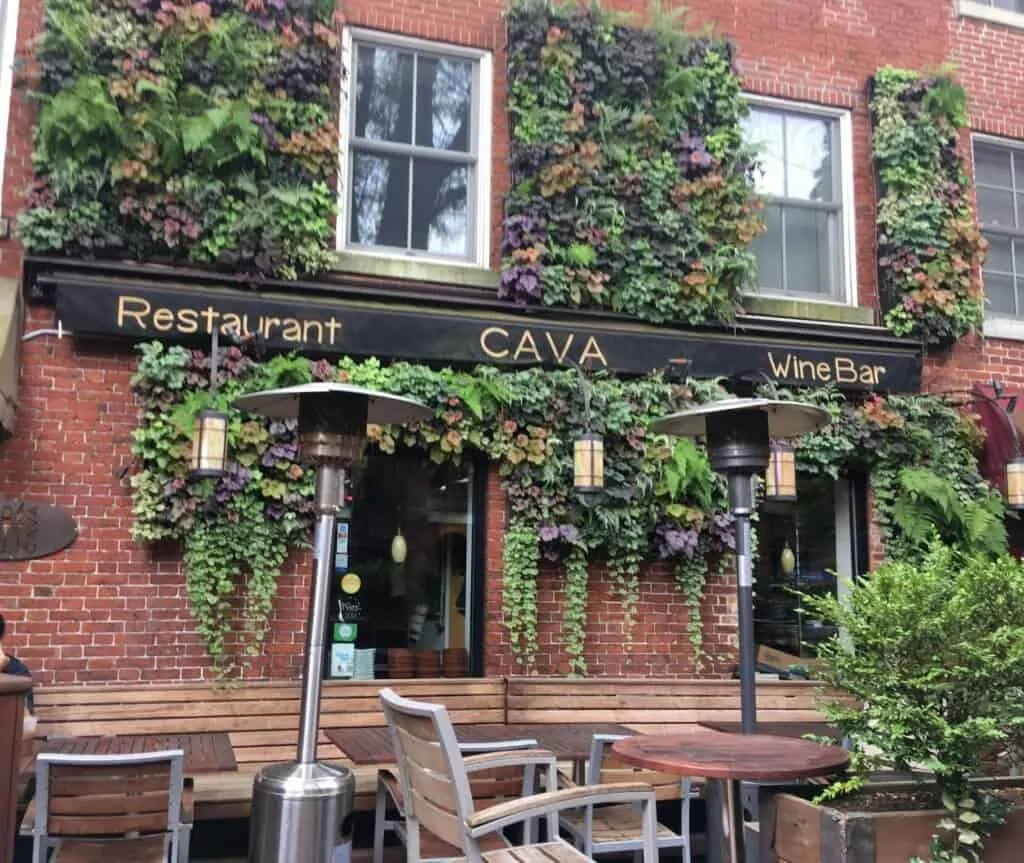 Whether you want to chillax with a cocktail or craft brew or indulge in a plethora of local seafood, Portsmouth has about a gazillion choices for outdoor drinking and dining.
Watch the famous tug boats from the Old Ferry Landing, relax amidst lush gardens under the pergola at Atlantic Grill, or step back in time in a hidden downtown alley at Cava Tapas & Wine Bar.
You could spend the whole summer exploring the gorgeous patios and decks all over town. In fact, I think discovering the best outdoor dining in Portsmouth could become a full-time job. I wonder if they're hiring for that position because I think I'd be perfect…
Indulge in a Stellar Frozen Dessert
We did a lot of downtown strolling during our anniversary trip, and one thing that we noticed is that the town supports a whole lotta ice cream. While we don't necessarily think it's fair for one town to play host to so many frozen delights, it's definitely a reason to keep us coming back for more.
Our first choice is Annabelle's on the corner of Ceres Street in downtown Portsmouth. Not only is it the cutest ice cream shop ever, but every homemade flavor is created with fresh ingredients, including 16% butterfat. A dizzying array of flavors include Mint Summer's Night Dream, New Hampshire Pure Maple Walnut, and Chocolate Chip with Kahlua.
If frozen yogurt is more your speed, check out Izzy's Frozen Yogurt and Ice Cream. This iconic frozen dessert shop on Bow Street has been impressing visitors and locals for more than 30 years!
Catch a Waterfront Sunrise or Sunset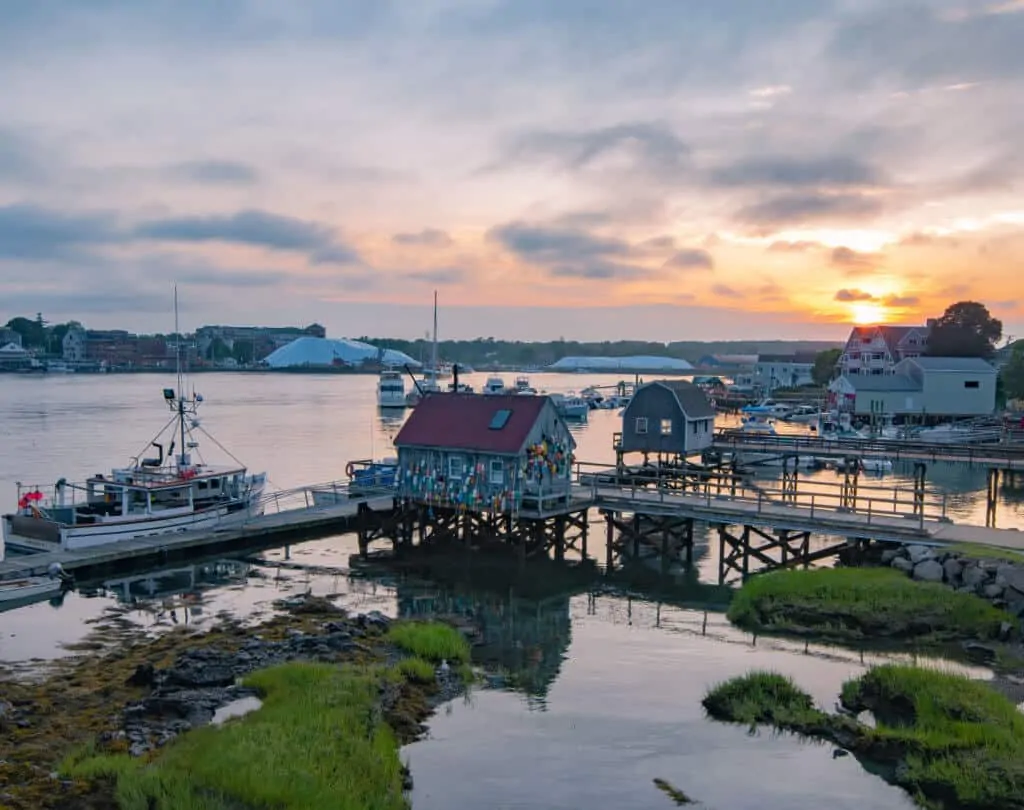 Visit Portsmouth any time of year and you can pop out of whatever lodging you've secured and catch a gorgeous sunrise or sunset over the Piscataqua River. We stayed just over the Memorial Bridge in Kittery, Maine, and I can vouch for both amazing sunrises and sunsets from the bridge.
We caught two Portsmouth sunsets during our recent visit, but sunrises were just a bit out of reach on this trip. I would have loved to get out of bed at 5 am to watch the sun come up, but I made the effort and slept in. You know, to celebrate our anniversary!
Anyway, we caught the sunrise during our winter trip to Portsmouth, and it was worth waking up early for. Promise. Prescott Park would be another great sunrise spot, as would Four Tree Island, both walkable from downtown.
---
Also Read: Six Enchanting Romantic Getaways in New Hampshire
---
Take in an Outdoor Show on the Portsmouth Waterfront
If you're looking for top-quality outdoor theater, music, movies, and events, be sure to check out the amazing summer lineup at Prescott Park, right on the Portsmouth waterfront. The events are organized by the Prescott Park Arts Festival, which has been developing incredible art and music events since 1974.
Every year, Prescott Park Art Festival chooses a family-friendly musical theater event to headline the summer. The 2022 selection is Footloose, the Musical which will feature dynamic new songs and the powerhouse hits from its bestselling Oscar-nominated score.
Be sure to check out the Prescott Park event calendar before planning your summer trip.
If it looks like rain, check out the line-up of events at the famous Music Hall in downtown Portsmouth for world-class music, theatre, comedies, and special events.
Sail the Piscataqua River on a Gundalow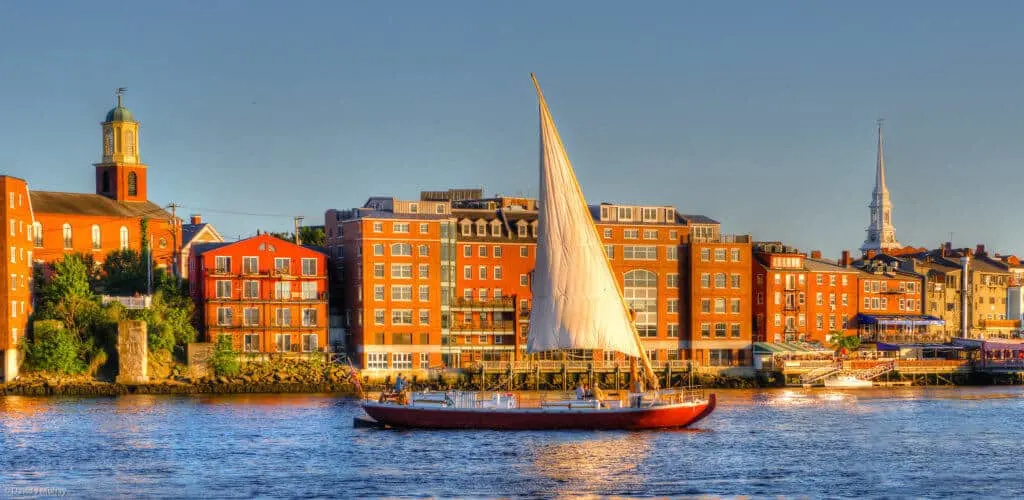 What in the world is a Gundalow? We were wondering the same thing, and fortunately, most Portsmouth locals are happy to fill you in.
Gundalows were traditional wooden sailing barges that traveled up and down the Piscataqua River carrying cargo starting in the 1650s. They could easily navigate shallow rivers and carry freight weighing up to 50 tons.
The Piscataqua is an authentic gundalow replica that was built in 2011 by the Gundalow Company, a nonprofit organization dedicated to providing onboard educational experiences that weave together environmental science, history, and maritime heritage.
The Gundalow in Portsmouth sails daily when the weather cooperates, and you can choose from daytime, sunset, and harbor sails, plus a variety of special sails that feature live music, guest speakers, and more. It is truly a one-of-a-kind experience and one of the most romantic things to do in Portsmouth NH.
Step Back in Time at Strawbery Banke Museum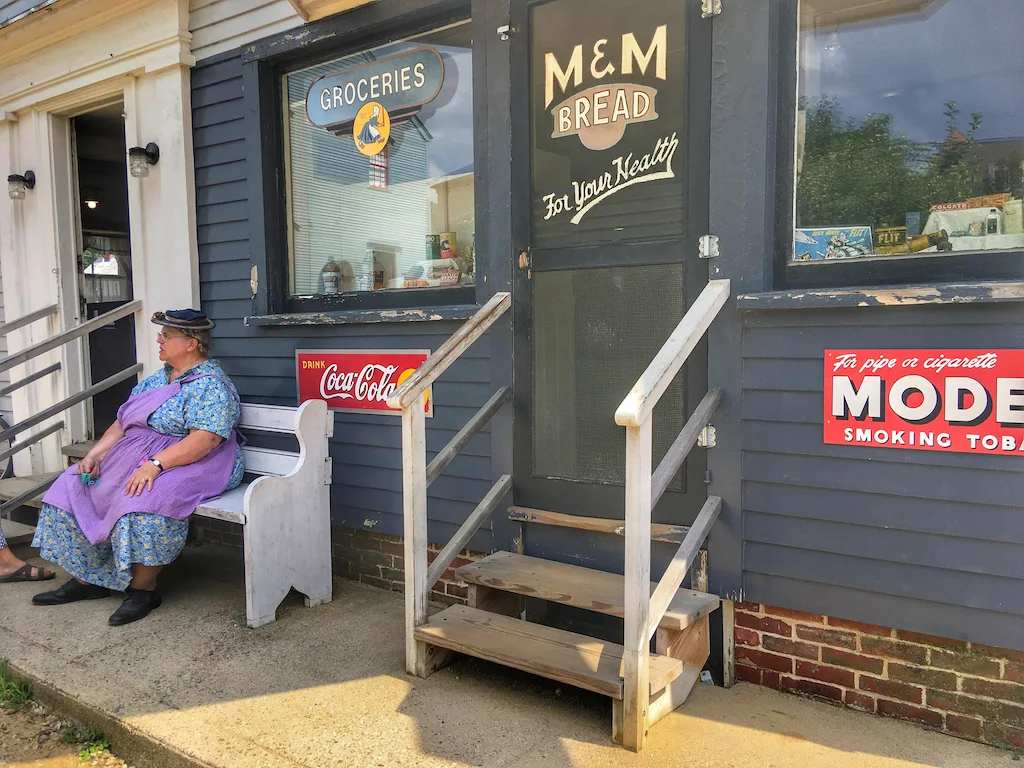 Now for a little history lesson. What — you don't think American History is romantic?
Maybe a visit to Strawbery Banke Museum will change your mind. This 10-acre living history museum features more than 35 authentic historic buildings in what was once the original Puddle Dock settlement that eventually became Portsmouth.
During the summer months, you'll find roleplayers living through 200 years of history, with each building representing a different time period. Character portrayals are based on real people that lived here through the generations, from the 1770s to the 1940s. Meet politicians, laborers, homemakers, immigrants, school teachers and shopkeepers.
Modern interpreters are also on hand to demonstrate historic trades and traditional crafts like wooden boatbuilding, blacksmithing, gardening, weaving, and more. Strawbery Banke is such a unique museum and one of the highlights of a visit to Portsmouth, even if history isn't your thing.
The Most Romantic Place to Stay in Portsmouth, NH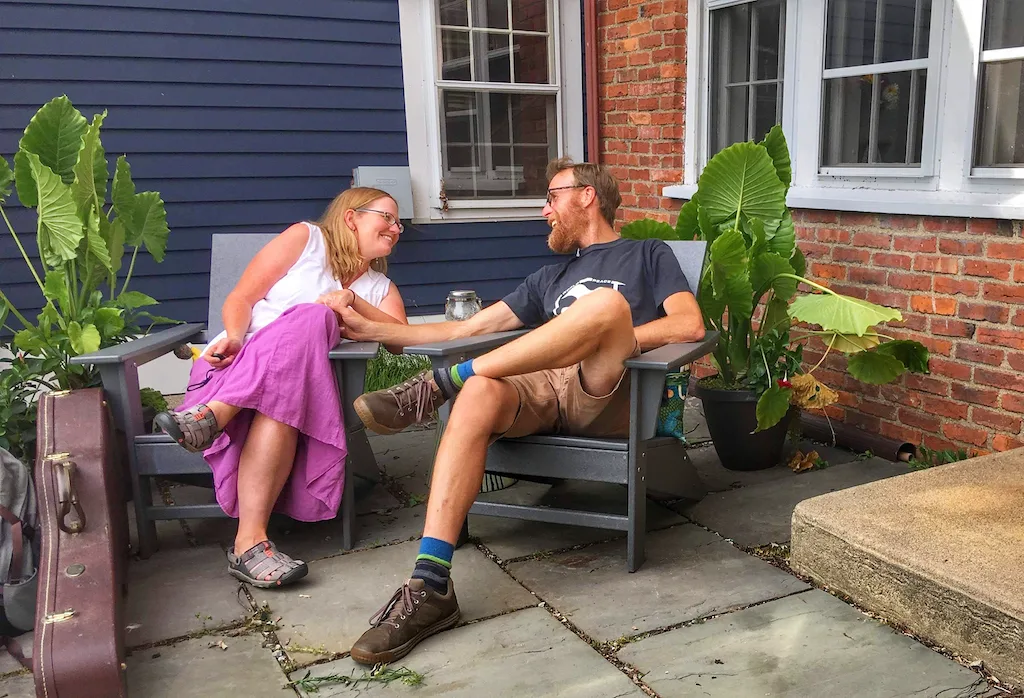 Arguably, the most important part of your romantic weekend will be where you choose to lay your head. I mean, you can do all the waterfront strolling and oyster slurping you want, but you can't have a truly romantic weekend in Portsmouth NH without a truly romantic place to stay.
We were so lucky to find the Water Street Inn, just over Memorial Bridge in Kittery, Maine. Not only is this one of the most adorable, tastefully decorated, fantastically run inns that we've ever encountered, but it's also pretty affordable, all things considered.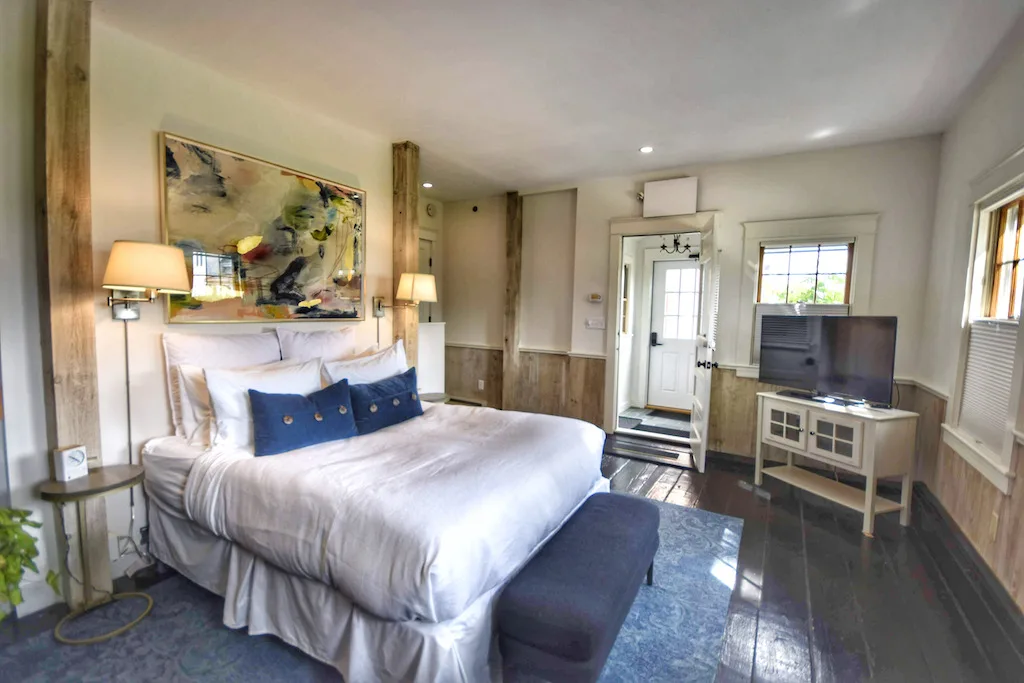 The Water Street Inn consists of seven beautifully furnished guest rooms and one amazing studio apartment.
The smallest, most budget-friendly room starts at $134 per night, and the studio apartment (room 7), which includes a full kitchen, sitting area, queen-size bed, and bathroom is well under $250 a night. It's a boutique hotel in Portsmouth for cheaper than most of the corporate chain hotels in the area.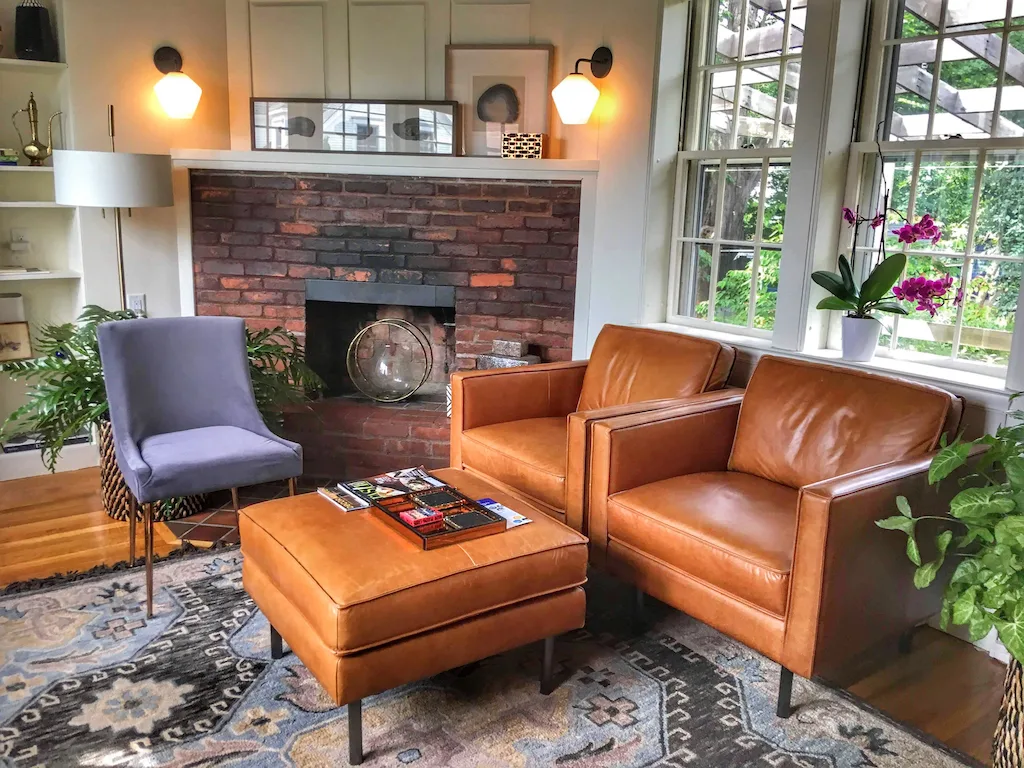 The common spaces at Water Street Inn are equally lovely, with access to coffee/tea and snacks round the clock. Rooms 7 and 8 share a small common area in "the barn," which can also be rented as a separate unit to sleep 4-7 people across three floors.
We chose the studio apartment for our weekend getaway in Portsmouth because we knew we'd want to spend time unwinding, not to mention eating and drinking, in the privacy of our own space.
Despite all the fun we had falling in love with Portsmouth, we carved out plenty of time for eating cake and drinking champagne in our room (Thanks Popovers on the Square!) and sitting in the garden of the Water Street Inn.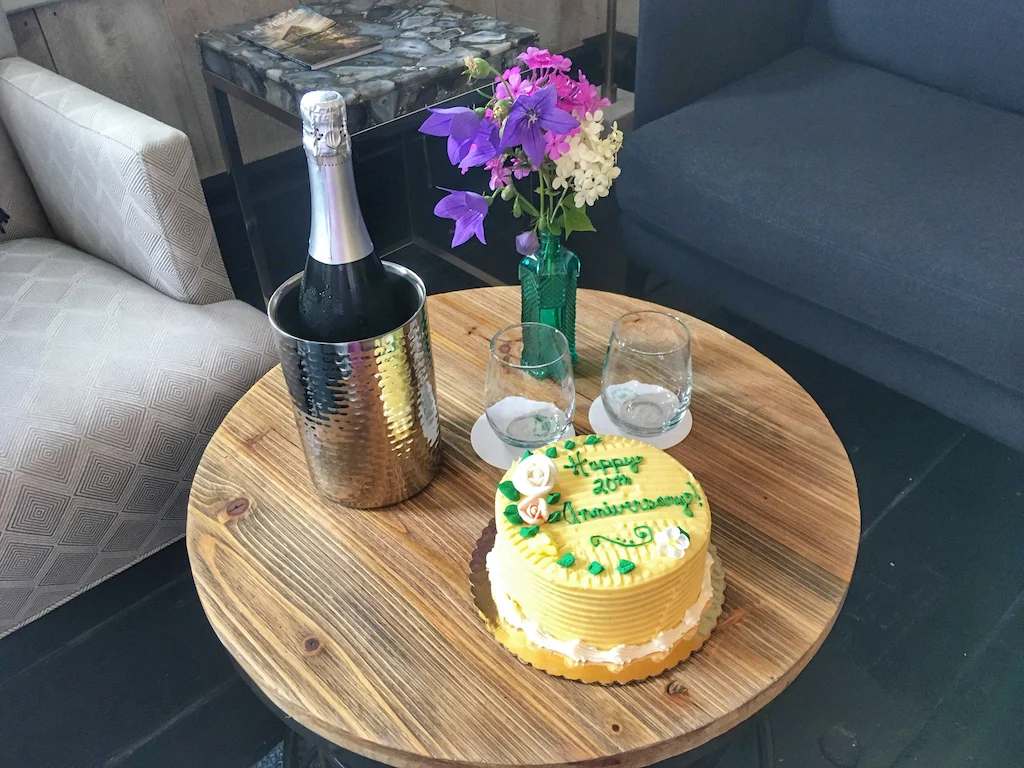 The Water Street Inn is a short walk from downtown Portsmouth, NH, right over the Memorial Bridge. The view from our room was pretty sweet, but we could walk to the bridge in two minutes for views that were beyond stunning.
Location is everything! But comfy cozy beds are a close second. The Water Street Inn provides luxurious linens on medium-firm beds that were a joy to get into, but maybe not get out of. Still, we managed alright, and are counting the days until we can sneak back out to Portsmouth for another visit.
---
Romantic Restaurants in Portsmouth, New Hampshire
Your perfect romantic weekend in Portsmouth NH requires perfeclty romantic dining. Here's what we'd recommend for your getaway:
Cure in Downtown Portsmouth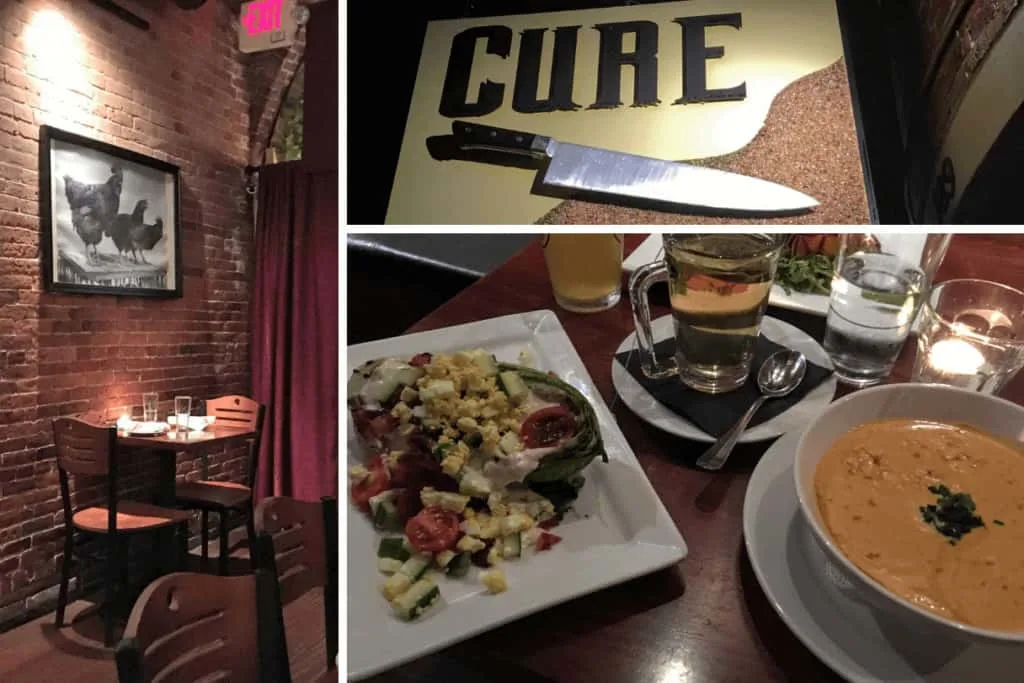 Cure is located right in downtown Portsmouth on State Street. It's dark and cozy interior is reminiscent of a French bistro, but the menu is more on the eclectic American side. Meats play a starring role at Cure, where most are brined and slow-cooked to maximize tenderness and bring out their unique flavor.
Mouth-watering dishes like the bourbon-glazed pork chops, pan-roasted duck breast, and rosemary marinated lamb porterhouse are prepared fresh daily. Seafood and vegetarian comfort foods round out the menu — lobster mac and cheese, vegetarian wellington, almond crusted organic salmon. Are you hungry yet?
Be sure to make your reservations at Cure ahead of time. The dining area is small and cozy, and the place fills up quickly, especially in the summer and fall.
The Atlantic Grill in Rye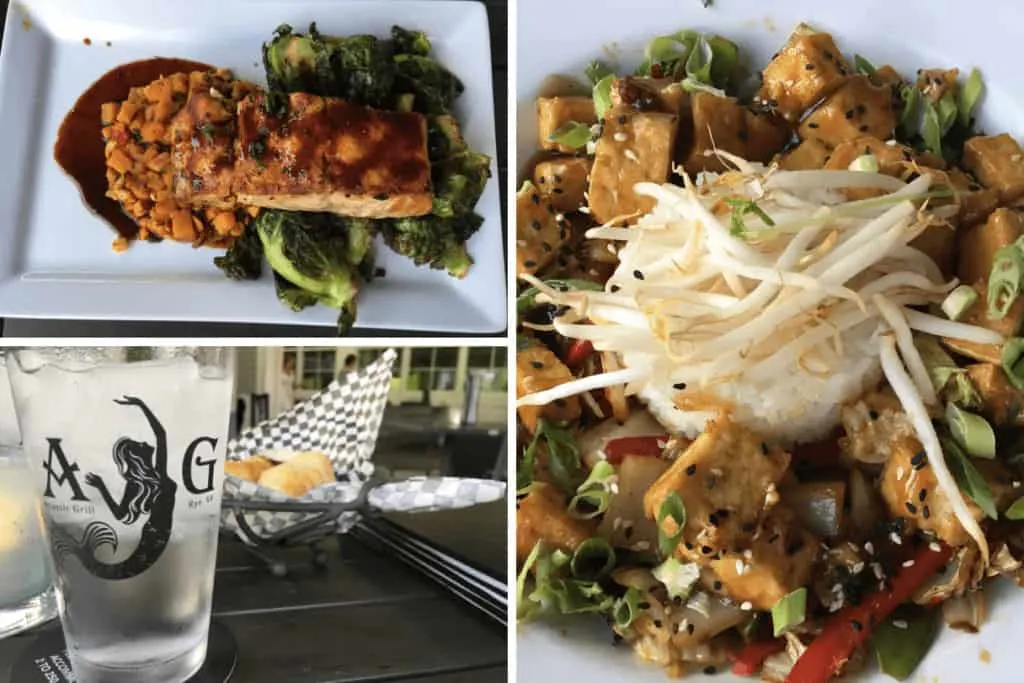 At the Atlantic Grill in nearby Rye, NH, you can relax on the patio, sample the freshest oysters around, toast to your love with a glass of wine, and indulge in local seafood cooked to perfection.
The menu has lots of creative options, and we really appreciated that the veggies were not an afterthought. I mean, deep-fried Brussel sprouts and sweet potato hash? It was the perfect accompaniment to the maple-bourbon salmon.
Vegetarians visiting the Atlantic Grill definitely won't go hungry. We devoured the Cantonese stir fry as well.
Elephantine in Downtown Portsmouth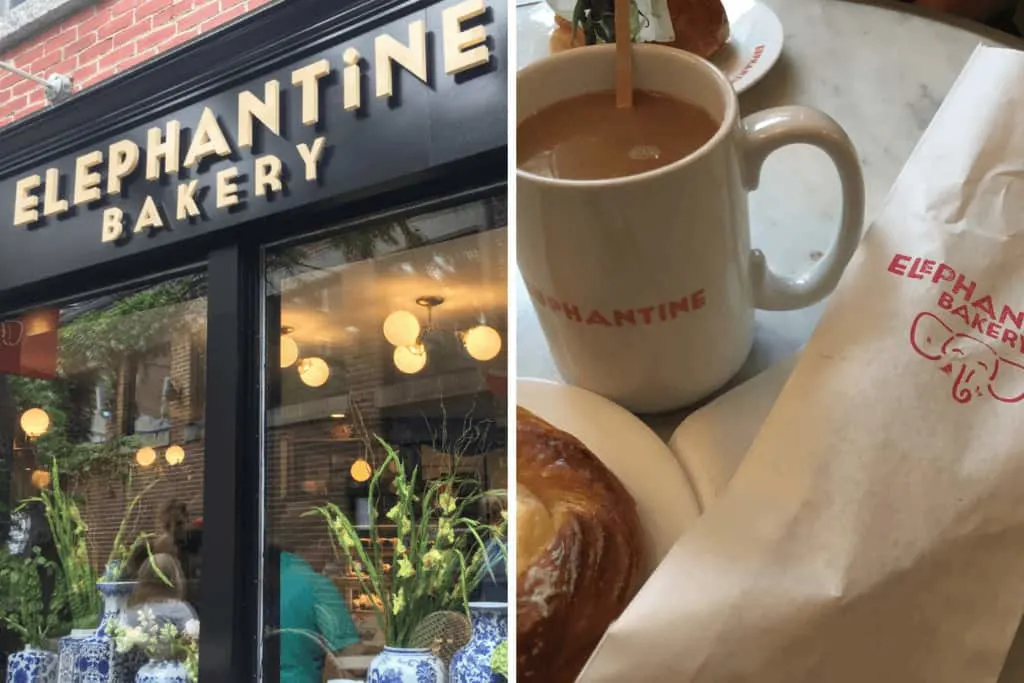 We found the best coffee, pastries, and bread down a hidden alleyway on our last morning in town, which solidified our infatuation with Portsmouth and its unfairly awesome food scene. Elephantine Bakery is tiny and unassuming, but all you have to do is step inside and you will know that something exceptional is coming. Throw away all thoughts of dieting for this one morning of bliss. Seriously.
My chocolate almond croissant was the flakiest, butteriest bit of heavenly confection I have ever tasted. The ricotta lemon danish was even better. We brought a loaf of pain au levain home with us, and it blew our minds. Pack your appetite and bring some goodies home for your friends and family.
---
Read Next: The Best Restaurants in Portsmouth, NH
---
A Romantic Itinerary for Your Perfect Weekend in Portsmouth NH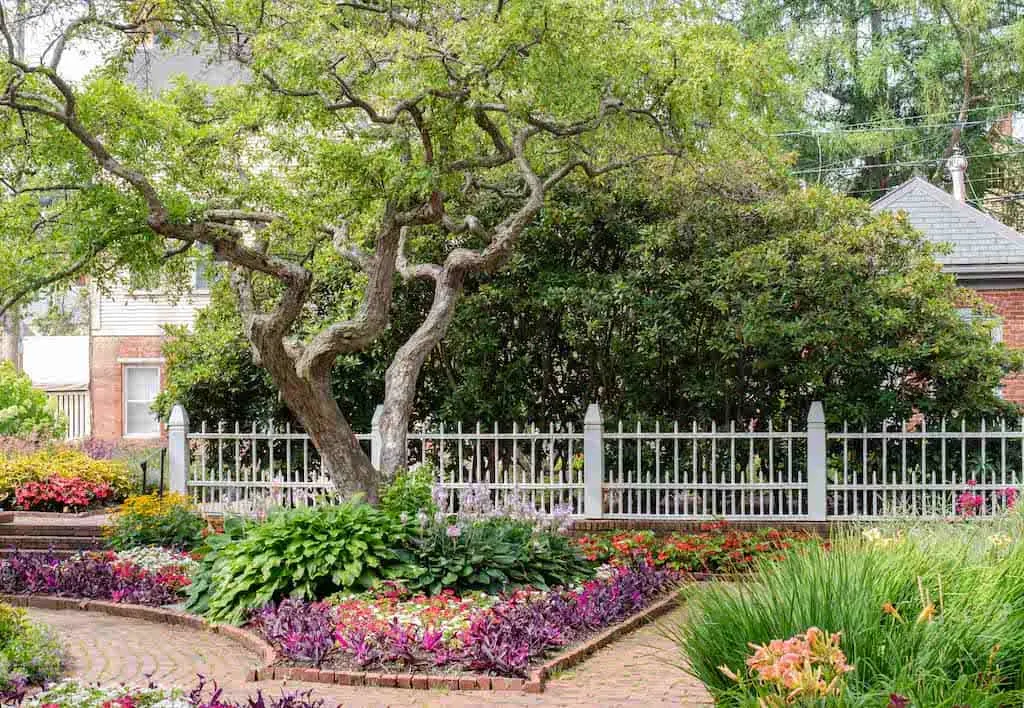 Portsmouth doesn't even have to try to be hopelessly romantic, especially in the summer when the flowers are blooming, the downtown is festooned with twinkly lights, and outdoor patios are bustling with happy revelers.
We encourage you to plan your own romantic getaway on Portsmouth, and we've even got your perfect itinerary right here.
A romantic weekend in Portsmouth is not jam-packed with things to do because we want you to get off the beaten path and do a bit of exploring on your own. Still, there are a few things you absolutely shouldn't miss. Here's what we'd recommend:
Friday: Start Your Portsmouth Weekend off Right
Head to Portsmouth after work and check into room #7 at the Water Street Inn in Kittery, Maine. If you want to feel pampered, order a custom cake from Popovers on the Square. You don't have to eat it now. Stash it in the fridge for later.
Have a romantic dinner at the Atlantic Grill.
If you're anything like us, you'll be more than ready to call it a night after dinner, but if the thought of sipping champagne and eating cake in your hotel room isn't doing it for you, there's a pretty fun nightlife scene in Portsmouth.
You can catch a show at The Music Hall, head to a pub for a local beer and some live music, or meander the streets and alleys of downtown and see where the winds blow you. If you need help in the Portsmouth nightlife department, check out this calendar of events.
Saturday in Portsmouth: A Lot of History and Some Time on the Water
Wake up with pastries and coffee at Elephantine.
Stroll through the historic homes at Strawbery Banke Museum, try your hand at weaving, and chat with the reenactors.
Have lunch and drinks at Portsmouth Gaslight Co.
Enjoy a relaxing river cruise on the Gundalow in Portsmouth.
Dinner at Cure Restaurant of Canva Tapas and Wine Bar.
Live music or theatre at Prescott Park.
Sunday in Portsmouth is for Relaxing
After another scrumptious breakfast at Elephantine, wander around town and tour the gardens at Prescott Park and the Moffatt-Ladd House.
Indulge in ice cream at Annabelle's or Izzy's.
---
We hope you've enjoyed the most romantic things to do in Portsmouth, NH. Since our visit, we spend our days wishing we were back in Portsmouth and wondering how one town can be blessed with such beautiful sites and culinary delights.
Explore more of New Hampshire. Check out these posts!
Check out the Portsmouth NH web story next!
---
Follow us on social media for more weekend getaway ideas!
Pin for Later?