Please be sure to check with each state/destination for its current COVID-19 guidelines before planning a visit. This post may contain links from which we earn a small commission at no extra cost to you.
Planning a vacation to one of New England's finest destinations? Yes, I'm talking about Portsmouth, New Hampshire – a city that has more than its fair share of New England charm. Portsmouth is a bustling coastal city that welcomes visitors in all four seasons, and it's also one of the best small towns for families in the United States.
Today we're going to talk about the best restaurants in Portsmouth, NH for all you foodies out there.
The town is known for its historical preservation, tax-free shopping, and incredible waterfront views, but it's also being widely recognized for its eclectic and robust food and beer scene. For a city of 21,000 people, it's actually quite extraordinary how many restaurants are thriving in Portsmouth. With 22,000 seats available for dining, you could eat out three times a day for a month, and never visit the same Portsmouth, NH restaurant twice.
My husband and I try and visit Portsmouth a few times every year, and our visits always include checking out some of the most fabulous restaurants in the Seacoast Region. Since we can only manage to visit a handful of restaurants each year, we are picky about where we go, and where we choose to return.
Here are some of our favorite Portsmouth, NH restaurants for all types of dining, from fast and filling to luxurious and leisurely.
Eclectic Portsmouth, NH Restaurants for the Discerning Diner
Portsmouth is known for its fresh-off-the-boat seafood and waterfront dining, and while it was tempting to stay downtown for all of our culinary adventures, we are so glad that we explored further afield. Most of the Portsmouth restaurants that we fell in love with were within walking distance of our lovely inn across the bridge in Kittery, Maine, but we've also found a few gems on the outskirts of Portsmouth.
Our very first tip for finding awesome restaurants in Portsmouth? Don't be afraid to get out of town. Some of our favorite meals were experienced away from the bustle of downtown, but still within a very reasonable driving distance.
Now, on to our favorite Portsmouth, NH restaurants, in no particular order:
The Absolute Best Coffee and Pastries: Elephantine Bakery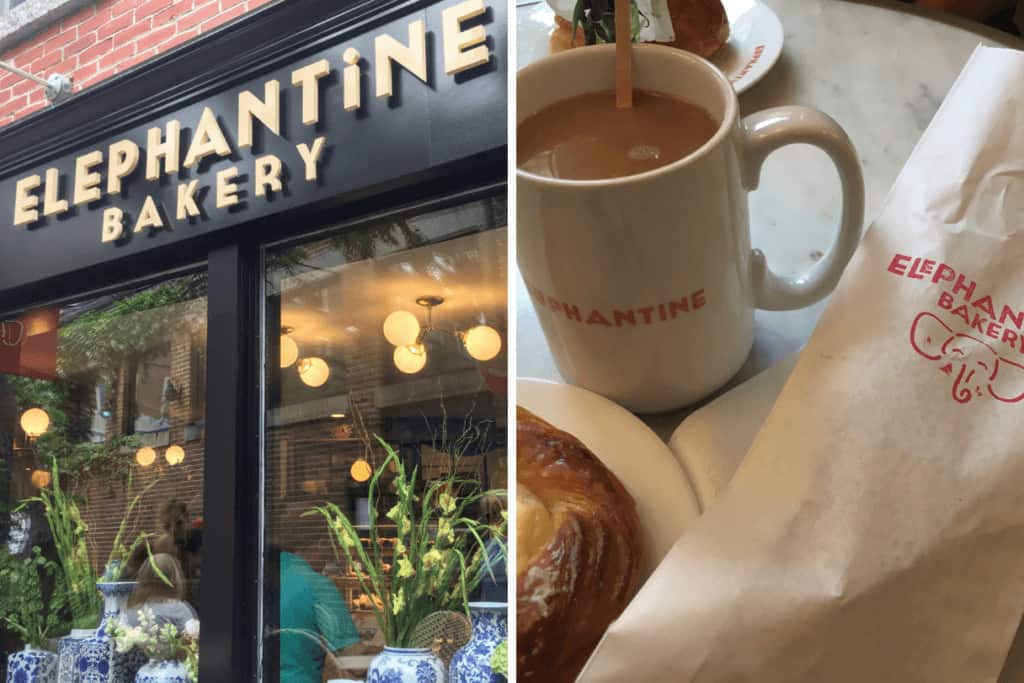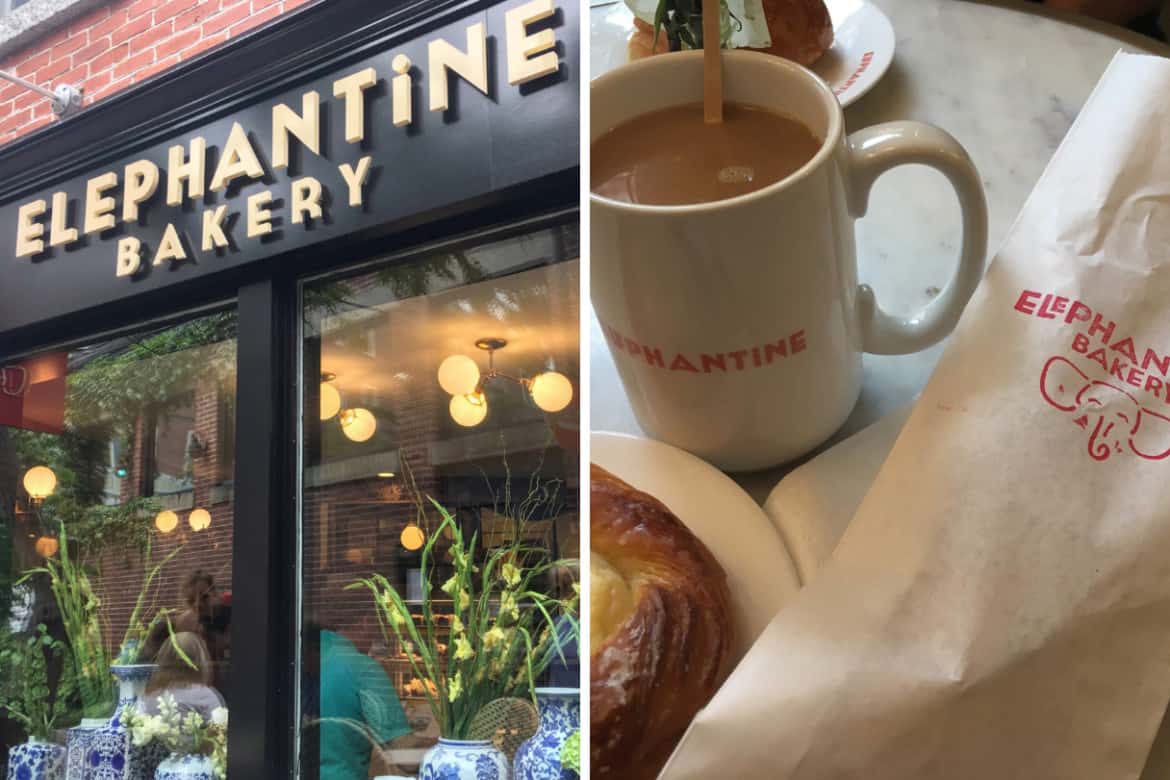 The first thing I do when exploring a new town or city is scope out the coffee shops and bakeries. Portsmouth was no exception, but it took me several trips to discover Elephantine Bakery. Don't make the same mistake!
We found the most amazing coffee, pastries, and bread down a hidden alleyway on our third visit to Portsmouth. Elephantine Bakery is tiny and unassuming, but all you have to do is step inside and you will know that something exceptional is coming. Throw away all thoughts of dieting for a morning of bliss. I promise you won't regret it!
You will undoubtedly have trouble deciding what to order. If it's your first visit, I'd recommend a croissant. It's very hard to get croissants right, and these are incredible! My recent chocolate almond croissant was the flakiest, butteriest bit of heavenly confection I have ever tasted. I'd also recommend a loaf of bread to bring home, or eat in the car during your road trip. We brought a loaf of pain au levain home with us, and it blew our minds. Pack your appetite and bring some goodies home for your friends and family too!
Farm-to-Table Delicious: Cure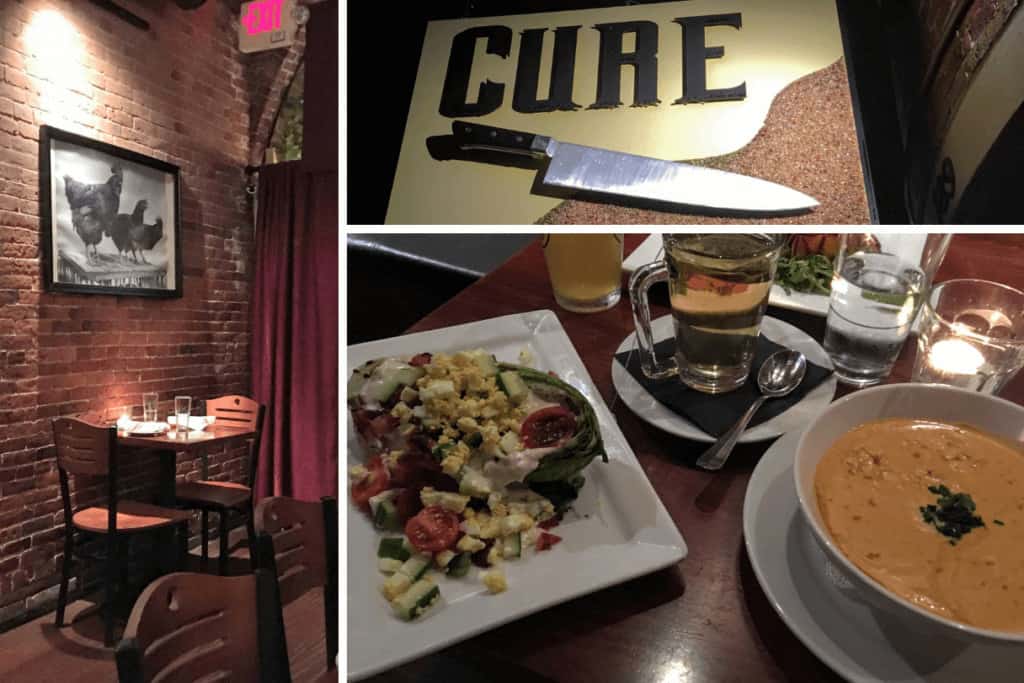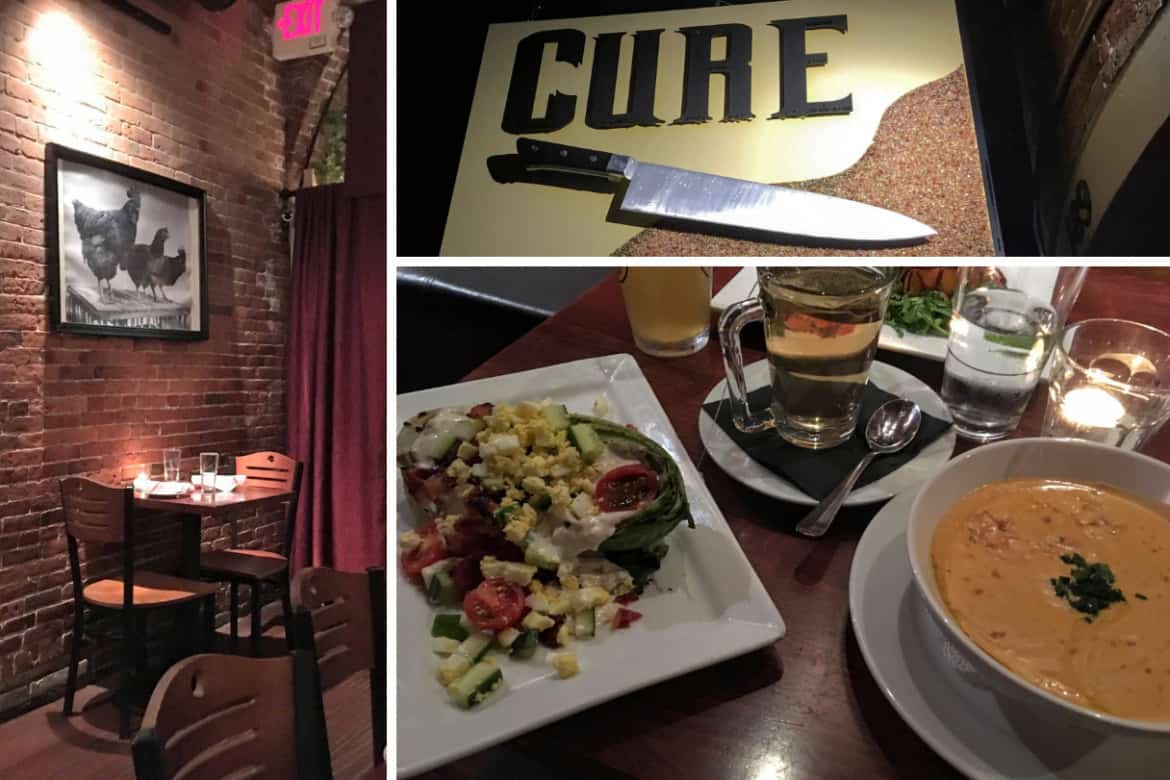 Located on State Street in downtown Portsmouth, Cure's dark and cozy interior is reminiscent of an upscale French Bistro, but the menu is incredibly eclectic and fun. Meats play a starring role at Cure, where most are brined and slow-cooked to maximize tenderness and bring out their unique flavor.
Mouth-watering dishes like the bourbon-glazed pork chops, pan-roasted duck breast, and rosemary marinated lamb porterhouse are prepared fresh daily. Seafood and vegetarian comfort foods round out the menu — lobster mac and cheese, vegetarian wellington, almond crusted organic salmon. Are you hungry yet?
We've been to Cure a few times, and it's almost always busy, no matter the time of evening or the season. I'd recommend making reservations for this one!
Ultimate Comfort Food: Mr. Mac's Mac and Cheese
Need a quick and comforting lunch? Don't pass up Mr. Mac's!
From the outside, Mr. Mac's Mac and Cheese is pretty unassuming, and you'd be forgiven for thinking it's just another kid-inspired greasy spoon. But we urge you not to pass this one by, especially if you're still searching for comfort food that compares to Grandma's. This is the comfort-food restaurant in Portsmouth!
A clean and bright dining area greets patrons to Mr. Mac's, which is located on Lafayette Road, just outside of downtown Portsmouth. While all the options are fantastically cheesy, you've got a huge variety of choices, from the all-American classic to shrimp scampi mac-and-cheese and chicken cordon bleu.
Each day, cheeses are shredded, the roux is prepared fresh, and other ingredients are chopped and prepped for the day's menu. We ordered in and sampled small skillets of pesto mac-and-cheese, pulled pork BBQ mac-and-cheese with a BBQ chip crumble topping, shrimp scampi mac and cheese, and garden veggie mac-and-cheese. All were delicious and rich renditions of an American classic. In addition to the standard single-serve meals, you can also purchase mac and cheese for a crowd. Deliciously dangerous!
Downtown Gathering Spot: Portsmouth Gas Light Co.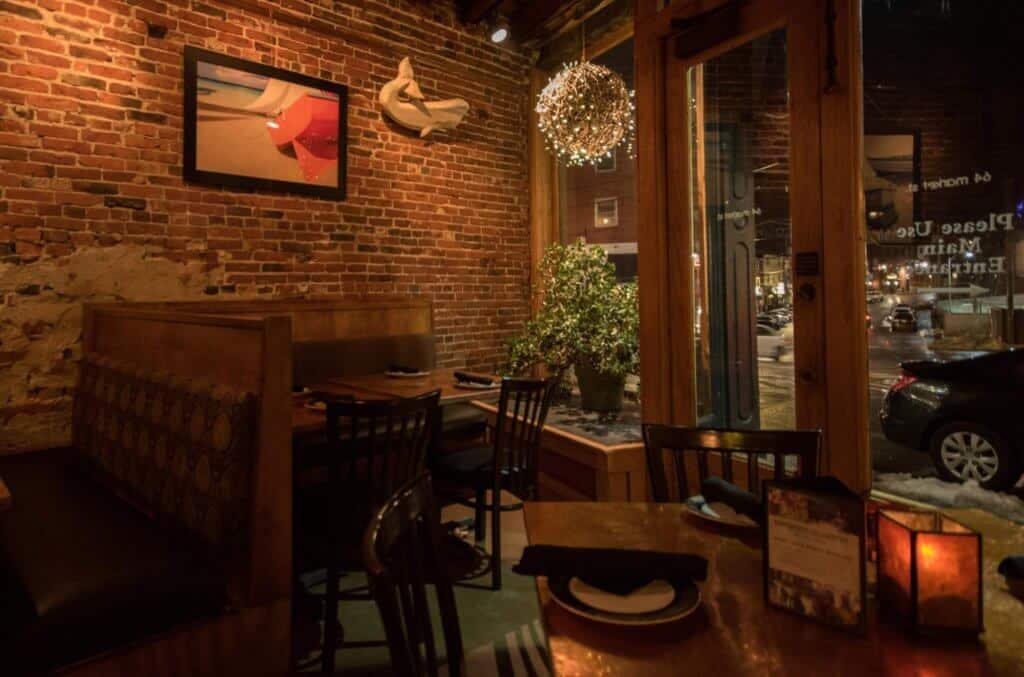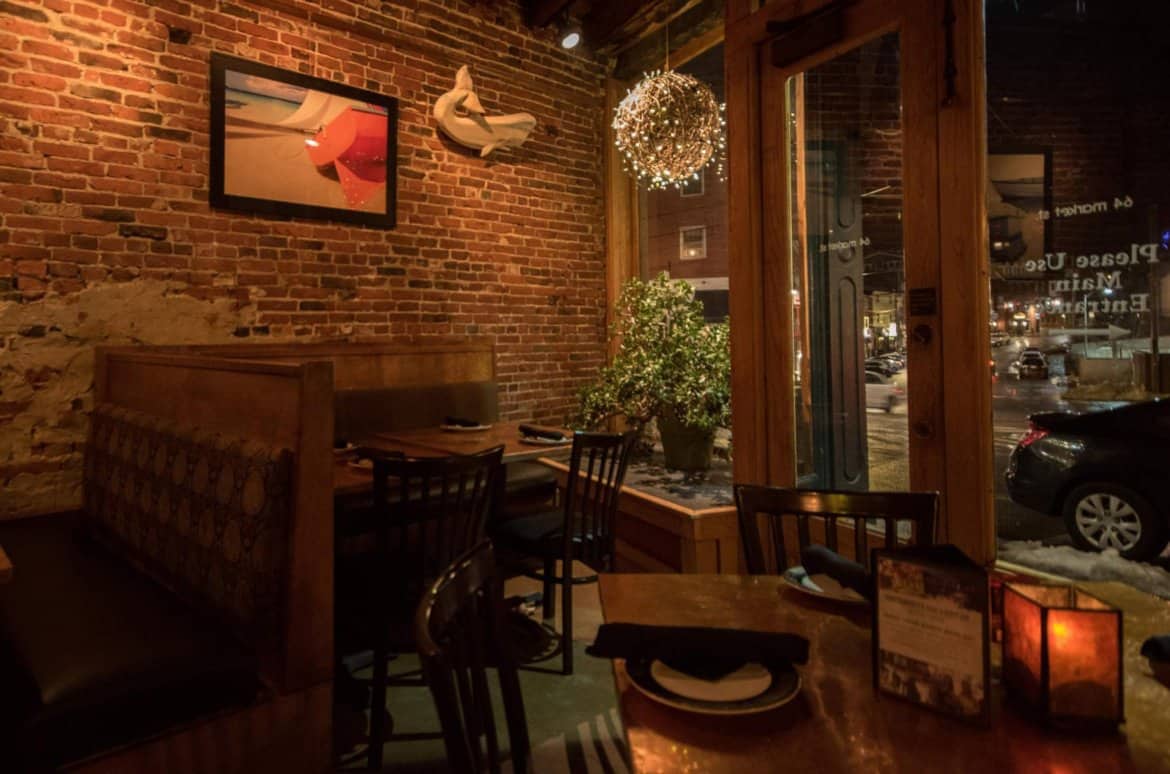 As one of Portsmouth's most popular restaurants, the Gas Light offers coastal flavors as well as farm-to-table eats in a pub-style atmosphere. Lots of high-end craft beers and cocktails are available every day of the week, and Monday's half-price margaritas made a rainy and cold evening way more enjoyable. It was obvious that many of the other diners felt the same way — the place was hoppin', and the drinks were definitely flowing.
We ordered salads to take the edge off of our margaritas – both were very fresh and loaded with goodies like goat cheese, herbs, sunflower seeds, and roasted beets. Other inspiring menu items include Maker's Mark steak tips, beer-battered fish and chips, and incredible wood-fired pizza. Whether you're a local or a visitor from afar, the Gas Light is definitely one of Portsmouth's most inspiring gathering spots.
Irresistible Italian: Tuscan Kitchen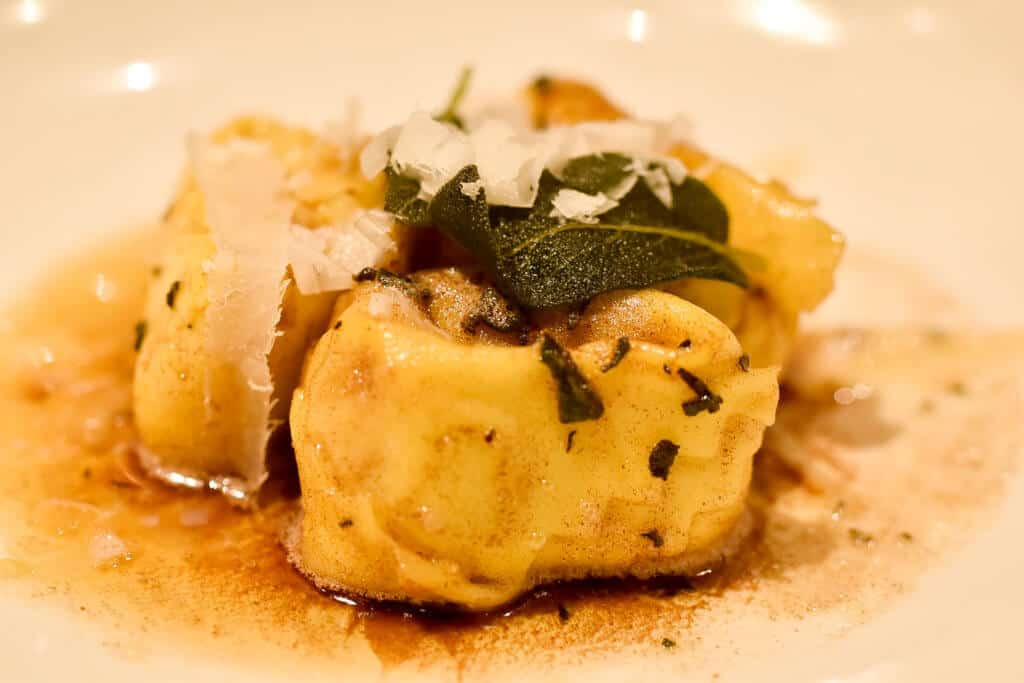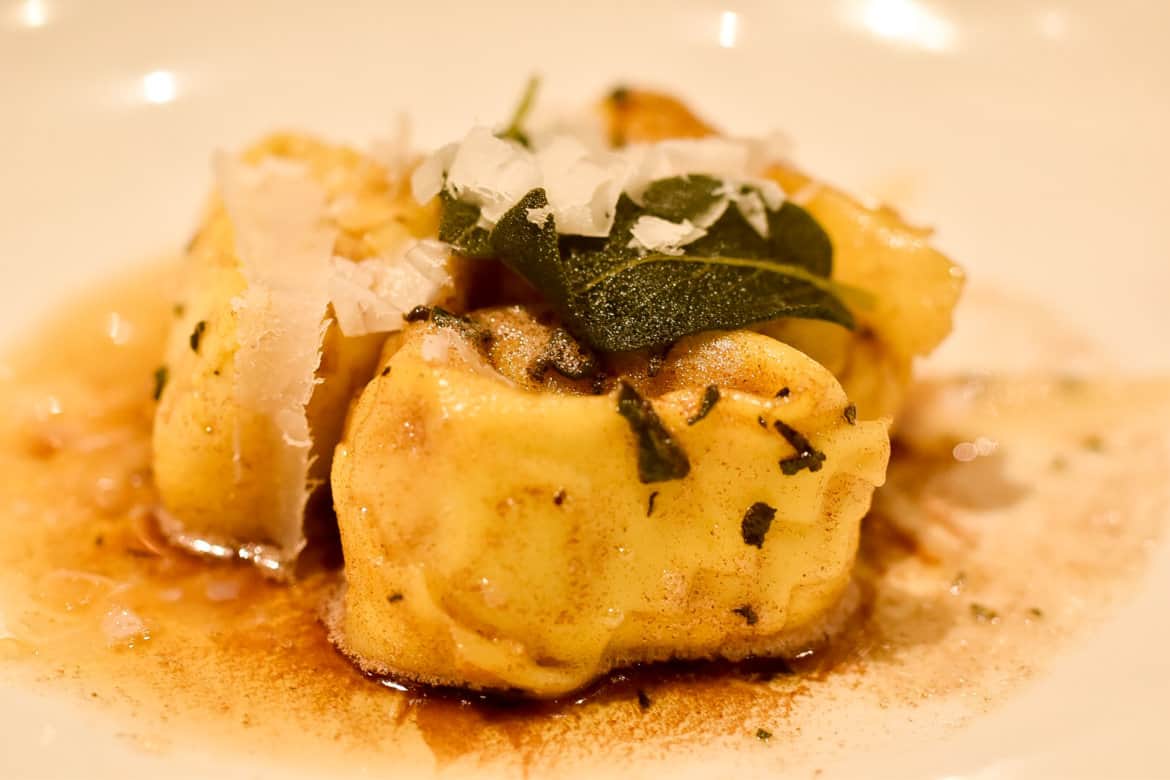 *2020 Update: Tuscan Kitchen Portsmouth is moving downtown! It won't be long before you can find them downtown at 3 Pleasant Street. Keep an eye out!
As a relative newcomer to Portsmouth, Tuscan Kitchen is another restaurant that you might be tempted to drive past. It's located on Lafayette Road, and while its location surrounded by strip-mall shopping may not be inspiring, the food more than makes up for it. In fact, our lunch at Tuscan Kitchen ranks high on my favorite-meal-ever list – it's in the top 10. We had no idea what we were in for when we popped in for lunch on a Tuesday afternoon.
Every single thing on the menu is made from scratch. Everything. The meat is smoked in-house (you have to try the salumi and prosciutto), artisan bread is baked fresh every day (delightful), and the pasta… don't even get me started. My absolute favorite dish was the roasted butternut squash cappellacci. a savory-sweet mix of butternut squash, Parmesan cheese, and sage, wrapped in little sheets of homemade pasta and drizzled with browned butter.
You'll be totally satiated by the time you look at the dessert menu, but if even you can't eat another bite, please take some tiramisu for later. It's is the perfect combination of light and rich, creamy and sweet, and of course, it's kissed with the delicate flavors of chocolate, coffee, and liqueur. Just thinking about our Tuscan Kitchen meal has me ready to drive back to Portsmouth. Please don't pass up a chance to indulge in this incredible Italian cuisine. As of now, this is my favorite restaurant in Portsmouth, NH!
Inviting and Unique: The Goods Market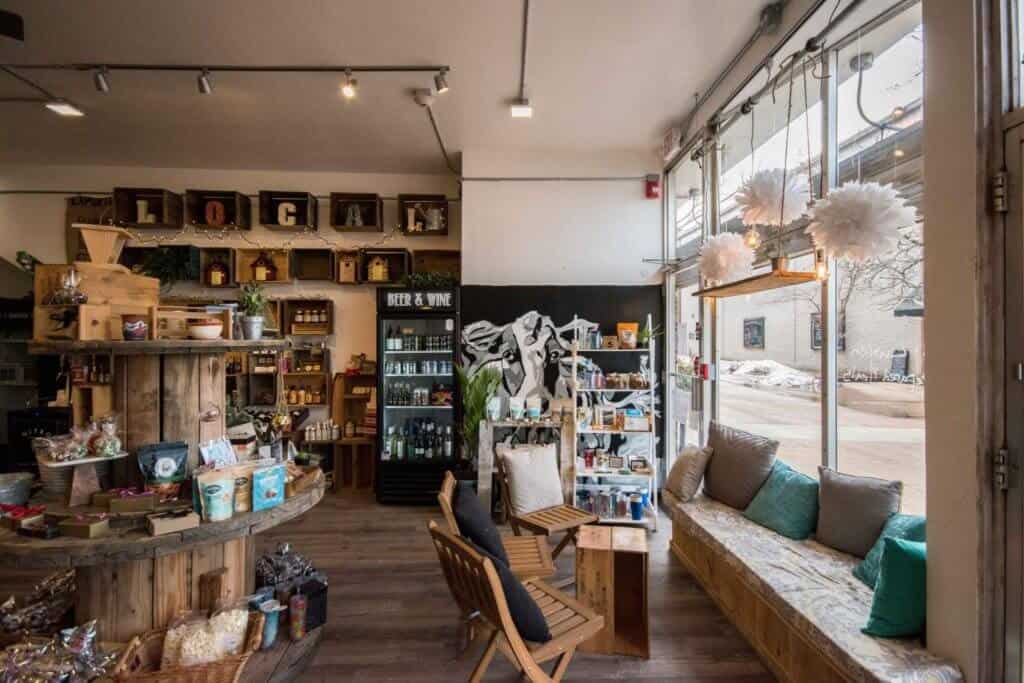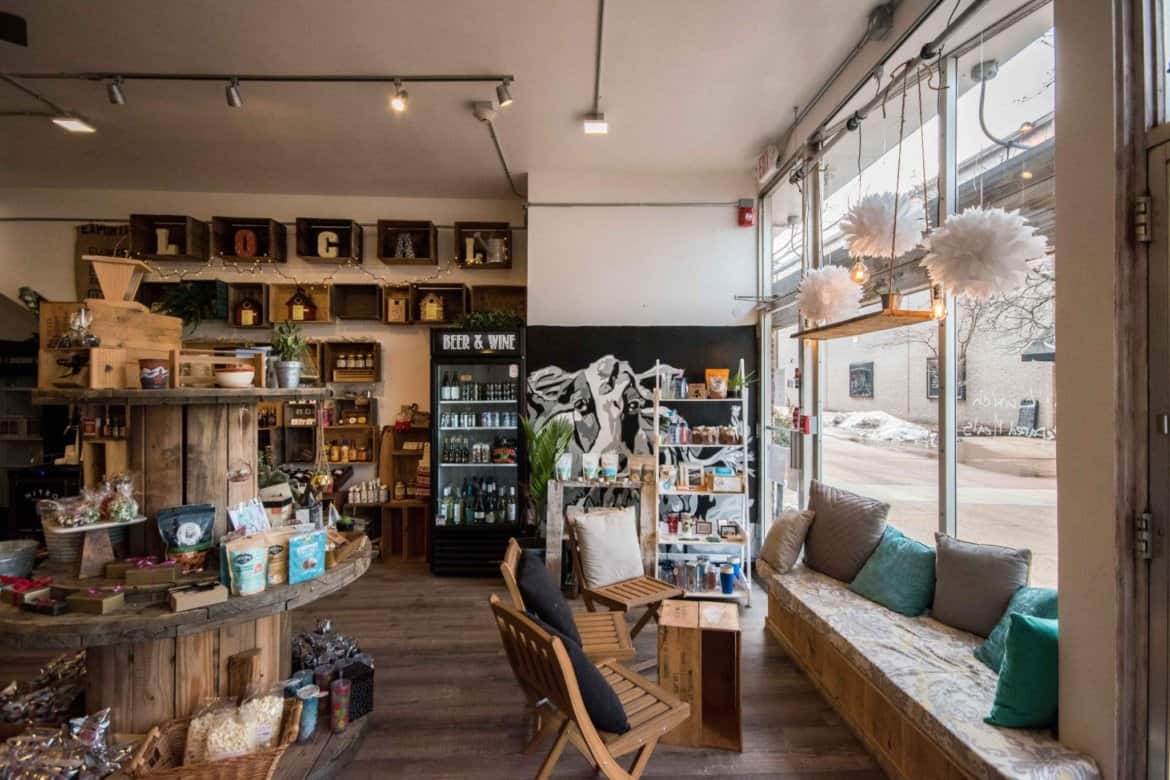 Looking for stellar coffee and a wholesome breakfast right in downtown Portsmouth? You probably have several choices, but our favorite spot is The Goods Market, located at 29 Vaughan Mall. It's walking distance from all of downtown, and even from our amazing Portsmouth Bed and Breakfast, which was actually over the bridge in Maine. If you want to drive, it's a stone's throw from a great public parking lot, and the inside is unbelievably cute and welcoming.
The Goods' specialty is the Cali Wrap, which we couldn't resist – scrambled eggs, roasted veggies, goat cheese, avocado, and sriracha. They also make a mean smoothie (I loved the Pink Passion), and if you're heading out to the coast for a picnic, be sure to order one of their amazing subs to-go. In addition to the freshly-prepared meals, you'll also find made-from-scratch chocolate, and locally-crafted gifts and treasures.
Local Beer and Farm Animals: Throwback Brewery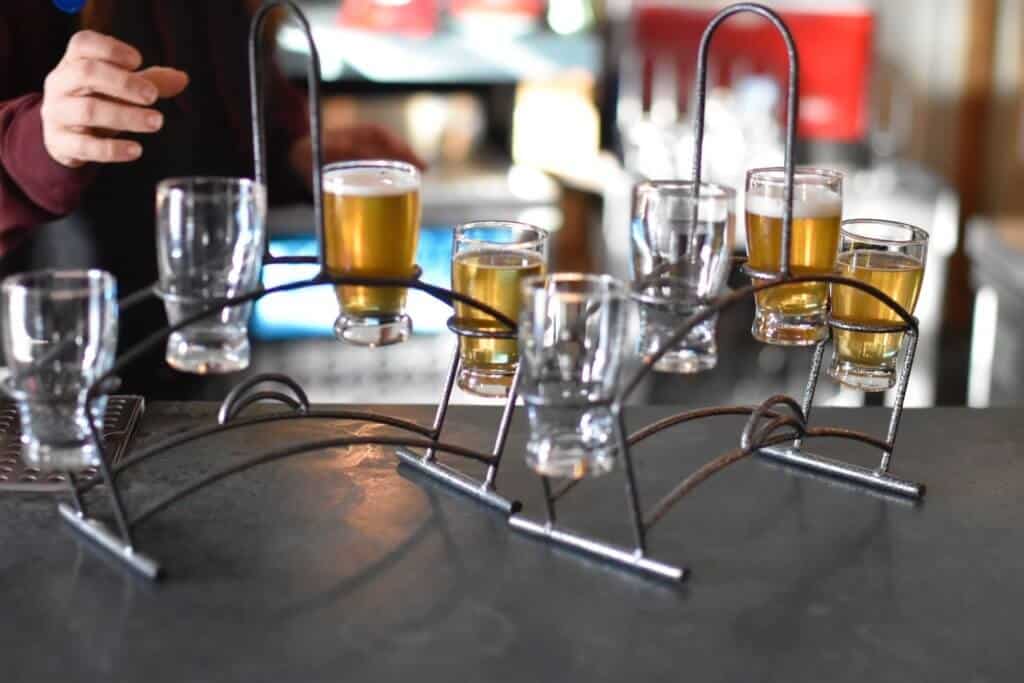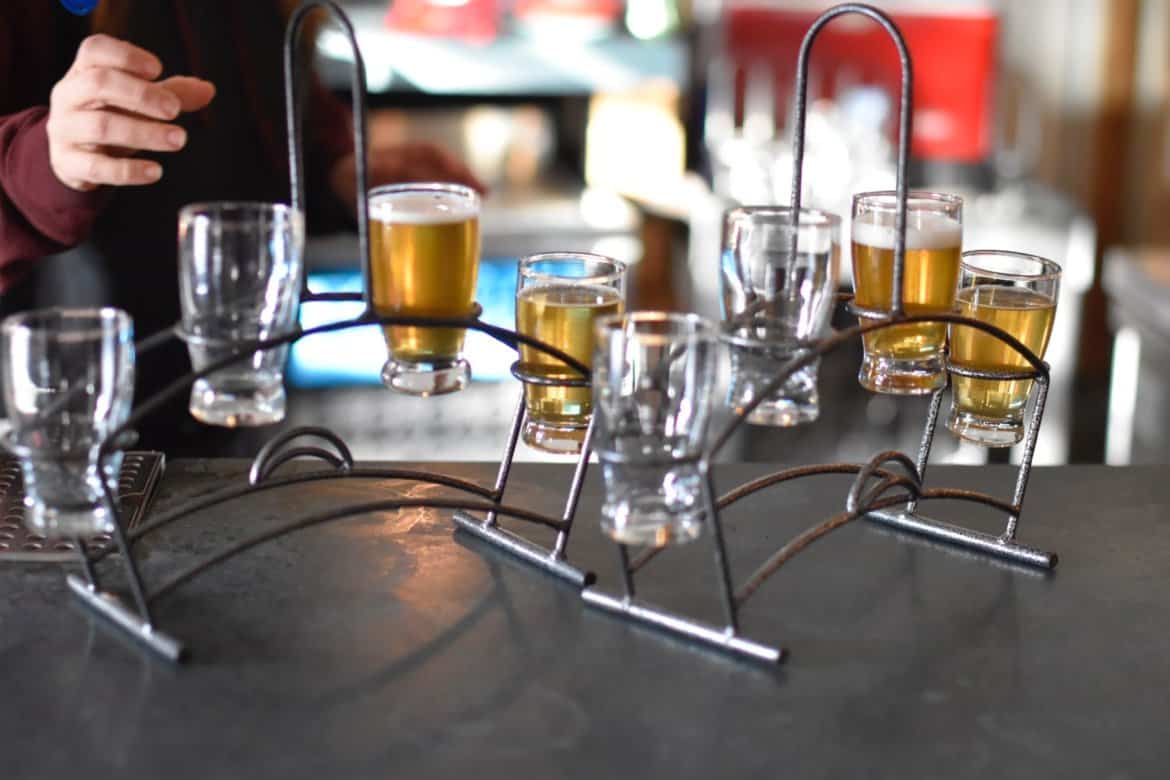 The Portsmouth area has been a hub for the brewing industry ever since Frank Jones began brewing ale in 1858. By 1882, The Frank Jones Brewery was the largest in the country, producing 250,000 barrels of beer annually. Today, there are dozens of breweries in Portsmouth and the Seacoast, but one stands out, both for its innovation and its fabulous brews.
Throwback Brewery prides itself on its thoroughly local creations, for both food and beer. Beer selections are as unique as they come and include a range of traditional brews and fun selections like the El ChuBREWcabra — a porter brewed with local peppers and cinnamon sticks, and the Fat Alberta Chocolate Peanut Butter Stout, which is only available in December and brewed with cocoa husks and peanuts.
The brewery is located on a working farm and is home to sprawling gardens, as well as three goats, a handful of chickens, and two miniature donkeys. It's a beautiful plot of land, and visitors are encouraged to visit the animals, relax outside with their kids, play lawn games, and enjoy an eclectic selection of farm-to-table meals.
From snacks to sandwiches, and even a kids' menu, Throwback has you covered, and if you just can't get enough of the tasty beers, you can fill a growler or purchase cans from the cooler. Throwback Brewery is an award-winning gem of a place that you definitely won't want to miss, and in our book it wins best brewery in Portsmouth, NH.
Coastal Cuisine with a Twist: The Atlantic Grill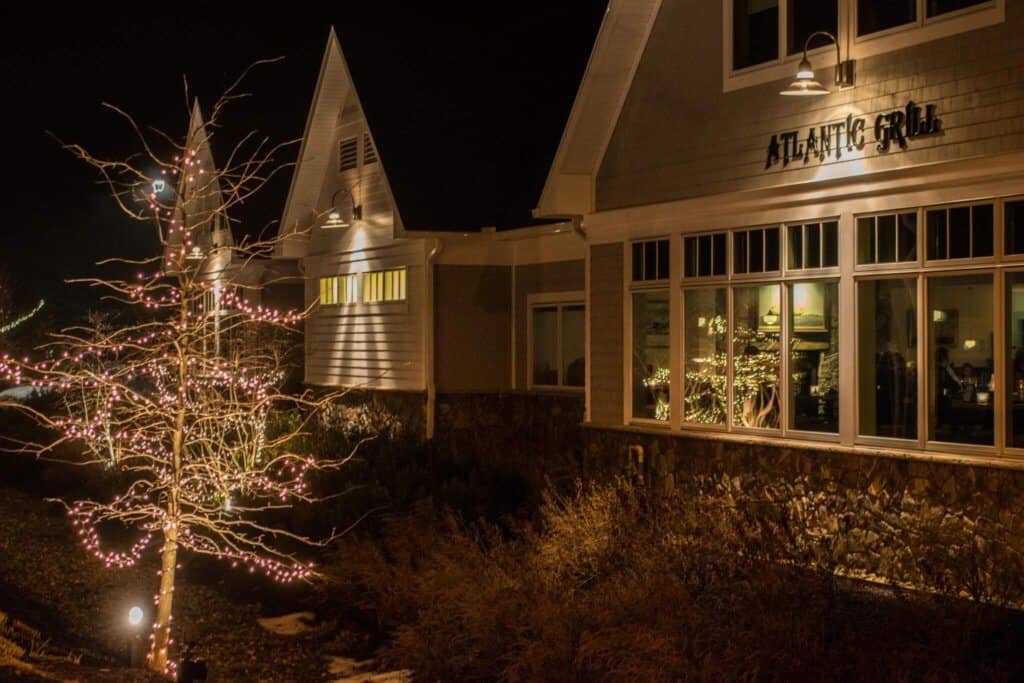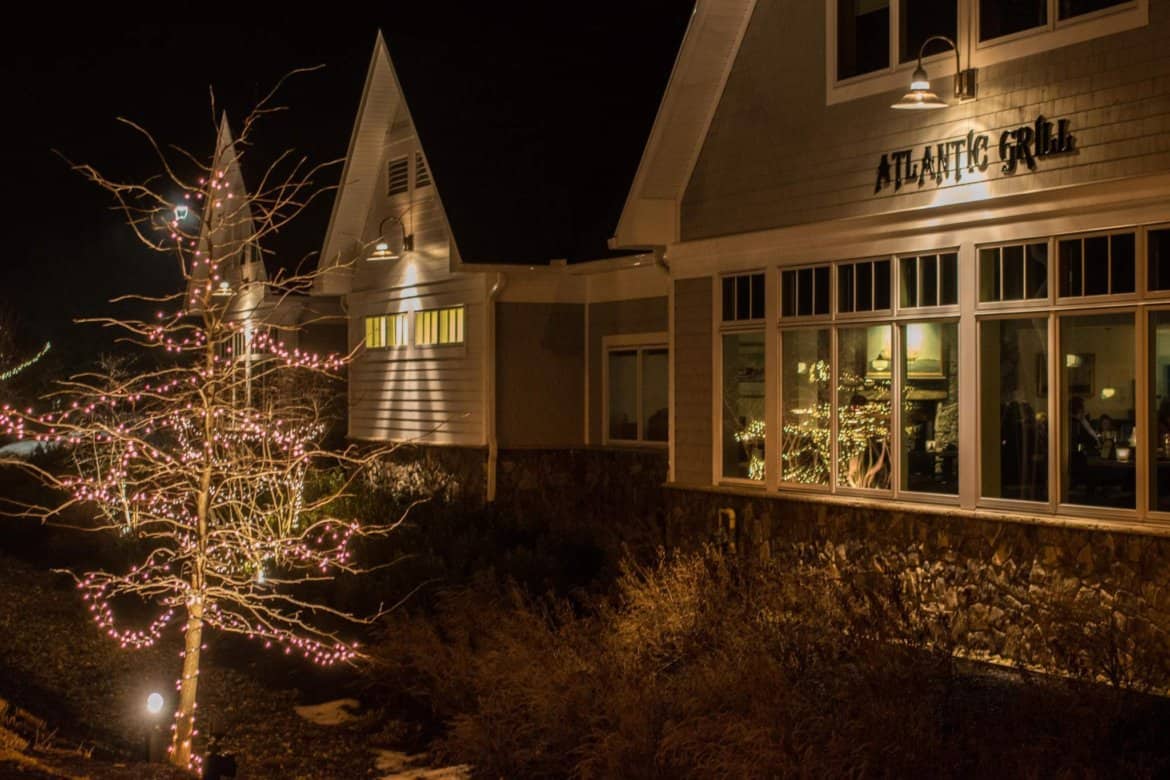 This swanky seafood restaurant is actually located in Rye, New Hampshire, so if you find yourself hiking around Odiorne Point State Park or checking out the critters at the Seacoast Science Center, you may want to stop into the Atlantic Grill for some of the most incredible seafood around. Before you take your seat, say hello to the jellyfish who love to welcome visitors from their Day-Glo home.
We were lucky to score a fabulous spot near the cozy fireplace, even though the place was bustling. The four-sided bar was a hub of activity, and just about every table was full. We started off with a sampling of oysters, all from different locales, and all delicious. It was fun to read the descriptions of each oyster, and amazing that each one tasted so distinctly different from the next.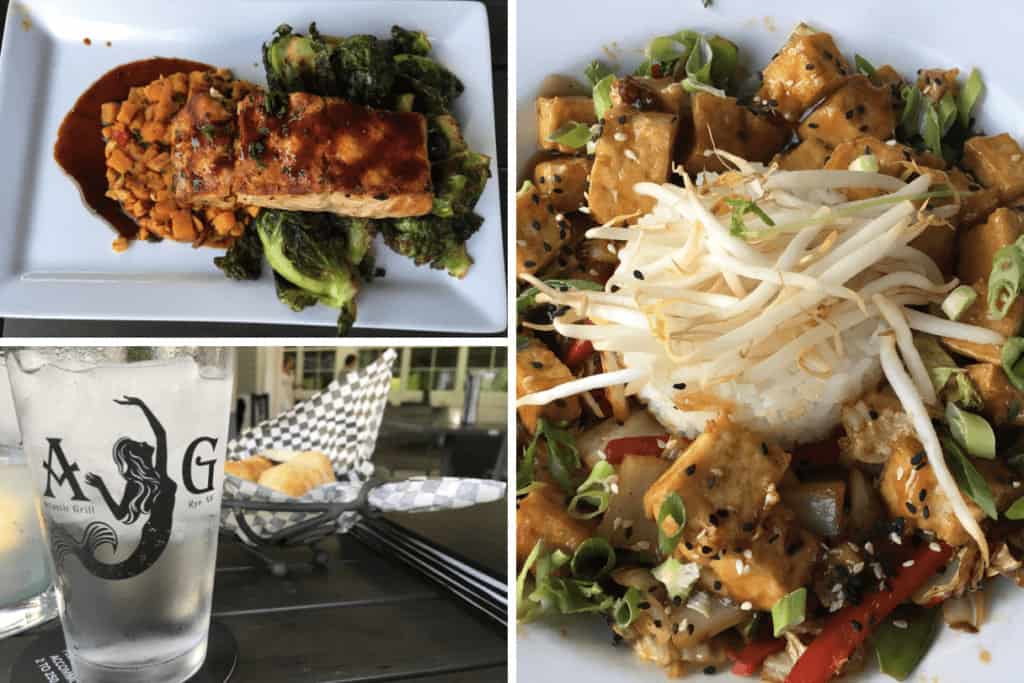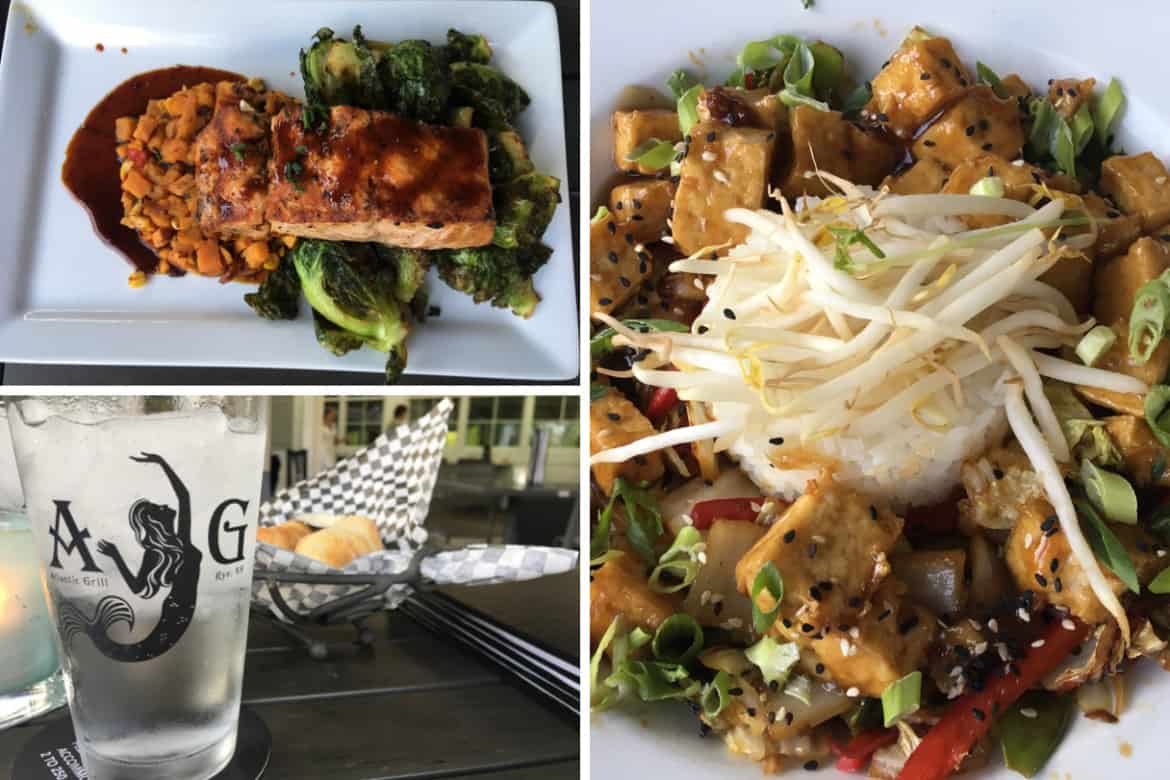 As for entrees, there are a lot of seafood selections to choose from, and if you have trouble deciding, just ask your server for advice. We went with the grilled salmon and the Cantonese stir fry, because, truth be told, I judge a restaurant by its vegetarian options. If they can get tofu right, I'm a fan for life! The salmon came with a side of sweet potato hash and fried Brussels sprouts, which complemented the fish beautifully. We have since made a vow to make fried Brussels sprouts at home. We can't stop thinking about them.
The stir fry did not disappoint, and it was definitely not a vegetarian afterthought. The tofu and veggies were crispy and fresh, the sauce sweet, sour, and spicy. I can't wait to go back, because we really didn't have room for dessert.
There are lots of places to eat and in Portsmouth, NH, but so far, these are our favorites. If you have any of your own, please share them with us.
---
Want to read more about visiting Portsmouth, New Hampshire? Check out our post about the best things to do on a winter getaway in Portsmouth as well as our perfect itinerary for a romantic getaway in Portsmouth.

And if you want help planning your trip, not to mention ideas for dining, lodging, and shopping, definitely check out the Chamber Collaborative of Greater Portsmouth.
---
Pin for later?