Ready to pay a visit to the shores of America's largest, deepest, and coldest lake?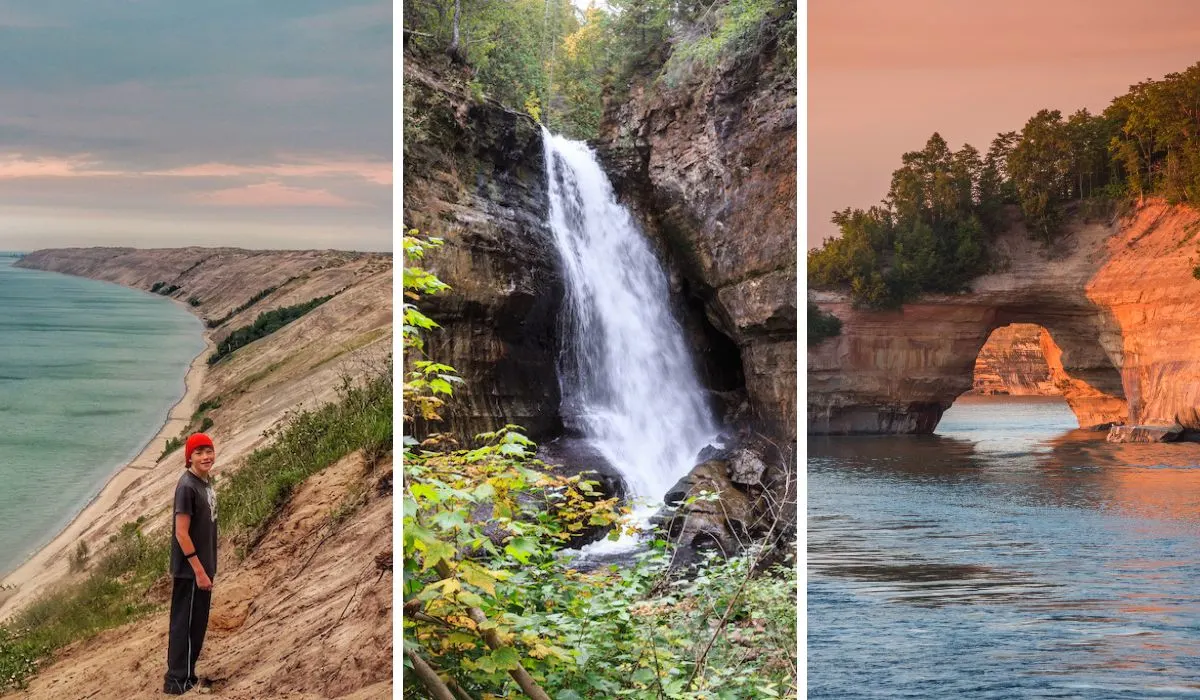 Pictured Rocks National Lakeshore encompasses more than 70,000 acres and 42 miles of rugged and wild shoreline on Lake Superior in Michigan's Upper Peninsula.
This wildly beautiful landscape is s protected and managed by the national park service, and it is one of only four national lakeshores in the United States.
Sculpted by the power of mighty winds, colossal ice sheets, and pounding waves, Pictured Rocks National Lakeshore is an ideal spot to unplug, pitch a tent, hike a trail, or kayak along massive cliffs.
The area is a landscape photographer's dream and a fantastic destination for wildlife lovers.
Here's why you need to visit Pictured Rocks National Lakeshore, as well as some awesome things to do when you get there!
---
Also read: Fabulous Hidden Gems for Great Lakes Camping
---
Things You Won't Want to Miss at Pictured Rocks National Lakeshore
Whether you spend your time on land or on the water, Pictured Rocks offers a wealth of recreation opportunities.
On land, you can hike along the lakeshore, discovering views of towering sandstone cliffs, massive dunes, and sandy beaches. Inland, there are large tracts of wild forest, with massive waterfalls, elusive songbirds, and trails that range from flat and totally accessible to incredibly challenging.
If you can get out onto Lake Superior, you will discover hidden sea caves, beautifully rugged scenery, and great fishing opportunities.
Pictured Rocks National Lakeshore is open year-round for adventuring, but our family has only visited in the summer, so we're going to focus on fair-weather adventures.
Here are some of our favorite things to do in Pictured Rocks National Lakeshore.
Tour the Au Sable Light Station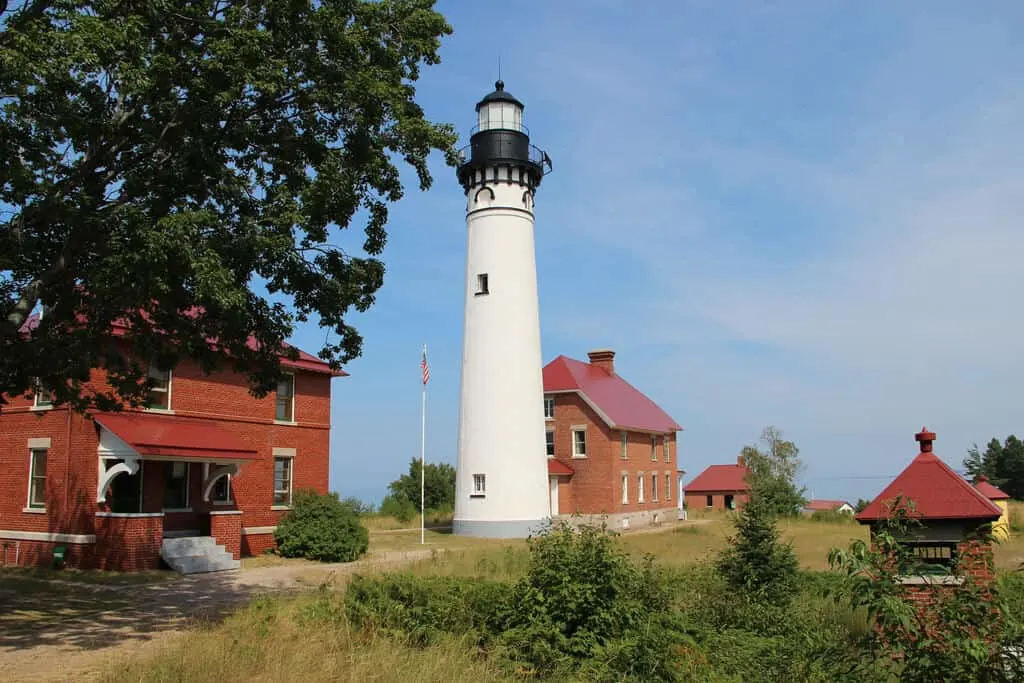 Crafted in 1874, the Au Sable Light Station sits on Au Sable Point near a quiet beach about 12 miles west of Grand Marais, and within the boundaries of Pictured Rocks National Lakeshore.
The lighthouse became fully automated in 1958 and transferred from the Coast Guard to the National Park Service in 1968.
The best way to explore the lighthouse is by embarking on a ranger-led tour from June through the end of September. Au Sable Lighthouse tours are scheduled Wednesday through Sunday and begin at 11 am.
The 2023 schedule is 11:00, 12:00, 1:30, 2:30, and 3:30. The fee is $5 for tour participants over 6, and you do need to have the exact amount as tour guides will not have change.
Take the 1.5-mile trail to the lighthouse from the parking area and meet your guide near the east porch of the lighthouse.
This is a fun hike for kids, with steps and trails leading down to the beach around every corner. Remains of shipwrecks dot the shore, making this short hike seem like a grand adventure.
Please be aware that dogs aren't allowed on this trail, and that biting flies are vicious along this trail during hot, humid summers.
You can easily make this a full-afternoon excursion with the tour (including the hike) taking about two hours, and then picnicking on the beach afterward.
Visit the Pictured Rocks Log Slide
Climb down (and back up) this super steep sand dune if you dare.
This used to be the site of a log chute, where lumberjacks would push timber into the lake for transport. What's left is a giant sand dune that you can climb, run, or tumble down. Just remember that you'll have to get yourself back up, which I can tell you from experience, isn't easy.
A nearby sign warns visitors that a 5-minute run down the slide will be followed by a strenuous climb that could take an hour or more.
If you don't want to exert yourself with those shenanigans, no one will fault you, but you should still check out the view from the top — it's one of the most beautiful in the park.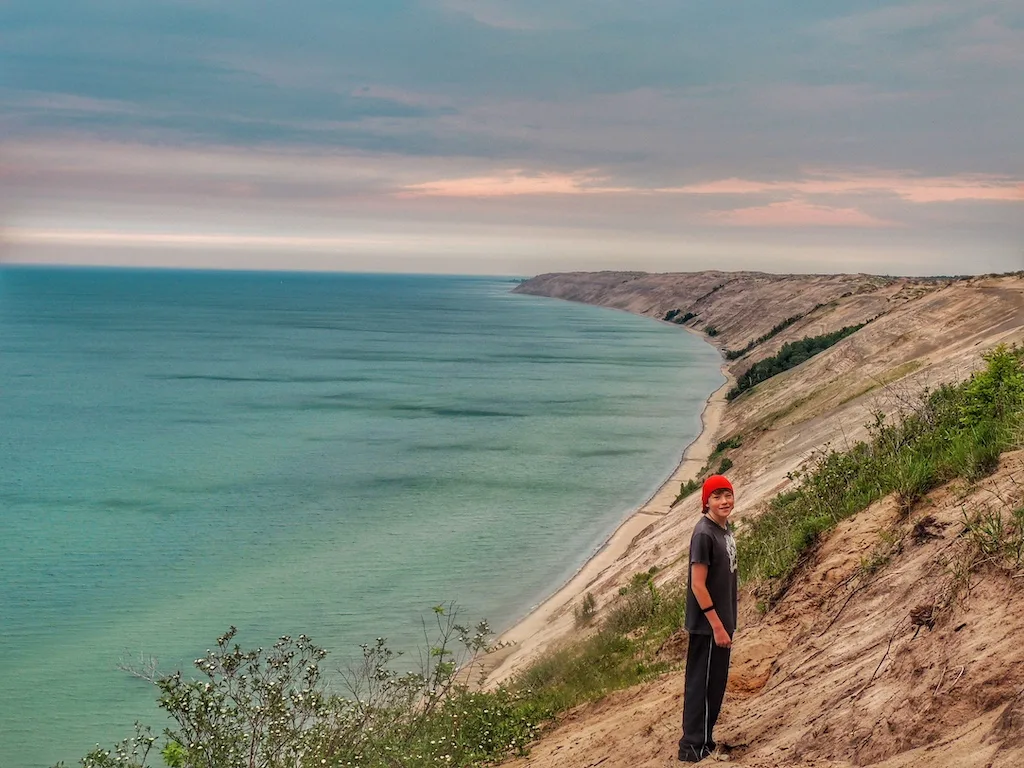 Pictured Rocks National Lakeshore Hiking
There are more than 100 miles of hiking trails in Pictured Rocks National Lakeshore, leading to remote beaches, cascading waterfalls, or secluded forests.
Most of the day hikes within Pictured Rocks are suitable for beginners, and many are short (under 3 miles).
For a more serious adventure, consider a backpacking trip along the North Country National Scenic Trail.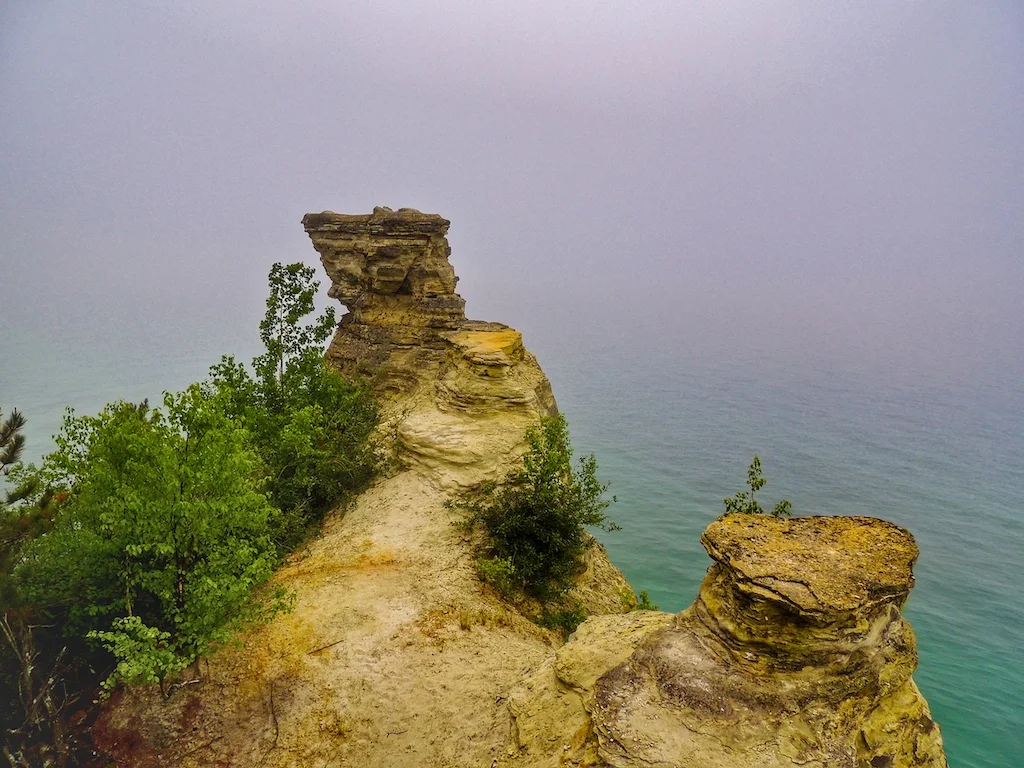 42 of the trail's 4,600 miles are located within Pictured Rocks National Lakeshore. Backcountry camping is available for hikers at 14 primitive campgrounds along the trail.
Here are some of our favorite hiking trails in Pictured Rocks National Lakeshore.
Chapel Falls, Rock, and Beach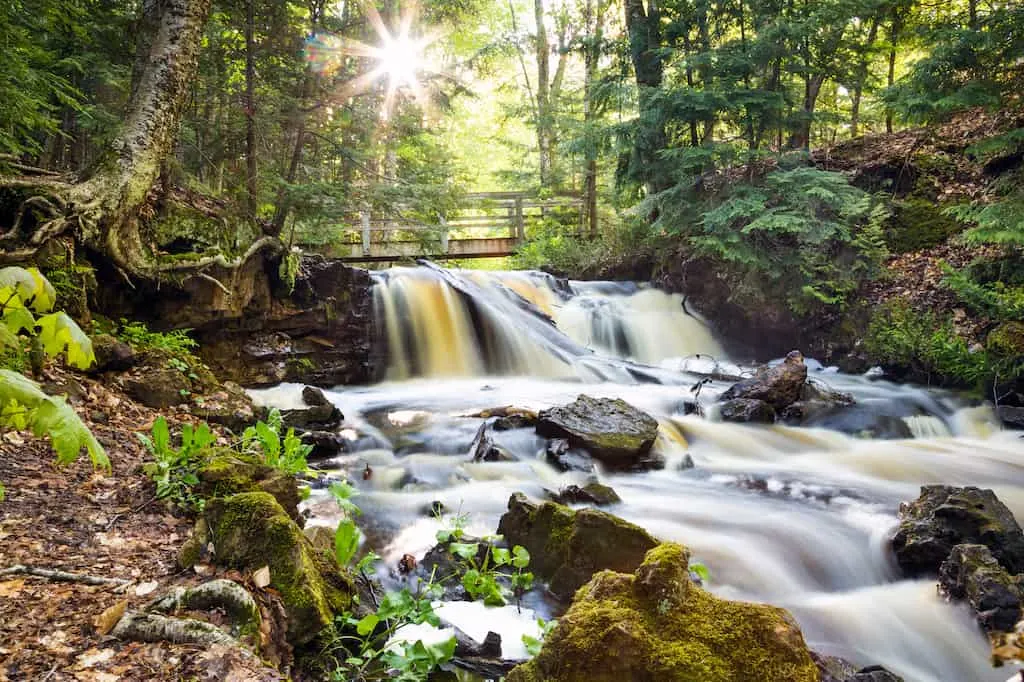 So much to see in one 5-mile hike! This part of Pictured Rocks National Lakeshore is very easy on the eyes. The hiking is easy too, even with a packed picnic.
You'll pass Chapel Falls and Chapel Lake on your way to the beach, after about 1.5 miles of walking. The falls cascade steeply more than 60 feet into Chapel Lake.
There are several viewing platforms and photo ops along the way. After another mile or so, you will spot Chapel Rock and Lake Superior.
This is a great place to while away the day. Swim in the frigid waters, bask in the sun, and indulge in a picnic before heading back to your car.
You can also make use of a few primitive backcountry campsites along the beach. Just be sure to pick up a permit from the visitor center (and leave your dog at home).
Miners Falls Trail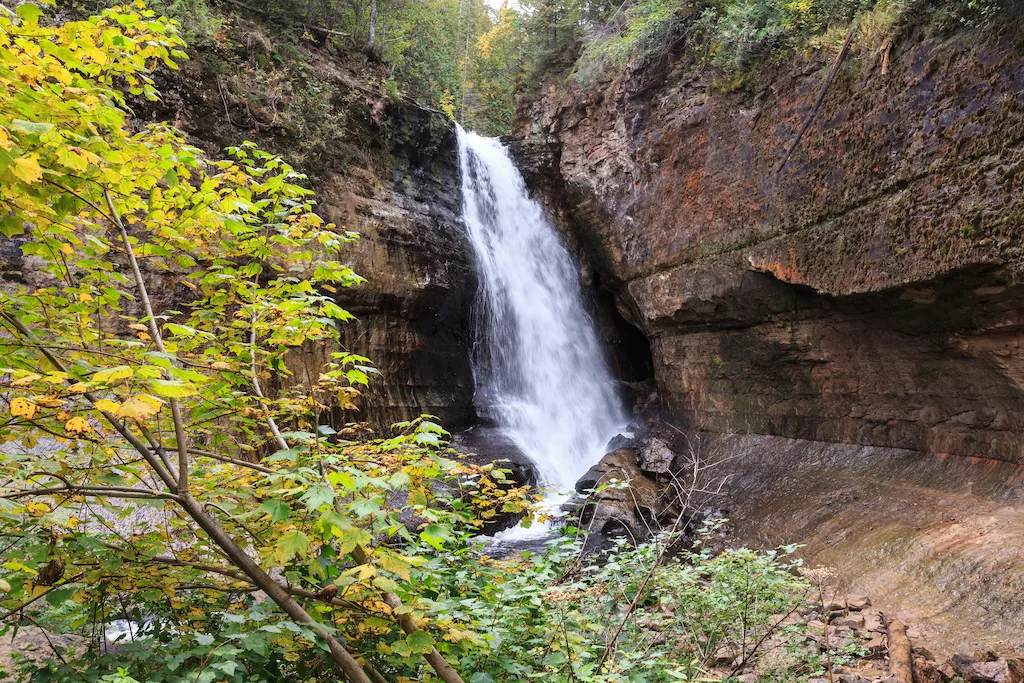 This is another easy trail totaling 1.2 miles. The trail meanders through a mixed hardwood forest before opening up with views of an incredible waterfall. There are upper and lower platforms for your viewing pleasure.
Chapel Basin/Mosquito Falls Area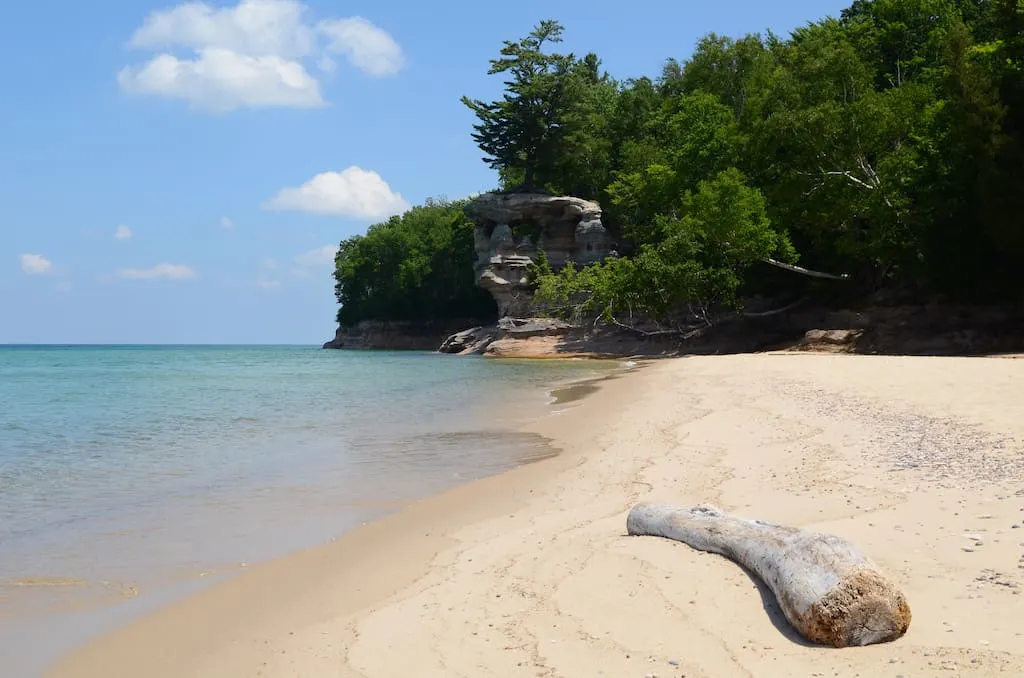 This was our favorite hike during our visit. There are a variety of loop trails you can take ranging from 2 miles to 10.
We began at the trailhead on Chapel Road and hiked counter-clockwise to Chapel Falls, Chapel Rock, Chapel Beach, and then back through the woods along Chapel Lake.
In total, the hike we chose was about 6 miles. Check out the Chapel Basin Map to plan your perfect hiking itinerary in this area.
Pictured Rocks Camping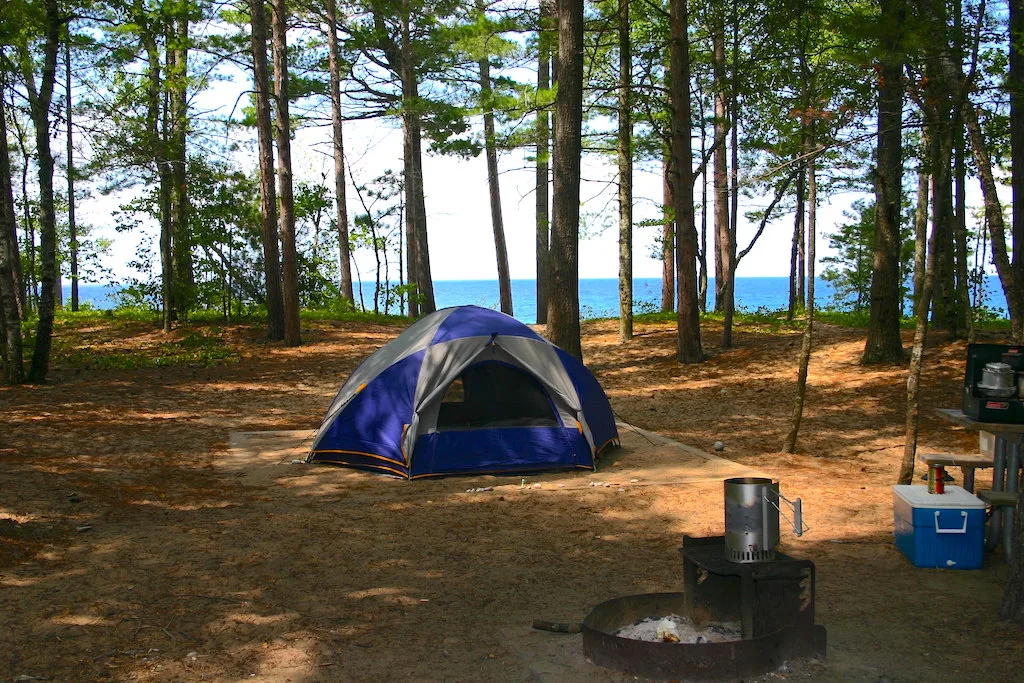 While I can't vouch for all the campgrounds at Pictured Rocks National Lakeshore, we LOVED Twelvemile Beach Campground!
Each campsite is perched on a tree-covered embankment overlooking Lake Superior, and most sites include a private little trail down to the water.
There's a nice picnic table at each site, a hanger for your lantern, and a fire ring. The bathrooms are clean but fairly primitive.
Is the beach really twelve miles long?
I don't know, but you can walk and walk and walk along the shore, which is lined with the most beautiful rounded pebbles of every color imaginable.
We were so tempted to bring a pile home with us, but alas, the signs warn people against taking souvenirs for themselves. In fact, there's talk of a curse that will follow, should you pocket treasures from the shore.
We did bring some rocks to our campsite to admire but left them behind for all of you to enjoy.
Tips for Camping at Pictured Rocks National Lakeshore
Bring warm clothes, even in the summer. The weather can be really fickle, with rain, wind, and cold temps coming on all of a sudden. Make use of your inner boy scout and be prepared (or be miserable).
The biting flies can be a deal-breaker. They were most abundant right on the beach, and just dive-bombed every bit of skin we left exposed. Our bug spray didn't seem to work on the beach, so the best course of action is to wear long pants and cover every inch of your skin. At our campsite, we happily handled the mosquitos, who didn't like our bug spray or our campfire.
The water is FRIGID. 50 degrees at the end of June. Our kids went in anyway, and the lake spit them right out after just three seconds. If you want to swim, I recommend visiting in August.
Pictured Rocks isn't the best park for dogs. Dogs aren't allowed on most trails or buildings. They are, however, allowed in all drive-in campgrounds and at a few designated trails and beaches.
There are no first-come, first-served sites. Campsites are $25 each and must be reserved in advance (up to six months before your visit).
Cell Service is very limited – We only got service in one area of the park, and even that was dependent on the weather.
Pictured Rocks Hotels
We know camping isn't for everyone, and believe me when I say that there are many days when I just don't have the energy to pitch a tent and build a fire.
If you want to spend your days hiking, swimming, and chasing waterfalls, and your nights relaxing in a real bed, there are lots of lodging opportunities outside the park.
While there isn't lodging within the park, the gateway community of Munising has a few options. For affordable waterfront lodging, we recommend the Holiday Inn Express. It sits atop a bluff overlooking Pictured Rocks, and it's got an indoor pool and hot tub (in case Lake Superior is too darn cold).
If you need a bit more room to spread out, there's always Airbnb.
We found a waterfront cottage for less than $100 per night during our visit. This allowed us to cook our own meals, and was a huge saving overall. There are currently 92 listings on Airbnb in Munising, MI – something for everyone.
Ready to don your hiking boots and your swimsuit and head out to Pictured Rocks National Lakeshore?
Don't forget your camera, and please tell us about your favorite trails, beaches, and adventures in the comments below.
---
Keep in touch on social media!
Pin for Later?