Are you looking for a unique way to spend more time outside in Massachusetts without pitching your tent in a crowded campground? Glamping might just be your answer!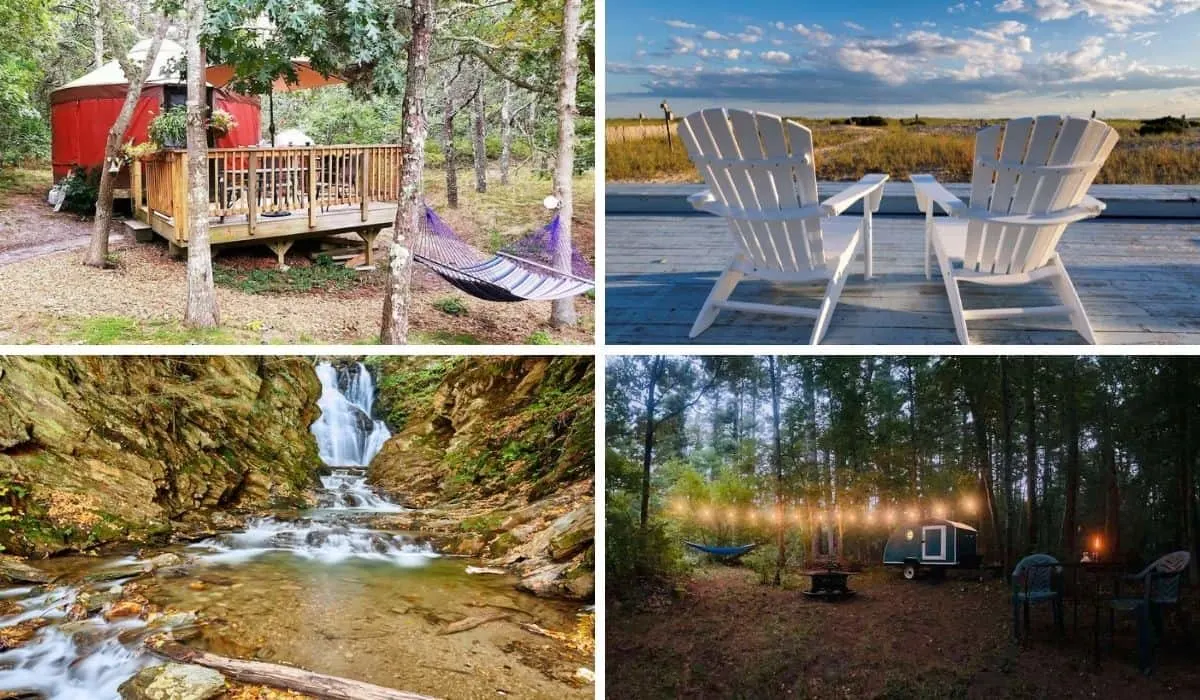 Glamping in Massachusetts provides many of the comforts of home in a beautiful outdoor setting, and let me tell you – this part of New England is all about natural beauty!
From the seashores of Cape Cod to the mountains of the Berkshires, and every place in between, glamping in Massachusetts is a fabulous way to get outside in all four seasons.
How to find Glamping in Massachusetts
So, what exactly is glamping and why do we love it so? Glamping is for people who enjoy spending time outdoors but are less thrilled with sleeping on the ground.
Glamping destinations provide unique accommodations in an outdoor setting, so you get perks like a real bed, a source of heat, and maybe even a kitchen if you're lucky.
You can still enjoy hiking trails, campfires, and relaxing outdoors, and then sleep in a real bed each night. See why we love it?
I use several online resources when searching for the best glamping near me. Here's a quick overview of the booking platforms that we use frequently.
VRBO – While VRBO doesn't have the option to let you specifically search for glamping in Massachusetts, you can look for cabins, cottages, and houseboats, and we have found some gems while searching! VRBO stands for Vacation Rental by Owner and is a great spot to look for unique properties.
Hipcamp – Hipcamp specializes in all types of private campsites, not just glamping. As of right now, most of the Hipcamp properties in Massachusetts are in the Berkshires. Generally speaking, these Hipcamp properties are rustic and affordable.
Glamping Hub – We have found some awesome Massachusetts glamping opportunities on Glamping Hub, which features yurts, treehouses, cabins, and glamping tents. Glamping sites on this platform do tend to be more luxurious and expensive, but the booking process is easy and there are lots of properties to choose from.
Airbnb – If you navigate to the Airbnb website, you will find a section titled "Unique Stays" under "More Filters". From there, you can filter your search to include barns, castles, yurts, and campers, among others. Massachusetts glamping sites are limited on Airbnb.
Tentrr – Signature Tentrr Signature Tentrr sites are ready-to-go glamping tents made of canvas, complete with a bed, woodstove, and toilet. They are very private spots in unique locations. Prices are pretty standard, between $95 and $150 per night. Right now, Tentrr sites in Massachusetts are located almost exclusively in the Berkshires.
The Best Glamping in Massachusetts
We've loosely organized this post by region to make planning your Massachusetts glamping trip easier. You will have the best luck finding glamping spots in the Berkshires, which is also one of our favorite vacation spots.
In addition to private glamping in Massachusetts, we are also featuring a few of our favorite glamping resorts.
Glamping Near Boston, Massachusetts
Whether you want to escape the crowds of the city or are looking for a little staycation close to home, these cool properties provide some of the best glamping near Boston.
While parts of Cape Cod are just an hour from Boston, we'll include Cape Cod glamping properties in their own section.
Sleep on a Yacht in Boston Harbor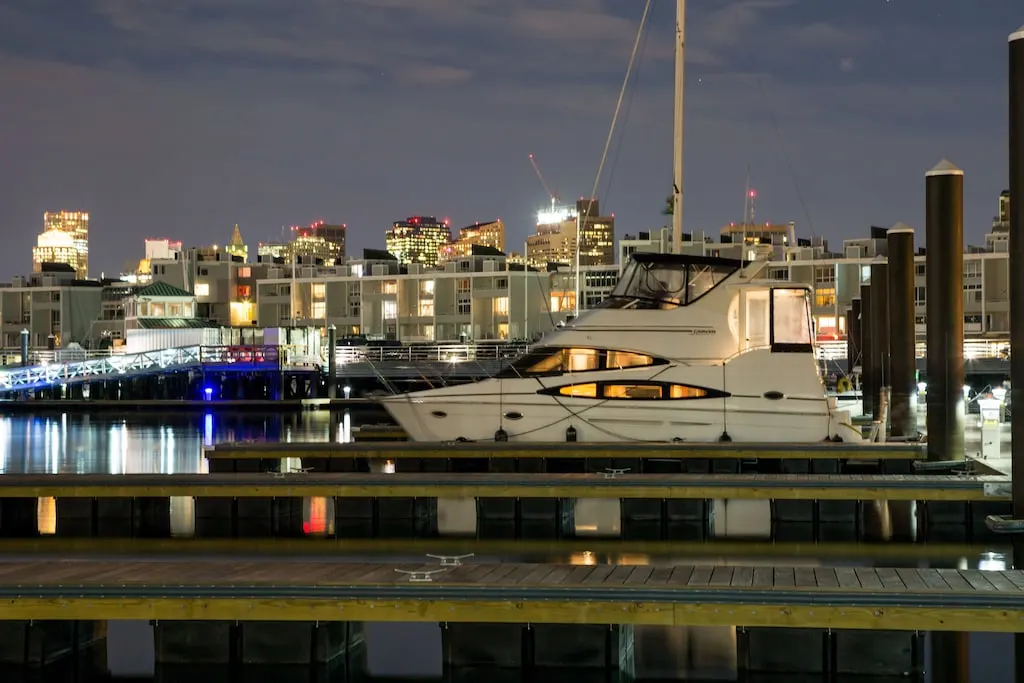 If you are planning a trip to Boston, and want to include an unusual lodging choice in your plans, consider staying on the Sea Pearl yacht in historic Charlestown on Boston Harbor.
The yacht is e located in the new Charlestown Marina close to the USS Constitution, Freedom Trail, and Bunker Hill monument. The North End is a very pleasant walk of less than 1 mile.
The yacht sleeps four people comfortably in two staterooms, each with a queen-size bed. There is additional sleeping in a full-size pullout. You also have access to a kitchen with a microwave and convection oven, a small refrigerator, and a coffee maker.
Heating and air conditioning make this a four-season glamping property, and you can stay connected with Wi-Fi and cable TV. Outside, there are two seating areas for you to relax and take in the views of both the water and the city. Pets are permitted too.
---
Rustic A-Frame Glamping Near Boston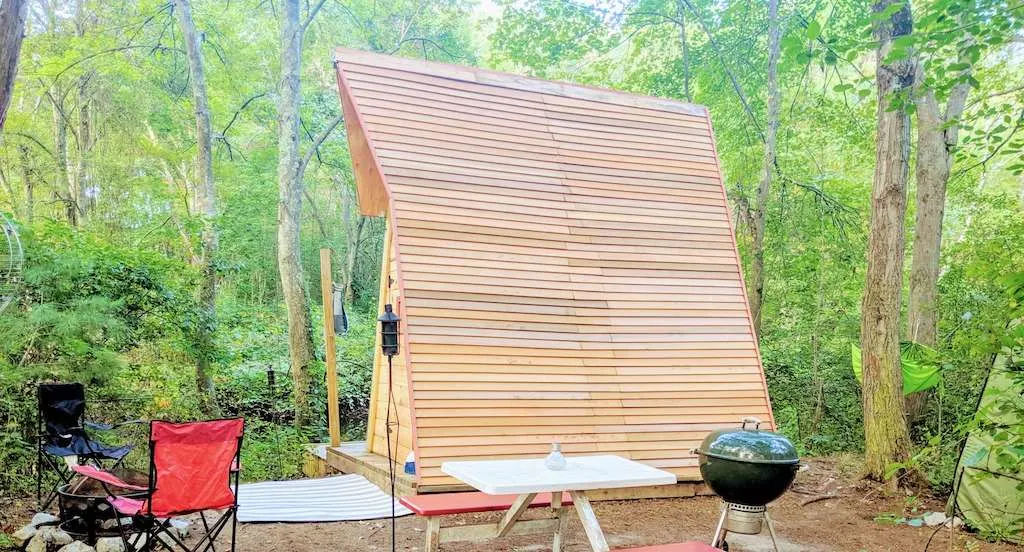 Located near the Rhode Island border, this lovely A-frame on the water is located on a suburban property with an acre of land. The spot is quiet, with an enclosure for dogs, a fire pit and barbecue grill, and lots of outdoor space to relax in.
Access to a charging station and running water is just a short walk away. This tiny cabin is beautifully decorated and perfect for two people to unplug and relax for the weekend. It's also very close to the commuter rail to Boston, making it the perfect Massachusetts glamping retreat!
---
Adorable Teardrop Camper in Plymouth, Massachusetts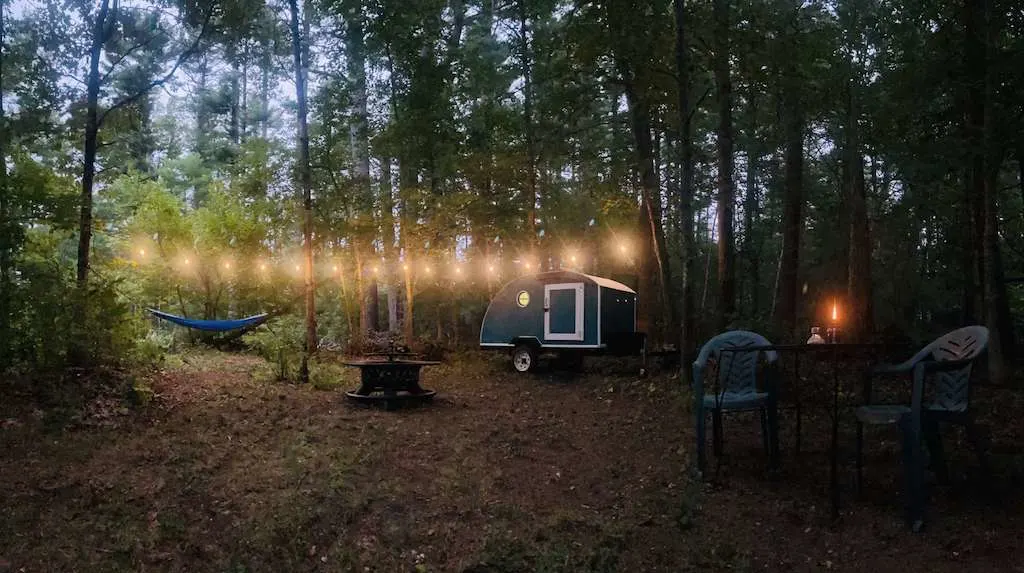 Located about 45 minutes from Boston, this little glamping set-up is as affordable as it is relaxing. Here, you can find perfectly lit fire-side camping, in comfort. Save yourself the hassle of a flimsy and frustrating tent, show up, and stay stress-free in this adorable 4×8 teardrop glamper with an 8" memory foam mattress, a variety of comfy pillows, and snuggly blankets.
There is electricity, a Bluetooth speaker, and dimmable lighting. When nature calls, the luggable loo answers – it's basically a bucket toilet, but don't knock it till you try it!
The chaise lounge and hammock are perfect for watching sunsets through the tree line or reading a book with the morning birds. Enjoy your coffee and meals at the bistro table and enjoy this gorgeous spot.
---
Glamping on Cape Cod, Massachusetts
Cape Cod is just over an hour from Boston, but it might as well be on another planet. If you're looking to escape the city for glamping in Cape Cod, we urge you to check out some of these unique properties.
AutoCamp Cape Cod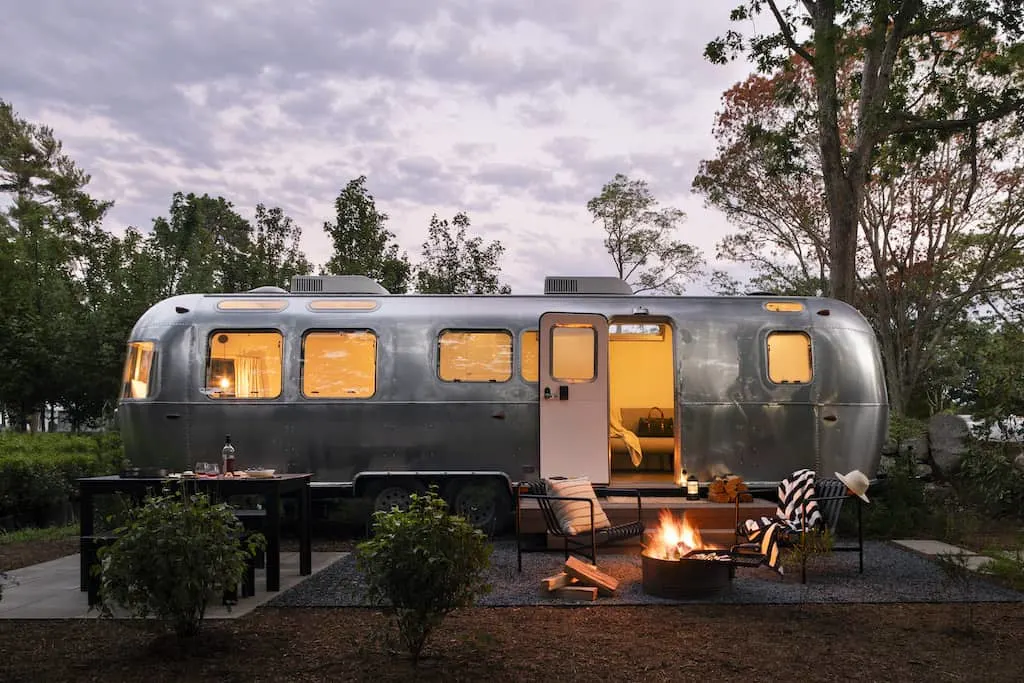 AutoCamp is a glamping resort with a few properties in beautiful locations throughout the United States. AutoCamp Cape Cod is located close to the shore, just a few minutes from both Falmouth and Woods Hole. If you've never gone glamping before, a stay at AutoCamp Cape Cod will allow you to ease into it while still being treated to a few luxurious amenities.
The Airstreams at AutoCamp are perfect for a romantic getaway, providing guests with a fully functional kitchenette, a beautiful sitting area, a bed with cozy linens, and a private bathroom with a shower.
Outside, you have access to a private patio, a community fire pit, and free bike rentals. There is a small cafe and store onsite if you forget anything.
This luxurious Massachusetts glamping retreat is just five minutes from local beaches. Be sure to take advantage of the local experiences that are offered throughout the season – meditation, yoga, story times for kids, live music, and more!
---
Campy McCampface on Martha's Vineyard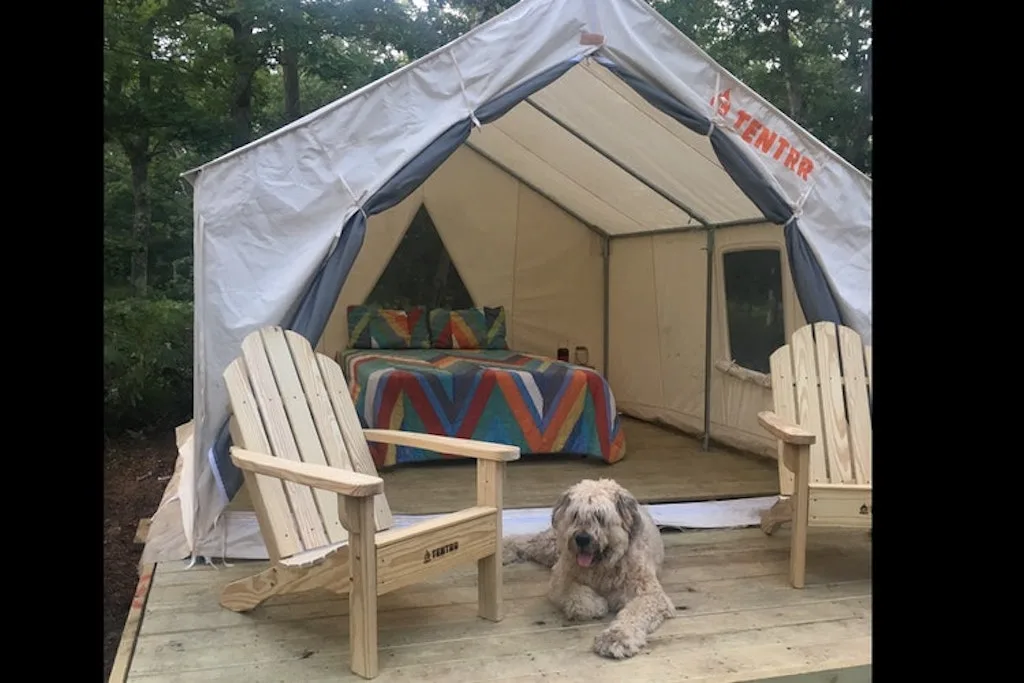 This gorgeous Cape Cod glamping site is a Tentrr Signature site on beautiful Martha's Vineyard.
The area is a biking and hiking haven surrounded by conservation land and farms. Convenient to 3 towns via trails, bike paths, and bike-friendly buses. Leave your car on the mainland (if you want) Bring your own bikes or rent them just steps away from the ferry terminal.
This site is nestled in the woods and includes a canvas tent with a queen-size bed, an outdoor kitchen with a fire pit, and access to lots of local trails. This is an affordable way to experience Martha's Vineyard with an outdoor-based glamping vacation, and pets are permitted as well. The location alone makes it a gem of a choice for glamping in Massachusetts.
---
Tiny House in North Chatham, Massachusetts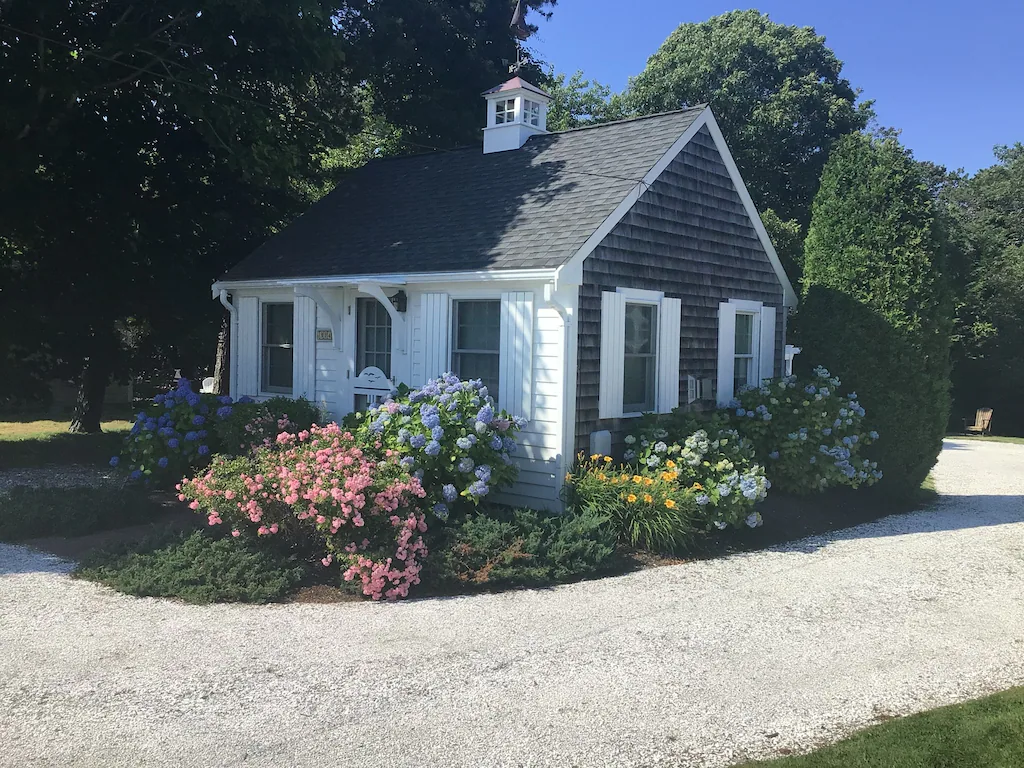 This small studio cottage with a queen-size bed, full bath, and kitchenette is all you need for your Cape Cod vacation. The backyard area features a brick patio/pergola and a grill with an outdoor shower. The cottage is convenient to shops, restaurants, beaches, and a boat ramp. The beautiful fireplace will keep you cozy on chilly nights.
Immediately across the street is a lovely coffee/liquor shop. Public bike paths, golf courses, and tennis courts are all easily accessible. While this little cottage is a step above glamping, we couldn't resist its charms and had to include it.
---
Yurt Glamping in Truro, Massachusetts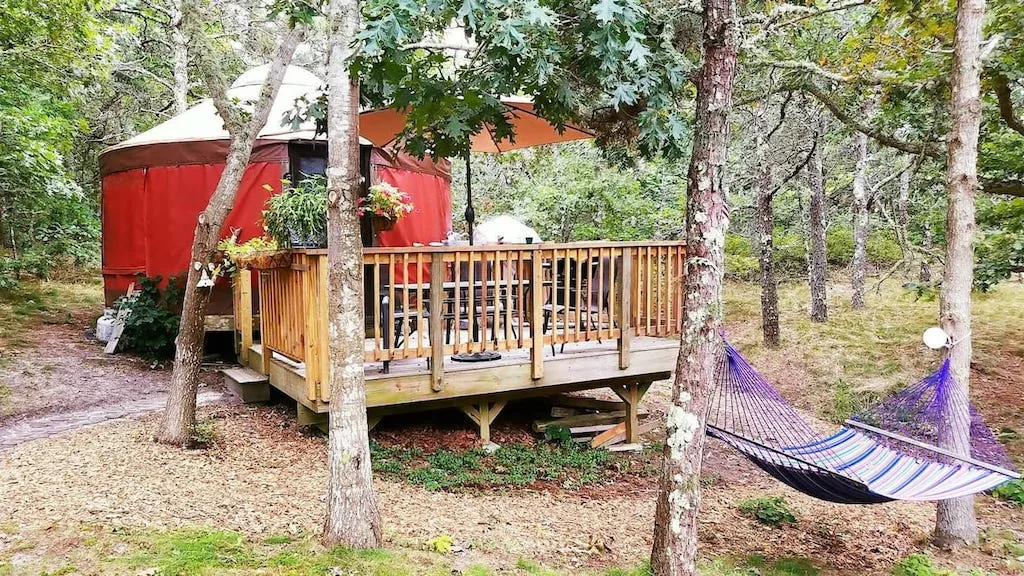 Yurts might just be our favorite way to go glamping. We have found so many great yurts, and this one near Truro is a gem. Tucked away in the woods near the host's own home, this spectacular retreat still gives you plenty of privacy. There's enough room for a small family, plus a small kitchenette and office area. Electricity and Wi-Fi are a definite plus.
The deck outside includes a sink, gas grill, and a patio table with an umbrella. There's an outdoor shower as well. This fun glamping yurt is located about 10-15 minutes from incredible beaches. It's also convenient to Wellfleet, hiking, and biking trails.
---
The Best Glamping in the Berkshires
Glamping has really taken off in the Berkshires, with lots of unique accommodations available for every type of adventurer. The Berkshires are also a fabulous destination for hiking, paddling, and cool museums.
If you're unsure of exactly where you want to go glamping in Massachusetts, we'd suggest starting here!
Cozy A-Frame in Sherwood Forest, Massachusetts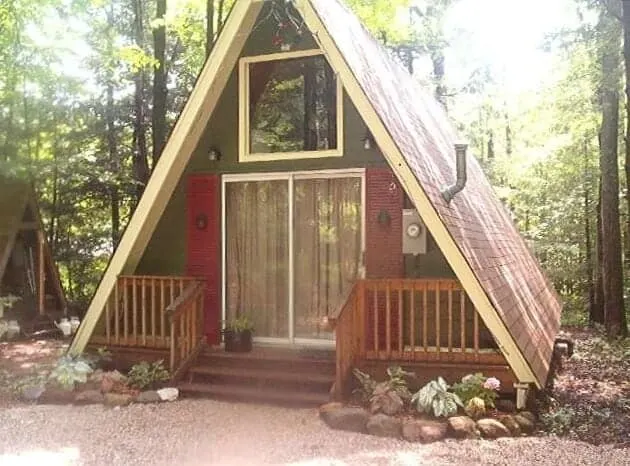 Come experience this gem of an A-frame located on a 1/2 acre wooded lot, and within walking distance of a peaceful lake.
Relax by an outdoor fire at night under the stars (wood supplied) before settling in. The A-Frame sleeps four people comfortably with two queen-size beds. There is also a full bathroom, a kitchenette, and a cozy fireplace.
Sherwood Forest is the ultimate getaway for peace and tranquility. The roads are still dirt, with a country store which will bring you back in time. While it feels like you are miles away from civilization, in reality, you're just a short drive from great Berkshire attractions, including music, theater, and great restaurants.
---
The Mahican Cabin in North Adams, Massachusetts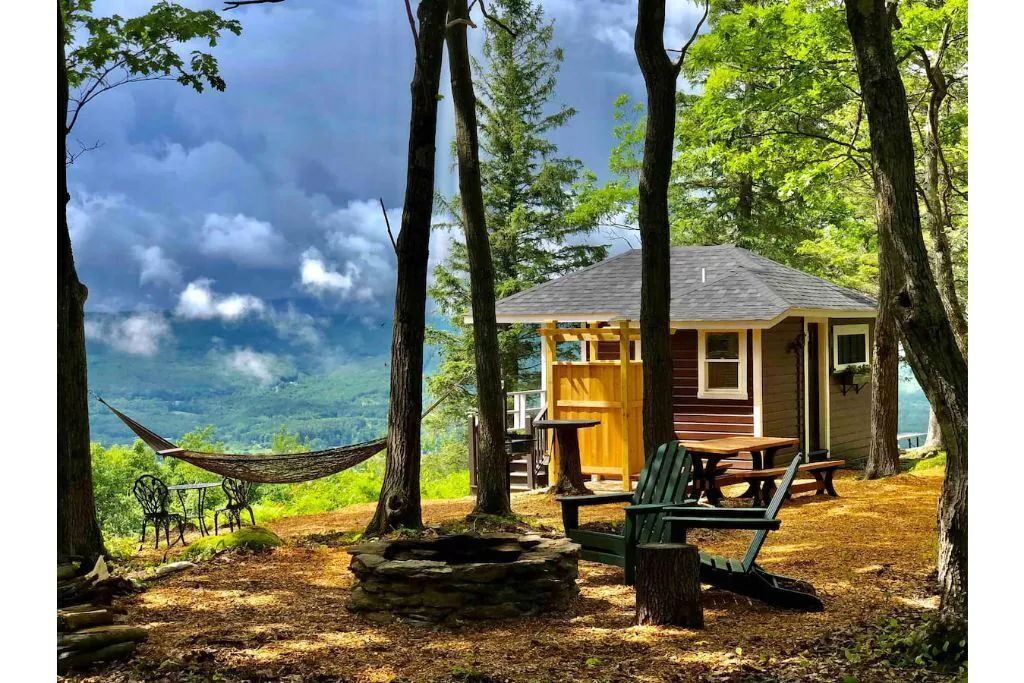 The Mahican Cabin is at the highest peak of the Hoosac Range known as the western summit and borders 750 acres of protected land. Enjoy the modern comforts of a real bed (memory foam mattress), A/C (or heat), mini-fridge, and a full bath inside the cabin. There is a beautiful deck where you can watch the most amazing Berkshire sunsets, and miles of trails just begging to be explored.
Hang out at your own hammock, make s'mores the way you used to, and grill a perfect steak to complete the day! It's a perfect nature retreat for two.
Ready to make your dreams of glamping in Massachusetts a reality? These remarkable and unique properties make it easy! And if you want to read more about some of our favorite glamping in New England, check out these posts:
---
Follow us on social media for more outdoor getaways!
Pin for Later?