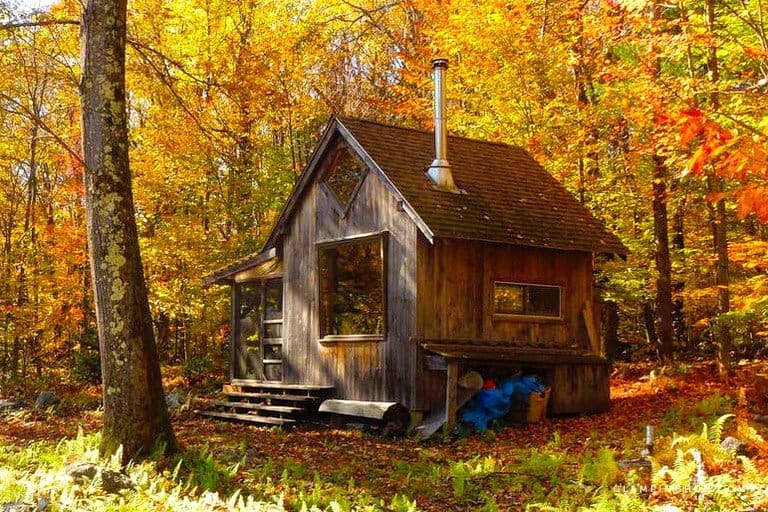 Please don't travel until it's safe to do so, and be sure to check with each state/destination for its current COVID-19 guidelines before planning a visit. Also, please note that this post may contain links from which we earn a small commission.
Are you looking for a unique way to spend more time outside in Massachusetts without pitching your tent in a crowded campground? Glamping might just be your answer! Glamping provides many of the comforts of home in a beautiful outdoor setting, and let me tell you – Massachusetts boasts some incredibly beautiful outdoor settings!
From the beautiful seashores of Cape Cod to the mountains of the Berkshires, and every place in between, glamping in Massachusetts is a fabulous way to get outside in all four seasons.
How to find Glamping in Massachusetts
We use a number of online resources when looking for a good New England glamping vacation. Here's an overview of your options.
Awesome Glamping in Massachusetts
Ready to get inspired for your next Massachusetts adventure? These unique glamping properties are sure to do the trick!
Glamping Near Boston
Whether you want to escape the crowds of the city or are looking for a little staycation close to home, these cool properties provide some of the best glamping near Boston. We'll cover Cape Cod in the next section.
Photo Credit: www.airbnb.com
Located in a gated community in Sunset Bay Marina in Hull, Massachusetts, this beautifully crafted sailboat for rent includes special touches that are both unique and inspiring. Suitable for two guests, this glamping retreat includes two bathrooms and beds, a Nintendo game cube, a refrigerator, microwave, and basic cooking supplies.
Located in Hull, Massachusetts, this sailboat is about an hour's drive from Boston, in a great location. There are public piers, beaches, and plenty of restaurants nearby.
Photo Credit: glampinghub.com
Private dock. Cozy fireplace. Queen-size bed. What more could you want from a romantic glamping vacation near Boston? How about a fabulous view, a clawfoot tub, wi-fi and complimentary use of the property canoe?
This small waterfront cabin is a gem of a spot for outdoor lovers, and a great spot for swimming, sailing, paddling, and hiking. The cabin features a small kitchen area and a queen-size bed. It's suitable for two people and is about an hour from Boston.
Photo Credit: www.hipcamp.com
Located near the Rhode Island border, this lovely A-frame near Boston is located on a suburban property on an acre of land. The spot is quiet, with an enclosure for dogs, a firepit and barbecue grill, and lots of outdoor space to relax in.
Access to a charging station and running water is just a short walk away. This tiny cabin is beautifully decorated and perfect for two people to unplug and relax for the weekend. It's also very close to the commuter rail to Boston.
Photo Credit: glampinghub.com
This incredible houseboat rental in Boston Bay is suitable for six people, and it's both kid and pet-friendly. There is a master bedroom with a queen-size bed, a kids' loft, and a sleeper sofa. Amenities include a full bathroom with a shower, a well-equipped kitchen, and air conditioning.
This luxurious glamping site is just 10 by water taxi from downtown Boston, and we think you'll agree that the views from the deck are inspiring!
Glamping on Cape Cod
Cape Cod is just over an hour from Boston, but it might as well be on another planet. If you're looking to escape the city for glamping in Cape Cod, we urge you to check out some of these unique properties.
Photo Credit: www.hipcamp.com
This is a rustic creek-side barn turned modern retreat in Sandwich, Massachusetts. This cozy cabin includes everything you need for a little suburban getaway, including a full kitchen, two quee-size beds, a bathroom, and a beautiful outdoor space with firepit.
The town of Sandwich is within walking distance from the cabin, and the rest of Cape Cod is just a short drive away. There is a lovely creek in the back - perfect for relaxing next to with a good book.
Photo Credit: www.airbnb.com
Have you ever wanted to sleep in a Lighthouse? Well, now is your chance! Spending the night in the Wings Neck Lighthouse is a once-in-a-lifetime experience. With a 360-degree view of the ocean, updated amenities, and a private beach on 2 acres of land, you'll want to book this one in a hurry.
There is room for eight people, a full kitchen, an indoor and outdoor shower, laundry facilities, and a fieldstone fireplace. Because of its popularity Wings Neck Lighthouse is only available for weekly rentals.
Photo Credit: www.airbnb.com
Tyrone is a lovely vintage 60-foot schooner built by Simms Brothers, Dorchester, Ma. in 1939, to be an offshore passage maker. She is moored in Stage Harbor, Chatham, Mass, in a beautiful setting, close to the fish pier. The schooner has made several trips to Ireland, has sailed to Hawaii, and cruised in Alaska. In 1994, she was awarded "Most Beautiful Boat" at Antigua Race Week.
Amenities include six beds, a bathroom, and a kitchen, plus access to a dingy to row to and from shore. Tyrone is located in Chatham, Massachusetts.
Glamping in the Berkshires
Glamping has really taken off in the Berkshires, with lots of unique accommodations available for every type of adventurer. The Berkshires are also a fabulous destination for hiking, paddling, and cool museums.
Photo Credit: glampinghub.com
This secluded treehouse near Great Barrington, Massachusetts is nestled in the woods with beds for four people and two full bathrooms. A modern wood-burning fireplace is the centerpiece of the living room, surrounded by large windows that offer glampers stunning views of the woodlands around the treehouse.
The kitchen includes a fridge, dishwasher, and utensils. Wi-fi is available, and guests will enjoy their own private patio with a barbecue grill. This Massachusetts treehouse is just an eighth of a mile from Otis Ridge Ski area and 20 minutes from Great Barrington.
The Tentrr Hilltop Nook Berkshires Campsite is on a cozy, secluded hilltop with access to 114 acres in Plainfield in the Berkshires. You'll find trout streams, swimming holes, hiking, biking, rafting, and Mass MoCA all within a short drive of the glamping retreat. This is the perfect place to enjoy nature and relax for a few days.
This is a Tentrr Signature site, which includes a 10'x12' safari-style canvas tent on a raised platform with a queen-size bunk bed. You'll also have a 6-ft picnic table, outdoor fire pit, 2 Tentrr Adirondack chairs, and a heating source to keep you warm and toasty at night. If you're camping with a larger party, the site also has a 5-person dome tent that you can easily set up for extra sleeping space.
Photo Credit: glampinghub.com
This fairy tale cottage in the Berkshires features wooden turrets, room for four people, a small kitchenette and a full bathroom. With its queen-size canopy bed in the loft and full-size sofa bed, this is a great glamping retreat for couples or small families with kids.
Large windows offer lovely calming views of the surrounding gardens and woodlands, with plenty of natural light all day long. Amenities include a pellet stove, TV, audio dock, and a full-size ping pong table. Guests looking for a unique and tranquil getaway will surely find it here.
Photo Credit: glampinghub.com
Located on 103 acres of forest in Westhampton, Massachusetts, this cozy camping cabin can accommodate up to four in total in between the double bed and a sofa bed. Guests will have no electricity and no running water, but there is an outhouse just steps away that offers a solar shower and a composting toilet.
A glass-fronted wood-burning stove will keep glampers cozy on colder days. Kitchen amenities include a two-burner propane camping stove that guests can use outside, plus plenty of pots, pans, dishes and eating utensils. Firewood is also provided.
Outside, guests will find themselves in secluded woodlands, with trails leading through the thicket for guests to explore on bike or foot. A screened porch on the side provides a great place to read a book.
---
Ready to make your glamping dreams a reality? These awesome and unique properties make it easy! And if you want to read more about some of our favorite glamping in New England, check out these posts:
---
Feature photo credit: Glamping Hub
Pin for Later?