The allure of charming New England villages with world-class culture may draw you in, but the far-reaching vistas, marvelous waterfalls, and beautiful backcountry trails will never let you go.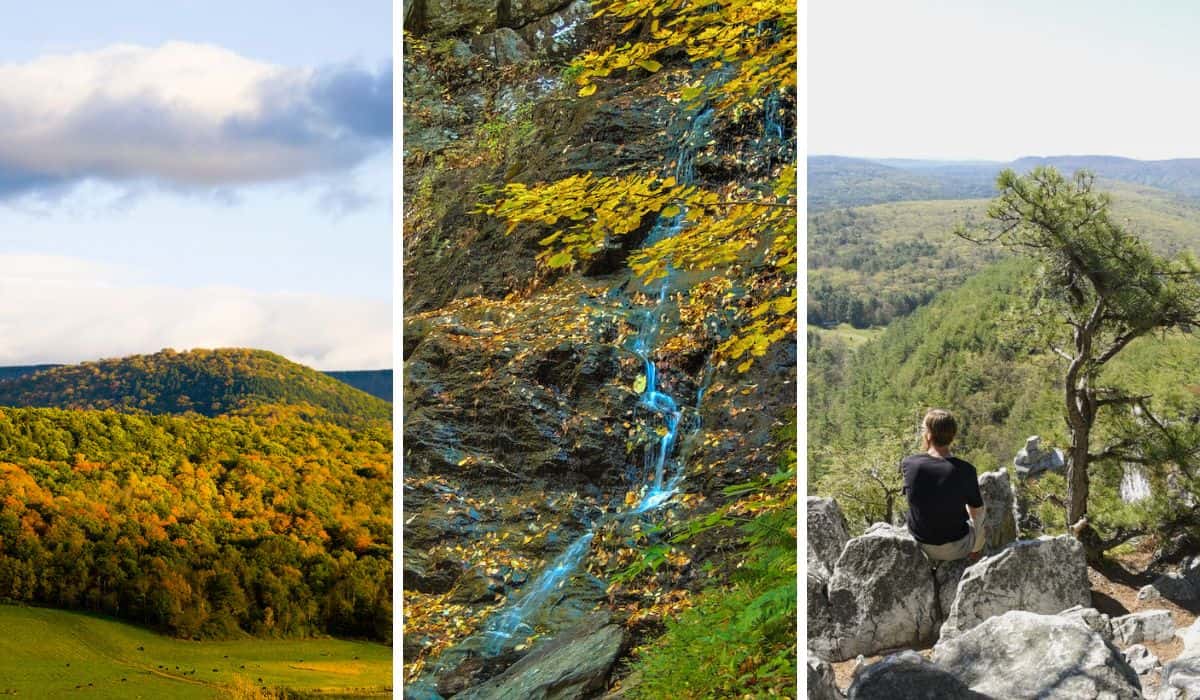 Once you discover the incredible hiking in the Berkshires, you'll be a fan for life.
There's not much that can compare to a day in the woods, and there are hundreds of miles of trails in the Berkshires for every type of hiker.
Waterfalls are plentiful in these hills, as are small ponds, lush meadows, and bald mountain summits.
Here are some of the best trails for day hiking in the Berkshires — perfect for novice hikers, families, and casual adventurers.
First, Download AllTrails+
There are a lot of trails crisscrossing the Berkshire Mountains, and it's not uncommon for several trailheads to lead to the same summit. While most of the trails are intuitive and easy to follow, the directionally challenged (raises hand) may need a confidence boost to ensure they're headed down the right mountain.
AllTrails+ to the rescue! This is our favorite hiking app for finding trails and staying on them when we're hiking. The built-in GPS makes it nearly impossible for us to lose our way, and we use the app extensively for researching new trails.
AllTrails is free to download, but AllTrails+ allows you to download maps for offline use, which means you'll have access to maps and trails even when you don't have cell service.
Hiking in the Berkshires: Northern Region
The following hikes are located in the Northern Berkshires, just south of the Vermont border, and include the towns of Williamstown and North Adams.
Pine Cobble Trail, Williamstown, MA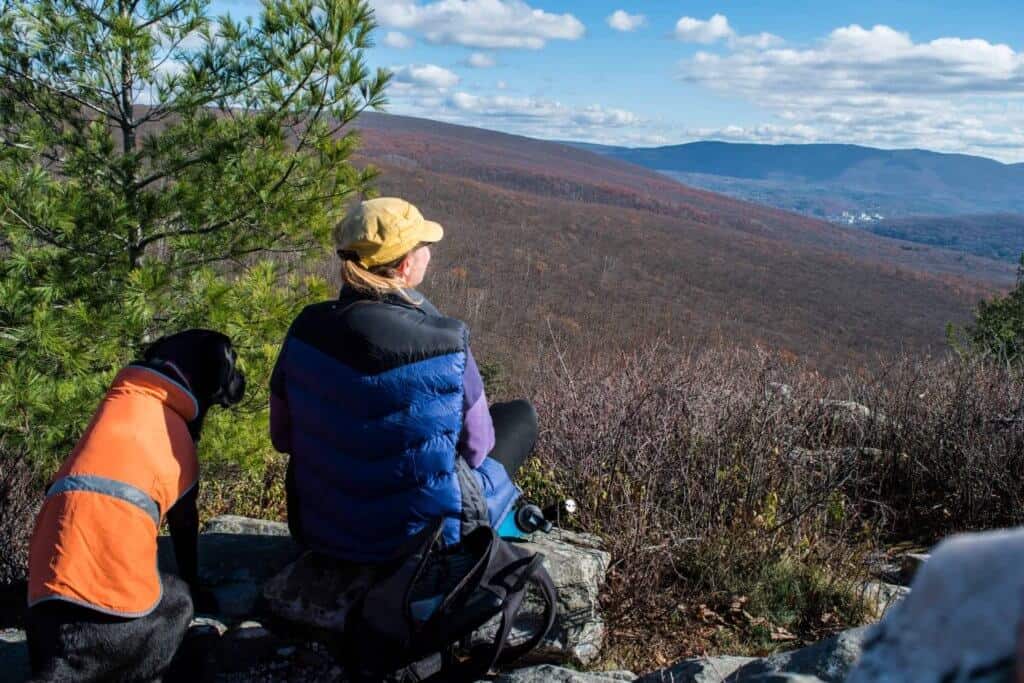 Difficulty level: Moderately strenuous. A workout for casual hikers, but easy for preteen boys…
Length of trail: 3.2 miles, round-trip
Elevation gain: 1200 feet
Dogs: Yes
Fee: Free
Directions to Sugarloaf Trailhead (Google Maps)
Pine Cobble Trail in Williamstown takes you to the Pine Cobble summit at 1,894 feet, before hooking up with the Appalachian Trail that heads south to Georgia or north to Maine.
From the summit, you'll have a 360-degree view of the surrounding mountains, as well as the towns of Williamstown and North Adams.
The trail is a steady climb, with one small section that is relatively flat. It ascends through a lovely oak forest, which is particularly beautiful in the fall foliage season. Wildflowers and mountain laurels are abundant in the spring. The summit is characterized by "cobbles," or rounded outcroppings that are perfect for picnicking and relaxing.
The Clark Art Museum Trails, Williamstown, MA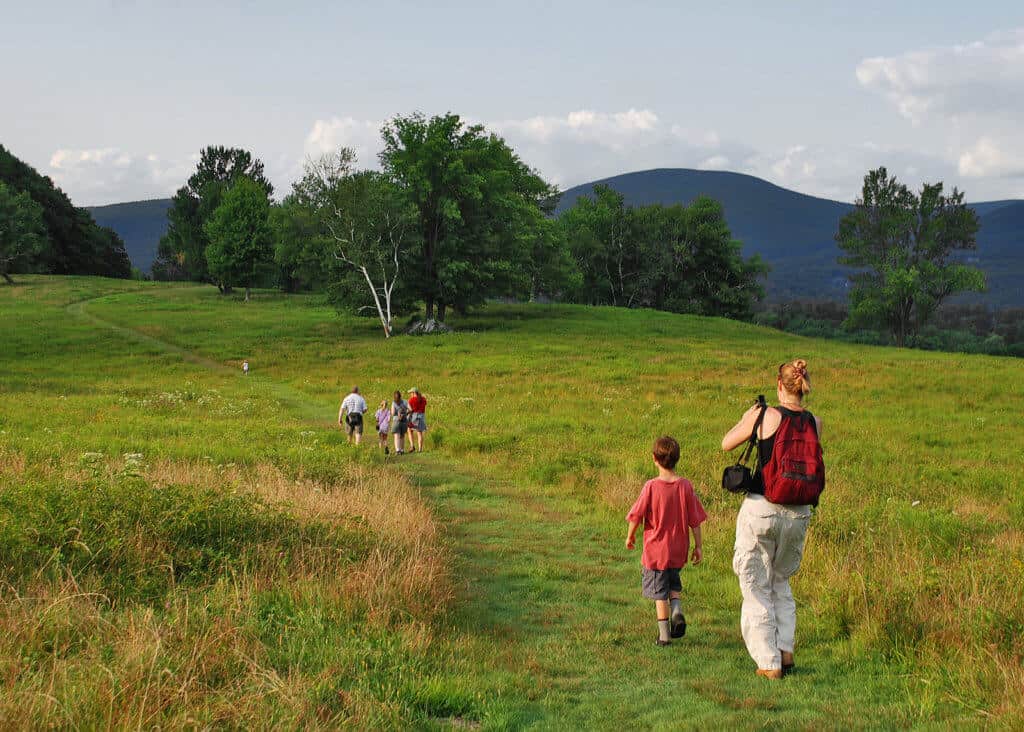 Difficulty level: Easy
Length of trail: Depends
Dogs: On-leash
Fee: Free to walk the trails. There is a fee to visit the museum
Notes: Visit The Clark Art Institute website for information about visiting. Here's a link to the Google map.
If you happen to be visiting The Clark Art Institute to check out world-class, classical art exhibitions, be sure to take time to head up the hill and explore the trails behind the museum. Actually, even if you don't care a bit about art, you should come walk these trails, which are lovely in all seasons.
Meander through meadows and manicured woods, and take in the incredible views of the Berkshire Mountains.
There are several trails here, crisscrossing 140 acres, which can be combined to create the perfect walk. All of the trails are easy on the legs and well-manicured.
---
Read Next: The Best Family-Friendly Museums in the Berkshires
---
The Cascades Trail, North Adams, MA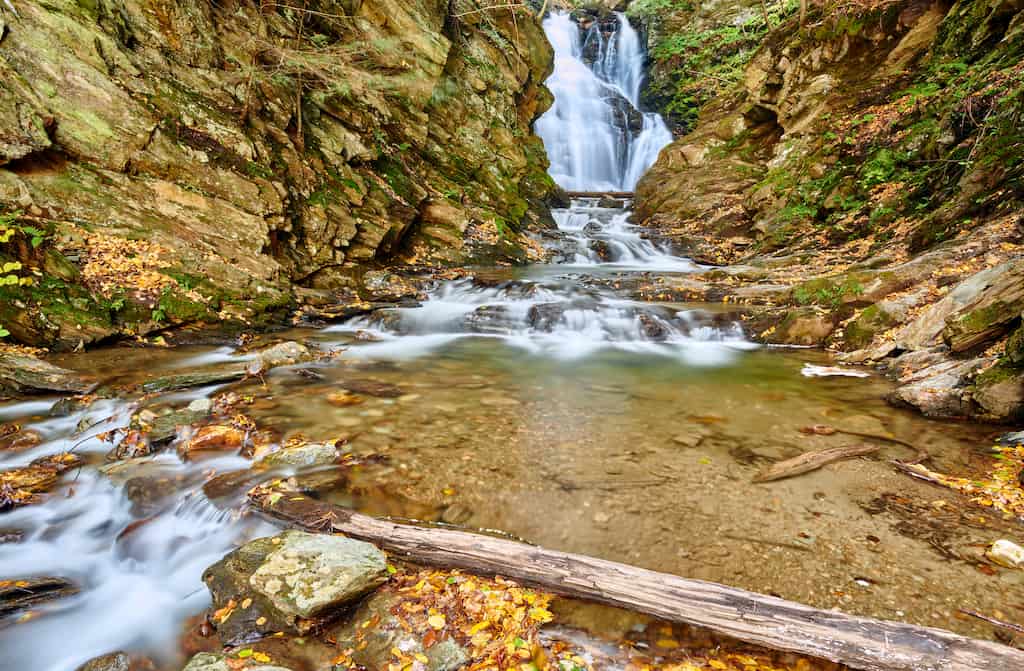 Difficulty level: Easy, except for one small section where you have to scramble along the bank. Perfect for small children, as they will enjoy playing in the stream if the weather is nice.
Length of trail: 1.2 miles, round-trip
Dogs: Yes
Fee: Free
Directions to the Cascades Trailhead
The Cascades Trail in North Adams begins at the local YMCA and travels through a residential neighborhood for a few minutes, before following Notch Brook to a lovely cascading waterfall.
This easy trail is just minutes from downtown North Adams, and the whole thing can be completed in under an hour.
The hike has just one tricky spot where you have to scramble along the riverbank for about 30 feet. The Cascades Trail ends just before you come to the falls. For the best view of the cascades, you must hike into the gorge, possibly scrambling a bit on the rocks to get a closer look.
Notch Brook Cascade is a highly seasonal waterfall, but when the river is full, you will be rewarded with lovely horsetail falls that drop about 45 feet into a nice shallow pool. In the summer months, it's deep enough to cool off in, but probably not swim. Unless, of course, you're a dog.
Sunset Rock, North Adams, MA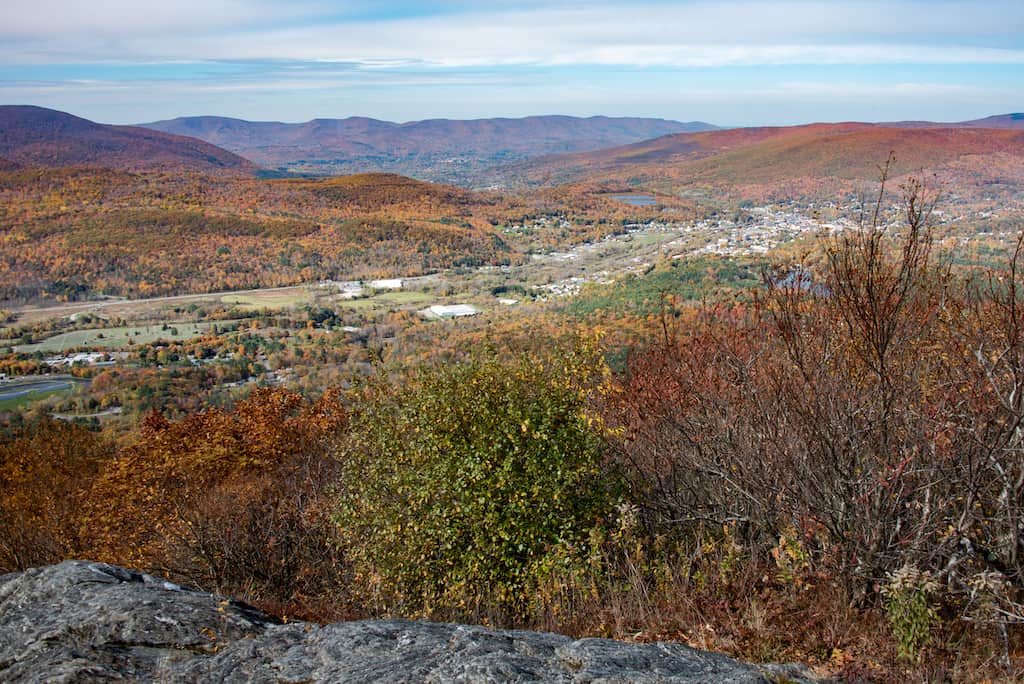 The hike to sunset rock totals 1.6 miles and features stunning views of North Adams and the surrounding valleys. As the name suggests, this is a great spot to watch the sunset — just be sure to bring a flashlight or headlamp for the hike back down.
The sunset rock hike is part of the longer Hoosac Range trail, which leads to Spruce Peak and totals 6 miles.
The Hoosac Range trail ascends up a series of switchbacks to sunset rock. It is not particularly steep, but it is all uphill. This is suitable for families with elementary-age kids and is gorgeous during the fall foliage season.
If you have the stamina for a longer hike, I highly recommend heading up to Spruce Hill. The 6-mile out-and-back hike is totally doable!
Difficulty level: Moderate. It's all uphill but isn't very steep.
Length of trail: 1.6-mile loop
Elevation gain: 301 feet
Dogs: Yes
Fee: Free
Directions to the Sunset Rock Trailhead
March Cataract Falls, Williamstown, MA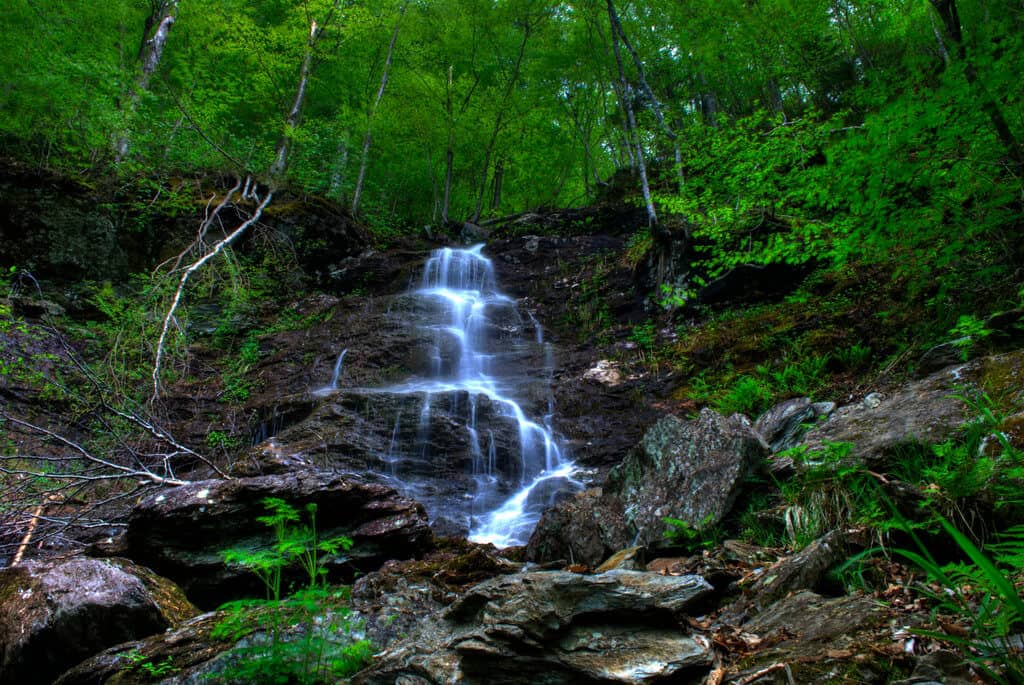 Difficulty level: Easy
Length of trail: 3 miles, round-trip
Elevation gain: 511 feet
Dogs: Yes
Fee: Free
Notes: The trailhead is located next to Sperry Road Campground on Sperry Road, which is closed from November to June. Here is a link to the Google map.
You can reach Mount Greylock's loveliest waterfall by hiking 1.5 miles on an easy trail through a mixed hardwood forest. I won't go into too much detail here because I've covered March Cataract Falls in a separate post.
The falls are fullest in the spring, and dry to almost a trickle in the fall, but the colorful leaves more than make up for that.
Hiking in the Berkshires: Southern Region
These trails are located near or south of Pittsfield, Massachusetts, and one of them is just south of the border in Connecticut.
Stevens Glen Trail, West Stockbridge, MA
Difficulty level: Moderate. The loop is flat and easy. The spur trail to the glen is uphill.
Length of trail: 1.2 miles (round trip)
Elevation gain: 229 feet
Dogs: Yes
Fee: Free
Notes: The trailhead is located on Lenox Branch Road. Click here for the Google Map.
This 1.25-mile loop through Stevens Glen takes you through a deep, dark hemlock forest, across two footbridges, and eventually, through a birch forest to Stevens Glen, where you'll find a very narrow gorge with a 40-foot, ribbon-thin cascade that is gorgeous in the spring.
The spur trail takes you to a nice viewing platform with a bench for relaxing. Retrace your steps on the spur trail until you return to the loop. If you visit in the summer, be sure to spend some time barefoot in the streams.
Bash Bish Falls, Mt. Washington, MA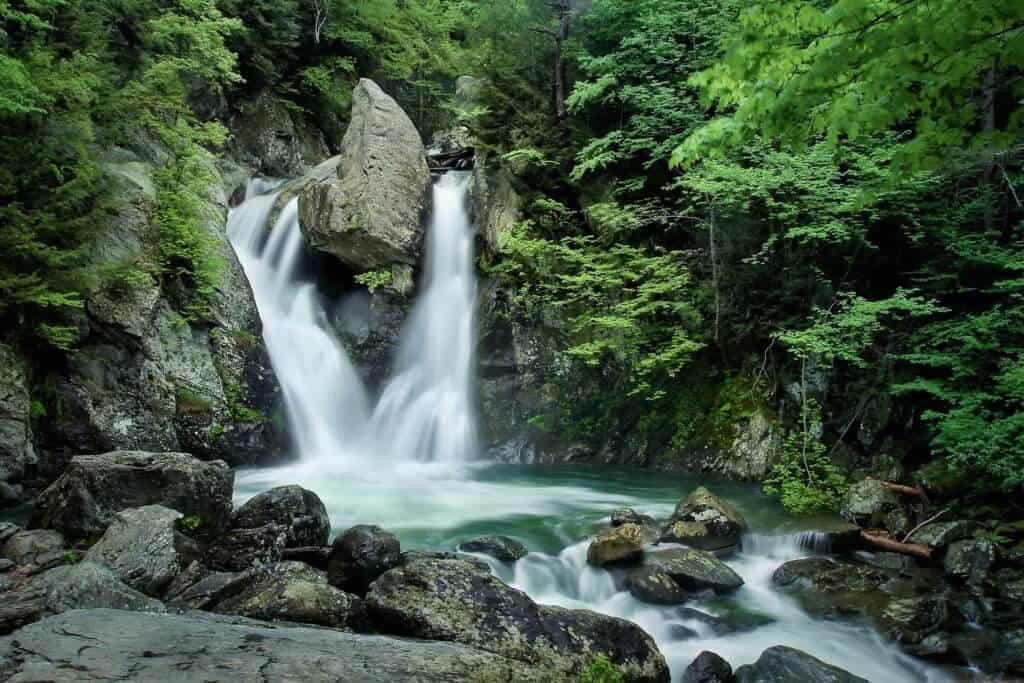 Difficulty level: Easy
Length of trail: 1.5 miles (round trip)
Dogs: On leash
Fee: Free
Notes: Detailed information and a trail map can be found on the Bash Bish Falls State Park webpage. Here is the Google Map location for the Massachusetts parking area.
I couldn't create a hiking-in-the-Berkshires post without including Bash Bish Falls. This is the highest single-drop waterfall in Massachusetts, and it's a looker!
Visitors can either park at the base of the falls in New York or at the top of the falls in Massachusetts. The falls are located in Bash Bish Falls State Park in Massachusetts, but very close to the border.
The hike down to the base of the falls from the Massachusetts parking area is a very steep ⅓ of a mile. If you park in the lower lot, the hike is easy and just ⅔ of a mile with an elevation gain of 150 feet.
Although swimming is technically not allowed, we witnessed plenty of bathers under the falls in the summer, so you'll have to use your judgment on whether that rule is meant to be broken.
Alcoholic beverages are not allowed in any Massachusetts State Parks. There are more extensive hiking opportunities in Washington State Forest, just south of the falls, or in Taconic State Park across the border in New York.
Monument Mountain Reserve, Great Barrington, MA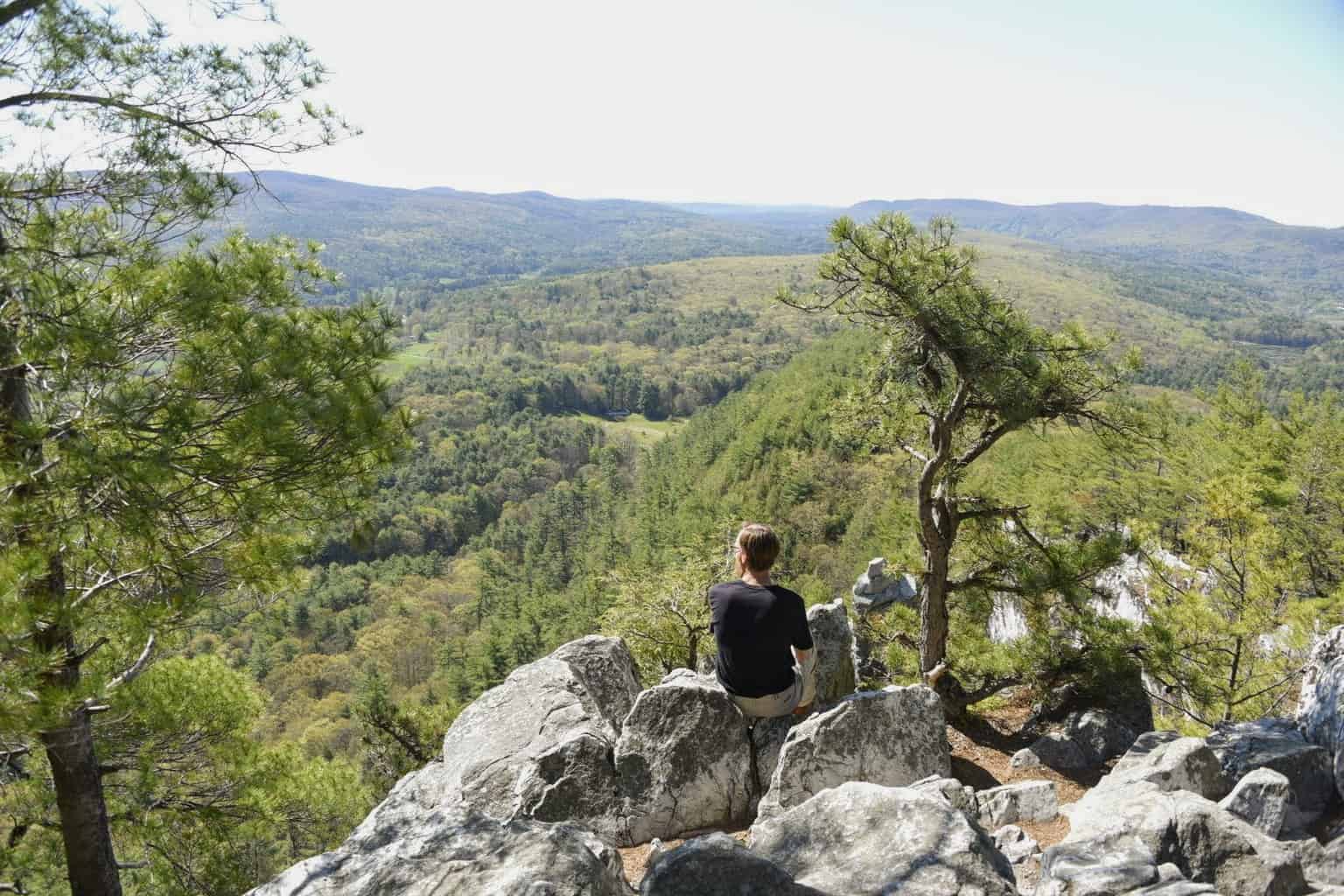 Difficulty level: Easy to moderate
Length of trail: all under 3 miles
Dogs: On leash
Fee: $6 for parking
Notes: Detailed information, directions, and a trail map can be found on The Trustees website.
This is a new hike for us, but we love it! Monument Mountain is a 503-acre preserve managed by The Trustees. There are several trails on the preserve, but all of them are easy to moderate and under three miles.
I think the best views can be found along the Peeskawso Peak Trail, and there are several small waterfalls along the Hickey Trail.
If you choose the 1.5-mile Mohican Monument Trail, you'll pass the remains of ancient Native American trails, stone walls of former sheep pastures, and old woods roads.
Honestly, no matter what path you choose, you will experience lovely woodland trails. Fair warning, though – these trails are popular with both locals and visitors, so I recommend hiking in the early morning. There is a $6 fee for parking at the trailhead.
Insider Tip: We included the hike up Monument Mountain on our detailed 3-day itinerary for Stockbridge, MA. If you are planning a longer visit, be sure to check it out.
Bartholomew's Cobble in Sheffield, MA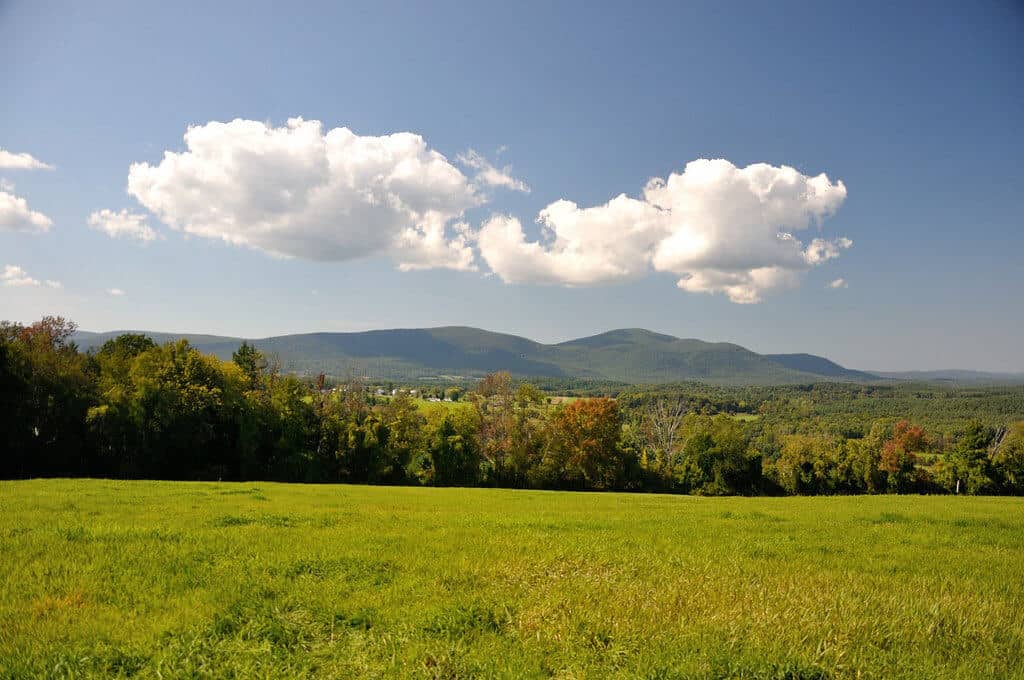 Difficulty level: Easy to Moderate
Length of trail: 5 miles of trails can be combined based on your time and stamina.
Dogs: No
Fee: $5 for parking
Notes: Bartholomew's Cobble is maintained by The Trustees of Reservation — visit their website for a detailed trail map. Here's a link to the Google map.
This is what hiking in the Berkshires is all about — gorgeous, long-distance views, dancing streams, hardwood forests, and lush meadows. Bartholomew's Cobble was named a National Natural Landmark in 1971 and encompasses 329 acres through many different ecosystems, as well as five miles of well-marked hiking trails.
The Ledges Trail is our favorite, a .5-mile loop that takes visitors around the "cobbles" and past several caves. If you want a bit more exercise, consider hiking to the top of Hulbert's Hill, which provides stunning views of the surrounding mountains and valleys.
Mahanna Cobble in Pittsfield, MA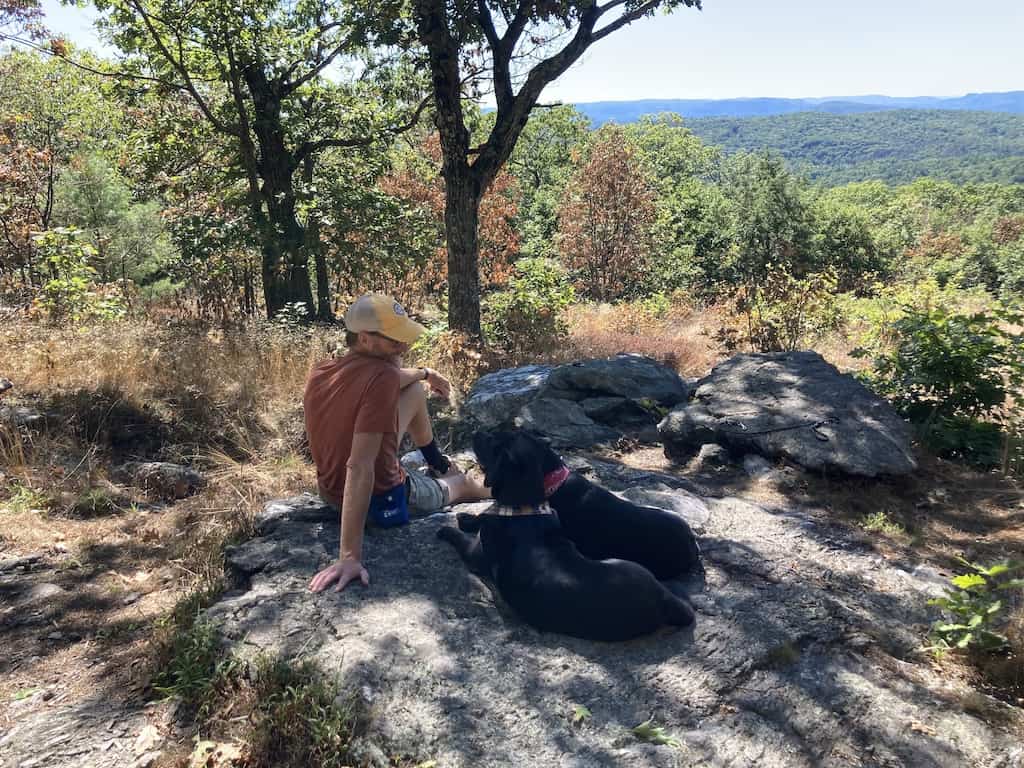 Difficulty level: Easy to Moderate
Length of trail: 3.2 miles, round-trip
Elevation gain: 780 feet
Dogs: yes
Fee: free
Directions to Bousquet Mountain
Located just outside of Pittsfield at Bousquet Mountain, the trail to Mahanna Cobble is short and steep, but not unbearably so.
It's a 3.2-mile trek (round-trip) through an enchanting hardwood forest that leads to the northern summit of Lenox Mountain.
Southern views are gorgeous on a clear day, and there's a well-placed bench where you can catch your breath and ponder the following quote engraved there.
"If a person lost would conclude that after all he is not lost, he is not beside himself, but standing in his own old shoes on the very spot where he is, and that for the time being he will live there; but the places that have known him, they are lost, — how much anxiety and danger would vanish. "-Henry David Thoreau
A Few Tips for Hiking in the Berkshires
While none of these hiking trails in the Berkshires are particularly difficult, you should always carry the hiking 10 essentials so you are prepared for emergencies (and hunger pains).
Unfortunately, ticks that carry Lyme disease are plentiful in the Berkshires, but it doesn't have to ruin your time outdoors. Here are some suggestions for avoiding ticks while hiking and camping.
If you are hiking in the off-season (late fall, winter, and early spring), you may want to pack Microspikes to improve your footing on icy spots.
Trekking poles will be useful for all of these trails. They take much of the weight off of your knees and provide stability for spots with tricky footing or stream crossings.
What to Wear for Hiking in the Berkshires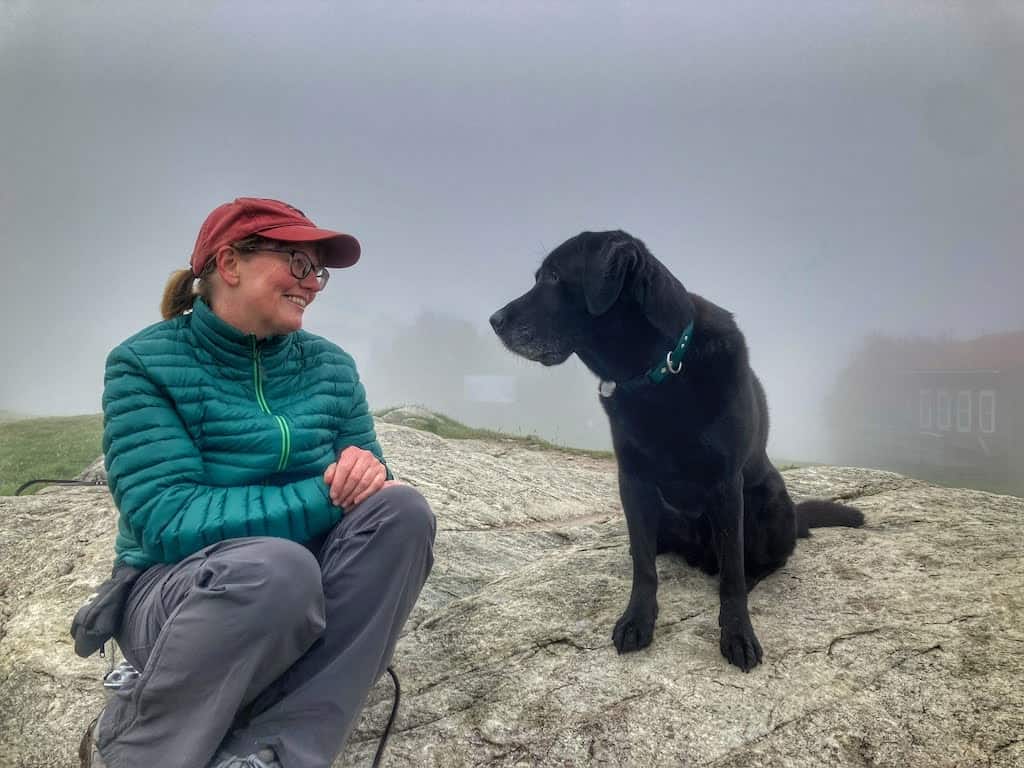 Layers will be your friend while for hiking in the Berkshires, especially in the winter! Here are some suggestions for what to wear while tackling these trails.
---
If you've never explored the Berkshires of Western Massachusetts, we urge you to visit for at least a couple of days.
The Berkshires are within a day's drive of New York City, Boston, Montreal, and Philadelphia, and there is so much to do. We often head to the Berkshires for the food, the concerts, and the incredible art, but hiking in the Berkshires is our number one reason for visiting.
No matter why you come to explore the Berkshires, be sure to take some time for outdoor adventures. For more awesome day hiking ideas in the Berkshires, I highly recommend AMC's Best Day Hikes in the Berkshires.
Follow us on social media for more outdoor inspiration!
Pin for Later?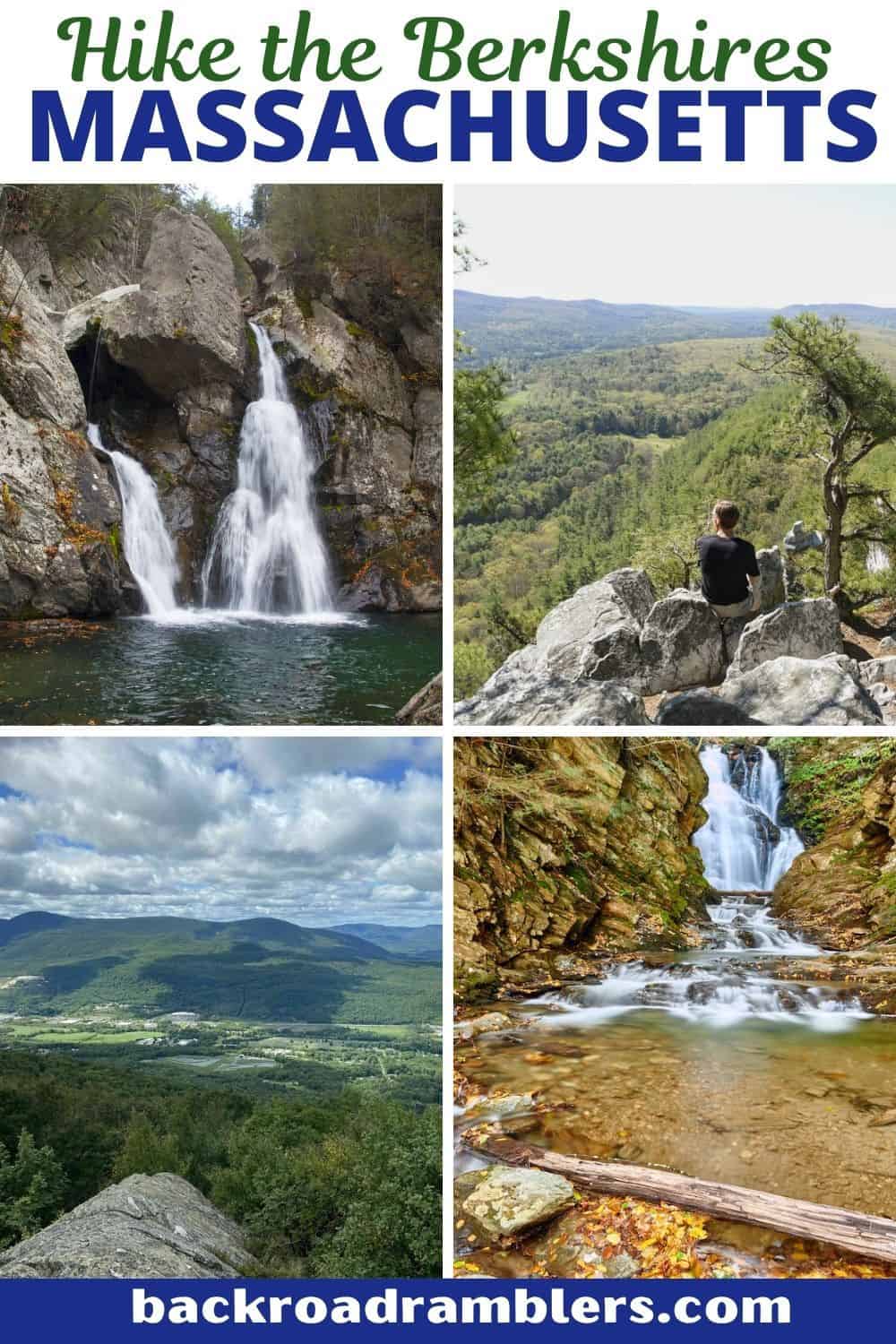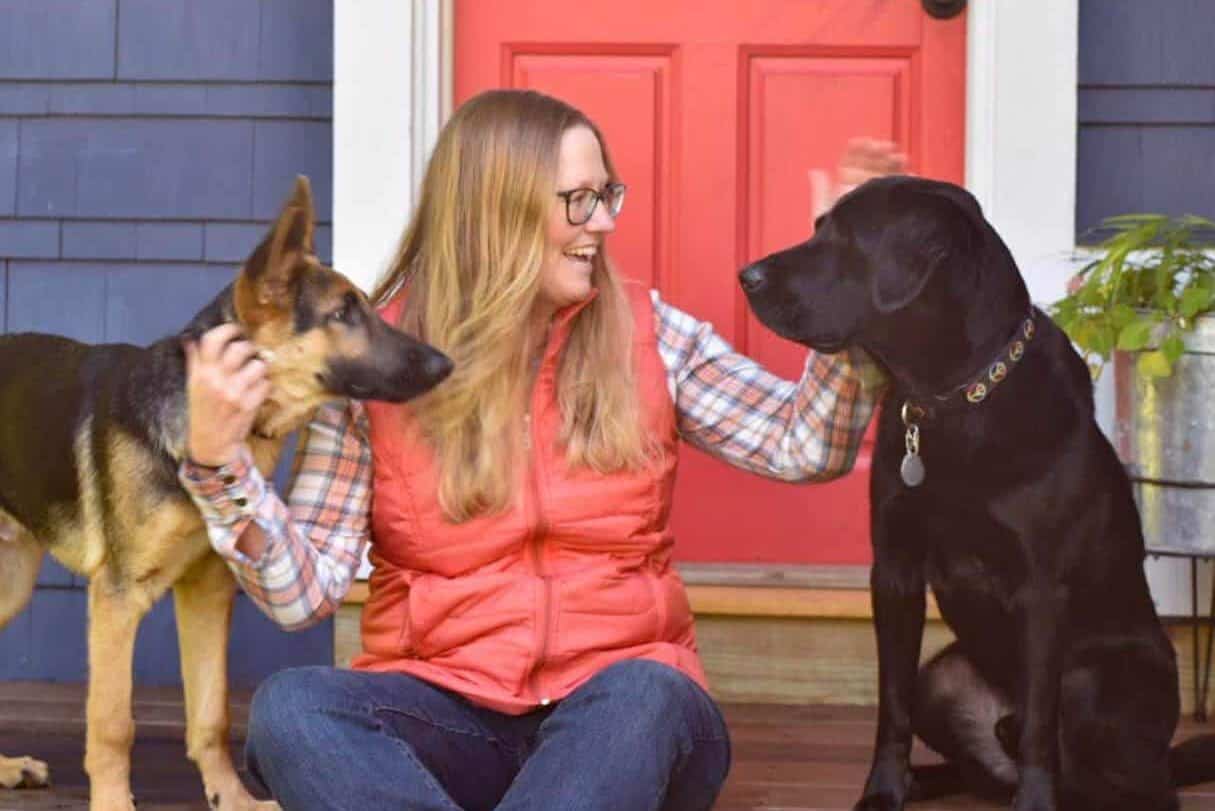 Tara is a freelance writer and travel blogger with a passion for outdoor adventures. She currently blogs at Back Road Ramblers and Vermont Explored, where she shares travel tips, adventure destinations, and vacation ideas for the wanderer in everyone.
Our Favorite Resources for Road Trips and Outdoor Adventures

These are the resources we use to plan road trips, save money while traveling, and shop for outdoor gear.

Car Rentals: While we use our own car most often for road trips, we also enjoy flying into major airports and then renting a car for more regional road trips. We use Kayak to compare prices and find deals from dozens of car rental agencies at once.

Flights: We use Kayak to search out flight deals.
Money-saving tip: If you find yourself using the same airline repeatedly (we are huge Southwest fans), consider joining their loyalty program and getting an airline credit card. With our Southwest Rewards Visa, we earn a few free flights each year.

Hotels: When it comes to lodging, we seek out small boutique hotels or quirky roadside motels. First, we search for hotels on TripAdvisor so we can read reviews from other travelers. Then, we use Booking.com to make reservations (they have the best prices, plus a flexible cancelation policy).

Camping: Camping is one of our favorite things to do on long road trips. It allows us to explore the outdoors, cook our own food, and save money. We use They Dyrt Pro to find campsites and read reviews before booking on Recreation.gov or state park websites.

Glamping and Vacation Rentals: For weekend getaways and shorter vacations, we love glamping (check out our glamping resource guide). We book glamping properties through Tentrr, Hipcamp, and Airbnb. For cabins and vacation rentals, we like to use VRBO (they have fewer fees and a better cancelation policy than Airbnb).

Guides and Maps: If we are visiting a new region, we usually invest in a Moon Travel Guide for the area. We pass them on to friends and family after our trip. If we are planning on hiking, we also purchase a Falcon guide in the Best Easy Day Hikes series.

Outdoor Gear: We are REI Co-Op members. It cost us $20 for a lifetime membership, but we get a yearly dividend based on our purchases, plus great deals and coupons throughout the year. REI also has a great return policy.

Check out our complete guide for planning a road trip on a budget