Lake Havasu City is a sprawling desert oasis in Arizona, just two and a half hours southwest of Las Vegas, and within a half a day's drive of Joshua Tree, Death Valley, Saguaro, and Grand Canyon National Parks. There are so many things to do around Lake Havasu, but one of the coolest is to visit the historic London Bridge in Lake Havasu City, which has been open for car and pedestrian traffic since 1971.
Lake Havasu locals hardly notice the London Bridge these days, but tourists still flock to Lake Havasu City to see it, and it's a fun landmark to visit all through the year. In fact, the London Bridge is the top Lake Havasu City attraction, and even though we visit Lake Havasu City often, we always take time to stroll along the London Bridge at sunset. Want to see the London Bridge for yourself? Here's a complete guide to visiting this historic London landmark in Lake Havasu City, Arizona.
A Brief History of Lake Havasu City and the London Bridge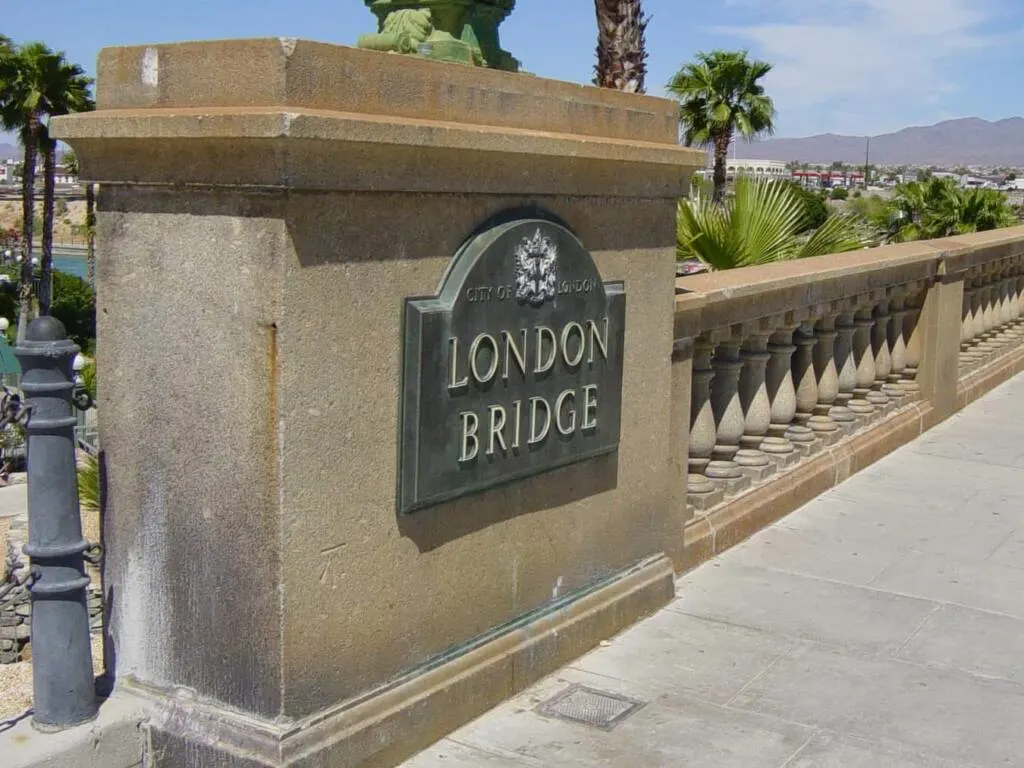 Lake Havasu was created long before the city — back in the 1930s when the Parker Dam was built on the Colorado River. Thirty years later, in 1963, chainsaw tycoon and millionaire, Robert McCulloch is rumored to have flown over the lake searching for a suitable location to test out his line of outboard motors.
He went on to buy 3,500 acres of desolate desert for under $75 an acre, and even though there were no major highways connecting Lake Havasu to the rest of the country, a beautiful city began to emerge out of the desert. McCulloch began flying in prospective landowners from all over the country, hoping to sell them on the beautiful turquoise waters, rugged mountains, and never-ending sunshine. His plan was moderately successful, but his next idea sealed the deal!
Acquiring the London Bridge for Lake Havasu City
The London Bridge in Lake Havasu City held the record for the World's Largest Antique ever sold, and its purchase and journey from London to Arizona certainly created some excitement.
The bridge was built in 1831 to span the River Thames in London. In the early 1960s, it began sinking into the river and was put up for auction. McCulloch won the bridge for Lake Havasu City with his bid of $2,460,000.
The London Bridge was dismantled brick-by-brick over the course of three years and slowly reconstructed in Lake Havasu City, with a total shipping cost of $240,000. Pittsburg Point, which was once a peninsula jutting into the lake, was turned into an island (now called "the island" by locals) by dredging a narrow channel under the bridge.
The London Bridge officially opened in 1971, with much celebration and fanfare. Today, London Bridge is a major tourist attraction rising out of the desert, and surrounded by the thriving Lake Havasu City.
The Best Time to Visit the London Bridge in Lake Havasu City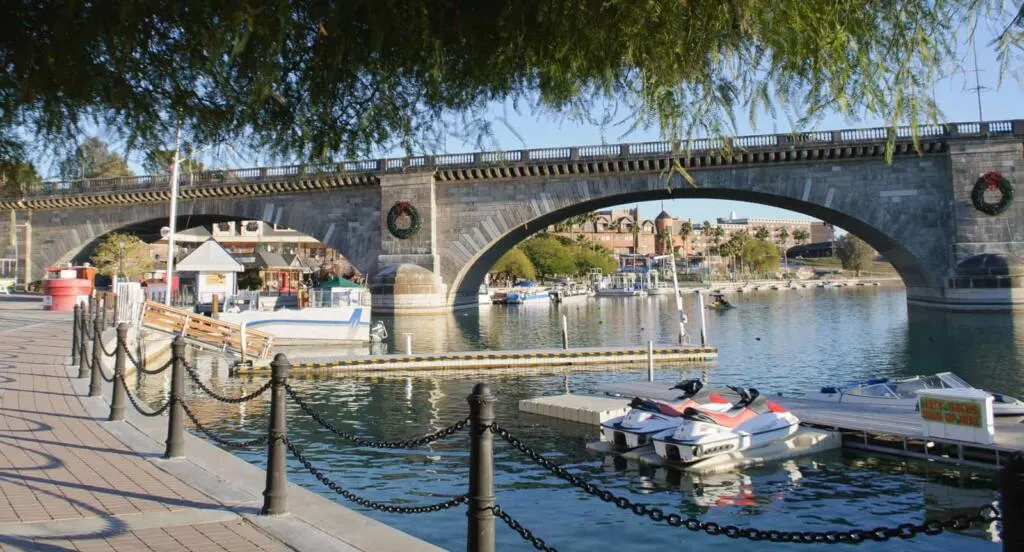 Unless you really love the heat of the desert, it's best to avoid visiting Lake Havasu City in the summer, between June and September, when the temperatures top 100 degrees almost every day.
The area surrounding the London Bridge is a Spring Break hot spot, with boats and young people everywhere. There's a fair bit of drinking and partying going on, so if that's your thing, head to Lake Havasu City any time in the month of March.
Winter is great for outdoor activities like hiking and mountain biking, but the Lake will be too cold for all but the bravest swimmers. In April, the Spring Break crowd departs and families take over the beaches. This is our favorite time to visit.
Can You Walk Across the London Bridge?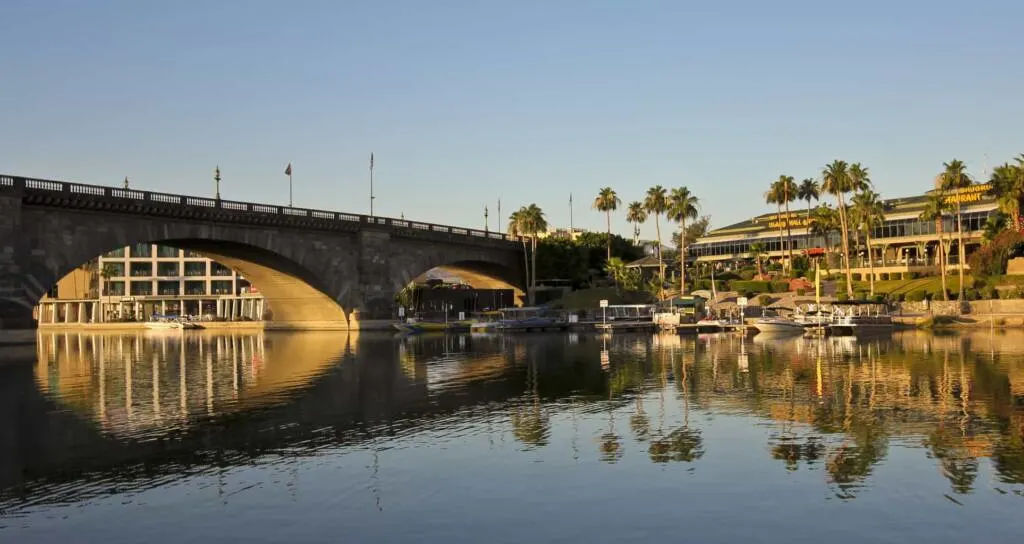 The London Bridge connects the main part of Lake Havasu City, with what the locals call "the island", which is mainly a residential area. There are sidewalks on the London Bridge for pedestrians and cars usually drive pretty slow. Sunsets from the bridge are lovely, but I like sunrise even better.
Where to Stay Near the London Bridge
There are two hotels right next to the London Bridge in Lake Havasu City, and both are located right on the water and close to shopping, restaurants, and beaches.
HEAT is a pet-friendly boutique hotel right next to the London Bridge in Lake Havasu City with direct access to the Bridgewater Channel. Rooms feature a light, modern decor and lovely balconies overlooking the water, mountains or both. At HEAT, you can rent bicycles for cruising around the island or rent a dock for your boat. The HEAT patio bar is a sunny indoor/outdoor lounge that is perfect for relaxing after a day on the water. This is a great Lake Havasu hotel for adults, but might be a bit loud for families with young kids.
London Bridge Resort is another hotel right next to the London Bridge, featuring all-suite rooms right on the water. The property consists of 110 acres along the Bridgewater Channel. Visitors have access to three swimming pools, a water slide, and numerous restaurants and bars. London Bridge Resort is centrally located in the heart of Lake Havasu City, within walking distance of restaurants, shopping, theaters, nightlife, and entertainment.
Things to do near the London Bridge
London Bridge is truly the heart of Lake Havasu City and many of the main attractions are located within close proximity to the bridge. Even without a car, this part of Lake Havasu City features great beaches, bike trails, boat rentals, and more. Here are the best things to do near the London Bridge in Lake Havasu City.
Visit the Bridgewater Channel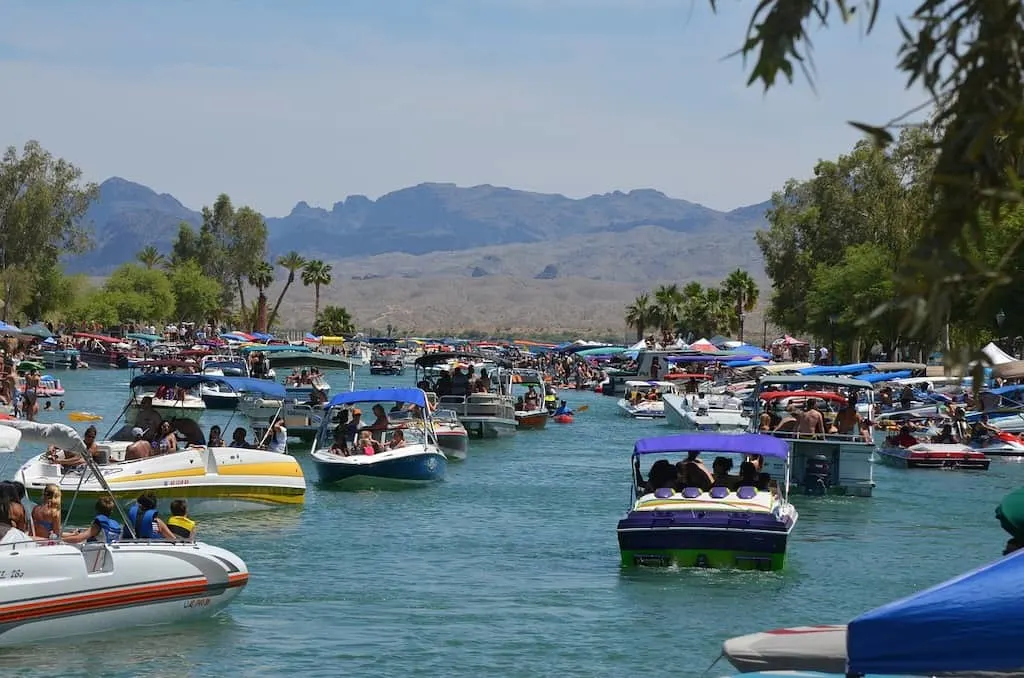 The Bridgewater Channel is a narrow man-made waterway that serves as a no-wake spot for the parade of boats that slowly travel through. There are sandy beaches and parks on either side of the channel, not to mention a plethora of bars, shops, and restaurants.
If you are visiting with your boat, Bridgewater Channel is the place to moor or beach your craft so you can socialize with other tourists, grab a drink at a nearby bar, or work on your tan. There are several boat-in restaurants right on Bridgewater Channel, offering everything from pub fare to fine dining.
If you are on foot, Bridgewater Channel provides some of the best people-watching around. The channel is swimmable, but you might as well head to the shore of the lake to swim without the abundance of boat traffic.
Play a Round of Golf at Bridgewater Links Golf Course
This beautiful golf course is located right next to the London Bridge, with awesome views of the bridge, Lake Havasu, and the surrounding mountains. This is a nine-hole course that is open to the public and suitable for beginners — there are even special rates for kids. Green fees range from $17 – $22. I am not a golfer, but I have strolled the course, and it's beautiful!
Take a Boat Tour of Lake Havasu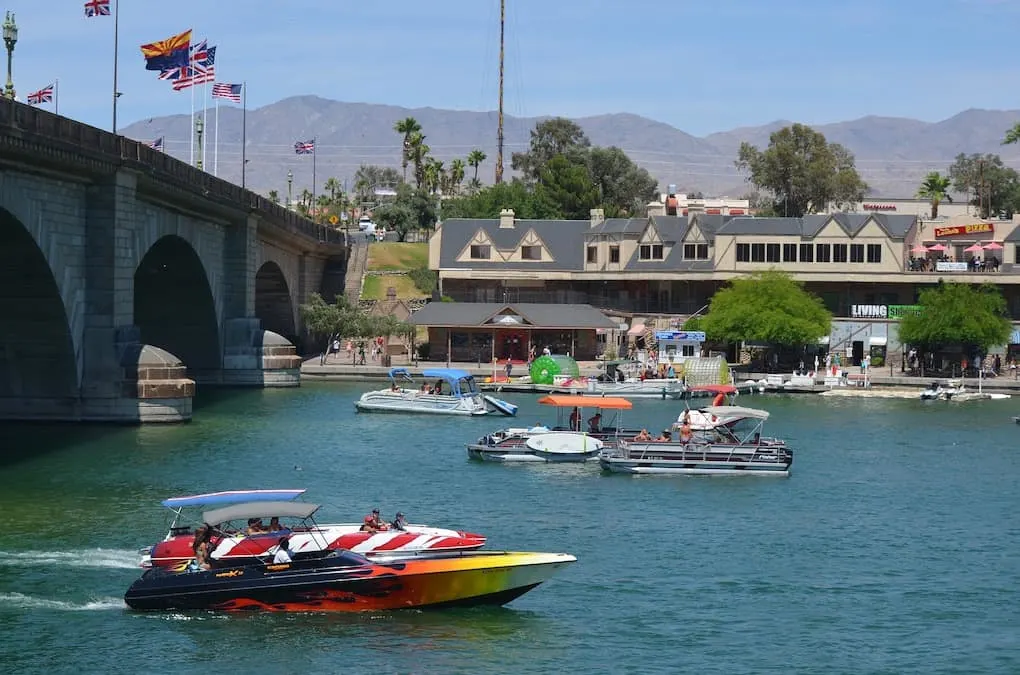 If you've come all the way to Lake Havasu, you simply have to get out on the water, and if you don't have your own boat, you can easily sign up for a boat tour of the lake. There are several boat tour options right near the London Bridge. Here are some ideas:
Sunset Charter & Tour Co. – Docks are located on the waterfront in the English Village right in front of the London Bridge. Choose from a wide variety of tours that specialize in the lake's natural beauty, wildlife, and history. We love the sunset tour on the Serenity Now pontoon boat.
Bluewater Jetboat Tours – Bluewater Jetboat Tours is located on London Bridge Road, just a stone's throw from the London Bridge. They offer narrated trips to Topock Gorge and around Lake Havasu from the Bridgewater Channel. The tour takes place on a 47-foot vessel with a climate-controlled cabin for maximum comfort.
Rent a Kayak and Paddle Thomson Bay and Lake Havasu
If jetting around in a powerboat isn't quite your speed, you can rent a kayak from Beach Shack Rentals, which sits right on London Bridge Beach, within walking distance from the London Bridge. They are open from March to October and have kayaks, paddleboards, jet skis, pontoon boats, and even beach chairs and umbrellas for rent. Rent by the hour or by the day, and get busy exploring Thompson Bay, Bridgewater Channel, and Lake Havasu.
Relax on London Bridge Beach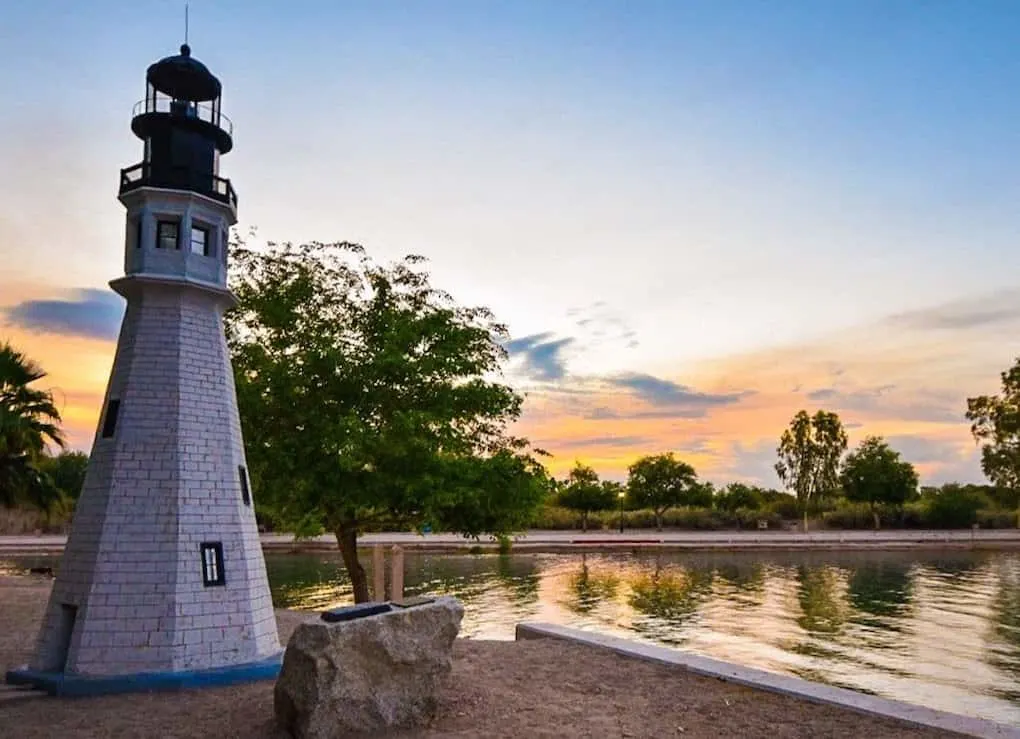 London Bridge Beach is a sandy beach on the island side of the London Bridge in Lake Havasu City. This is a beautiful park that runs along the Bridgewater Channel, with twelve covered picnic areas, two covered playgrounds, a swimming area, an enclosed dog park, and restrooms.
This is a great spot to bring families and is perfect for swimming, kayaking, or just relaxing in the sunshine. Parking is free, and you can walk to all the attractions surrounding the London Bridge.
Jog, Cycle, or Walk the Island Trail
The Island Jogging Path is a 3.6-mile loop that circles the island on a paved path. It's a great place for jogging or biking, but there isn't a lot of shade, so it's best tackled early in the morning or later in the evening. It's an easy walk, bike ride, or drive from the London Bridge.
The island is mostly residential, so this is a nice place for getting out of town and checking out the views across the lake. The Island Trail is signed for pedestrians to travel in a counter-clockwise direction and for bicyclists to travel in a clockwise direction. If you didn't bring a bike of your own, you can rent one at Havasu Bike & Fitness.
Where to Eat Near the London Bridge in Lake Havasu
There is a multitude of Lake Havasu restaurants near the London Bridge, as this is where visitors tend to congregate, and can you blame them? Just about every eatery has a gorgeous waterfront view and outdoor dining is common during nice weather. Here are a few great choices for dining out near the London Bridge.
Shugrue's Restaurant and Bakery – This waterfront restaurant has one of the best London Bridge views in all of Lake Havasu City, and the food is delicious too! Steak and seafood are the main attraction, but there's also a good selection of soups, pasta, and salads. Shugrue's is very close to the London Bridge and is open for lunch and dinner with a late-night bar.
Barley Brothers Brewery – When we visited, Barley Brothers was the only craft brewery in Lake Havasu City, and the beer really was fantastic. My favorite was the oatmeal stout, at least in the winter. They feature classic pub fare, but also some great vegetarian options, which were really delicious. I'd recommend the wood-fired pizzas, as well as the oak-roasted vegetables. Barley Brothers is located right on the Bridgewater Channel with great views of the London Bridge. It is open for lunch, dinner, and late-night fare.
Makai Cafe – Makai is a great breakfast and lunch spot with a pet-friendly patio and a stellar view. The selections are pretty standard, but fresh and prepared to perfection. Makai is located right below Barley Brothers on the Bridgewater Channel, right next to the London Bridge.
---
Whether you're visiting Lake Havasu City for the day or a whole week, you have to visit the world-famous London Bridge and all of the fabulous beaches, trails, and restaurants located nearby.
If you want to explore further afield, check out our post about the best things to do in Lake Havasu.
---
Pin for Later?