Roanoke, Virginia in the Blue Ridge Mountains has long been a destination for outdoor lovers, who for decades have journeyed here from up and down the east coast to embark on steep hiking trails, technical mountain biking adventures, and fabulous paddling on pristine lakes and swift rivers.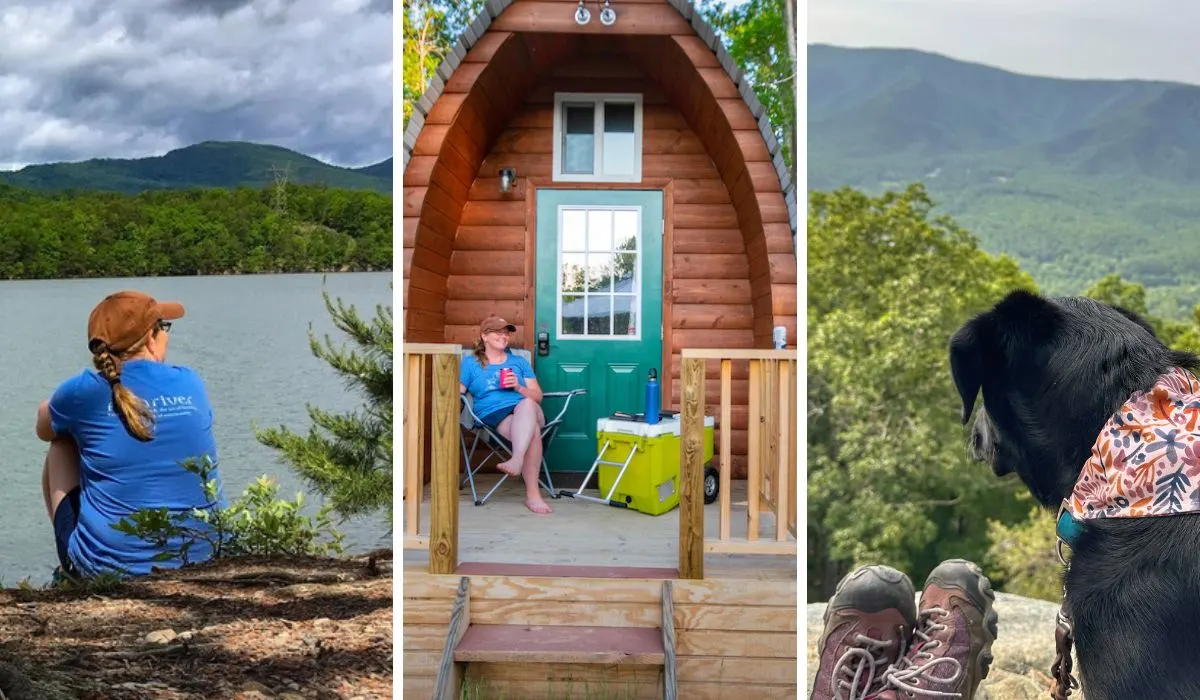 Because Roanoke is one of the major urban areas along the famous Blue Ridge Parkway, its gritty charm has never been much of a secret, but in recent years it has morphed into a renowned destination for young professionals, outdoor-loving families, and retirees.
It's obvious that Roanoke is passionate about the outdoors, and the city and surrounding communities have been working together to create an outdoor infrastructure that is both easy to access and extremely welcoming to visitors and residents of all ages.
The Blue Ridge Parkway is one of my all-time favorite road trips, and Roanoke, Virginia one of my favorite stops when driving it.
The vibrant downtown, plethora of dining opportunities, and awesome museums certainly wowed me, but it was the incredible array of parks and trails that made me really fall in love with Roanoke and Virginia's Blue Ridge.
If you are looking for a beautiful road trip destination where you can hike into the mountains, bike hundreds of miles of single track, and paddle for hours on secluded lakes, Roanoke may just be your next favorite mountain city.
We've rounded up the best parks in Roanoke so you can add them to your Virginia getaway list when planning your next adventure.
The Best Parks in Roanoke, Virginia for Outdoor Adventures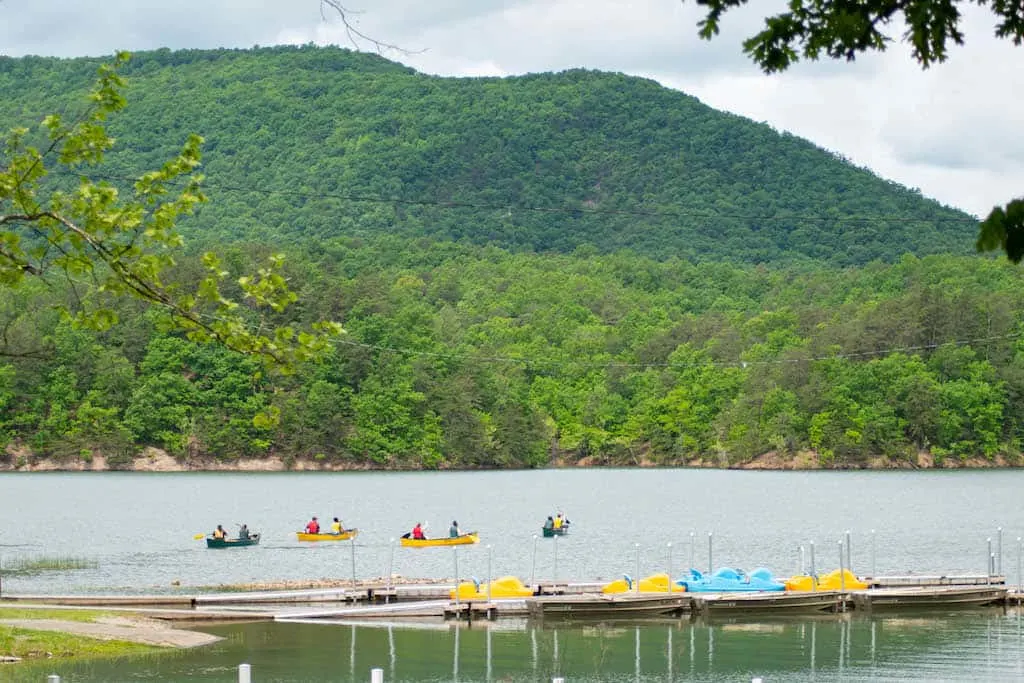 One of the first things I noticed about Roanoke was how many people there are who are constantly taking advantage of the public green spaces, bike paths, playgrounds, and hiking trails.
This is a city that wholeheartedly embraces the outdoors. There are 55 parks within the city limits, as well as eight recreation centers, five public plazas, two public pools, and two dog parks.
I spent a huge portion of my visit exploring the city parks and green spaces, but the following parks are definitely my favorite for their unique offerings, beautiful landscapes, and fabulous hiking trails. Two are within the city of Roanoke, and the last is managed by Roanoke County.
Mill Mountain Park: Take a Hike with views of Roanoke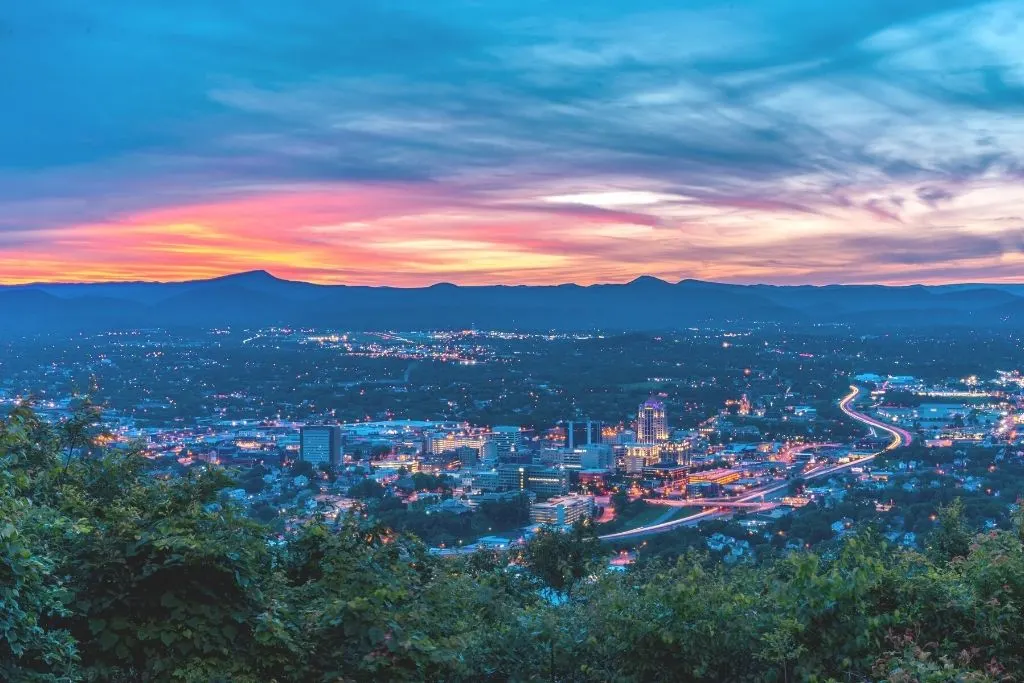 As home to the famous Roanoke Star, Mill Mountain Park is probably the most well-known and beloved park in Roanoke, and I'd also argue that it is one of the most beautiful.
Located right off the Blue Ridge Parkway and less than five minutes from downtown Roanoke, Mill Mountain Park is perfect for a leisurely picnic, a rugged hike, or a family outing.
There are shady picnic areas, a playground, and a new Discovery Center for nature-inspired education. In fact, you could probably spend the whole day here and not run out of things to do.
First Stop, the BOBs at Mill Mountain Park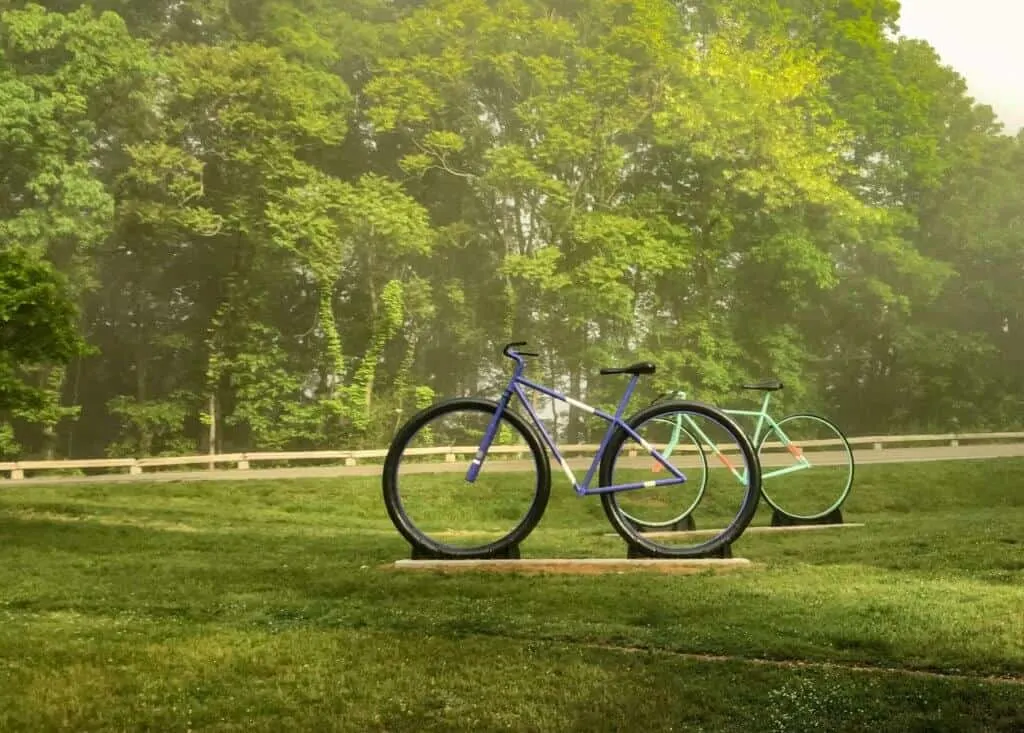 The BOBs, or Big Ol' Bikes, were installed at the entrance to Mill Mountain Park in April 2019. Patrick Boas, the recreational manager for Roanoke Parks and Recreation, spearheaded the project, working with local artist, Jacob Smith, to create the sculptures and have them placed on Mill Mountain.
There are two bikes in the installation, a road bike, and a mountain bike, and they are both much larger than life.
Roanoke is known as the East Coast Mountain Biking Capital in the US and this is just one more way for the city and its local parks to embrace and welcome the mountain biking community. Be sure to check out the BOBs as you make your way to Mill Mountain Park.
The Roanoke Star: A Historic Icon in Mill Mountain Park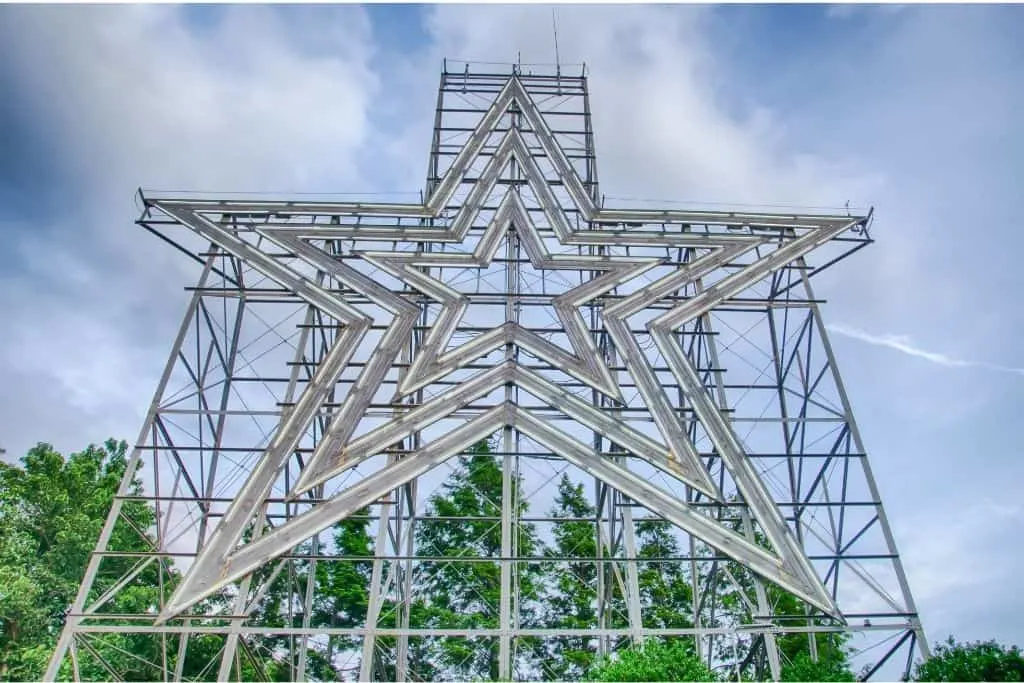 After checking out the BOBs, head up Mill Mountain to pay a visit to the Roanoke Star. You can hike to the star on the aptly named Star Trail, which is 1.6 miles long (one-way) and climbs 700 feet in elevation, or you can take the easy way out, and drive to the top of the mountain and walk a few hundred feet to the star and overlook.
The Roanoke Star was built in 1949 as a Christmas decoration sponsored by the Roanoke Merchants Association. Because of its popularity, this temporary mountain exhibit now graces Mill Mountain year-round and is illuminated every night of the year. It is 88 feet tall, contains more than 2,000 feet of neon tubing, and weighs more than 10,000 pounds.
The Roanoke Star can be seen from all over town, and because of it, Roanoke will forever be known as the Star City of the South.
To see what the view looks like from the Roanoke Star and to check out who is visiting at any given moment, you can go to the Mill Mountain Livestream StarCam. I just did, and I already miss that incredible view!
Mill Mountain Zoo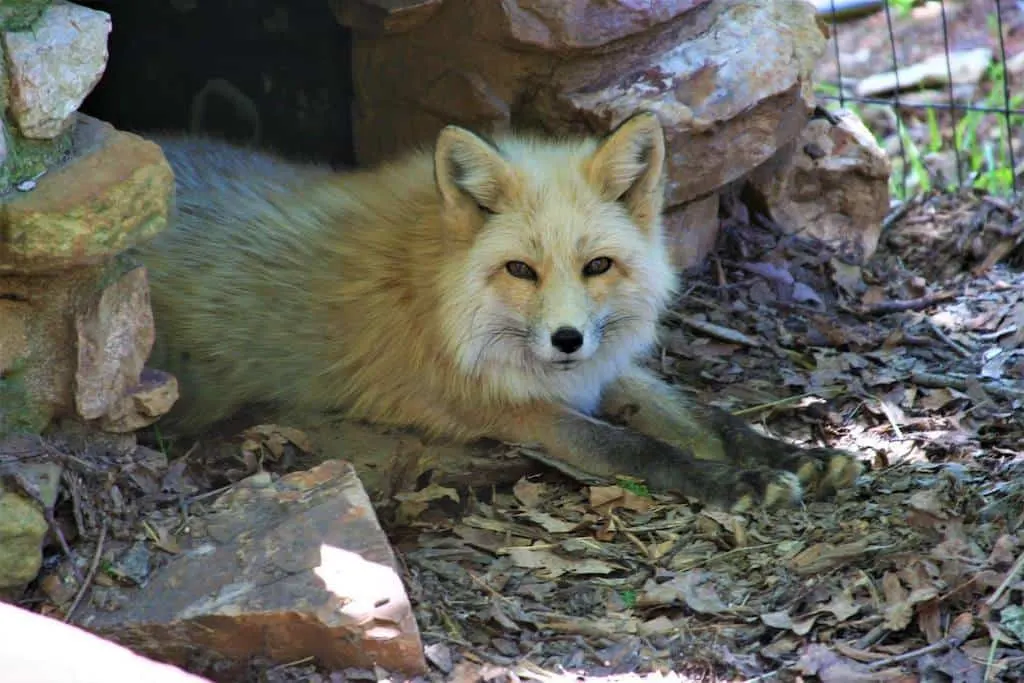 Located just a stone's throw from the Roanoke Star is the incredibly cute Mill Mountain Zoo. Judging by my own visit, this is a top destination for school field trips and family outings. The Mill Mountain Zoo isn't big, but it's a great place to stretch your legs if you've been driving on the Blue Ridge Parkway or a great spot for a family picnic.
In addition to some more fabulous views of the city below, you can check out more than 85 animals, including a beautiful snow leopard, red wolves, red pandas, and a bunch of birds and reptiles.
The Mill Mountain Zoo was created in 1952 and is a 501(c)3 nonprofit operated by the Blue Ridge Zoological Society. They are active participants in cooperative conservation programs with other zoos and work to promote conservation and an appreciation and understanding of wildlife.
A new strategic direction of the Mill Mountain Zoo will focus on species that are native to Appalachia and the Blue Ridge Mountains. Highlighted species will eventually include black bears, bobcats, and North American river otters.
The Mill Mountain Zoo is currently the only major non-profit wildlife attraction on the entire 469-mile span of Blue Ridge Parkway. Admission prices are $10 for adults, $8 for children 3-11, and children 2 and under are free. Seniors, 55 and up, are $9.25.
Hiking and Mountain Biking in Mill Mountain Park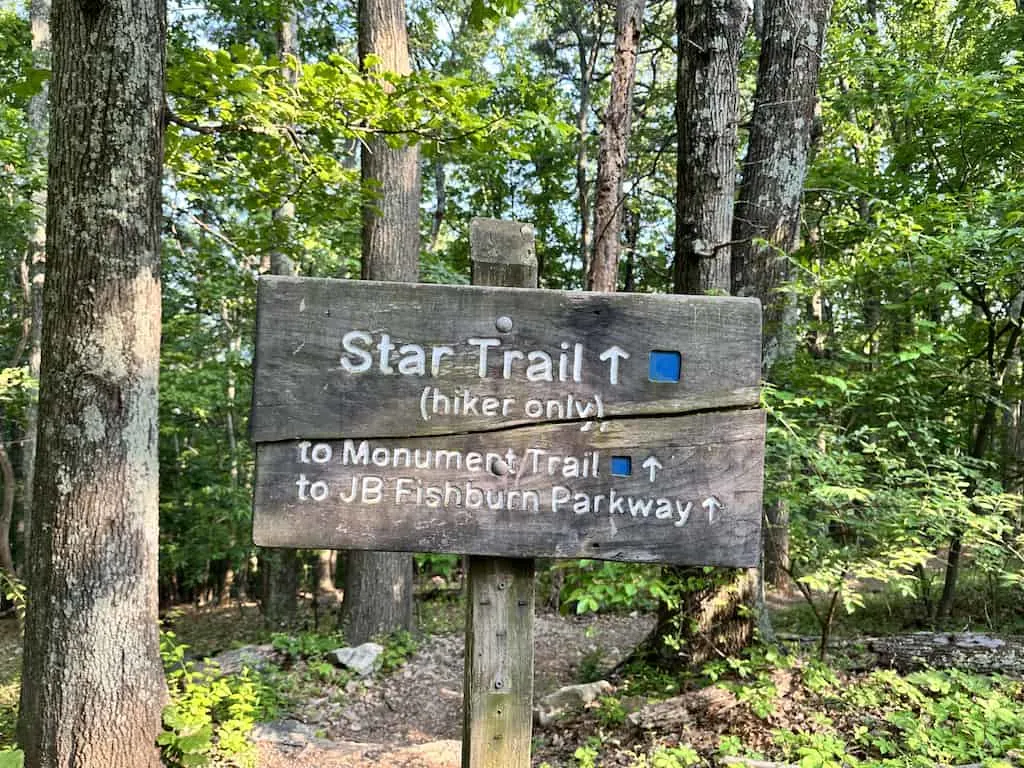 There are 10 miles of mixed-use trails in Mill Mountain Park that are open to both hikers and mountain bikers. Hikers and trail runners are permitted to use all of the trails and mountain biking is allowed on all trails but the Watchtower Trail and the Star Trail.
The trails can easily be combined to create the perfect loop for hikers or bikers, whether you want to spend an hour or a whole day exploring Mill Mountain. This beloved park in Roanoke is truly a gem.
Need a trail map? You can download one here.
---
Read Next: The Best Things to Do in Roanoke, Virginia
---
Where to Eat/Drink after Exploring Mill Mountain Park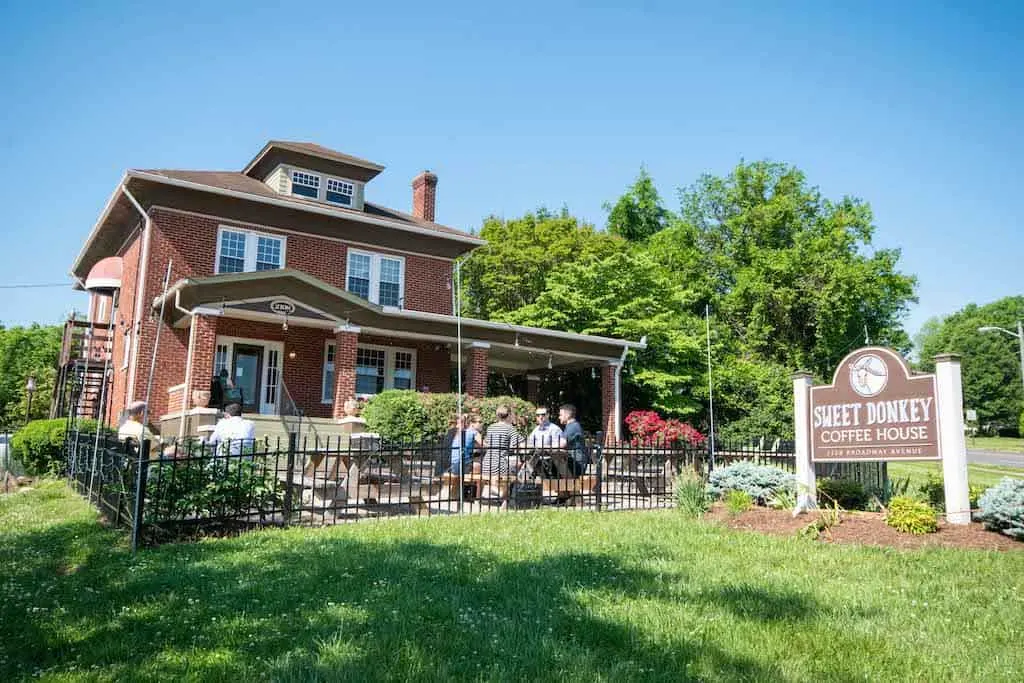 For the best coffee drinks in town, as well as baked goods, soups, and homemade yogurt, check out Sweet Donkey. This great community coffee shop offers awesome outdoor seating, live music on Friday evenings, and a good selection of local beers. On my visit, I had a scrumptious broccoli cheddar quiche and an orange-ginger scone.
Carvins Cove: Not Just for Mountain Biking!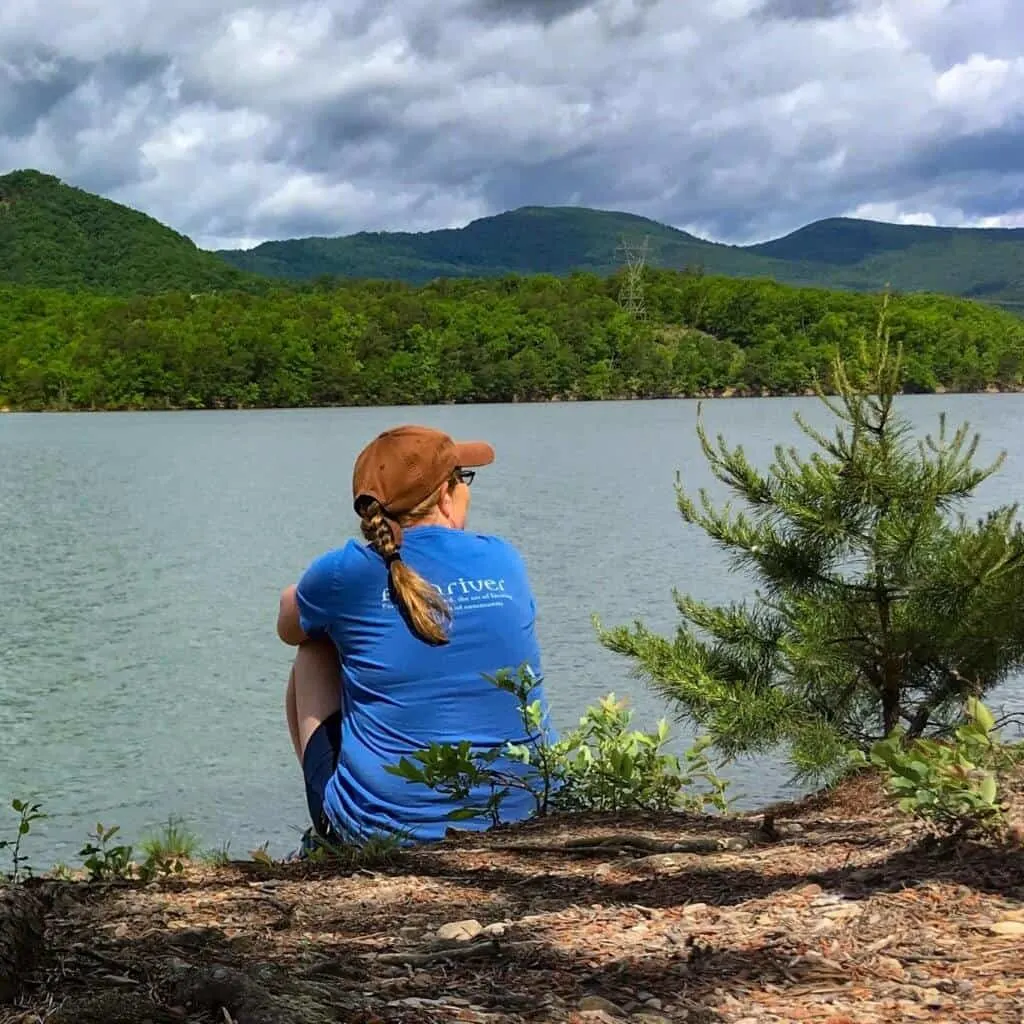 If you're looking for a nature fix or want to lower your blood pressure while visiting Roanoke, I urge you to head to Carvins Cove on the north side of the city.
This massive, 12,000-acre park is the second-largest municipal park in the country and is a popular spot for mountain bikers, paddlers, hikers, and anglers.
The main attraction is Carvins Cove Reservoir, a 630-acre lake surrounded by mountains and lush hardwood forests. Some trails meander around the shores of the lake, and the landscape is breathtaking, especially in summer and fall.
Hikers can also access the Appalachian Trail from the Sawmill Branch Trail within Carvins Cove.
If flying along on two wheels is more your speed, then you won't want to miss the single track and Carvins Cove, which has earned a reputation for being one of the best spots to mountain bike in the eastern United States.
You can download a Carvins Cove trail map here.
What You Need to Know about Visiting Carvins Cove in Roanoke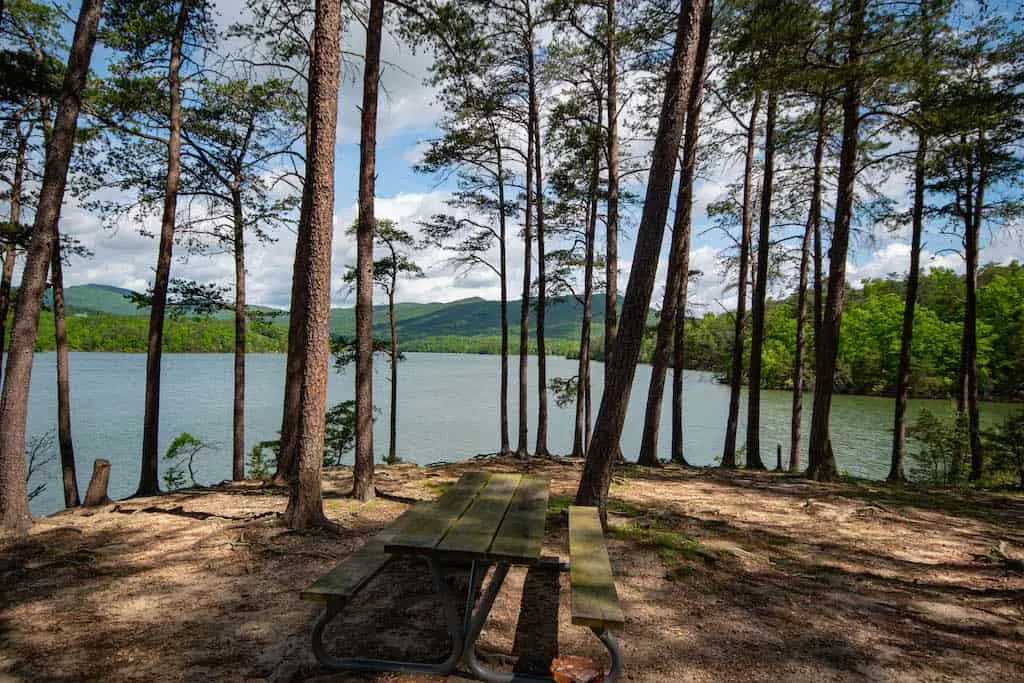 There are three entrances to this massive park in Roanoke, and where you park your car will depend on what you want to do.
If you are looking to paddle or access the waterfront picnic area, head to the Carvins Cove Marina entrance.
If easy access to trails is more important, go to the Bennett Springs entrance off of Carvins Cove Road. The Timberview entrance is located at the south end of the park and provides easy access to trails on the south side of Brushy Mountain.
---
Insider tip: Whichever entrance you use, you will have to pay a $7 fee for parking. You can buy a day pass at the marina or make use of drop boxes at Bennett Springs and Timberview.
---
Boating and Paddling on Carvins Cove Reservoir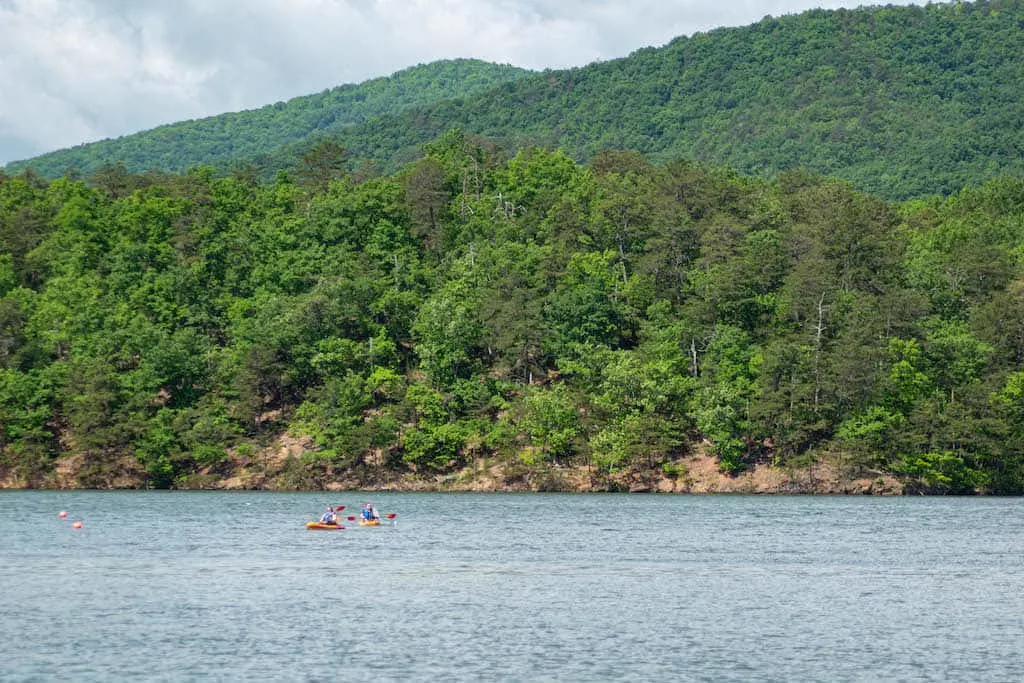 Motorboats on Carvins Cove are limited to 10HP engines or less. Fishing is permitted from the shore or boats, but not from kayaks or canoes. To fish, visitors (age 16+) must have a current Virginia fishing permit.
Paddling is awesome on the reservoir, and while you can certainly bring your own canoe and kayak to get out on the water, renting a kayak is also quite affordable at $10 per hour or $15 for two hours.
There are lots of quiet coves and miles of shoreline to explore, so I definitely recommend at least two hours on the water. Unfortunately, swimming in Carvins Cove Reservoir is not permitted.
Explore Park: Camping and Glamping on the Blue Ridge Parkway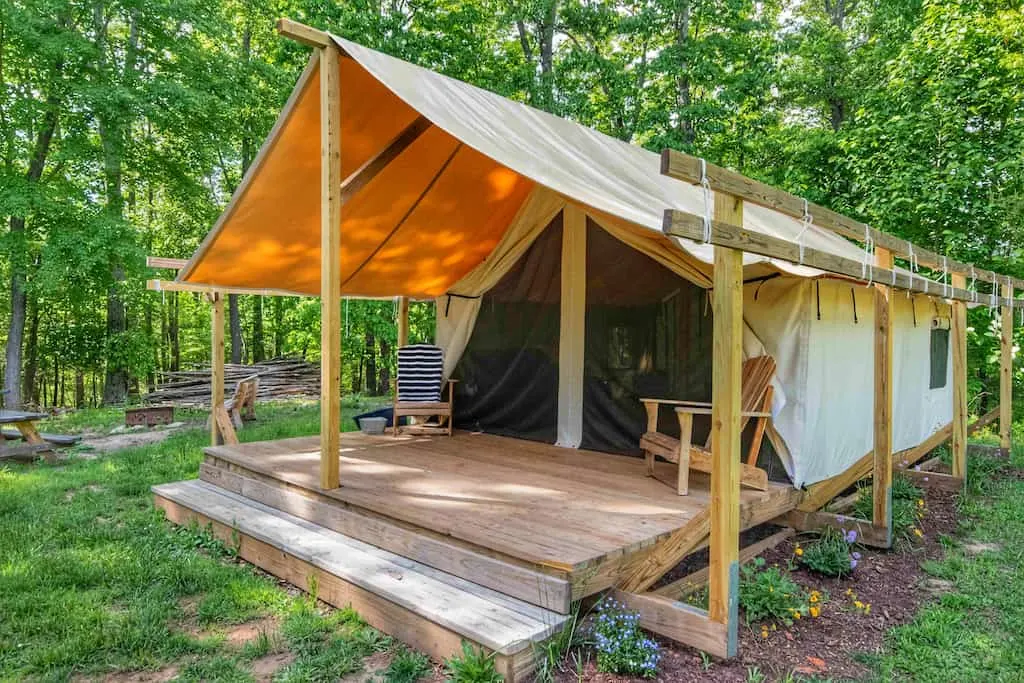 The story of Explore Park, off the Blue Ridge Parkway in Roanoke, is such an awesome example of what a community can do with a whole lot of perseverance and forward-thinking collaborations.
This incredible Roanoke park came into existence in 1988 as a Virginia State Park and later transitioned into a Living History Museum. Dwindling visitation and financial resources caused the living history component to close down, and the park transitioned to more passive recreation.
Fortunately, things have started to turn around for Explore Park, and it has evolved into a world-class adventure destination.
Touring Explore Park was definitely one of the highlights of my visit to Virginia's Blue Ridge area.
The park encompasses more than 1,000 acres right off the Blue Ridge Parkway at milepost 115. It is managed by the Roanoke County Department of Parks, Recreation, and Tourism.
Roanoke County is working with a variety of vendors to provide all kinds of cool recreation opportunities, including tubing, aerial obstacles, kayaking, mountain biking, hiking, and both rustic camping and luxurious glamping.
In my humble opinion, the best thing about Explore Park is that it offers both camping and glamping close to downtown Roanoke and right off the Blue Ridge Parkway. But there's so much more than camping!
Treetop Quest features an aerial obstacle course and ziplines for all skill levels. They even offer night ziplining on select dates. Want to get wet? Blue Mountain Adventures provides tube and kayak rentals, as well as transportation along the Roanoke River. Finally, be sure to stop at Twin Creeks Brewing Company.
As for mountain biking and hiking, Explore Park currently maintains 14 miles of mixed-use trails, with plans to develop the Blue Ridge Mountain Bike Center with expanded trails and a pump track for riders of all skill levels.
Need an Explore Park trail map? You can download one here.
Roanoke Camping in Explore Park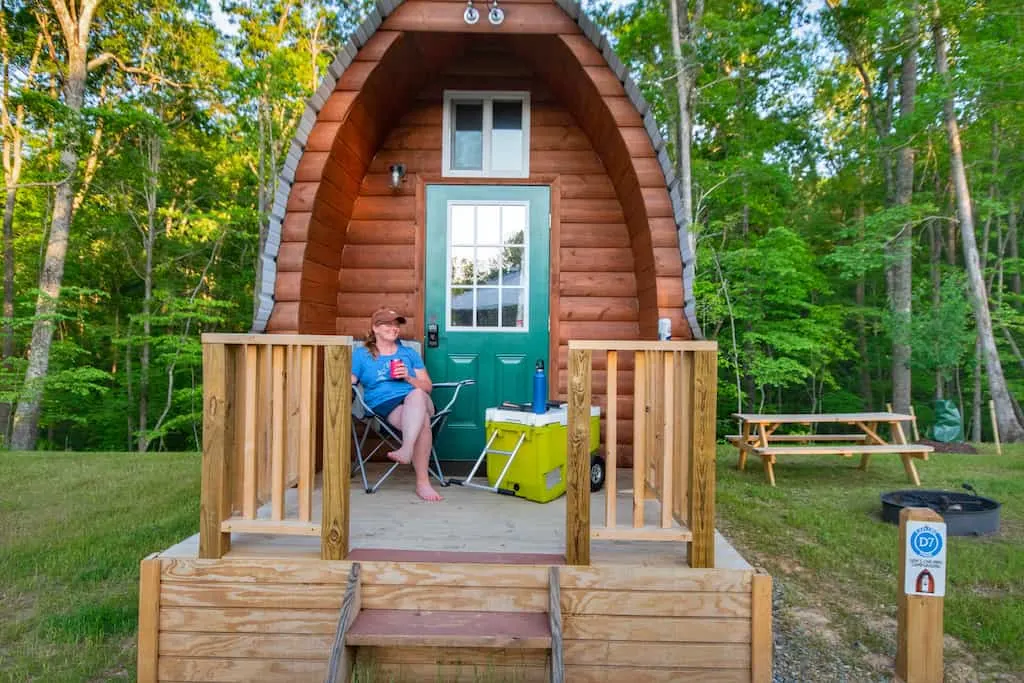 I was lucky enough to spend a night at one of the cabins in Explore Park operated by Dons Cab-Inns Campground, and I toured all of the other camping options throughout the park so that I could give you a complete overview.
I can say without hesitation that Explore Park offers the best camping on the Blue Ridge Parkway, whether you're looking for primitive and rustic or all the comforts of home. Here are the Blue Ridge camping options currently available at Explore Park.
Primitive camping: These sweet riverfront campsites include a fire ring and a nearby privy. You will have to carry in water or filter from the Roanoke River. These are hike-in campsites, but Blue Mountain Adventures will happily truck your stuff down if you ask. Rates for primitive camping start at $15 per night.
Camping cabins: Camping cabins are maintained by Dons Cab-Inns and include various sleeping options that sleep from 2-6 people.
These little cabins have beds (bring your own linens), a microwave, a small refrigerator, stools, a counter, air conditioning, heat, and electricity. You can park right next to your cabin, and there is a picnic table, fire pit, and a water source outside.
The beautiful bathhouse includes free, private showers, and Don runs a small store where he sells firewood, ice, and other necessities. I loved my stay here! Camping cabins are $80 a night with a two-night minimum on weekends.
Yurts: The yurts are also run by Don's Cab-Inns and feature full bathrooms that are perfect for families. There are a few different sleeping configurations, and the yurts include a microwave, coffee maker, refrigerator, and air conditioning.
I think the yurts are the most luxurious option, and at $100 a night, they're still cheaper than most hotels.
RV sites: If you're road-tripping on the Blue Ridge Parkway and looking for a sweet RV spot for the night, Don has you covered. Sites are small (12'x35') and include an electric hook-up but no water. RV campers have access to the bathhouse and municipal water spigots. RV sites are $30 per night.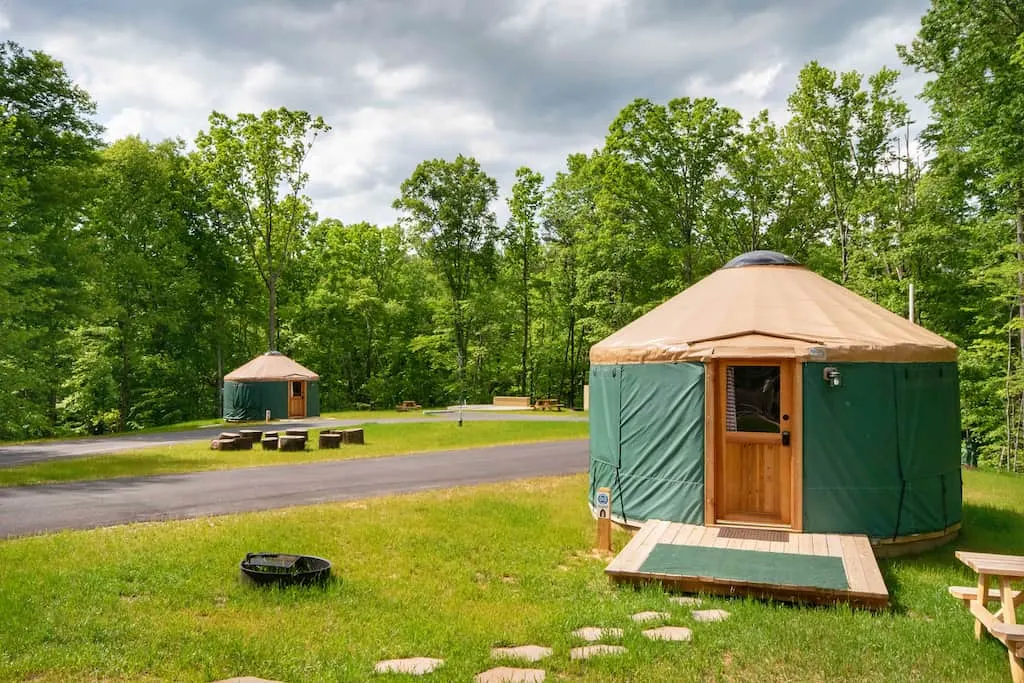 You can reserve any of these awesome campsites through the Roanoke County Parks, Recreation, and Tourism website.
So, friends, these awesome parks in Roanoke are just one reason why you need to plan a visit to Virginia's Blue Ridge. It doesn't matter if you want to picnic beside a lake or tackle a trail that will make your heart pound — Roanoke is the place to do it.
---
Plan a perfect weekend in Roanoke with our dog-friendly itinerary that includes fun hikes and great breweries, plus places to eat and sleep on your Roanoke adventure!
---
Follow us on social media for more outdoor adventures!
Pin for Later?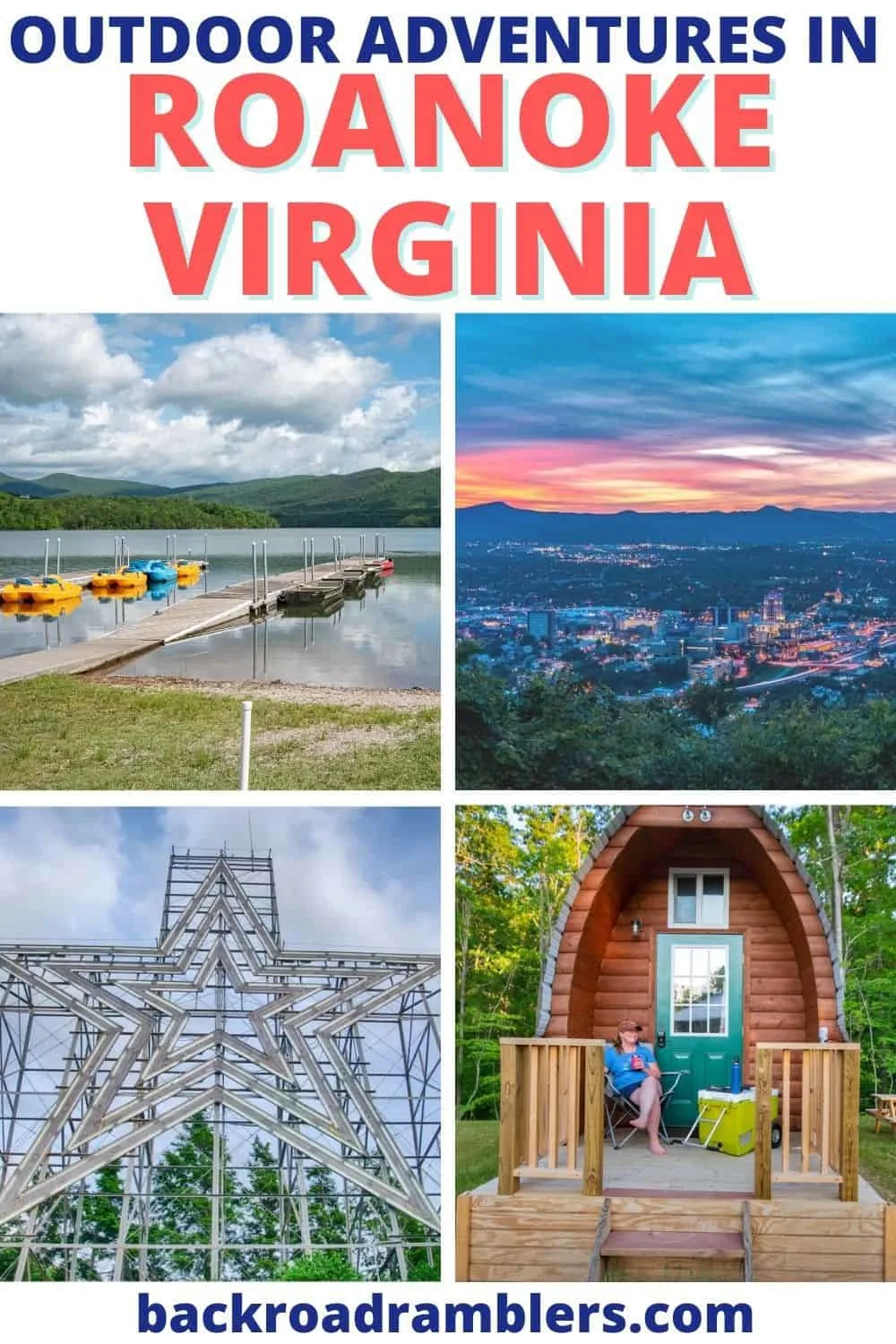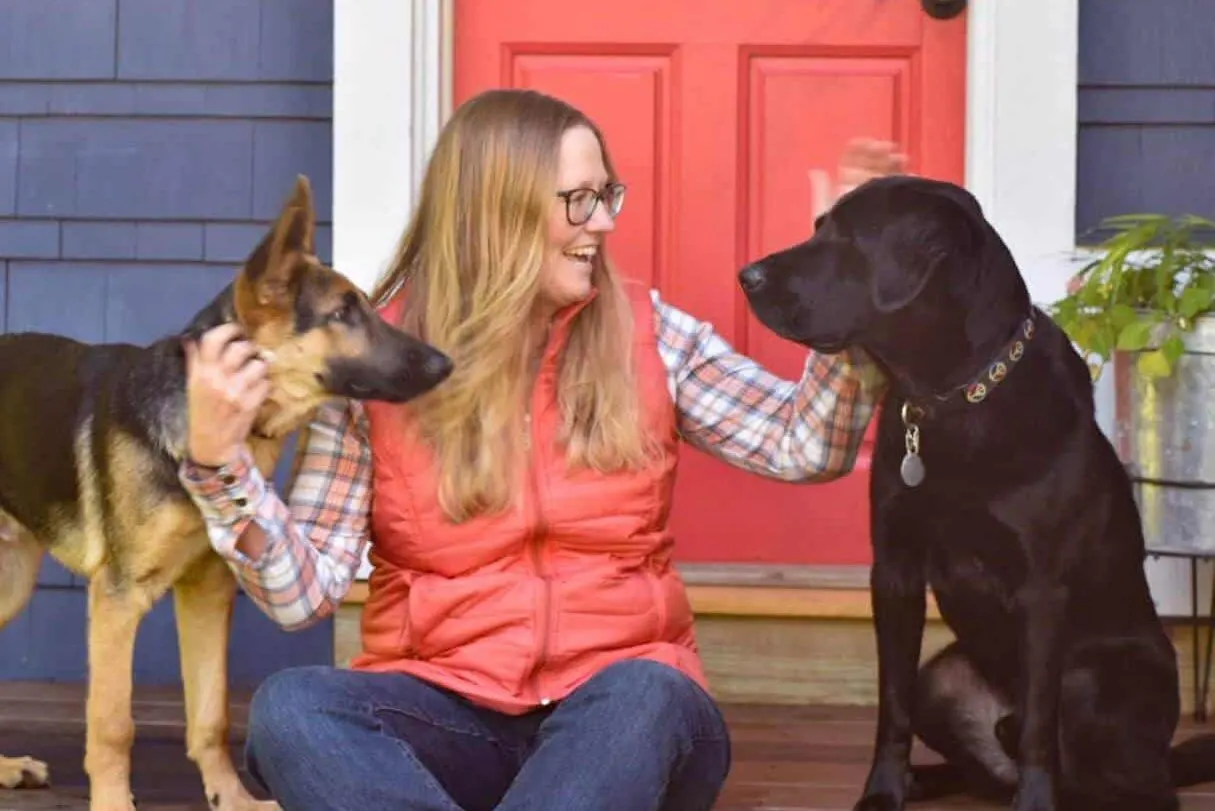 Please note: We were generously hosted by Visit Virginia's Blue Ridge for a media tour so that we could experience all the Roanoke and the surrounding communities have to offer for outdoor lovers like you.