The beautiful Blue Ridge Parkway travels for 469 miles along the spine of the ancient Blue Ridge Mountains, from Rockfish Gap, Virginia to Cherokee, North Carolina, and it's a stunner.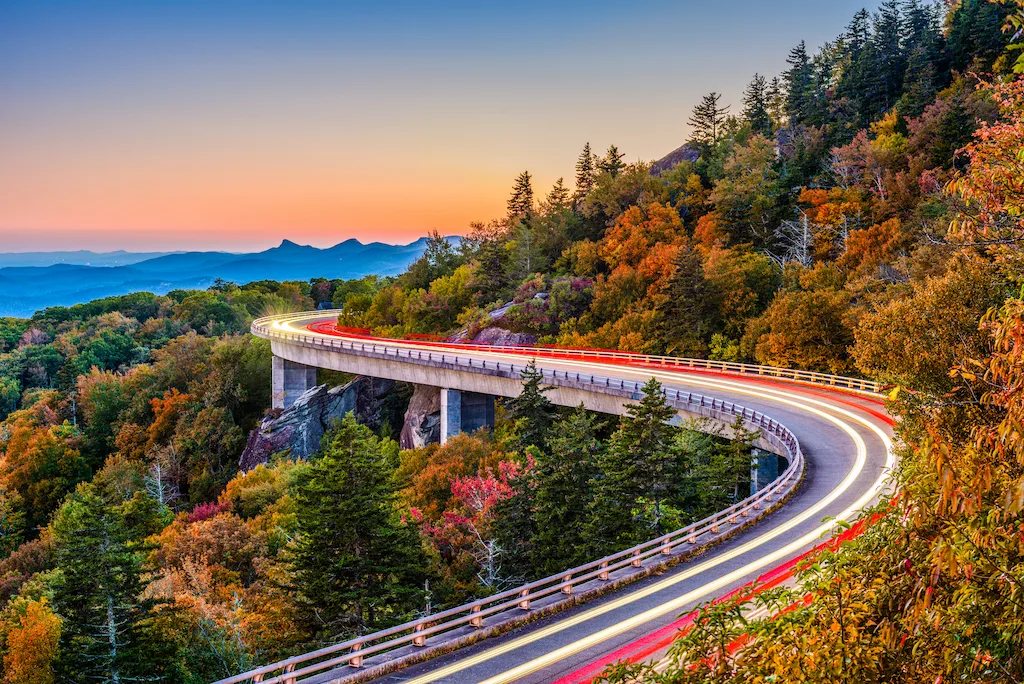 This winding, mountain road has been called America's favorite drive, and according to the National Park Service, the Blue Ridge Parkway saw 14,099,485 visitors in 2020.
Of the 424 parks in America's National Park System, the Blue Ridge Parkway comes in at number one as the most visited.
Why?
Because the Blue Ridge Parkway is 469 miles of breathtaking gorgeousness!
Last summer, I was fortunate enough to embark on a leisurely Blue Ridge Parkway road trip, just me and my favorite dog. We spent a week exploring beautiful vistas, exhilarating hiking trails, and bustling mountain villages.
All I can say is if you haven't driven on the Blue Ridge Parkway, it's high time to plan your own road trip!
Whether you drive a small section of the Blue Ridge Parkway, or all 469 miles from Shenandoah National Park to the Great Smokey Mountains, you'll no doubt come away inspired, and you may become a dedicated road-tripper if you aren't one already.
Ready to embark on America's most popular road trip?
Here are some things you need to know to help plan your trip, as well as the most fabulous things to do on the Blue Ridge Parkway.
Blue Ridge Parkway Travel Tips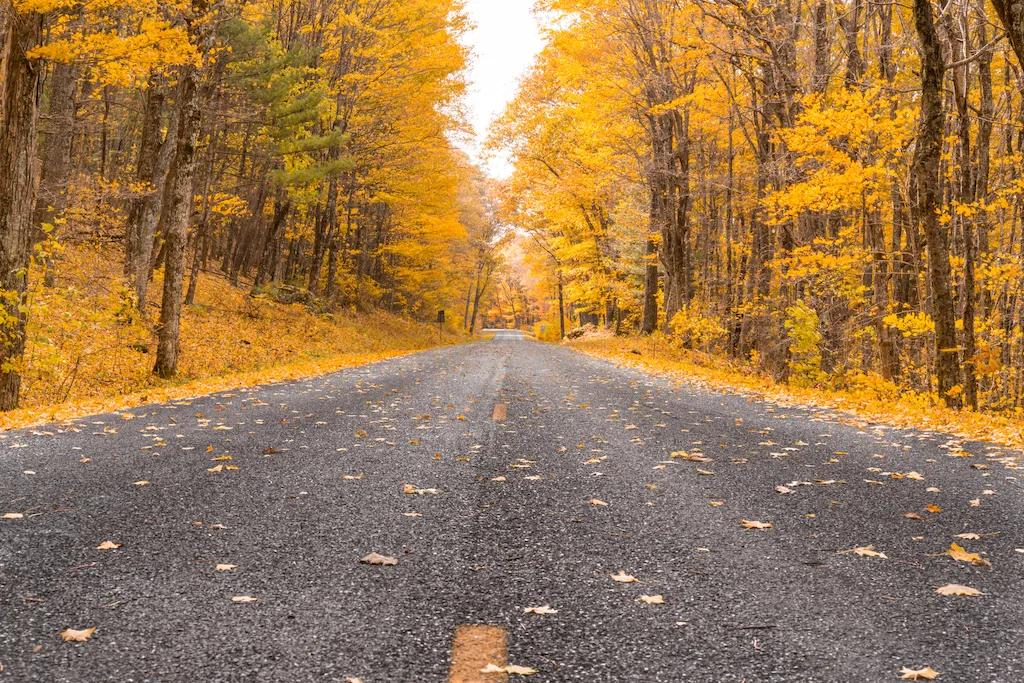 Ready for far-reaching vistas, mountain music, and small towns oozing with character and charm? The Blue Ridge Parkway has all that and more.
But, before you hop in the car and head to the mountains to embark on all the fabulous things to do on the Blue Ridge Parkway, there are a few things you should know to make your trip a success.
What is the best time to drive on the Blue Ridge Parkway?
Fall is gorgeous on the Blue Ridge Parkway, and you can expect the fall foliage season to last from mid to late October. This is (of course) the busy season as well, so if traffic is a greater concern than fall colors, consider traveling the parkway in May, June, or September.
Winter is a toss-up, and while the landscape is lovely covered with snow, the roads can be icy and may even be closed during snowstorms.
Know your Blue Ridge Parkway mileposts
If your Blue Ridge Parkway itinerary includes attractions, campgrounds, trailheads, and visitor centers, the best way to find them is to use the mile markers posted on the highway.
The numbers start at 0 at the northern entrance in Waynesboro, Virginia, and end at milepost 469 in Cherokee, North Carolina at the southern entrance. There are plenty of places to get on and off the parkway along the way.
Traveling the Blue Ridge Parkway is Free
The parkway is managed by The National Park Service and there is no entrance fee to access trails or attractions.
There are Nine Designated Campgrounds Along the Blue Ridge Parkway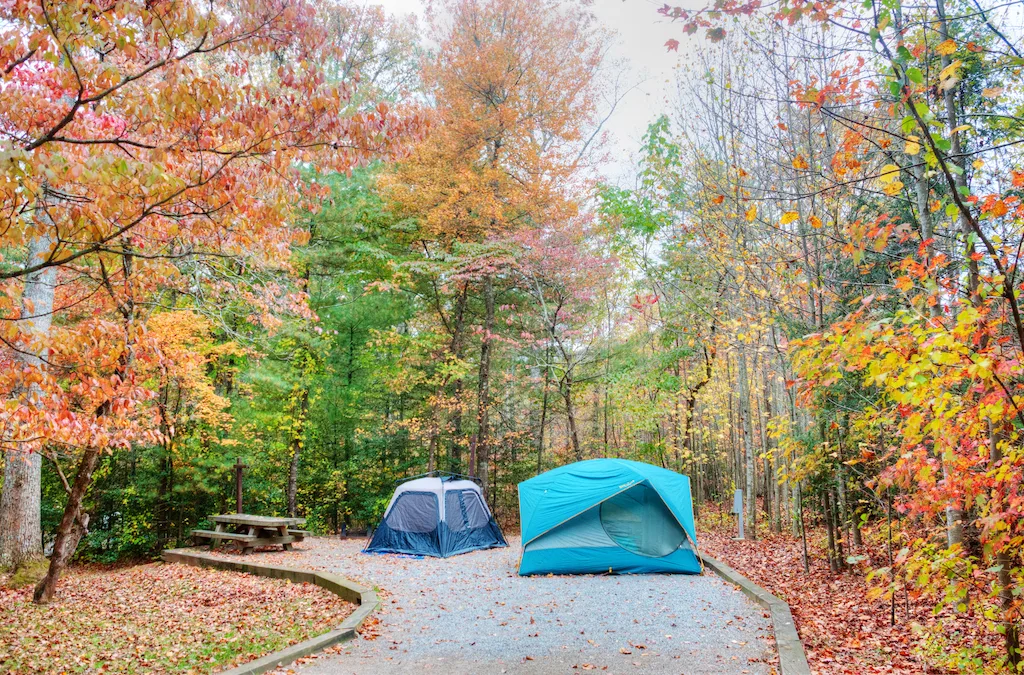 Camping at one of these gorgeous spots is definitely one of the best things to do on the Blue Ridge Parkway, but you will also find all types of lodging in many of the towns along the outskirts.
We recommend reading reviews and booking your lodging in advance through TripAdvisor, especially if you are traveling during the busy tourist season (summer and fall).
Dogs are Permitted on all Blue Ridge Parkway Trails and in Campgrounds
We are huge supporters of dog-friendly travel, but many national parks do not allow dogs on hiking trails. Fortunately, for all you dog lovers out there, the Blue Ridge Parkway is an exception.
Dogs are permitted on hiking trails and in campgrounds, but they must be kept on a leash no longer than six feet in length. Our black lab, Flynn, loves hiking and exploring the Blue Ridge Parkway!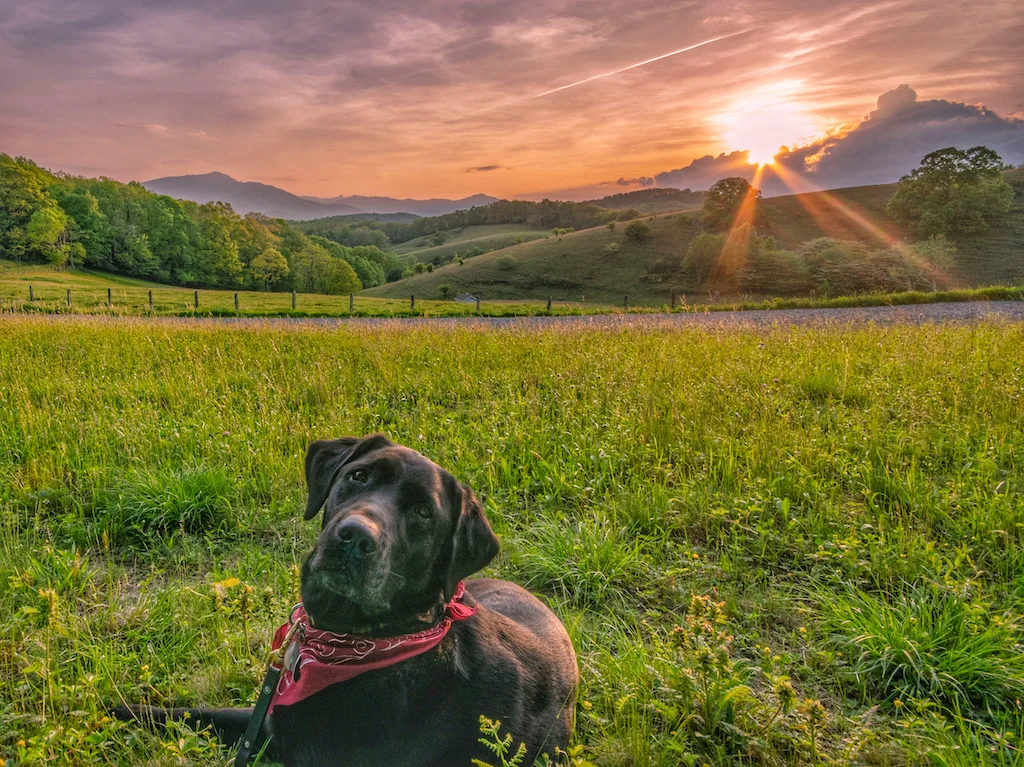 Obey the Speed Limit
The Blue Ridge Parkway is not the time to test your car's upper-speed limits. This is bear and deer country, and you will likely see lots of pedestrians as well.
The speed limit on the Blue Ridge Parkway is 45 mph in most places, but occasionally it drops down to 35 or 25 mph.
Incredible Things to do on the Blue Ridge Parkway
Now that we've got all the logistics out of the way, it's time for the good stuff.
Here are some of the best things to do on the Blue Ridge Parkway, perfect for travel during the summer and fall.
When possible, we've categorized attractions and trails in each section according to the Blue Ridge Parkway mileposts.
Delve into Appalachian History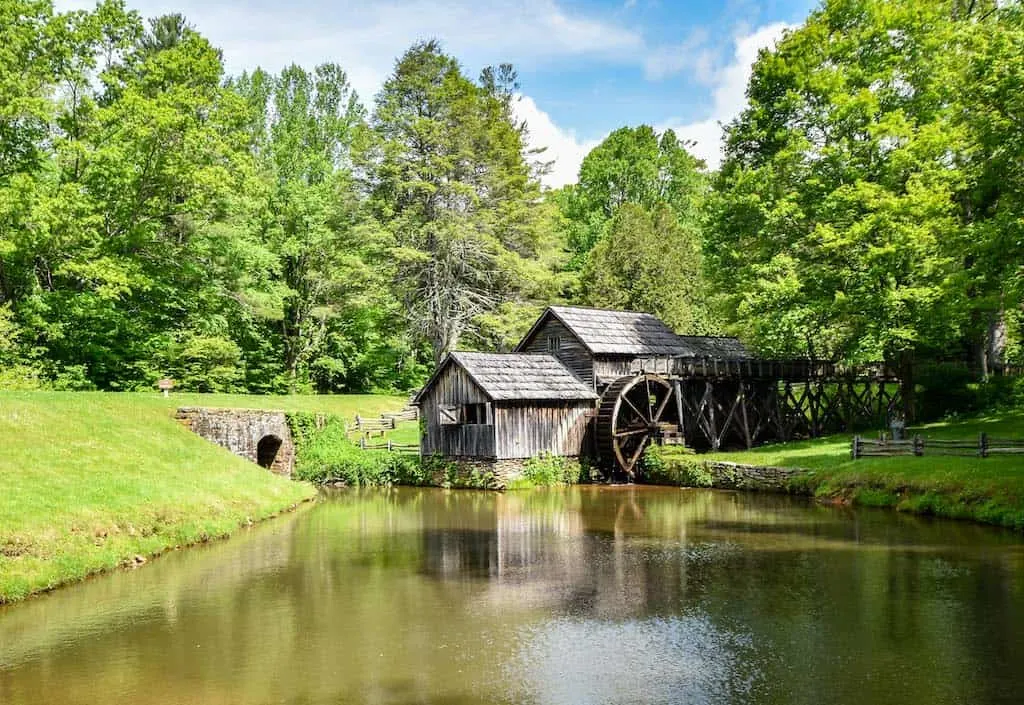 The Blue Ridge Mountains are more than a billion years old — among the oldest mountains in the world.
They were likely settled about 12,000 years ago by native peoples, including the Cherokee, Siouan Manhoacs, Iroquois, and Shawnee. White settlers showed up in the late 1700s, enticed by the cheap, fertile farmland in the valleys.
Construction of the Blue Ridge Parkway began in 1935 but wasn't completed in its entirety until 1987.
There are lots of cool historic sites along the Blue Ridge Parkway where you can dig a little deeper into the history of the mountains and the people who lived here.
Here are some of the historic buildings, trails, and attractions that you won't want to miss:
Mountain Farm at Humpback Rocks (milepost 5.8)

– This small collection of farm buildings from the 1890s includes a log cabin, pigpen, chicken coop, and various period tools displayed along a .35 trail near the Humpback Rocks Visitor Center.
Johnson Farm Trail (milepost 85.4)

– Another historic farm from the 1880s, the Johnson farm has been restored to its 1930s condition and includes a period farmhouse that is open to the public, antique farm equipment, a barn, and a garden. There is a 1.75-mile loop trail that winds through the farm property and the nearby woods. This is a fascinating stop, and definitely worth the visit.
Mabry Mill (milepost 176.2)

– This was one of my favorite stops during my visit. Check out this original grist mill, built around 1910, as well as a number of farm buildings and equipment. There's a short trail around the property, and there's also a restaurant and gift shop on site. Mabry Mill is one of the most photographed spots on the Blue Ridge Parkway.
Flat Top Manor, Moses H. Cone Memorial Park (milepost 294) – This massive summer retreat was built at the turn of the 20th century by textile entrepreneur Moses H. Cone. The house and the surrounding grounds were donated to the National Park Service. Ranger-led tours of the house are available, and there are more than 25 miles of carriage roads to explore on the expansive estate.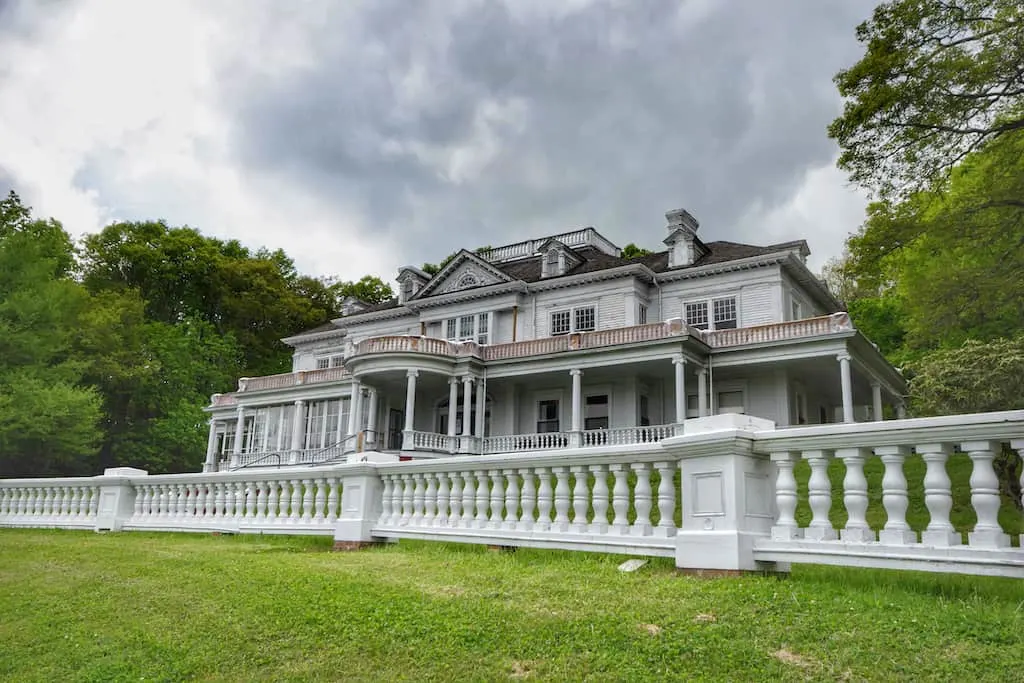 Linn Cove Viaduct (milepost 304.4)

– This engineering marvel wasn't finished until 1987, finally completing the Blue Ridge Parkway. The viaduct is a 1,243-foot-long bridge made of segmented concrete that hugs the face of Grandfather Mountain in North Carolina. The project began in 1979 and has received numerous design awards. It's also one of the most photographed sections of the parkway. Be sure to stop at the bridge museum and visitor center at the south end of the viaduct.
Cradle of Forestry (milepost 412) – Welcome to the first forestry school in America. Located just outside of Asheville, North Carolina, the Cradle of Forestry is a historic site, museum, nature center, and preserve all rolled into one. A visit to the Cradle of Forestry is one of the best things to do on the Blue Ridge Parkway for families with kids.
Insider Tip: If you are visiting the Cradle of Forestry during the late spring, be sure to look into the Blue Ghost Firefly Tour, which lets you glimpse a rare synchronous firefly that only makes its appearance in the spring, and only in a few locations in North Carolina.
Take a Hike in the Blue Ridge Mountains
You could spend weeks hiking around the Blue Ridge Parkway, but then you might not have time for anything else.
During my recent trip, I tried to plan ahead and hike one or two trails every day. I chose trails based on convenience more than anything else, as this was a road trip, and not a hiking trip.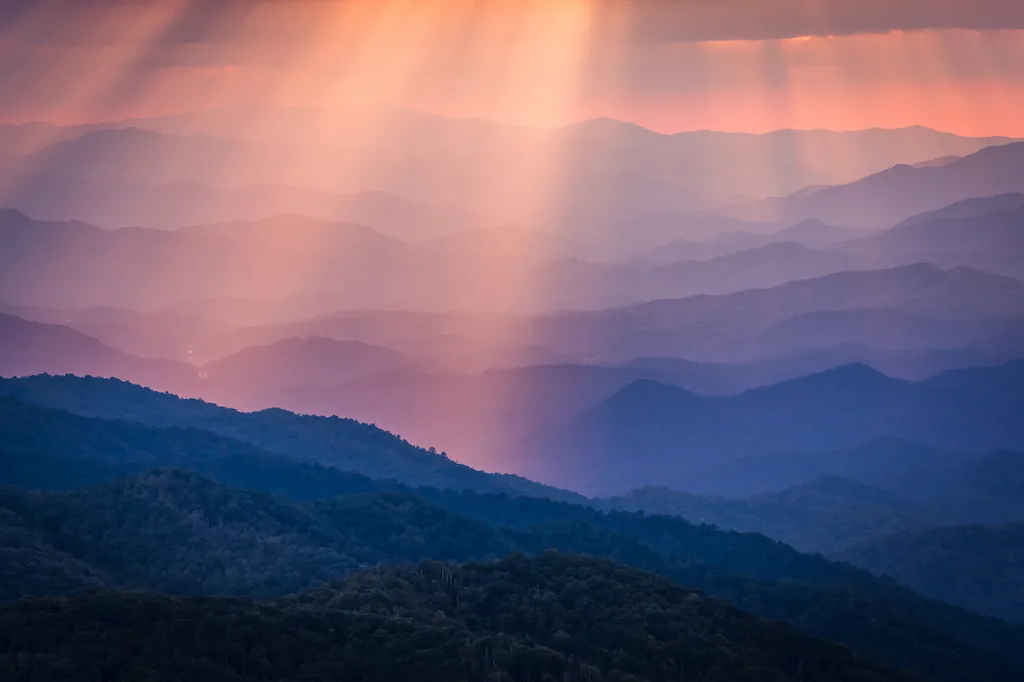 Still, a girl's gotta get her exercise, especially when traveling with her favorite dog. These are some of the trails we discovered on our journey, with the help of this handy guidebook and maps I snagged at the visitor center.
Note: Waterfall trails will be included in the next section.
Humpback Rocks Trail (milepost 2)

– The trail to Humpback Rocks is short and steep, with a great view of the Shenandoah Valley. Turn around at the rocks and you will have completed a nice, two-mile hike. Keep going to reach Humpback Mountain for a four-mile round-trip hike. I hiked to the rocks, and while it was super cloudy, it was still one of my favorite hikes of the trip.
Black Ridge Trail (milepost 169)

– There are a bunch of trails that start at the Rocky Knob Visitor Center and this is one of the easiest with the best views of Rock Castle Gorge. If you combine this trail with a small section of the Rock Castle Gorge trail across the road, it forms a moderate 3-mile loop. I recommend bringing a picnic for this one.
Rough Ridge Trail (milepost 302.8)

– This is a 1.8-mile out-and-back trail near Blowing Rock, where I spent several days. I was hoping to get a photo of the Linn Cove Viaduct from the rocks at the top of the ridge, but the sun never came out and the views were shrouded by clouds. This was a gorgeous hike, though, and if you go on a sunny day, you will likely see other hikers as well as some super awesome views.
Craggy Pinnacle Trail (milepost 364.2)

– Another short and steep hike near Asheville, the Craggy Pinnacle trail is popular for both sunrise and sunset hikes, as the views are pretty fantastic. The forest here is super interesting, with lots of stunted trees. It's like hiking through a low tunnel. This was one of the most crowded hikes we experienced on our journey, but the views were worth the effort.
Those were my most memorable trails on the Blue Ridge Parkway, but I stopped a bunch for quick nature walks too!
For more hiking on the Blue Ridge Parkway, let's move on to my favorite destination — waterfalls!
---
Read Next: The Best Things to Do in Blowing Rock, NC with Dogs
---
Take a Hike to some Blue Ridge Parkway Waterfalls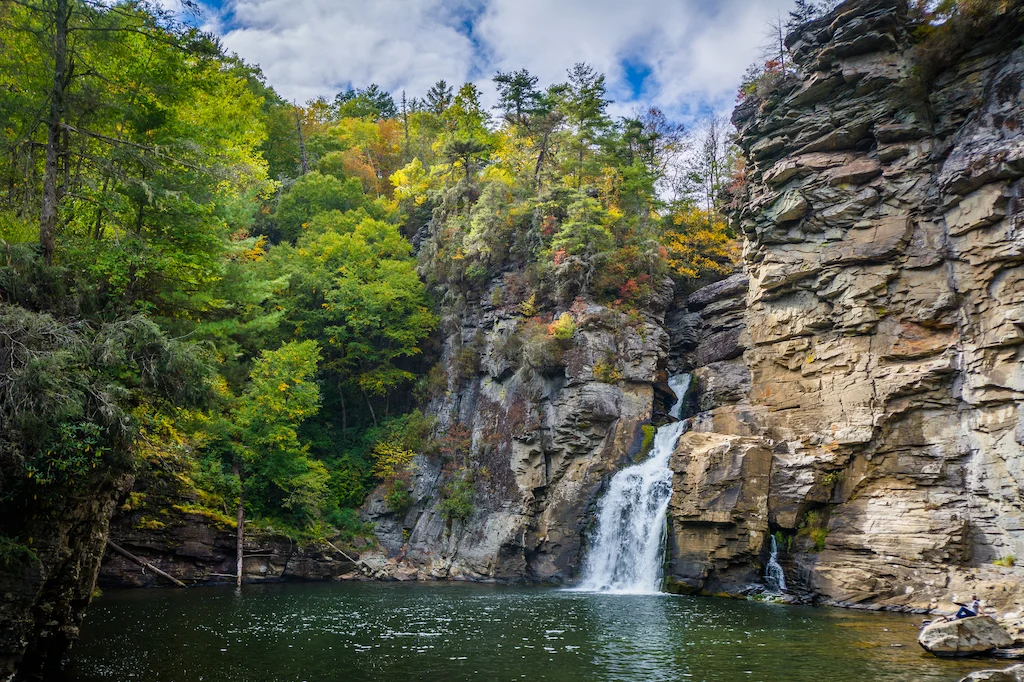 You don't necessarily need to enjoy hiking to explore some of the Blue Ridge Parkway's most stunning waterfalls.
I found a few beautiful cascades very close to the road, requiring only a short stroll. Other hikes required a bit more work on my part, but there are some serious stunners in this part of the world.
Here are some of our favorite Blue Ridge Parkway waterfalls:
Fallingwater Cascades (milepost 83.1)

– This is a great 1.4-mile loop trail, perfect for leg stretching, photography, and enjoying the deep, cool forest. The waterfall is relatively tame, especially in dry conditions, but I found walking along the creek to be a delightful experience, especially after driving all day.
Linville Falls (milepost 316.4)

– The North Carolina waterfalls around Boone/Blowing Rock and Asheville are pretty spectacular, so if waterfalls are your thing, be sure to build extra time into your trip. Linville Falls is probably the most famous of the falls in the area, dropping more than 90 feet into the massive Linville Gorge. There are several well-worn trails in the area, and if you have time, they are all worth exploring. The Linville Falls campground makes a great base camp, but it can be crowded on summer weekends.
Crabtree Falls (milepost 339.5)

– The Crabtree Falls trail is a steep, moderately strenuous loop trail, but the falls are beautiful and well worth the effort to get there. The falls drop more than 70 feet, cascading and spilling over the rocks in multiple fans. If you visit when the mountain laurels and rhododendrons are in bloom, you'll be in for an additional treat.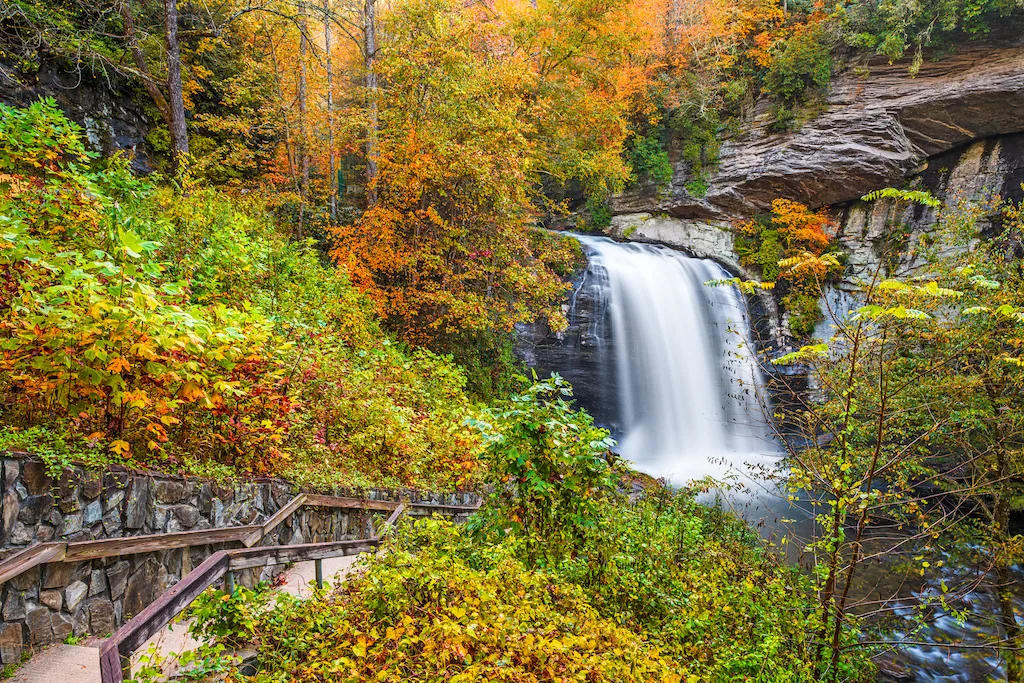 Looking Glass Falls (milepost 412.2)

– Okay, so this one is actually ten miles off the Parkway, but it's worth checking out. In fact, if you want to embark on a little side trip, there are

dozens more waterfalls in this area,

including a few that are also great swimming holes. Looking Glass Falls is a roadside waterfall, so there's not much hiking to speak of, but wading and swimming are allowed, and there are steps leading down to the falls for a close-up view.
Pitch Your Tent at One of Nine Campgrounds along the Blue Ridge Parkway
There are nine public Blue Ridge Parkway Campgrounds with more than 1,000 campsites available for both tents and RVs.
At $20 per night, this is a way more affordable option than hotels, Airbnbs, or even private campgrounds, and it's a great way to explore the region, as many hiking trails, waterfalls, photo ops, and other features can be accessed from the campgrounds.
I stayed at three of the nine Blue Ridge Parkway campgrounds on my journey – Otter Creek, Linville Falls, and Mt. Pisgah, but I explored each campground as I passed through.
I found each campground to be clean, and even on Memorial Day Weekend, there were spots available. The restrooms were well-maintained but dated, and there were no electric or water hookups.
Blue Ridge Parkway campsites can be reserved for camping between May 26 and September 11, 2023. Otherwise, it's first come, first served.
Tips and Resources for Blue Ridge Parkway Camping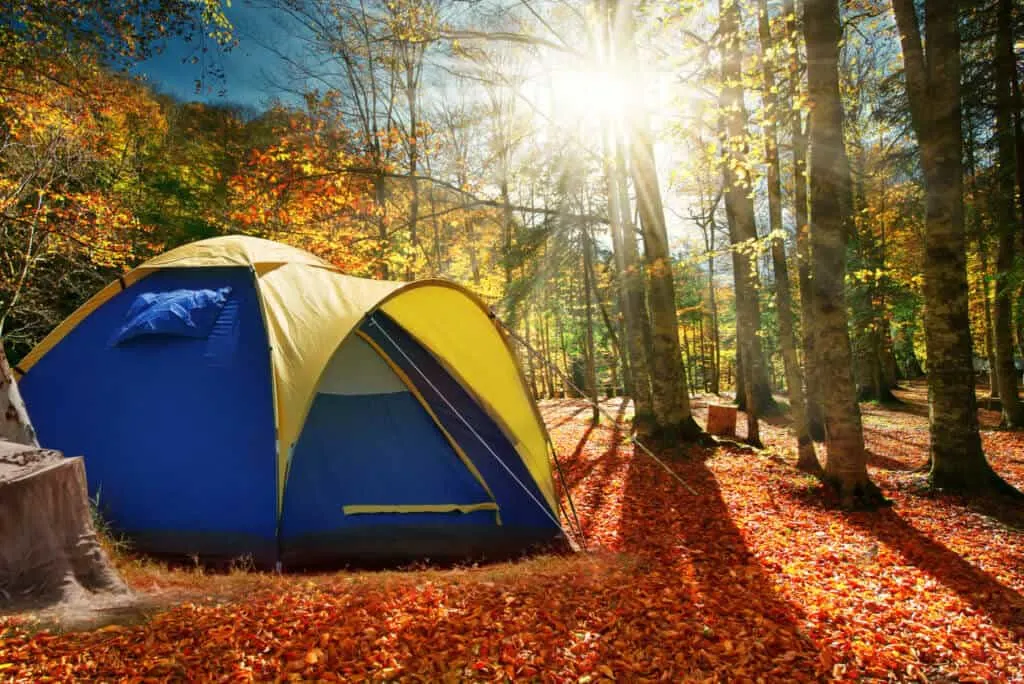 All campsites can be reserved in advance

here.

You can reserve your site up to six months in advance.

Sites are $20 per night.

Showers are not available, except at Julian Price and Mt. Pisgah campgrounds.

Only heat-treated firewood is permitted in the campgrounds, and you can buy firewood onsite.

Each site has a fireplace and a picnic table.

Backcountry camping is only permitted at designated campsites in Rock Castle Gorge, Basin Cove, and Johns River Road.

Leashed dogs are permitted in all campgrounds.
---
Read Next: Campground Etiquettes to Keep Your Neighbors Happy and Make Friends While Camping
---
Blue Ridge Parkway Camping from North to South
Otter Creek Campground (milepost 60.8)

– At 777 feet, this is the lowest elevation campground on the Blue Ridge Parkway. Creekside camping is available, and there are numerous day hiking opportunities that make this a perfect spot to spend a few days if you aren't too anxious to get on your way. 39 sites can be reserved ahead of time, and the other 30 sites are first-come-first-serve. Sites are spacious and open but do not provide much privacy.
Peaks of Otter Campground (milepost 85.9) –

Peaks of Otter Campground is nestled between two mountains, with great hiking opportunities. It's a large campground carved into the mountain, with 63 reservable sites and 79 first-come-first-served. The Peaks of Otter Lodge and Restaurant are both within walking distance, as is Abbott Lake, which is a great local fishing spot. Sites are shaded and private and include a picnic table and fire pit.
Explore Park (milepost 115) – This is the only campground directly on the Blue Ridge Parkway that isn't run by the National Park Service. Instead, it is run by Roanoke County and features a variety of camping options, including tent and RV sites, cabins, and yurts. Prices range from $15 to $100 per night.
Rocky Knob Campground (milepost 169) –

This is a great campground for folks who want to explore Rock Castle Gorge or Black Ridge Trail (mentioned above). There are 41 reservable tent/RV sites and another 67 that are first-come-first-served. If you are a tent camper, you will appreciate the quiet atmosphere of the C-loop, but all of the sites are quite close together. There are usually sites available throughout the season.
Doughton Park Campground (milepost 239.2) –

The Daughton Campground is located on both sides of the parkway, with 129 reservable sites. There is also a group fire circle and a camp store. This is a great location for spotting wildlife along the trails. The campground is relatively quiet, and the sites, while close together, do offer a bit of privacy.
Julian Price Campground (milepost 296.9) –

With a total of 197 sites, this is the largest campground on the Blue Ridge Parkway and one of the only Blue Ridge Parkway campgrounds with showers. If you can, try and get a campsite on Price Lake, and you'll be treated to fabulous views right from your tent. Canoe and kayaks are available for rent, and there is a dock for fishing, but unfortunately, swimming isn't permitted.
Linville Falls Campground (milepost 316.4) –

This is definitely one of the Blue Ridge Parkway campgrounds that I would recommend making a reservation for. There are 70 sites, but only 15 of them can accommodate large RVs. The rest are suitable for tents, small RVs, and campervans. Do not expect privacy at any of the sites. It's the price you pay for being so close to Linville Falls and all the fabulous hiking trails nearby.
Crabtree Falls Campground (milepost 339.5) –

All of the 92 sites at Crabtree Falls Campground can be reserved, and it's generally easy to find a spot. Like most of the Blue Ridge Parkway campgrounds, this one has basic amenities, and the sites are pretty small without much privacy. The hike down to Crabtree Falls is the only real recreational opportunity, but the falls are definitely worth checking out.
Mount Pisgah Campground (milepost 408.8) –

Mount Pisgah Campground was my favorite camping spot on the Blue Ridge Parkway. At 5,000 feet, it's also the highest campground on the parkway. There are 140 sites to choose from, but they are spacious and offer privacy. Hiking is fabulous here too, and don't forget to check out nearby Asheville

if you're looking for urban adventures.
---
Also Read: Best Glamping on the Blue Ridge Parkway
---
Be on the Lookout for Wildlife along the Blue Ridge Parkway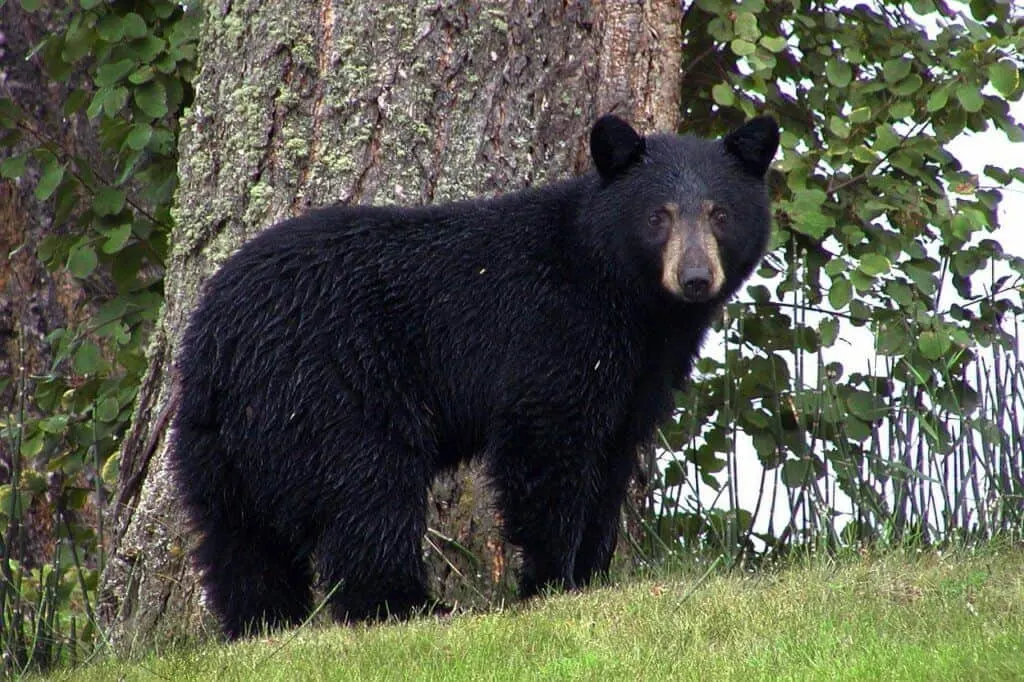 The land on either side of the Blue Ridge Parkway provides a huge variety of unique habitats for many plants and animals, including more than 50 species of mammals, 150 bird species, and 40 species of both amphibians and reptiles.
Many animals that have long been threatened or endangered in the area are making a comeback, including beaver, peregrine falcons, and river otters.
The Blue Ridge Mountain region is also black bear country, and there's a good chance you will see one on your Blue Ridge Parkway Road Trip.
Remember to give bears plenty of space. If a bear changes its behavior when you are near, it means you are too close. Please, don't ever feed them or leave food out for them to find. A fed bear is a dead bear.
While bears may be everyone's favorite animal on the Blue Ridge Parkway, you will likely see an incredible array of wildlife if you pay attention. Deer and turkey are very common, as are coyotes, foxes, and raccoons. Elk, while rare, can sometimes be seen at the southern end of the Parkway near Cherokee, North Carolina.
Immerse Yourself in Mountain Music
The Blue Ridge Mountains are at the epicenter of American roots music, which includes traditional, bluegrass, old-time, and sacred tunes.
You can't drive the Blue Ridge Parkway without stopping at the world-famous Blue Ridge Music Center in Galax, Virginia. Here you'll find a Roots of American Music exhibition, a line-up of amazing concerts, and a variety of hiking trails.
If you're like me, and you simply can't get enough of those sweet sounds, follow the Blue Ridge Music Trail of North Carolina to find cool local spots where you can hear every manner of Appalachian music in concert, including jam sessions, open-mic nights, and festivals.
Visit a Local Vineyard or Winery along the Blue Ridge Parkway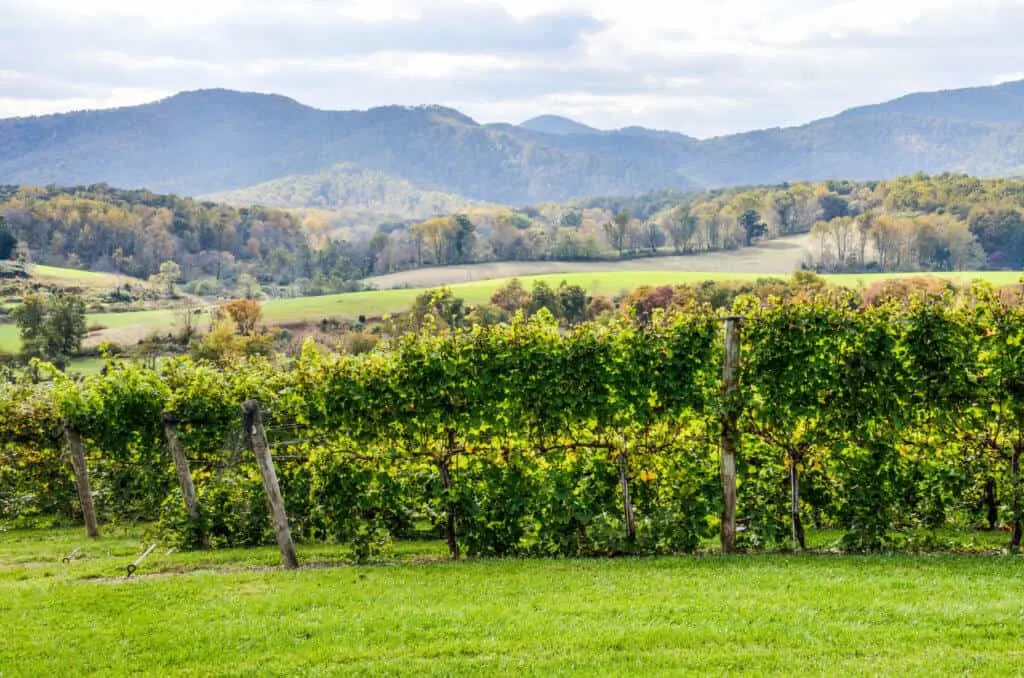 I took my first wine tour in 2017 and became thoroughly hooked (not on the wine, but on the idea of wine tourism). Virginia and North Carolina are both world-class wine producers, and there are many unique vineyards and wineries close to the Blue Ridge Parkway worth exploring.
Here's an overview of some of the Blue Ridge Parkway wineries I've visited, from north to south. Wine tasting with mountain views is one of the best things to do on the Blue Ridge Parkway!
Peaks of Otter Winery, Bedford, Virginia (milepost 86)

– Located on a beautiful orchard and farm,

Peaks of Otter Winery

offers unique wines made on-site. Wines are mostly apple-based, but there is a huge variety to choose from. Be sure to say hi to the friendly farm animals and take in the incredible views. Located just minutes off the Blue Ridge Parkway at milepost 86.
Chateau Morrisette Winery, Floyd, Virginia (milepost 171.5)

– If you are going to choose a single Blue Ridge Parkway winery to visit, this is the one I would choose.

Chateau Morrisette Winery

is just 300 feet from the Parkway, and it features breathtaking views, a full-service restaurant, dog-friendly grounds, and an incredible variety of award-winning wines. Wines feature locally-grown grapes, as well as grapes from around the world. Reds, whites, and fruit-based wines are available for tasting and purchase. Chateau Morrisette is located right off the Parkway at milepost 171.5
Thistle Meadow Winery, Laurel Springs, North Carolina (milepost 246)

– This family-owned,

mountaintop winery

is open seasonally for tastings and tours. Thistle Meadow creates a variety of reds, whites, and blush/sweet wines from around the world. The grounds include a short hiking trail, a bocce ball court, and corn hole, and picnic lunches are encouraged. Thistle Meadow Winery is located just three miles off the Parkway at milepost 246.
Grandfather Vineyard & Winery, Banner Elk, North Carolina (milepost 305)

– Located on the banks of the Watauga River in the shadow of Grandfather Mountain,

Grandfather Vineyard & Winery

includes a five-acre vineyard, a robust tasting room, and beautiful views all around. Dogs and children are both welcome on the grounds and in the tasting room. The winery is close to milepost 305, just off the Parkway.
Spend Time in Roanoke, Virginia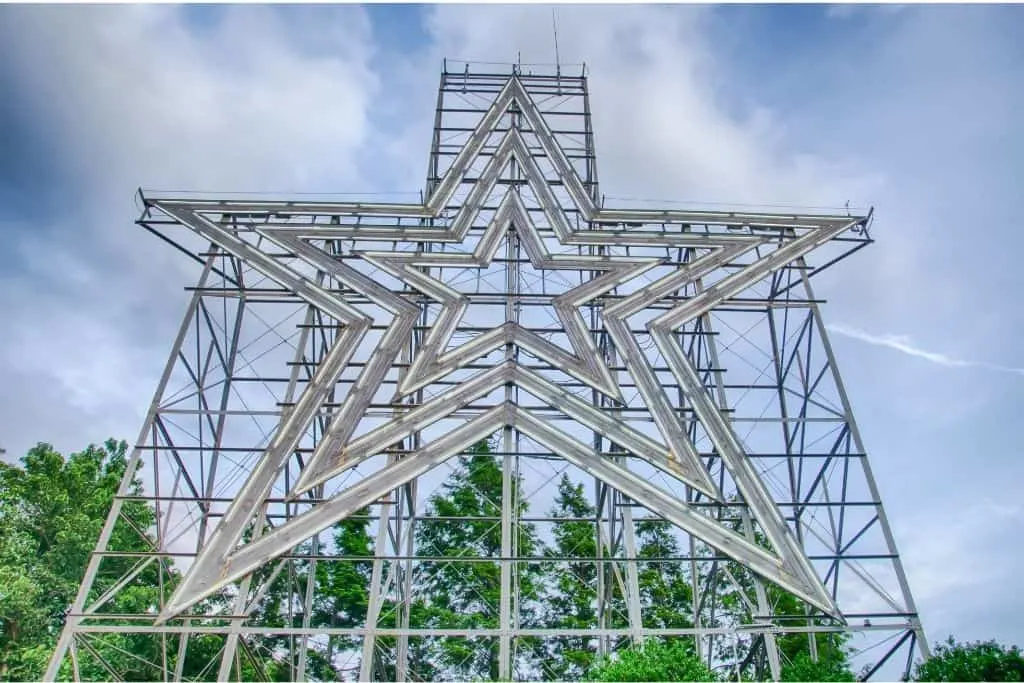 Roanoke is the largest metropolitan area on the Blue Ridge Parkway, and an ideal spot to grab a beer, while away a rainy day, or luxuriate in the perfect farm-to-table meal.
In fact, Roanoke is home to some of the best food, craft brews, and wine in the whole state of Virginia.
Travel Tip: Give yourself at least two or three days to explore Roanoke and the surrounding towns and villages.
If you are passing through on the Blue Ridge Parkway, you may be tempted to pop into Roanoke for an afternoon. Sure, you can treat yourself to some fine beer and a stroll through the farmers' market, but there are so many things to do in Roanoke, VA that you will regret not spending more time there.
Trust me!
---
It is easy to see why this is America's favorite road trip – there is so much to do on the Blue Ridge Parkway!
Ready to drop everything and forge your own path through the ancient mountains of Virginia and North Carolina?
Which of these awesome mountain activities are you most eager to try? Drop us a comment and let us know.
Follow us on social media for more road trip inspiration!
Pin for Later?