Tucked away in the Blue Ridge Mountains, Blowing Rock, North Carolina is a bustling mountain town known for its outdoor recreation, robust dining and shopping opportunities, and beautiful scenery. Blowing Rock is also one of the most dog-friendly towns we've had the pleasure of visiting.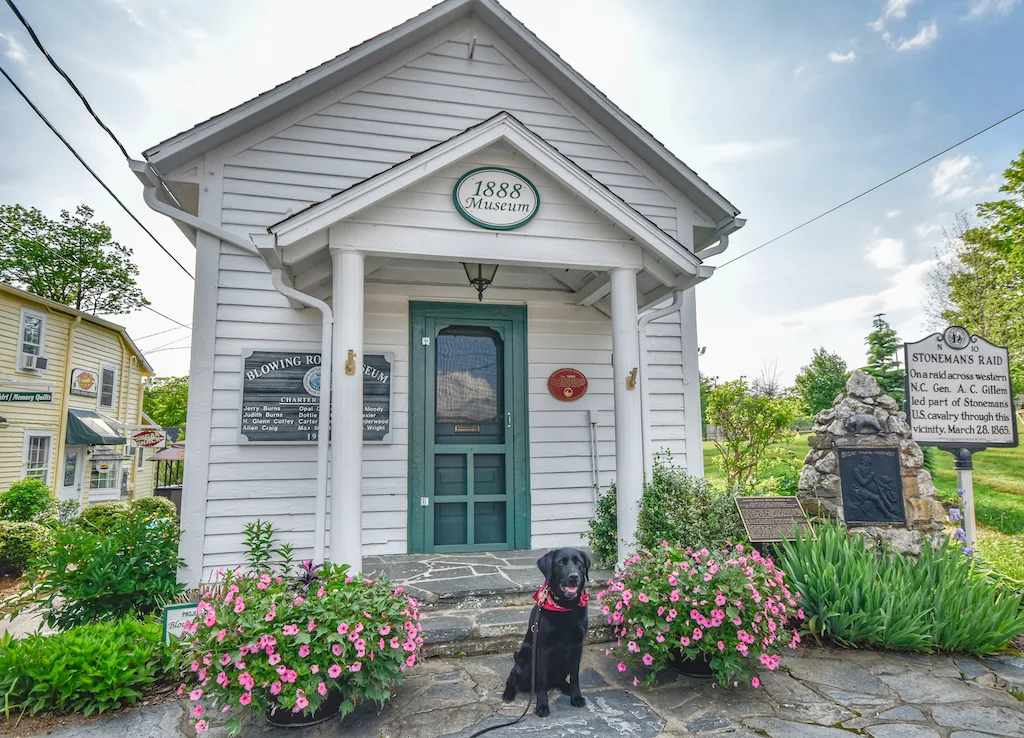 This beautiful town is affectionately called the "Crown of the Blue Ridge," and is a must-stop destination if you're traveling on the world-famous Blue Ridge Parkway. If you happen to have your favorite four-legged companion with you, even better!
Ready to take a little tour of this storybook village in the mountains? Here's an overview of some of our favorite things to do with dogs in Blowing Rock, North Carolina.
Get Outside with Your Dog in Blowing Rock
Blowing Rock and the Blue Ridge Mountains provide numerous activities for outdoor recreation with or without dogs. The following parks, hikes, and activities are dog-friendly and perfect for families.
Moses H. Cone Memorial Park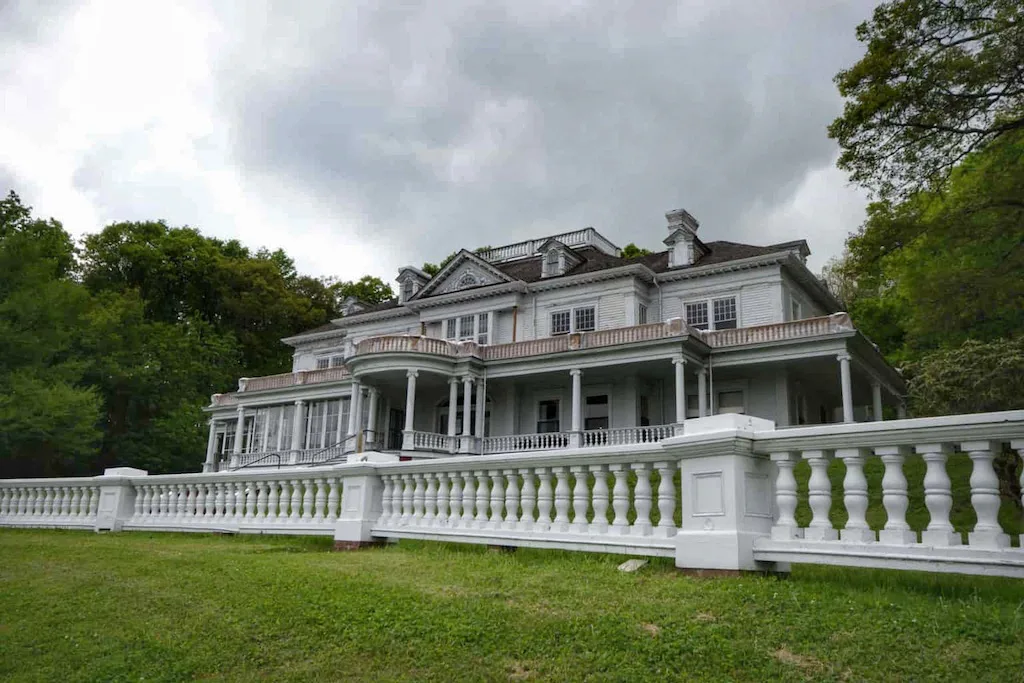 Located right on the Blue Ridge Parkway at milepost 294, Moses H. Cone is an awesome destination for history buffs, hikers, picnickers, dog walkers, and sunset lovers. The park encompasses 3,500 acres of what was once the grand estate of Moses and Bertha Lindau Cone, who made their fortune in the denim industry.
The house, known as Flat Top Manor, was built in the 1890s. The estate was donated to the Blue Ridge Parkway in 1950. While much of Flat Top Manor is being restored, visitors can take ranger-led tours of the second floor, and explore the local craft shop on the first floor. Dogs, however, must stick to exploring the grounds.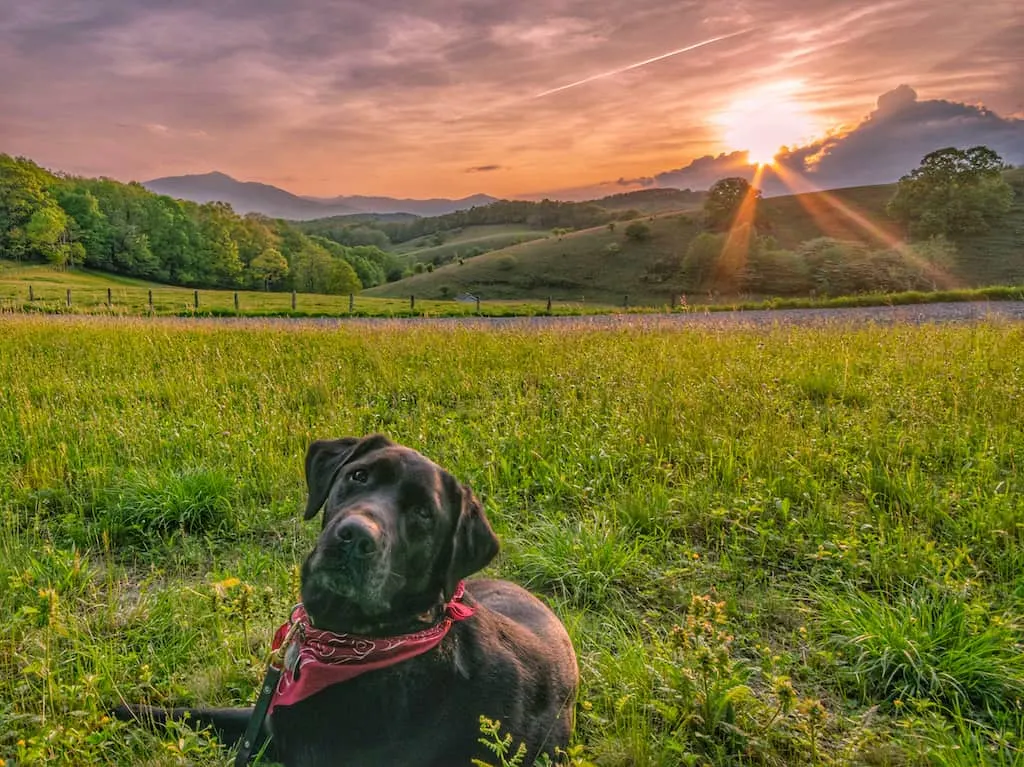 The beautiful estate grounds include 26 miles of carriage trails, two small lakes, and an observation tower at the top of Flat Top Mountain. Dogs must be kept on a leash on the grounds of the estate, and you will likely encounter plenty of hikers, photographers, joggers, and horseback riders as you meander the trails.
If you are short on time, I recommend a stroll around Bass Lake or on the Figure Eight Trail, which starts near Flat Top Manor. If you have a bit more time, definitely hike the 2.8 miles (one way) to the observation tower.
Sunset from the carriage road just past the Blue Ridge Parkway underpass is fabulous. It's also a good spot for an evening picnic. You can read more about visiting Moses H. Cone Memorial Park on the National Park Service website.
---
---
The Blowing Rock is Dog-Friendly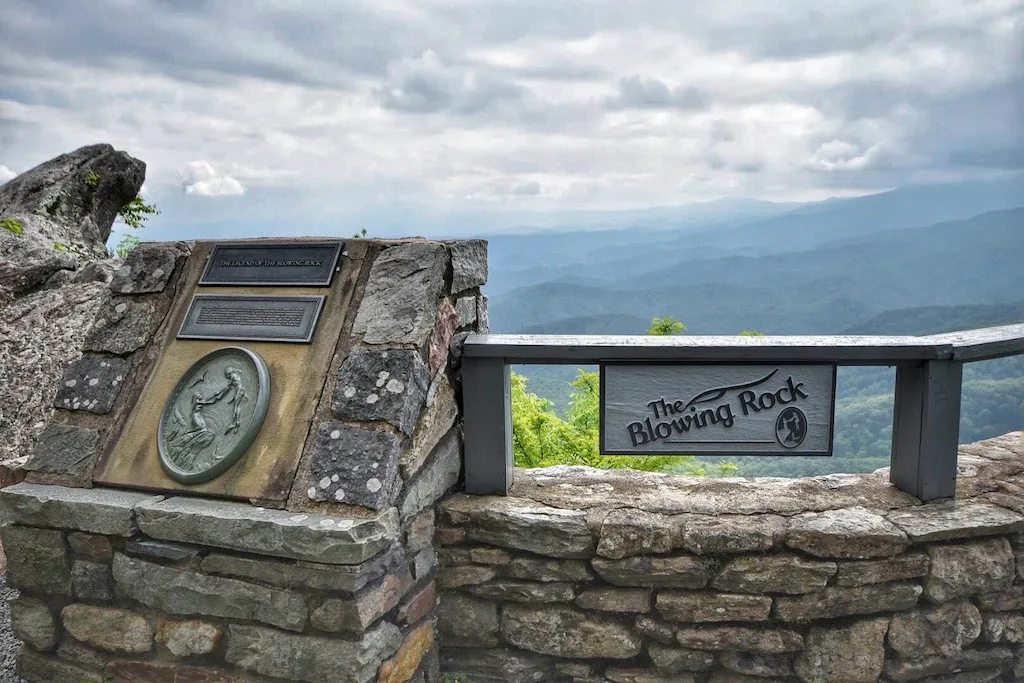 The Blowing Rock is touted as North Carolina's First Tourist Attraction and has been attracting visitors since 1933.
While it's definitely a commercial venture, charging $9 per person for a look at the rock and the breathtaking view, it is completely dog-friendly, and a beautiful spot for an afternoon picnic. Meander on the flat, handicap-accessible walking paths, check out the vistas, and explore the lovely gardens, and a gift shop.
The attraction and the town's namesake, the Blowing Rock, is a slab of Gneiss that juts out above the surrounding cliffs, 4,000 feet above sea level.
Supposedly, the walls of the gorge below form a wind tunnel. The winds blow through with such force that it returns light objects that are thrown into the void from the rock. I can't vouch for that, as there was absolutely no wind the day I visited.
Rough Ridge Trail, Blue Ridge Parkway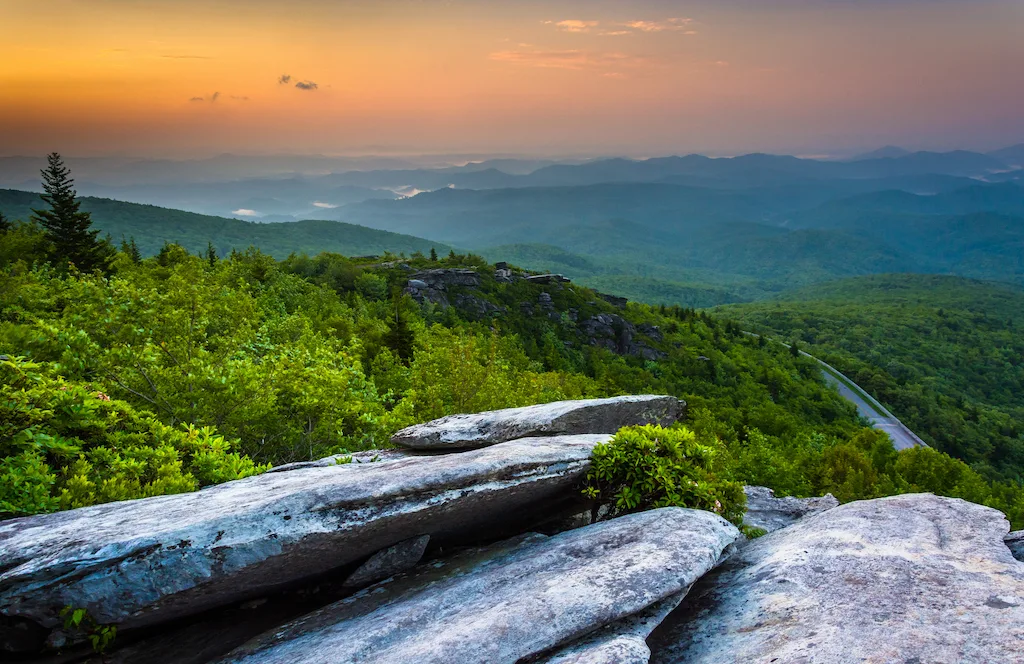 The Rough Ridge Trail is a beautiful little hike (1.5 miles round-trip) with awesome views of the surrounding mountains, as well as the Linn Cove Viaduct. Starting at the Rough Ridge Overlook on the Blue Ridge Parkway, milepost 302.8, the Rough Ridge Trail is actually a small section of the 13-mile Tanawha Trail.
To make your hike a little longer, start at the Boulder Fields Overlook (milepost 302.4), and hike up to the Tanawha Trail and then on to Rough Ridge Summit, at 4,773 feet in elevation. Unless it's cloudy, you'll be treated to neverending views of the Blue Ridge Mountains.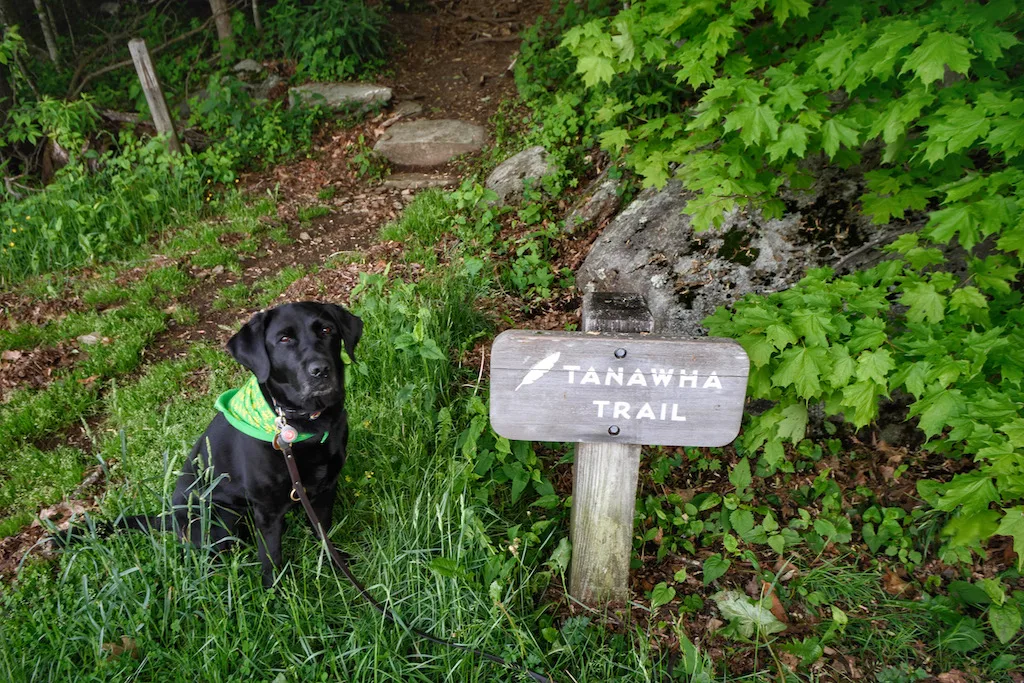 The hike is moderately steep and travels through rhododendrons and hardwoods, across several wooden bridges and small waterfalls, before finally reaching a wooden boardwalk that was created to protect the delicate vegetation on the summit.
Dog-Friendly Downtown Blowing Rock
Blowing Rock is a thoroughly walkable town, with cute boutiques and restaurants, plus several lovely parks and an itty-bitty museum. Most importantly, they've got two ice-cream shops and a fabulous coffee shop, and just about every store has a bowl of water out for thirsty pooches.
Memorial Park, which is located right on Main Street, is not dog-friendly, but if you walk down Laurel Lane from Main Street, you will come to Broyhill Park, which allows dogs. There is a small pond, gardens, and benches for relaxing.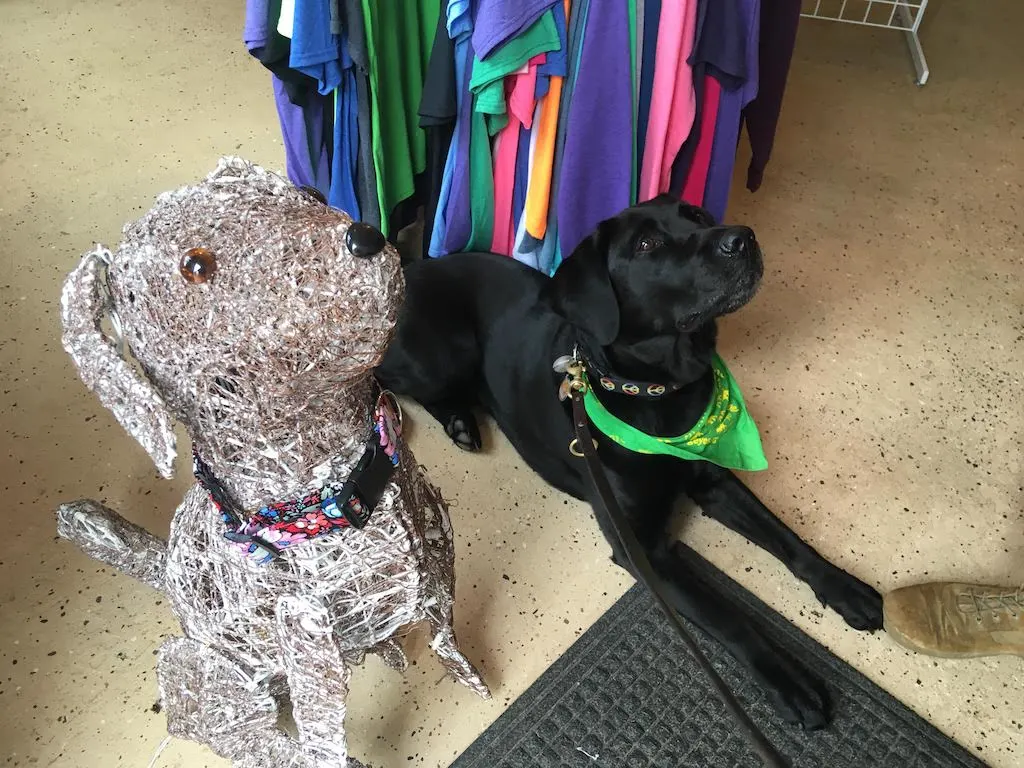 While many of the stores in downtown Blowing Rock allow dogs, your dog's favorite place will definitely be Stella Blue's Pawtique. Flynn and I popped in to get him a little treat, and we were amazed by all the dried animal parts for sale. I bought him a duck neck, which he devoured in two seconds.
Stella Blue's loves meeting the dogs that come to town, and they have a great selection of treats, toys, beds, and collars. It's definitely a must-visit if you're passing through with your pooch!
Dog-Friendly Blowing Rock Restaurants
While most restaurants in Blowing Rock won't allow your dog to come inside, many have fabulous outdoor decks, patios, or dining areas where you can bring your dog when the weather cooperates.
We dined at many local restaurants during our visit. Here's an overview of all the restaurants in Blowing Rock that allow pets.
Blowing Rock Ale House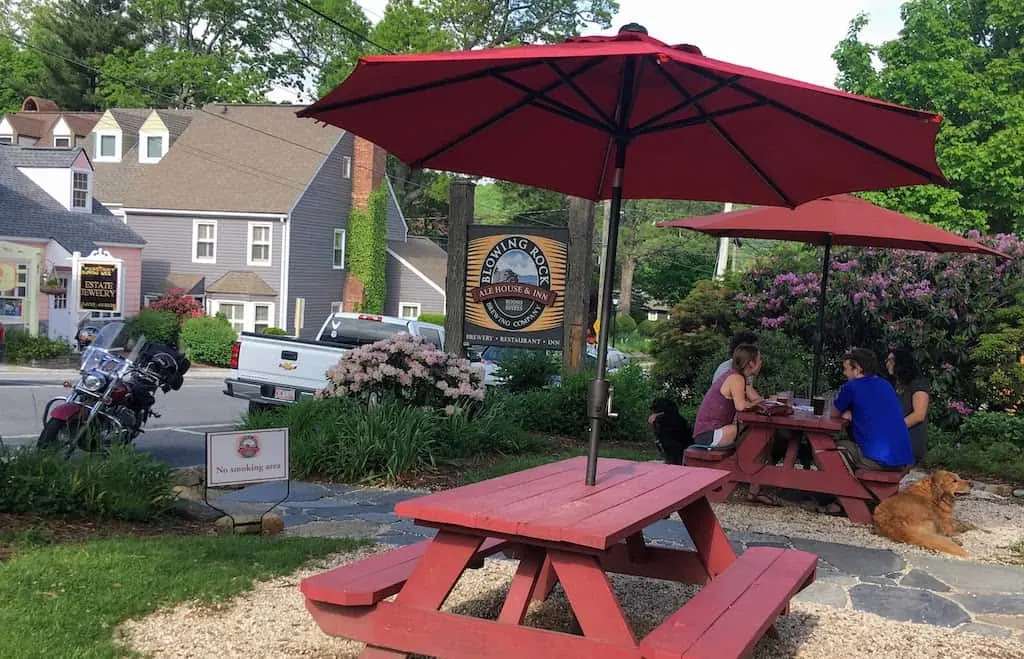 Located on Sunset Drive, Blowing Rock Ale House is the perfect place to unwind after a day of shopping or hiking. There are several outdoor picnic tables to choose from, as well as a huge variety of beers brewed behind the restaurant at the Blowing Rock Brewing Company.
The fare is pretty standard pub food with a bit of local flare. My server recommended the roasted poblano and white cheddar appetizer, which is a dip served with flatbread chips. It was really yummy, but perhaps a to gooey and cheesy for such a hot day.
I ordered a flight of three beers, and really loved the High Country Ale, a golden ale with floral notes — the perfect summer beer in my opinion. Flynn enjoyed his bowl of ice water and lots of petting and compliments from the waitstaff and other diners.
Location: 152 Sunset Drive, Blowing Rock, NC 28605, (828) 414-9254
Foggy Rock Eatery and Pub
We heard good things about the Foggy Rock Eatery and Pub, but we didn't get a chance to check it out ourselves. They have two tables on a small patio where dogs are welcome. They serve local beers, wine, and spirits, and an eclectic menu that features a twist on classic foods.
Location: 8180 Valley Blvd Blowing Rock, NC, (828) 295-7262
Mellow Mushroom
I had never heard of this national pizza chain, but the dining options at Mellow Mushroom in Blowing Rock sound so yummy — holy shitake pizzas, tempeh hoagies, and enlightened spinach salads. Can't wait to give this one a try. Dogs are welcome on their outdoor patio.
Location: 946 Main Street, Blowing Rock, NC 28605, (828) 295-3399
Six Pence Pub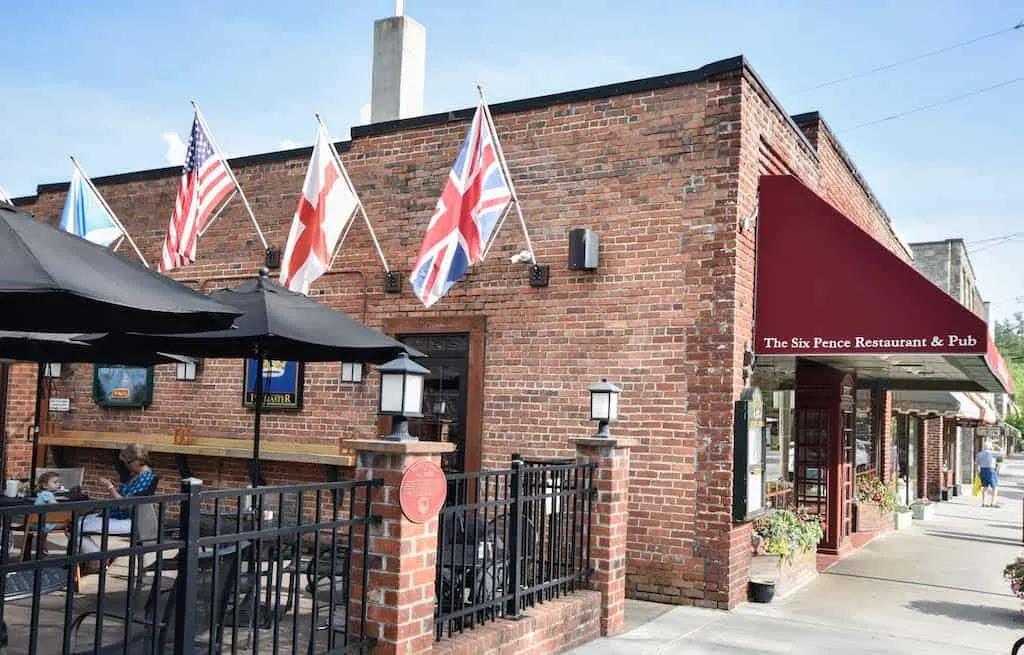 Another awesome downtown pub! Six Pence Pub has a spacious patio that welcomes dogs. Flynn was offered a huge bowl of ice water as soon as we were seated. We shared the patio with two other dogs without an issue.
I started with a Wicked Weed Cucumber Golden Ale, a Saison that came with a cucumber slice and was so refreshing! For dinner, I ordered a grilled portabella sandwich on rye with a side of sweet potato fries. The fries came with bleu cheese, which made my day. Most of the menu consisted of classic British pub fare, cooked to perfection.
Location: 1121 Main Street, Blowing Rock, NC 28605, (828) 295-3155
The Speckled Trout Restaurant and Bottle Shop
Featuring a small menu of regional dishes, the Speckled Trout welcomes dogs to their outdoor patio. Menu items include a pickled watermelon salad, fried trout belly, and bison ribeye. The local bottle shop features a great (and unusual) selection of beers and wines.
Location: 922 Main Street, Blowing Rock, NC 28605, (828) 295-3155
Town Tavern
The Town Tavern is a sports bar on Main Street with the largest outdoor dining area around. Featuring live music on the weekends, water bowls and treats for dogs, and a large tavern menu and beer selection, this is definitely a hoppin' spot for locals and tourists alike.
Location: 1182 Main Street, Blowing Rock, NC 28605, (828) 295-7500
Where to Stay in Blowing Rock with Dogs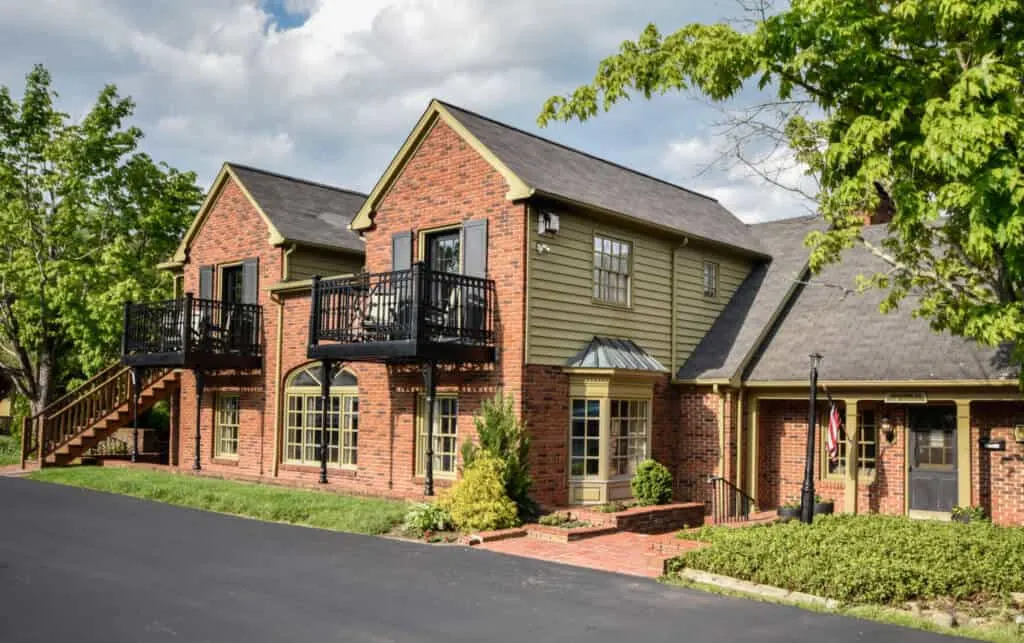 Because Blowing Rock is so dog-friendly, and such a destination for travelers, I assumed that there would be lots of places to stay in the area with dogs. I was right, and in researching our options on the Bring Fido website, I found 110 places where pets are allowed. Pretty good for a town of just 1,300 people.
Upon further inspection though, I realized that most of the properties listed were for cottages, houses, and vacation rentals. Since I really only needed a single hotel room, my choices were narrowed down significantly.
If you are looking for a dog-friendly vacation rental, definitely check out Bring Fido to explore your options.
Hillwinds Inn, Blowing Rock, NC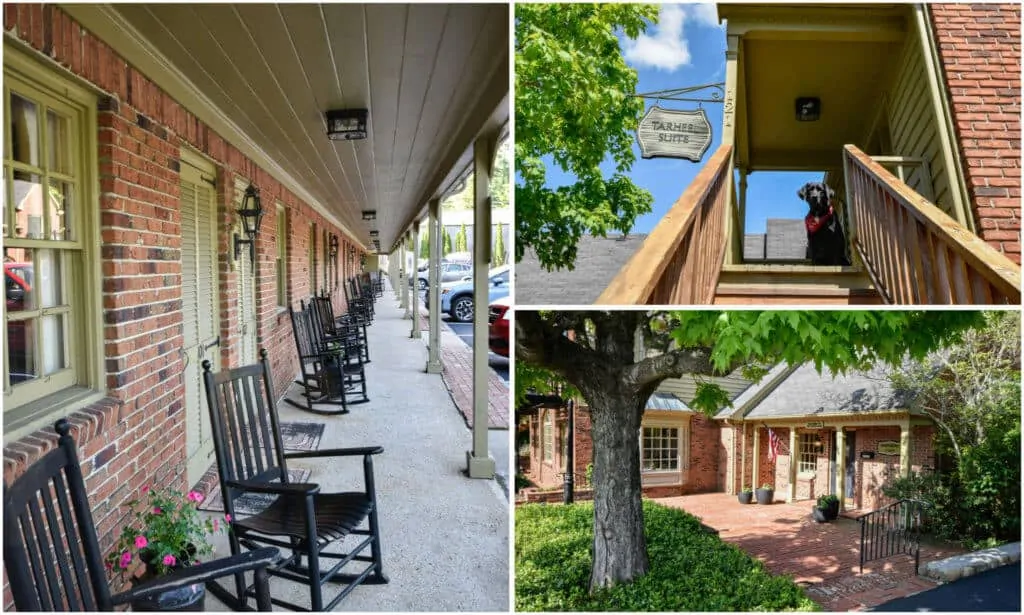 After a bit of research, we settled on Hillwinds Inn for our dog-friendly lodging in Blowing Rock. It's within walking distance of shopping, parks, and dining and the property is beautiful.
The staff at Hillwinds Inn truly love dogs, and you definitely get the feeling that dogs are welcome, not just tolerated. There is a $35 pet fee per night, which covers the extra cleaning required for the dog-friendly rooms.
We were excited to book the Tarheel Suite, which included a separate bedroom with a queen bed, a sitting area with a gas fireplace, a balcony, and a small kitchenette.
The rooms are climate-controlled and so comfortable that it was sometimes hard to head out each morning to explore. My only complaint would be the lack of a workspace or table in the Tarheel Suite. Not a huge deal, but I did work/eat on the sofa, which wasn't ideal.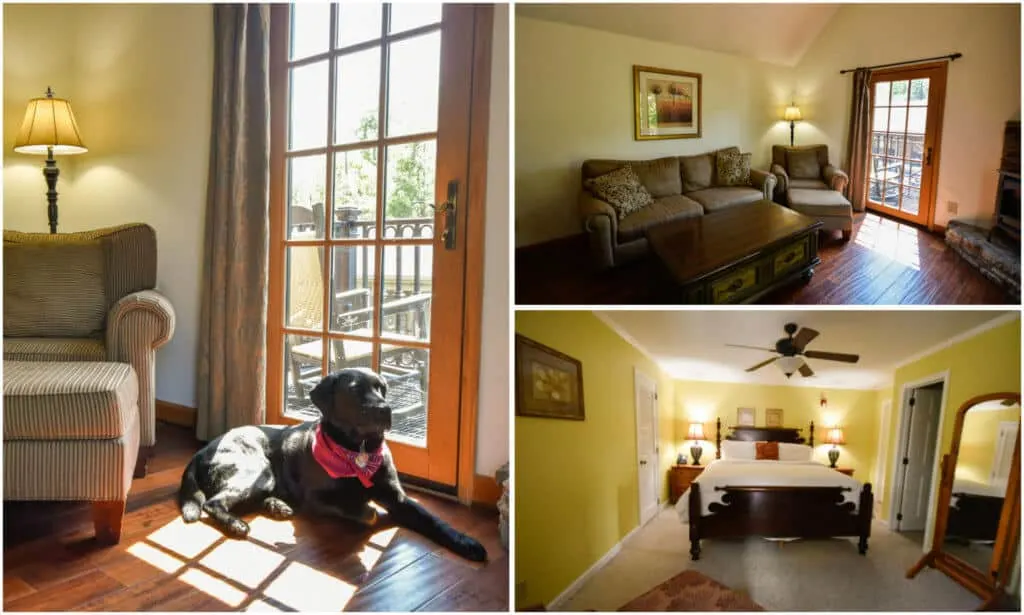 I had the opportunity to peek inside the regular guest rooms during my visit, and they are just as lovely, with comfy beds, microwaves, mini-fridges, and warm and inviting decor. Each room has cute rocking chairs out front to relax in, which is such a welcoming way to meet other travelers that are passing through the area.
A complimentary breakfast is served in the dining area off the main lobby each morning, and while it's pretty standard fare, the Chobani yogurt and waffle bar was definitely a treat. The staff at the front desk said that Flynn was more than welcome to come for breakfast or the nightly wine and cheese hour, but I generally left him in our room to sleep during those times. My dog is well-behaved, but he's such a beggar, and I didn't want to make a bad impression…
I would not hesitate to recommend Hillwinds Inn to anyone visiting Blowing Rock. It is such a cute and welcoming place, and you can't beat the downtown location.
More Places to Stay in Blowing Rock, North Carolina
If Hillwinds Inn isn't quite what you're looking for, you've got plenty of options. Click on the map below to explore hotels and vacation rentals in Blowing Rock.
Planning Your Trip to Blowing Rock, NC
Here are the resources I used to plan my trip on the Blue Ridge Parkway and to dog-friendly Blowing Rock.
Visit Blowing Rock – This is one of the best tourism websites I've used. I love that they provide specific itineraries based on your interests, plus they have lots of dog-specific advice. Definitely check out the Visit Blowing Rock website as you start to plan your trip.
Blue Ridge Parkway Association- The Blue Ridge Parkway is maintained by the National Park Service, but the BRPA is a member organization that works to attract visitors and promote businesses along the Blue Ridge Parkway. Their website is a great resource for planning, and they even have a trip-planning app.
National Park Service – The official site for the Blue Ridge Parkway, the NPS website will keep you up-to-date on alerts and road closures, and provide you with an overview of trails, campgrounds, and attractions along the 469-mile roadway.
---
Planning a Blue Ridge Parkway road trip? Read these next!
---
Follow us on social media for more road trip ideas!
Pin for Later?