If you've been reading Back Road Ramblers for any length of time, you already know how I feel about adventuring with dogs. I mean, don't you think that every type of outdoor activity is better with a dog by your side?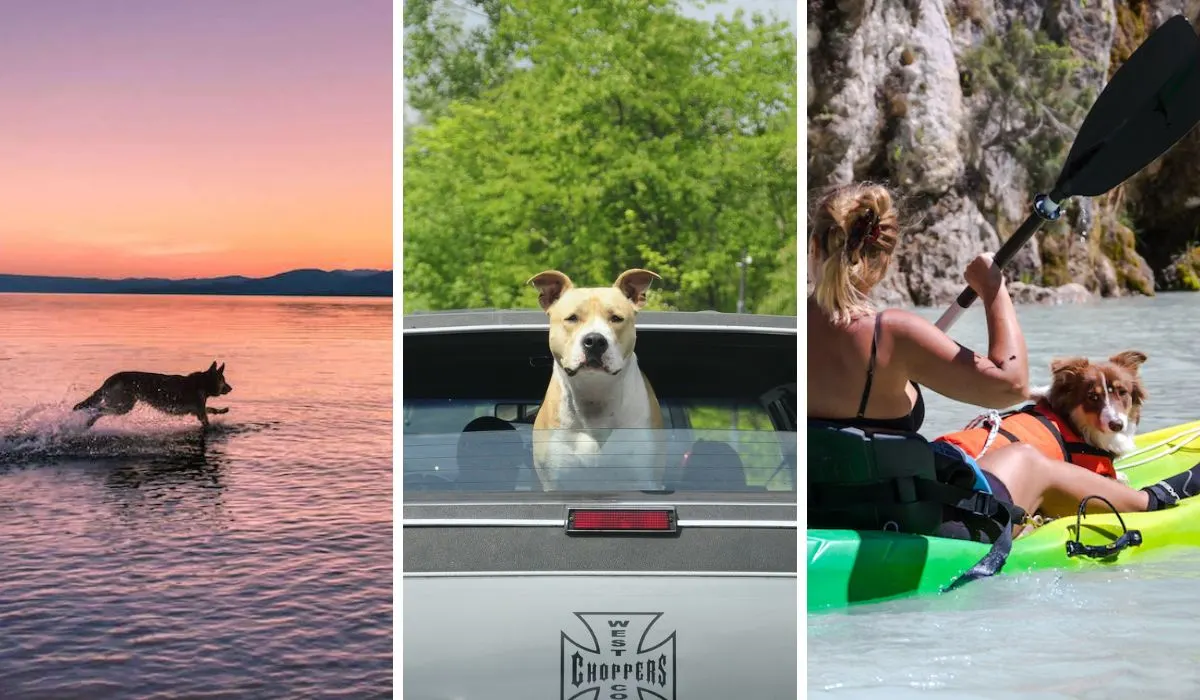 There are so many dog-friendly adventures that are possible in the summertime, but I'm going to share the ones that my dogs and I love best.
Because our family raises puppies for Guiding Eyes for the Blind, we have a rotating cast of awesome puppies in our lives that need adventures. Not just because puppies love exploring, but because getting them out and about in the world helps them on their journey to become guide dogs.
Planning some adventures for you and your favorite canine this summer? Here are some of our favorite summer excursions to share with our dogs, along with some resources to help you get started on dog-friendly adventures that you can embark on throughout the year.
Camping with Dogs is the Best Way to Unplug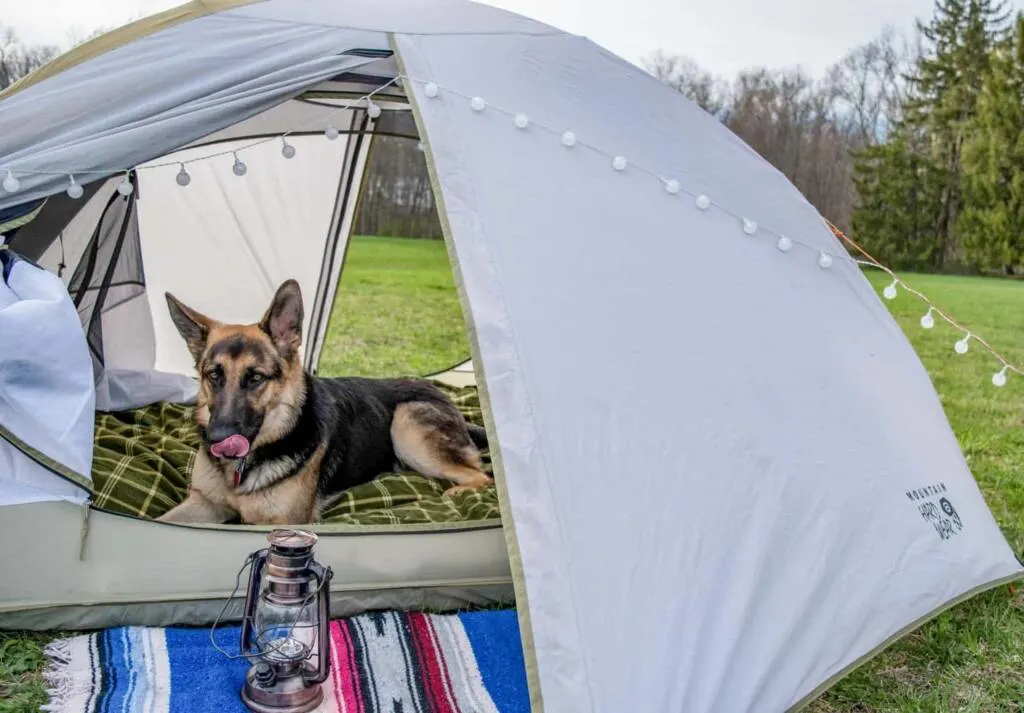 Whether you've been camping for years or are just starting out, you've probably already discovered how awesome a weekend under the stars can be.
Want to make it even better? Pack up your four-legged friend for a few days of hiking, swimming, and relaxing 'round a campfire. There's really no better adventure companion than a dog who is up for anything.
Dogs appreciate any chance to get outside with their favorite people. They won't complain about the rain, the mosquitoes, or sleeping on the ground. Want to hike a mountain? Your dog will be happy to accompany you. Chill in a hammock? Sounds good to your dog.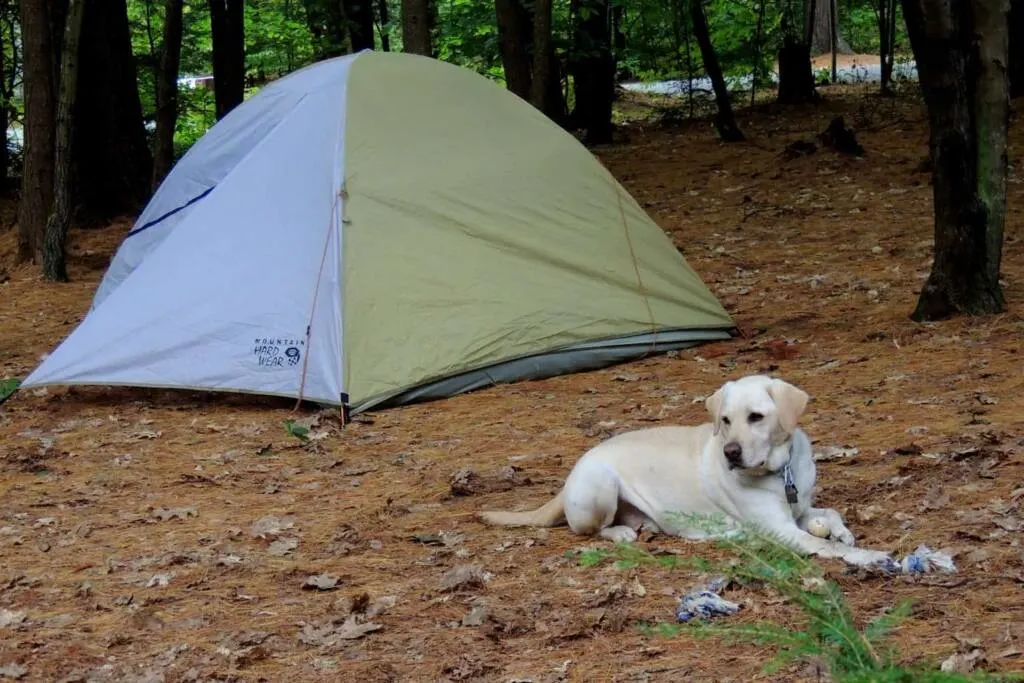 Before heading out on a camping adventure with your dog, be sure the campground is dog-friendly, and you've packed the right gear.
You don't need much for camping with dogs, but there are some essentials that will make your camping experience more pleasant for everyone. For the most part, we are bare-bones campers. In addition to our own camping gear, we pack a small bag for camping with our dogs. Here's what's in it:
Two leashes, one long and one short. We use a six-foot leather leash for regular walks where we want full control of our dogs. When we want to give them more freedom, we use these 15-foot biothane leashes, which are waterproof and smell-proof.
Dog food in an easy-access storage container. Use a heavy-duty plastic tub or one of these portable dog-food bags that are compact and easy to transport.
Two collapsible bowls – one for food and one for water. We have several of these silicone bowls from Kurgo that we love.
A portable dog bed – You will find every manner of expensive dog bed and sleeping bag out there. The one we use is made by Chuckit and costs less than $20. It's water-resistant on one side and is very easy to throw in the wash when you get home. We've had ours for three years and it's holding up really well. The listing says it's for dogs up to 25 pounds, but we use it for Labradors without issue.
A small dog first-aid kit – Buy a pet first-aid kit that's ready to go or make your own.
Various bones and dog toys to use at camp. For puppies and anxious dogs, we bring a few brand-new bones or toys to keep them preoccupied and happy.
An old towel for cleaning off wet, dirty dogs before letting them in the tent.
Hiking with Your Dog is a Great Motivator
Truth be told, I don't always want to wake up and hit the trails. Sometimes I just want to nurse a cup of coffee and wake up slowly while listening to the birds outside my window.
Luckily, our black lab, Flynn, has mastered the puppy-dog eyes, and he loves exploring new places. For dogs, there are no bad days and no bad weather, and even on days when I'd rather be a couch potato, I can't resist Flynn's persistent, hopeful stare.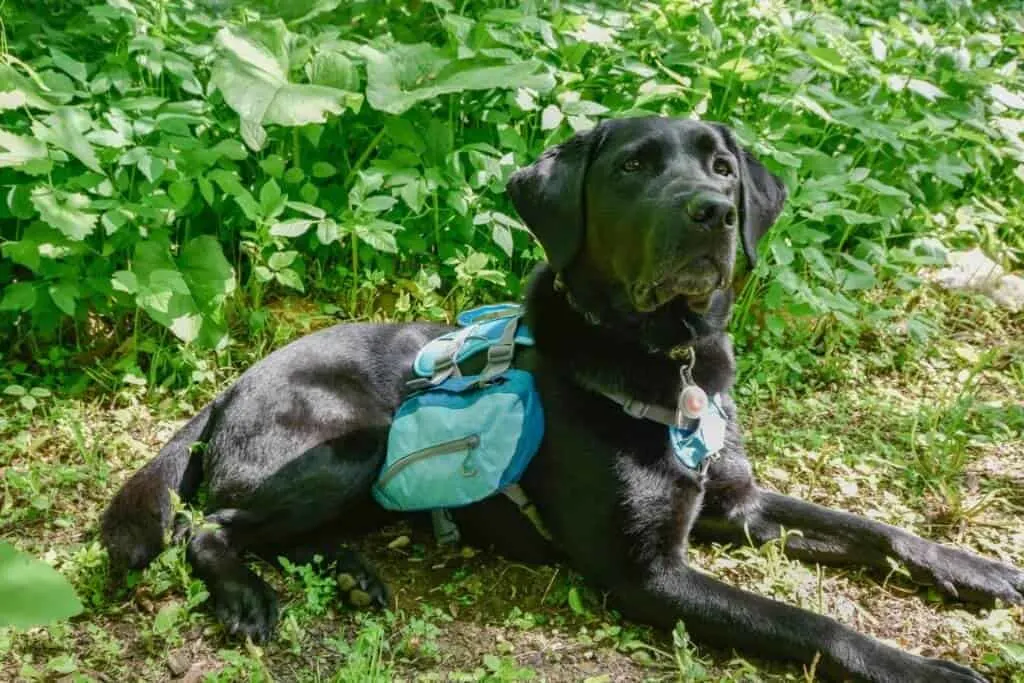 Dogs are great motivators! I challenge you to leave the house grumpy and go for a hike with your dog. I guarantee that when you return, your spirits will be lifted, you'll have more energy, and you'll be grateful that your dog got you out of the house.
Hiking with your dog doesn't mean you have to scale a mountain together. Start with easy trails in your city, neighborhood, or park to build up your (and your dog's) fitness level and endurance.
The more you hike, the longer and farther you'll be able to go. If you're just starting out hiking with your dog, I recommend reading this awesome article over at You Did What with Your Weiner.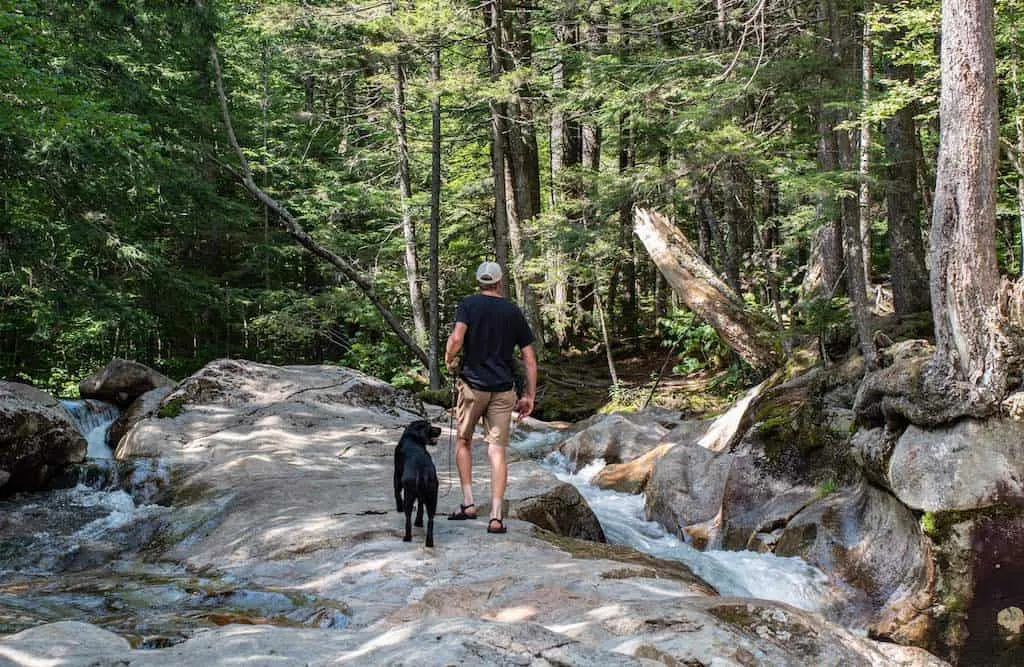 As for gear, you don't need much more than a leash, some poop bags, and extra water for hiking short distances with your dog.
For longer trips, I'd recommend a sturdy dog backpack and some dehydrated dog food to use for treats and/or meals.
Need an Escape? How 'Bout a Road Trip with Your Dog?
Summer road trips are just about the best thing ever. Just thinking about the winding back roads, the open windows, and the radio playing my favorite tunes, makes me want to plan a road-trip adventure with my dog.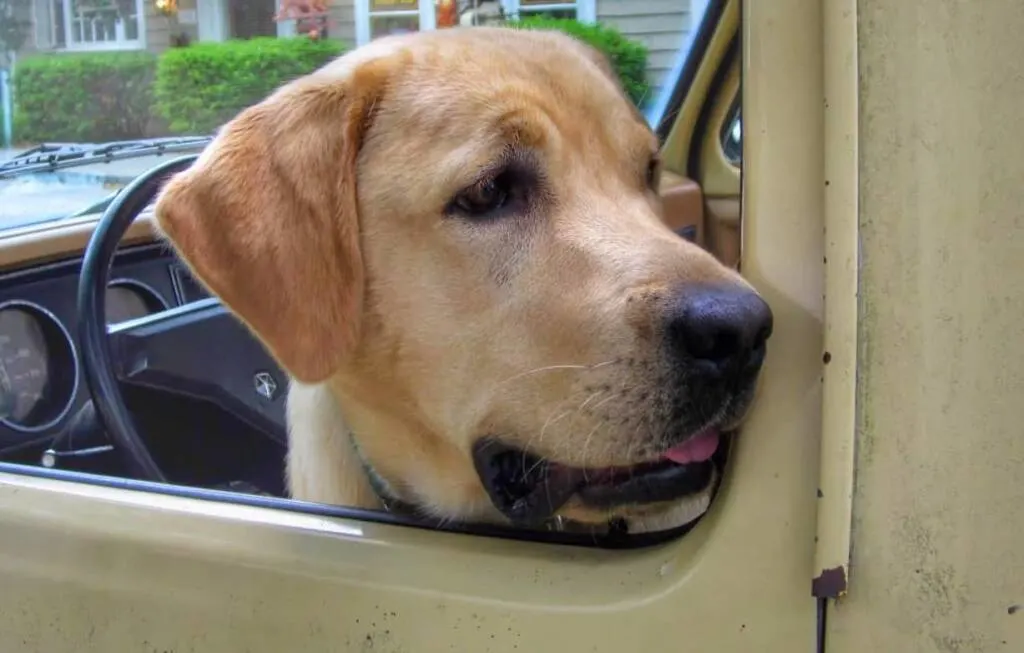 Whether or not you should road trip with your dog will depend totally on you, your dog, and your lifestyle, but I can promise you that fabulous, inspiring road trips have been achieved with adventurous dogs since the invention of the automobile.
For the most part, dogs love to travel, but road-tripping with dogs does take a bit of advance planning. Specifically, you should ensure that the places you are visiting and staying at are dog-friendly.
We use Bring Fido and Go Pet-Friendly to find dog-friendly lodging, restaurants, and activities when we're traveling.
We also plan our dog-friendly road trips around other outdoor adventures like camping, hiking, and paddling. Summer is an awesome time for a dog-friendly road trip because many restaurants will open up their dog-friendly patios. It's important to find places that allow dogs because you never want to leave your pup inside a hot car.
---
Want to read more about road-tripping with dogs? Check out: How to Road Trip with Your Dog for the Best Vacation Ever.
---
Paddling is More Fun with Dogs
Summer and water adventures go hand-in-hand. Throw your dog into the mix, and you've got a recipe for fun. It's true that not all dogs love spending time in and around water, but plenty of adventurous dogs can be convinced to give it a shot.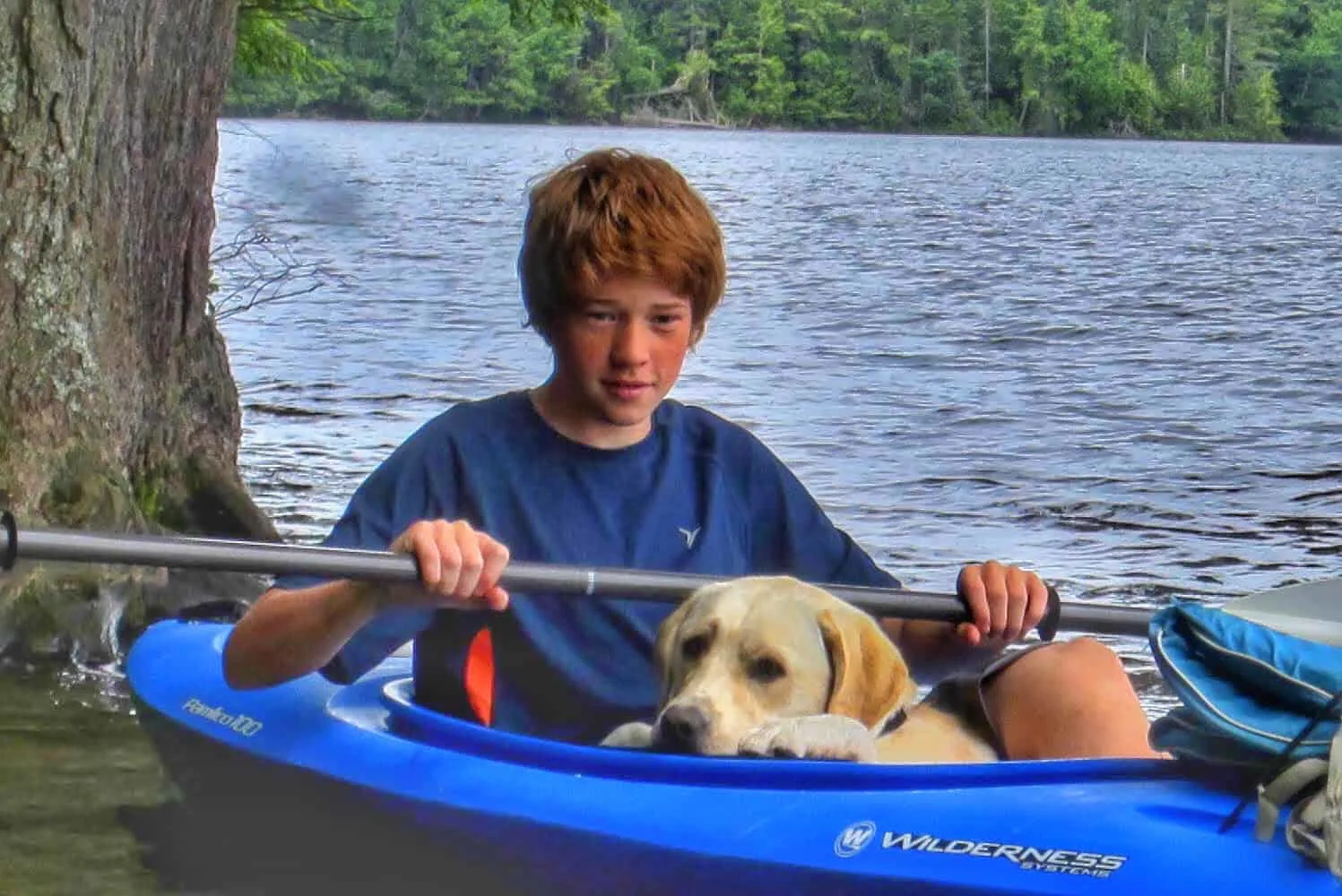 Before you load up your canoe, kayak, or SUP and head to your favorite lake, you should spend some time exploring some lakes or rivers near your home to see if your dog takes to the water. Some will jump right in, while others will be more hesitant. Take it slow, and there's a good chance you'll be able to get your dog out on the water.
What Type of Boat Should I use with My Dog?
This will depend largely on your dog's breed and size, as well as your personal preference. Kayaks are often preferable for one person because they are lightweight and easy to maneuver. Canoes are better for family adventures and large dogs. Stand Up Paddle Boards are awesome for mini adventures on the water and will provide a good workout for you and your dog, especially if they don't mind swimming.
The only piece of essential gear you need for canoeing or kayaking with dogs is a snug life jacket to keep them safe.
Our current favorite is the Surf N Turf Life Jacket from Kurgo.
---
Read our Complete Guide to Canoeing and Kayaking with Dogs. For more information and SUPping with a dog, check out this post from Karen Pryor Clicker Training.
---
Find a Dog-Friendly Patio to Relax on
This post has focused mostly on active adventures that you can enjoy with your dog, but I couldn't finish up without including one of my favorite dog-friendly pastimes — relaxing on the patio of one of the thousands of dog-friendly restaurants, wineries, breweries, or coffee shops out there.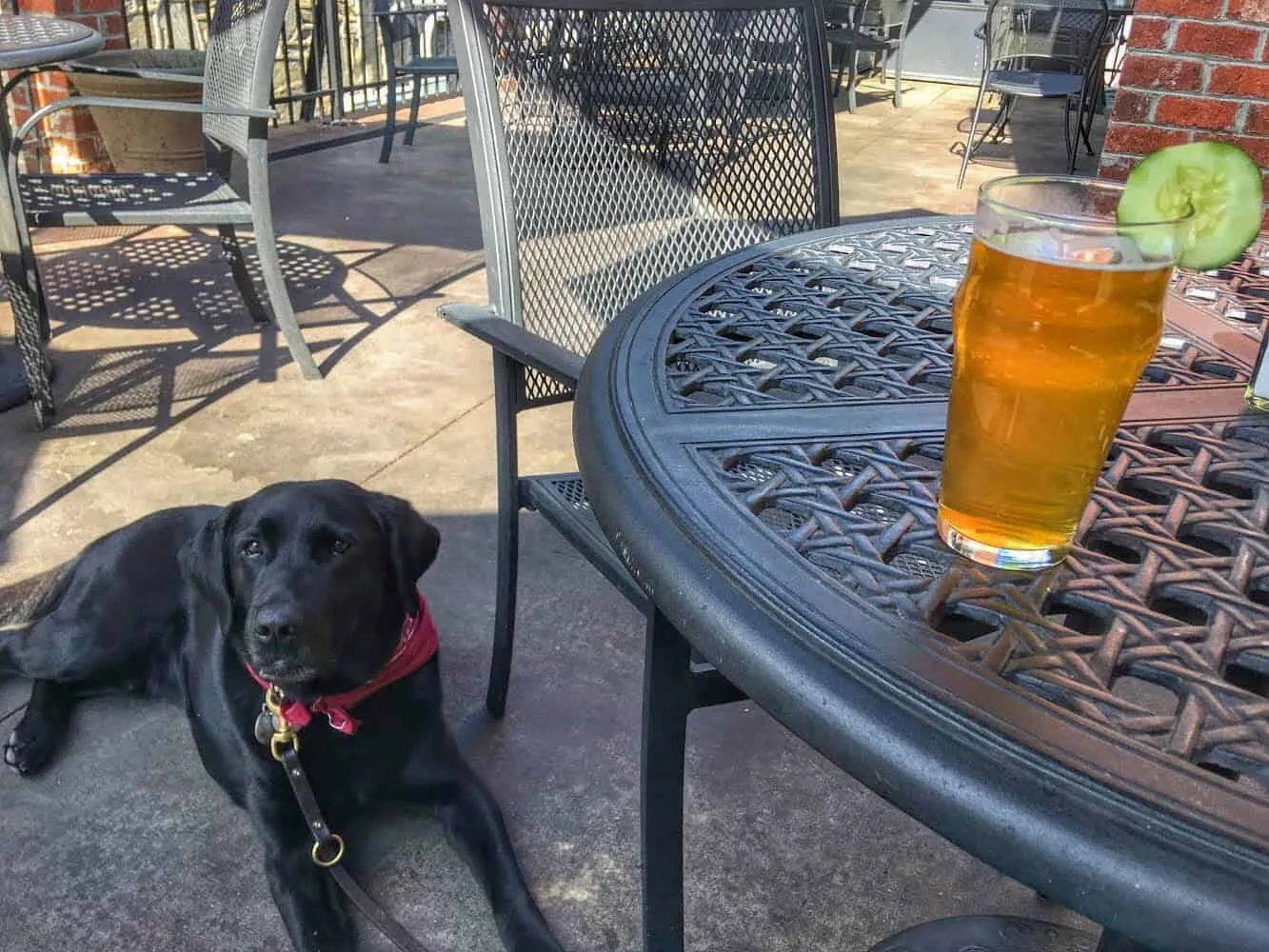 Places with outdoor seating have become more and more dog-friendly, so no matter where we travel in the warmer months, we almost always find an awesome spot to chill with our pup.
Of course, your visit to a dog-friendly restaurant will only be relaxing if your pup is well-behaved and friendly in social situations. If you are unsure if an establishment allows pets on their patio, be sure to call ahead.
---
Next time you're itching for an outdoor adventure, consider including your dog in the fun. Your pup wants nothing more than to play and work beside you, and dog-friendly adventures are more fun for everyone!
Follow us on social media for more outdoor inspiration!
Pin for Later?