There's nothing like a few nights under the stars to put you in touch with your wild side, and there's no better companion than your favorite dog for camping adventures big and small.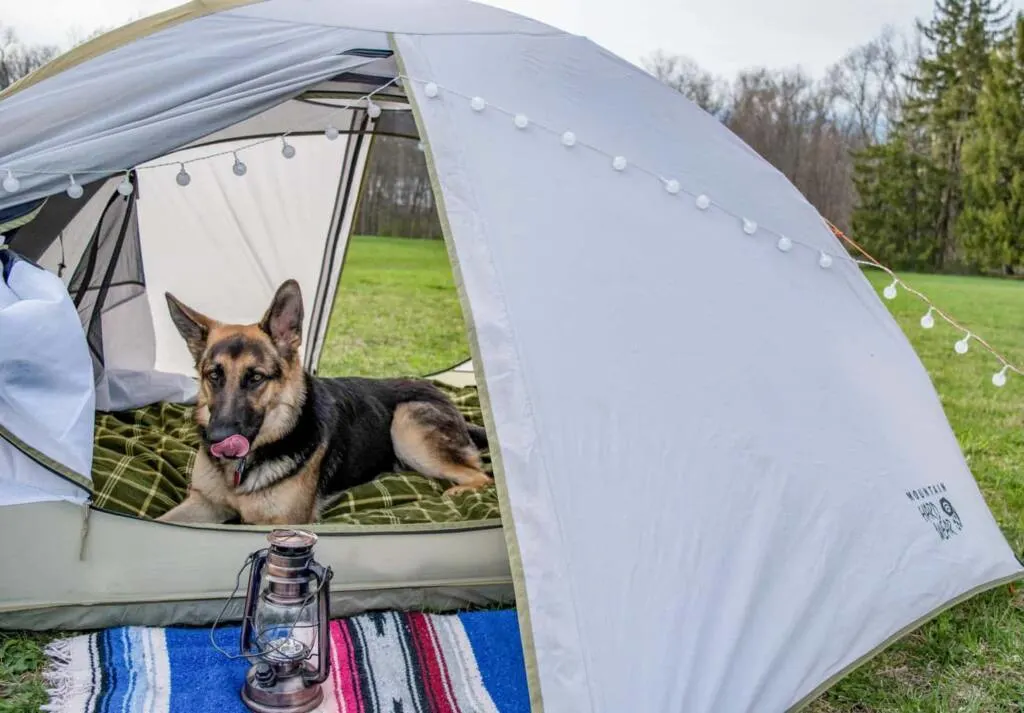 If your dogs could talk, I'm guessing they'd let you know that dog-friendly camping is pretty high up on their list of favorite things to do — right up there with chomping on juicy bones and rolling in dead stuff.
The best part of both hiking and camping with dogs is that they will never complain about the bugs, the rain, or sleeping on the hard ground. Most dogs love to hike and are equally happy relaxing next to a campfire. It's all part of the adventure.
Are you ready to embrace the outdoors with your best friend? Here's what you need to know about camping with dogs.
The Importance of Training when Camping with Dogs
We've had a rotating cast of adventure dogs in our lives, thanks to our role as puppy raisers for Guiding Eyes, and we've made a point of introducing all 10 of them to camping while they were still young.
Without exception, every single one of them has loved our dog-friendly camping trips, and we have learned so much over the years about preparation, training, and gear to make camping with dogs stress-free and fun.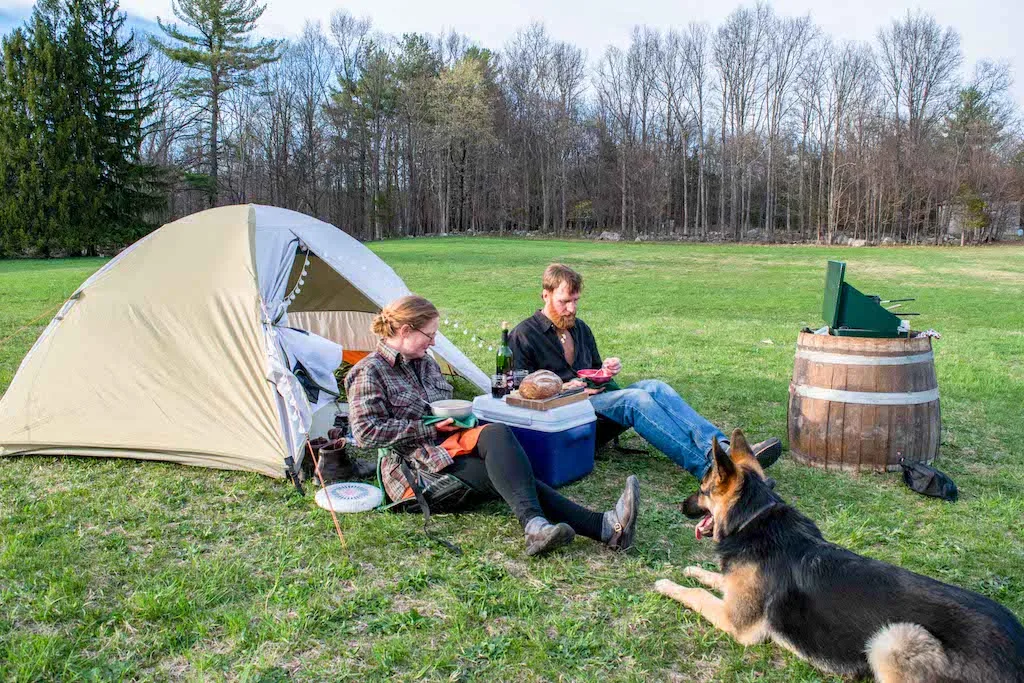 If you want to develop a relationship with your dog that enables you to delve into adventures big and small, training should be your very first priority.
With a well-trained dog by your side, you will find it easy and fun to travel, visit friends, hike, canoe, or just relax at your campground. Your dog will respect your boundaries, stay out of trouble, and remain safe, leaving you free to thoroughly enjoy yourself while camping.
You don't need to teach your pup fancy tricks to go camping, but you should absolutely teach him some critical skills that will make camping more pleasant for everyone. We use relationship-based training with our dogs, combined with lots and lots of positive reinforcement.
Teaching Your Dog to Come When Called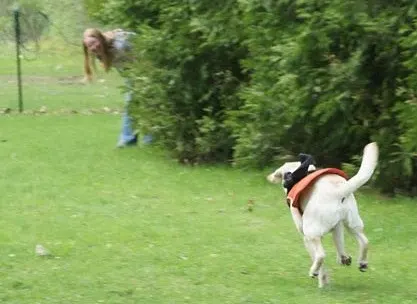 When learned inside out, a solid recall will absolutely keep your dog out of trouble and away from harm when camping.
The key is to practice come in stages. Start at home on a long line or in a fenced area until your dog will reliably come to you every single time you call.
When your pup has mastered coming when you call at home, you can introduce all kinds of distractions — other people, animals, toys, etc., before practicing on trails and in new places.
We reward every single come with tasty, high-value treats (freeze-dried liver) that are reserved only for recalls. The quicker the pups come when called the more we reward them, both with treats and with lots of praise.
In the beginning, we never use the come command unless 100% sure they will respond. Once the dogs are coming reliably, we take a chance on calling them in situations where they may not want to come back to us. This is how they learn to choose us over distractions.
Teaching a good recall is not easy, but it is well worth the time investment, especially if you are interested in letting your dog off-leash when camping or hiking.
Do not let your dog off-leash unless he will come reliably, and do not wait for an emergency situation to test out the recall. Practice it every single day, even with dogs who have it down.
When camping with dogs, the come command will keep your pup safe from wild animals, and keep him from mixing with unfriendly dogs, unguarded camp delicacies, and annoying neighbors.
More Commands Your Dog Should Know Before Going Camping
I think knowing how to reliably come when called is the most important skill for outdoor adventure dogs, even dogs that stay on a leash most of the time.
Here are a few more useful skills that will come in handy when camping with dogs.
Sit and Down– Useful for greeting people at the campground or when you want your dog to settle. When you give the command, your dog should sit or lie down until you release him.

Free – The free command releases your dog from whatever command you just gave him. You can choose any release word, just be sure to use it consistently.

Drop it and Leave it – Both of these commands will help keep your camp food safe from your dog's voracious appetite and your dog safe from all kinds of undesirable scavenging opportunities. Believe me, there are a lot of these opportunities at most campgrounds!

Toileting on Command – Once your dog knows to reliably pee and poop on command, you'll wonder why you didn't teach him sooner. This skill is useful in so many situations, and when camping, it's awesome because you get to pick your dog's toilet away from your campsite.

Pick a command that you don't mind using in public. We use "get busy" with all of our Guiding Eyes puppies. For more on teaching this handy skill, check out these quick and dirty tips for teaching your dog to pee and poop on command.
Training is ongoing, so don't wait for perfection to go camping with dogs. Start where you are — the more you do it, the easier it will become.
Preparing for Your Camping Trip with Your Dog – Before You Leave Home
Camping with dogs does require a little extra planning on your part, which will be totally worth it. Before you head out on your grand adventure, be sure you and your pup are prepared for your camping trip.
Doing the following before your adventure will ensure that your dog stays safe and healthy during and after your time in the woods.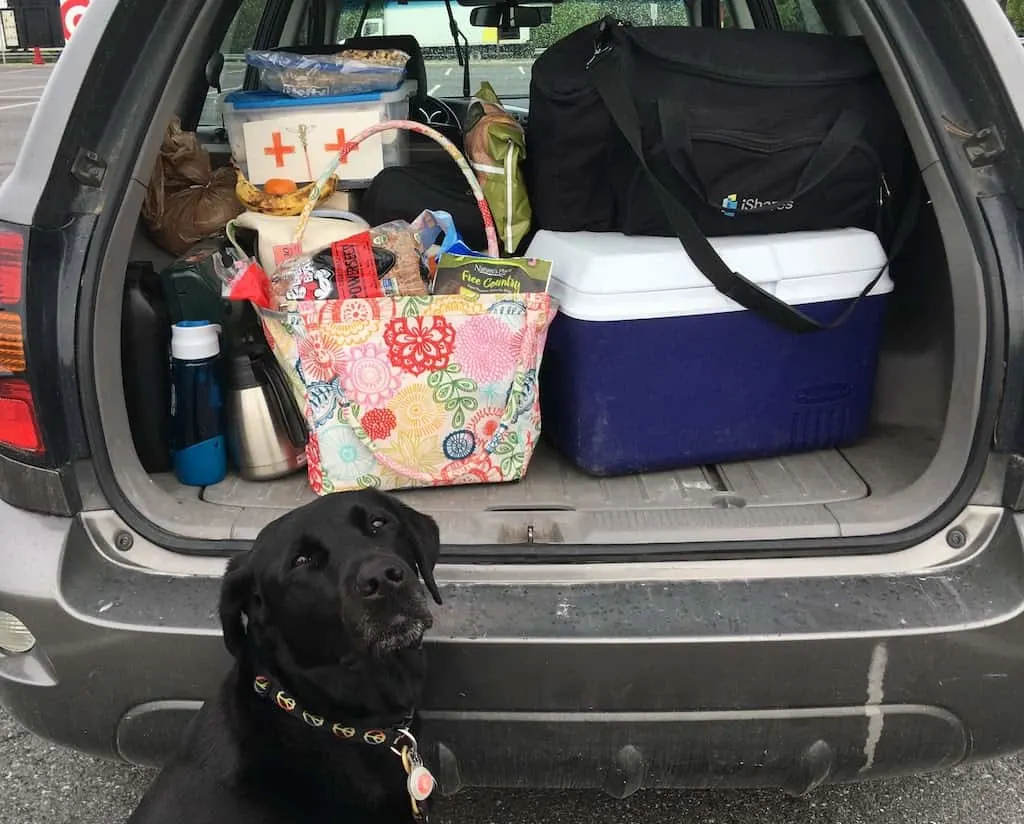 Apply flea and tick medication. There are lots of different ways you can protect your dog from fleas and ticks, and your solution will depend on several factors — the prevalence of ticks and fleas where you're going, cost, and your level of comfort with different products.

Topical and oral treatments are not without risks, but then again, Lyme Disease can be deadly. We use a combination of Sentinal (prescription only) and Vectra for our dogs to provide long-term prevention against parasites.

We chose these medications after careful consideration and consultation with our veterinarian. Unfortunately, we lost a dog to Lyme Disease once, so now we don't take any chances.

Make sure your dog is up-to-date on vaccinations. Many campgrounds and parks require proof of vaccinations, specifically rabies and distemper. You should also medicate against heartworm, which is transmitted by mosquitoes. We use Sentinel for our heartworm preventative (see above).

Insider tip: Take a photo of your dogs' vaccination records and keep it on your phone so you always have it on you.

Find out the dog rules at the campground you are visiting. Most campgrounds allow dogs, but there may be rules that prohibit them from certain areas like public beaches, certain trails, and buildings. Campgrounds might also have rules about how long your leash can be and whether or not you can leave them alone at the campsite. Knowledge is power and will help you plan ahead.

Provide your dog with the proper ID. Make sure your dog has a secure collar with an ID tag that contains all of your pertinent information on it, including your mobile phone number so you can be reached if your dog takes off. We often make a temporary tag that includes our campsite number and the dates we are staying, just in case.
---
---
Camping Gear for Your Dog
Your dog doesn't need much gear to have a fabulous camping trip, but you'll have to pack a few necessities to make the trip successful, and some specialty gear if you plan on hiking or backpacking.
Basic Gear Suitable for Most Camping Trips with Dogs
A food dish and water bowl. Regular dog bowls are fine for this, but if you're short on space, you can buy collapsible bowls that fold down flat and don't take up much room.
6-foot leash for walking
10 to 30-foot leash for exploring and for tying out. Biothane leashes are awesome because they are waterproof, smell-proof, and resist getting all knotted up. We have a 16-footer and a 30-footer.
A stake for tying out your dog at your campsite. Tie a colorful ribbon to the top of your tie-out stake so you don't trip over it and don't put it in the path to the bathhouse!
Poop bags for clean-up – If you are camping in a pack-in, pack-out campground, bring some sort of receptacle to store dog waste so it doesn't get smelly. A small bucket with a tight-fitting lid works for us.
Enough dog food for the length of your trip – We use a large plastic bin to store dry dog food for long trips and this roll-top bag for shorter trips. The bag holds 25 cups of food and is waterproof and smell-proof.
Treats for training and rewards – We use treats for training our young pups and wouldn't embark on a camping trip without a nice stash, which would usually contain a mixture of Charlee Bears and freeze-dried liver treats.
A treat pouch – We work with young dogs and we wouldn't dream of leaving home without a training pouch for treats. The one we love best is made by Doggone Good and hooks onto your waistband and holds training treats and poop bags.
Toys, bones, etc. to keep your dog busy when everyone is relaxing around the campfire
Your dog's bed – If you are short on space, try a portable dog bed. This one from Chuckit comes with its own stuff sack and is less than $20. The listing says up to 25 pounds, but we use it for our Labradors.
Old towels for clean-up – Adventure dogs are usually dirty dogs.
Gear for Hiking and Backpacking with Your Dog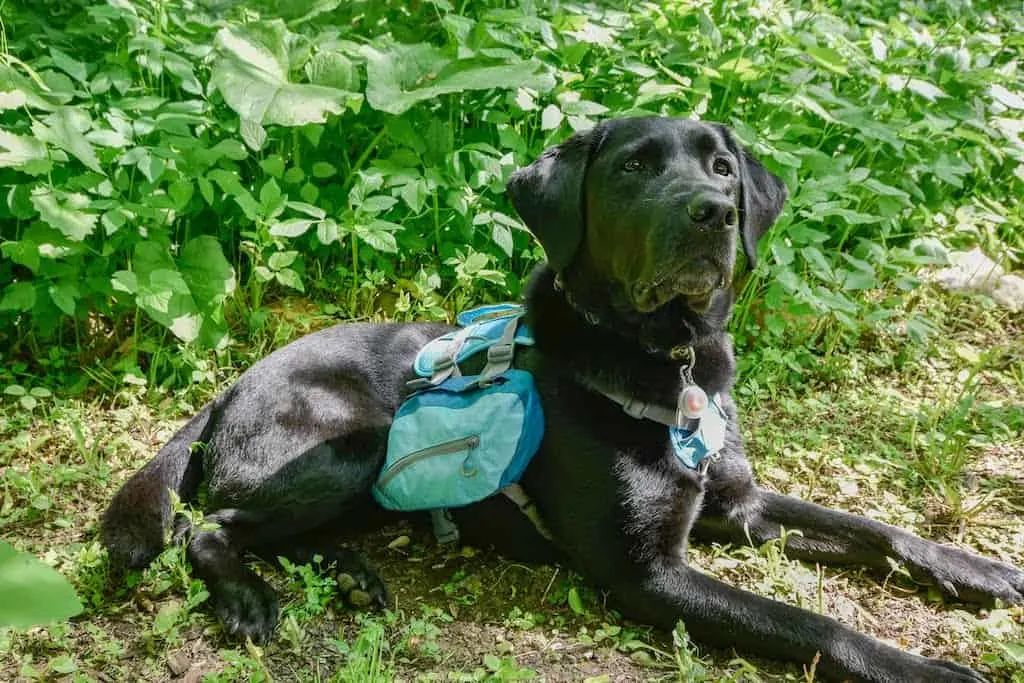 Once your dog has mastered a few car-camping trips, you might want to try backpacking together.
Backpacking to a remote campsite with your dog will allow you to get away from campground crowds and really explore the outdoors. Packing light is the key to an enjoyable backpacking trip, for both you and your dog. Here's what you'll want to bring for your favorite hiking companion.
A dog backpack. Dog food is heavy, and if your dog is in good shape, he should certainly carry his own meals. We've had good luck with these Kurgo backpacks, which are sturdy enough to hold your dog's food and gear with minimal rubbing. It's not waterproof, so be sure to pack your dog's food in plastic bags first.
Collapsible food and water bowls. These collapsible bowls can be stashed in your dog's pack and weigh next to nothing.
Water bottles. This is especially important if you're not hiking near a natural water source. Pack enough water to keep you and your dog both hydrated.
Dog booties. Most dogs despise wearing foot protection, but if you are hiking over rough surfaces, through snow or ice, or on really hot sand, they make a world of difference. Have your dog practice wearing them around town before he tries hiking in them. The Ruffwear Grip Trex Boots stay put, even on long hikes, and they're also great for protecting your dog's feet from hot pavement, broken glass, and winter salt. At the very least, keep some in your first aid kit for emergencies.
Packable dog bed/sleeping bag. Now that our dogs are getting older, they appreciate the warmth and comfort of their own sleeping bag. The Ruffwear Highlands sleeping bag is the perfect thing for keeping your dog comfy after a long day of hiking. It packs down small and weighs between 1.5 and 2.2 lbs.
A First Aid Kit for Camping with Dogs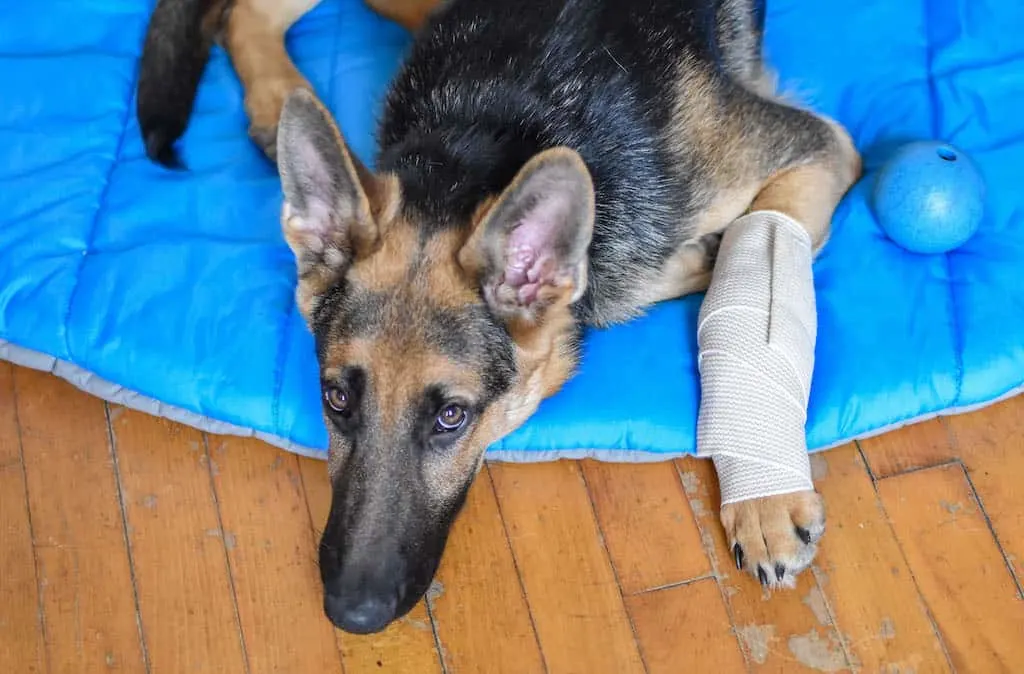 One of the best parts about camping with dogs is that they are rugged, resilient, and up for anything.
In order to keep your dog safe and set your mind at ease, it's important to compile a dog first-aid kit to prepare for small emergencies. For more serious injuries, a mobile phone with the number of the nearest animal hospital will be your best protection.
We program into our phones the name and number of the nearest vet and the nearest 24-emergency animal hospital.
Your dog's first aid kit should include:
antiseptic wipes for cleaning wounds
butterfly bandages
waterproof tape or VetRap. We've found this to be useful for people injuries too!
gauze pads
a veterinarian prescribed painkiller/anti-inflammatory — Rimadyl is good for mild aches and pains. Dosage is 1mg per pound of weight.
tweezers for pulling ticks
disposable gloves
Benadryl for bites, stings, or allergic reactions – Benadryl dosage for dogs is 1mg per pound of weight.
activated charcoal to counteract poisons or toxins
Emergency hiking harness – The dog carrying harness from Mountain Dogware is worth the investment if you regularly take your dog in the backcountry for hiking and backpacking trips. The Pack-A-Paw Rescue Harness is compact, lightweight, and made in the USA.
Tips for Camping with Dogs: Etiquette for Dog Owners
People who love camping and the outdoors are often friendly towards dogs, but not always. In order to keep the peace and be an ambassador for well-behaved dogs everywhere, follow these camping etiquette rules for you and your dog.
Clean up your dog's poop. Probably the most important rule of camping etiquette! Your neighbors don't want to smell it and they definitely don't want to step in it.

Keep your dog quiet. If your dog is the type that barks at every squirrel, person, or dog that walks by, be sure to ask for a quiet campsite away from the neighbors or consider taking your dog backpacking instead of camping in a front-country campground.

Do not leave your dog unattended at your campsite.

Minimize social interactions. Even friendly dogs do not have to meet every person and dog they see. If your neighbors are dog-lovers, they will definitely let you know!

Beware of toxic plants. Our dog ingested a poisonous mushroom as a pup, so we always pay attention to what they might be eating at the campground or on the trail. Here's a link to a list of common plants that are toxic to dogs.
Can Dogs Sleep in Tents?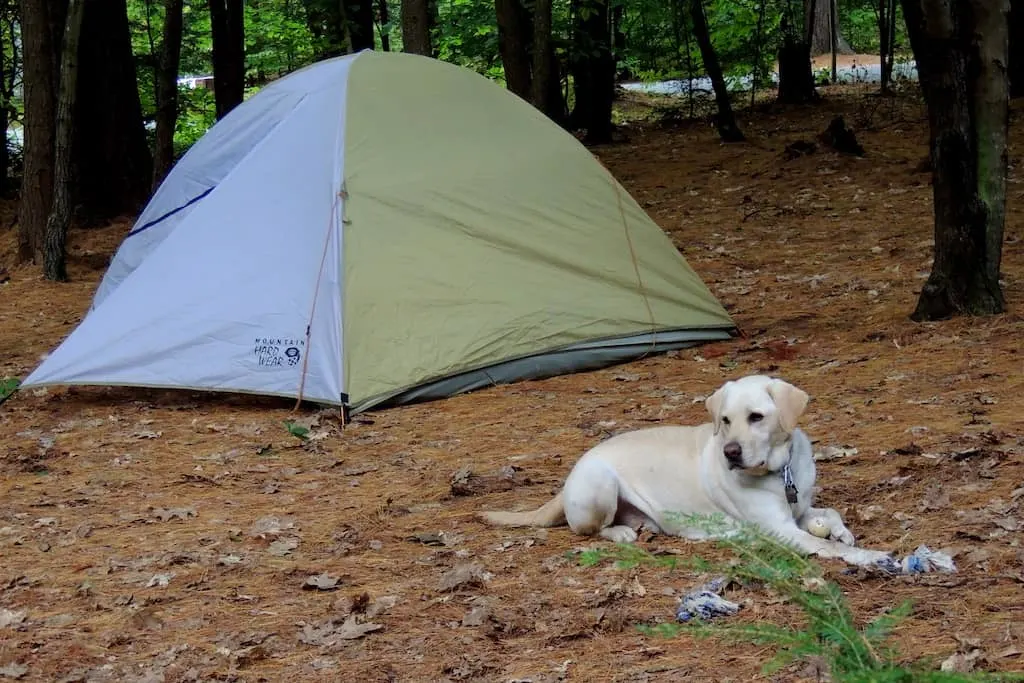 Our dogs always sleep in the tent with us, but that doesn't mean that yours have to.
I've heard of camping dogs that can't get comfortable, pace through the night, try and escape, and worse. If you really want your dog to sleep in the tent with you, you may need to do some training to make the prospect more enticing for your dog.
I suggest doing some trial runs in the backyard if you can. Put your dog's bed in the tent so he understands what's going on, and give him a new chew toy before settling in for the night. If you crate-trained your dog, then tent training is similar.
You want your dog to think that the tent is the best place ever, and really it is!
Expert tip: Put an old rug or mat outside the door of your tent that will catch some of the dirt from your dog's paws.
If having your dog sleep in your tent with you isn't working, there are a few other things you can try:
Let your dog sleep in the car. One of our dogs actually prefers sleeping in the car to sleeping in our tent. Must have been all those road trips he took when he was little.

Tie your dog up to a stake in your campsite. I recommend this with reservations because 1) wild animals may be scampering around and your dog may bark at them and wake up the whole campground and 2) Your dog is exposed to any weather that comes in the night.

Get your dog his own tent. We know people who have done this and for them, it's a win-win. You can buy dog-sized tents that are similar to soft-sided crates. If this sounds appealing, give it a try.
Camping with a Reactive Dog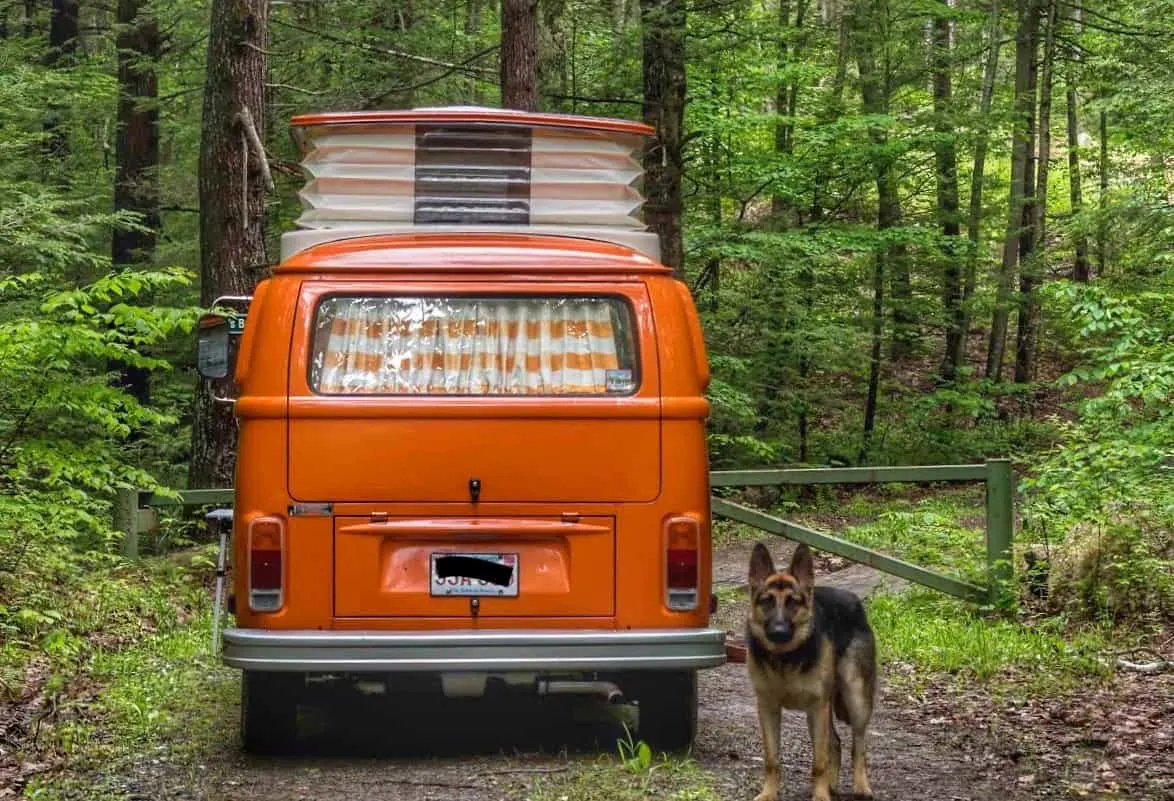 It's been a few years since we've had a highly reactive dog, but we will never forget how vigilant and on top of things we had to be when camping and hiking with our dog, Amos.
Reactive dogs are dogs who have a hard time with certain situations — new people, strange dogs, etc., and become reactive by barking, growling, pulling on the leash, and even biting.
Training will be your most important investment with reactive dogs, and if you can afford it, I suggest working with a trainer skilled in dealing with reactivity.
You know your dog better than anyone, so if you do decide to take your reactive dog camping, you will have to 1) be ultra prepared for anything that could go wrong and 2) be your dog's advocate in all situations.
You can try and minimize your dog's campground interactions by scheduling outings for early in the morning, requesting a campsite away from main thoroughfares in the campground, and picking less-traveled trails and camping spots.
A dog who reacts aggressively to other dogs should never be off-leash.
Muzzle training a dog that could show aggression toward people or other dogs will make you feel more confident and relaxed during your trip.
Contrary to many misconceptions, muzzling is not cruel. Dogs are still able to drink, pant, and play while wearing a muzzle. They just can't cause harm by biting another dog or person. This is a lifesaver for times when you may inadvertently be approached by untrained, unleashed dogs, which happens all the time. Muzzle training can also help anxious, fearful dogs stay safe in uncertain situations.
You can read more about muzzle training here.
While camping with a reactive dog will take more diligence and work on your part, it's definitely possible.
Final Thoughts on Camping with Dogs
Pleasing your dog isn't hard, but if you want to see him dance with excitement, put on your hiking boots, and load up the car with camping gear.
Adventure awaits, my friends, and nobody does adventures like our most loyal companions. Whether you're relaxing next to a meandering stream, hiking big mountain peaks, or paddling a quiet lake, your camping excursions will only get better if you share them with someone special.
Here's your reminder to put the daily grind on hold for a few days and skip town for a camping adventure with your dog by your side.
---
Read More of Our Dog-Friendly Adventure Posts:
---
Follow us on social media for more ideas for camping with dogs!
Pin for Later?