Please don't travel until it's safe to do so! Our travel posts are great for making future plans or dreaming about your next escape. Also, please note that this post may contain affiliate links from which we earn a small commission at no extra cost to you.
If you share your life with a dog, you probably already know that winter provides many unique opportunities and challenges for adventuring. Most dogs, especially the young ones, don't differentiate between beautiful sunny days and frigid snowy ones. They are up for anything, despite the weather. And if you live in the snowy tundra of New England, there is no better way to enjoy the winter than to head out on a little adventure – snowshoeing with dogs, or even cross-country skiing.
On the one hand, our dogs are an inspiration – getting us off the couch and out of our weather-induced funk. On the other hand, dogs make it hard to enjoy those days when you would rather be cuddling up with a good book. Sigh…
When it comes down to it, we're thankful for all the dogs in our lives. Rain or shine, snow or sleet, we get outside, and because of our dogs, we enjoy (just about) every minute of it. It doesn't take much to adventure with your dog in the winter – just a bit of willpower to get out the door and a whole lot of love for your favorite explorer. Ready to get started with some canine-inspired outdoor adventuring? Here are some of the winter tips we've learned from a lifetime of sharing our lives with dogs.
Our Best Tips for Snowshoeing with Dogs
Snowshoeing, with its slow pace through lovely winter landscapes, is a perfect activity to share with your dog. It's fairly easy to handle the end of a leash on snowshoes, and your pup can walk behind you in your tracks if the snow gets too deep. Here are some of our favorite tips for snowshoeing with dogs.
Consider your dog's stamina. Walking and running through snow can be physically demanding — for you and your dog. When you get started snowshoeing with dogs, take it slow, and if you notice signs of fatigue in your pup, be prepared to turn around or take a break. Like all physical activities, snowshoeing with dogs requires conditioning. Take it slow and venture outdoors often so that you and your dog are prepared for the workout.
Protect your dog from the cold. Prolonged exposure to the elements can lead to frostbite or hypothermia. Don't assume that because your dog has a coat of fur, he won't get cold. Short-haired breeds may benefit from an extra layer, like the Ruffwear Powderhound, on really cold days. The top half is insulated, while the bottom is technical stretch fabric for a nice range of motion. The Powderhound also has sleeves instead of straps to minimize chaffing and keep the coat from slipping during adventures.
Protect your pup's feet from snow and ice. If your dog will wear them, boots are really nice for protecting your dog's feet from the cold and the icy patches you're bound to encounter. Although they're pricy, we love these Ruffwear Polar Trex boots, and they stay on really well. We learned a lesson by buying cheap boots season after season and consistently losing them. I think the Polar Trex boots are the best dog boots for snow, especially if the temps drop below zero. They are also really awesome for cold-weather pavement walks.
If I know we're going to be out in the deep snow (and not salt and ice), we rely on Musher's Secret, a wax-based ointment made in Canada that protects paws from ice build-up and snow-balling. It conditions your dog's paws and works great for protecting them from salt on the roads. We use Musher's Secret on all of our dogs in the winter, but it's especially useful for dogs with furry feet because it prevents those little ice balls from forming.
Try a running leash. If you're using poles when snowshoeing with dogs, or just don't want to deal with holding a leash in your mittened hands, try a hands-free leash that wraps securely around your waste. The EzyDog Runner Leash is 7 feet long and made with built-in shock absorbers, perfect for active pups and their companions. My only word of caution is that you should use this with a dog who is already trained to walk nicely on a leash. Using it with an out-of-control dog is a dangerous endeavor. Practice with your running leash until you can use it confidently.
Tips for Cross-Country Skiing with Dogs
Cross-country skiing is a fast and quiet sport, the perfect exercise to get your heart pumping and your dog panting. When skiing with dogs, you can look for groomed trails, or you can break your own trail in the woods, fields, or parks where you live.
Skiing with dogs is a little bit trickier than snowshoeing with dogs because you are moving faster and will have less control over your pup's actions. If you are willing to train your dog to stay with you, but not in front of you, skiing can be a really rewarding and fun activity to do with your dog.
We are not expert skiers, so we rarely visit groomed trails with our dogs. Instead, we stick to the woods near our house, where there are very few people and even fewer dogs. Here's what we've learned about cross-country skiing with dogs.
You really shouldn't use a leash. Because you're moving at a faster pace than snowshoeing, there's more potential for injury if you're tied to your dog. Instead, train your dog to reliably respond to your voice commands and stay behind you while skiing. This is easier to practice on flat terrain. Once your dog has a reliable recall and knows not to cut in front of you, you can practice on gentle slopes.
Mind your fellow skiers. More and more Nordic ski centers are designating dog-friendly trails for people to go skiing with dogs. You're bound to find other dog-lovers on these ski trails, and some other dogs too. If you aren't on a trail specifically created for people and dogs, be mindful of the other skiers on the trail. Clean up after your dog and be sure to keep him with you at all times. If your dog does not have a solid recall, stick to backcountry trails where you won't find many people.
Take Lots of Breaks. Running through the snow is even more demanding than walking behind snowshoes. When skiing with dogs, be sure to stop every 15 to 20 minutes, depending on your dog's level of physical fitness. Some dogs just don't know when to stop and will run themselves ragged before taking a break. Give your dog plenty of water and a little snack every hour or so. This Kurgo collapsible bowl will tuck neatly into your backpack for water breaks.
Winter Safety Tips for Dogs
Skiing and snowshoeing with dogs are our favorite ways to get out in the winter, but when the snow gods don't bless us with lots of fluffy white, we spend time hiking, and even walking and running on the roads. Depending on the dogs we're going out with, we make use of Musher's Secret or the Polar Trex dog boots whenever we walk on the salty winter pavement. Here are a few more general tips for enjoying winter with your dog.
How cold is too cold?
During extremely frigid temperatures, your dog's ears, nose, and paws may be susceptible to frostbite. The time a person or a dog should spend outside in cold weather is determined by the outside temperature and the wind chill factor. The chart below will give you a good idea of how long an adult dog should spend outside in the cold. Young pups and senior dogs should spend even less time outdoors when the temperatures drop.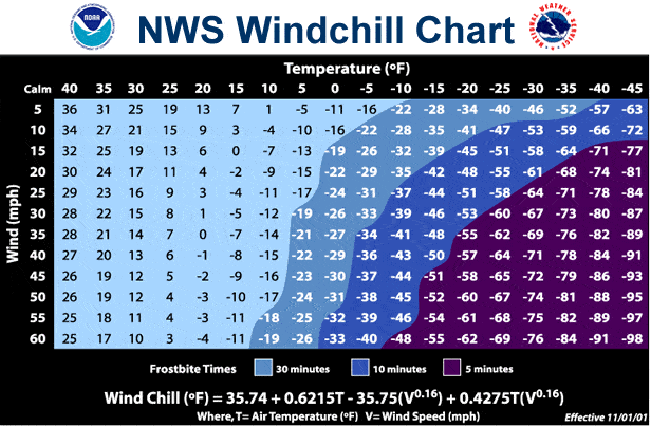 Inspect your dog's paws after each winter walk, especially if your dog doesn't wear boots. Use a soft damp cloth to clean off the salt and chemicals from your dog's paws. You don't want him licking them when they're covered in gunk!
Make sure your dog drinks enough water. The drive to drink isn't as strong in cooler temperatures, so you may have to remind your dog to stay hydrated.
One of the best things about dogs is that they're ALWAYS ready for an adventure. In fact, I think we love the outdoors as much as we do because of our dogs. They remind us that life doesn't begin and end within the comfort of four sturdy walls.
There's an amazing world to explore out there, and it's up to us to get out and enjoy it. How does your dog fit into your winter adventures? We'd love to hear your own tips in the comments below.
---
Want to read more about adventuring with dogs? Check out these posts:
---
Are you on Pinterest? Please share this post if you found it helpful.