Do you have adventurous dog lovers in your life? Or dogs who love adventures and are up for anything — rain or shine, day or night?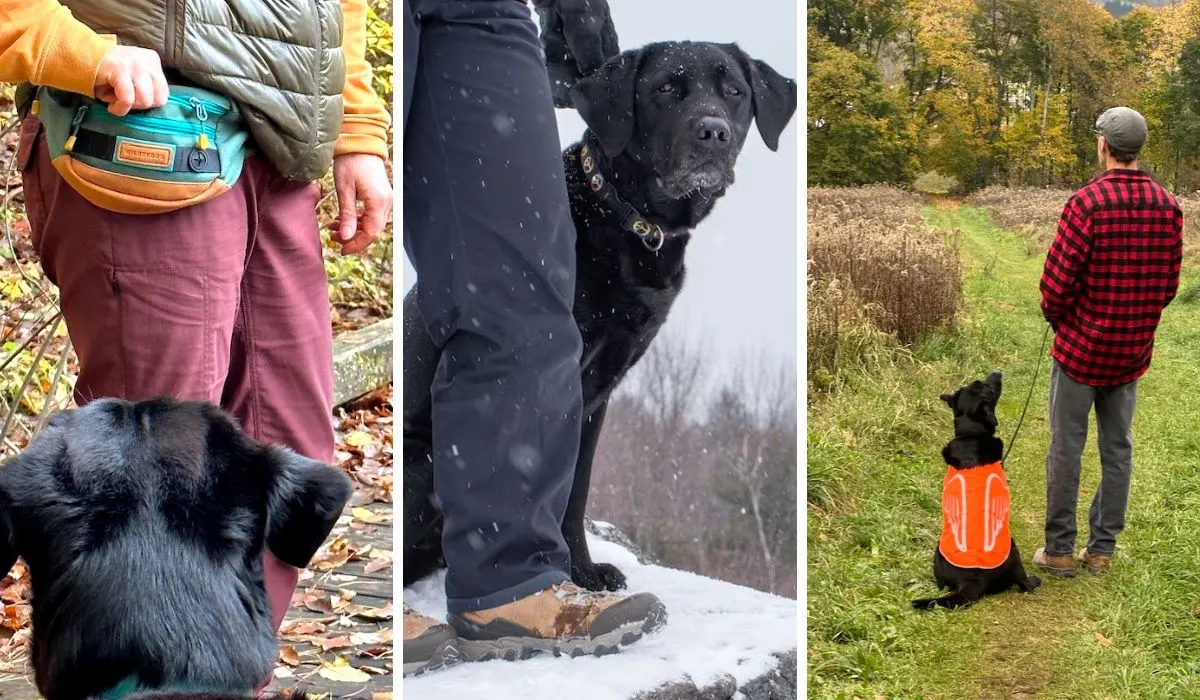 Now is the perfect time to spoil your favorite hiking dog and the people who love them! We've rounded up the best gifts for hikers with dogs (and dogs who hike) to inspire you to take more adventures together.
In the past decade, we've had the privilege of raising 10 pups for Guiding Eyes for the Blind, and each one of those pups has encouraged us to explore more.
We've hiked mountains, paddled lakes, and camped under the stars together — our pups' boundless energy inspiring us along the way.
With all the puppies bouncing into our lives, it's not surprising that we've tested a lot of gear, from travel and training gear to outdoor essentials for hiking and camping with dogs.
If you're still searching for that perfect gift for your favorite dog or your favorite dog owners, read on.
Best of the Best: Gifts for Hikers with Dogs
Here are our editor's picks for the best gifts for dogs and hikers with dogs in 2023. The gifts that are at the top of our holiday giving list this year!
Awesome Gifts for Hikers with Dogs
If you're a dog lover, chances are your inner circle is also comprised of dog lovers — we like to stick together! Here are some of our favorite gifts for hiking dog lovers, including you!
Wilderdog Utility Pouch: Next-Level Treat Pouch for Adventurers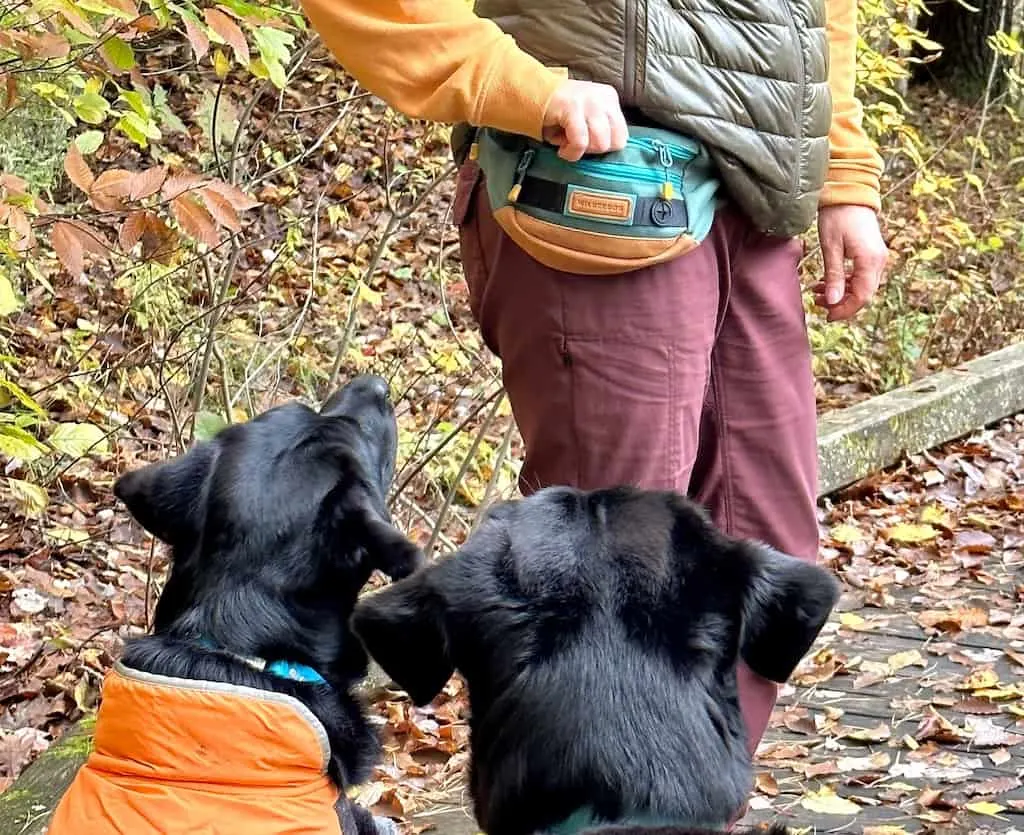 A friend gifted me the Wilderdog Utility Pouch this year, and while it's bigger than the treat pouches I usually wear, I was smitten after just a week of using it. This is the perfect pouch for longer hikes, in-town training walks, and days at the park.
It's large enough for a wallet, phone, tennis ball, keys, poop bags, and of course, treats! I love the wide, easy-to-adjust waist belt, the fun colors, and the different compartments for organizing everything.
This pouch is a game-changer for anyone who adventures with dogs!
---
Dog First Aid Kit: A Great Gift for Hikers with Dogs
You always hope that you won't have to use medical supplies while hiking, but it's crucial to be prepared for emergencies, which are far more likely to occur on the trail than at home.
The Trail Dog Medical Kit includes everything you'll need for the most common canine emergencies that you might encounter on the trail – mainly splinters, cuts, sprains, and bites.
The kit also contains a pocket pet first aid guide so that you can feel more confident dealing with medical issues on the trail.
---
Kurgo Collapsible Dog Bowls: For Thirsty Dogs on Hikes
You just never know when one of these Kurgo collapsable bowls will come in handy while hiking, especially if you're hiking where there aren't sources of naturally occurring water.
I've lost count of how many of these we have, but we always put them to good use. Keep one in the car and one in your pack, and your dog will never go thirsty again.
These little bowls make nice affordable stocking stuffers for hikers with dogs. They won't appreciate them now, but you certainly will!
---
Waterproof Car Seat Cover for Muddy Adventure Dogs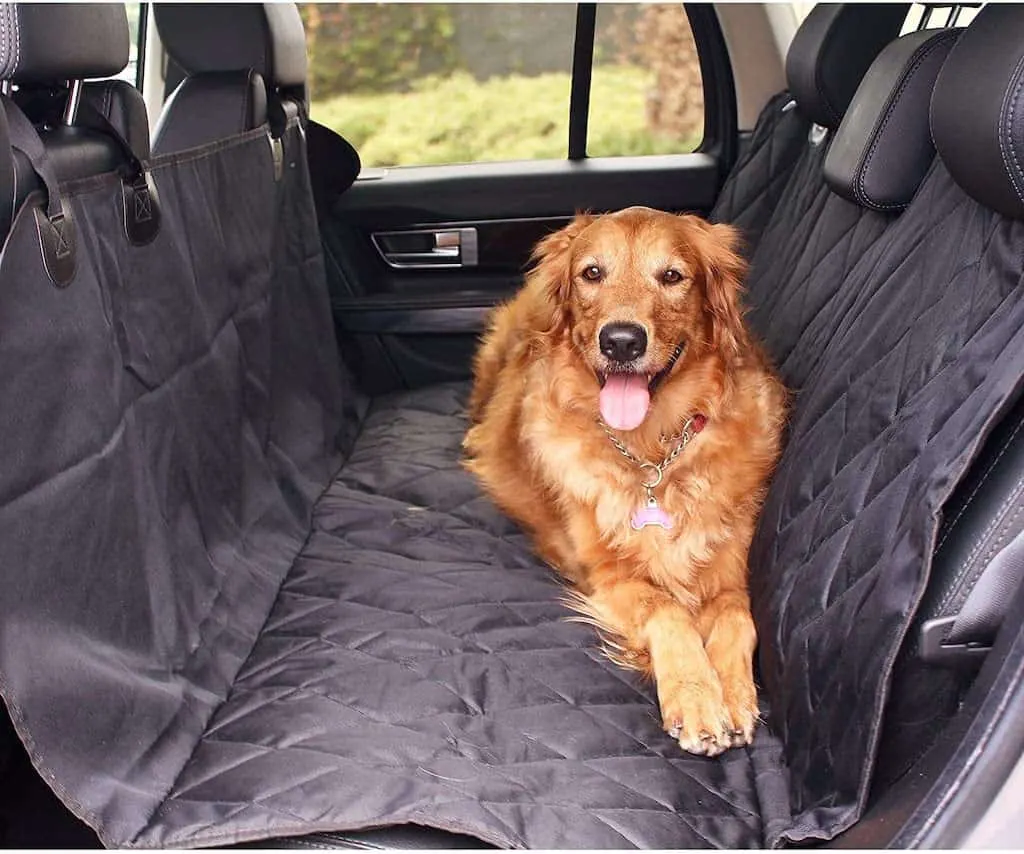 Adventure dogs are dirty dogs, and you wouldn't have it any other way.
Protect your car from muddy paws and dirty dogs with a waterproof seat cover. This hammock-style seat cover installs easily over the back seat of our car to protect it from dirt, mud, drool, and fur.
It's waterproof and washable and makes cleaning out the car a breeze.
When it's just me and the dogs, I keep the car seat cover installed, but if my taxi services extend to humans, I can just fold the seat cover out of the way. I especially love it after a day at the beach, and my dogs love stretching out in the hammock.
I've tried a few different brands of seat covers, and this one has lasted the longest so far, two years and counting. None of them last forever, especially if you wash them a lot.
---
Biothane ID Collar for Dogs Who Love to Swim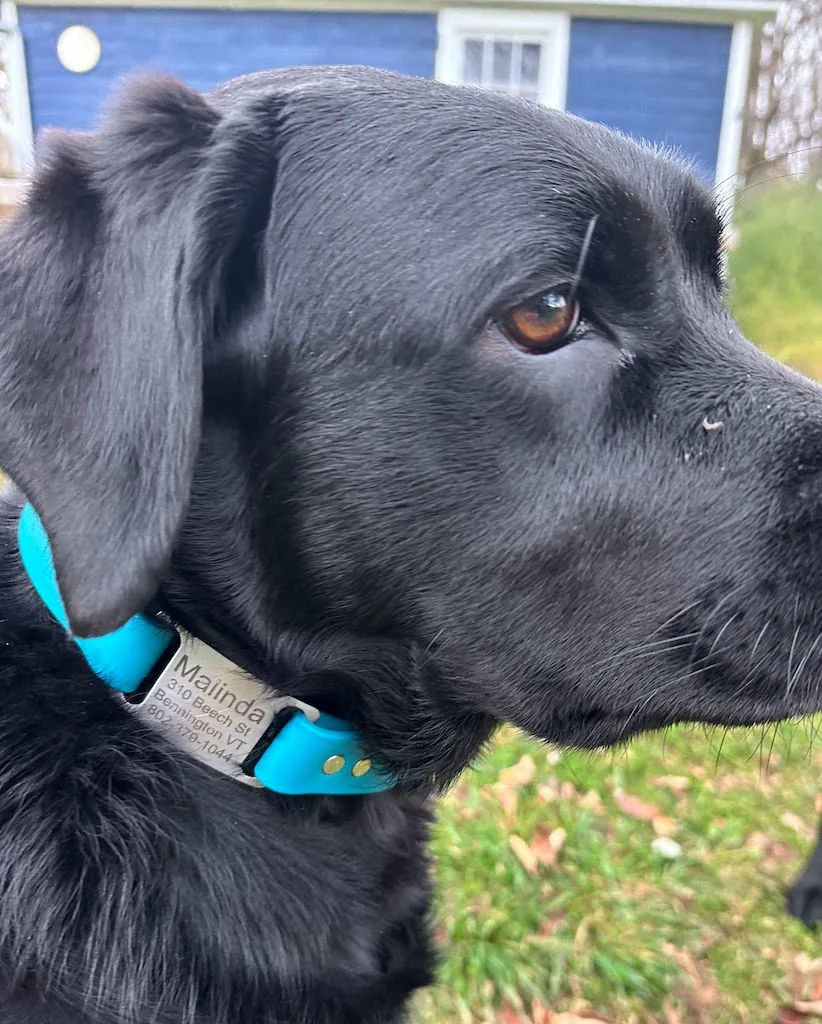 Do you know a dog that loses tags like they're car keys? That would be our Malinda!
And even worse than having to constantly replace her tags, is the fact that she never met a lake or a river that she wouldn't swim in, which means that her collar would get wet and stinky and stay that way all summer long.
We finally got her this 100% waterproof collar with an ID tag built right in and we couldn't be happier. This would make a great gift for dogs who love adventures and need something tough and waterproof. It's made in the USA with a laser-engraved name tag.
---
Waterproof GPS Device for Dogs: Just in Case
In a perfect world, your dog is always by your side on a hike, but in reality, there's always a chance your dog could wander off, chase an animal, or get lost on an adventure.
Add a bit of peace of mind to your adventures with a GPS collar that is tiny, waterproof, and easy to use.
The Tracki GPS device fits all dog and cat collars and uses a subscription-based service to keep track of your dog no matter where your adventures take you.
---
Blaze Orange Vest for Hiking During Hunting Season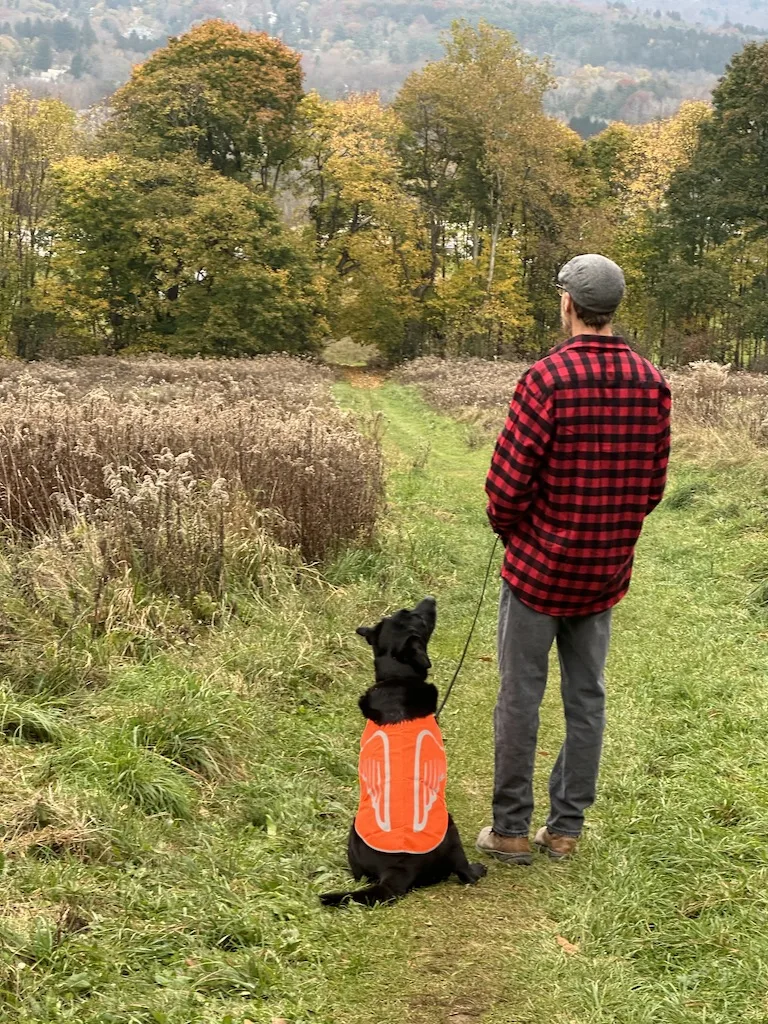 Keep your dog safe during hunting season with this blaze orange vest with reflective wings.
These are new, but I love that there's no velcro to deal with, just sturdy clips that buckle in the front and under the belly.
These are a must-have item for hiking during hunting season, but the reflective wings make them great for walking at night too.
---
Dog Backpack for Hiking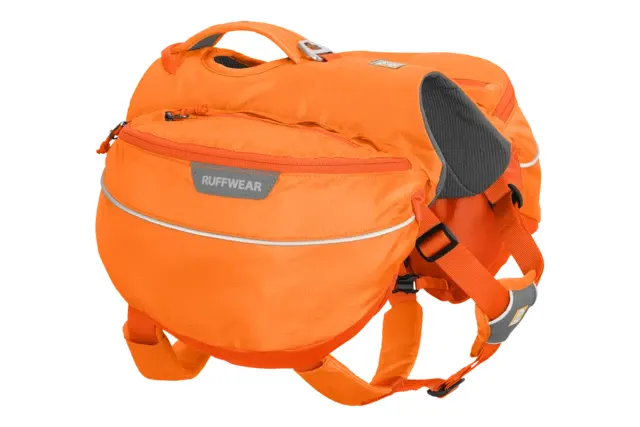 If you and your dog have graduated from day hikes to overnight trips in the great outdoors, it's worth looking into a pack so your pup can help out.
We've used several dog backpacks over the years, and the Ruffwear Approach backpack is our current favorite because it stays put, is fully adjustable, and the straps are padded to prevent chafing. We bought the orange one for hiking during hunting season.
Our Ruffwear pack has lasted four summers so far, and it is holding up really well considering the rough terrain we've been covering.
Just a note that this pack isn't waterproof — be sure to double bag your dog's food, and be mindful of foul weather or dogs who are obsessed with swimming.
---
LED Collar for Late-Night Walks or Hikes
This highly visible collar is lit with bright LED lights and is awesome for late-night or early-morning walks when you want to be sure your dog is seen.
The collars come in six different collars and a built-in rechargeable battery that lasts for several walks. It's also completely weatherproof and comes with a lifetime warranty.
---
Portable Bed: The Comfiest Gift for Adventure Dogs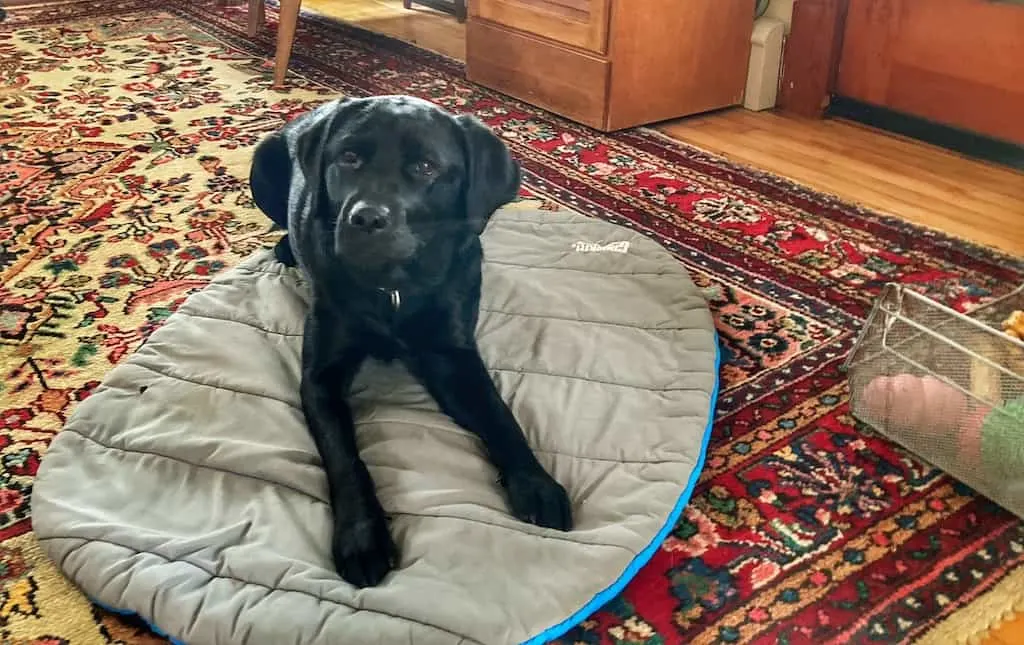 A portable dog bed will make your dog feel at home no matter where your travels take you.
For young dogs, you can't beat this affordable portable dog bed from Chuck It. The listing on Amazon says it's for dogs up to 25 pounds, but our dog loves it and she's a 60-pound lab.
We have washed ours multiple times and taken it on camping trips for more than four years, and it's still going strong!
Flynn is a senior citizen these days, and while the Chuck It bed is fine for overnights, we like to give him something cushier to use for longer trips. We recently bought an elevated dog bed from GEERTOP and Flynn loves it.
It is sturdy and well-made and keeps him off the cold floor or ground when we're traveling. It's one of the best gifts for dogs we've gotten him this year!
---
Special Gifts for Dogs: Toys and Treats They'll love
All the canines on your list will appreciate these incredible gifts for dogs. Guaranteed!
West Paw Toys
We have had the same West Paw tug toy for more than five years! That's saying something because we have two labs of our own and lots of four-legged house guests.
West Paw toys are veterinarian-recommended, soft enough for old teeth, and durable enough for heavy tugging.
Our dogs don't chew on them, but they're great for quick games of tug when we stop to stretch our legs on road trips. These awesome toys make great gifts for dogs and are made in the USA.
---
Woof Pupsicle: Make Your Own Dog Treats
The Woof Pupsicle is one of the best gifts for dogs that we discovered in 2023. It's a tough chew toy that you can unscrew and fill with frozen treats for hours of chewing and licking.
We use these when we have to leave our dogs behind for the day, and we've experimented with all kinds of different recipes for the treat trays — pumpkin, peanut butter, yogurt.
Flynn and Malinda love them all, and I'm sure your dogs will too!
---
Check out all of our gift guides!
Follow us on social media for more outdoor inspiration!
Pin for Later?