Please don't travel until it's safe to do so! Our travel posts are great for making future plans or dreaming about your next escape. Also, please note that this post may contain affiliate links from which we earn a small commission at no extra cost to you.
Do you have an adventurous dog in your life? A dog that is up for anything — rain or shine, day or night? In the past decade, we've had the privilege of raising seven pups for Guiding Eyes for the Blind, and each one of those pups has encouraged us to explore more. We've hiked mountains, paddled lakes, and camped under the stars together — our pups' boundless energy inspiring us along the way.
With all the puppies bouncing into our lives, it's not surprising that we've tested a lot of gear, from travel and training gear, to outdoor essentials. If you're still searching for that perfect gift for your favorite adventure companion, we've got you covered. These are our favorite gifts for dogs who love adventures.
Travel Gear for Dogs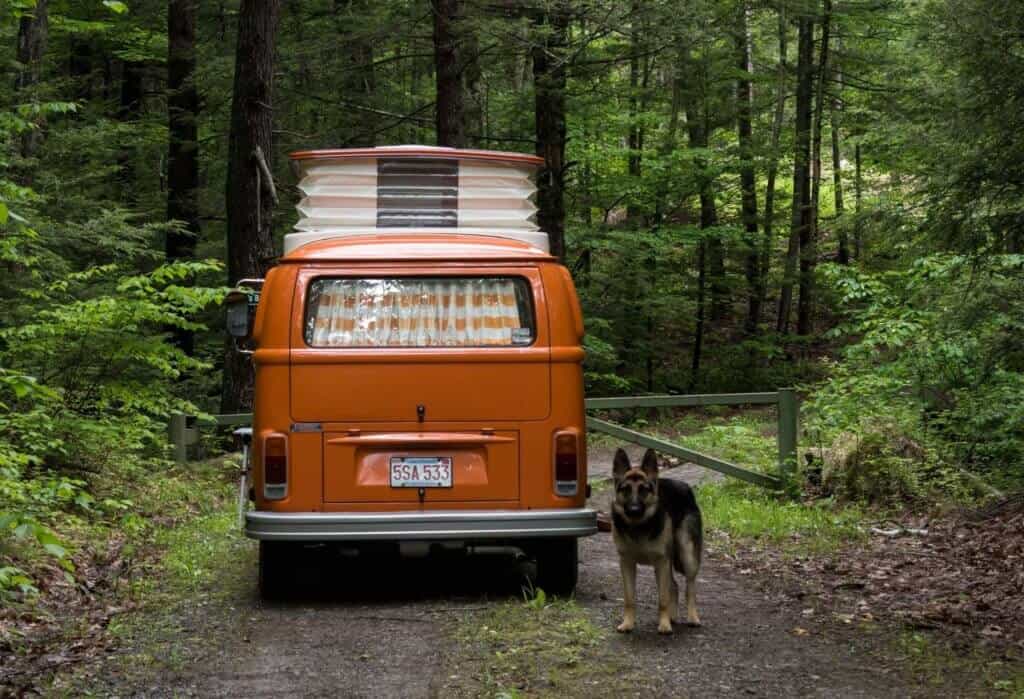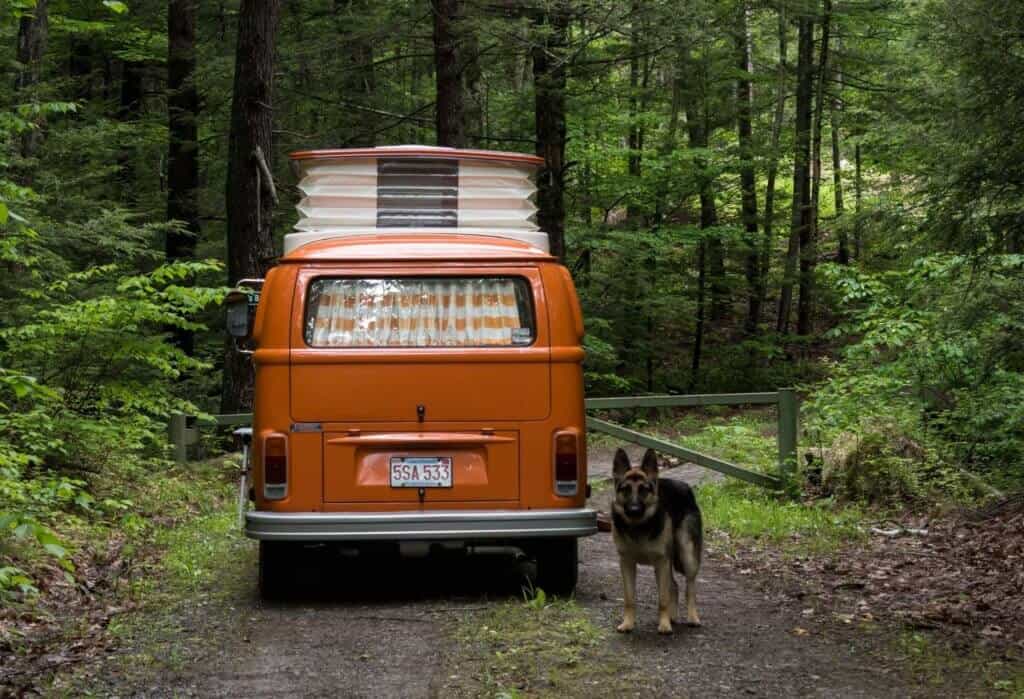 Does your dog love a good road trip? I know mine does! The following products make life easier and safer for traveling with dogs.
Benebone Chew Toys
We find it really helpful to give our dogs a special chew toy before heading out on long road trips, and their favorite are Benebones. These bones are durable, long-lasting, and tasty. They are made in the USA of just nylon and meat. My dogs love the bacon-flavored Benebones, but they make them in chicken, peanut butter too. To keep the excitement alive, we have Benebones that we only use for car rides. Is is any surprise that our dogs always get to the car before we do?
BarksBar Car Seat Cover
Adventure dogs are dirty dogs, and I wouldn't have it any other way. This hammock-style seat cover installs easily over the back seat of our car to protect it from dirt, mud, drool, and fur. It's totally waterproof and washable, and makes cleaning out the car a breeze (I still have to do the windows constantly). When it's just me and the dogs, I keep the car seat cover installed, but if my taxi services extend to humans, I keep the cover folded up in the trunk, just in case. I especially love it after a day at the beach – my car doesn't love wet dogs. Also, I've tried a few different brands of seat covers, and this one has lasted the longest so far. None of them last forever, especially if you wash them a lot.
Solvit Seat Belt Harness
The safest place for a road tripping dog is inside of a secured crate. Because we don't have room for a crate in our car, we make use of the second-safest option — a safety harness that attaches to a seat belt in the backseat. A harness will keep you dog from flying around if you're ever in an accident, and it will also keep your dog from bolting into the road if you (or someone else) leaves the door open. Wearing the harness didn't come naturally to my dogs, and they did get tangled up in the seat belt a couple of times. Like any new process, it just took a bit of practice to get it right. The Solvit harness is adjustable, padded, and comes in four sizes. Our Labrador (70 lbs) wears a large, and our shepherd (also 70 lbs, but very tall) wears an extra large.
Hiking Gear for Dogs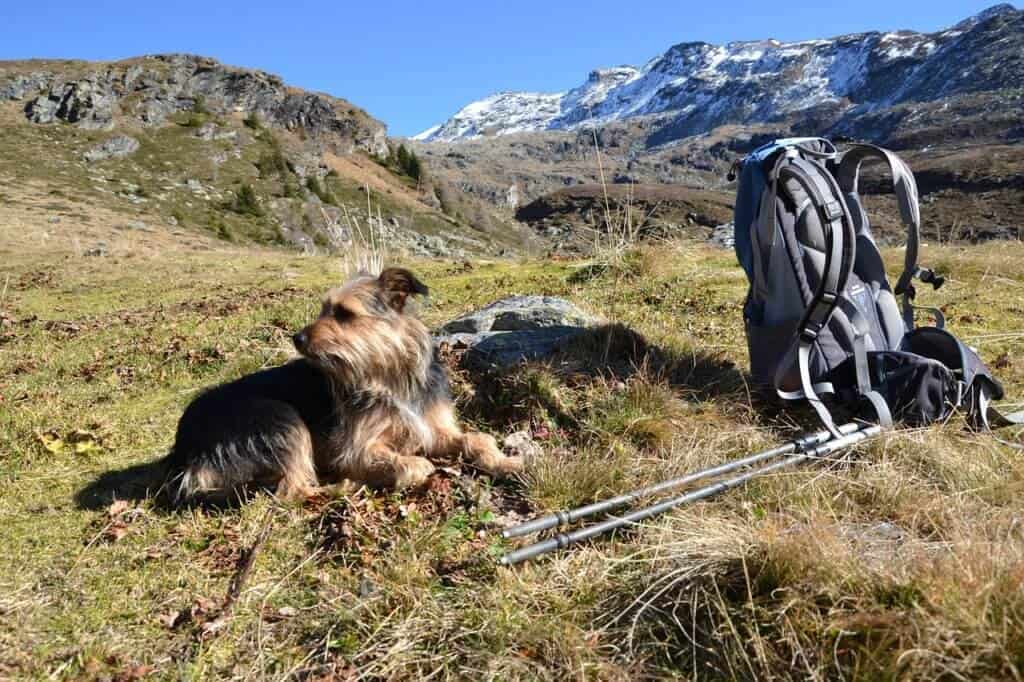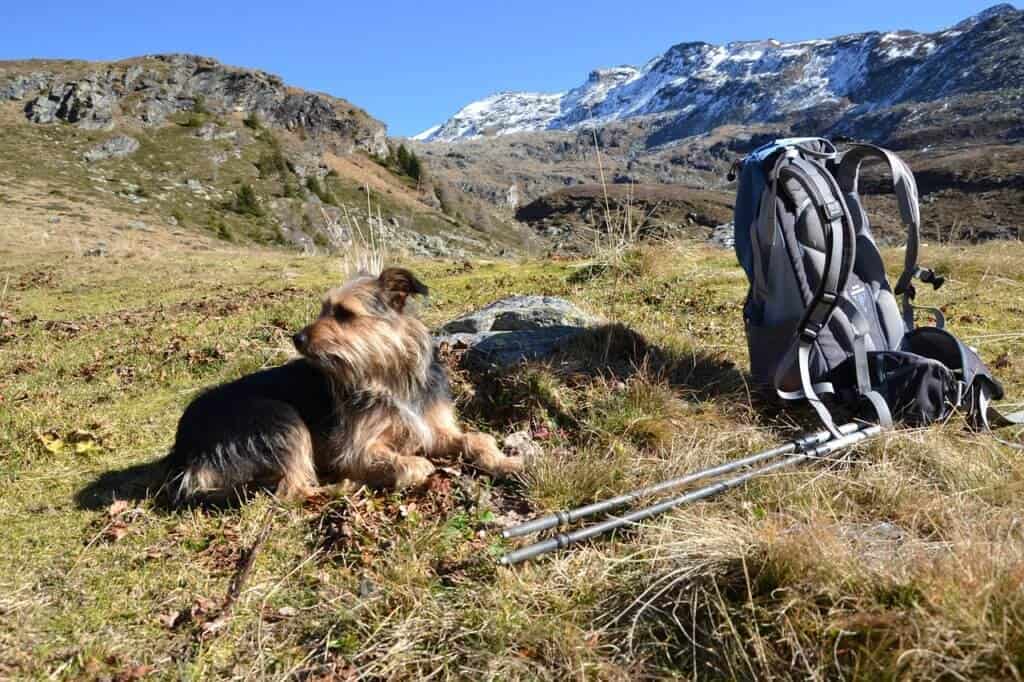 Hiking with dogs is one of life's greatest pleasures. Dog's won't complain about steep verticals, they have boundless enthusiasm, and they're fabulous motivators. Here are some of our favorite products for hiking with dogs.
Biothane Long Line
We worked and played with dogs for years and years before discovering biothane leashes, but now I don't know how we ever managed. These leashes are 100% waterproof (and they don't get stinky), incredibly durable, and comfortable to handle. They are also made in Pennsylvania, USA. While training and walking in town, we use a six-foot leather leash, but on hikes we give our dogs a bit more freedom with a 15-footer. Our first biothane long line only lasted a week because somebody left it on the back seat and a puppy chewed it up. Our second one has lasted 8 years, and it is still going strong.
Collapsible Dog Bowl

You just never know when one of these Kurgo collaps-a-bowls will come in handy while hiking, especially if you're hiking where there aren't sources of naturally occurring water. I've lost count of how many of these we have, but we always put them to good use. Keep one in the car and one in your pack, and your dog will never go thirsty again.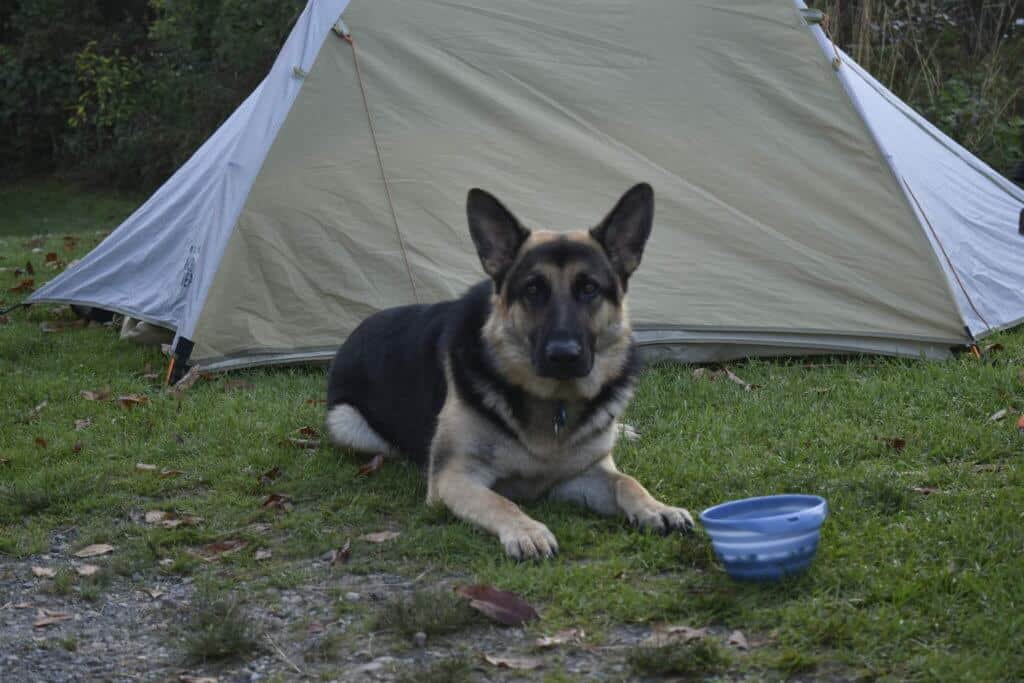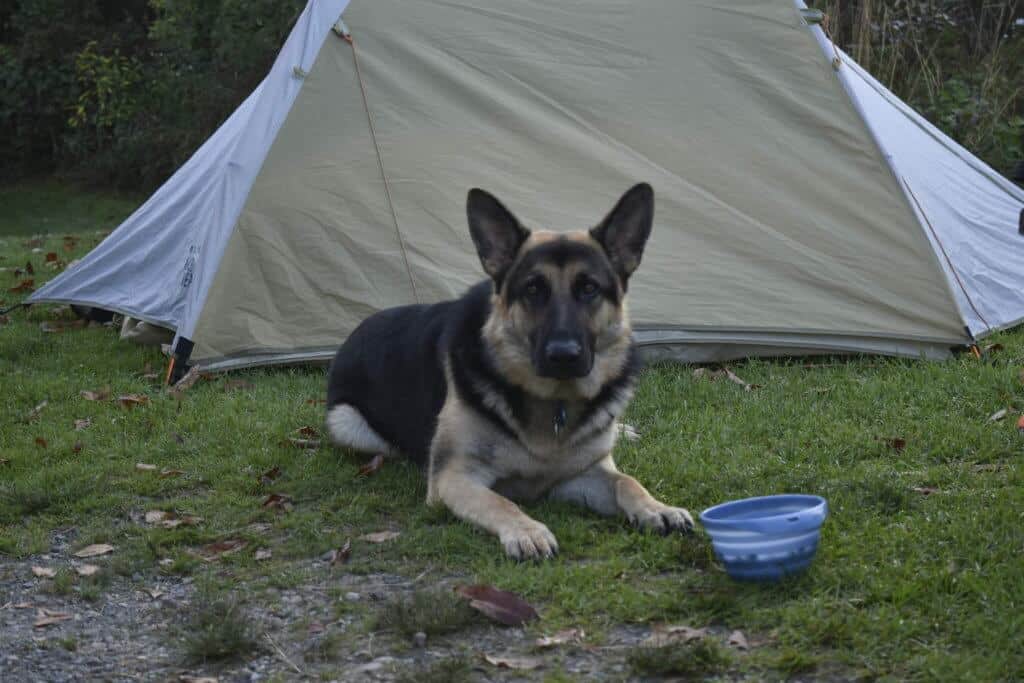 Ruffwear Hiking Backpack
I
f you and your dog are graduated from day hiking to overnight trips, it's worth looking into a pack so your pup can help out. We've used several over the years, and the Ruffwear Approach backpack is our current favorite because it stays put, is fully adjustable, and the straps are padded to prevent chaffing. We bought the orange one for hiking during hunting season. So far, it has lasted two summers, and it still looks good. Just a note that this pack isn't waterproof — be sure to double bag your dog's food, and be mindful of foul weather or dogs who are obsessed with swimming…
Gifts for Dogs who Love Winter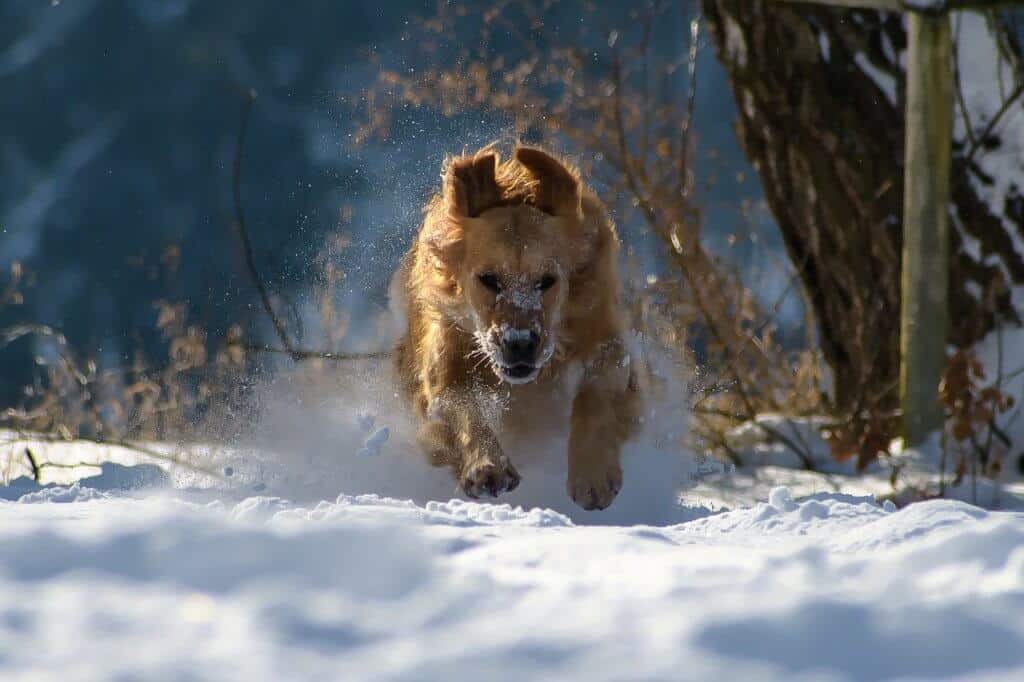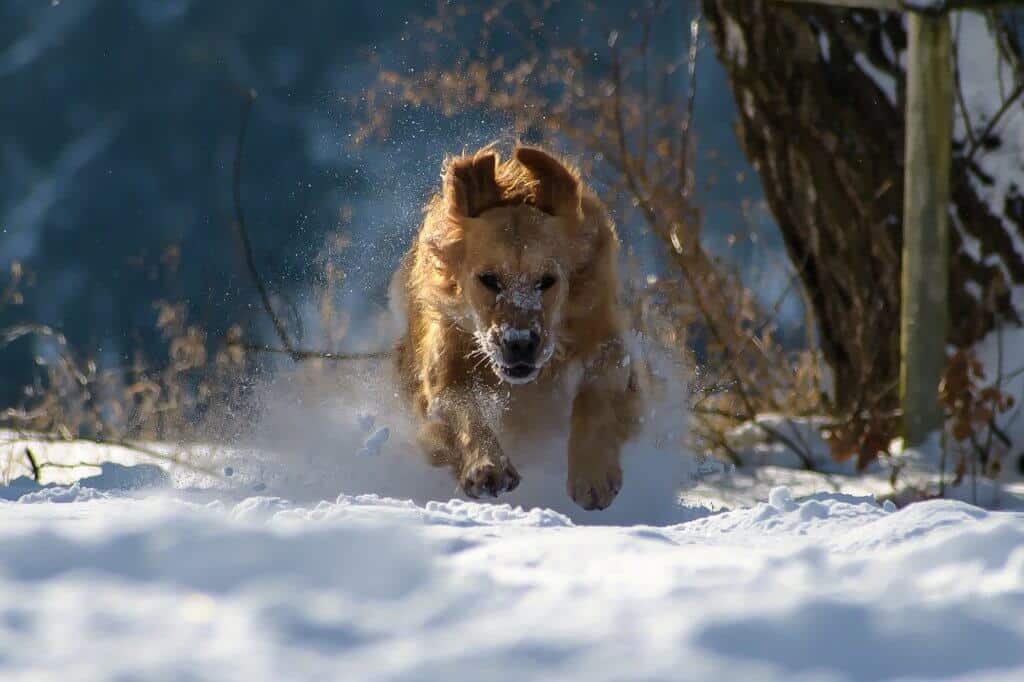 It took our dog a whole season to fall in love with winter. He lived for several years in New Mexico, and came back to us in the middle of February in Vermont. Snow was a sworn enemy for a while, but he's adjusted. Here's some of our favorite gear for dogs who love winter adventures.
Ruffwear Booties
Most dogs will take to booties after a bit of practice, but some dogs will just throw a fit. Only you know which dog you have. Our labs don't love wearing boots, but they do get used to them, and boots are great for protecting furry feet from salted roads and icy trails. The Ruffwear Summit Trex are great for everyday use. They stay securely on your dog's feet, and are super durable. They're also great for walking on hot pavement in the summer.
Kurgo Dog Coat

I didn't think I'd be one of those people that makes our dog wear a coat in the winter, but on really cold days, our pup appreciates the extra warmth. Not all dogs will need a winter coat, but I think they're awesome for breeds with short fur. The Kurgo Loft Dog Jacket is durable and reflective, plus it comes with a lifetime warranty. It's not super heavy, but perfect for active dogs who just need a little insulation. We love the orange/blue jacket for high visibility during hunting season.
Collar LED light

It gets dark so early in the winter, often before we've headed out for our second walk. Nite Ize makes a few different LED products for keeping dogs safe, and since we were part of the Nite Ize field team in 2017, we tried them all. You can get collars with built-in LED lights, LED necklaces, and these super clip-on lights, which clip onto a color with a little carabiner. They are, far and away, our favorite — just enough light to alert cars of our whereabouts, but not enough to alert the whole neighborhood. They're also great as light-up zipper pulls for people.
What's your favorite gear for your favorite dog? Anything you just can't live without?
For more about adventuring with dogs, check out these posts:
Does Your Dog Deserve a Road Trip?
Pin for later?