Do you have an adventurous dog in your life? A dog that is up for anything — rain or shine, day or night?
Now is the perfect time to spoil your adventure dog with some new gear. We've rounded up the best gifts for dogs in 2022 to inspire you to take more adventures together.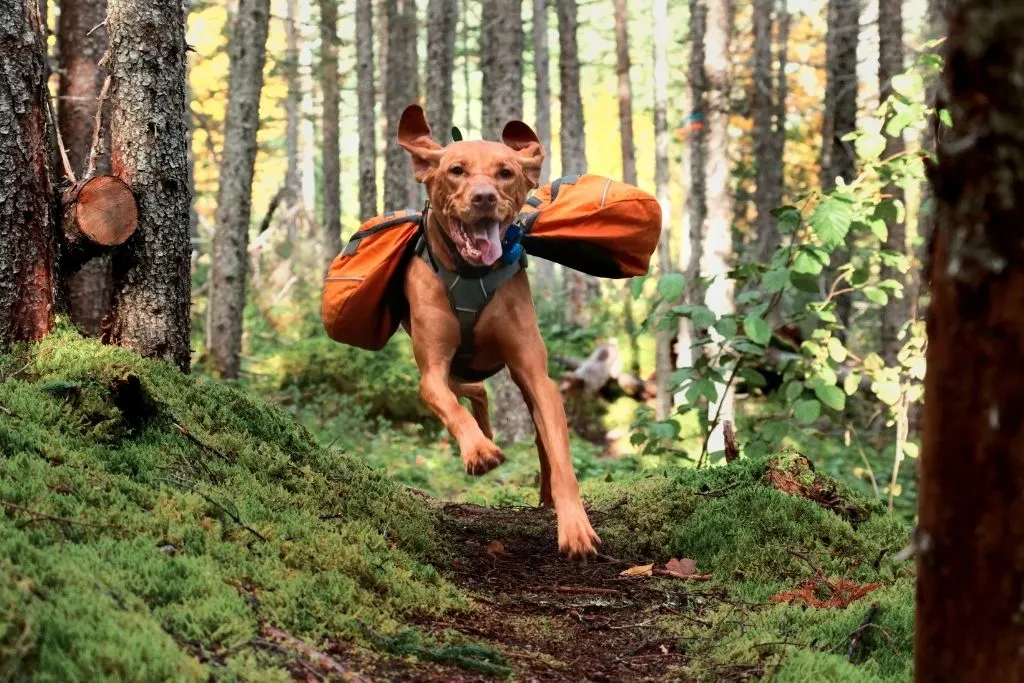 In the past decade, we've had the privilege of raising 10 pups for Guiding Eyes for the Blind, and each one of those pups has encouraged us to explore more.
We've hiked mountains, paddled lakes, and camped under the stars together — our pups' boundless energy inspiring us along the way.
With all the puppies bouncing into our lives, it's not surprising that we've tested a lot of gear, from travel and training gear to outdoor essentials for hiking and camping with dogs. If you're still searching for that perfect gift for your favorite adventure companion, we've got you covered.
These are our favorite gifts for dogs who love adventures.
Best Travel Gear Gifts for Dogs

Does your dog love a good road trip? I know mine does! Having the right gear for your pup makes great road trips even better. The following products make life easier and safer for traveling with dogs.
Best Chew Toys: Toys and Treats Make the Best Gifts for Dogs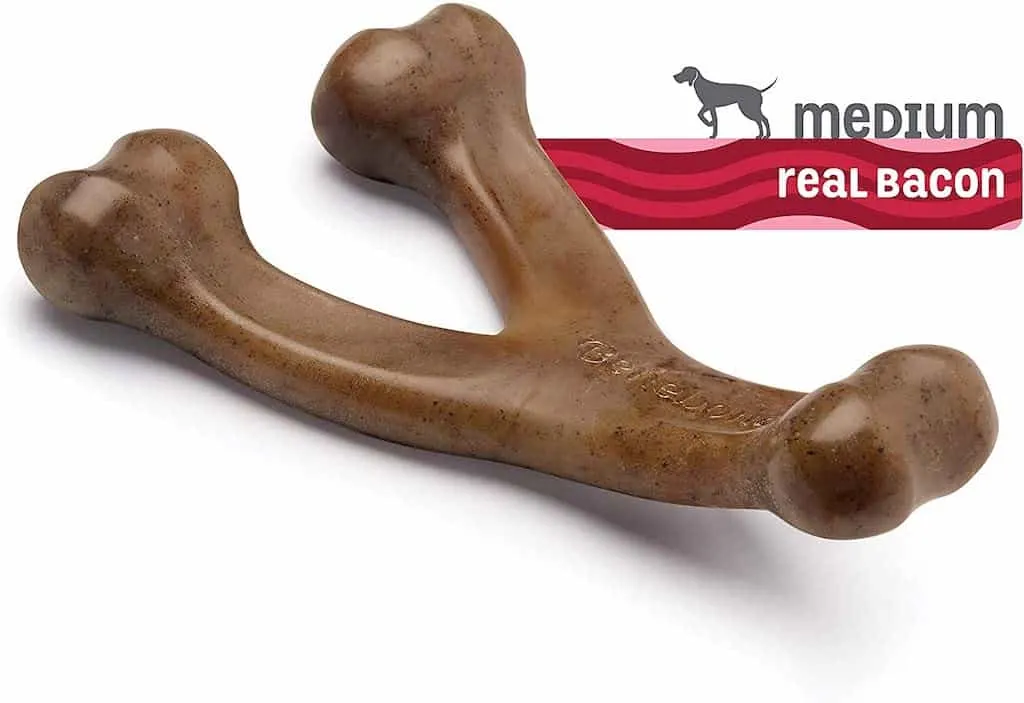 Every good road trip deserves something special to make riding in the car more fun for your dog.
We recently spoke with our vet about appropriate chew toys after our senior dog cracked a tooth on a marrow bone. We've taken those out of rotation, along with rawhide, pig's ears, and bully sticks. So what's left? Fortunately, our dog's favorite chew toys are still allowed.
The perfect chew toy for dogs should be non-toxic and soft enough to dent with a fingernail. Here's what's on our dogs' wishlist this year. We've put them in order with their favorites at the top of the list.
Benebones – Flynn and Malinda love Benebones and both recommend them as their favorite doggie stocking stuffer. These are bacon-flavored and made in the USA. Our spoiled dogs get a newBenebone before every long road trip to keep them both happy and busy on the road.
West Paw Toys – We have had the same West Paw tug toy for more than five years! That's saying something because we have two labs of our own and lots of four-legged house guests. West Paw toys are veterinarian-recommended, soft enough for old teeth, and durable enough for heavy tugging. Our dogs don't really chew on them, but they're great for quick games of tug when we stop to stretch our legs on road trips. These awesome dog toys make great gifts and are made in the USA.
Kongs – Kongs are perfect for stuffing with goodies! They are made from durable rubber in the USA. I'll admit that a solitary Kong does not excite my dogs. The secret is to fill the kong with a mixture of something soft like yogurt, peanut butter, or pumpkin, and mix it with some crunchy treats. Put the whole thing in the freezer and they give it to your dogs when you travel or when they need some crate time.
---
Waterproof Seat Cover: A Gift for Muddy Dog Lovers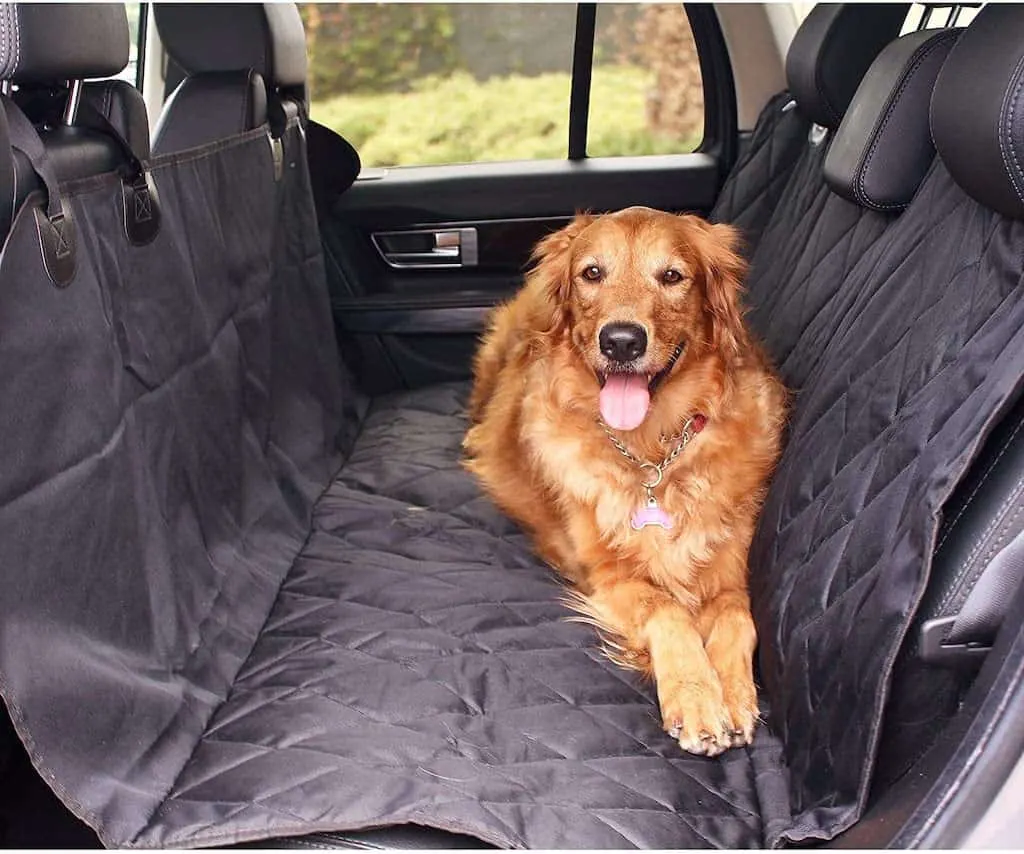 Adventure dogs are dirty dogs, and you wouldn't have it any other way. Protect your car from muddy paws and dirty dogs with a waterproof seat cover. This hammock-style seat cover installs easily over the back seat of our car to protect it from dirt, mud, drool, and fur. It's totally waterproof and washable and makes cleaning out the car a breeze.
When it's just me and the dogs, I keep the car seat cover installed, but if my taxi services extend to humans, I can just fold the seat cover out of the way. I especially love it after a day at the beach, and my dogs love stretching out in the hammock. I've tried a few different brands of seat covers, and this one has lasted the longest so far, two years and counting. None of them last forever, especially if you wash them a lot.
---
Doggy Seat Belt Harness: For Road-Tripping Dogs
The safest place for a road-tripping dog is inside a secured crate. Because we don't have room for a crate in our small car, we make use of the second-safest option — a safety harness that attaches to a seat belt in the backseat.
A harness will keep your dog from flying around if you're ever in an accident, and it will also keep your dog from bolting into the road if you (or someone else) leave the door open.
Wearing the harness in the car didn't come naturally to my dogs, and they did get tangled up in the seat belt a couple of times. Like any new process, it just took a bit of practice to get it right. This PetSafe harness is adjustable, padded, and comes in four sizes. Our Labradors both wear a large, and while they may not appreciate the gift of safety, dog parents certainly will!
---
Portable Bed: The Comfiest Gift for Dogs Who Travel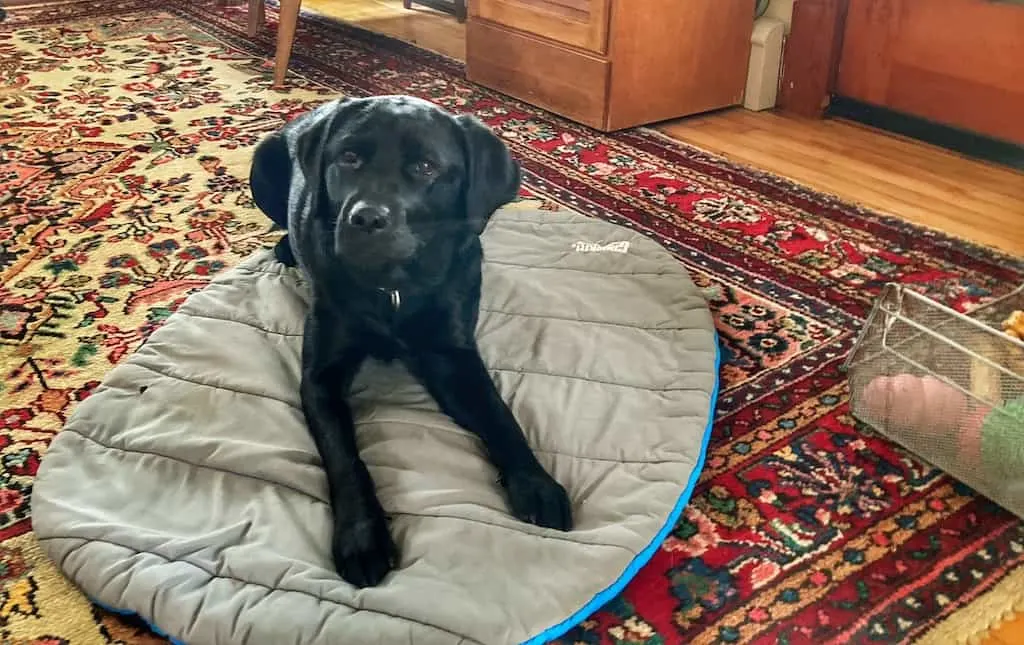 A portable dog bed will make your dog feel at home no matter where your travels take you. For young dogs, you can't beat this affordable portable dog bed from Chuck It. For some reason, the listing on Amazon says it's for dogs up to 25 pounds, but our dog loves it and she's a 60-pound lab. We have washed ours multiple times and taken it on camping trips for more than four years, and it's still going strong!
Flynn is a senior citizen these days, and while the Chuck It bed is fine for overnights, we like to give him something cushier to use for longer trips. We recently bought an elevated dog bed from Outrav and Flynn loves it.
It is sturdy and well-made and keeps him off the cold floor or ground when we're traveling. It's one of the best gifts for dogs we've gotten him this year!
---
Gifts for Dogs Who Love to Hike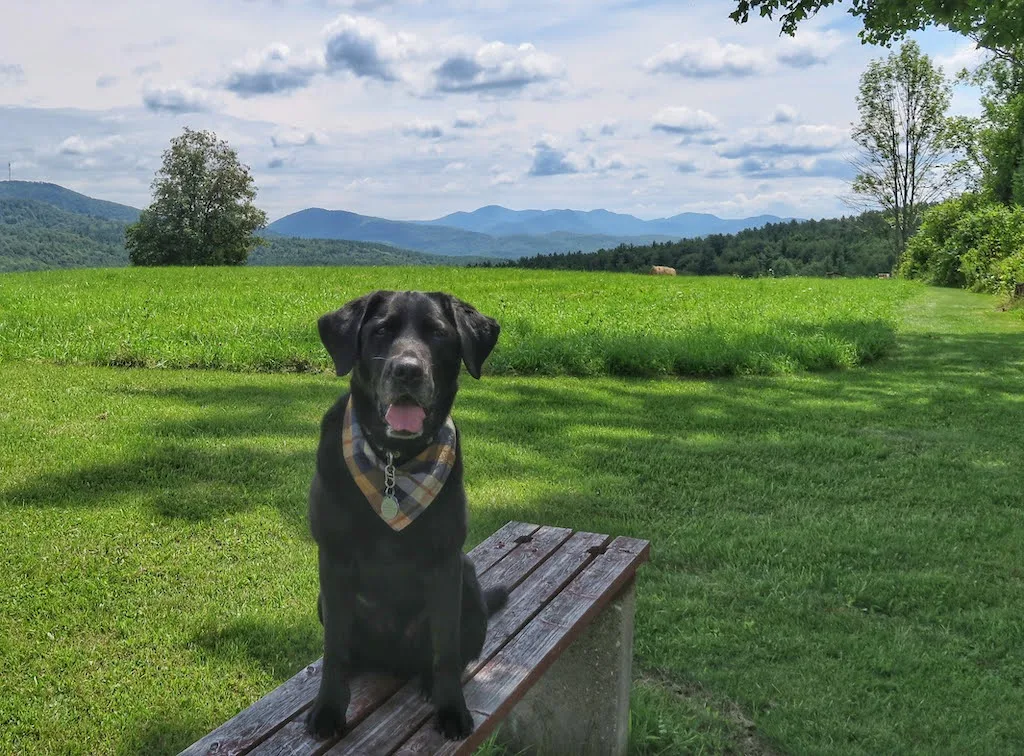 Hiking with dogs is one of life's greatest pleasures. Dog's won't complain about steep verticals, they have boundless enthusiasm, and they're fabulous motivators. Here are some of our favorite gifts for hikers with dogs and dogs who hike.
Biothane Long Line: For Dogs with Iffy Recalls
We worked and played with dogs for years and years before discovering Biothane leashes, but now I don't know how we ever managed. These leashes are 100% waterproof (and they don't get stinky), incredibly durable, and comfortable to handle. They are also made in New York, USA.
While training and walking in town, we use a six-foot leather leash, but on hikes, we give our dogs a bit more freedom with a 15-foot Biothane leash. Our first Biothane long line only lasted a week because somebody left it on the back seat and a puppy chewed it up. Our second one has lasted 8 years, and it is still going strong. This would be a perfect gift for all the dog lovers on your list.
---
Collapsible Dog Bowls: For Thirsty Hikers
You just never know when one of these Kurgo collapse-a-bowls will come in handy while hiking, especially if you're hiking where there aren't sources of naturally occurring water. I've lost count of how many of these we have, but we always put them to good use. Keep one in the car and one in your pack, and your dog will never go thirsty again. These little bowls make nice affordable stocking stuffers for your dogs. They won't appreciate them now, but you certainly will!
---
Dog First Aid Kit: A Great Gift for Hikers with Dogs
You always hope that you won't have to use medical supplies while hiking, but it's crucial to be prepared for emergencies, which are far more likely to occur on the trail than at home.
The Trail Dog Medical Kit includes everything you'll need for the most common canine emergencies that you might encounter on the trail – mainly splinters, cuts, sprains, and bites. The kit also contains a pocket pet first aid guide so that you can feel more confident dealing with medical issues on the trail.
First, stick this dog first aid kit in your dog's holiday goodie bag, but then stash it in the bottom of your day pack so it's always on hand when you need it.
---
Hiking Backpack: For Multi-Day Hikes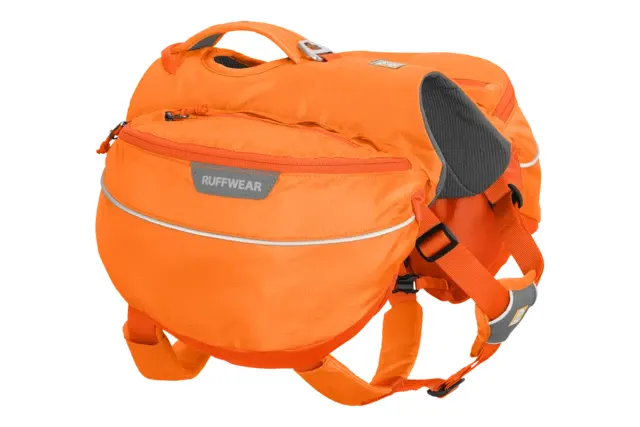 Our Ruffwear pack has lasted three summers so far, and it is holding up really well. Just a note that this pack isn't waterproof — be sure to double bag your dog's food, and be mindful of foul weather or dogs who are obsessed with swimming…
---
Gifts for Dogs who Love Winter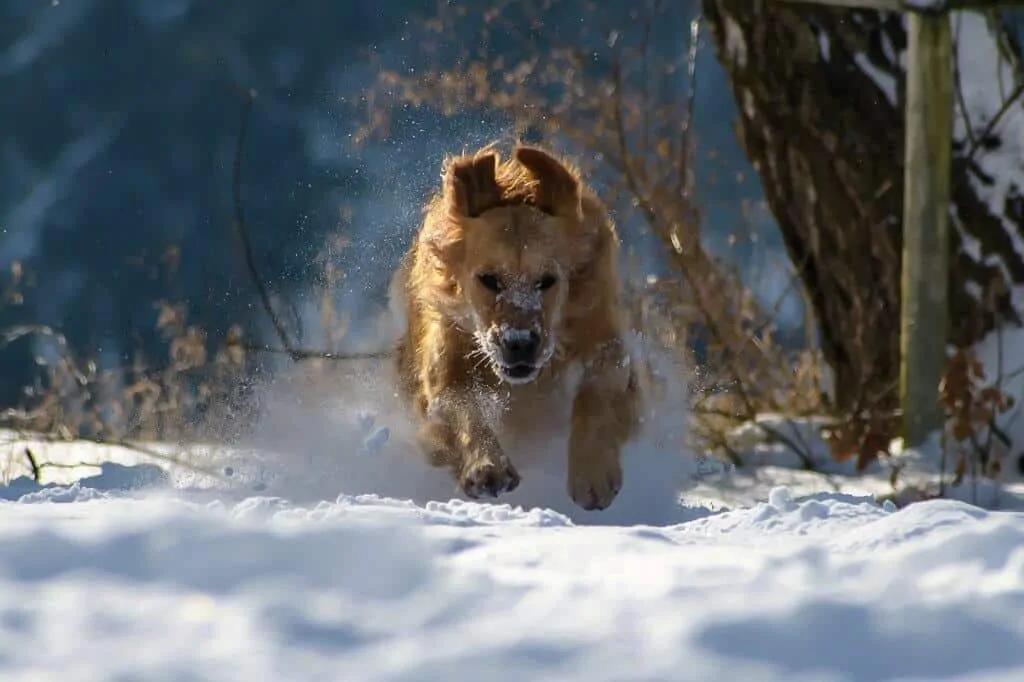 It took our dog a whole season to fall in love with winter. He lived for several years in New Mexico and came back to us in the middle of February in Vermont. Snow was a sworn enemy for a while, but he's adjusted, and with the right winter gear, he's happy to spend hours in the snow each day.
Gift your dogs some winter gear so that they'll be comfy in cold, snowy conditions.
Holiday Dog Bandana: Spread Some Cheer
Who doesn't love a dog sporting a bandana to celebrate the holidays? This red/green plaid bandana is made from yarn-dyed flannel folded in half with frayed ends. The ends snap closed for easy on/off.
These adorable holiday bandanas come in different sizes and are made with love in Lewiston, Maine.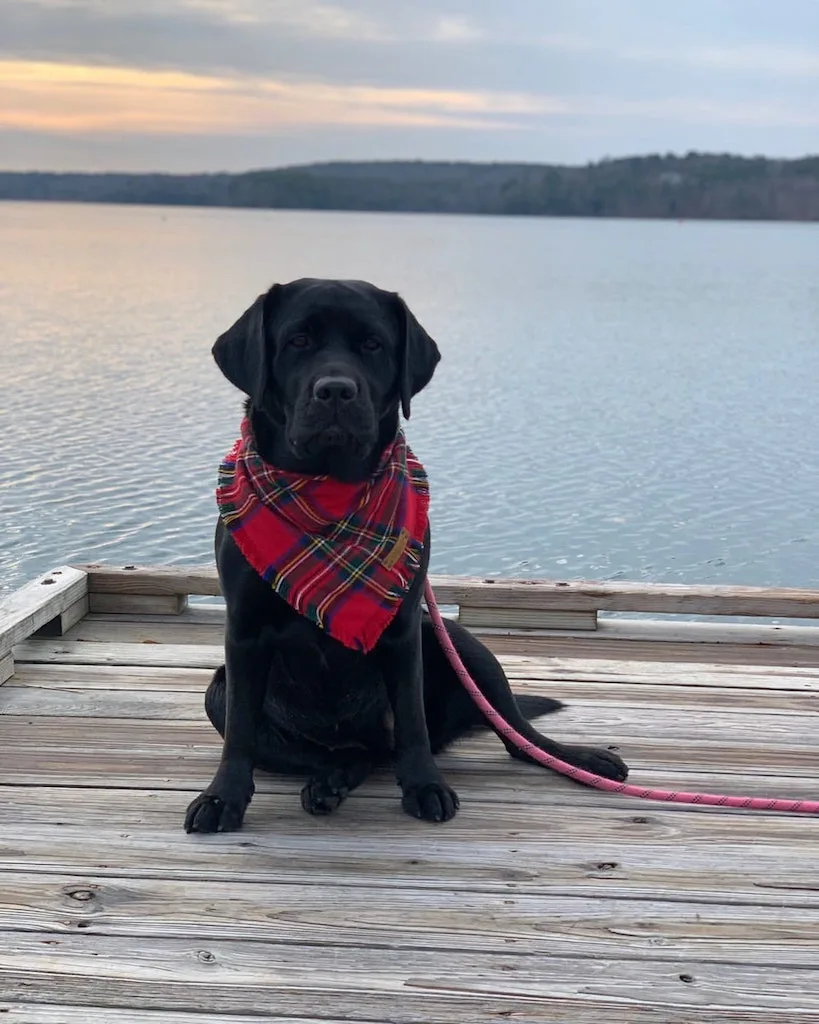 ---
LED Collar for Late-Night Walks
This highly-visible collar is lit with bright LED lights and is awesome for late-night or early-morning walks when you want to be sure your dog is seen. The collars come in six different collars and a built-in rechargeable battery that lasts for several walks. It's also completely weatherproof and comes with a lifetime warranty.
Protect Your Dogs' Paws from Snow and Ice with Booties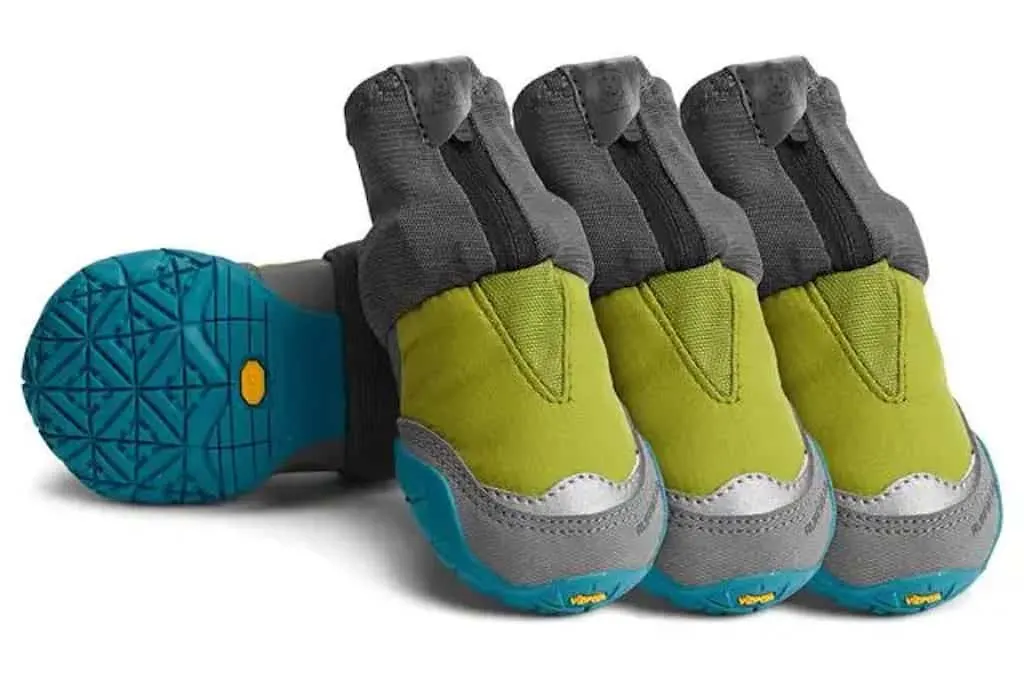 If your adventure dog needs a sturdy paw protector that also provides both traction and insulation, the Ruffwear Polar Trex Boots are the perfect solution. They stay securely on your dog's feet and are rugged enough for tough trails. For city dogs, these booties protect furry feet from road salt. As a bonus, they're also great for walking on hot pavement in the summer.
---
Keep Your Dog Warm on Winter Adventures with a Winter Coat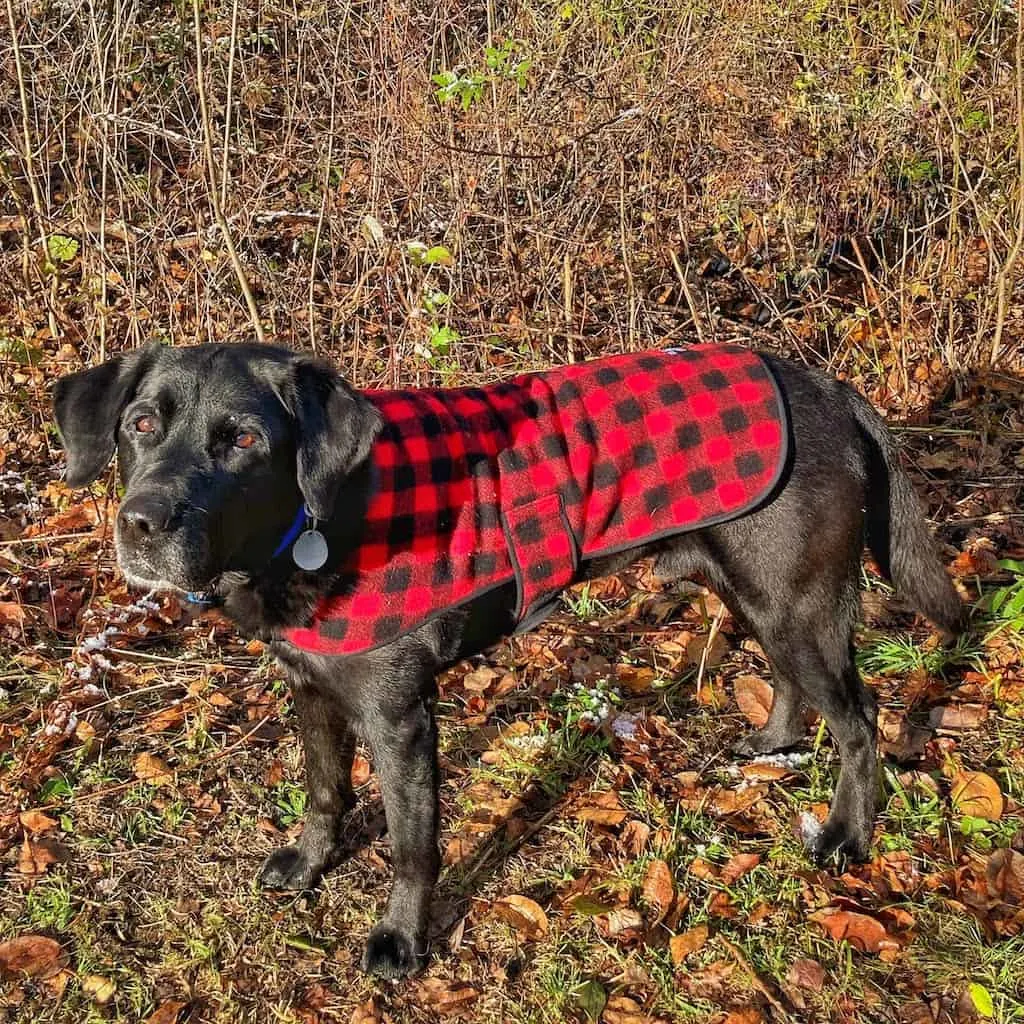 If you have a short-haired breed and live in a cold climate, an insulating vest can help keep your dog warm when hiking or romping in the snow. My current favorite (shown on Flynnie above) is this coat from Johnson Woolen Mills in Vermont. It's 100% wool and made in our home state. I splurged on this last winter and love how soft, warm, and durable it is. Flynn likes it too!
Malinda wears the Stowe Base Layer from Kurgo when it's really cold to protect her arthritic joints. This jacket comes with a lifetime warranty. It's not super heavy, but perfect for active dogs who just need a little insulation.
---
Check out our gift guides for easy shopping!
---
For more about adventuring with dogs, check out these posts:
---
Keep in Touch – Follow us on social media!
Pin for Later?