Please check to make sure destinations are open to visitors before planning a trip and follow local guidelines. We earn a commission from affiliate links that may be included in this post.
Every dog must have its day. And for many dogs, that day includes quality time spent playing outside with their favorite human companions. Throw in a spectacular mountain lake or a meandering river, and you've got yourself an adventure.
It's true that not all dogs are comfortable around water, and many more might balk at the idea of canoeing or kayaking, but plenty of adventurous dogs can be convinced to give it a shot. Let's take a look at the ins and outs of canoeing and kayaking with dogs. Is it the ultimate adventure or a disaster waiting to happen? Only one way to find out.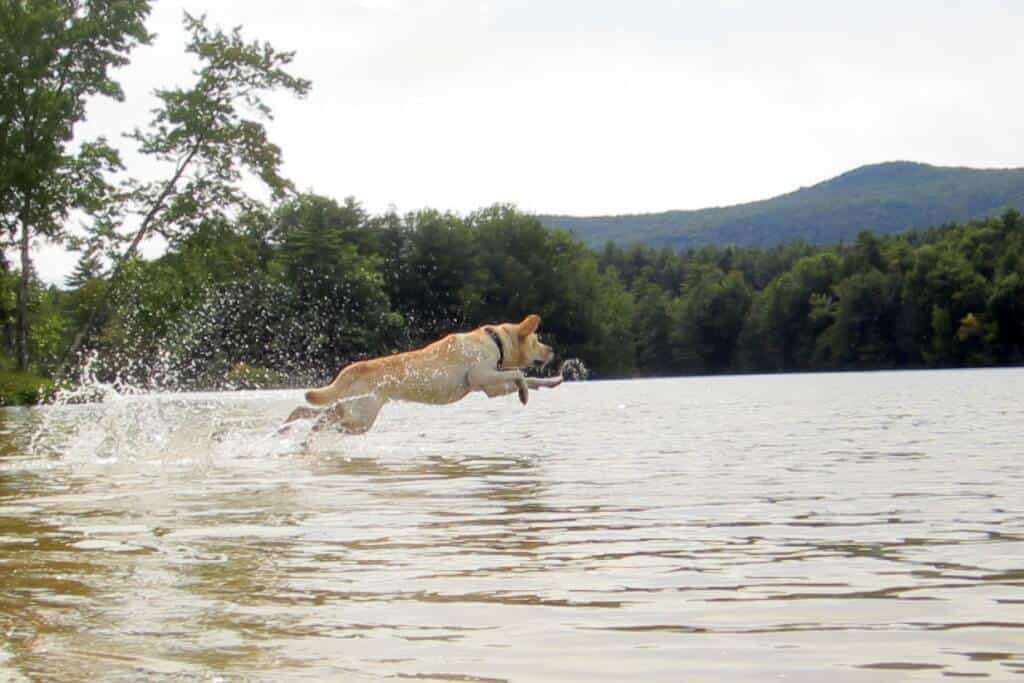 Can All Dogs Swim? Best Dog Breeds for Getting out on the Water
Whether or not your dog will get along with boats and water depends on all kinds of factors, including age, temperament, breed, and the environment they've been raised in. Just because your dog is a certain breed does not necessarily mean that they will or won't take to water, but I'd be lying if I said that a dog's breed didn't play a role.
While all dogs instinctively know how to swim, these breeds are said to be lovers of water and the best swimmers.
Chesapeake Bay Retrievers

Labrador Retrievers

Golden Retrievers

Portuguese Water Dogs

Newfoundlands

Brittany Spaniels

Poodles (this was news to me!)

Australian Shepherds
Dogs with heavy chests like bulldogs, pugs, boxers, and basset hounds don't have body shapes designed for swimming, and many other breeds just don't take to the water readily. For the record, we've raised a number of Labradors over the years and several of them did not enjoy the water.
Our current Labrador hates swimming, but we can't keep our German shepherd out of the water. We've also seen boxers, dachshunds, and pugs that love to swim, although some are more awkward than others. Your dog's breed is just one factor in the equation.
Before You Begin Canoeing or Kayaking With Your Dog
There's a process here, and before you even think about paddling with your dog, you should spend some time introducing him or her to the exciting world of lakes and rivers. You'll learn pretty quickly whether or not your dog takes to the water.
Some dogs will jump right in, while others will be perfectly content to watch from the shore. Either of these scenarios is fine. What you don't want is a dog that is anxious or fearful. If your dog is anxious around the water, please don't be pushy — that will only make matters worse.
Helping Your Dog Fall in Love with Swimming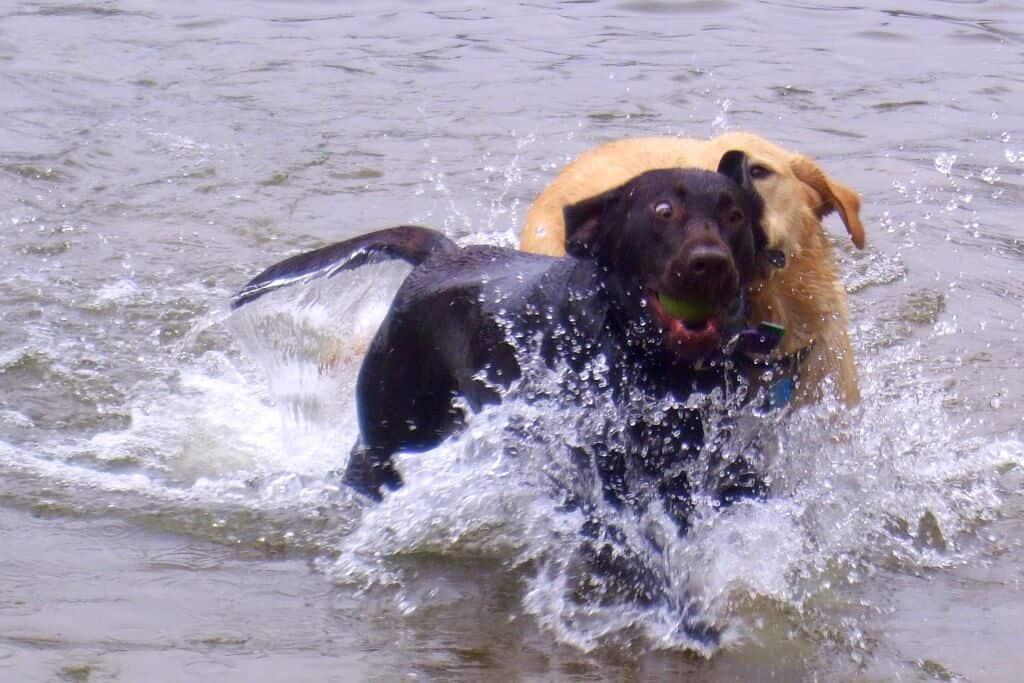 The first step is to ensure your dog is comfortable around the water. Here are a few tips to make the process go smoothly.
Borrow some water-loving dog friends that will show your dog the ropes. Their enthusiasm may just be contagious.
Bring your dog to shallow lakes and ponds before tackling streams and rivers.
Bring along your dog's favorite ball, toy, or disc and toss it a few feet into the water. This is great for natural fetchers, but sometimes it backfires. Be prepared to fetch it yourself if your dog can't be convinced to retrieve it.
Go swimming! Seeing you and your family frolicking in the water may be all the incentive your dog needs to get his toes wet.
Do not push, pull, or throw your dog in the water. This will not help, and it may make your dog fearful of you and swimming.
Should I get a Canoe or Kayak for Paddling with My Dog?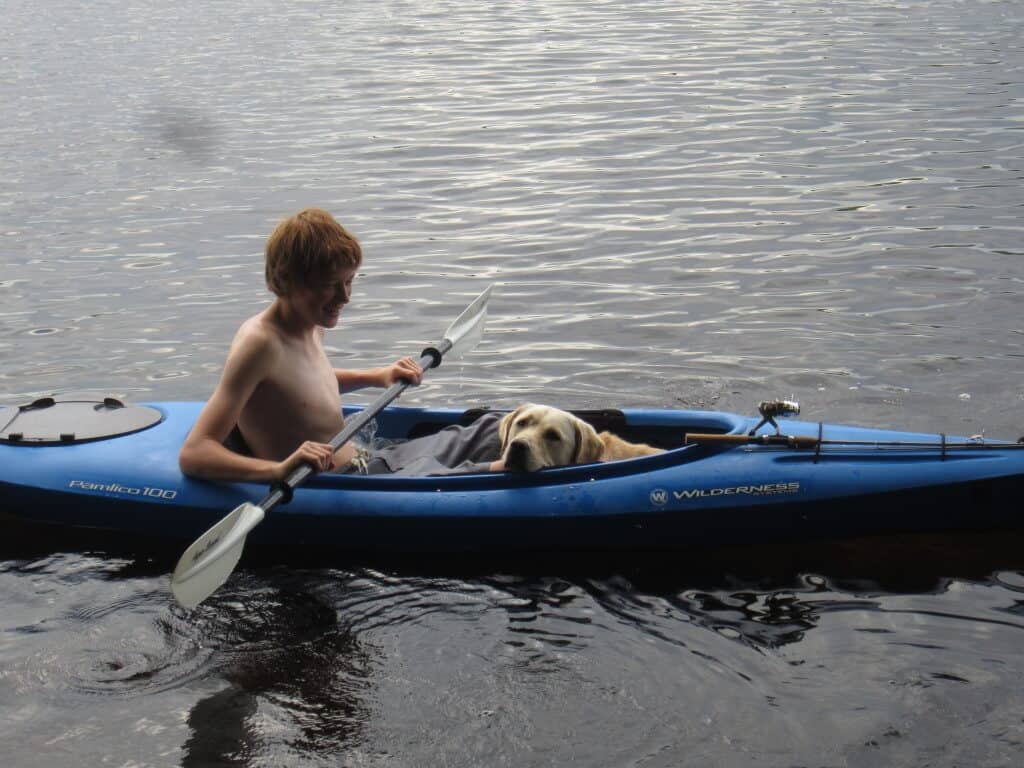 Whether you choose to paddle with your dog in a canoe or a kayak will probably be determined by the size of your dog. If you have a large breed, you may want to stick with the roomiest paddle craft — a canoe. Canoes are wide open and dogs can ride in the middle or on either end, plus you have extra space for your gear. The downside is that canoes are sometimes difficult to paddle solo.
Kayaks definitely have limitations when it comes to paddling with dogs, but they are easy for one person to handle and maneuver, which makes them desirable for many. If you don't mind having your smaller breed on your lap for an extended amount of time, a kayak could be a great choice. I've also paddled around with an 80 pound Labrador in the kayak — lucky for us he was super mellow and curled right up between my legs. I wouldn't do it for hours on end, but it wasn't too bad.
A two-person kayak is another option for paddling with dogs — then you have a place for yourself and a separate spot for your dog. Now if we could only teach them how to paddle the boat, we'd be all set.
Special Gear for Canoeing and Kayaking with Dogs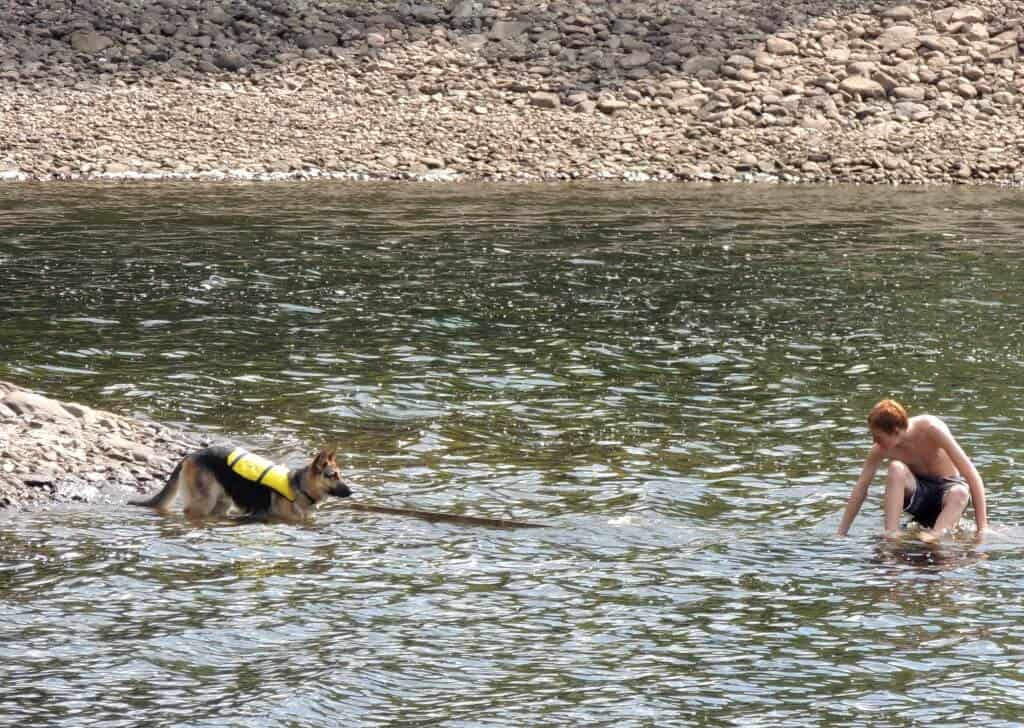 Before you head out in a kayak or canoe with your dog, be sure to pack some essentials to keep you and your dog happy, healthy, and comfortable. Here's what you'll need for canoeing or kayaking with your dog.
A life preserver. Important for people and dogs. It doesn't matter how well your dog can swim — unless you are paddling on a small pond right near the shore, you should outfit your dog with a proper life jacket. Yes, they're a life-saving tool, but they also help reluctant dog swimmers feel more confident. It should fit nice and snug and should also have a handle on top so you can grab your pup if he goes overboard. We love the Kurgo Surf n' Turf life jacket for dogs because it is durable, dries fast, and comes in bright colors so our pup is easy to spot in the water. We've tried cheaper dog life jackets, but they only seem to last one season.
A dry sack. Important for all paddlers, but especially important when canoeing and kayaking with dogs. Even if you keep the boat upright like a champ, you don't want a wet dog shaking all over your towels and snacks. Keep your gear in a dry sack and tie it down in case you do capsize.
Treats.

We use treats for

positive reinforcement training

with our dogs, which means we always have a treat pouch handy. Training with high-value treats works especially well with Labradors or other food-motivated pups.

Bones or chew toys.

We love surprising our dog with a special bone during long paddles. It buys us extra paddling time and promotes serious tail wagging.

An old towel.

A towel makes a great make-shift bed in the canoe, and you'll need it to towel off your dog before putting him in the car.

A leash. Unless your dog is perfectly trained to respond to your voice commands, you'll need a leash, at least for the on-land portion of your trip. While we use a leather leash for most purposes, we like biothane leashes for paddling because they are waterproof and don't smell when they get wet.
First aid kit. In addition to a standard human first-aid kit, you should also carry waterproof Vet Wrap tape made especially for dogs, an allergy medication like Benadryl for bites and stings, and a vet-prescribed pain killer like Rimadyl for emergencies.
Teaching Your Dog How to Ride in a Canoe or Kayak
Where will your dog ride?
Start by making a plan for where your dog will sit or stand in your canoe or kayak. Ideally, you'll want your dog to remain in one spot — you won't want a dog moving all around and rocking the boat. If you're in a kayak, you won't really get to choose your dog's spot. He'll have to ride where he can fit, either on your lap, between your legs, or in the extra seat if you're in a double.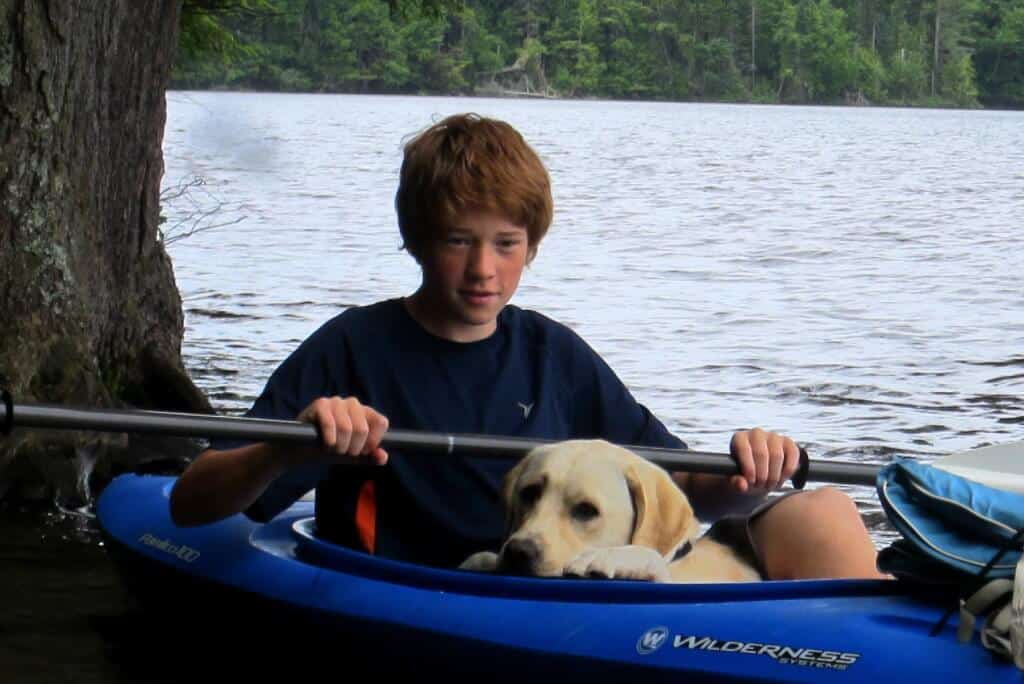 In a canoe, you have more options. Unless your canoe is filled with gear, you'll likely have lots of room in the wide center section. The bow, in front of the paddler, is another good choice because the dog has just enough room to stand and sit without causing any rocking motions. It's also less tempting for most dogs to try and jump out of the bow of a canoe — it's a little higher off the water than the sides. Another good spot in a canoe is between the legs of the person riding in the stern.
Having the dog sit right in front of either paddler means someone will have to lift your paddle a little higher to clear your dog's head. In both of these positions, you or your paddling partner have instant control of your dog, should the need arise. It's harder to grab hold of your pet if they're riding in the center section, but it works well for dogs who are well-trained and used to paddling.
Getting Your Dog Used to the Kayak or Canoe on Dry Land
If your dog is new to paddling, spend a bit of time introducing him to your boat on dry land. Use treats to teach him to hop in and out, and then go over some basic obedience commands inside the boat. When your dog can reliably sit, stay, and lie down in your kayak or canoe, you'll be ready for your maiden voyage. If your dog is leary of the watercraft on land, try sweetening the pot by feeding him his meals, bones, or special treats in the boat.
Launching a Canoe or Kayak with Your Dog
By now your dog is used to the water and used to your boat. It's time to put it all together to embark on a paddling adventure. Bring a dog-loving friend and make sure your pup is wearing his lifejacket before you head out.
Once you have your boat and gear ready to launch, hop in your canoe or kayak with your dog. I know I'm making this part seem easy — that's because I hope it will be. Use plenty of treats and encouragement and everything will be awesome. Have your helper shove you off while you keep a firm hand on your dog's collar to keep him from bolting.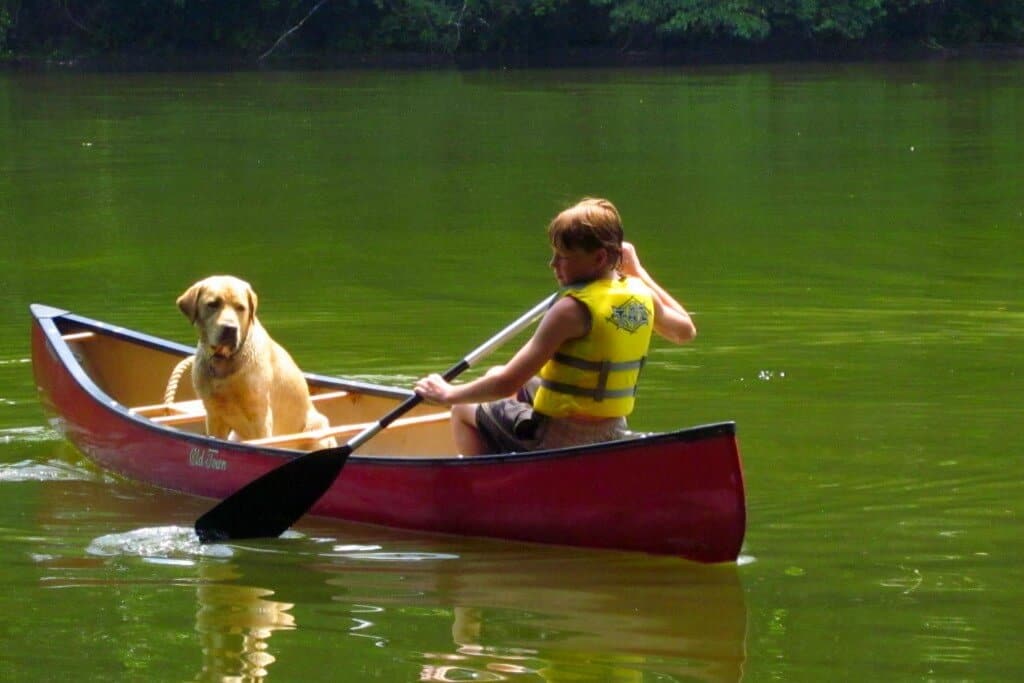 Keeping Your Dog Safe in a Kayak or Canoe
Until your dog is a pro at riding in your canoe or kayak, it's a good idea to paddle with another human being. Once you're out on the water, most dogs will settle right into their role as captain and watchdog. If your dog shows signs of fear or severe anxiety that last more than a few minutes, return to dry land and continue practicing loading and unloading.
Here are a few more tips for keeping you and your dog safe on the water:
Positive reinforcement works

. As you get into a rhythm, be sure to reward your dog for calm behavior, and don't forget to stay calm yourself — showing sudden excitement might encourage your dog to pace, bark, or look for a way to exit the boat.

Keep an eye on the weather.

Your dog won't like paddling in rough seas and rain any more than you will, at least at the beginning.

Don't leash your dog in the boat

. This could be dangerous if you capsize, and your dog has to swim to shore.

If your dog jumps out of the boat

… Don't get mad. It happens. Simply paddle to the nearest shore and collect your pup. Basic training comes in really handy here.
More Tips for Dog-Friendly Kayaking and Canoeing
In all honesty, there are as many ways to paddle with dogs as there are breeds of dogs, and my advice will only get you so far. You're going to find a system that works for you and your pup, or your dog is going to end up staying home. Here are a few more tips to make things easier for you and your dog as you navigate the transition from land to water.
Make frequent stops.

You may be getting a nice upper-body workout in your kayak or canoe, but your dog won't get much exercise when you're paddling. Be sure to give him some shore time every hour or so, and he'll learn to love those paddling excursions as much as you do.

Start with shallow, placid water.

At least until your dog is a regular wave runner.

Keep a bowl and fresh water on hand

. This is especially important if you're paddling in salt water or if you have a small dog who can't reach over the side of your boat for a drink.

If the bottom of your boat is slippery

, you can attach textured tape, or even one of those no-slip bathtub liners to make it easier for your dog to get in and out.

Keep your craft balanced.

If you want to put your dog in the widest center section of a canoe, pack some gear to one side so your dog is forced to sit on the other side. This can prevent your dog from going back and forth and rocking the boat.

Bring lots of treats.

This is worth saying more than once. A fully-loaded treat pouch by your side is canine insurance for a successful journey on the water.
If you're anything like me, you'll find that almost every outdoor activity is more fun with a canine companion. Dogs love adventure, they rarely complain, and most importantly — they just want to be by your side. Take the time to teach your dog to swim, float, and ride the waves, and you'll be rewarded with a partner who will enthusiastically share in all of your crazy adventures.
Do you canoe or kayak with your dog? Please share your tips, questions, and comments below. I'd love to hear from you!
---
Want to read more about adventuring with dogs? Check out these articles:
Does Your Dog Deserve a Road Trip?
---