So, can we talk trail mix today? I love the stuff, and it comes in really handy when you're living out of your car, which is basically what I've been doing this summer as I travel around the back roads of Vermont. Trail mix for me usually consists of whatever dried fruit and nuts I have on hand, tossed into a bag, and then thrown onto the passenger seat of my car for random snacking. It provides instant energy, and it keeps my hands and mouth busy on those extra-long road trips.
My kids have grown away from accompanying me on every single adventure, and I'll admit that it's bittersweet. I appreciate the alone time, but I really do miss them when I'm away from home. So when they agreed to accompany me on a recent road trip along Route 100 in Vermont, I was beyond thrilled, and I figured it called for something more than the random road trip snacks I usually prepare.
Enter tropical trail mix, the perfect combination of salty, tangy, and sweet. This has got to be the. best trail mix recipe I've ever put together. Want to give it a try? The ingredients are not so straightforward as whatever you've got on hand, but it's all stuff you can find at your grocery store and well worth the extra shopping effort.
Totally Tropical Trail Mix
This tropical trail mix is like a road-trip superfood, based loosely on my favorite treats – dried mango, pistachios, and chocolate. These three magical ingredients would be pretty fabulous on their own, but I thought I'd experiment and create a little trail mix masterpiece.
The trail mix recipe below is as near to perfect as a trail mix can be. It's the perfect mix of salty and sweet, and the flavor is totally indulgent without being heavy. I tried out cacao nibs for the first time ever, mainly because our summer has been so hot and humid, and I didn't want chocolate melting all over our fingers and my car. So here's the thing about cacao nibs — they're crunchy and a little bitter, and not so awesome on their own (in my opinion). But when mixed with dried fruit and nuts, they take on the sweet and salty flavors of their neighbors and share their intense chocolate yumminess with the whole bag.
I also added a bit of shredded coconut at the last minute, and while the minuscule pieces I had on hand tasted great, I would totally recommend buying the biggest pieces you can find so they don't all end up at the bottom of your trail mix bag.
Ready to give this totally tropical trail mix recipe a shot? This road trip snack is the easiest thing to make in the world. It tastes so much better than most grocery store varieties, and I'm guessing that after you make it, you'll never want to buy trail mix again. You can thank me later.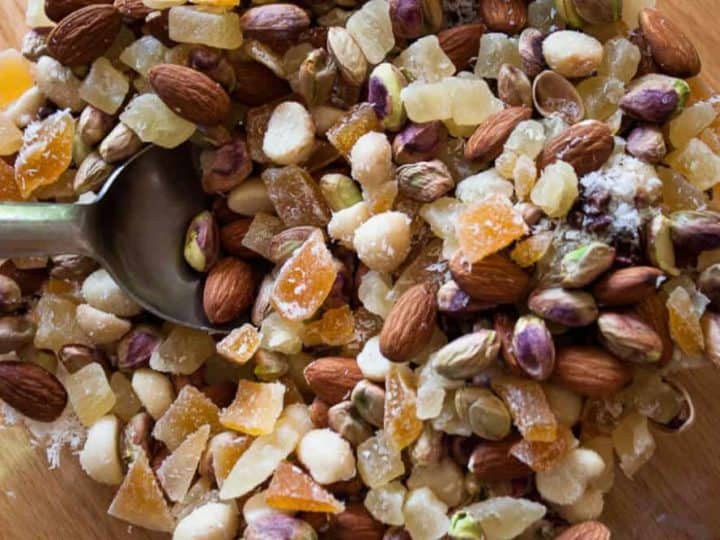 Yield:

6 cups
Totally Tropical Trail Mix Recipe
Ingredients
1 cup roasted almonds
1 cup roasted and salted shelled pistachios
1 cup roasted and salted macadamia nuts
1 cup chopped dried pineapple
1 cup chopped dried mango
½ cup flaked or shredded unsweetened coconut (largest pieces you can find)
⅓ cup cacao nibs
Notes
Mix all the ingredients together in a large bowl. Pour into plastic bags or other travel containers. Makes 2 quart-sized bags. Double if you have teenagers.
Recommended Products
As an Amazon Associate and member of other affiliate programs, I earn from qualifying purchases.
Nutrition Information:
Yield:
12
Serving Size:
1
Amount Per Serving:
Calories:

227
Total Fat:

15g
Saturated Fat:

6g
Trans Fat:

0g
Unsaturated Fat:

8g
Cholesterol:

0mg
Sodium:

80mg
Carbohydrates:

23g
Fiber:

4g
Sugar:

17g
Protein:

4g
---
Need more ideas for healthy trail or road trip snacks? Check out these posts:
Sturdy and Delicious Super-Seed Granola Bars
The 10 Easiest Car-Camping meals for Families on the Go
---
Pin this post and save the recipe for later!