Whether you want to hike a rugged mountain peak, relax on a secluded beach, or find solitude on a remote lake, you can choose your own adventure with a Maine glamping vacation.
Of all the New England states you could pick for a secluded getaway, glamping in Maine gives you the most options.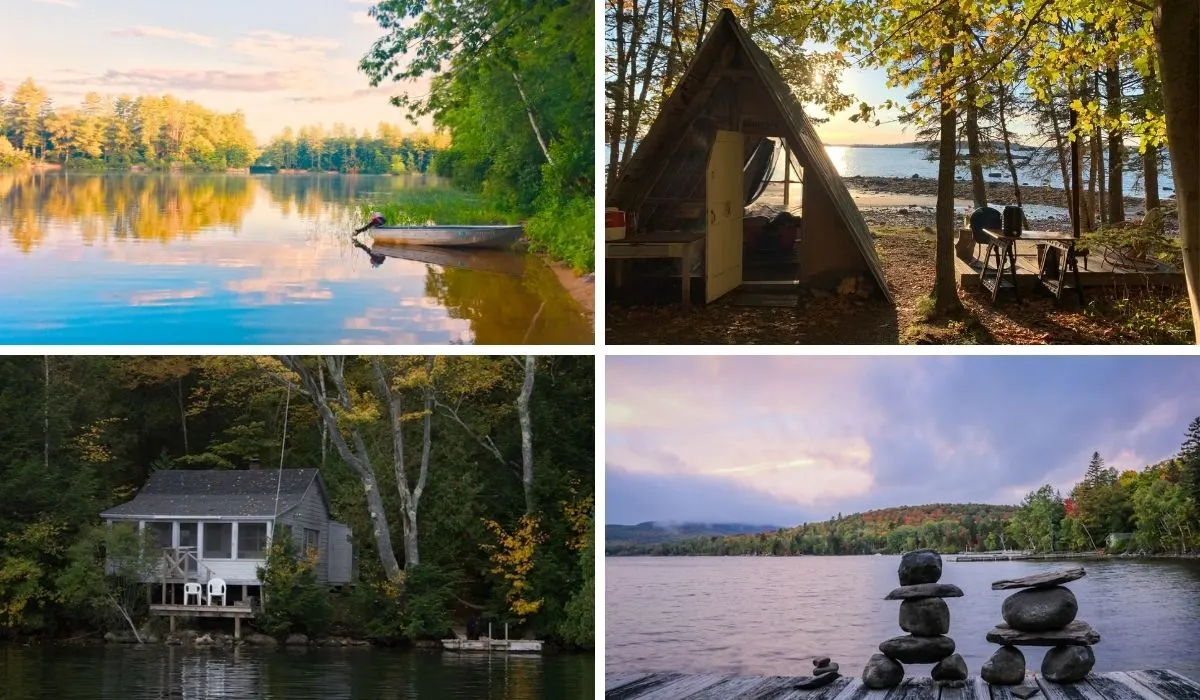 Not only is Maine the largest of the New England states, but it's also 90% forested, with more than 32,000 miles of rivers and streams, 14 mountains over 4,000 feet, and 3,478 miles of tidal shoreline.
Maine is an outdoor lover's paradise, and glamping is one of the best ways to explore in comfort. We've explored both interior Maine and the coastal regions on summer glamping trips, and it's a toss-up as to which we like better!
I think a perfect Maine glamping trip would be at least three days on the ocean and another three deep in the woods!
How to Find Glamping in Maine
So, what exactly is glamping and why do we love it so? Glamping is for people who love the outdoors but are less thrilled with sleeping in a tent on the ground.
Glamping destinations provide unique accommodations in an outdoor setting, so you get perks like a real bed, a source of heat, and maybe even a kitchen.
When you go glamping, you can still enjoy hiking trails, campfires, and relaxing outdoors, and then sleep in a real bed each night. See why we love it?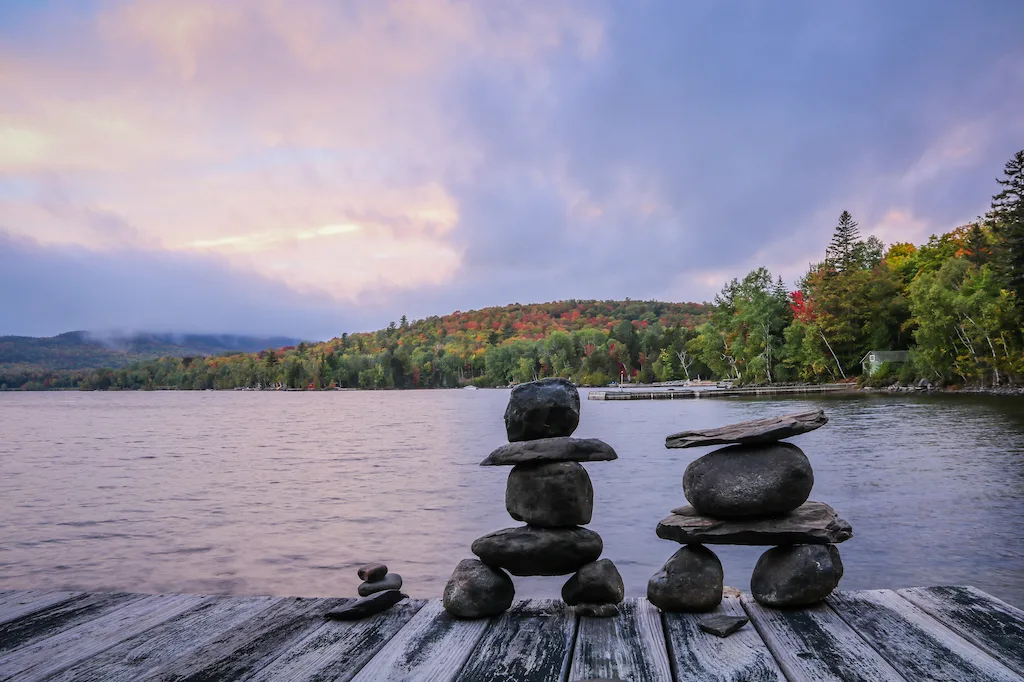 We use several online resources when planning the perfect New England glamping vacation, and we also love finding unique glamping resorts that embrace the outdoors as well as the camping community. They are so much more fun than hotels!
Here are some online platforms where we have had success finding great glamping.

VRBO – While VRBO doesn't have the option to let you specifically search for glamping properties in Maine, you can look for cabins, cottages, and houseboats, and we have found some gems while searching! VRBO stands for Vacation Rental by Owner and is a great spot to look for unique properties.

Hipcamp – Hipcamp specializes in all types of private campsites, not just glamping. There are some really cool Hipcamp properties in Maine, and if you've never tried Hipcamp, you can use our referral link to save $10 off your first stay.

Airbnb – If you navigate to the Airbnb website, you will find icons across the top of the dashboard where you can choose treehouses, yurts, and campsites. There are some great, secluded Airbnbs in Maine.
The Coolest Glamping in Maine for a Unique Getaway
We've stayed in many of these spots as we've delved deeper into our glamping craze. Others have been added to our glamping bucket list so that we're always inspired to try new and unique spots when planning a trip.
Now, get out there and discover all the cool things you can do while glamping in Maine! Here's some inspiration—
Beautiful Yurt on the Quiet Side of Acadia National Park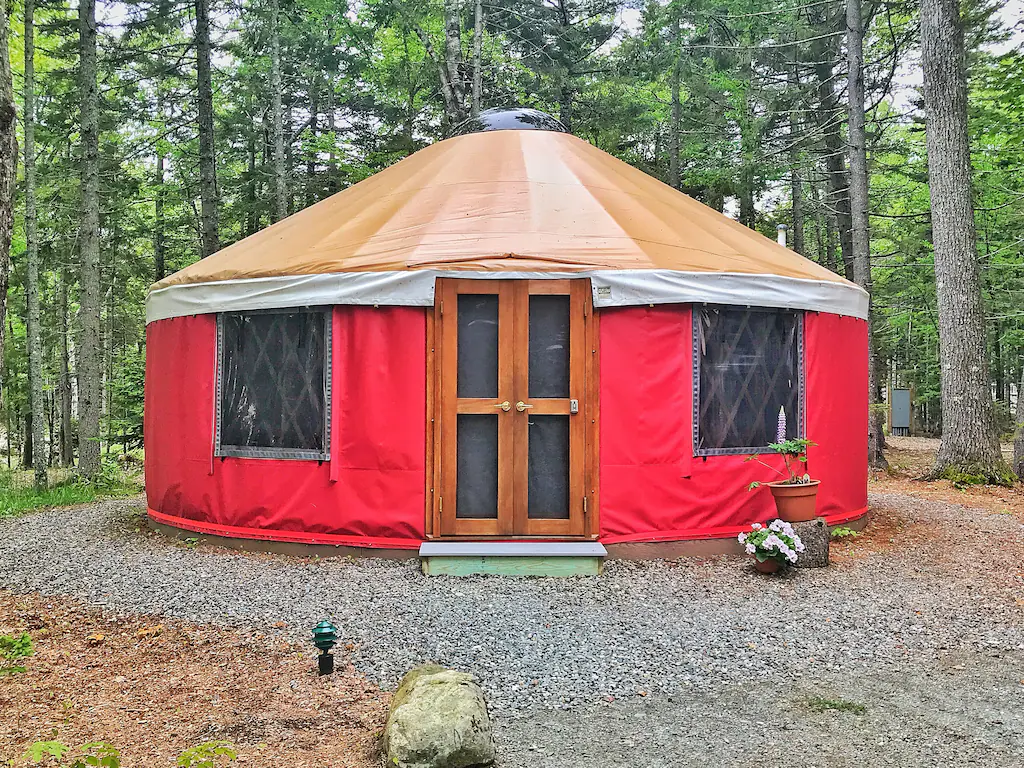 Acadia Yurts is a rustic glamping resort featuring seven, eco-friendly yurts and two tiny houses on Mount Desert Island in Maine. Located on five acres of forested land and surrounded by Acadia National Park property, Acadia Yurts offer a peaceful Maine glamping retreat for anyone exploring the coast of Down East Maine.
Each yurt sleeps between four and six guests, and the tiny homes are suitable for couples. The yurts feature full kitchens and bathrooms as well as AC in the summer and heat in the winter.
Communal areas include a wellness center with on-site yoga, an infrared sauna, and a floatation tank. There are group fire pits, hammocks, and seating areas scattered throughout the property. Dogs are not permitted at Acadia Yurts.
---
Terramor Resort in Bar Harbor, Maine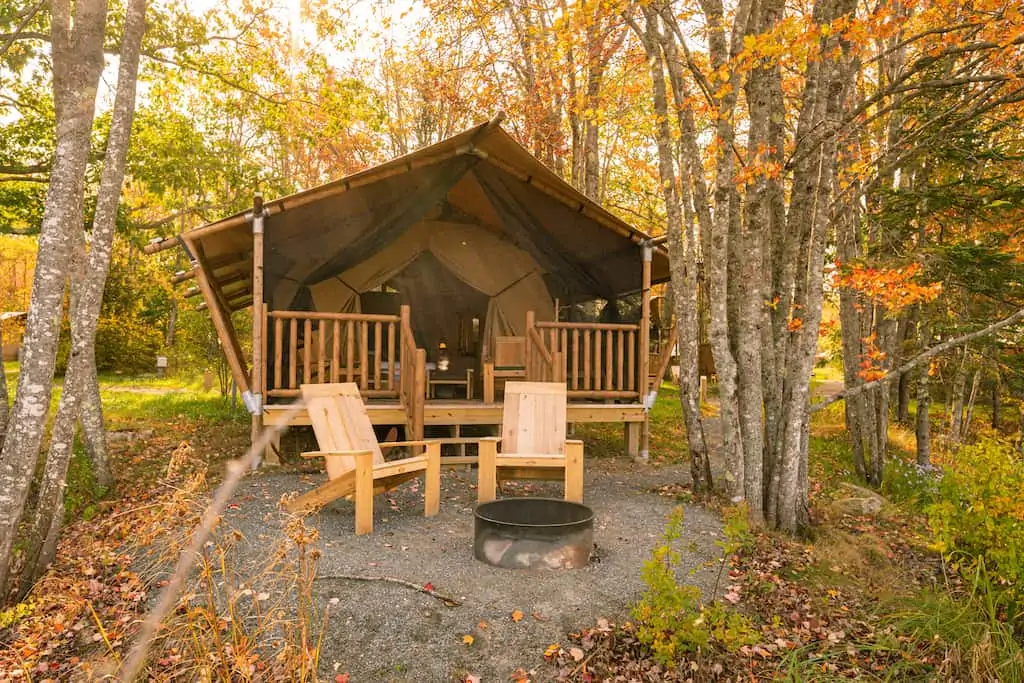 If you're planning to explore Acadia National Park, Bar Harbor makes a fine home base for glamping enthusiasts.
Terramor Resort provides a variety of canvas tents with different amenities and price points, but they all provide a private oasis where you can convene with nature and sleep in a real bed each night. Most of the tents include private bathrooms, and all of them have electricity and Wi-Fi, so you can choose whether or not you want to unplug.
Unlike some of the secluded glamping properties on this list, Terramor provides a rustic, resort-like experience for glampers.
Head to the lodge for dinner and drinks, relax near the communal campfire, or take a dip in the pool or hot tub before turning in for the night. Terramor is a dog-friendly glamping resort located just a short drive from all the amazing natural attractions within Acadia National Park.
Be sure to visit downtown Bar Harbor, where you'll find great shopping and dining to go with those spectacular ocean views. This is truly one of the best spots for glamping near Acadia National Park.
---
Go Glamping on a Riverside Lavender Farm in Saco, Maine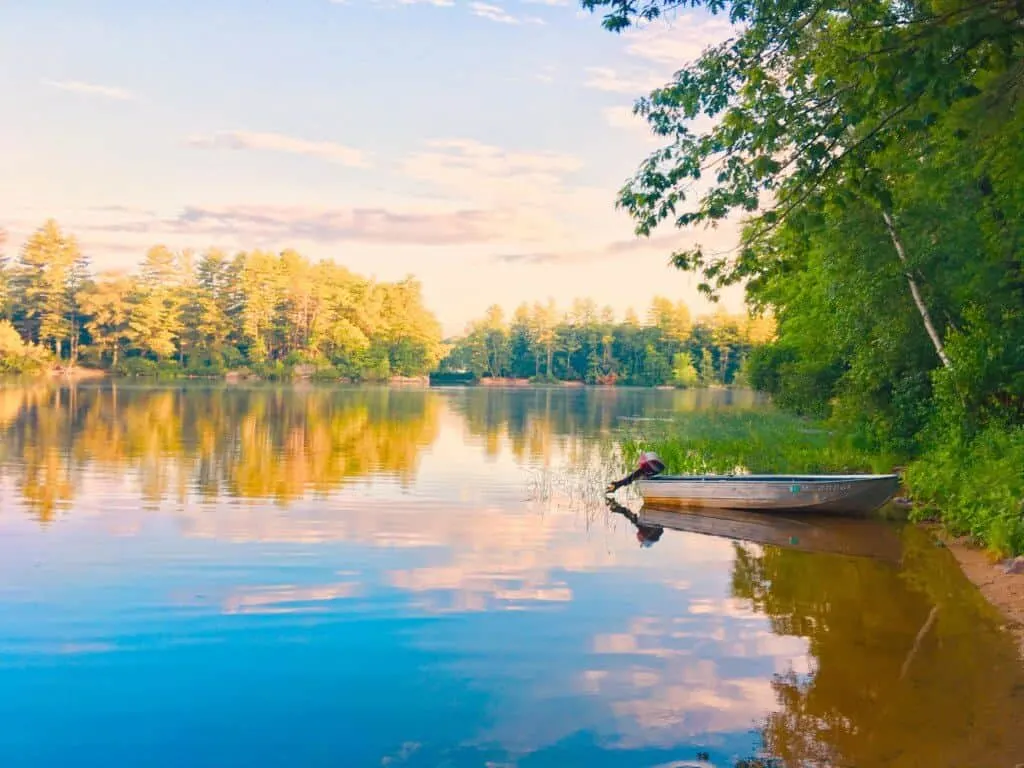 Did you know that you can score a totally private glamping spot perched on the banks of a wild river less than an hour from Portland, Maine?
Nestled directly on the banks of the Saco River, this Tentrr glamping site includes everything you need for a spectacularly private getaway, including kayaks that you can use to explore the river.
Included in your site are a queen-size bed, a wood stove, an outdoor kitchen and firepit, a solar shower, and outdoor games like cornhole, ladder ball, and horseshoes. The swimming and fishing are spectacular in the summer, which is when we'd recommend booking your stay.
We stayed here last summer and think this spot makes the perfect destination for secluded water-based glamping in Maine. Read more about glamping on the Saco River in Maine with Tentrr.
---
Waterfront Cabin in Northwest Piscataquis, Maine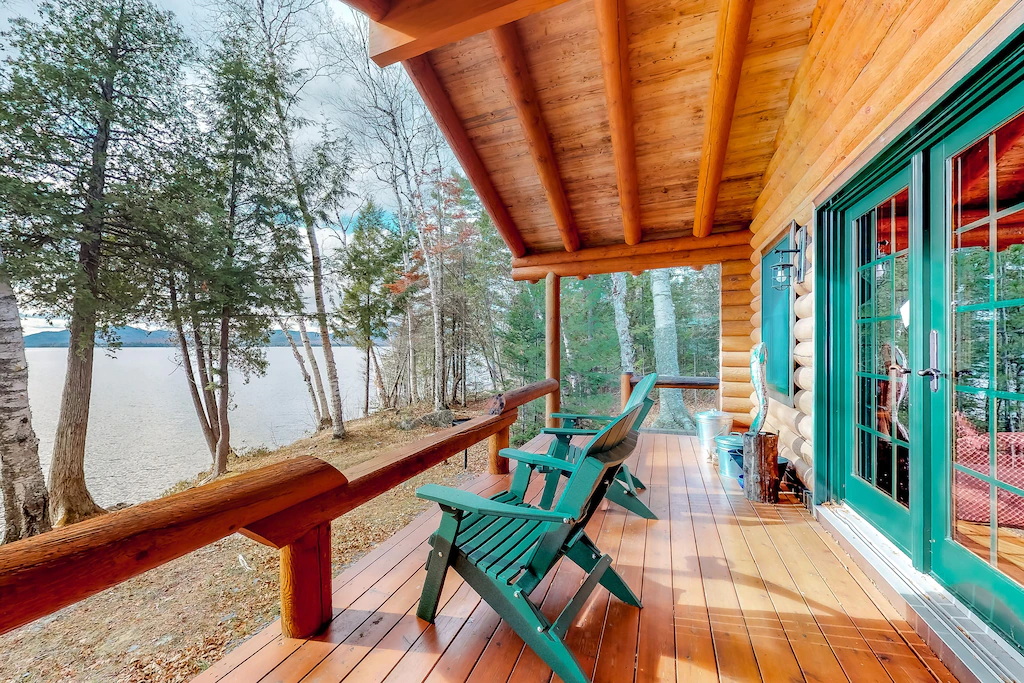 If you really want to escape from the hustle of everyday life, head to the unincorporated area known as Northwest Piscataquis, where you'll find this beautiful lakefront cabin with a magnificent deck and gorgeous views.
With a private dock on Moosehead Lake, water adventures are just steps away. Spend your glamping vacation boating, fishing, swimming, paddle boarding, and much more with your unbeatable access to one of Maine's most beautiful lakes.
If you're vacationing during the winter months, you can make the 18-mile trek to Big Squaw Mountain Ski Area for a day of carving turns on the slopes.
Downtown Greenville is a short 11-mile drive from your front door and offers attractions for any time of the year, including Katahdin Cruises and Moosehead Marine Museum.
This awesome glamping cabin includes Wi-Fi, a kitchenette with a mini-fridge, oven, and stove, and a wood stove for chilly nights. With one queen-size bed, the cabin is perfect for a couple. Dogs are not permitted.
---
Treehouse with a Wood-Fired Hot Tub in Georgetown, Maine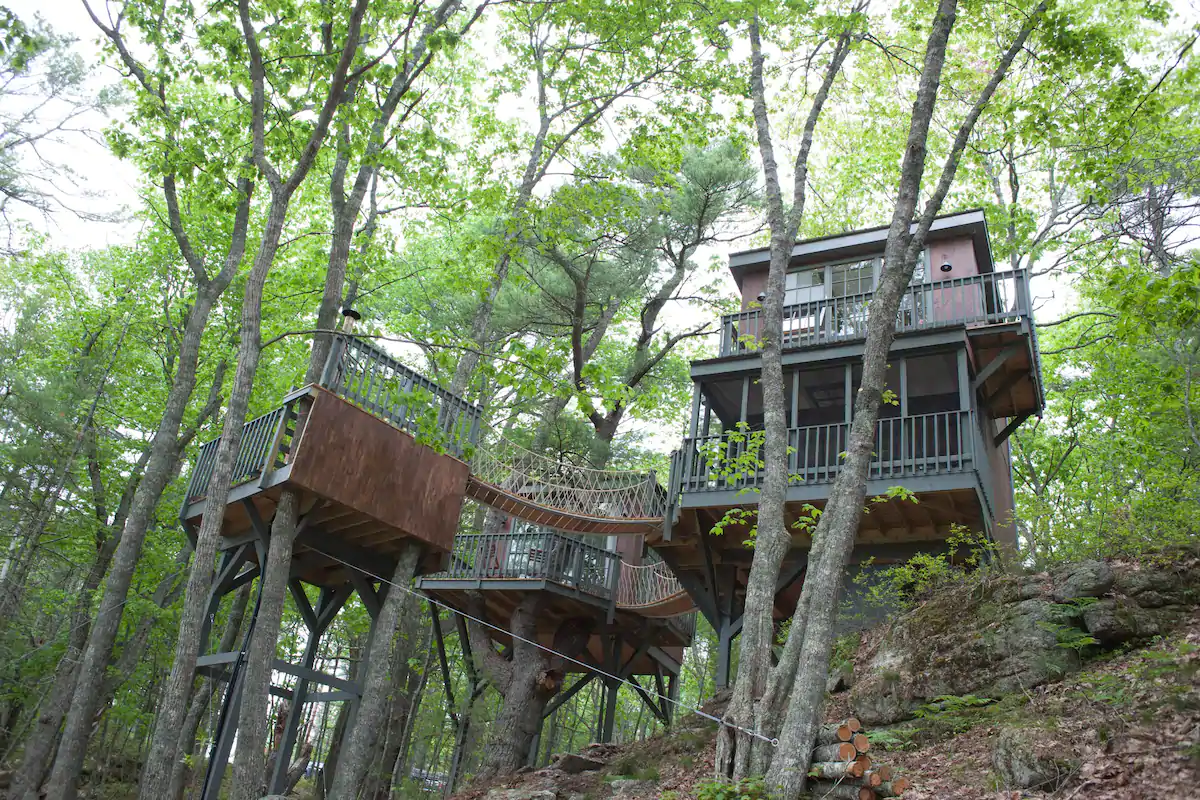 For luxurious glamping in Maine, take to the trees and stay in this custom-designed treehouse with a wood-fired cedar hot tub. This unique structure is perched atop a 21-acre wooded hill sloping to beautiful water views.
The treehouse consists of two elevated structures connected by a rope bridge. The first structure includes the master bedroom with a king-size bed, which is accessible via a spiral staircase. There is a small kitchen and dining area on the first floor as well as a small bathroom and screened-in porch with rocking chairs.
The second structure includes a living space with incredible river views. Another rope bridge leads to the cedar hot tub. The use of kayaks and canoes is included with your stay.
This Maine treehouse is located in a coastal Maine village near Reid State Park and the famous Five Islands Lobster Co. It is also within driving distance of Bath, Portland, and Boothbay Harbor.
---
Sandy Pines Campground in Kennebunkport, Maine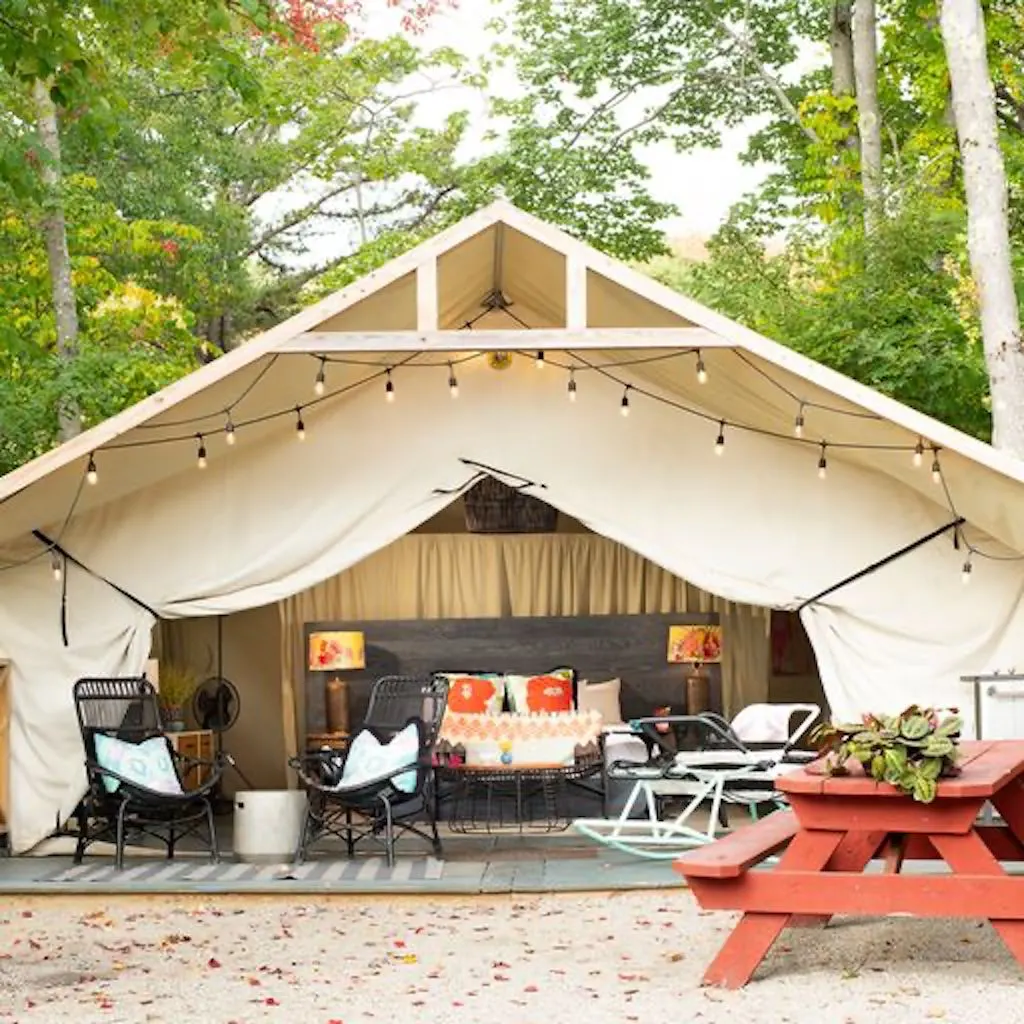 Located in the heart of coastal Maine, Sandy Pines Campground offers a myriad of glamping rental options at their upscale glamping resort. Choose from vintage campers, Airstreams, tiny homes, huts, cottages, glamping tents, and covered wagons.
Sandy Pines Campground opened in 2017 as Kennebunkport's first seaside camping resort offering elevated amenities, thoughtful service, and memorable experiences for every level and style of camper. Its ocean views, salty breezes, and small-town atmosphere are enhanced by the creative design of the grounds and its resort-level amenities, which exude nostalgic New England charm with a rustic General Store, old-fashioned ice cream offerings, and family-centric outdoor activities.
Whether you're traveling as a couple or a family, there are beautiful glamping retreats suitable for your Maine adventure. Travelers that are seeking a more traditional camping experience can hook up RVs or pitch tents.
While every glamping rental at Sandy Pines is unique, all of them include comfy beds with luxurious linens and outdoor seating areas. Bathrooms are shared among the guests and pets are not permitted.
The Grand Lodge at Sandy Pines includes a nostalgic general store and snack bar. There's also a heated saltwater pool, a playground for the kids, lawn games, kayak and bike rentals, and a sandy beach within walking distance.
For shopping, dining, and other adventures, head to nearby Kennebunkport, where you can hike woodland trails in the morning and go for a whale-watching excursion in the afternoon.
---
Lakefront Camp in Farmington, Maine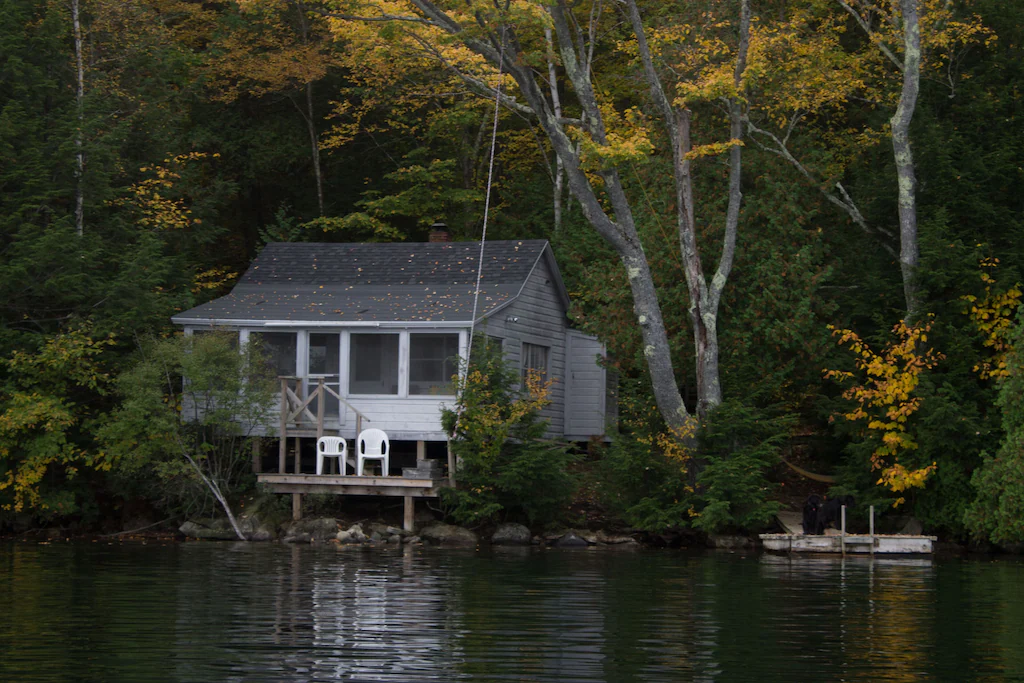 This exquisite seasonal cabin in the woods is nestled next to beautiful Clearwater Lake and filled with modern conveniences, not to mention fabulous swimming, boating, and fishing. Go glamping in Maine to rest, read, and relax – it's the perfect getaway.
Suitable for between five and eight guests, this three-season camp features a wood-burning stove, a full kitchen, Wi-Fi, a sleeping porch, an outdoor shower, and a large deck.
The camp is located in the Western Maine Mountain Region on 22 wooded acres. The Clearwater is one of Maine's most pristine, spring-fed lakes with more than 750 acres, six-and-one-half miles of shoreline, and a maximum depth of 135 feet.
Guests have access to two kayaks, a canoe, and a rowboat. Pets are permitted for an additional fee.
---
Off-Grid A-Frame on the Ocean in Gouldsboro, Maine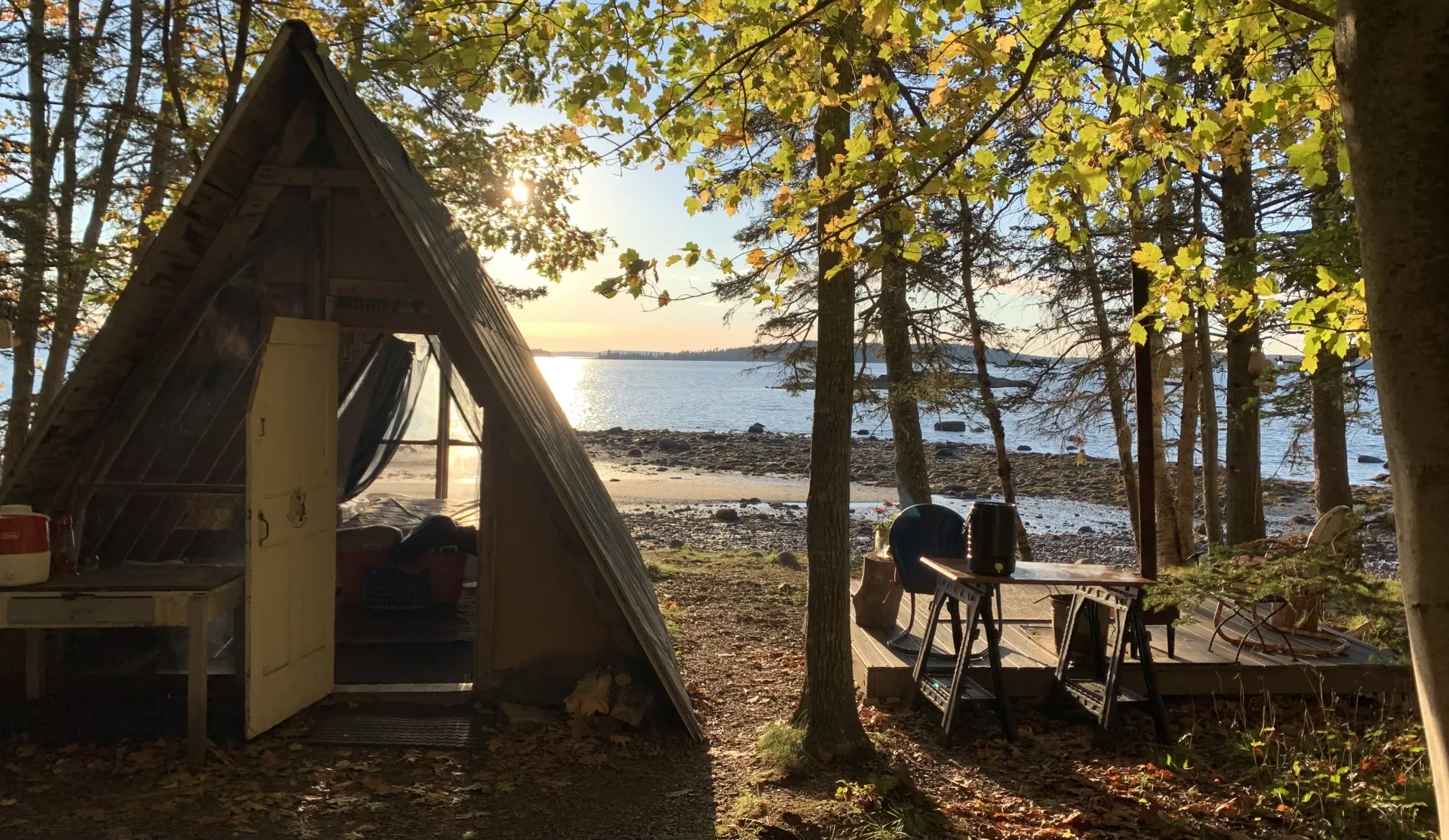 Listen to the waves lapping on the shore as you snuggle into this tiny, off-grid hut on the Atlantic Coast in Gouldsboro. Watch the sunset from your secluded deck, take in the vastness of the stars, and the quiet of the forest.
This rustic cabin is just steps from the beach and adjacent to several miles of hiking trails. It is totally off-grid with no heat, water, electricity, or Wi-Fi, so come ready to completely unplug. There is an outdoor wood stove and a two-burner Coleman propane stove, as well as cast iron skillets.
Inside there is a full-size bed a small space heater, nightstands, a solar radio, and some books and games. Guests have to bring their own bedding as well as headlamps or flashlights.
Gouldsboro is located 15 minutes from the quiet lesser trafficked Schoodic Peninsula part of Acadia National Park, an hour from the main part of the park on Mount Desert Island. Pets are permitted too!
---
Tiny Cabin on the Androscoggin River in Maine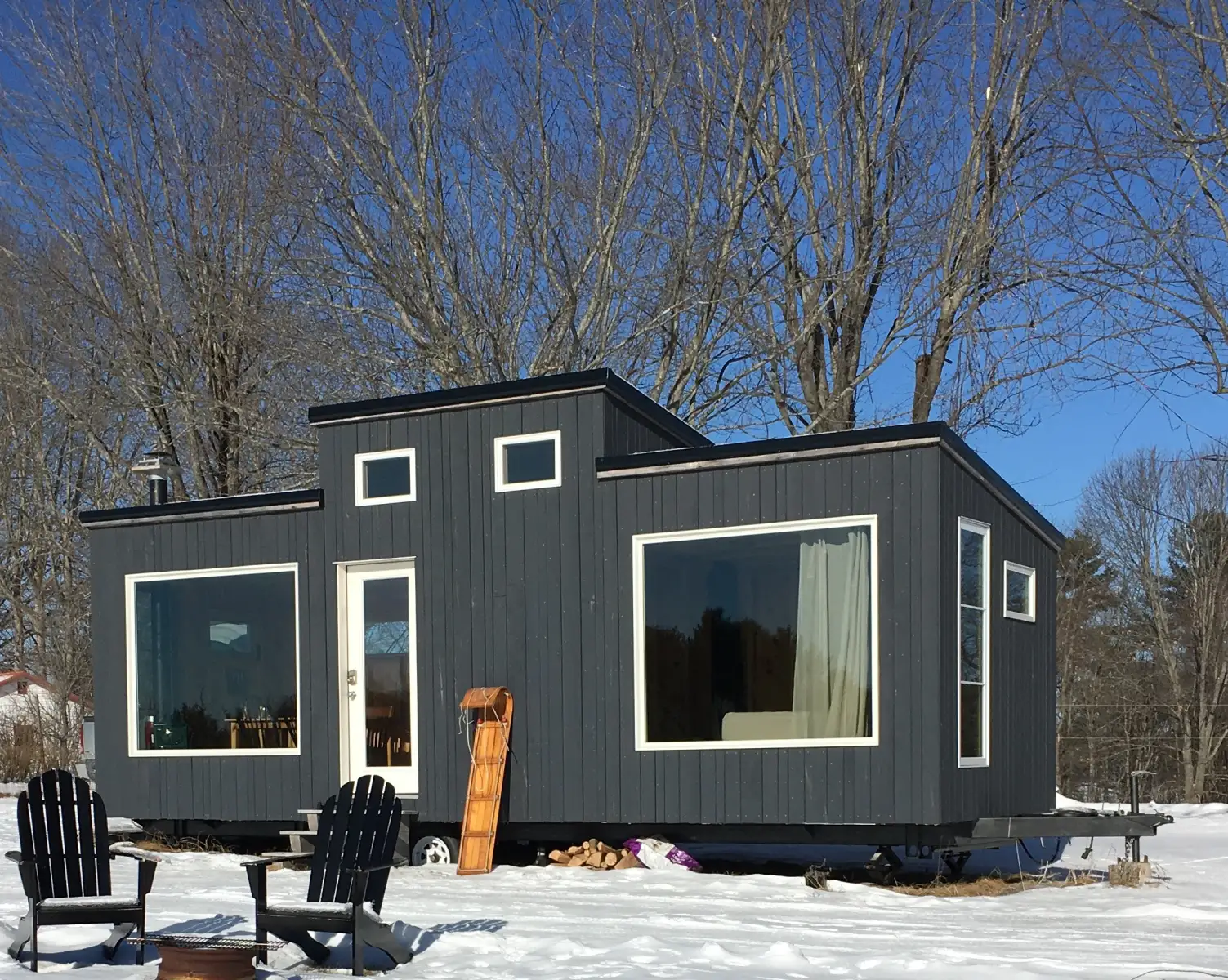 This tiny cabin on wheels is exactly what glamping in Maine should look like, overlooking sprawling meadows on the shores of the beautiful Androscoggin River. It's a heated wooden structure with a queen-size bed, a small sleeping loft, a kitchen table, and large picture windows to gaze at the expansive views.
There is no electricity, but the space does have several LED lanterns, an ice cooler, a two-burner propane camping cookstove, and a five-gallon BPA-free water jug. Pets are not permitted, but it's a great spot for couples or small families.
A dedicated porta-potty is located nearby, and a JOTUL gas-fired fireplace will keep you toasty warm on the chilliest nights.
The cabin is located on 200 acres of forests and fields. Tire yourself by hiking, mountain biking, snowshoeing, or cross-country skiing the 10 miles of private trails. Scout for wildlife and enjoy the beautiful views in every direction.
Slippery Rock Tiny Cabin is located across the river from Riverlands State Park, just minutes from Lewiston-Auburn, Bates College, and local breweries.
---
Ready to make your dreams of glamping in Maine a reality? These remarkable and unique properties make it easy!
Follow us on social media for more glamping ideas!
Pin for Later?