Looking for a fun New England adventure that gets you outside without making you sleep on the ground? It's time to give glamping a try!
Glamping isn't just a trendy buzzword – it's an exciting way to enjoy the outdoors and experience unique, rustic lodging at the same time. Glamping in New England is especially memorable – maybe because the night-time temps dip below freezing for six months out of the year.
We were bit by the glamping bug a few years ago, and love that we can still have immersive outdoor experiences without packing ALL THAT GEAR or sleeping on the ground.
We've done a lot of glamping in New England and have stayed at properties that feature glamping tents, cabins, yurts, treehouses, and more.
With glamping, you can have lots of outdoor adventures and then settle in for the night in a real bed.
Most New England glamping properties are similar in price to a hotel room, but they are more unique with a strong emphasis on the outdoors. It's no wonder we love glamping so much!
Because we live here in New England, it's where we've had most of our glamping adventures.
The following posts feature some of our favorite places to go glamping in New England – perfect for your next outdoor adventure!
---
How to Find Great Glamping in New England on Your Own
We use four main sites when hunting for unique destinations for glamping in New England.
While each of these websites is a platform for private land or homeowners to host guests, there are subtle differences between them. Here's an overview of the sites we use to find amazing glamping in New England.
Our favorite spots for Glamping in New England
We'll keep this page updated as we visit new glamping spots in New England.
Right now, we're pretty heavy on Vermont and haven't done any glamping in Connecticut or Rhode Island. Time to plan some more glamping adventures!
No time for a New England road trip? Why not plan a backyard glamping staycation?
New England Glamping in all Six New England States
Not sure where you want to go glamping in New England?
The following posts cover spots that are perfect for winter glamping, glamping with pets, and rustic camping cabins without many amenities, which are more affordable (and more like camping).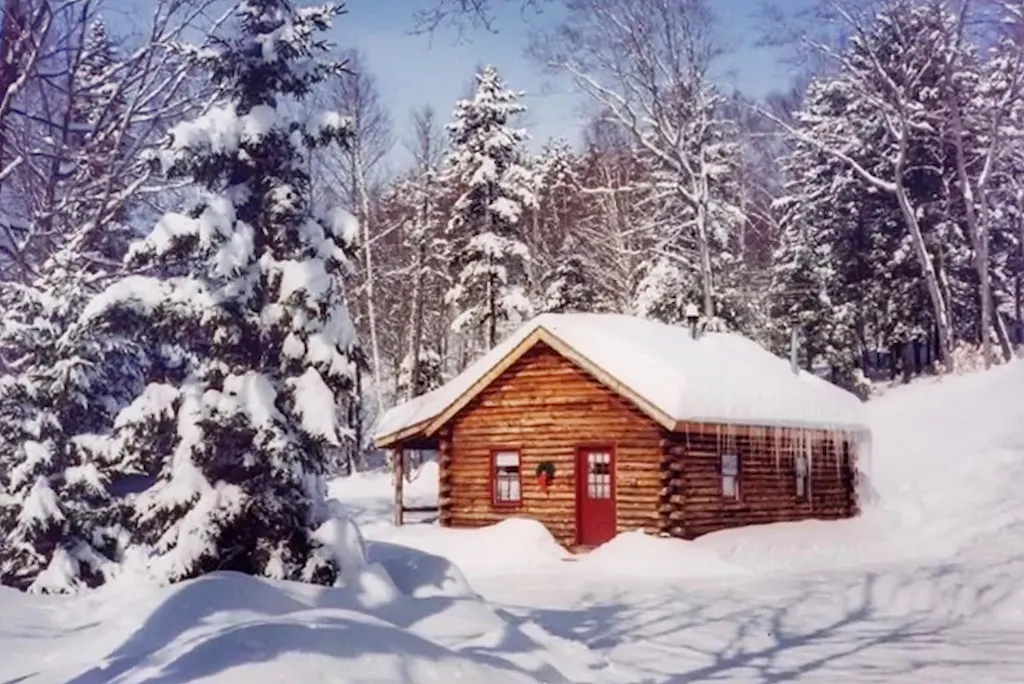 These New England glamping spots are perfect for your next winter getaway.
Pack your snowshoes and cross-country skis, lots of hot chocolate mix, and your fuzzy slippers. These beautiful properties range from cabins tucked away in the woods to a rustic geodesic dome, and a couple of tiny homes that make the perfect romantic retreats.
The post also covers some of the great winter trails, ski resorts, and other outdoor activities near each New England glamping property so you can plan the perfect adventure.
---
Camping cabins differ a bit from glamping properties in that they are a bit more rustic.
Some require a hike, snowshoe, or ski to access, and most don't have running water. You will have to pack in all your gear, including bedding, but most cabins do come with a wood stove to keep you warm and an outhouse for attending to business.
If you love camping and want to try a new winter adventure, cabin camping in New England may be exactly what you're looking for.
---
Because every adventure is more fun with dogs, these amazing New England glamping properties feature beautiful views and nearby trails. They make great destinations for you and your adventure-loving canine.
This post features dog-friendly yurts, cabins, and glamping tents in New England, as well as some recreation ideas and a few dog-friendly restaurants.
---
Vermont Glamping Retreats
Vermont is our home, and we've done a lot of camping and glamping throughout the green mountains and beyond. Some of these links will bring you to our sister site, Vermont Explored.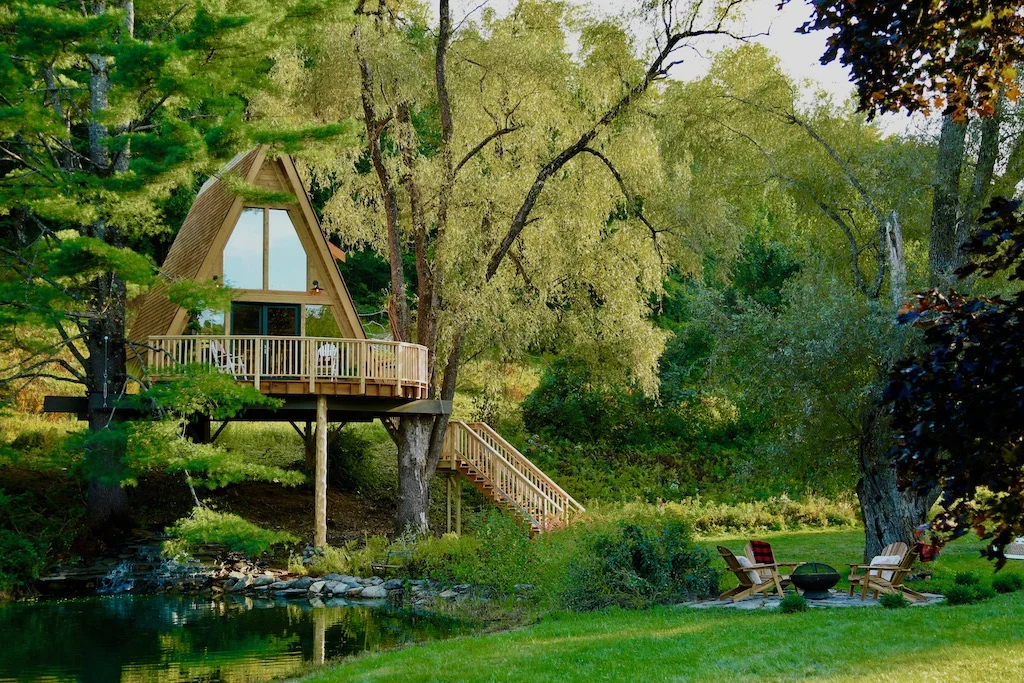 Featuring the most STUNNING treehouses we have ever seen, this list includes treehouses in Vermont that you can rent for your next getaway. These fairytale cabins in the trees allow you to immerse yourself in great Vermont adventures while still sleeping in a real bed every night.
Most of the Vermont treehouses on our list are available for rent on Airbnb.
---
This is an expansion of our pet-friendly glamping in New England, featuring awesome dog-friendly cabins in Vermont for your next vacation.
Vermont is a very dog-friendly state with plenty of trails, swimming holes, and dog parks, not to mention dog-friendly patios, shops, and breweries.
Plan a visit to Vermont with your dog and stay in one of these cozy dog-friendly cabins while you're there!
---
The Perfect Southern Vermont Vacation Rental – Located in Pownal, Vermont, this converted barn is pet-friendly and big enough for a large family. It's also got a pool and a hot tub!
Yurt Camping in Bristol, Vermont – We loved our stay at this magical yurt in Bristol, and there's great hiking and beautiful waterfalls nearby.
The Best Farm Camping in Vermont – Not exclusively glamping sites, but there are a few unique Vermont cabins on this list.
Winter Glamping in Vermont: Stay in a Geodesic Dome in Putney – One of our favorite Vermont glamping trips ever. This little dome is very unique and close to great trails in Southern Vermont.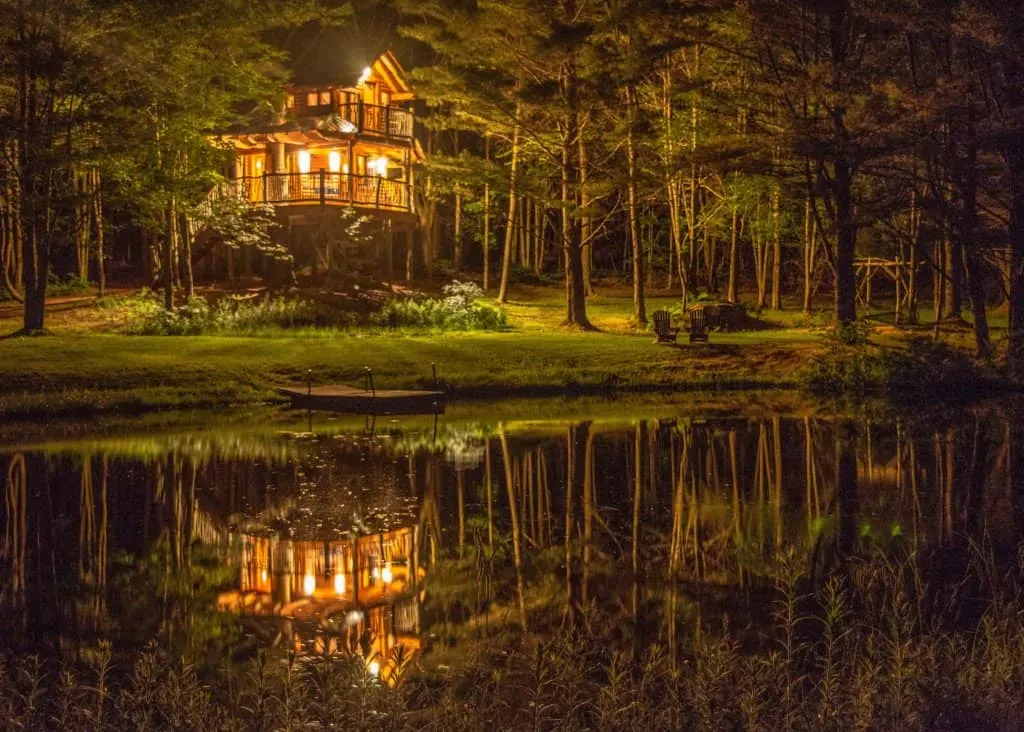 This treehouse in Waterbury is luxurious and on the pricey side, but so worth it! It would make a perfect honeymoon or anniversary destination. Moose Meadow Lodge and Treehouse is located on 86 pristine acres with trails, a beautiful pond, and great views in every direction.
The main lodge is gorgeous too, with four posh guest rooms, whimsical wildlife decor, and even a sweet jacuzzi tub. This truly is one of our favorite spots for glamping in New England we've yet to come across!
---
Massachusetts is a diverse state with coastal, urban, and mountain areas. Most of the glamping spots in Massachusetts are located in the Berkshires, but our list also includes a houseboat in Boston Harbor, a glamping tent on Martha's Vineyard, and a lighthouse on the Atlantic Ocean.
If you're looking for a really unique glamping vacation, Massachusetts has lots of unique properties to choose from!
---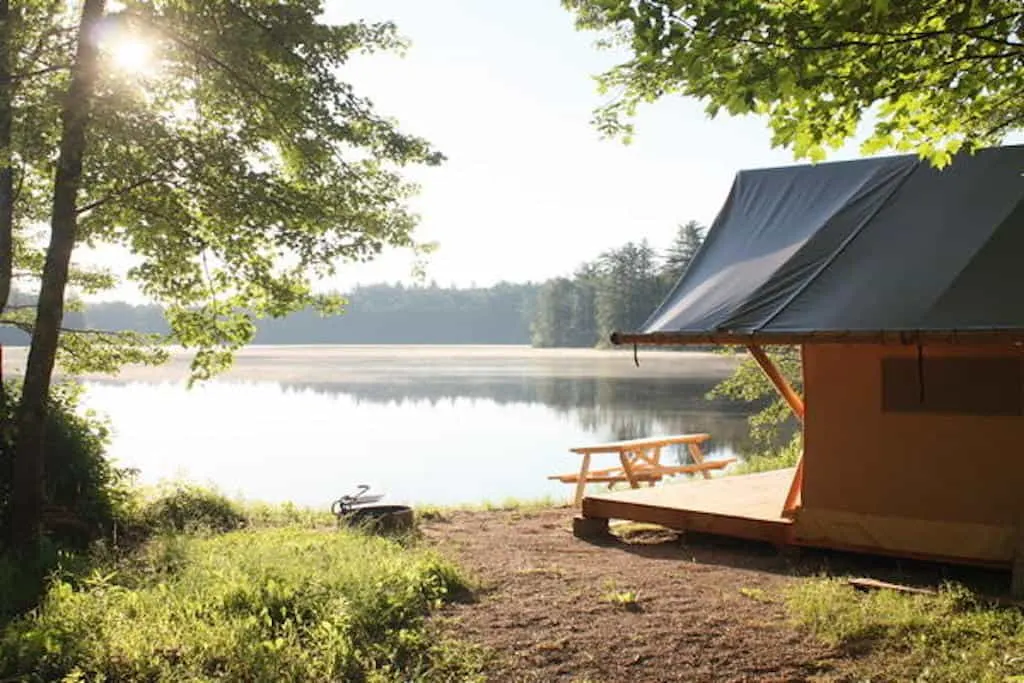 New Hampshire is such a diverse state, with so many great opportunities for outdoor adventures. If you want all those adventures combined with a cozy spot to sleep each night, leave your tent at home and check out one of these great glamping properties which include treehouses, tiny homes, yurts, and glamping tents.
We've listed these New Hampshire glamping spots by region so you can easily figure out where you want to go and then choose the perfect spot to stay. We also include outdoor recreation ideas to help you plan your New Hampshire vacation.
---
Glamping in Maine
We lived in Maine briefly when we were just starting our little family. There's something about that rocky coast and those deep, wild forests that we can't get enough of.
Whether you want to hike a rugged mountain peak, relax on a secluded beach, or find solitude on a remote lake, you can choose your own adventure with a Maine glamping vacation.
Of all the New England states you could pick for a secluded getaway, glamping in Maine gives you the most options.
Incredible Glamping in Maine on the Saco River – This was our first experience glamping with Tentrr, a company that provides landowners with a full glamping set-up for guests. We loved this little spot on a Maine lavender farm.
---
Have you been bitten by the glamping bug? Do. Do you have any recommendations for glamping in New England?