Lonely desert highways, weird roadside attractions, and a nice mix of thrilling outdoor adventures that you won't find anywhere else.
The farther you drive away from the California coast and into Nevada, the more you might think that the area is nothing but a giant sun-baked sandbox with nothing to do but gamble.
Nothing could be further from the truth!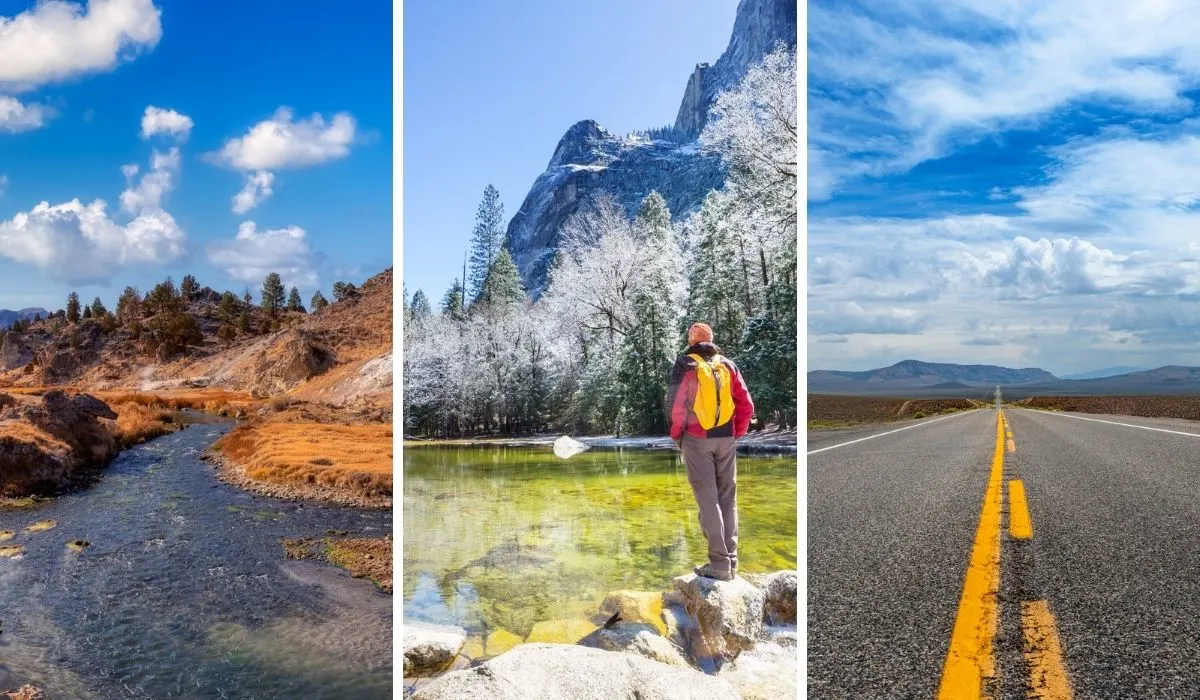 Sure, the desert defines much of the landscape, but you'll also discover several mountain ranges, forests of ancient trees, and as we've already mentioned, a lot of truly weird stuff.
This ten-day California to Nevada road trip starts in the crazy-busy, must-visit Yosemite National Park and heads off the beaten path from there.
I will not tell you that this road trip has something for everyone because that would be a lie.
Instead, this road trip is for those intrigued by secret aliens, weird clowns, hidden hot springs, ancient petroglyphs, and trees hanging with shoe ornaments.
As part of our back-road adventures across the United States, we've toured some pretty amazing places, but our family agrees that our southwest road trips have been the most memorable, especially the trips that end up so far removed from the vision we start out with.
Despite some strange experiences, we loved this road trip, and we think you will too!
We'll give you all the important details for planning this wild and weird California to Nevada road trip, with suggestions for lodging or camping, hikes, and roadside attractions.
First, some logistics to help you plan your trip.
California and Nevada Road Trip FAQS
Even if the planning stage isn't your favorite part of a road trip, don't be hasty. There are a few things that you'll want to know before hitting the road so that your trip will be memorable for all the right reasons!
Where Should I Fly in and Out of?
This California-Nevada road trip works starting from a few different major airports. San Francisco International Airport (SFO) is almost a four-hour drive from Yosemite, but flying into SFO will give you the best deals on flights and car rentals. If keeping costs low is the most important thing, go with SFO.
Don't want to drive four hours, much of it through Bay Area traffic, before your road trip even begins? You should consider flying into Sacramento International Airport (SMF), which is 3.5 hours from Yosemite National Park.
Finally, it's worth looking into flights to McCarran International Airport in Las Vegas (Las) and then spending your first night at Cathedral Gorge State Park, which is about two hours and forty-five minutes away.
From Cathedral Gorge, we recommend doing the trip in a counter-clockwise loop.
If you're anything like us, the airport you choose will be largely based on price, so find the best deal on flights and a car rental before planning the rest of your journey.
---
Insider tip: For a unique camping trip, rent an Escape Campervan for your road trip through California and Nevada. They have rental depots in both Las Vegas and San Francisco, so you can plan a camping trip without all the pesky camping gear.
---
California to Nevada Road Trip Map
Here's an overview of the road trip starting in Sacramento, which would be our top choice if cost weren't a factor.
Feel free to make adjustments based on the airport you choose or check out this Google Map of the same route starting from Las Vegas.
When is the Best Time to Take This Southern California/Nevada Road Trip?
This route requires driving from Yosemite Valley over Tioga Pass, which is the highest highway pass in California at 9, 943 feet. Unfortunately, Tioga Road is closed in the winter, usually between November and May. In 2019, the pass didn't fully open until early July, so be sure to keep an eye on the weather as your departure date gets closer.
We'd actually recommend taking this road trip in September or October when the temperatures are cooler and the parks aren't as crowded. Of course, summer is the best time for families with school-age kids to travel. We did this road trip in July, and we lived to tell the tale!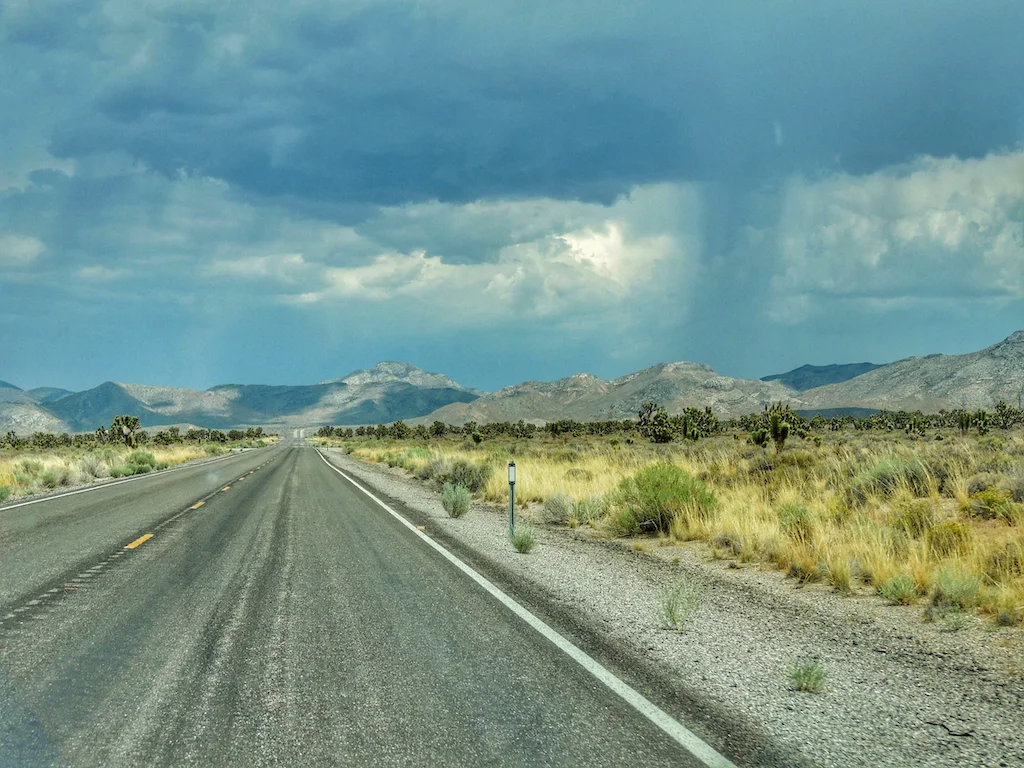 Things You Should Know Before Heading Out
You'll be driving on a road called the Extraterrestrial Highway and another called the "Loneliest Road in America". Cell service is spotty. Gas stations too. Fill up your tank when you can and keep a few gallons of water in your car for emergencies. Don't be nervous — we just want you to be prepared!
Even the desert landscapes that seem flat on your road trip are actually over 4,000 feet in elevation with many spots even higher. You will acclimate to the higher altitude during your trip, but you should drink lots of water, use extra sunscreen, and take it easy when hiking until your body adjusts.
Pack for three seasons. Even if you embark on this road trip in the summer, be sure to pack a fleece, a light jacket, a beanie, and wool socks. But don't forget your swimsuit and your sturdy sandals!
It's pronounced Neh-VAD-uh, not Neh-VAH-duh. Not a big deal, but we spent a whole summer in Nevada, and everyone corrected us until we got it right, so we thought we'd save you the frustration!
A 10-Day Road Trip in Nevada and California
This is the ultimate quirky, but scenic route that starts in the Sierra Nevada mountains and ends in the intimate metropolis of Reno, Nevada.
While the vast desert landscape often looks the same for miles and miles, there are enough cool spots to keep things interesting. Choosing the best spots to feature on this road trip was easy, but you may want to plan for more time in some areas if you can.
Let's get started on this weird and wacky road trip through Nevada and California.
Day One: Yosemite National Park: Yosemite Valley
Today you'll arrive in Yosemite National Park, settle into your lodging/campsite, and explore Yosemite Valley.
Driving time: Depends on where you're coming from, but plan on 3-4 hours.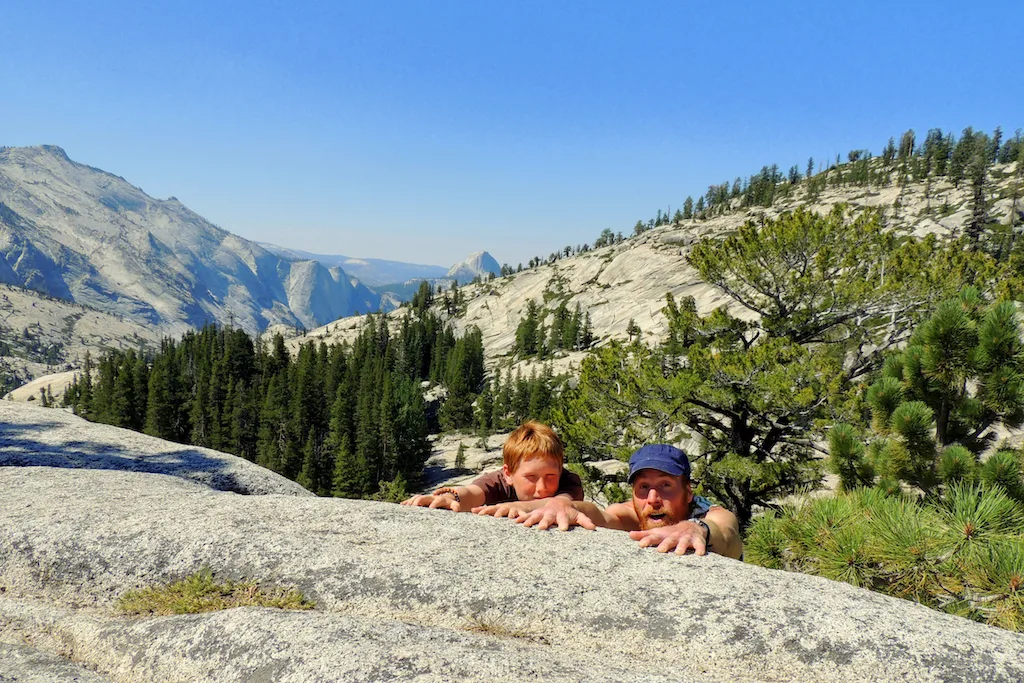 The first thing you should know about visiting Yosemite National Park, especially if you're only staying for a few days is that you won't be able to see and do everything. The park is huge, covering 1,187 square miles of wilderness.
Our suggestion would be to spend the first afternoon getting your campsite set up or checking into your lodging, and then exploring Yosemite Valley and doing a few short hikes. No need to run yourself ragged on the first day of a mega road trip!
Lodging and Camping in Yosemite Valley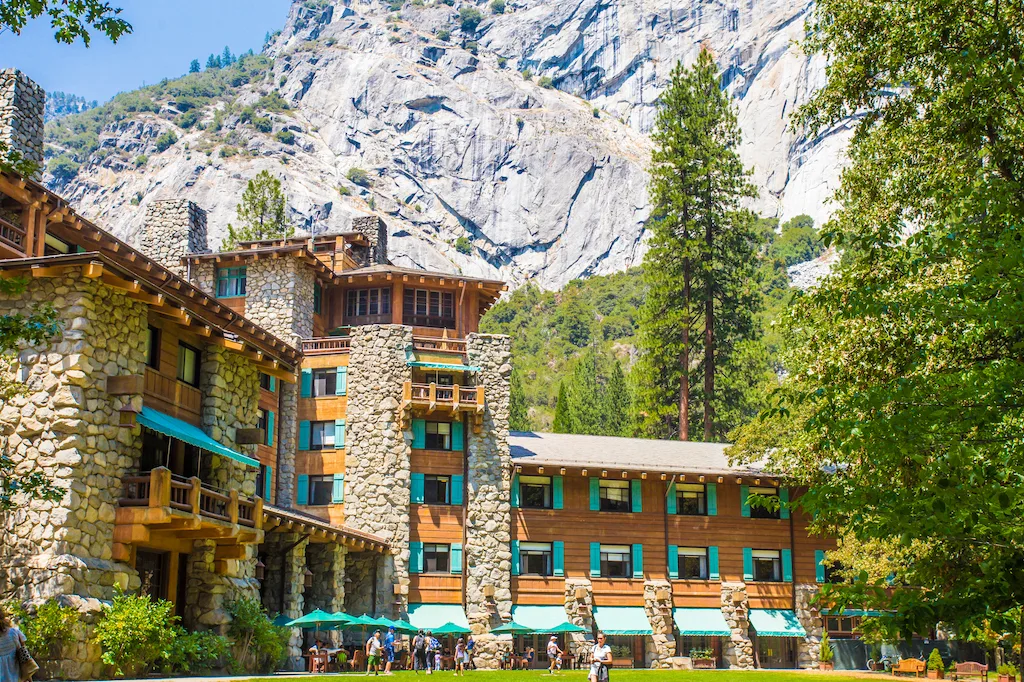 You will find a few lodging options just outside of the Big Oak Flats entrance to Yosemite National Park on Route 120, but I 100% recommend finding lodging or camping inside the park if you can.
While staying in the park is more expensive, it will save you a good amount of driving time, plus the frustration of having to drive in traffic as you head into the park each morning.
Lodging inside the park can also be hard to find in the summer unless you plan way ahead (like 8+ months), and while camping in Yosemite National Park is affordable, competition for campsites is stiff, especially in the summer.
There are 13 popular campgrounds in Yosemite National Park.
Reservations are required year-round for camping in Upper Pines in Yosemite Valley, and between April and October for the rest of the campgrounds within the park.
Campground reservations become available on a rolling basis, either five months, two months, two weeks, or one week in advance.
I recommend reading up on the different campgrounds available inside Yosemite, picking your top three choices, and then looking up the reservation time frame for each campground.
Here's an overview of when campsites become available based on your traveling timeframe.
Nearly all reservations for the months of May through September and for some other weekends are filled the first day they become available, usually within seconds or minutes after 7 am! Another reason why we recommend visiting in the fall.
Don't let the competition discourage you from camping in Yosemite National Park.
Make a plan, set a timer on your phone, pour yourself a glass of wine, and get your reservations. Once you've reserved a campsite or lodging, you can relax until it's time to hit the road.
Where to Stay in Yosemite National Park
The benefit of lodging over camping in Yosemite is that you don't have to call and reserve the minute that campsites become available to get a site.
If you're reading this and decide you want to plan this road trip, you can book lodging right now for any time in the next year. I mean, you probably won't get a room if you're heading into Yosemite tomorrow, but if you plan a couple of months or even weeks in advance, you will probably be fine.
You should still book your lodging as soon as you know when you'll be cruising into the valley.
If you don't mind a little glamping action, our first choice for Yosemite lodging would be the canvas tent cabins at Curry Village, which feature a double bed with linens, a shared central bath, and a bear locker. It's rustic, but you can't beat the location just below Half Dome and Glacier Point.
Curry Village also has a hotel with basic rooms and regular cabins (with bathrooms).
If you're looking to burn a hole in your wallet right at the beginning of your trip, plan a stay at the luxurious Ahwahnee Hotel. Not only is this gorgeous landmark on the National Register of Historic Places, but it's also considered the crown jewel of National Park lodges.
You'll feel like royalty staying here, if only for a night or two, and you may spend the rest of your road trip eating pb&js while tailgating in parking lots. It will be worth it, especially if you go the extra mile, or dollar, for a room with a view.
If camping is more your speed, our top choice in Yosemite Valley is Lower Pines Campground near the Merced River.
The views are incredible, the location is convenient, and the campground is surrounded by giant sequoias, waterfalls, hiking trails, and massive rock formations – totally worth sleeping on the ground!
There are 60 campsites in the campground, which is open from April through October. Fees are $36 a night, and there are no hookups.
Don't be picky! If you really want to camp in Yosemite, don't latch onto any particular campground. Lower Pines may be our personal favorite, but because every campsite is a coveted commodity, take what you can get!
Explore Yosemite Valley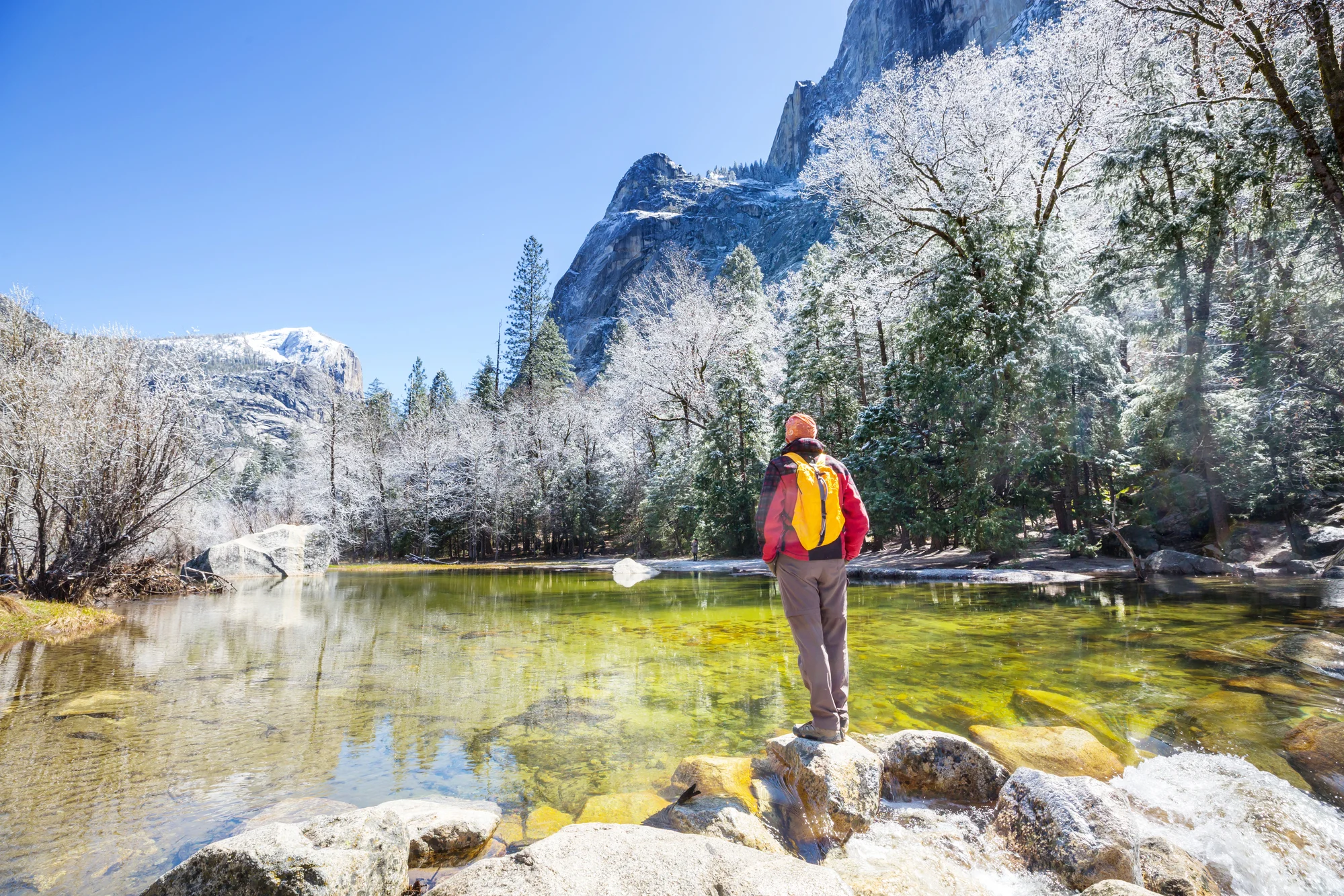 We're going to assume that this is your first time in Yosemite and offer up a few must-see hikes and attractions as well as a few spots off the beaten path.
Depending on where you're coming from, your first day will likely just be an afternoon, perfect for exploring Yosemite Valley. Driving through the valley will take about an hour (more or less, depending on traffic).
We're including three short hikes that give you some of the best views in Yosemite Valley for not much effort, but you could spend days in Yosemite Valley exploring the trails, waterfalls, lakes, and views.
If you've arrived late in the day, choose one of these before heading back to your camp/lodging for dinner.
Bridalveil Fall: Be Prepared for a Shower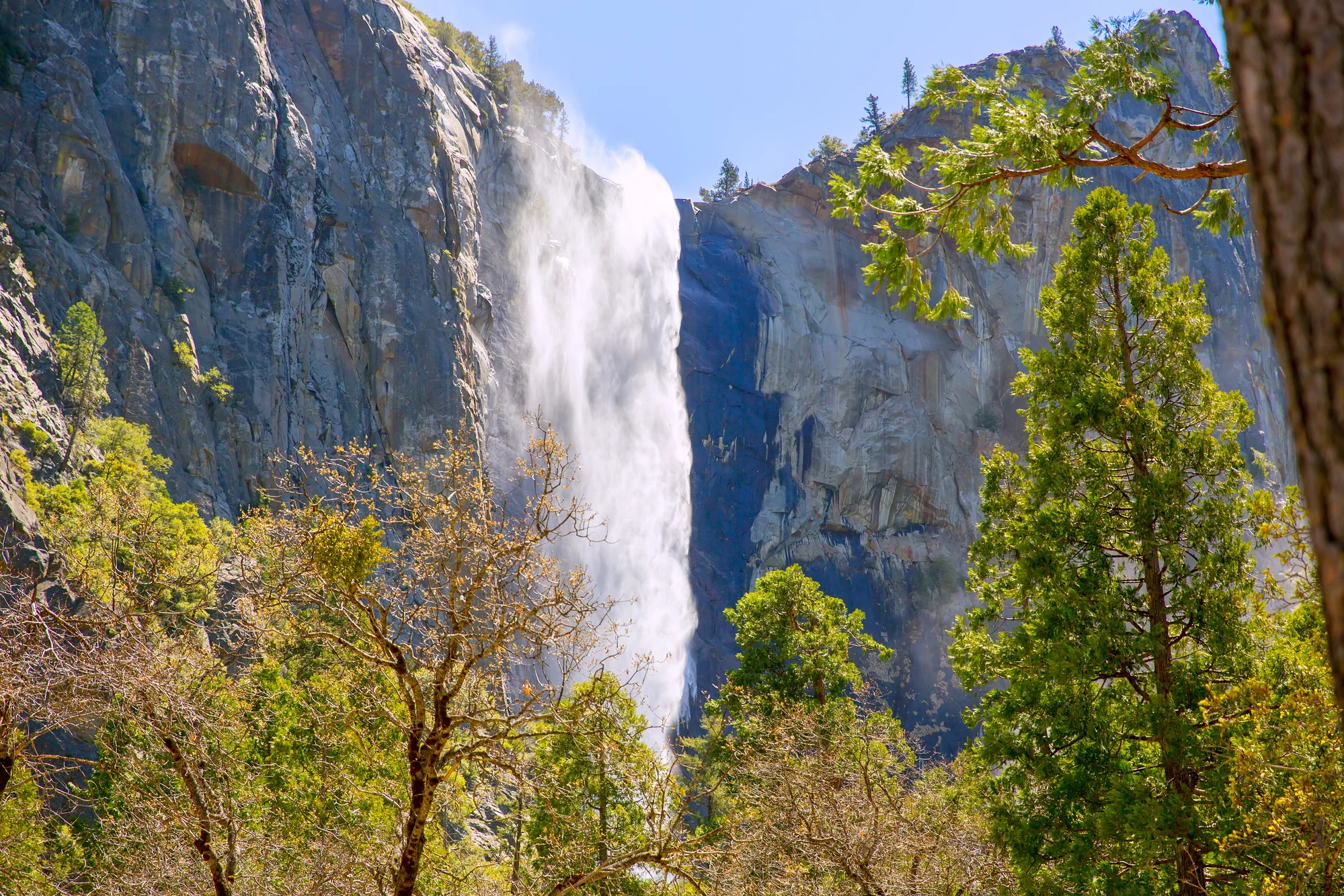 Bridalveil Fall is Yosemite's most photographed waterfall, and in the summer, it's a nice way to cool off after a short, paved hike. Yes, you're going to get wet! It's not the tallest waterfall in Yosemite, but at 620 feet, it's still pretty impressive.
No matter when you make the trek to Bridalveil Fall, you'll share the experience with others. Because the trail is only .75 miles round-trip without significant elevation gain, it's a hike that anyone can do.
To avoid some of the crowds, park in the alternate parking area on Southside Drive. This makes the hike a little longer, but you will get to cross Bridalveil Creek and a meadow, and the views are better.
Lower Yosemite Falls: Part of the Tallest Waterfall in North America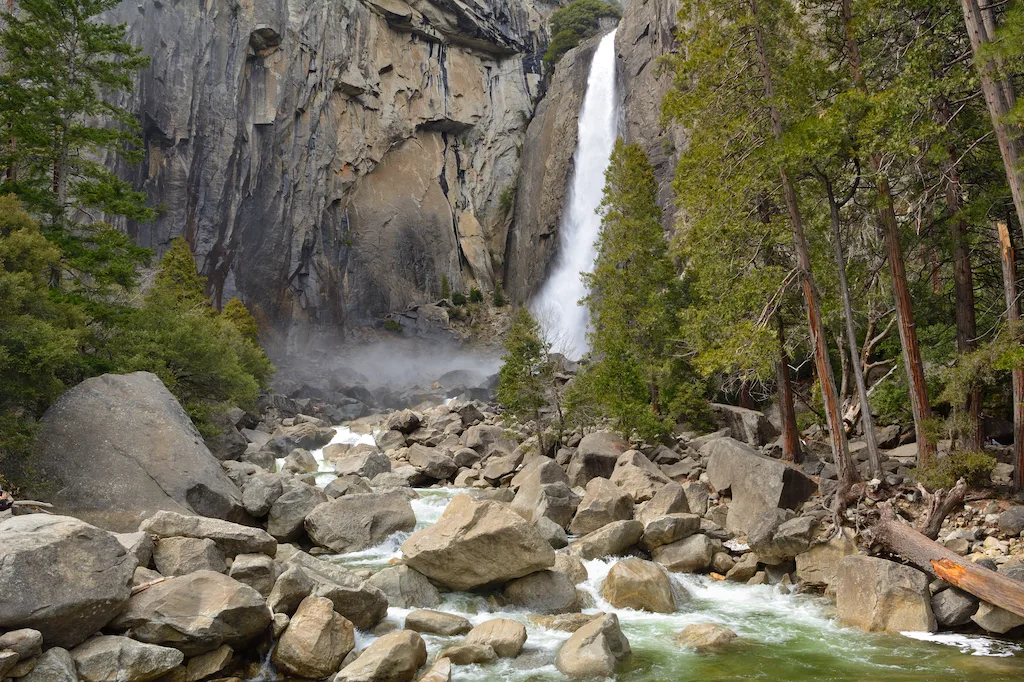 Together Upper and Lower Yosemite Falls make up North America's tallest waterfall, dropping a total of 2,425 feet. Lower Yosemite Falls is the final 320-foot drop, and you can reach it on an easy paved path of a half-mile (one-way).
Start at the Visitor Center and follow the bike path to shuttle stop #6. From here, follow the loop around to the falls – clockwise for better views.
Insider tip: Visit in early summer if you want to see the falls in all their glory. By July or August through October, the falls are all but dried up and may not be worth checking out. When the falls are flowing, you can pretty much see them from anywhere in Yosemite Village, but you can also stop in the Visitor Center to ask if the falls are flowing.
Artist Point: A Stunning View Without the Crowds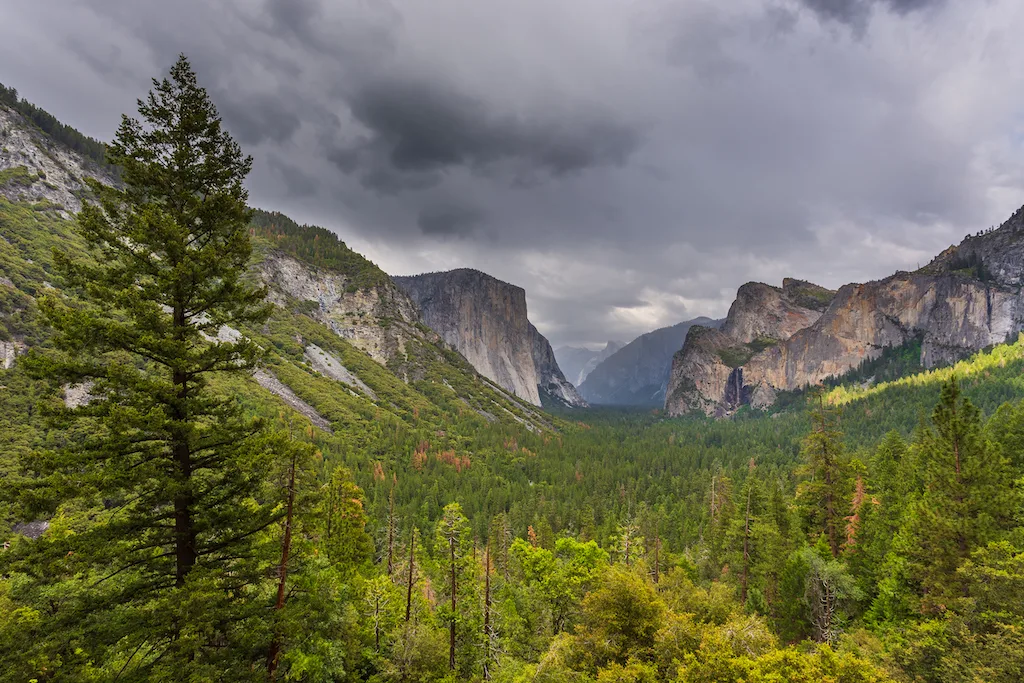 The hike to Artist Point is less crowded than the other two – maybe because it isn't even mentioned on the National Park website. The trail begins at the Tunnel View parking area, which is one of the busiest spots in the park (for good reason). The view from Artist Point is similar to the view from Tunnel View, without the throngs of people.
If you've been driving all day, you can stop here for a 2.2-mile hike that climbs about 750 feet before continuing on to Yosemite Village. The hike to Artist Point is not terribly difficult, but it will get your heart pumping and your legs moving.
Because the Artist Point viewpoint isn't listed on the official Yosemite National Park, I recommend using Alltrails to track your route and make sure you get to the viewpoint. From the trailhead, climb for about .5 miles, then turn left on Old Wawona Road, following the sign for the Bridalveil Fall parking area.
Insider tip: Since there are several not-too-hard hikes in this itinerary, be sure to download the AllTrails app before heading out. It's a GPS tracker, but also allows you to easily find trails while you're traveling, read reviews, and find current conditions for local trails.

If you purchase AllTrails+ ($35.99 per year), you can download your map so that you can follow the GPS tracks even if you don't have cell service.
Day Two: Glacier Point and Mariposa Grove
Today you'll explore a little deeper into Yosemite with a scenic nail-biting drive (or hike), and a tour of Yosemite's largest grove of Sequoias.
Driving time: 3-4 leisurely hours from Yosemite Valley.
Today, you're going to explore a few more popular spots in Yosemite National Park – Glacier Point and the Mariposa Grove of giant sequoias. Both are in the same general area of the park, so it doesn't really matter which one you want to do first.
Glacier Point: An Iconic View With Hiking Opportunities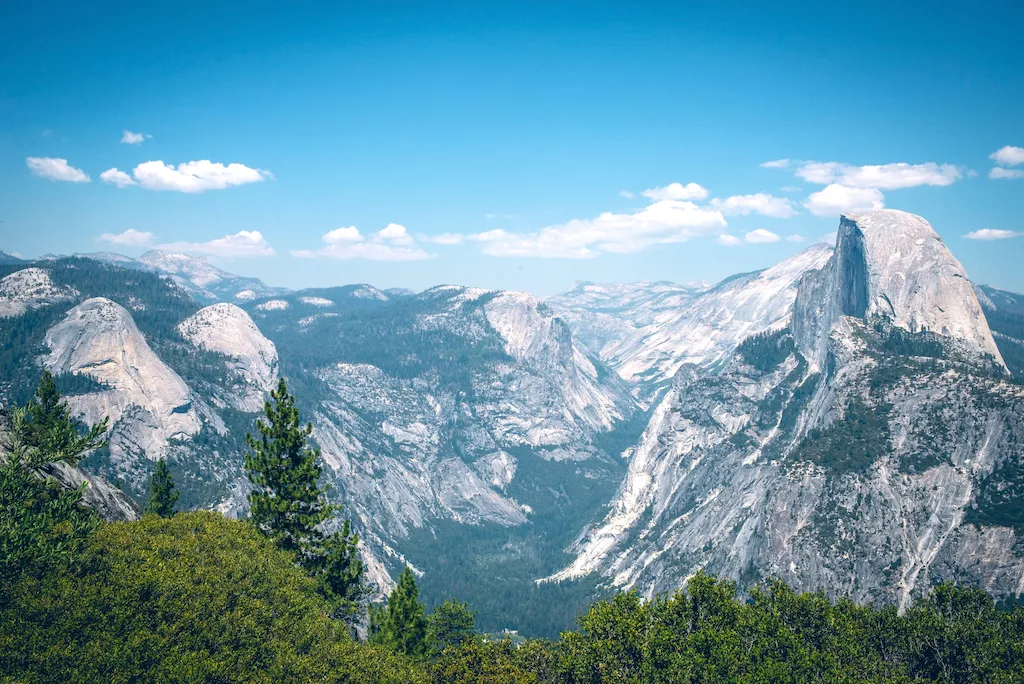 When open (May to October), you can drive to Glacier Point by taking the Wawona Road south from Yosemite Valley.
After traveling about 13 miles, turn on to Glacier Point Road at the Chinquapin intersection. It's a winding road and takes about an hour each way. Shuttles run to Glacier Point in the summer if you don't want to drive.
There's plenty of parking at Glacier Point and the views are commanding. If you want to stretch your legs, hike from Glacier Point up to Taft Point, where you'll be treated to all the awesome views of Yosemite Valley — Half Dome, and Yosemite Falls — without the crowds.
At Taft Point, you can walk right up to the edge of the cliff – if you dare!
The hike from Glacier Point to Taft Point is 2.2 miles round-trip and gains only 200 feet in elevation. Here's an overview of the hike courtesy of Yosemite Hikes.
If you'd rather let someone else do the driving to Glacier Point (it's definitely a nail-biter), you can take a bus tour.
The four-hour bus tour departs Yosemite Village at 8:30 and 1:30. You can even buy a one-way ticket up to Glacier Point and then hike back down to the valley on the Four Mile Trail, which is actually 4.8 miles one-way.
Tickets for the round-trip bus tour are $57 for adults and $36.50 for kids 5-12. One-way tickets are $28.50 for adults and 18.25 for kids.
Mariposa Grove: Yosemite's Largest Grove of Giant Sequoias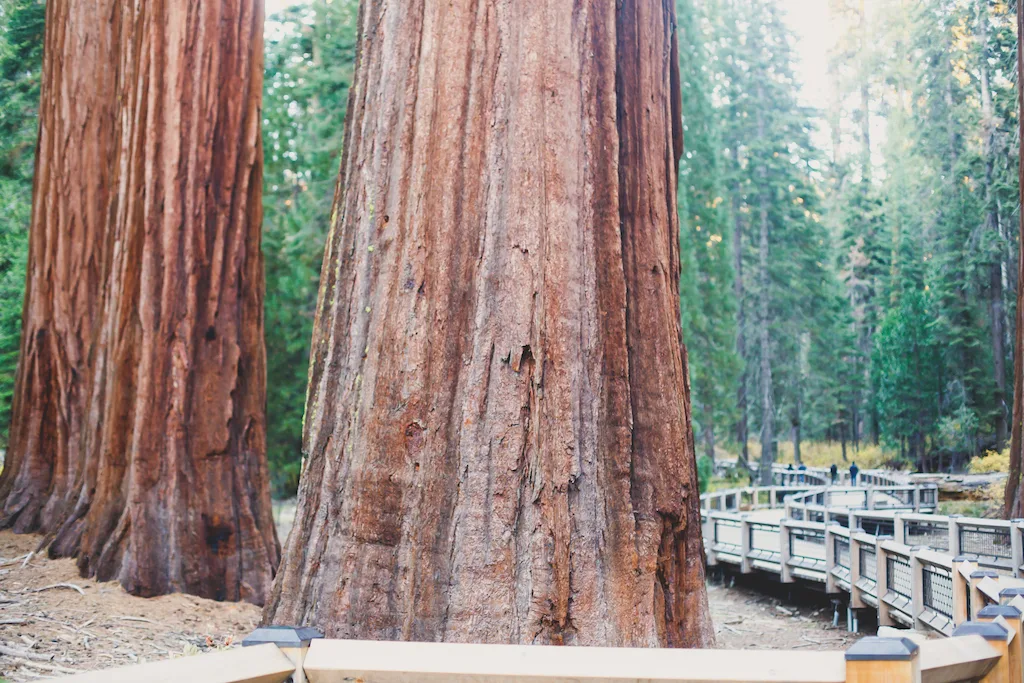 Visit the largest grove of giant sequoias in Yosemite – the Mariposa Grove. You'll see more than 500 giant sequoias – many over 1,000 years old.
If you have time, we recommend hiking the two-mile Grizzly Giant Loop so you can say hi to Grizzly Giant himself. This king of the forest is said to be 3,000 years old and has a diameter of 30 feet!
You'll also be able to walk through the California Tunnel Tree, the only tree in Yosemite with a man-made tunnel drilled through it.
The Grizzly Giant Loop is moderately steep and very busy, but not as busy as the Big Trees Loop, which is only .3 miles, and perfect if you are short on time but still want to say hi to the trees.
Day Three: Tioga Road to June Lake
Today you'll be leaving Yosemite on the scenic Tioga Road, which will bring you into the High Country of the Sierra Nevadas. You'll continue on to the resort town of June Lake.
Driving time: 2-3 hours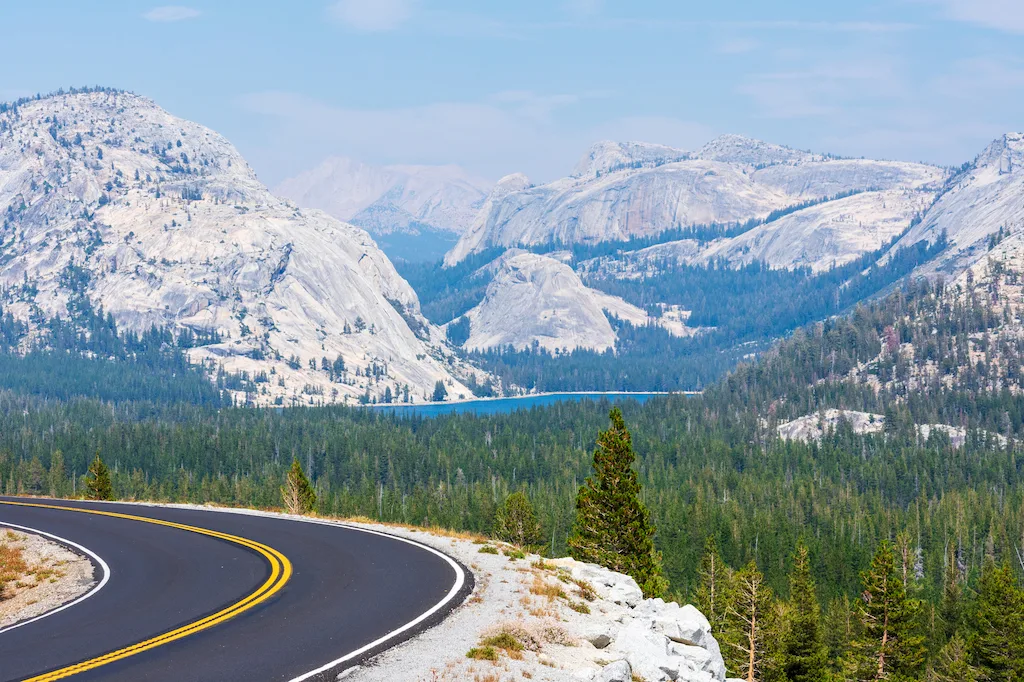 Today you're bidding farewell to Yosemite Valley and heading toward Tioga Pass and Tuolumne Meadows on State Route 120 (Tioga Road). This is Yosemite's High Country featuring gorgeous alpine lakes, expansive views of the Sierra Nevada Mountains, and some fabulous hiking trails.
From Yosemite Valley, it's about 62 miles to Tioga Pass, which will take about two hours without any stops.
June Lake is another 18 miles from there, so plan your stops to coincide with how much time you want to spend on the road today.
Remember that snow closes Tioga Road between November and May, maybe even June or July.
Here are the stops we'd recommend on Tioga Road:
Vista – Olmstead Point: This is a quick stop to stretch your legs and take in a stunning view of Half Dome. It's a good photo opp, and one of the best views outside of Yosemite Valley.
Tuolumne Meadows: The massive Tuolumne Meadows is about as beautiful as it gets. It's surrounded by jagged peaks, sliced through by the Tuolumne River, and covered in wildflowers. While this area is crowded, you'd hardly know it because there is plenty of room to spread out. There are numerous hiking trails in Tuolumne Meadows, but I recommend hopping on the John Muir Trail and taking it as far as Lyell Fork and then turning around for an hour-long stroll.
Ellery Lake: Located just outside the entrance to Yosemite National Park, Ellery Lake is a gorgeous man-made lake at 9,489 feet. Icy cold on even the hottest summer days, this may not be the perfect swimming lake, but the views sure are pretty.
Drive the June Lake Loop: Alpine Lakes and Mountain Views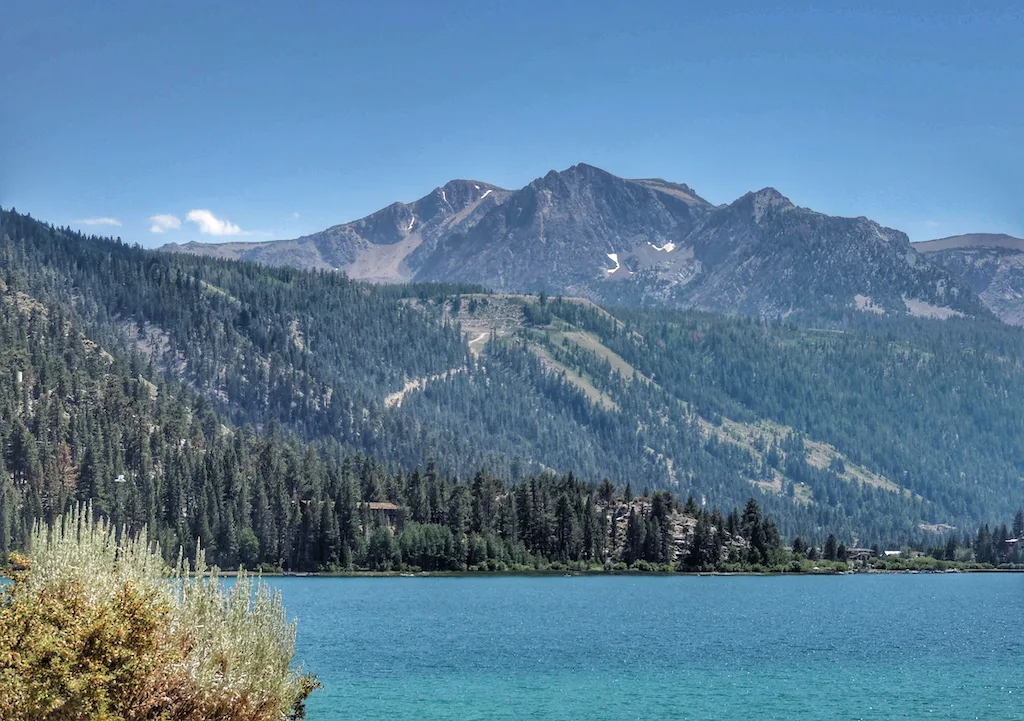 Once you hit Route 395 south, it's another 13.7 miles to June Lake. Stop in Lee Vining to get gas and snacks, and then continue south.
Provided you're not anxious to get out of the car, take a slight detour onto Route 158, otherwise known as June Lake Loop. This road (closed in the winter) brings you past several beautiful lakes – Grant Lake, Silver Lake, and Gull Lake before landing at your destination – June Lake.
June Lake Lodging and Camping
Welcome to the tiny resort town of June Lake, elevation 7,600 feet.
All the lakes in this area feature bright turquoise water that doesn't look real, are surrounded by snow-capped mountains and are perfect for relaxing after your busy Yosemite itinerary.
You've got plenty of options for lodging, from June Lake cabins, budget hotel rooms, or, our favorite way to stretch a dollar and stiffen up your back — camping. We recommend reserving your June Lake lodging ahead of time in the summer.
If you are traveling in the fall, you might be able to score a room, cabin, or campsite on the fly. Here are some suggestions:
Camping: June Lake Campground is located right on the water (although the individual campsites are not), with easy access to a marina and swimming. From the campground, you can hike into the Ansel Adams Wilderness without getting into your car. The June Lake Campground has just 27 sites, so it's important to reserve ahead, especially on summer weekends.
Vacation rental: This small, pet-friendly cabin in June Lake is suitable for four people and has nice views of the lake. This is a modest cabin, but it makes a great home base for R&R.
Hotel: June Lake Motel is located in June Lake Village between Gull Lake and June Lake, and it is within walking distance of both, as well as shopping, restaurants, and cafes. June Lake is an adorable town, and it's very walkable.
Day Four: A Day of Hot Springs in California and Nevada
Today is all about Hot Springs! You'll be traveling through a geothermal hot spot, soaking in a few natural pools, and camping next to your own private hot springs tub.
Driving time: 1 hour
Start your morning with a swim in either June or Gull Lake (summer) or a paddle (fall). You can rent kayaks at Gull Lake Marina, right on the shore of Gull Lake, and you can spend the morning paddling for less than $25 an hour.
We know that you could spend days relaxing by the shores of June or Gull Lake, but we've got some miles to cover! You're about to head through a geothermal hot spot, literally!
Hot Creek Geological Site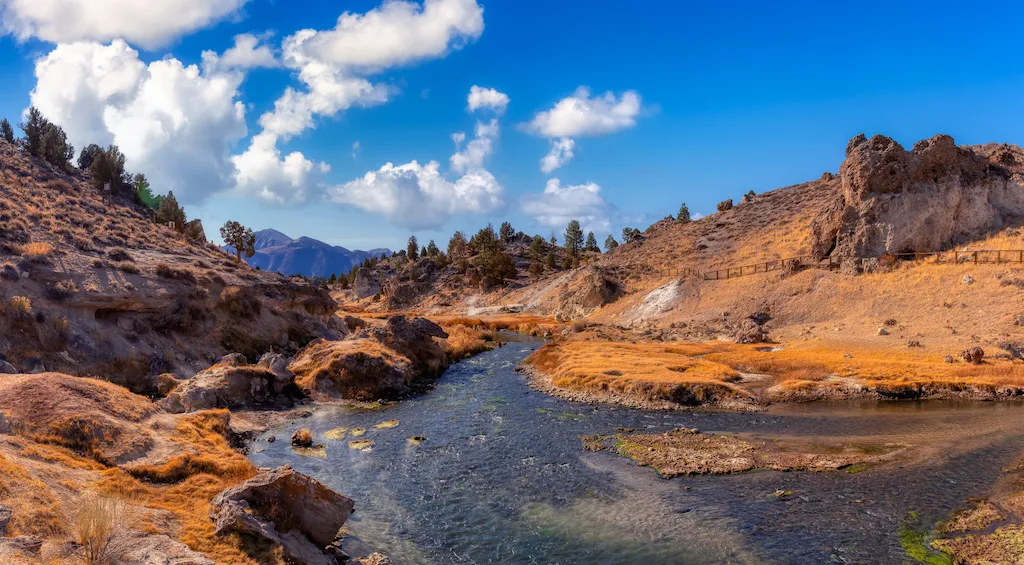 Very few geothermal sites can compare to Hot Creek Geological Site in Inyo National Forest, where boiling water bubbles up from the creek bed making you feel like you're on a planet closer to the sun. While entering the water is prohibited here, it's fun to watch the steam vents and geysers within the shallow gorge.
Meander along the trails, have a picnic, take in the views of the Eastern Sierras, and heave a contented sigh. You're not even halfway through your epic road trip.
Wild Willy's Hot Spring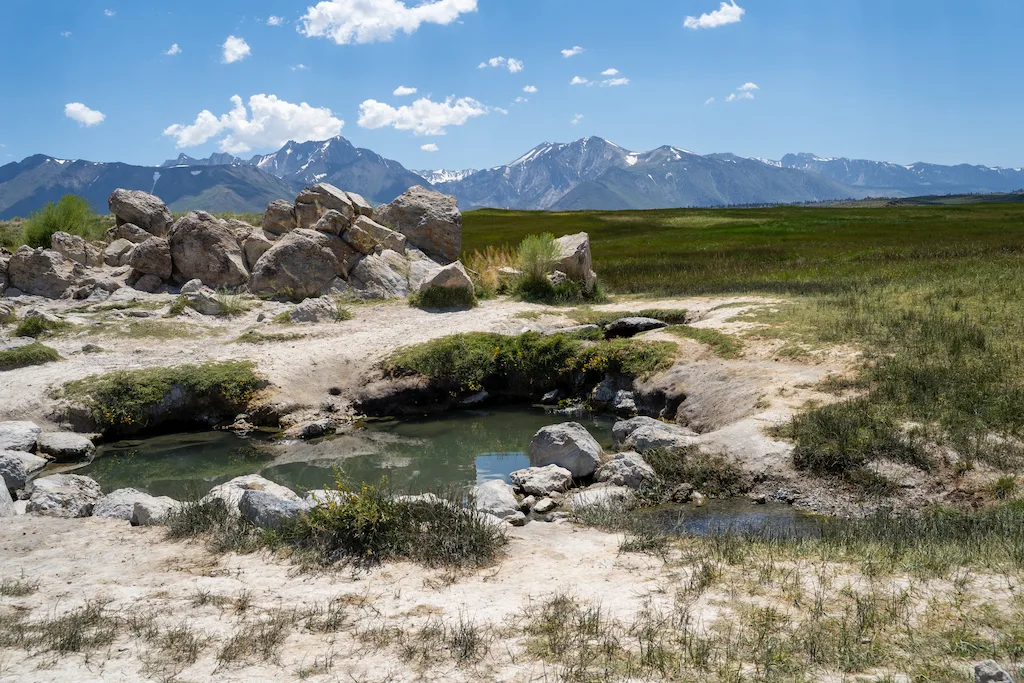 Those bubbling waters were awesome to behold, and now you're wondering if you can find some hot springs that you can get a little more intimate with.
There are dozens of hot springs in this area, and we're not going to talk about all of them. Instead, we've chosen a couple of our favorites.
The first, Wild Willy's Hot Springs, can be crowded because it's so easy to get to, but it's worth checking out, even if you decide not to soak. The area consists of two small hot springs at the end of a long boardwalk. You'll likely see some friendly naked people, and you may want to get naked too.
The temperature at Wild Willy's varies from day to day, ranging from 95 to 105 degrees Fahrenheit.
Hilltop Hot Springs
If you get to Wild Willy's Hot Springs and find that there are too many people, drive ten additional minutes to Hilltop Hot Springs. This is a shallow pool made of stones and cement with room for about six people, and the temperature varies between 100 and 110 degrees Fahrenheit.
As with most hot springs in the area, Hilltop is clothing optional. For both Wild Willy's and Hilltop Hot Springs, you'll see fewer crowds if you visit during on a weekday.
Inn at Benton Hot Springs
The last hot spring on our itinerary is a commercial endeavor, but I think it's one you will love!
The Inn at Benton Hot Springs allows you to reserve a campsite with a private hot spring hot tub. Each hot tub site is unique, and each ranges from $70 to $80 per night. The sites are suitable for tent or RV campers but they don't have hookups.
If you're not into camping, you can still stay in the historic hotel, which was built in the 1940s and renovated in 1998.
Day Five: Welcome to Nevada!
Today, you'll be leaving the Sierra Mountains and heading into Nevada. Route 6 is characterized by a flat grey desert, distant mountains, and not another vehicle in sight. Gas stations are few and far between, so fill up in California.
Driving time: 1.5 hours
Tonopah, Nevada
The old mining town of Tonopah, Nevada is less than two hours from Benton Hot Springs in California, but it's worth checking out, and worth spending the night if you like dark skies and weird hotels.
Here's what we learned while staying in Tonopah and some things you should check out:
Tonopah came into being when silver was discovered in 1900. It thrived for several years until the silver dried up and investors moved on.
Because Tonopah is strategically located between Las Vegas and Reno, it serves as a stopover for Nevada road trippers like you.
Tonopah has one of the darkest night skies around and is considered one of the best places in the country for stargazing.
There's a cool, 100-acre historical mining park where you can learn all about the silver-mining boom that put Tonopah on the map.
There are a few restaurants and a few motels, but don't expect luxury. You really are in the middle of nowhere.
The Clown Motel in Tonopah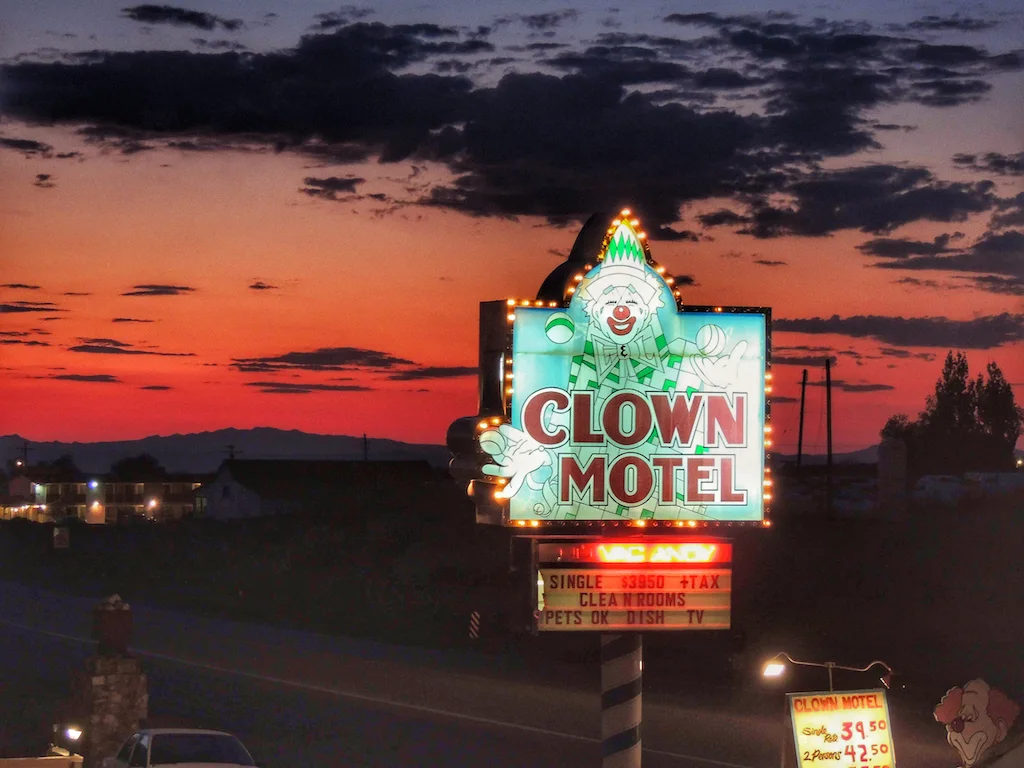 Right on the main drag in Tonopah, the Clown Motel is a bit of an icon these days. We had no idea when we visited, but it's been featured on National Geographic, and more recently on Atlas Obscura.
The Clown Motel was named "America's Scariest Motel" due to its clown theme and proximity to the cemetery where many miners were laid to rest from to the Tonopah-Belmont Mine Fire of 1911.
If you think clowns make for a creep-fest, pass it by, but we couldn't resist!
The motel itself is two stories, with all the doors leading to the outside. Each room features a dancing clown on the door, two full beds, and dated furnishings and decor.
There are thousands of clowns in the lobby for your viewing pleasure, and the staff is very nice and accommodating.
Tonopah Cemetery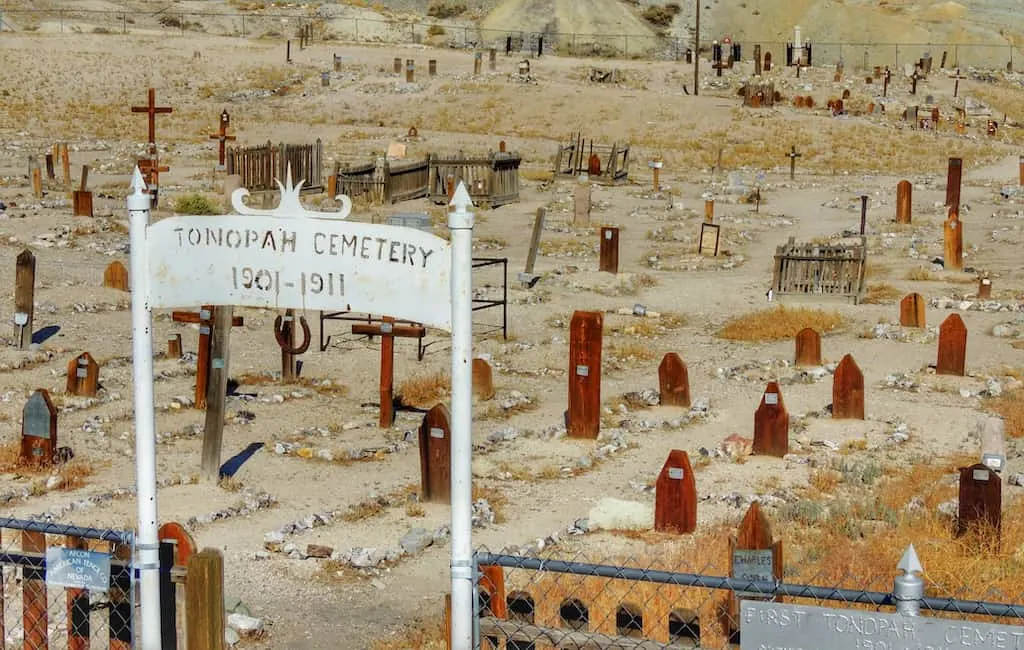 The Old Tonopah Cemetery is located right next to the Clown Motel. The cemetery was "active" from 1901-1911 and features wooden gravestones and the graves of many of the original settlers, as well as 14 silver miners who died in a mine fire in 1911.
Visiting the Tonopah Cemetery is quick, but it's still a cool piece of history if you enjoy unusual graveyards. We actually didn't know about the cemetery until the morning when we were checking out of the Clown Motel. You won't be so fortunate!
Day Six: The Extraterrestrial Highway to Cathedral Gorge State Park
Today you'll be driving on the weirdly secluded Extraterrestrial Highway. Download your favorite road trip tunes because we're covering some desert ground.
Driving time: 3 hours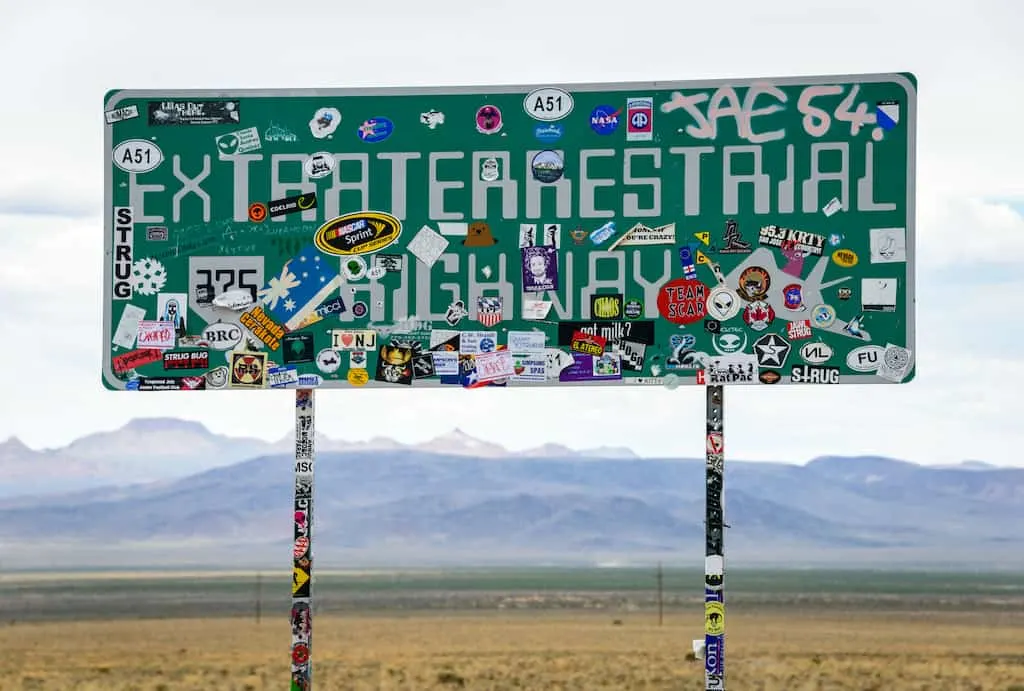 We know you're a fan of all things wild and wacky or you wouldn't be reading this post, so let's head deeper into the desert on Nevada State Route 375, also known as the Extraterrestrial Highway.
Get gas before leaving Tonopah, because you're about to embark into some of the most desolate desert terrain in the United States.
So, why is this called the ET Highway and should you be worried about alien life on your trip?
The highway's proximity to the top-secret Area 51 government base along with reported UFO observations is what led to the name.
The designation of the Extraterrestrial Highway has made the road and the tiny town of Rachel a bit of a tourist attraction.
That doesn't mean it's busy. You're not likely to come across many other travelers on this route, but the ones you do meet may have more than a passing interest in otherworldly lifeforms.
Welcome to Rachel, Nevada!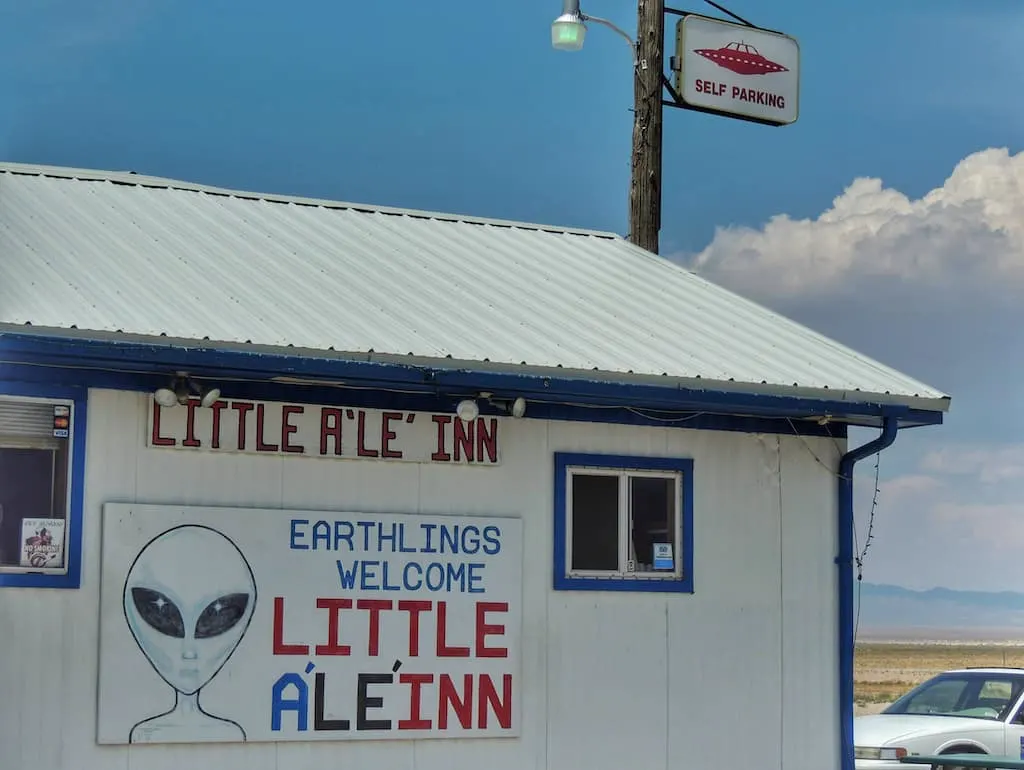 This isn't really a long stretch of pavement, but you'll feel like it's taking forever when you spot a sign for Rachel, population 70.
There's not much here, but you should at least pay a visit to the Little A'Le'Inn. Surrounded by a few run-down mobile homes, this little dive pays homage to all things out-of-this-world: UFOs, aliens, and Area 51 are all discussed 'round the bar, and there are even a few dusty souvenirs available.
We loved it and we still talk about this quirky spot in the middle of nowhere.
Cathedral Gorge State Park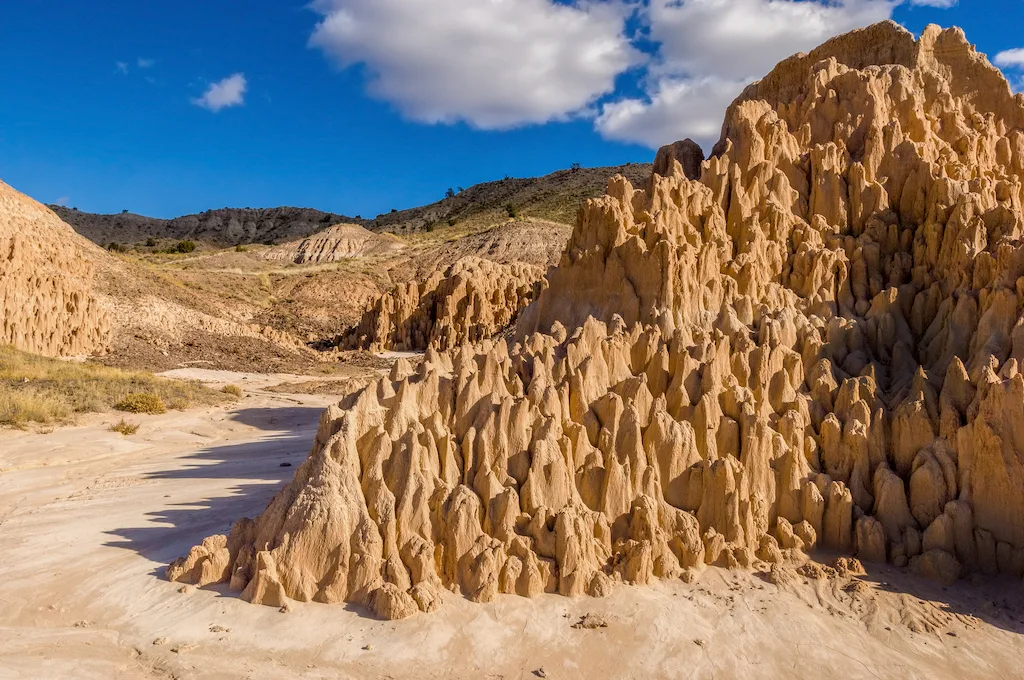 After the long and lonely drive on the ET Highway, hop on Route 99 and head to Cathedral Gorge State Park near the Utah border.
This underrated park was one of my favorite state parks in the whole United States for many years. It's not big, but it's got plenty of character, and the campground is like an oasis in the desert, especially after traveling on the ET Highway.
We absolutely recommend pitching your tent here for the night, hiking the loop trail, befriending the jackrabbits, and watching the stars before continuing on your journey. If you don't want to camp, there are a few lodging options in nearby Panaca.
Day Seven: Cathedral Gorge to Great Basin National Park
Today you'll be driving north on the Great Basin Highway to another underappreciated gem, Great Basin National Park. Take in the scenery and turn up the tunes. This is a beautiful drive!
Driving time: 2 hours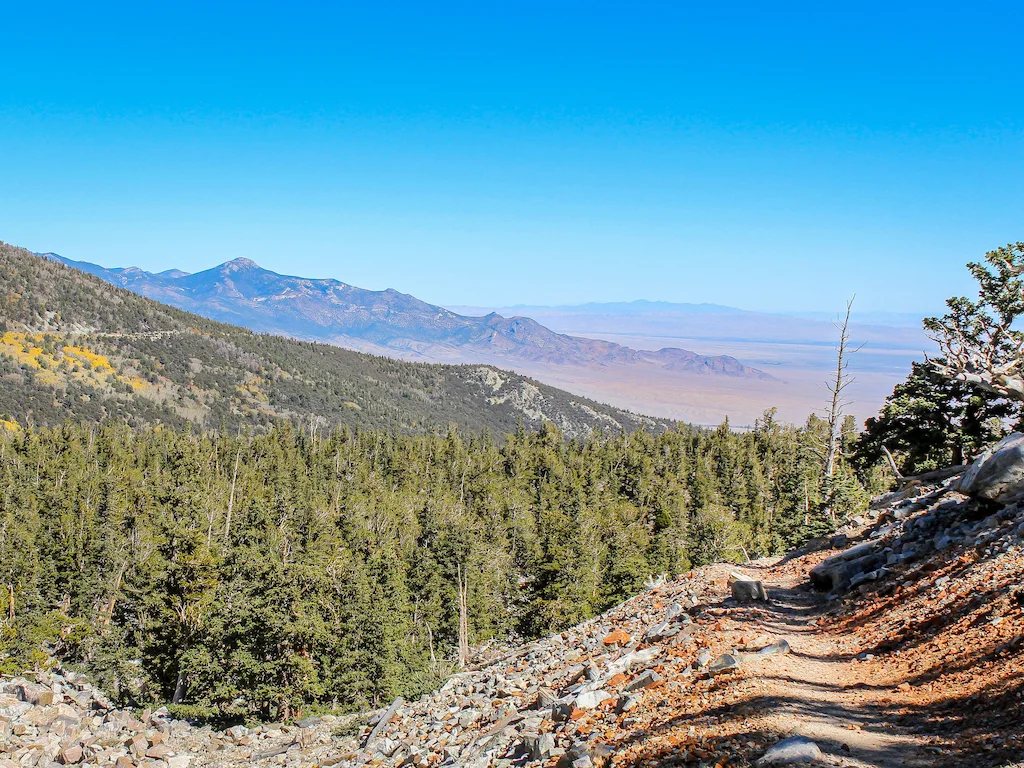 Lodging and Camping in Great Basin National Park
Four of the six campgrounds in Great Basin National Park can be reserved through Recreation.gov. We did not have a chance to explore them all, but can 100% recommend Upper Lehman Campground, especially in the summer when the 7,500-foot elevation makes this spot much cooler than the lower campgrounds.
With just 23 sites to choose from, it's imperative that you reserve your spot ahead of time. Of course, there are five other campgrounds to choose from if Upper Lehman is booked.
As for lodging, there isn't anything right in the park, but you can find a few hotels in nearby Baker. Stargazer Inn is about as close to Great Basin National Park as you can get without staying in the park. This is a ten-room, independently owned roadside motel (our favorite kind). This motel is pet-friendly, clean, and comfy – a perfect road trip stop!
Day Eight: Explore Great Basin National Park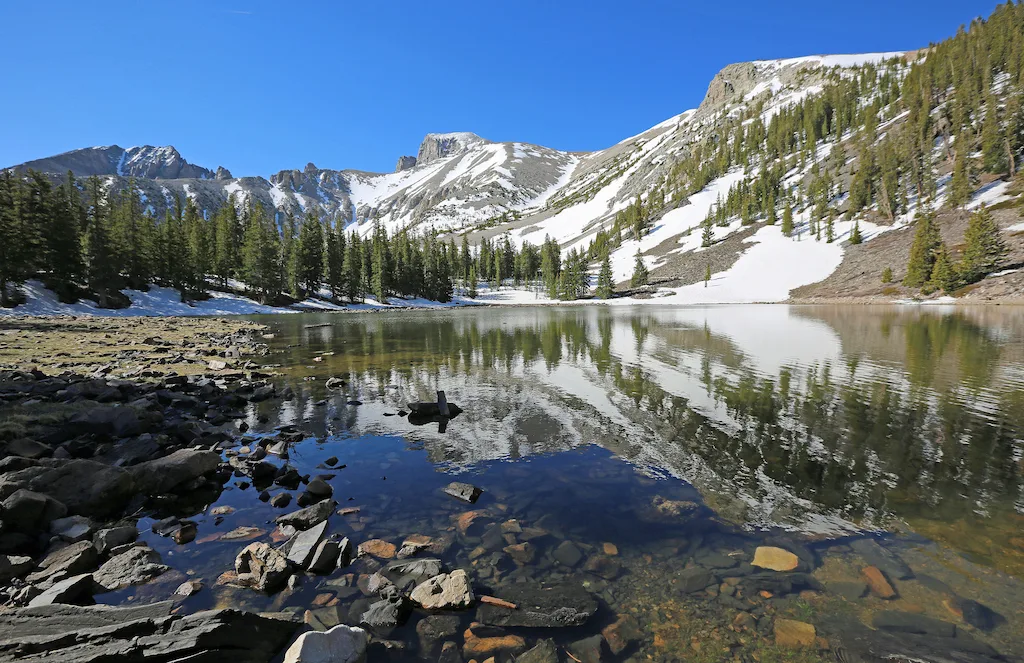 This underrated park is one of the least visited in the National Park system, seeing just 90,000 visitors annually. Compare that to the most visited park, Great Smoky Mountains National Park, which saw 12.1-million visitors in 2020.
Hiking, stargazing, and going on the guided tour of Lehman Caves are the top things to do in Great Basin National Park. Here are our recommendations for your visit.
Take a guided tour of Lehman Caves: This massive cave delves a quarter mile into the Snake Mountains and features stalactites and stalagmites, plus cool shield formations. Definitely go for the Grand Palace Tour if you can. It brings you deep into the cave for a 90-minute tour. Prices vary depending on the tour you choose, but you can explore your options on Recreation.gov.
Take the Wheeler Peak Scenic Drive: Gain more than 4,000 feet in elevation as you climb Wheeler Peak, the second-highest peak in Nevada at 13,063 feet. This narrow road takes you to 10,000 feet and is suitable for vehicles less than 24 feet long. There are lots of scenic vistas and trailheads, making this a great way to spend the afternoon!
Hike the Alpine Lakes Loop: This 2.7-mile loop gains 600 feet and passes Stella and Teresa Lake. Pack a picnic and your swimsuit and start at the Bristlecone Parking lot near Wheeler Peak Campground.
Hike the Bristlecone Pine Glacier Trail: Combine parts of the above hike with the Bristlecone and Glacier Trails for a longer outing. This trail takes you through an ancient bristlecone pine forest to Wheeler Peak Glacier, the only glacier in Nevada. It's an out-and-back trail – 4.5 miles round-trip, gaining 1,040 feet.
Watch the stars: Great Basin is an International Dark Sky Park and awesome when the sun goes down. Hopefully, you'll have a chance to participate in a ranger-led astronomy program, which might include a full-moon hike or an interpretive stargazing program. There's even an Astronomy festival each September.
Day Nine: The Loneliest Road in America
That would be Highway 50, which travels across the state of Nevada, from Great Basin all the way to Lake Tahoe. Life Magazine gave Highway 50 the title of the Loneliest Highway, with a warning that readers not embark on the journey unless they possessed certain survival skills.
Driving time: 3.5 hours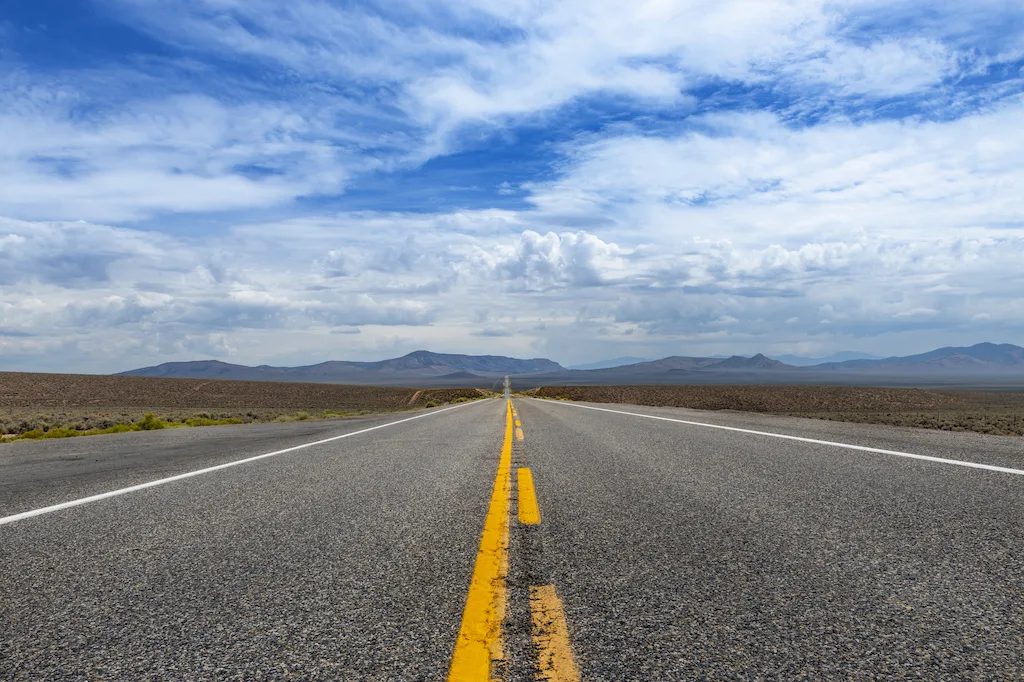 While Highway 50 travels through a stark desert landscape, there's plenty to see. Here's an overview of the places you should check out.
Ely, Nevada: Check out the Ely Renaissance Museum, the Ely Opera House, and the Nevada Northern Railroad Museum. Ely calls itself "the friendliest town on the loneliest road". We can vouch for that!
Hickson Petroglyphs, Austin: 10,000-year-old rock carvings and interpretive panels along a 1/2-mile trail.
Berlin-Ichthyosaur State Park, Austin: This fascinating park is home to the most abundant concentration of Ichthyosaurs, an ancient marine reptile that swam in a warm ocean that covered central Nevada 225 million years ago. It also protects the remains of the once booming mining camp of Berlin, which thrived in the late e1800s. Take a self-guided tour of the ghost town and visit the Ichthyosaurs fossils preserved in the fossil house.
The Shoe Tree: Maybe you heard tell of the famous shoe tree on Highway 50 that was destroyed by vandals in 2010. In 2017, a new shoe tree was designated nearby. Last we heard, there were actually two shoe trees. It's located right of the highway near Fallon. The Shoe Tree is near Fallon, Nevada, so you may be checking this one out on day ten.
Lodging on the Loneliest Road in America
We were excited to see a bunch of independent motels in Austin, which is a small town right in the middle of Highway 50 as you're driving west. We recommend checking into the Cozy Mountain Motel before exploring Hickson Petroglyphs and Berlin-Ichthyosaur State Park (mentioned above).
Cozy Mountain Motel is a charming hotel in an equally charming town, with luxurious linens, cozy rooms, and a handful of chickens to welcome you when you arrive.
Day Ten: Reno – The Biggest Little City in the World
Today you'll be heading to the intimate metropolis of Reno, Nevada. Say goodbye to the vast, lonely desert, and hello to neon lights, great food, and bustling neighborhoods.
Driving time: 3 hours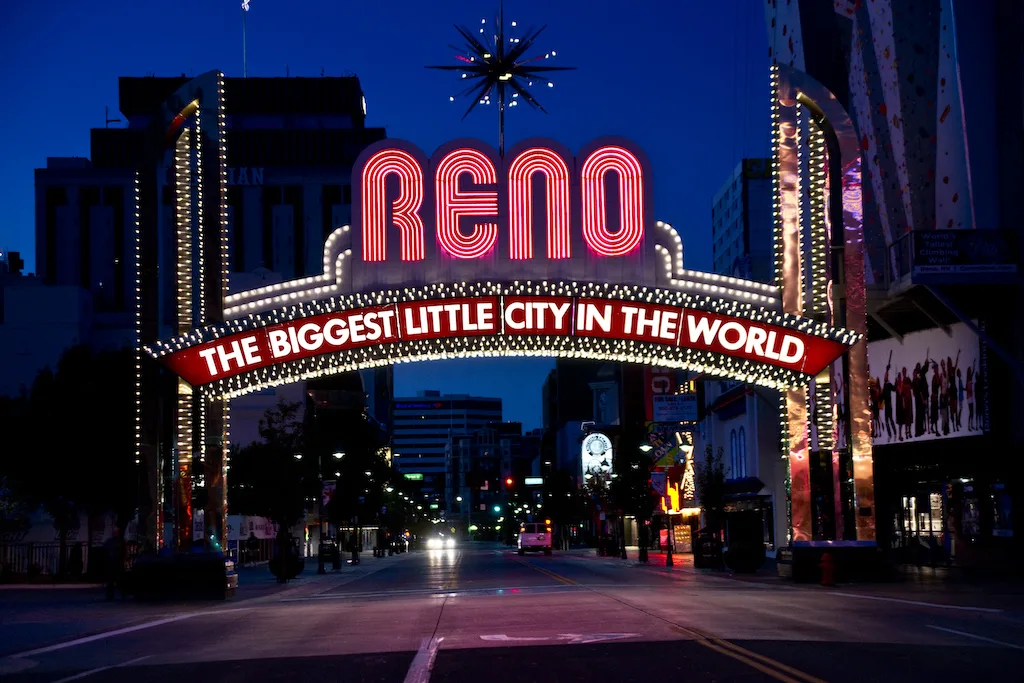 Sure, you can head to Reno to gamble, but it's also got a great arts scene, a thriving downtown, fantastic green spaces, and great food. A day certainly isn't enough, so if you're not too road-weary, consider spending a few days. Here are some Reno highlights to consider.
Nevada Museum of Art: Founded in 1931 with 70,000 square feet of space for exhibits featuring art from the 19th to the 21st century as well as a growing collection of contemporary art.
Bruka Theatre: Named "Best Theatre Company" by Reno News and Review, Bruka Theatre has been going strong for 29 years, producing classic and contemporary plays in an intimate setting.
Wander around MidTown: A wonderful community and home to more than local boutiques, 20+ restaurants, and a thriving art and music scene.
Biggest Little Brewery Tour: Discover Reno's thriving craft beer scene on a private pedicab tour. You'll visit three of the city's up-and-coming craft breweries, with generous samples and guided tours of each.
Wingfield Park: This isn't your typical city park. At Winfield Park, you can go white water rafting or swimming in the Truckee River, catch an outdoor show, or grab take-out from a nearby cafe for a delightful picnic.
Where to Stay in Reno: SpringHill Suites by Marriot is located in South Reno and has beautiful, comfy rooms and an indoor pool. If you want to be right downtown, stay at Renaissance Reno, which is a gorgeous hotel and spa within walking distance of great downtown attractions.
Are you ready to hit the road? Which stop on this California and Nevada road trip itinerary are you most excited about? Let us know in the comments!
---
Planning more getaways in the Southwest? Check out these posts:
---
Pin for Later?